This post may contain affiliate links. For more information, read my disclosure policy.
This Easy Raspberry Nutella Danish is a danish that mixes two favorite things: Nutella and raspberries!
Raise your hand if you love ooey gooey breakfast danishes. Yes?
Good, then you'll need this Easy Raspberry Nutella Danish ASAP!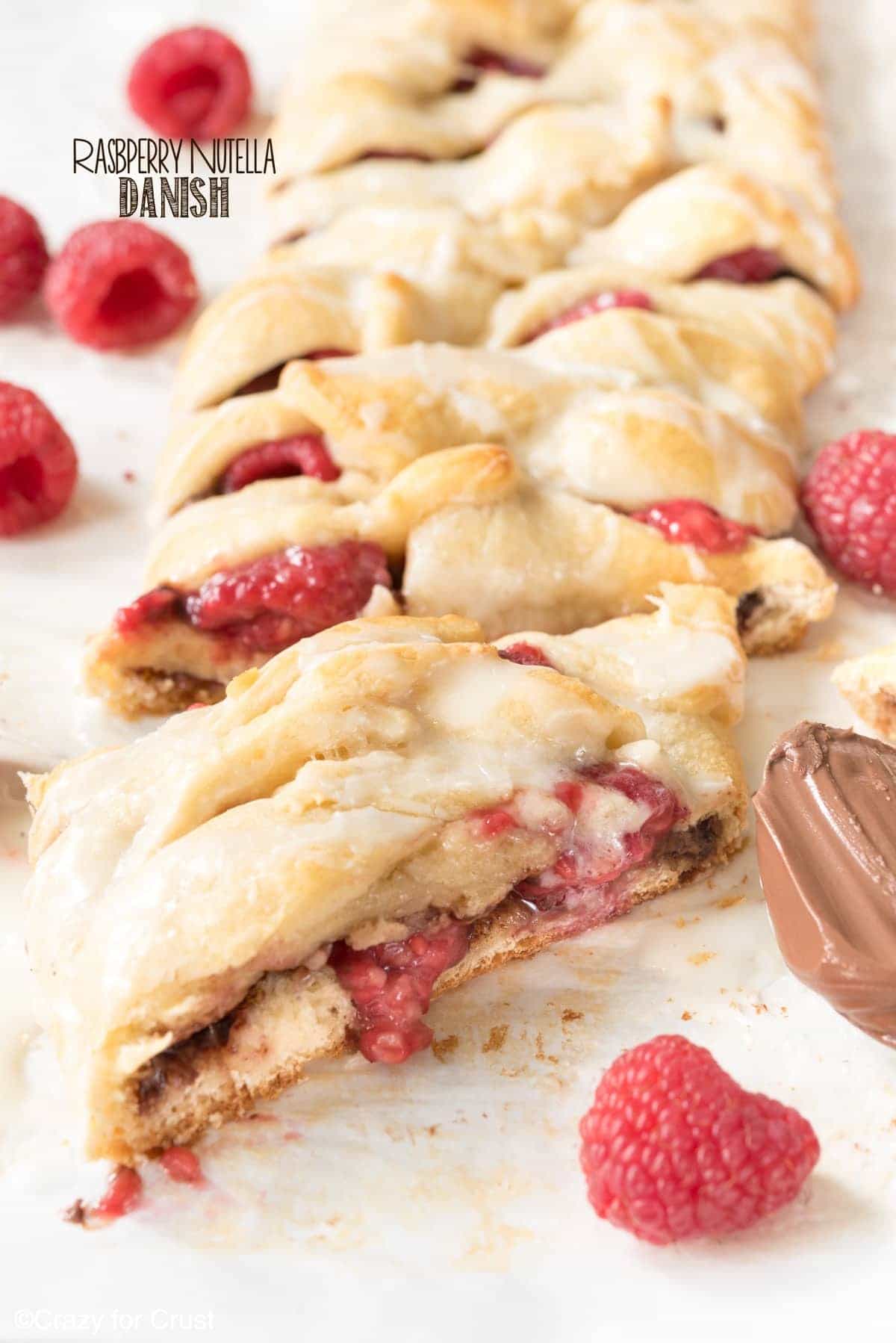 You know how, normally, when you go to the Apple store you wait and wait and wait? And then you talk to someone – finally – and then you have to wait some more? Well, it turns out that if you walk in and tell the greeter you want to buy a Thunderbird Display, they'll have it in your hot little hands and out the door in under 10 minutes.
Hey, when a girl knows what she wants…a girl knows, right?
Anyway, so now I have this super new monitor, which is actually bigger than the TV my family had growing up, and when I came to write this post I realized that the photos were horrible. Like, so dark I couldn't go on without re-editing them. So that's what I've been doing the last 15 minutes instead of reading in the bathtub.
New technology. Sigh. #firstworldproblems
Also? I'm not looking at any old blog posts on this monitor EVER AGAIN. (Also, I know these are still too bright…it's a learning curve.)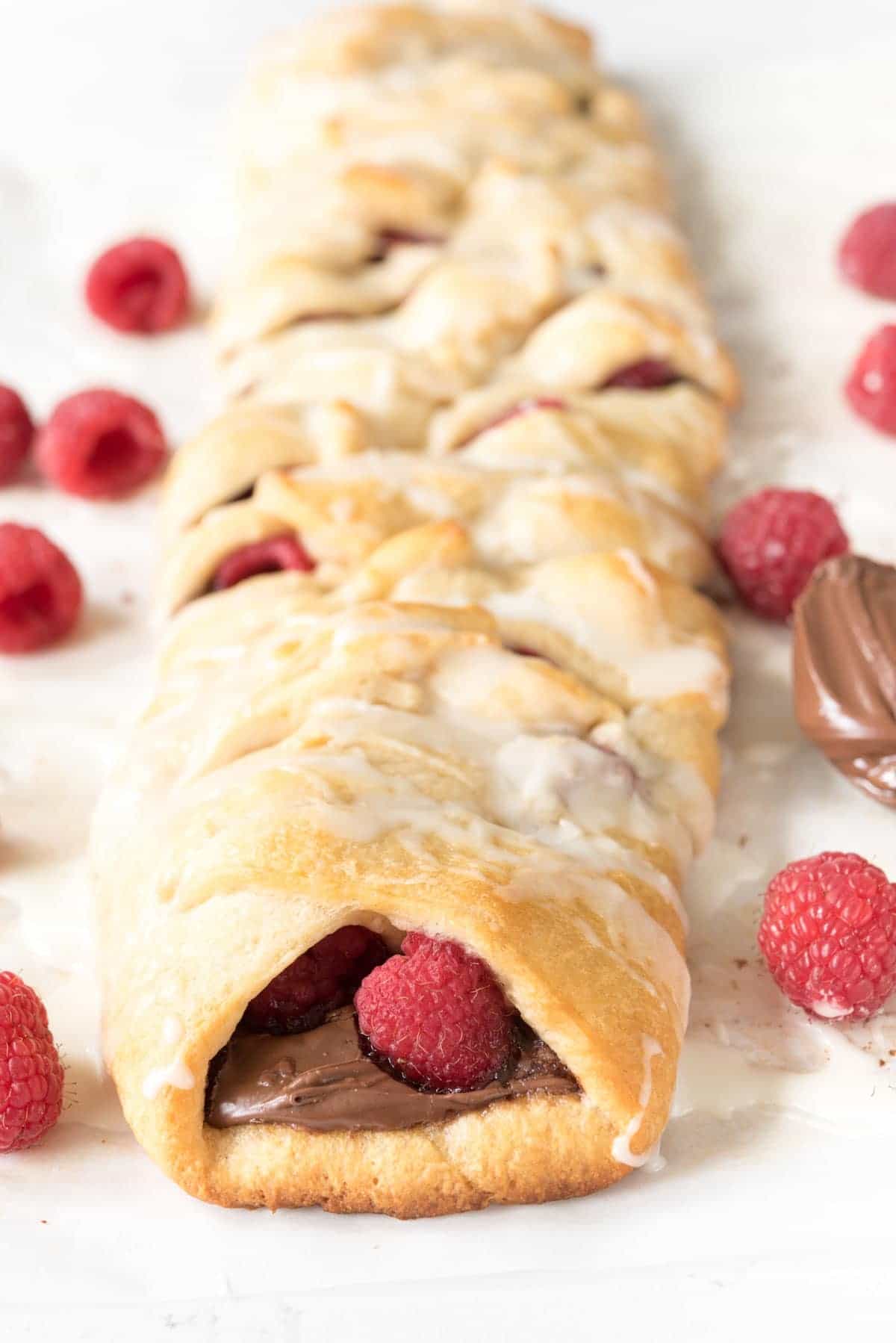 Have I ever mentioned my desk is a $25 Ikea table? So now this HUGE monitor is sitting on this table and it feels like I'm front row at the cinema. And now I think I need glasses, because, sure, I can make the windows 27″ wide but the font stays the same size no matter if I'm on this display or my laptop. So I can't read what I'm typing right now…so typos are not my fault, mmkay?
And I'm doing all of this so I can bring you pretty pictures of things like an easy Raspberry Nutella Danish. Again, total #firstworldproblems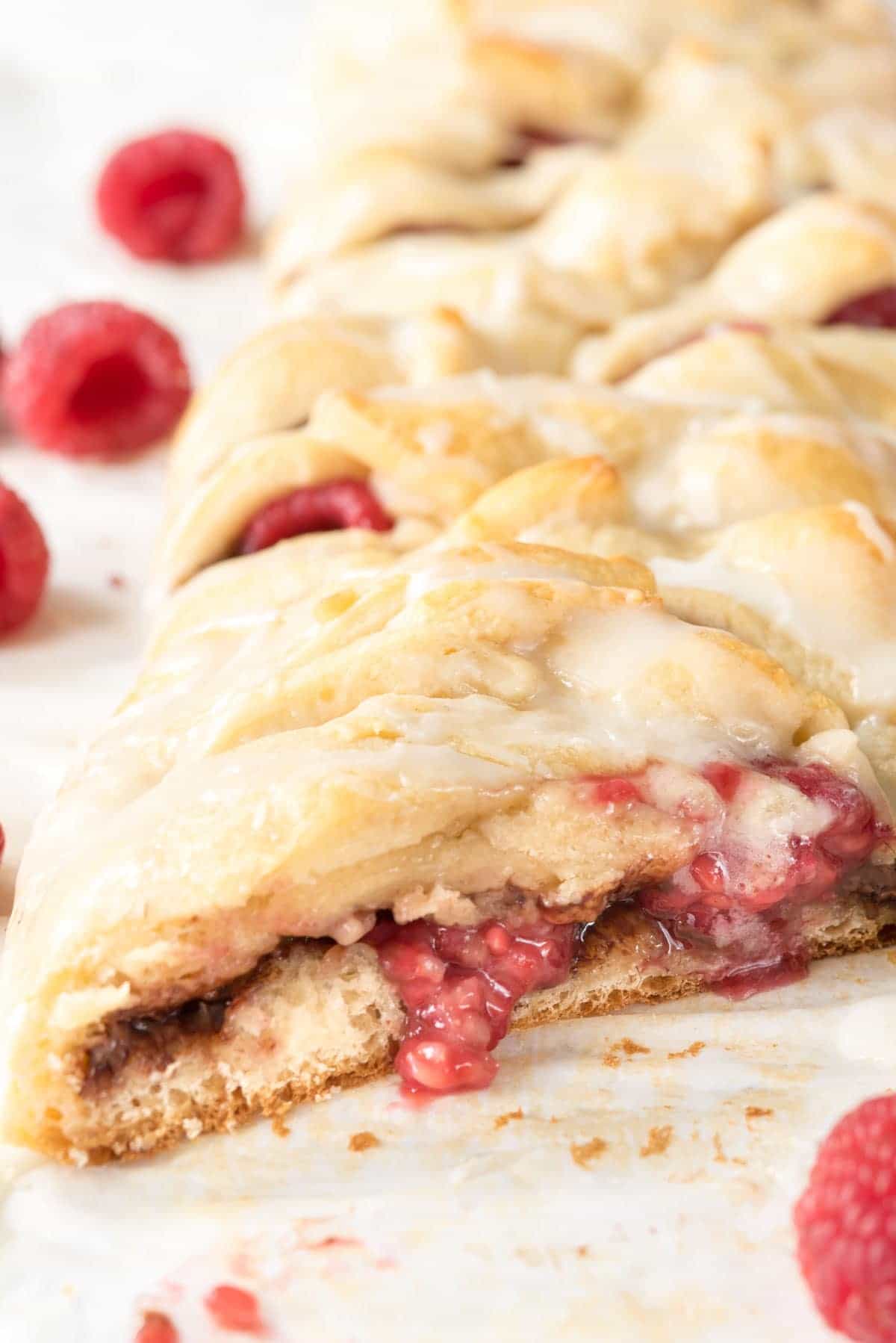 Last week I wanted a danish. I was dreaming about this Easy Apple Strudel I made last fall and I wanted some. But I also wanted Nutella, because, well, who doesn't ever want that?
And then I realized I had raspberries. You guys, do you know how well raspberries and Nutella go together? It's like…an MacBook and a Thunderbolt Display. Or like PB&J. Or…like perfection.
This Easy Raspberry Nutella Danish recipe has 3 main ingredients: Crescent Rolls (or puff pastry), Nutella, and Raspberries. THAT'S IT. And it's easy to put together. If you want a glaze, that's just 2 more ingredients – and it's all ready in under 30.
A delicious breakfast pastry, easy, fast, Nutella, and done in under 30? #SOLD

This Easy Raspberry Nutella Danish really is very easy, even though it doesn't look like it.
See this post for a photo tutorial. Here are the highlights:
If you're using a can of crescent rolls, just unroll the rectangle and press all the seams together. You can then roll it out to make it bigger if you want, but I didn't. Simply cut slits on each side up and down the rectangle, leaving a section down the middle without cuts. That's where your filling goes.
You can use more raspberries, if you want. I used about a cup. Or use strawberries!
Feel free to use more Nutella. I mean, more is always better, right?
Don't worry too much about how "pretty" the braid is. Just wrap the slices up and over the center. Baking and glazing will hide any imperfections.
Once it's baked, I like to make the simple glaze and drizzle it over the warm pastry, then serve while it's all still warm. But it's great room temperature too, and you can even freeze it!
Enjoy!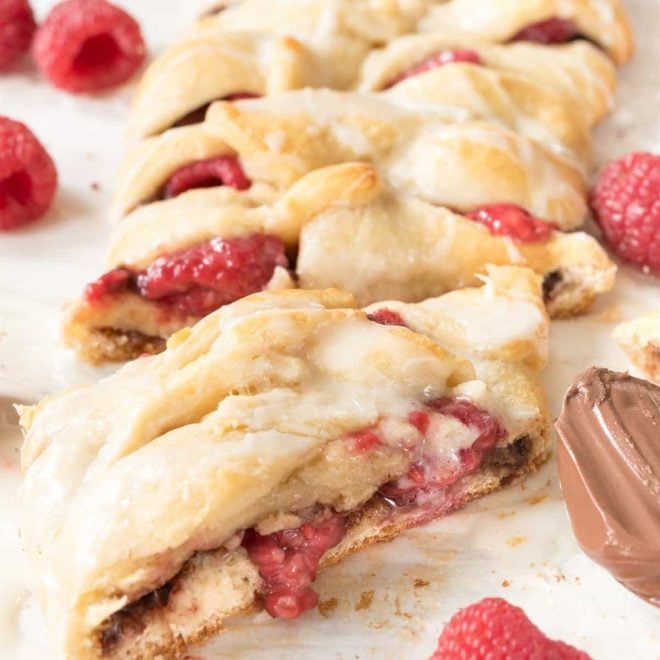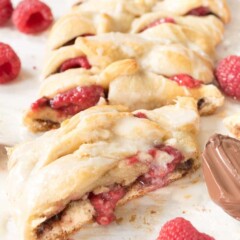 Easy Raspberry Nutella Danish
Easy Raspberry Nutella Danish - just 3 main ingredients makes this foolproof delicious breakfast pastry full of Nutella and raspberries! It starts with Pillsbury Crescent Rolls, which couldn't be easier. Two more ingredients and you get a sweet glaze for the top. 5 total ingredients for a breakfast pastry?? GENIUS.
Ingredients
1

can Pillsbury Crescent Rolls

8 rolls

1/3

cup

Nutella or other chocolate hazelnut spread

1

cup

fresh raspberries

1/4

cup

powdered sugar

2-3

teaspoons

heavy whipping cream
Instructions
Preheat oven to 350°F.

Unroll Crescent Rolls onto a large sheet of parchment paper that's sitting on a cookie sheet. Press the seams together to form one large rectangle.

Using a knife, cut strips 1" apart up and down both sides of the Crescent Roll rectangle, leaving about 3" of untouched space in the center for the filling. Spread the Nutella up and down the center where there are no cuts. Sprinkle with the raspberries. Wrap each slice up and over the filling, overlapping as necessary.

Bake for 12-15 minutes until golden brown. Cool completely before glazing.

To make the glaze: whisk powdered sugar with 2 teaspoons heavy whipping cream, adding a third if needed for consistency. Drizzle over strudel, slice, and serve.

Store in an airtight container for up to 3 days.
Nutritional information not guaranteed to be accurate
Click HERE for more Pillsbury Dough Recipes!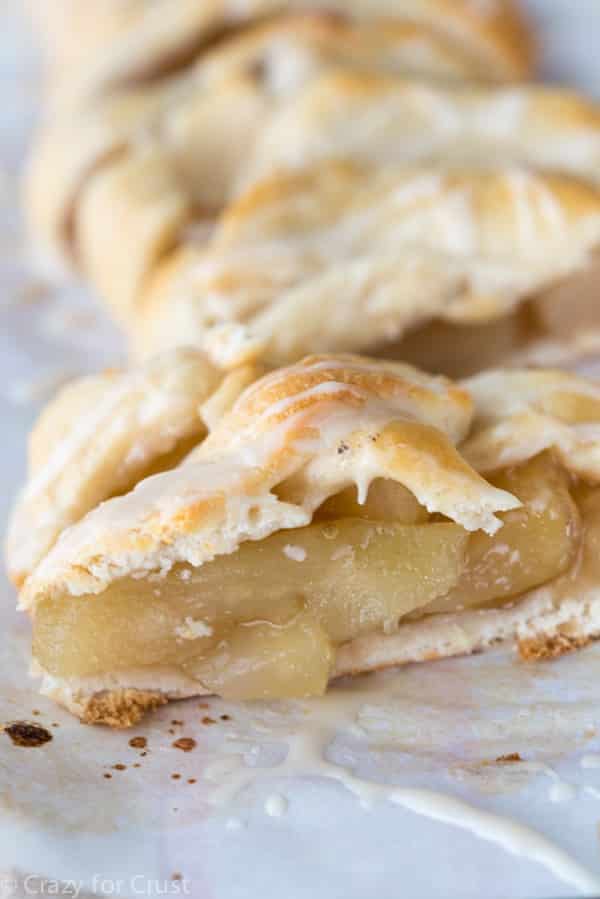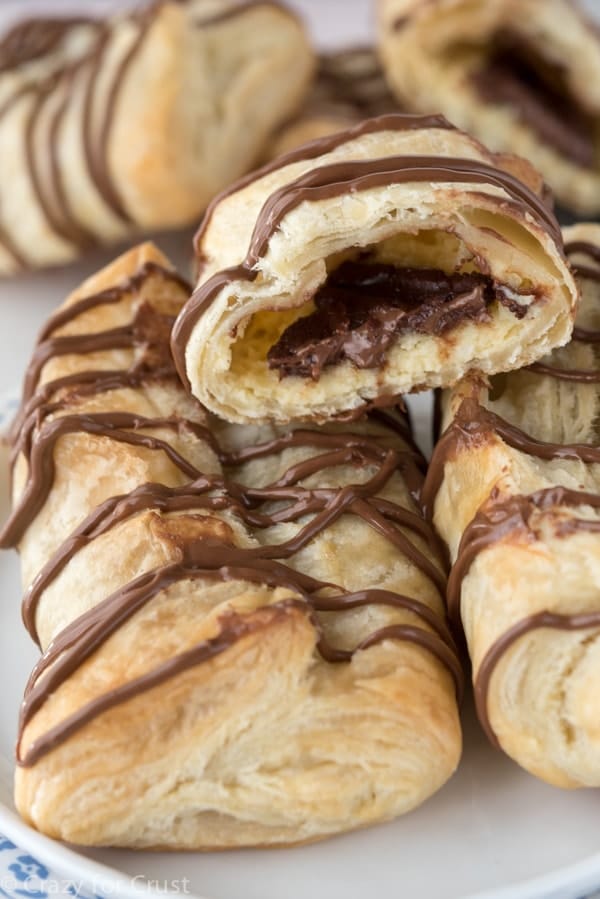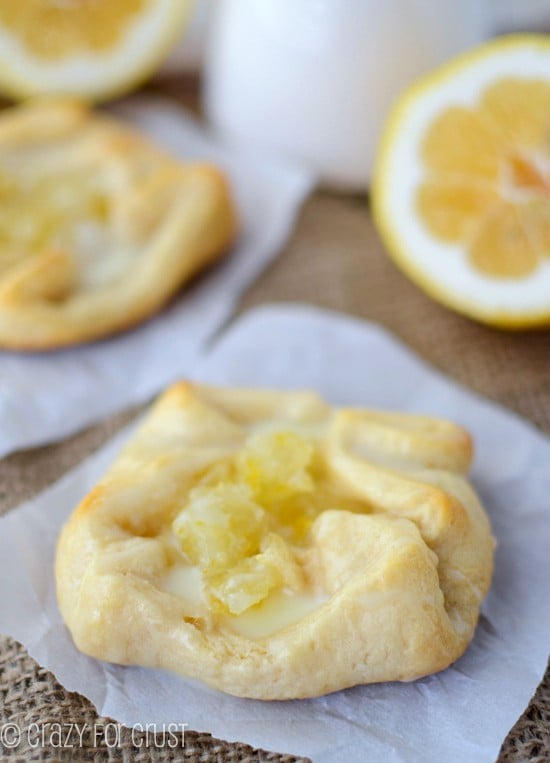 Sweets from friends:
Cherry Almond Braid by Wine & Glue
Easy Crescent Danish Rolls by Mom Loves Baking
Apple Walnut Danish by Sugar Dish Me
Last Updated on March 4, 2019