This post may contain affiliate links. For more information, read my disclosure policy.
If you're just starting to build your pantry or if you need ideas on what I use regularly, then this list of pantry essentials can be your go-to resource. I'm sharing the necessities you should buy if you want to keep your kitchen stocked with delicious comfort food!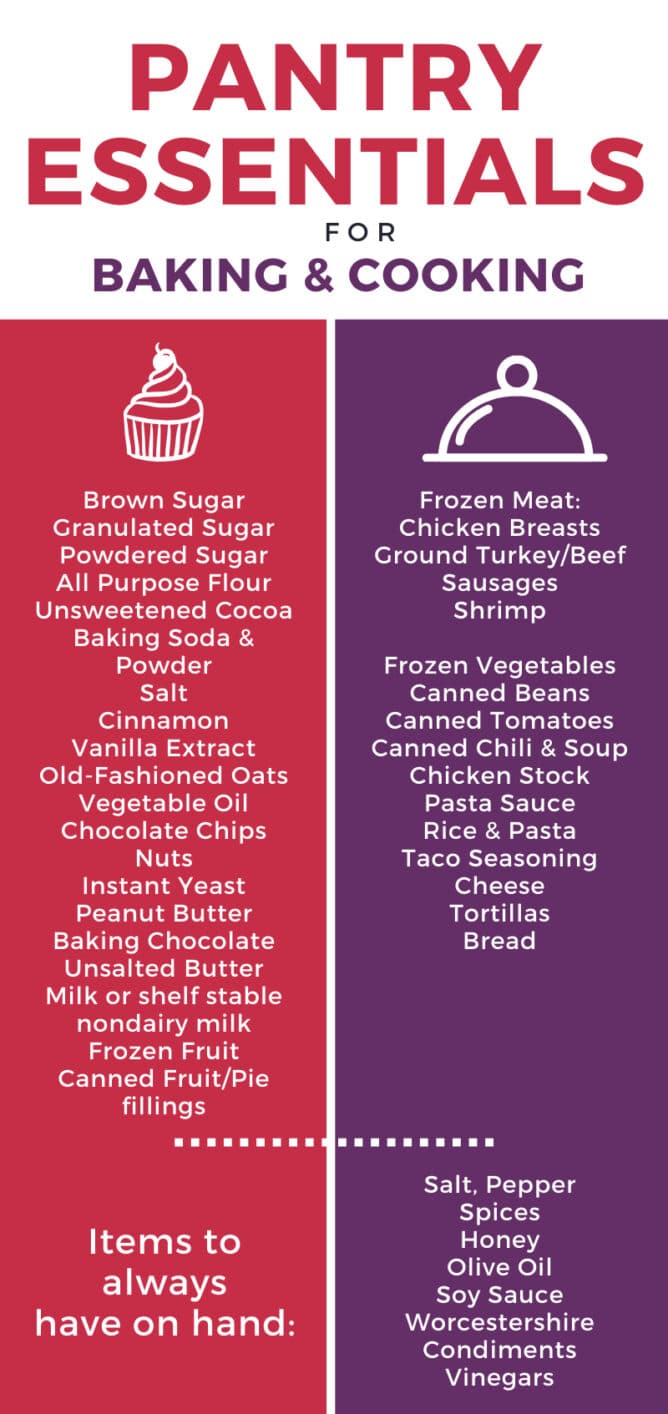 Whether you're just wondering what I always have on hand or if you're stocking up in case you can't get to the store, this list is the perfect one to follow if you want to bake at home.
This list will cover all the things you'll need to make sweet comfort food but also some homemade staples like bread and pancakes to get you through any lengthy stay at home.
With just these nonperishable items you'll be able to make a good majority of the recipes on this site!
Table of Contents
Nonperishable Pantry Essentials for Baking
Brown Sugar
Granulated Sugar
Powdered Sugar
All Purpose Flour
Unsweetened Cocoa
Baking Soda
Baking Powder
Salt
Cinnamon
Vanilla Extract
Old-Fashion Oats*
Vegetable Oil
Chocolate Chips
Nuts (pecans or walnuts), optional (but also great for snacking)
Rapid Rise (Instant) Yeast
Peanut Butter
Baking Chocolate (semi-sweet and unsweetened)
*If you only have old fashioned oats you can make quick cooking oats by pulsing them in the food processor or a blender a few times. If you can only buy one kind, buy old fashioned.
Other Baking Essentials
These items are perishable, but see my notes for how you can store and substitute them to get a longer shelf life.
Unsalted butter – you can freeze butter! Stock up and freeze it until ready to use.
Milk – if you can, buy organic (it lasts longer) but if milk is out, buy nondairy milk. Almond Milk is also sold shelf-stable and tastes just as good as regular. You can substitute non-dairy milk for milk in most recipes (except for those with pudding mix or cornstarch for thickening) so if you can't get milk, buy shelf-stable.
Cream Cheese – this can't be frozen, so only buy what you'll think you'll use, and buy the ones with the latest expiration date.
Fruit – fruit will go bad, obviously, so only buy fresh that you'll use within a few weeks. Apples, oranges and citrus last longer in the refrigerator than other kinds. Freeze bananas to use in banana bread, etc. Buy frozen fruit and canned pie filling to use in recipes long term.
Pantry Essentials for Cooking
When it comes to wanting ideas for how to eat real food, I got you for that too. I have several dinner recipes on this site that need basic ingredients – nothing fancy!! With just a few perishable items you can freeze and nonperishables to stock your pantry, you can make dinner for days.
Chicken breasts, ground turkey or beef, EZ peel shrimp, sausages, pot roast; these can all be frozen. I buy them in bulk at Costco or Sam's Club and then I portion them into smaller packages that will make 1-2 meals.
Frozen vegetables: any you like but I always stock up on corn, peas, and broccoli. They even have frozen chopped onions if you're worried about not getting to the store and running out.
Canned beans: black/pinto, garbanzo and kidney beans. These are great for protein in salads and adding to chili and other skillet taco recipes.
Canned chili and soup as well as chicken stock.
Rice and pasta: stock up on your favorites. These last for a long time.
Pasta sauce: if you don't want to make your own marinara sauce, buy a few jars of pasta sauce and pesto so you can make easy pasta dinners.
Diced tomatoes so you can make pizza sauce or add them to one pot meals.
Taco Seasoning packets and a few cans of enchilada sauce
Cheese – did you know you can freeze cheese? I stock up on medium cheddar blocks and mozzarella for pizza and keep them in the freezer.
Tortillas – I keep them in my freezer as well!
Bread – buy it at Costco and freeze it!
You don't need to go crazy with buying things but those are the items I always have on hand so I can make dinner any day without having to order takeout.
Assumed Pantry Items
These are items that you should just always have on hand; they last awhile and we don't use them every day:
Salt
Pepper
Spices: garlic, onion, paprika, Italian seasoning
Honey
Olive Oil
Soy Sauce
Worcestershire sauce
Condiments: ketchup, mustard, mayo, etc.
Balsamic, red wine and white vinegar
With this items on hand you can ALWAYS make dinner or a comfort dessert. There are so many recipes on this site – be sure to check them out:
Is there something I forgot? Let me know in the comments!
Have you made this recipe?
Tag @crazyforcrust on Instagram or hashtag it #crazyforcrust
Last Updated on March 6, 2021