This post may contain affiliate links. For more information, read my disclosure policy.
Magic bars are my jam. Today I'm turning the seven layer bar into something even better…a Mini Magic Bar PIE!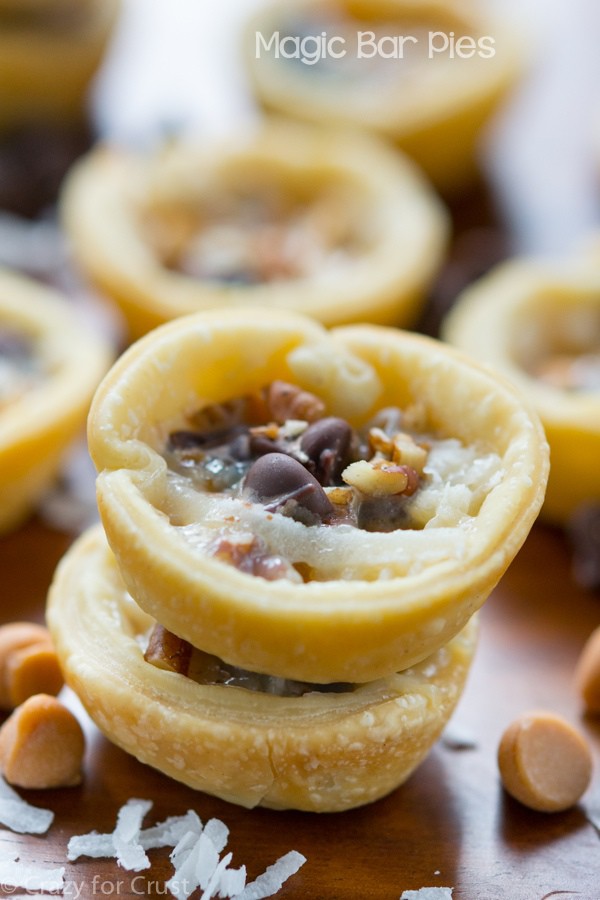 GUESS WHAT TODAY IS?????
Come on…if you read this blog you might already know. #mathnerd
Did my posts this week tip you off? First, Peanut Butter Chocolate Cream Pie. Then Lemon Meringue Pie Bars. Then Coconut Banana Cream Pie.
Are you sensing a theme? Yes?
Today is PI DAY!! And not only is it the best day of the year (which is Pi Day, in case you weren't paying attention), it's an EPIC Pi day today.
It's March 14, 2015. That's 3/14/15. Pie is 3.1415. GET IT?
Epic Pi Day = Pies for everyone.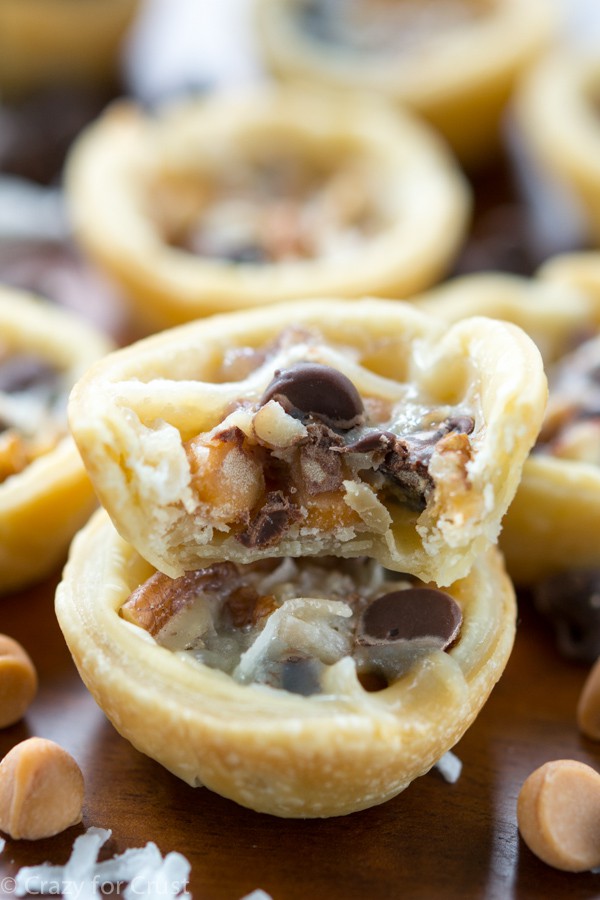 Now, if we're being really exact about today, you should not only be celebrating Pi all day by eating pie for dinner and dessert (hello, pizza and Mini Magic Bar Pies) but you should be eating pie for breakfast. Because the pinnacle of Epic Pi Day is at 9:26.
Pi = 3.14159265
March 14, 2015 at 9:26 AM.
Or, if you're reading this at 9:27 AM, don't worry. You can still celebrate today with pie. A Twix Pie would be good. Or a berry pie.
How about a magic bar pie? Since they're mini, you can eat 4. I won't tell, I promise.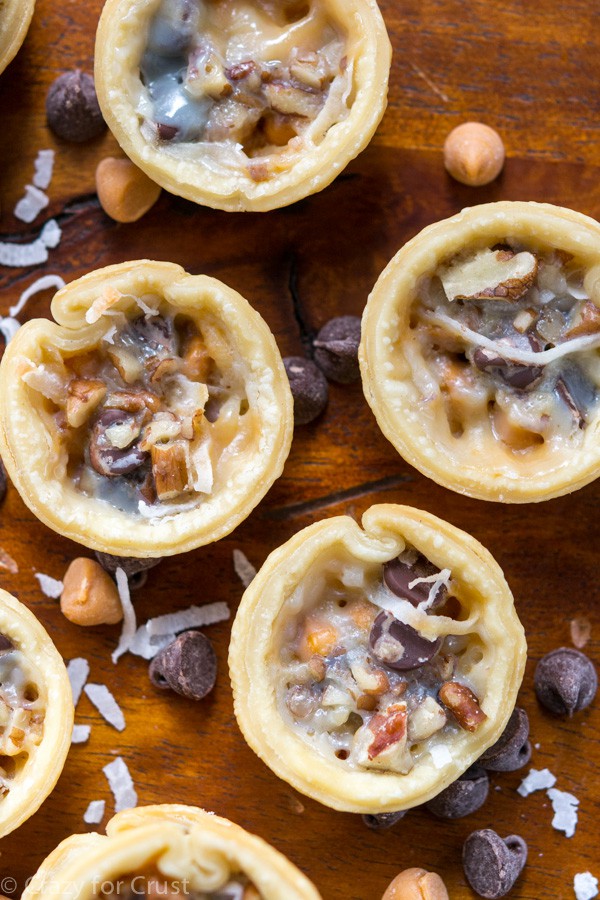 These pies couldn't be easier. I'm kind of the self-appointed queen of mini pies at this point. Chocolate Chess, Lemon Chess, Brownie, Samoa, Strawberry Shortcake…should I continue?
I like mini pies and I cannot lie.
These start with Pillsbury Pie Crust. You can also use a homemade pie crust, but as we've talked about before, I'm lazy. Each crust gets about 18-22 pie crust circles (2.5″) with re-rolling. If you don't have a round cutter that size, try a drinking glass or a jar lid.
You simply press the pies in a mini muffin pan that's been sprayed with nonstick cooking spray. Then the fun begins!
Traditional magic bars have butterscotch chips, chocolate chips, nuts, and coconut and they're topped with sweetened condensed milk. I went traditional with this recipe. Each mini pie is filled with the traditional 7-layer bar ingredients.
But you know what the best part about these pies is? That you don't have to use the regular ingredients. If you don't like butterscotch, skip it. Hate coconut or nuts? Leave them out!
Simply replace one mix-in for another and you have a whole new pie. White chocolate, chopped candy bars (like peanut butter cups, Kit Kats, Rolos), any kind of nut, M&Ms…you name it. Experiment to make your favorite flavors!
In fact, you should make a new version every day. Because pie should be a daily occurrence.

But it should especially happen on Pi Day!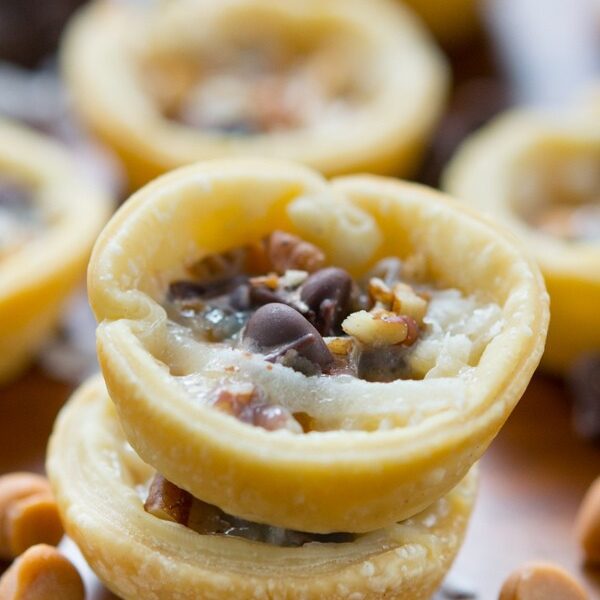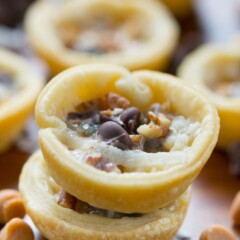 Mini Magic Bar Pies
Little bite sized pies that taste like a seven layer magic bar! Little bites of crust are filled with chocolate, butterscotch, coconut, and nuts to recreate the iconic bar cookie in pie form.
Ingredients
1

refrigerated pie crust

from a pack of two, or a homemade pie crust

About 1/4 cup butterscotch chips

About 1/4 cup chocolate chips

About 1/4 cup shredded sweetened coconut

About 1/4 cup chopped nuts

I used pecans

1/3

cup

sweetened condensed milk
Instructions
Preheat oven to 350°F. Spray mini muffin pans with cooking spray.

Unroll your pie crust and cut 2" circles. Press into the muffin pan. Re-roll as needed. You should be able to get about 18-22 mini crusts from one pie crust.

Sprinkle about 4-5 butterscotch chips in each pie crust. Sprinkle about 4-5 chocolate chips in each pie crust. Sprinkle about 1/4-1/2 teaspoon (each) of coconut and nuts in each pie crust. Drizzle some sweetened condensed milk in each pie crust.

Bake for about 11-14 minutes until the crusts no longer look translucent and start to get golden (mine took 12 minutes). Cool completely before removing from pans. They should pop right out with the little nudge of a butter knife.

Store in an airtight container for up to 4 days or freeze for up to 1 month.
Nutritional information not guaranteed to be accurate
Click here to see more of my ULTIMATE COCONUT recipes!
Some of my friends are posting pies today too! Go check them out:
Chocolate Mousse Pie by Very Culinary
Best Key Lime Pie by Mom on Timeout
10 Bite Sized Pie Recipes you can't miss!
Mini Chocolate Hazelnut Chess Pies
Mini Strawberry Shortcake Pies
Last Updated on May 13, 2020