This post may contain affiliate links. For more information, read my disclosure policy.
I've been dying to make a Lemon Chess Pie f-o-r-e-v-e-r. Finally I decided to do it…but made them mini instead.
Mini food is the best food, after all.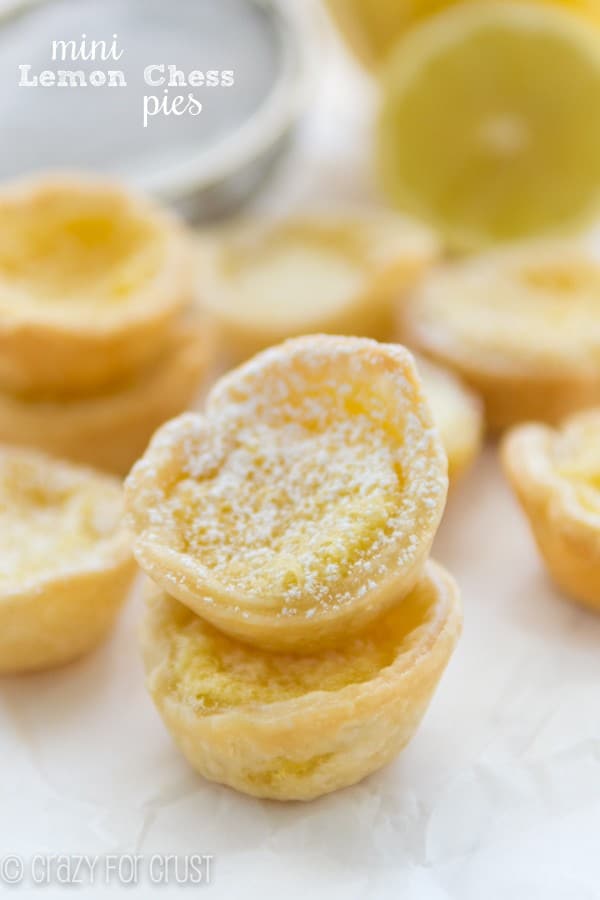 Sooooo, you know how I'm obsessed with lemon times one trillion? It's like I'm making up for all the (crazy) years that I swore I hated lemon desserts.
Let's just agree that that time in my life should be banished and never spoken of. And that I'm going to post something lemon every month to make up for it, mmkay?
There's someone else in my life who is even more obsessed with lemon than I am: my sister-in-law, Katie. Whenever I ask her want dessert she what she shouts lemon faster than Jordan shouts mint chip.
Family gatherings are fun in our family.
A few weeks ago Katie celebrated her birthday, and I made her mini lemon chess pies to celebrate. Kind of the best decision on my part ever, *pats self on back*.
These were too good. I almost didn't give them away!

These are probably one of the easiest mini pies ever to make. I started with a refrigerated pie crust (my favorite is Pillsbury). Making the mini crusts are way easier than you think. Here are my secrets:
Use a

mini muffin pan

and spray them well with the

cooking spray with flour

. This ensures the pies will come out.
Use a

2.5″ round cookie cutter

(or jar lid or glass) to cut circles. Re-roll the dough as needed. Press each circle gently into each cavity.
Be sure to

chill the crusts

while you make the filling. You want cold crust!
And, well, if you've ever made a chess pie filling, it's one of the easiest to make. One bowl and just a whisk – that's my kind of baking. Eggs, milk, lemon juice, sugar, and a few other things get whisked together. One tablespoon of the filling goes into each pie, then you bake.
It's easy to remove these from the pans if you wait until they're completely cool. Use the tip of a knife to help loosen the pie, and if you've sprayed the pans well enough, they should pop right out. Dust with powdered sugar, and try not to eat them all.
Go ahead. I dare you.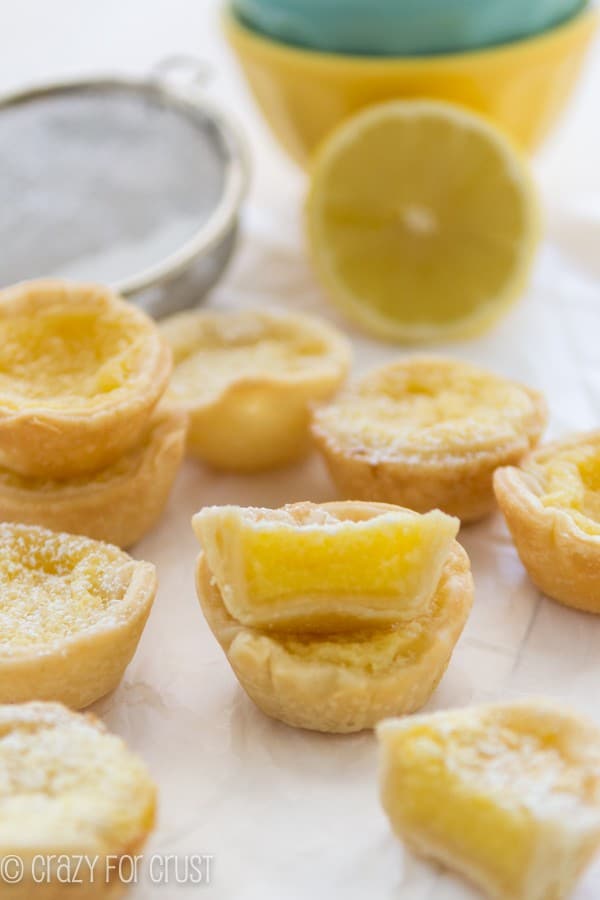 I'd fail that one miserably!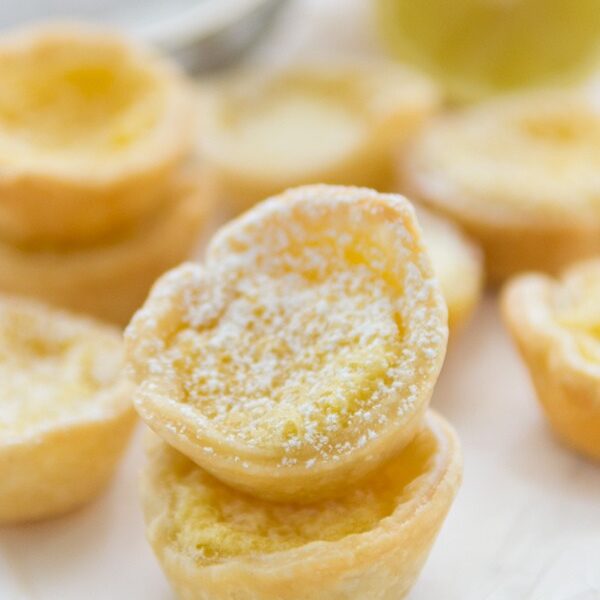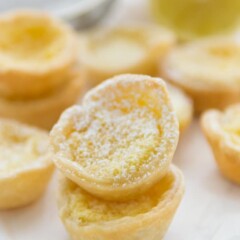 Mini Lemon Chess Pies
The perfect lemon chess pie...in mini form! Perfect for a party, these are super sweet and tart all at the same time.
Ingredients
1

box

2 refrigerated pie crusts, I use Pillsbury

1/4

cup

butter

melted

1 1/2

cups

granulated sugar

3

large eggs

1/4

teaspoon

salt

1

tablespoon

lemon zest

from 1 large lemon or 2 small

1

teaspoon

vanilla extract

1/4

cup

lemon juice

1/4

cup

nonfat or regular milk

1

tablespoon

all purpose flour

Powdered sugar

for serving
Instructions
Preheat oven to 350°F. Spray 3 mini muffin pans with cooking spray. (I like the kind with flour in it for these pies.) This makes about 40-42 pies.

Unroll your pie crusts and cut 2.5" circles with a cookie cutter or jar. Press each carefully into each mini muffin cavity.

Re-roll dough as needed. Chill until filling is ready.

Whisk melted butter and sugar until smooth, then whisk in eggs until the mixture is a rich yellow, about 30 seconds.

Whisk in the salt, lemon zest, vanilla, lemon juice, milk, and flour, one at a time, whisking until smooth.

Fill each pie crust with 1tablespoon of filling. You may have just a bit of filling left over.

Bake pies for 17-20 minutes until the tops are no longer wet. The crust will just be very lightly brown. (I like to place my muffin tins on a cookie sheet before baking, for easier handling and less spilling.)

Cool pies completely before removing from pans. They should pop out easily with the help of a knife. Dust with powdered sugar before serving, if desired.
Nutritional information not guaranteed to be accurate
Click here to see the complete list of Lemon Recipes!
See more of my ultimate pie recipes here!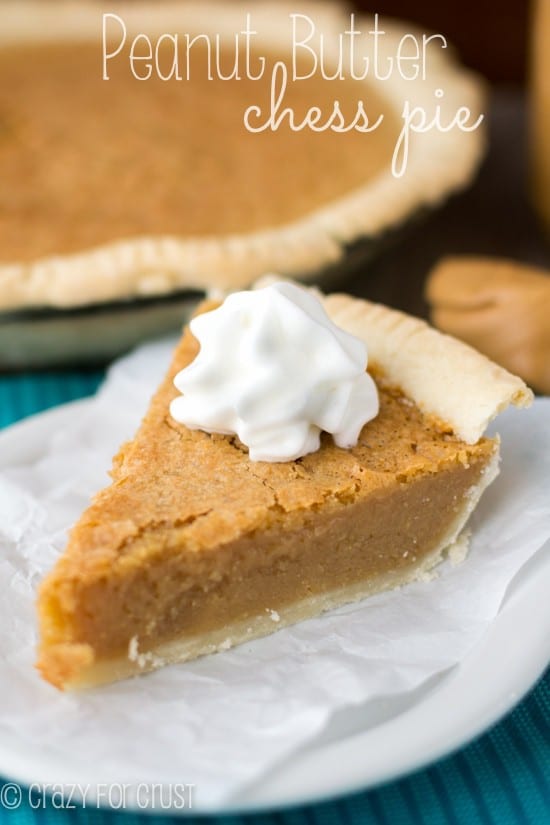 The Perfect Triple Lemon Cupcakes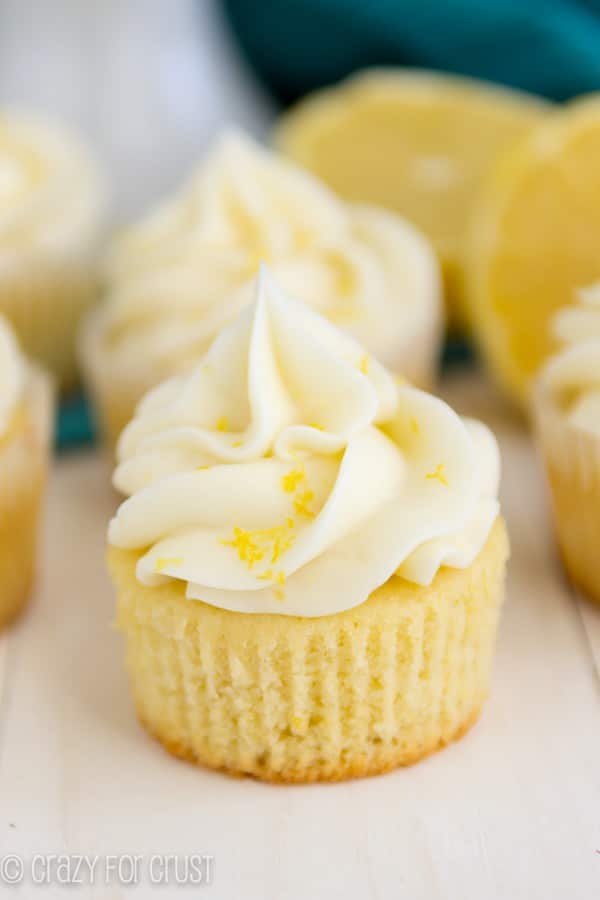 No Bake Lemon Dessert with Golden Oreos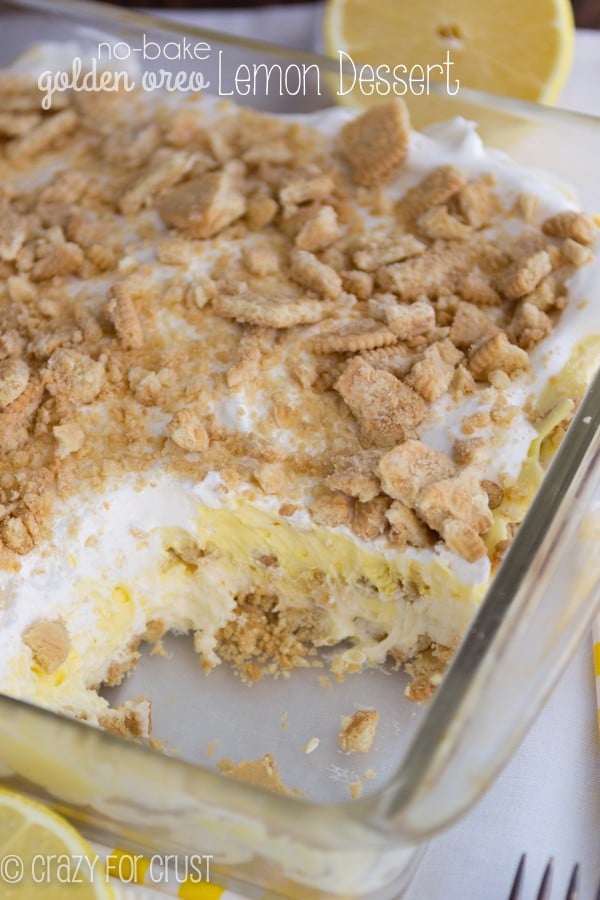 Sweets from friends:
Buttermilk Slab Pie by Foodness Gracious
Easy Chocolate Pie by Very Culinary
Lemon Marshmallow Meringue Pie by Something Swanky
Last Updated on May 13, 2020