This post may contain affiliate links. For more information, read my disclosure policy.
Round pie is so overrated sometimes. Sometimes you just need a pie bar…something that's no hassle to cut, share, and get out of the house before you shove it all in your face.
Kind of like these Lemon Meringue Pie Bars. I turned lemon meringue pie into pie bars. Then I shoved meringue in my face, the end.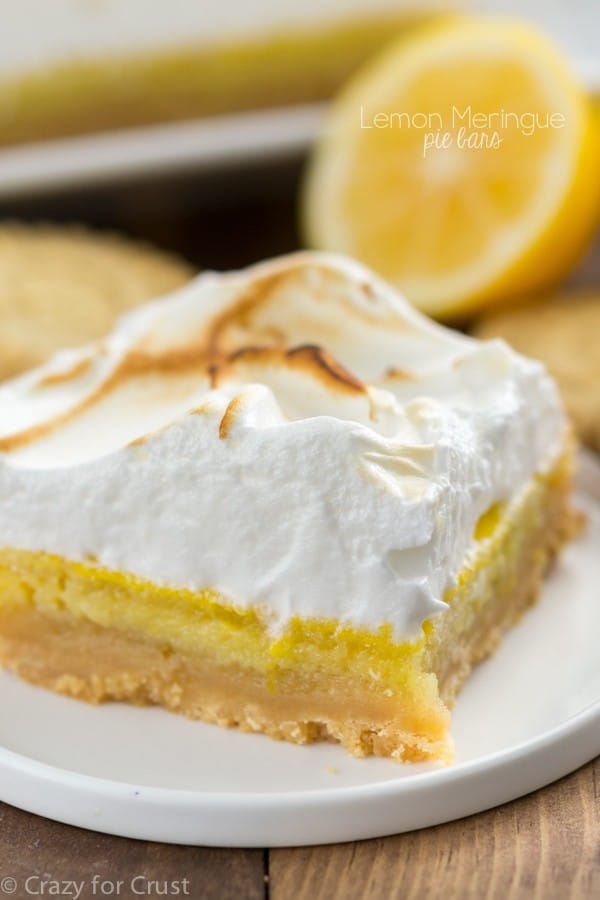 If you've ever read my love story about Mel, you'll know that we didn't date very long before we got engaged. We fell pretty hard for each other fast and we didn't want to be apart – ever.
Who'd have thought that 14 years later I'd be writing about our love story on a blog full of desserts that he never tries? Now that's love.
Anyway.
Shortly after we got engaged Mel had to go on a business trip to London and Belgium for 2 weeks. I was crushed. Devastated! Two whole weeks without my guy. What was I going to do????
I don't remember what I did. I probably ate lots of ice cream and watched…I'm not sure. Reality TV didn't exist back then. (Whaaaa???)
I gave him one request: bring me back cookies and chocolate from London. And boy, did he. He filled his entire suitcase with chocolate bars and Walker's Shortbread. It was a Dorothy-gained-5-pounds suitcase.
Now that? Is love.
Also love? This: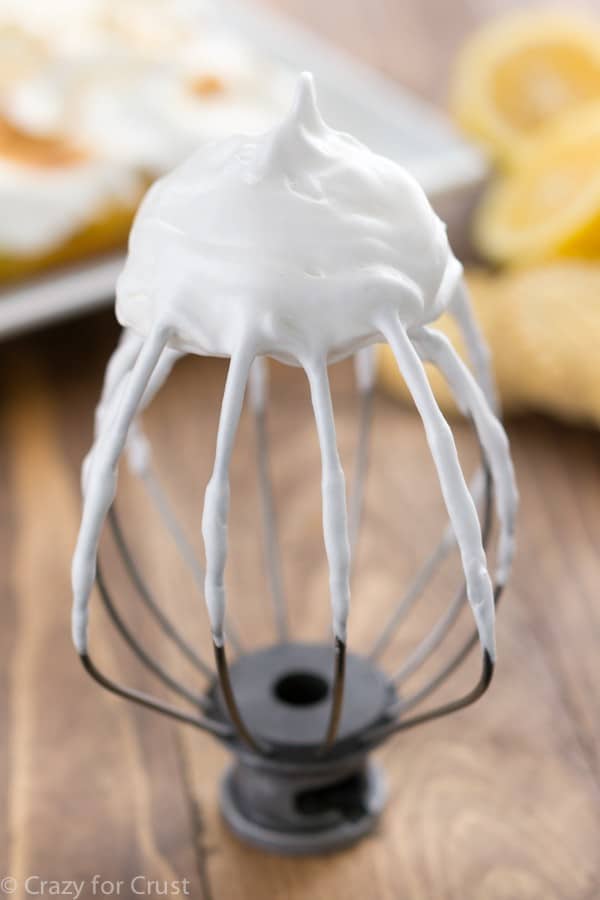 That's marshmallow meringue. It's my favorite kind of meringue. Actually, to be truthful, its the only kind I'll make. That other stuff you whip and bake is so…eggy, I just can't deal. Marshmallow meringue? We're BFFs. And when you top lemon meringue pie bars with marshmallow meringue, that's a good day.
An even better day? When the crust is made of Walker's Shortbread Cookies. Luckily, you don't have to go to Europe for them. They sell them at your regular grocery store!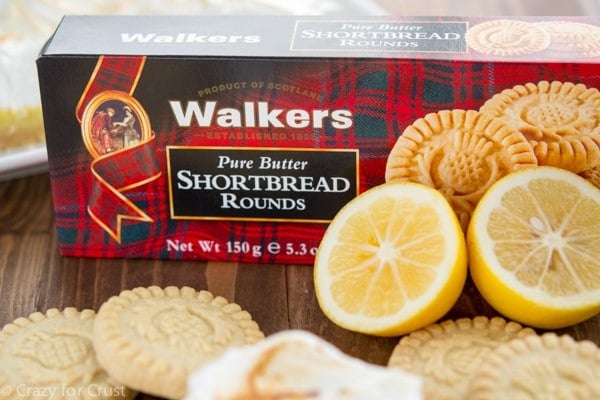 *instant drool*
I've been eating Walker's Shortbread all of my life, it seems. They're my favorite shortbread cookie, hands down. I have no idea where I first tasted it but you never forget that first bite. Buttery, crunchy yet soft, the cookies are so good you can't just eat one.
One package = one serving. Or no? My bad.
Walker's Shortbread has been around for over 200 years and it's still a family owned company. Their shortbread is made using only the finest butter from free-grazing, small herd cows and their shortbread, cookies and oatcakes contain no artificial flavorings, colorings or additives, and are certified Kosher OUD. They even make a gluten-free shortbread!
In short, their shortbread is just that…shortbread. The perfect cookie.
And a perfect shortbread cookie made into a crust? Even more perfect.
Topped with marshmallow meringue? You get this: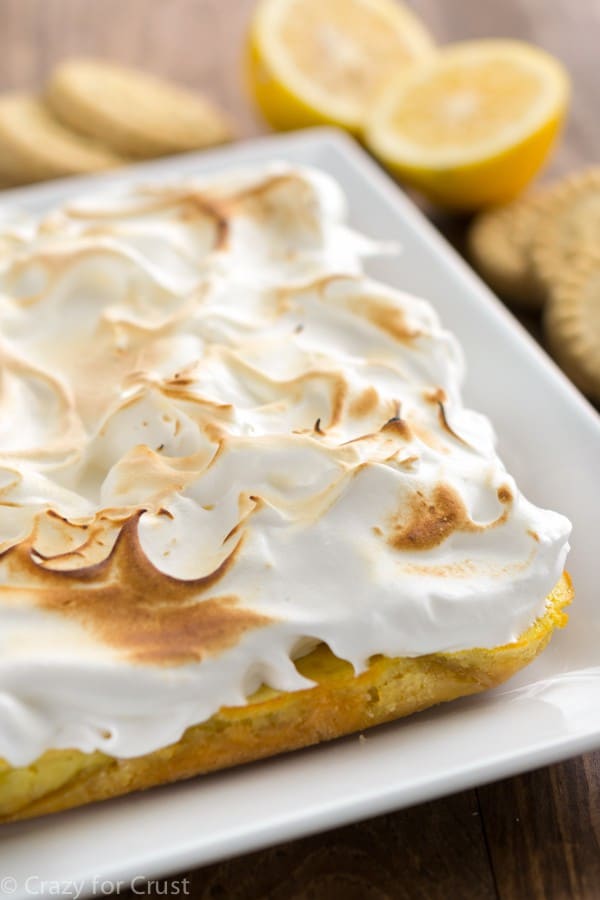 Sigh.
Okay, so let's breakdown the recipe.
Obviously, the crust is made of Walker's Shortbread Cookies. The thing I love about shortbread cookie crusts is that you don't need to use as much melted butter to get the crumbs to adhere to each other as you do with a normal cookie. The cookie itself has a high butter content, making it almost crust-ready just when it's crumbled.
Depending on the size of the box of shortbread you use, you'll want about 1 1/2 boxes of cookies. (My boxes were 5.3 ounces each.) You mix that with just a few tablespoons of melted butter, press it into the bottom of a 9″ square pan that's been lined with foil, and you bake it for 14 minutes.
You can't skip the foil folks, sorry. Unless you want to eat the bars from the pan with a fork, you need to be able to remove them easily. Line the pan with a nice long piece of foil so you can easily remove the entire slab from the pan later on.
Then you can nice, clean cut bars. Like this:
On top of the wonderful shortbread crust goes a lemon bar mixture. I debated spreading lemon curd on top but I did that last week and I also wanted a more firm bar that would work for a pot luck. I decided to adapt my lemon bar recipe to turn it into these bars.
That was a good choice.
You bake the bars, then you need to let them cool completely. Do not even try to remove them from the pan or remove the foil until they're cooled and chilled. I chilled mine overnight just because of timing, but a few hours would work just fine.
Then you make your meringue, and the angels sing.
Don't be scared of the meringue!! It's really easy. I've laid out all the steps for you in the directions. Here are a few key points:
Whisk your egg whites and the sugar in a heat-proof bowl over a pan of simmering water. Don't stop whisking – you don't want scrambled sugary eggs.
Let the mixture cook while you whisk until it's about 140°F. It takes a few minutes. I tested my temperature with my candy thermometer.
Immediately add it to the bowl of a stand mixer and beat with the whisk attachment for several minutes until it stands up on it's own – like in the whisk photo above.
That's it! Then you frost your bars and either broil or toast with a blow torch. I recommend the blow torch, it's more fun.
Then you cut them and eat them. The marshmallow meringue is so much better than normal meringue. It's sweet and delish and it pairs so well with the tart lemon and buttery crust.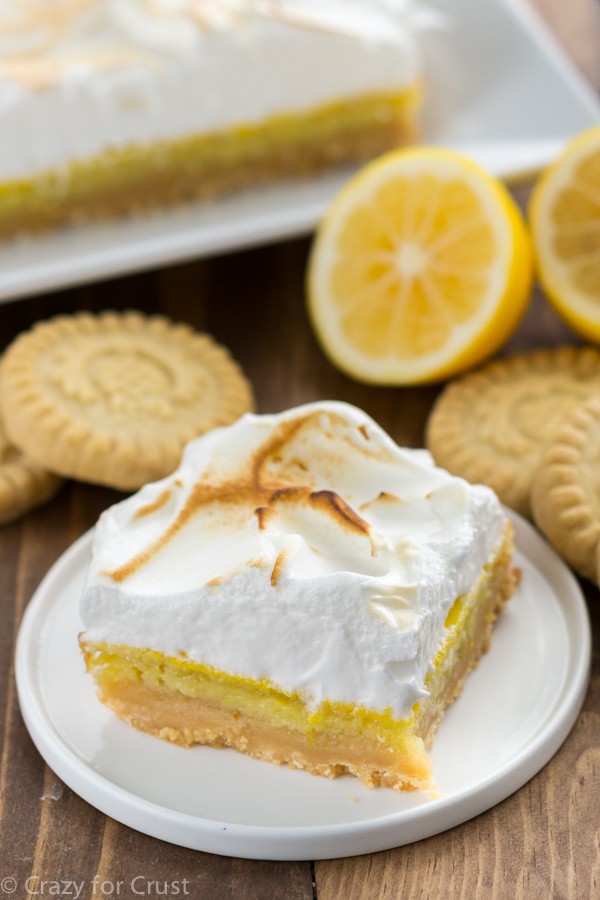 It's a match maid in heaven. Kind of like Mel and I. 🙂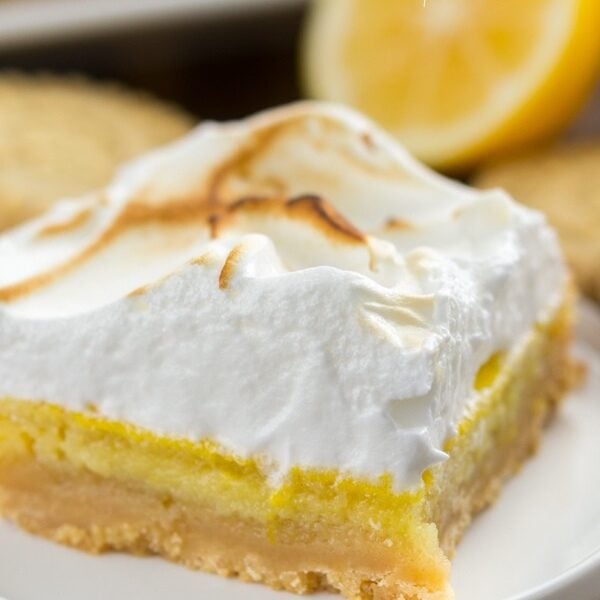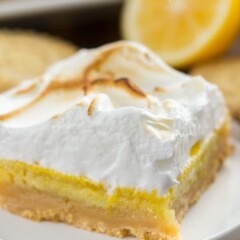 Lemon Meringue Pie Bars with Shortbread Crust
These lemon meringue pie bars are totally portable, unlike regular lemon meringue pie. A shortbread crust is topped with a lemon bar mixture and then the whole pan is frosted with a marshmallow meringue topping!
Ingredients
For the Crust
1 1/2

boxes

about 5.3 ounces each Walkers Shortbread Cookies, finely crushed (about 2 1/4 cups cookie crumbs)

3

tablespoons

butter

melted
For the Filling
1 1/2

cups

granulated sugar

Pinch

of salt

1/2

cup

fresh lemon juice

Zest of 1 lemon

4

large eggs
For the Meringue
4

egg whites

3/4

granulated sugar
Instructions
Preheat oven to 350°F. Line a 9x9" pan with foil and spray with cooking spray. (The foil is necessary for these bars! You can use parchment if you prefer.)

Make the crust by stirring together the cookie crumbs and melted butter. Press into the bottom of your pan. Bake for 14 minutes.

While the crust is baking, make the filling. Whisk sugar, salt, lemon juice, and zest in a medium bowl. Whisk in eggs. Once crust is done, whisk the mixture again, then carefully pour it evenly over the crust. Bake an additional 20 minutes or so, until the edges start to brown and the top looks solid.

Cool completely on the counter, then cover and chill until cold. It will be chilled in about 2-3 hours, but you can make the bars up to 2 days ahead and store them in the refrigerator.

When ready to serve (or within a few hours of serving), make the meringue. Remove the lemon pie bars from the refrigerator while you make the meringue.

Fill a saucepan with about 2-3 inches of water. Bring to a boil. Find a bowl that will fit on top of the pan without touching the water. (I like to use a glass bowl over a 2 Qt. saucepan.)

Whisk the egg whites and the sugar in the bowl. Place it on top of the pan that's over the boiling water (over medium-high heat). Whisk constantly for about 5-7 minutes, until the mixture reaches about 140°F. You can use a candy thermometer if you have one, or even a (clean) meat thermometer to measure the temperature.

Immediately transfer the mixture to a stand mixer fitted with a whisk attachment. Beat at high speed for until stiff peaks form, about five minutes depending on your mixer. Your meringue is now ready! (You can also use a hand mixer but it will take a lot longer.)

Use the foil to remove the lemon bars from the pan. Remove foil and place on a cookie sheet or serving plate (depending on how you're toasting the meringue.) Frost the top with meringue. Really heap it on there!

Use a kitchen blowtorch to lightly brown the tops of the meringue. Or, you can place the pie under the broiler for just minute or two - do NOT walk away from the stove!

Slice and serve within a few hours.
Nutritional information not guaranteed to be accurate
Click here to see the complete list of Lemon Recipes!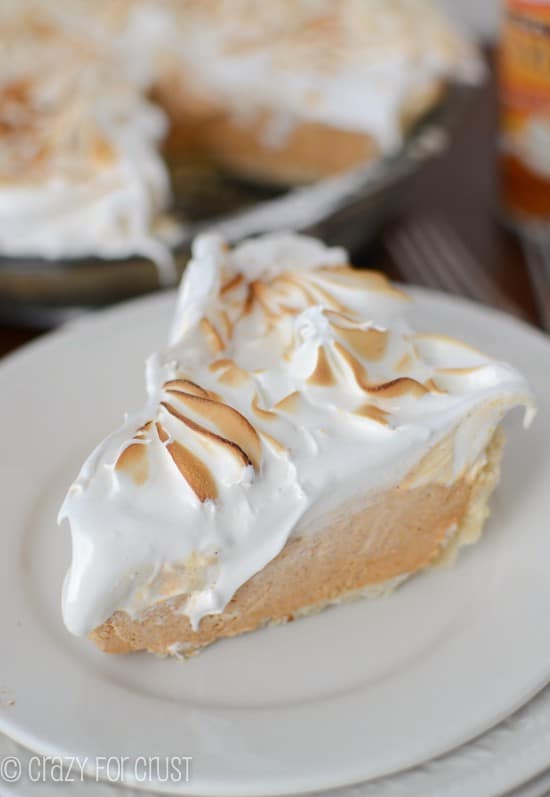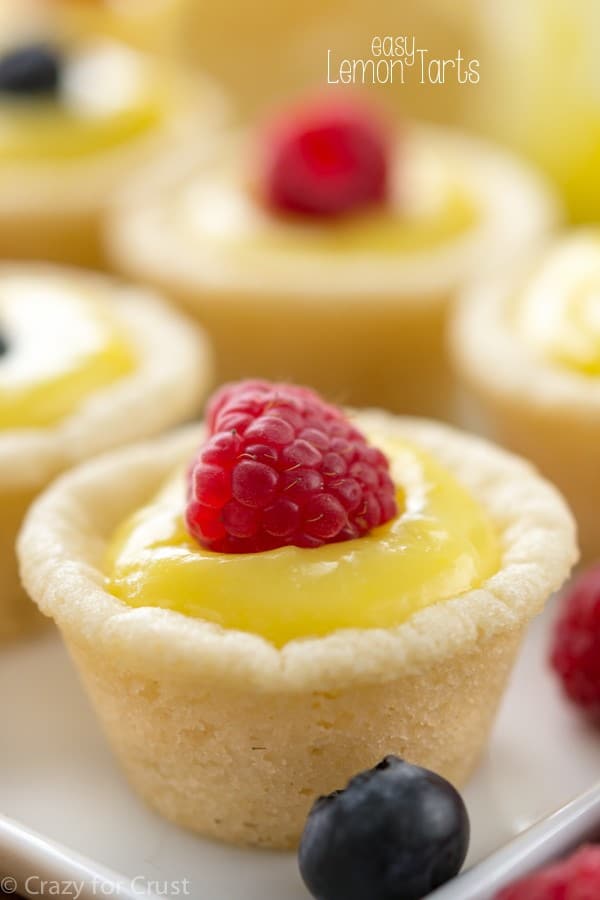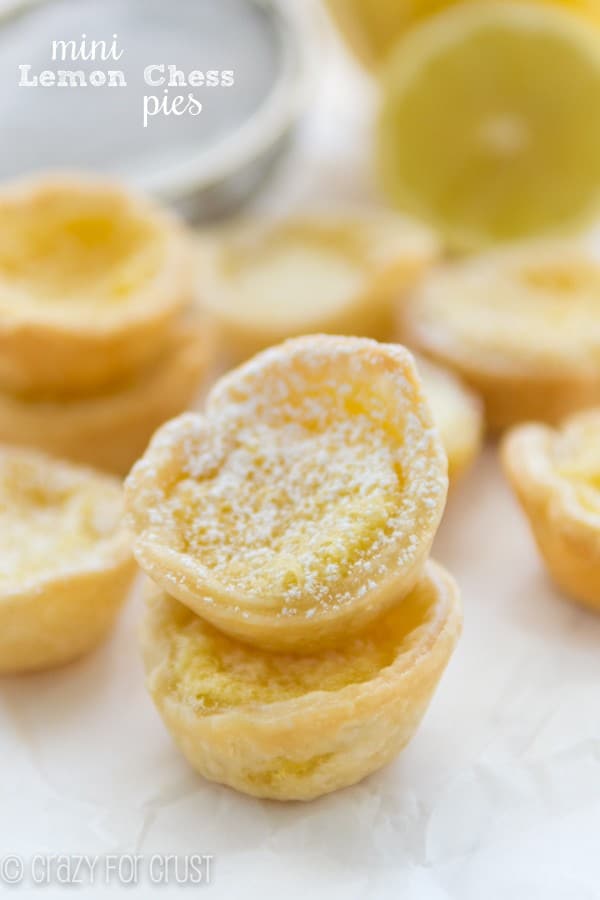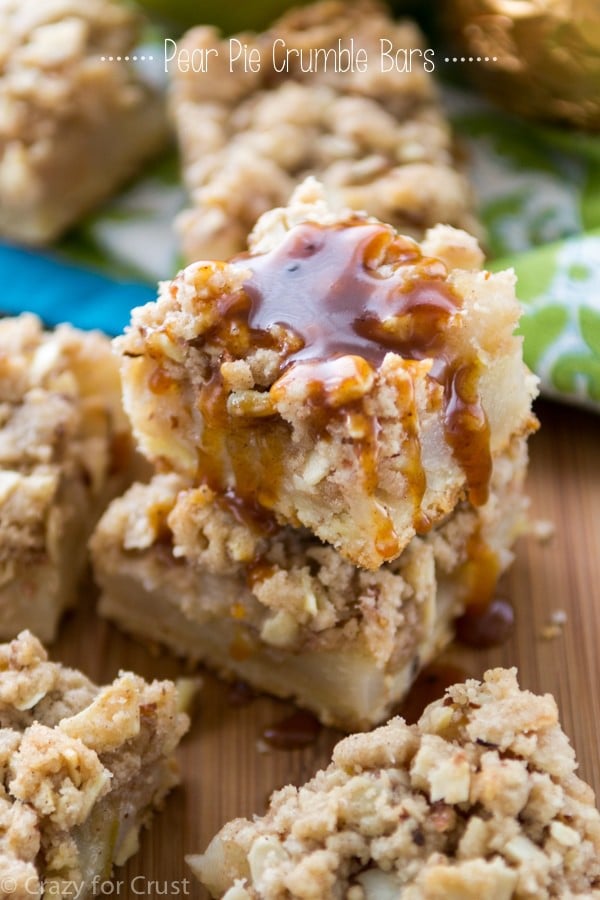 This post was sponsored by Walker's Shortbread. All opinions are 100% my own. Because who doesn't love Walker's Shortbread??!!
Last Updated on February 2, 2023