This post may contain affiliate links. For more information, read my disclosure policy.
Oh. My. God. You Guys! This Frozen Pumpkin Meringue Pie is one of the best pies I've ever made!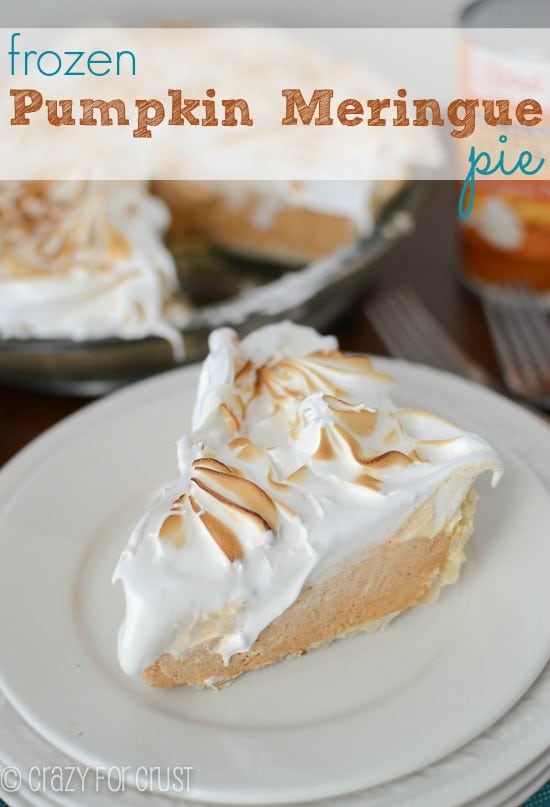 I often wonder if people think I'm running a drug house. I'm not really…only I guess I sort of am. Instead of distributing drugs, I'm dealing sugar-ladden treats.
I've been baking a lot lately and I do not want to keep stuff in my house. So I'll pack it in baggies and bring it to school pick-up. Or I'll put out a call on Facebook and tag my sugar-loving friends.
Last week, when I made this pie, people were actually stopping by my house after stalking my car and realizing I was home. I was happy to deal share this pie because otherwise I would have eaten the entire thing – no joke.
It's that good.
The pie is awesome. It's a frozen pumpkin pie. I mean, *swoon*, right?
But then. Then there is meringue. The best meringue I've ever eaten or made in my entire life.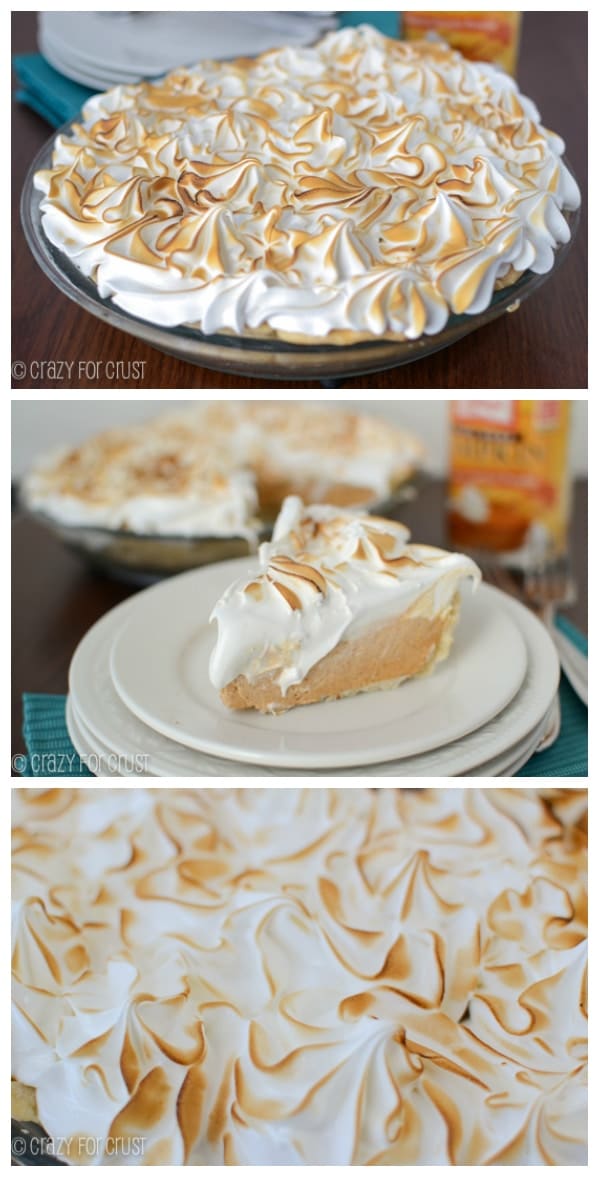 This pie almost didn't get made because I almost strapped the mixer bowl on like a feed bag and went to town. But I resisted, because I had to share it with you.
When I was at Duncan Hines last month, Chef Joe showed us how to make the perfect meringue. The secret is 2 parts sugar to 1 part egg whites, and it's probably one of the easiest things I've ever made.
People – it was easier to make the meringue than it was to figure out how to turn the blow torch on.
It was easy. Believe me!
Chef Joe likes to give measurements in weights. As in 5 ounces of this and 1 pound of that. I know that's all well and good, and the way we're supposed to do it, but I'm a home cook and so are you. I converted his weights to cups for you. But I also included the weights I used. In case that's the way you roll.
If you take nothing else away from this post, please take the meringue. OMG you must make it.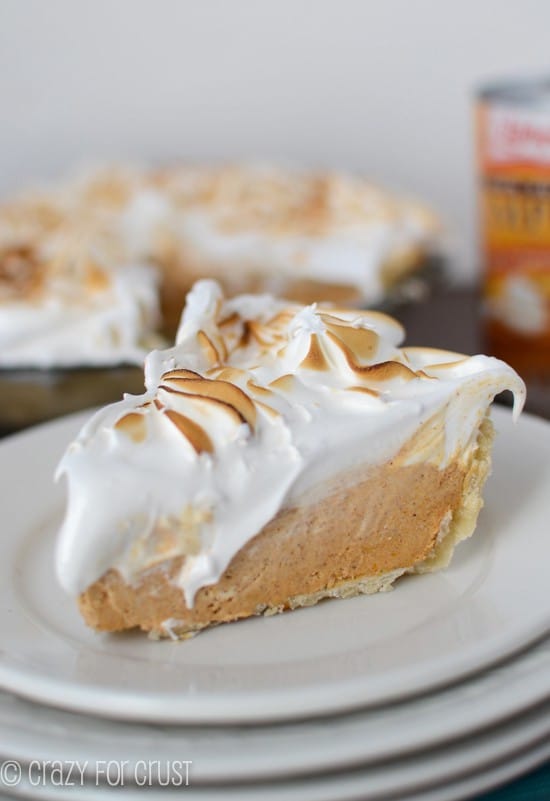 The pie itself is a mixture of pumpkin, sweetened condensed milk, spices and Cool Whip. A note about the spices: the recipe calls for 2 teaspoons. I actually made it with a tablespoon and it was a little too spicy for me. If you like spice you can go heavier. I think 2 teaspoons would have been perfect.
You place the mixture in a pie shell that's been pre-baked (I love Pillsbury refrigerated crusts best!) Then you freeze it.
As I said, making the meringue could not be easier – you just whisk egg whites and sugar over a pan of boiling water and then beat them in a mixer. When you're ready to serve your pie, you top it with the meringue, and then torch the tips. I got a kitchen torch recently and have been dying to try it. It made it so simple to brown the tops of the meringue, but you can also do it under a broiler, if you don't have a torch.
And I didn't burn down the house!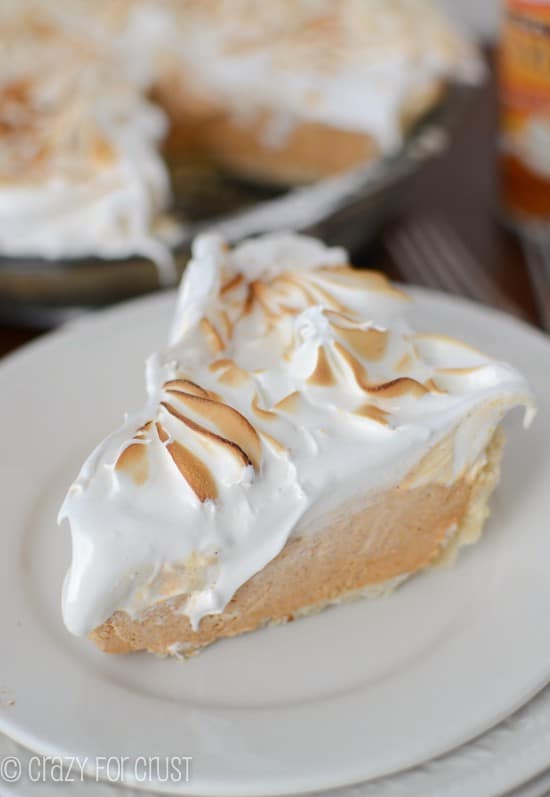 So, yeah. If you like desserts, you can come by my drug sugar house too. I'll sneak you goodies in a paper bag. And this pie. OMG. You must make it!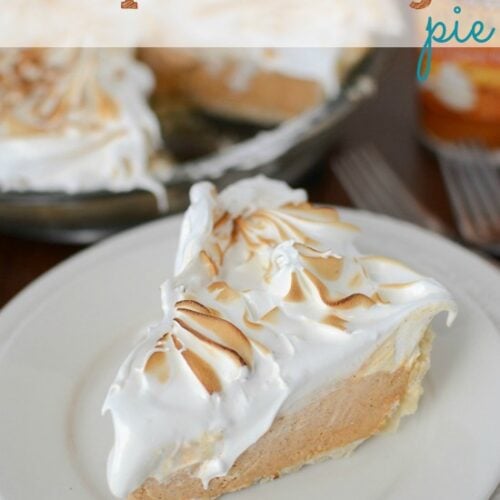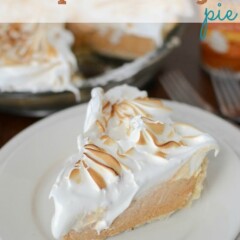 Frozen Pumpkin Meringue Pie
Ingredients
For the Pie
1

refrigerated pie crust

I like Pillsbury

1/2

cup

sweetened condensed milk

3/4

cup

pumpkin puree

from a can (not pumpkin pie mix)

2

teaspoons

pumpkin pie spice

1

and 1/2 containers Cool Whip Topping

about 12 ounces
For the Meringue
4

egg whites

about 1/2 cup or 4 3/8 ounces

1

and 1/4 cups + 2 tablespoons granulated sugar

about 8 3/4 ounces
Instructions
Make the Pie
Preheat oven to 350F. Unroll your pie crust and lay it in a 9" pie plate. Poke the bottom of the pie several times with the tines of a fork, so it won't bubble during baking. Bake for about 17-19 minutes, until golden. Cool completely before filling.

Whisk sweetened condensed milk, pumpkin, and pumpkin pie spice in a large bowl. Gently fold in cool whip. Pour into cooled pie shell. Freeze until hardened, at least four hours, but overnight is better.
Make the Meringue
Fill a saucepan with about 2-3 inches of water. Bring to a boil. Find a bowl that will fit on top of the pan without touching the water. (I like to use a glass bowl over a 2 Qt. saucepan.)

Whisk the egg whites and the sugar in the bowl. Place it over the boiling water and whisk until the mixture reaches 120-160º. This takes just a few minutes. You can use a candy thermometer if you have one, or even a (clean) meat thermometer.

Once it comes to temperature (I let mine come to 140º), transfer the mixture to a stand mixer fitted with a whisk attachment. Beat at speed 4-6 for until stiff peaks form, about five minutes depending on your mixer. Your meringue is now ready!

You can top your pie just before serving, but you can also top it and refreeze the pie until ready to use. There are two ways to put the meringue on your pie. First, you can just spread it on. Second, for a prettier look, place the meringue in a pastry bag fitted with a 1M tip. Pipe swirls all over the pie. There is just enough meringue to cover the top of the pie in one layer.

Use a kitchen blowtorch to lightly brown the tops of the meringue. Or, you can place the pie under the broiler for just a few seconds - do NOT walk away from the stove!

It's easiest to slice frozen, but it tastes best after the slices sit at room temperature for a few minutes.
Nutritional information not guaranteed to be accurate
Other pumpkin goodness:
Pumpkin Cheesecakes with Ghost Meringue
Sweets from friends:
Chocolate Pumpkin Ice Cream Pie by Wine & Glue
Double Pumpkin Poke Cake by Beyond Frosting
Pumpkin Oreo Cheesecake Bars by Something Swanky
Last Updated on February 2, 2023