This post may contain affiliate links. For more information, read my disclosure policy.
Plan your next party like a pro! I'm sharing my best tips and tricks for how much food to serve at a party (drinks too!) because there's nothing worse than running out of food halfway through the night.
Whether it's a happy hour party with drinks and appetizers or a full sit-down dinner with main course, sides and desserts, get all the estimates and planning tips you'll need to have an amazing party that has plenty of food and drink for everyone.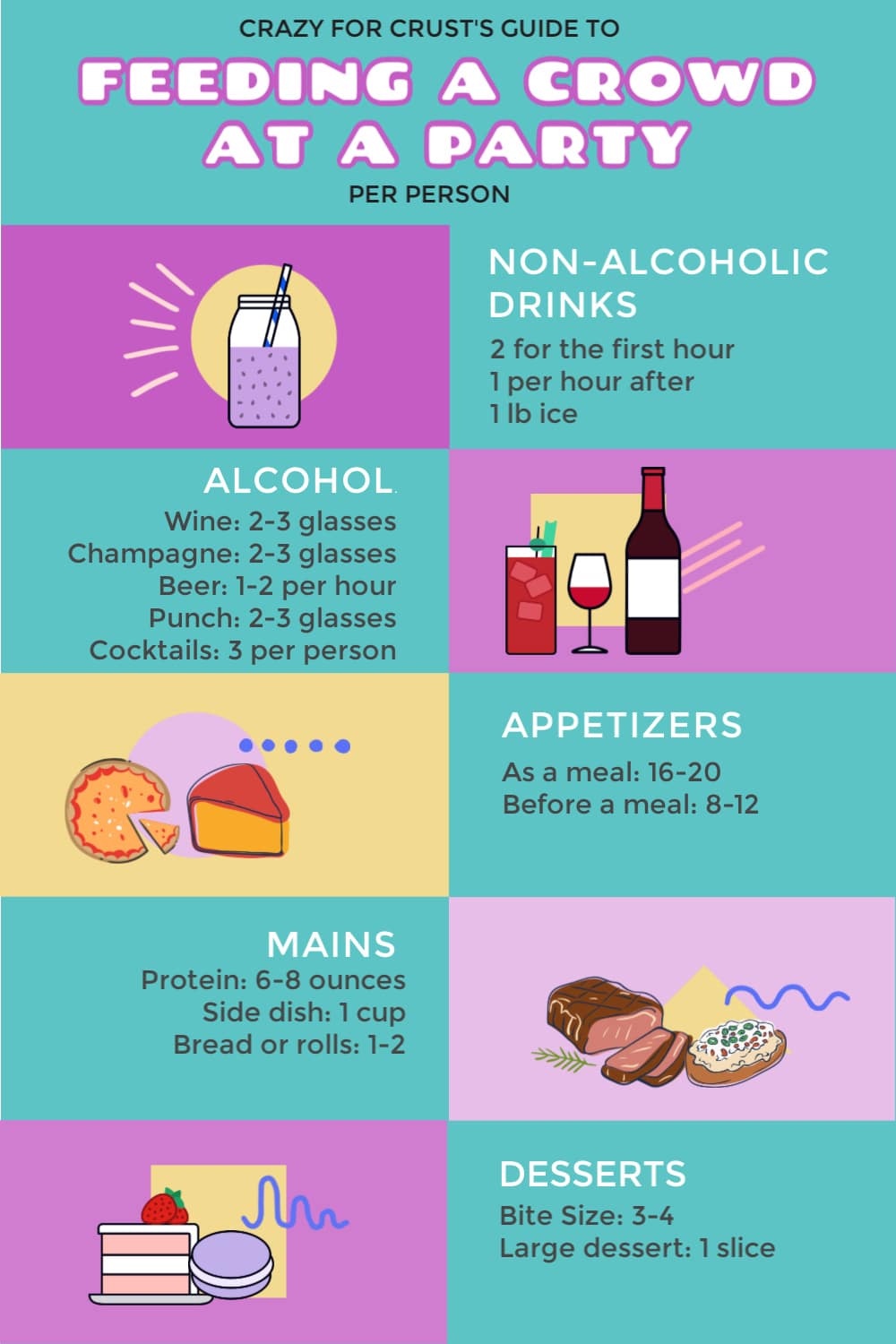 Party Planning Food Amounts
If you're planning a party and have no idea how much food and drink to plan for you are going to love this post! There's nothing worse than running out of food and drinks halfway through the party. It's also painful to blow your budget because you planned for more than you need! So, I'm taking all of the guesswork out and sharing a handy-dandy guide for planning your next party.
I've got you covered in all departments – wine, beer, mixed drinks and even ice! In the food department I'm breaking it down for you whether you're serving simple appetizers or a sit-down dinner or buffet including how to estimate main courses, side dishes, and, of course, desserts.
This guide will help you better estimate what you'll need and you can adjust based on your guests. You know, because we all have the friend who loves the champagne a little more than the next person or the family member who takes more than their fair share of chicken wings.
This party food guide is customizable and flexible – use it as a starting point and you'll be confident you have the right amount of food and drinks to serve your guests.
How do you calculate drinks for a party?
Assume each guest will have a one alcoholic drink per hour, but you know your guests best so use it as a starting point.

For non-drinkers estimate two drinks in the first hour with one drink an hour after that.

Tip: Planning a summer party? Estimate more drinks if it's hot outside!
This list covers the type of drinks per person if that's the only kind of drink you're serving. Use it as a starting point depending on your guests and the variety of drinks you want to offer.
Tip: The more drink choices you offer, the less you need of each choice. So, keep this in mind while you're planning!
Wine: 2 to 3 glasses or approximately one (750ml) bottle per two guests.
Champagne: 2 to 3 glasses on average, estimate more if you have a bubbly-loving friend (don't we all?!).
Beer: 1 to 2 bottles per hour.
Punch: 2 glasses. In my experience, people usually switch to wine, beer or cocktails after a couple glasses.
Cocktails: 3 drinks per person. A 750ml bottle makes approximately 16 drinks if you are doing an average pour. Also, don't forget the mixers! Plan for a quart of mixers per three guests depending on the kind of cocktails you are serving.
Non-alcoholic drinks: 2 drinks in the first hour, 1 drink every hour after that.
It's always a good idea to have extra beer and wine on hand in case you run low on other drinks you're serving.
How much ice do I need for a party?
It will depend on the kind of drinks you are serving but a good rule of thumb is approximately 1 pound of ice per person. If it's hot outside you may want to have more.
Great drinks for a party:
How to Calculate Food for a Party?
Whether it's appetizers and snacks for a game-day party or a fancy sit-down dinner for a special occasion or holiday dinner one thing is for sure – you don't want to run out of food! Use my guide for how much food to serve and I think you'll feel a lot more confident in planning food for your party.
Depending on what you'd like to serve the amount of food will differ. Appetizers only? Buffet-style with main dishes and side dishes? Or a full meal with appetizers, main dishes, side dishes and desserts? I've laid it all out here for you so you don't have to worry about running out before the party is over.
How many appetizers for a party?
Depending on the type of party you're having you'll want to estimate different amounts of appetizers to serve.
Appetizers only: If you're only planning to serve appetizers and snacks plan on 16 to 20 appetizers per person.
Appetizers with a main dish: If you're planning to serve appetizers before a main dish estimate approximately 8 to 12 appetizers servings per person.
Of course, take into account the type of appetizers you're serving. If they're light you might want to estimate a few more per person. If they're on the heavier side you can estimate a little less. Also, like drinks, the more variety you have the less you need to serve of each.
Plan to serve bowls of chips, crackers, nuts or olives that people can snack on, too, in case someone gobbles up your best appetizer!
How much food per person?
If you're planning a main dish with side dishes here are some estimates to start with as you're planning your dishes:
Plan for 6 to 8 ounces per person for your main dish protein.
For side dishes, estimate 1 cup per person.
For bread, it's a good idea to estimate 1 to 2 slices or rolls per person.
How many desserts per person?
Want to offer a sweet treat? Here's a guide if you want to serve desserts at your party, too!
For small desserts like cookies estimate 3 to 4 pieces per guest.
For big desserts like cake estimate 1 slice per person.
What are good party foods?
No more guessing! This guide will take all the stress out of planning your party. Everyone will think it was catered and you can focus on having FUN at your party instead of worrying about running out of everything. I hope you've found it helpful!
Last Updated on September 28, 2022