This post may contain affiliate links. For more information, read my disclosure policy.
BBQ Turkey Cheddar Sliders are SO delicious! This easy sliders recipe is full of turkey, cheese, and barbecue flavoring! The topping on these BBQ turkey cheddar sliders tastes JUST like a BBQ chip, and this is the perfect recipe for a party. EVERYONE loves sliders!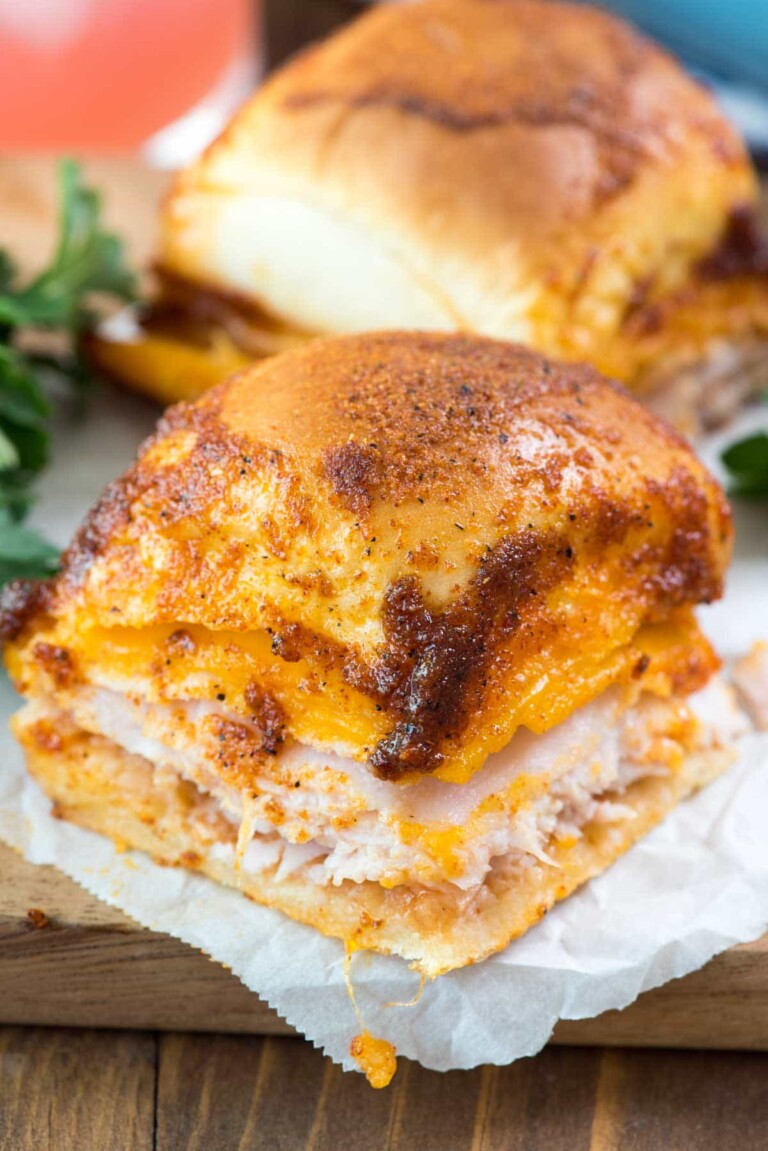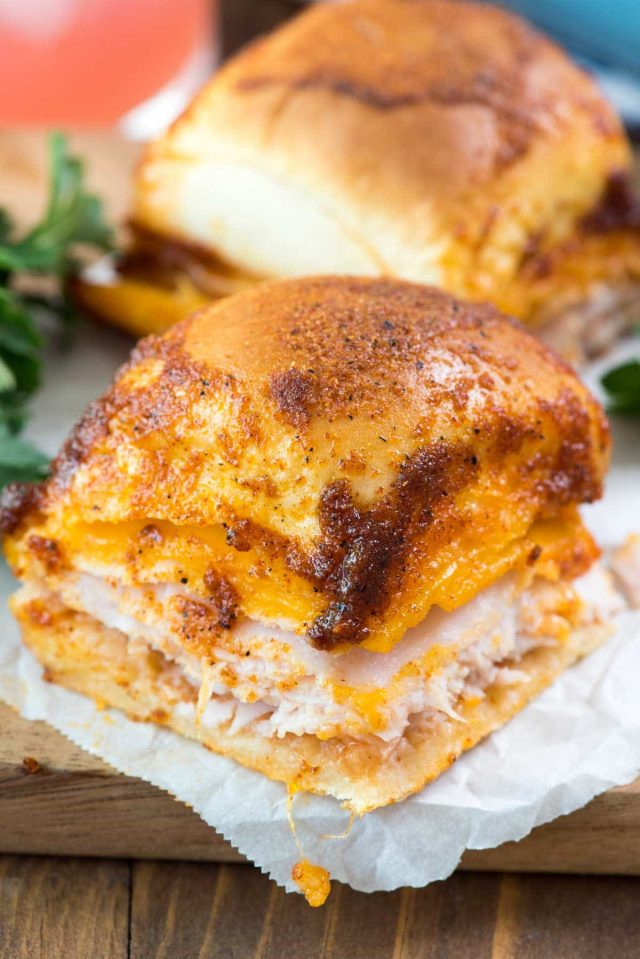 You guys, I am absolutely giddy. By the time you read this I'll be in the air flying to Canada to see Holly. Jordan is coming with me, because she and Holly's daughter are friends online too. It'll be Jordan's first ever passport stamp! I am excited to experience international travel with her, especially the minor differences in culture, shopping, food, and money. In fact, one of the days Holly and I plan to just go to the grocery store and shop. I am bringing the largest suitcase I own so I can bring back all the Canada candy and Cheezies.
Last time I went to Canada, it was Mel and I, and we went to Vancouver. This was just a few years ago; he was working and I went with him for the weekend. I'll never forget on the first night I was buying candy (what else?) and he handed me Canadian money to pay with. I just held the money as the girl told me the total, blank faced, confused. I still don't know that the different coins are, but I'm going to do some research today. And then give my credit card a workout, ha!
Something super fun about our visit is that we will be there for Canada Day, which is Canada's 4th of July. So we get to experience their fireworks and fun country celebrations and then fly home the next day to get ready for our July 4th party!
Speaking of parties, these BBQ turkey cheddar sliders make an appearance at every single one. EVERYONE loves sliders, no matter what the flavor!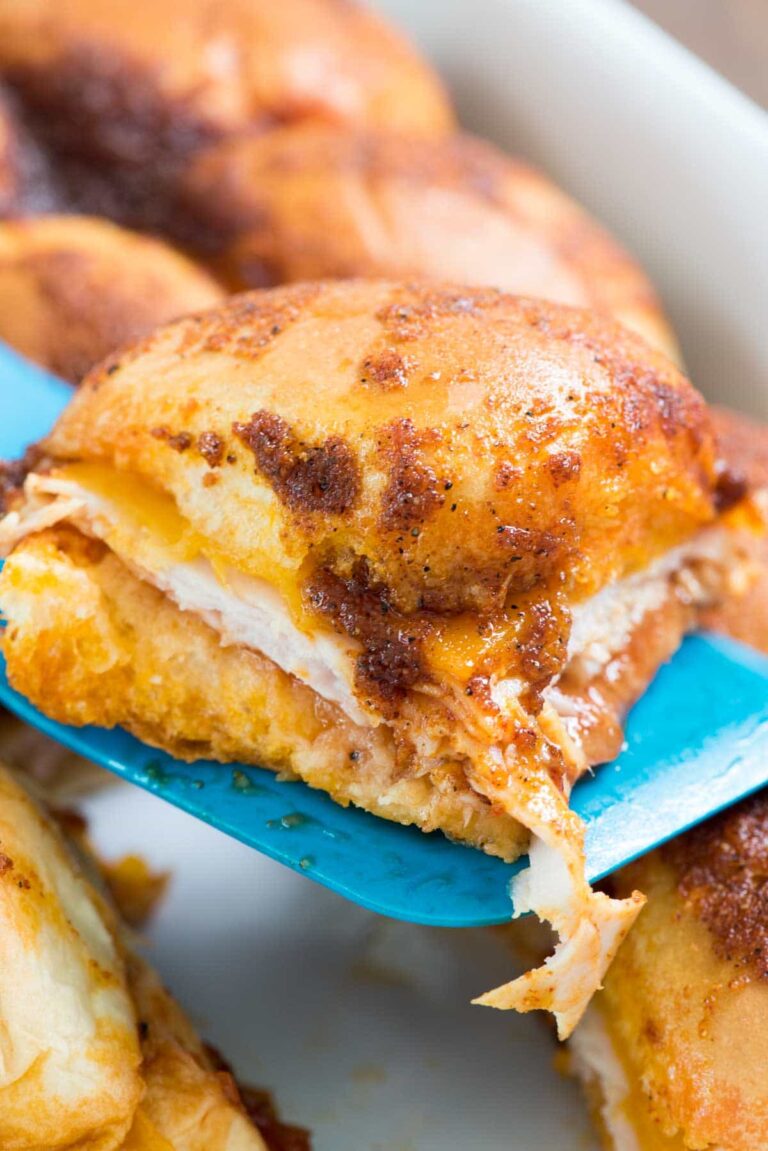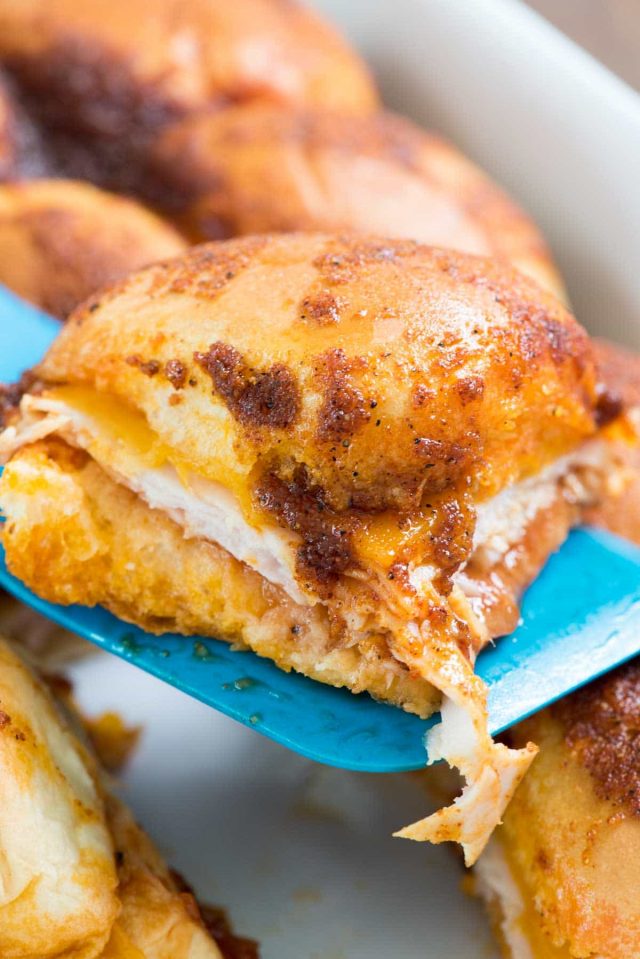 I have a huge weakness for sandwiches, sliders in particular, especially if they're made with King's Hawaiian bread. This post isn't sponsored by them, but I absolutely love the rolls so much. If left to my own devices, I can eat an entire 12-pack on my own…in one day. That's why I rarely buy them, except for holidays, or when I'm making sliders and doing something with the whole package (like making a trifle).
I remember when I was living in Arizona there was this grocery chain…Bashas, I think. They used to have a $10 meal deal with a rotisserie chicken, 2 sides, and a 4-pack of the King's Hawaiian rolls. Mel would give me all 4, ha! I'd finish the package, but at least it was 4 and not 12!
Some of the most popular dishes at any potluck are sliders. My friend Averie has a ham and cheese slider that is a huge hit every time it appears. My favorite deli meat is turkey, so I decided to go with turkey and cheese…and BBQ flavor. I am obsessed with BBQ chips (another thing I can't buy or I eat an entire bag) and these BBQ turkey cheddar sliders have a coating that tastes JUST like them!


Let's break down the BBQ turkey cheddar sliders recipe:
King's Hawaiian rolls are sliced and slathered with your favorite barbecue sauce. You can use any kind, any brand. (I actually also love the King's Hawaiian BBQ sauce. Again, this is NOT sponsored, we just love it. It's sweet and savory in one bottle.)
After you slather on the sauce, you layer deli turkey meat and cheddar cheese. I just think cheddar goes so well with BBQ flavor, but you could also use Jack or Pepper Jack, or any kind you like.
Then, before you bake them to melty goodness, you mix up some melted butter with all the spices you need to make a BBQ chip seasoning. The secret ingredient: smoked paprika and brown sugar. Pour it all over the rolls, then bake.
After that…EAT! And try to share. 🙂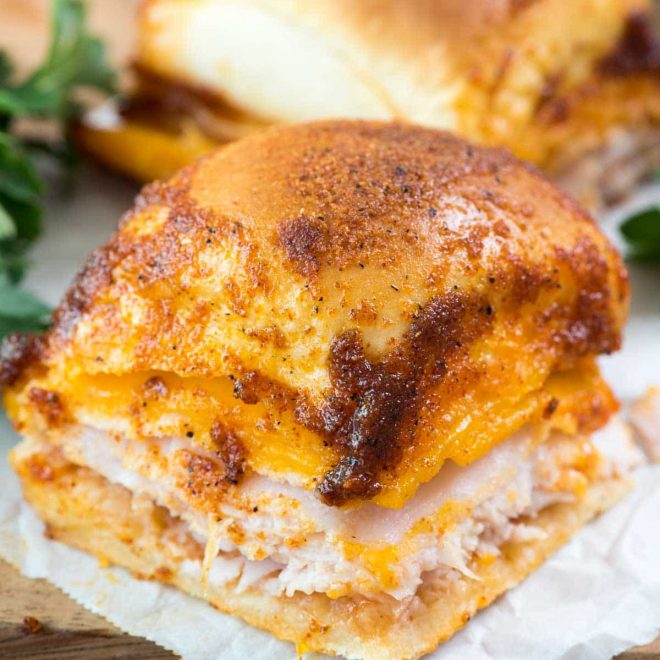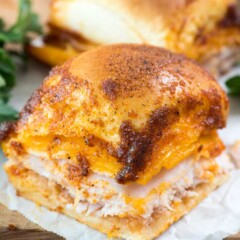 BBQ Turkey Cheddar Sliders
BBQ Turkey Cheddar Sliders - this easy slider recipe is full of turkey, cheese, and barbecue flavoring! The topping tastes JUST like a BBQ chip!
Ingredients
1

package

12 rolls dinner rolls (such as King's Hawaiian)

1/4

cup

barbecue sauce

8

ounces

sliced turkey deli meat

8

slices

about 6 ounces sliced cheddar cheese

1/2

cup

unsalted butter

melted

2

teaspoons

smoked paprika

2

teaspoons

packed brown sugar

1

teaspoon

kosher salt

1/2

teaspoon

garlic powder

1/2

teaspoon

onion powder

1/4

teaspoon

ground black pepper

1/4

teaspoon

chili powder
Instructions
Spray a 9x13" baking dish with nonstick cooking spray. Preheat oven to 350°F, or if you're using a grill, use a disposable pan and preheat it to about the same temperature.

Slice rolls in half (leave them connected if they are connected in the package). Place the bottom of the rolls in the pan. Spread with barbecue sauce, then layer with turkey and shredded cheese. Place the top half of the rolls on top.

Stir together butter and spices, then pour over the top of the sandwiches. Bake or grill until the cheese is melty and the sandwiches are golden brown, about 15 minutes. Serve warm.
Nutritional information not guaranteed to be accurate
Click here for my ultimate Football Party Menu!
Last Updated on May 12, 2020