This post may contain affiliate links. For more information, read my disclosure policy.
Homemade Hummus is easy to make from scratch with ingredients you may already have in your pantry! There are countless ways to flavor it, and this version is seasoned with Everything Bagel Seasoning. It's so easy to make and has the best creamy texture. Serve this dip recipe with pita, veggie sticks, or crackers for a great appetizer or snack.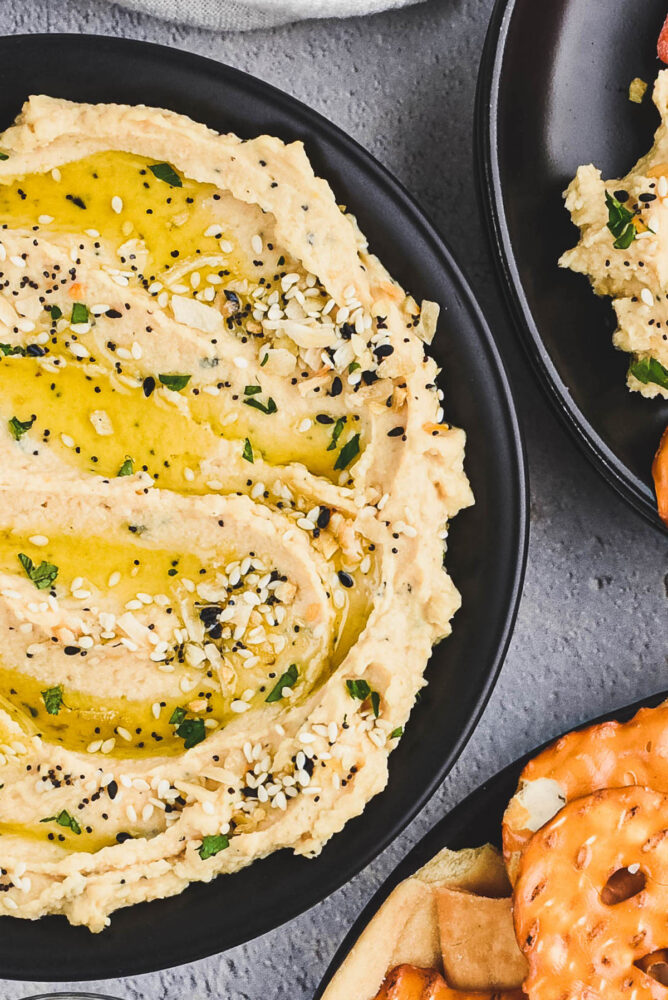 Best Homemade Hummus
If you've never made hummus, I am so excited to share this hummus recipe with you. It's so easy you can make a batch in just a few minutes – you'll skip the store-bought kind once you try it.
If you are looking for easy appetizers for a party or just a quick and easy snack to have on hand, this homemade hummus is for you.
I love to make hummus because I usually have the ingredients on hand in my pantry. You only need canned beans, olive oil, tahini, and lemon juice. From there, you can add different ingredients to change the flavor. This everything bagel hummus is always a favorite!
This homemade hummus recipe with tahini is a healthy appetizer or snack that is also vegetarian. It takes just a few minutes to make, and it's so smooth and creamy. Garbanzo beans are high in protein and fiber but low in calories, so hummus is an excellent option if you want a healthy snack.
What is Everything Bagel Seasoning?
Did you know you can buy everything bagel seasoning? It's in the spice aisle and is a mix of sesame seeds, garlic, onion, and other savory flavors used to make everything bagels. It's a fun ingredient to have on hand because you can add to it so many things like this hummus recipe.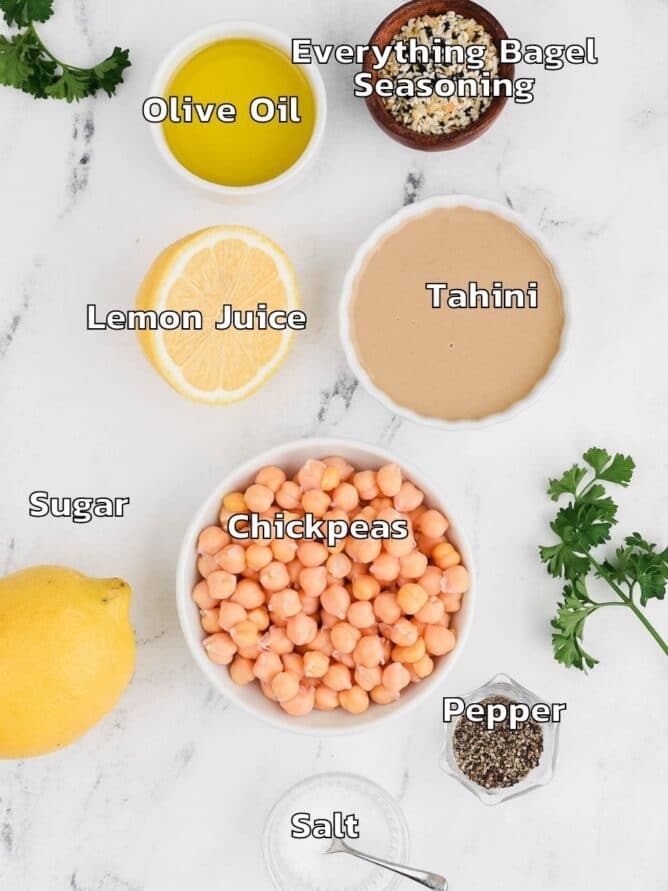 Ingredients in Hummus
Chickpeas: Canned garbanzo beans (chickpeas), drained and rinsed
Water
Tahini: Often found in the International aisle of the grocery store.
Olive oil: Or Extra Virgin Olive Oil
Fresh lemon juice: Adds a brightness to the recipe
Seasoning: Everything bagel seasoning, Kosher salt and Black pepper (to taste)
What is Tahini and Why You Need It
Traditional hummus is made with tahini and is what gives it its distinctive. Hummus without it is just not the same!
If you've never tried it, tahini is made with toasted sesame seeds. They are finely ground with oil and used to flavor different dishes like hummus. I prefer tahini made with toasted sesame seeds.
You can buy prepared tahini at most grocery stores or online, but it's easy to make your own if you can't find it.
How to make homemade tahini: Finely grind hulled toasted sesame seeds in a food processor. Add two tablespoons of canola oil and blend for three minutes or until the tahini is smooth. Store the tahini in an airtight container in the refrigerator.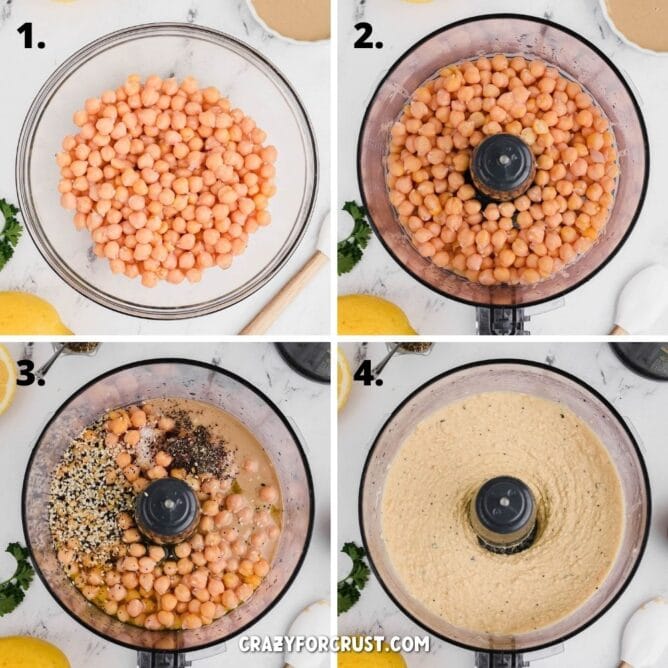 How to Make Homemade Hummus
Place the beans in a microwave-safe bowl with water. Warm them for one minute and 30 seconds.
Place the warm beans in a food processor.
Add the rest of the ingredients to the food processor.
Blend for one minute and then scrape down the bowl. Blend for one more minute or until the hummus is smooth. The hummus should slowly drip off a spoon – if it is too thick, add a little water and blend.
Taste the hummus and add more seasonings if needed. Chill it for at least 30 minutes.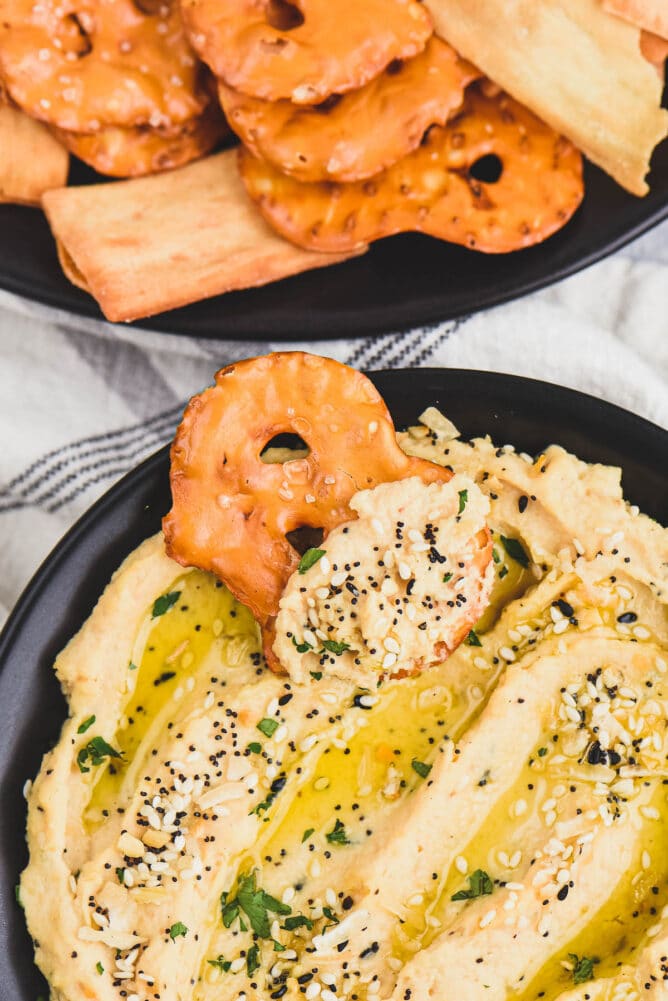 Tips and Variations
Do you have to remove the husk? Chickpeas have a translucent soft husk that you can remove or leave on. I leave them on, but it's really easy to do that once the beans are warm if you prefer to remove them.
How to make smooth hummus: For the smoothest hummus, don't skip the microwave step. Microwaving the beans first helps them blend easier, making your hummus smoother.
If you want a tangier hummus, add another squeeze of lemon juice.
How to flavor hummus
You can use different dried spices and seasoning.
Try adding two tablespoons of jarred roasted red peppers.
Sometimes, I add a few tablespoons of toasted pine nuts and some pesto.
Or mix in some garlic – I love some roasted garlic hummus!
I am loving jalapeño hummus right now – just stir in some chopped pickled jalapeños.
How to serve Hummus
Serve homemade hummus with sliced cucumbers, tomato wedges, carrot sticks, celery sticks, or broccoli florets. I love it with crackers, pita chips, bagel chips, and pretzels, too.
It's also a great make-ahead recipe! Hummus will keep in an airtight container in the refrigerator for five days.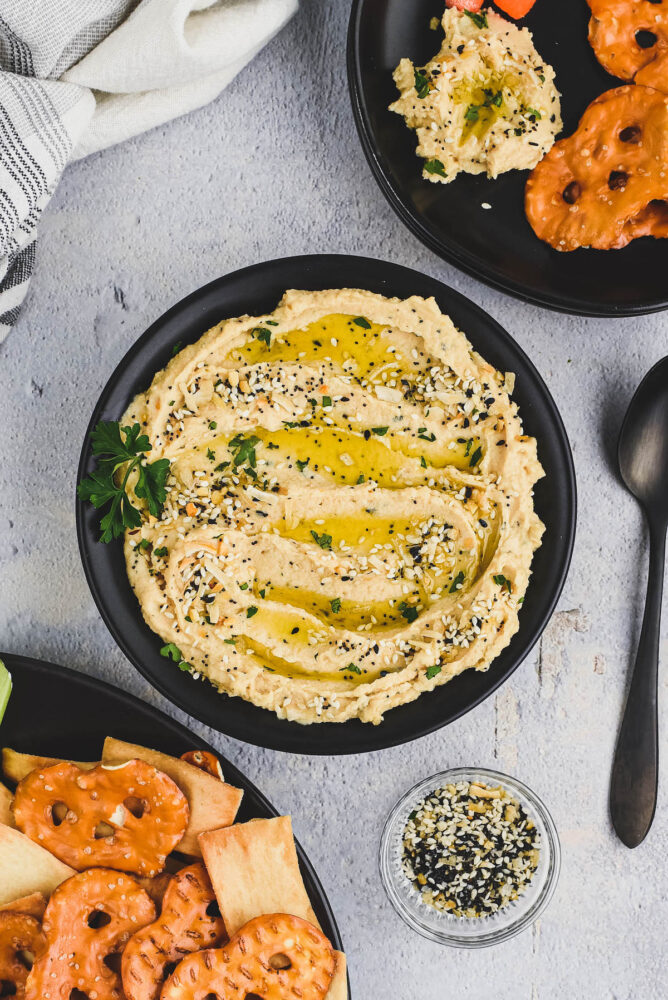 Hummus Making FAQ
What can I use instead of tahini in hummus?
If you don't want to use tahini, try cashew butter, almond butter, or sunflower seed butter. You can also use peanut butter, but it will change the hummus flavor.You can also use sesame oil instead.

Or, you can leave it out and add a little more oil. It won't have the classic hummus flavor, but it will still be delicious.
Do you need to cook chickpeas before making hummus?
If you are using dried chickpeas, you will need to cook them first. If you use canned beans, all you need to do is warm them up in the microwave.
How can I make hummus healthier?
Hummus on its own is already pretty healthy! What can make it unhealthy are the dippers you serve it with. For a healthy hummus snack, pair it with veggies.
Why is my hummus too thick?
You may need to add a little more water to thin it. If your hummus has been sitting out, it will thicken. You can always blend it again to thin it out.

When I make it, I blend it, so it's on the thinner side since it thickens as it stands.
Why is my hummus too thin?
Did you add too much oil or water? Be sure to add what is listed in the recipe and only add more if your hummus is too thick.

If it's too thin, you can add more chickpeas to thicken it. You can also try chilling it – it will thicken up as it stands.
More Savory Appetizers You'll Enjoy
Have you made this recipe?
Tag @crazyforcrust on Instagram or hashtag it #crazyforcrust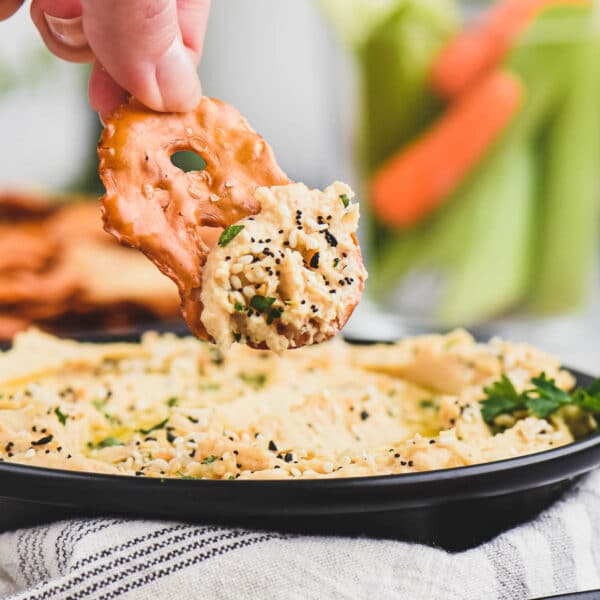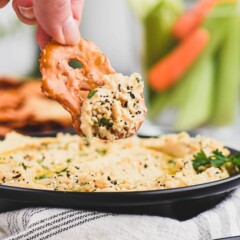 Everything Hummus Recipe
If you are looking for easy appetizers for a party or just a quick and easy snack to have on hand, this Homemade Everything Hummus is for you.
Ingredients
15

ounce

can garbanzo beans

drained and rinsed well

2

tablespoon

water

⅓

cup

prepared tahini

3

tablespoon

olive oil

Juice of half a lemon

3

tablespoon

everything bagel seasoning

plus more for garnish

1

teaspoon

kosher salt

or to taste

½

teaspoon

black pepper

or to taste
Instructions
Place beans in a microwave safe bowl with 2 tablespoon water. Cover with a wet paper towel, microwave for 1 minute 30 seconds.

Place all hummus ingredients in the work bowl of a food processor (or blender) and process for 1 minute. Scrape down sides and process for 1 more minute, or until smooth. If it's too thick, add water a teaspoon at a time until desired consistency is reached. It will thicken as it stands, so make it a bit on the looser side. It should slowly flow off a spoon.

Test for seasoning, add salt as needed. Chill for 30 minutes, garnish with everything bagel seasoning. Store in airtight container in refrigerator for up to 5 days.
Recipe Nutrition
Serving:
1
serving
|
Calories:
102
kcal
|
Carbohydrates:
6
g
|
Protein:
3
g
|
Fat:
8
g
|
Saturated Fat:
1
g
|
Polyunsaturated Fat:
2
g
|
Monounsaturated Fat:
4
g
|
Sodium:
492
mg
|
Potassium:
83
mg
|
Fiber:
2
g
|
Sugar:
1
g
|
Vitamin A:
10
IU
|
Vitamin C:
1
mg
|
Calcium:
22
mg
|
Iron:
1
mg
Nutritional information not guaranteed to be accurate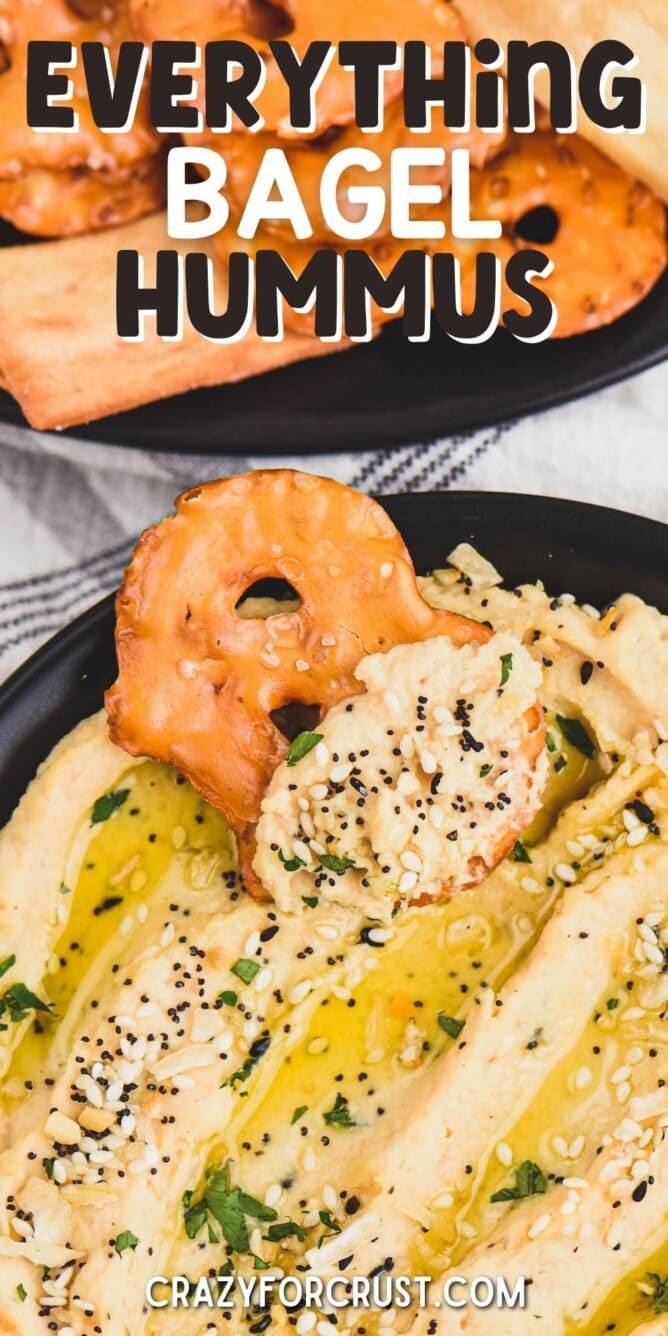 Now that you've seen how easy it is, I hope you give this homemade hummus recipe a try. It'll be your go-to whenever you want a quick appetizer or snack!
Last Updated on May 20, 2022