This post may contain affiliate links. For more information, read my disclosure policy.
This easy Meatball Sub Bites recipe makes the best appetizer or lunch. Wrap frozen meatballs in biscuit dough with sauce and cheese for the perfect bite!
PIN IT NOW to save for later!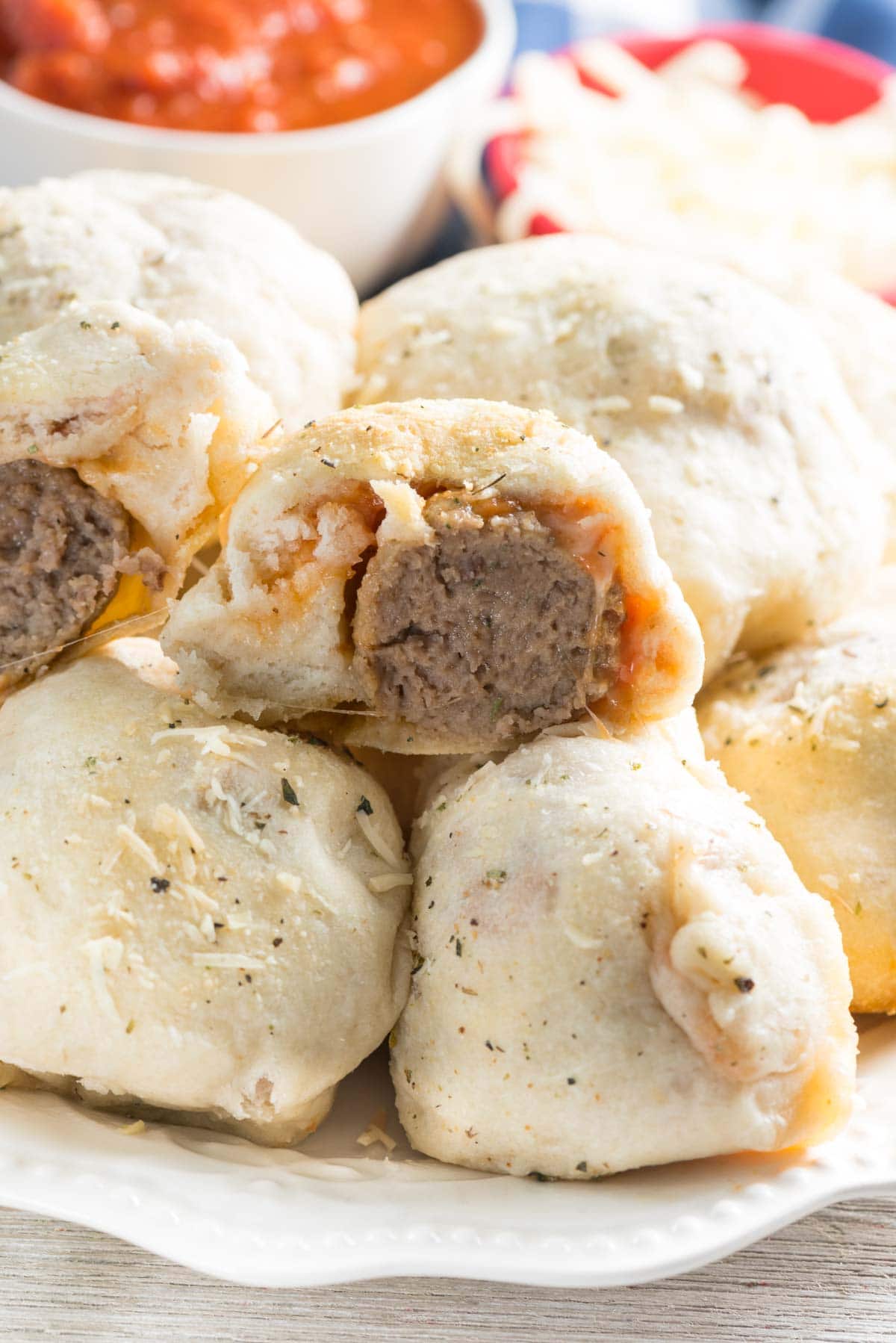 It's mid-January and you know what that means….FOOTBALL is on the brain! Well, Mel's brain, not mine. It's only on my brain because I have to plan our weekends around the playoffs and the big game. As in, "Okay, you take Jordan to her thing in the morning and then I'll take her in the afternoon once the games start" or I better download 4 extra books for this weekend because there is no way I'll be watching regular TV at all.
And although I'm not a fan of watching football I am a fan of eating football food. A big, big fan. Now, normally I lean towards the sweet when I'm making recipes for a party (like, say, a peanut butter football or some gooey bars) but, contrary to popular belief, I actually make real food for parties too. I told you last week that one of my entertaining staples are Pepperoni Pinwheels but another go-to are meatballs. I make them in some way for every gathering, and at least a few times a month for dinner (and even more when it's busy or I don't feel like cooking a full meal).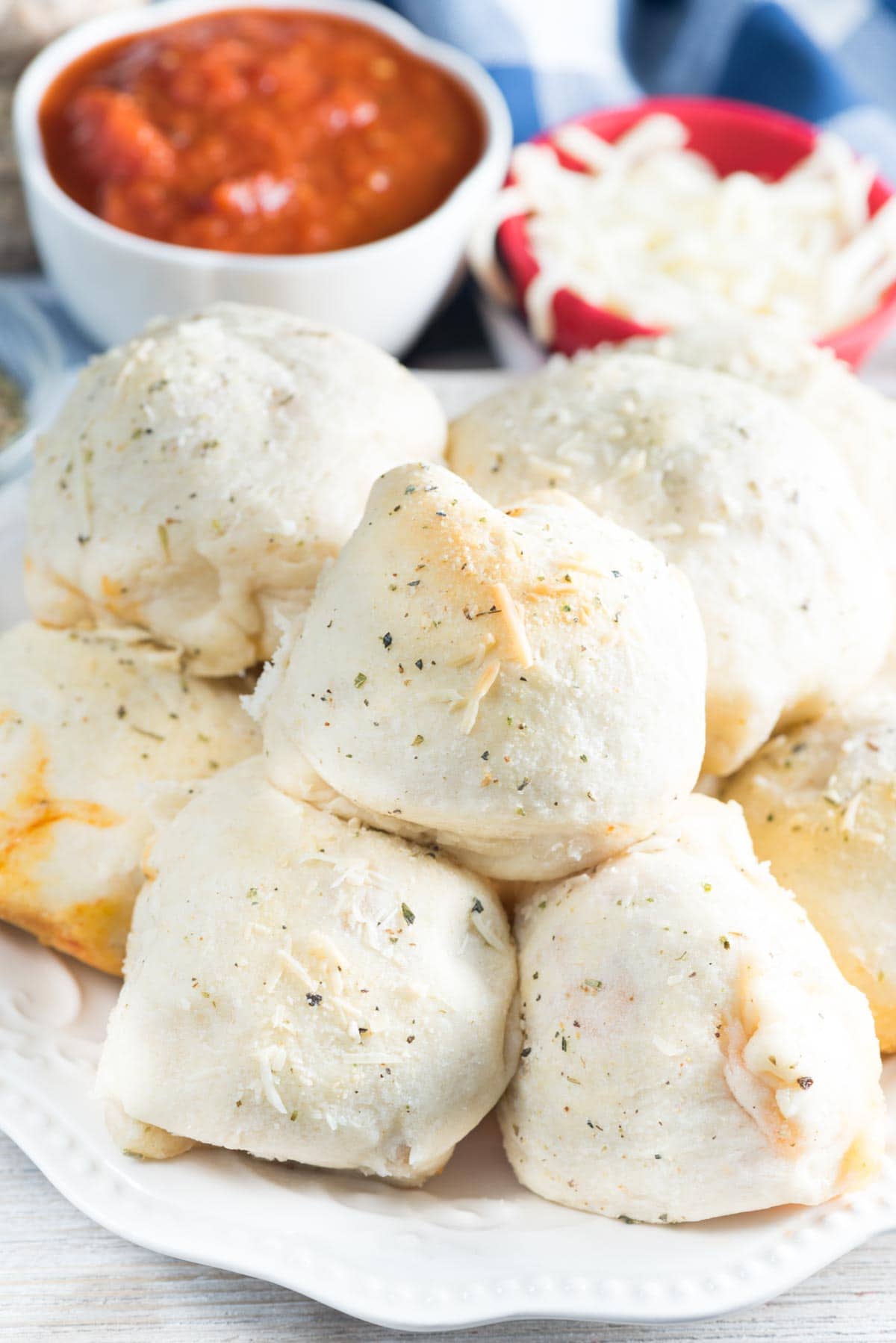 My favorite way to eat meatballs are plain, from the oven. But I also love meatball subs, although you'll never catch me ordering one in a restaurant. There is no dainty way to eat a meatball sub, now is there? I'm pretty much guaranteed to spill red sauce all over my shirt while I look like a cow shoving food in her mouth.
However, THESE easy Meatball Sub Bites aren't messy at all. They're about two bites each (although I've been known to eat them in one gulp) and they are the perfect football food. I always start them with frozen meatballs because I ain't got time to make meatballs from scratch, especially when it's time for football.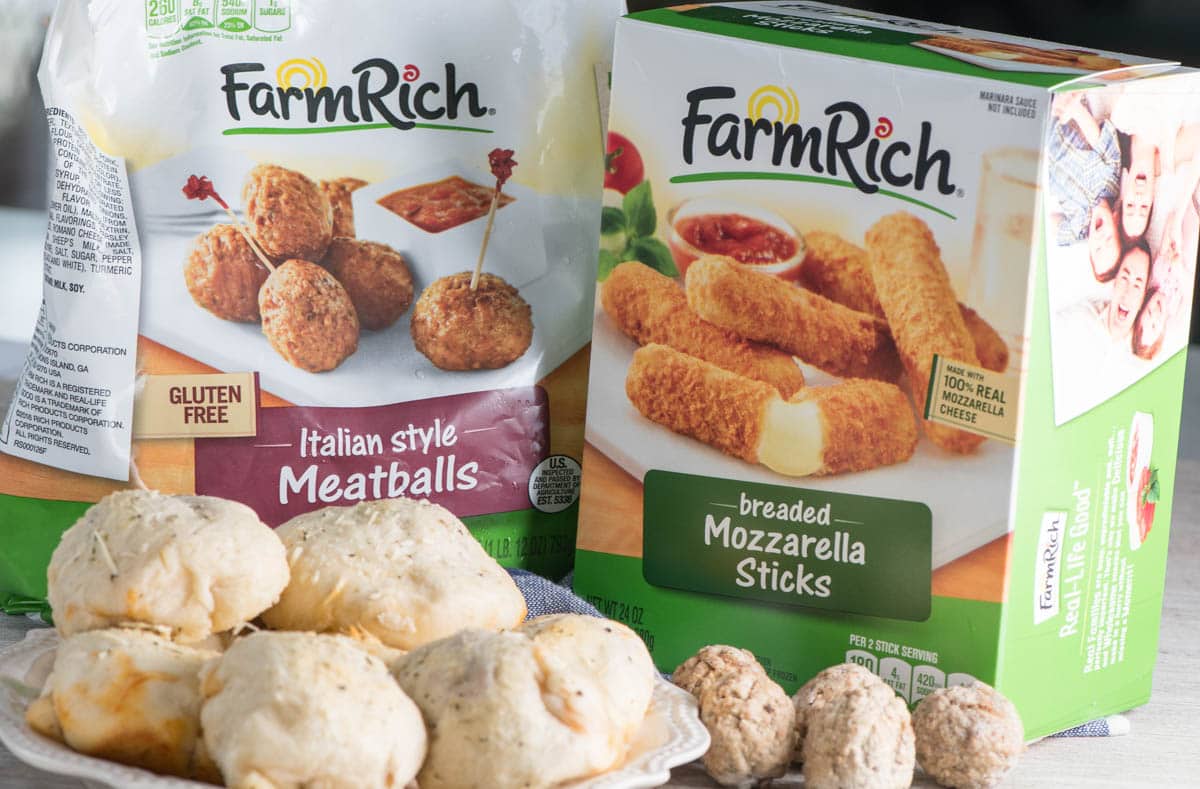 I can tell you that I've eaten a lot of frozen meatballs in my time. I've tried almost every brand, from name brands to store brands so I have definite opinions about which ones I like most and you can count on me to tell it like it is. The truth? That I really do like Farm Rich meatballs the best. Either microwaved or from the oven, the taste and texture of these meatballs is top notch.
In fact, all of the Farm Rich snacks and appetizers are perfect for game day. They're fast-frozen and made with wholesome ingredients and they cook up quick so you can spend more time watching football (or standing at the food table) than cooking. I know that when I serve Jordan these meatballs she's going to love them (and, from her, that's a huge compliment; one she doesn't give to all brands, I promise).
This meatball sub bites recipe truly is oh-so easy. With just 4 main ingredients, they come together quickly.
I started with canned biscuits (the larger size), which I cut in half to make 16 biscuit slices. Each slice gets some marinara sauce, mozzarella cheese, and a meatball. You want to make sure and microwave the meatballs first to make sure they get cooked all the way through during baking (plus, they let off some liquid while cooking which you don't want in your biscuit). I cooked them for just a few minutes in the microwave before making the little bites.
You can bake the meatball sub bites separately on a cookie sheet, or nest them all together in a 9×13″ pan (it's just personal preference). Before baking, I drizzled mine with a mixture of melted butter, italian seasoning, garlic and onion powders, and parmesan cheese for a nice flavorful bite. My husband liked dipping them in marinara sauce while they were hot, while my daughter liked eating them plain for lunch.
Bread, cheese, meat, and sauce. If that's not football food, I don't know what is!
Watch this video to see how easy meatball sub bites are to make!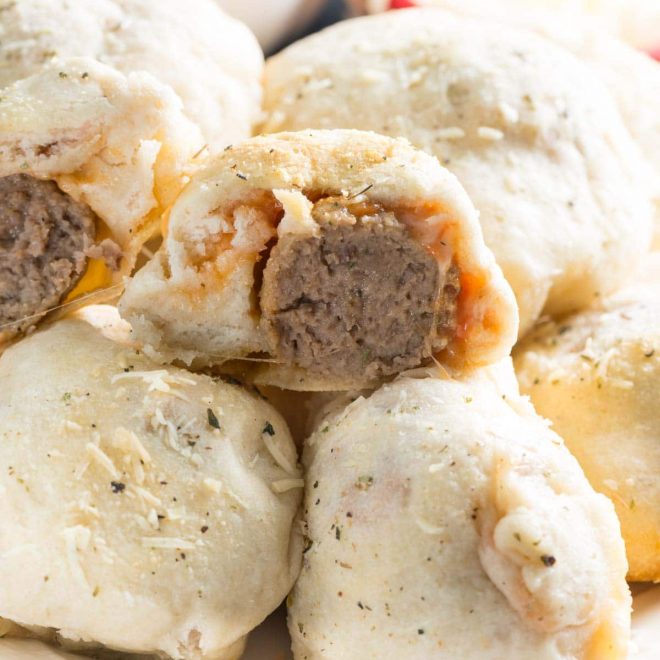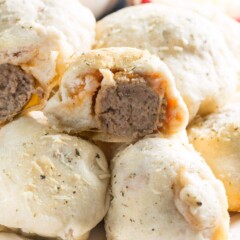 Easy Meatball Sub Bites
This easy Meatball Sub Bites recipe is perfect for an appetizer or lunch. Wrap frozen meatballs in biscuit dough with sauce and cheese for the perfect bite without a mess!
Ingredients
16

frozen meatballs

1

approximately 16 ounce tube refrigerated biscuits (the large size; 8 biscuits)

1/3

cup

pasta sauce

1

cup

shredded mozzarella cheese

2

tablespoons

butter

melted

1/4

teaspoon

Italian seasoning

1/8

teaspoon

onion powder

1/8

teaspoon

garlic powder

Grated parmesan cheese

for topping
Instructions
Preheat oven to 350°F. Spray a 9x13" baking dish with nonstick cooking spray or line a cookie sheet with parchment paper or silicone baking mat.

Place meatballs on a microwave safe plate or bowl. Add 2 tablespoons of water and cover with a paper towel. Heat for 2 minutes and 30 seconds, then drain and set aside.

Open tube of biscuits. Separate biscuits and slice in half (as if you were making a sandwich). Flatten each biscuit piece slightly with your hands. Place a bit of sauce, some cheese, and a meatball in the center of each biscuit, then fold up and pinch to seal. Place each ball in baking dish or on a cookie sheet. How you bake them is personal preference (touching in a pan or separate on a cookie sheet).

Stir melted butter, Italian seasoning, and onion and garlic powder in a small bowl. Brush over the top of each biscuit. Sprinkle with grated parmesan cheese.

Bake for 20-25 minutes or until biscuits are cooked through. They won't get very golden on top, because of the butter.

Serve warm with a bowl of more pasta sauce for dipping. Store in an airtight container in the refrigerator for up to 3 days or freeze for up to one month. These are good warm or cold, and are perfect for appetizers or lunches.
Nutritional information not guaranteed to be accurate
Click HERE for more Pillsbury Dough Recipes!
Click here for my ultimate Football Party Menu!
Connect with Farm Rich via their email for food hacks, tips, tricks, recipes, and more!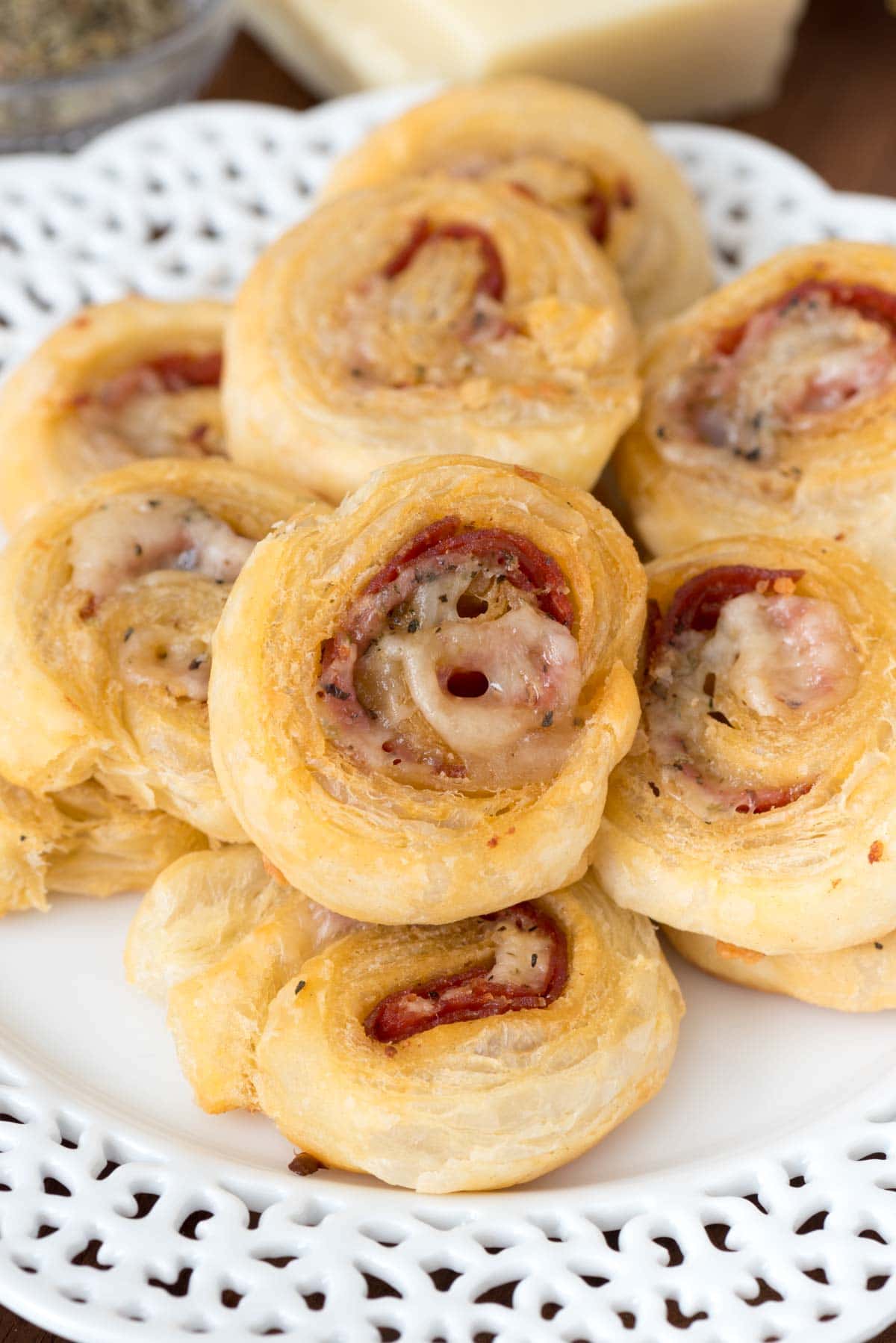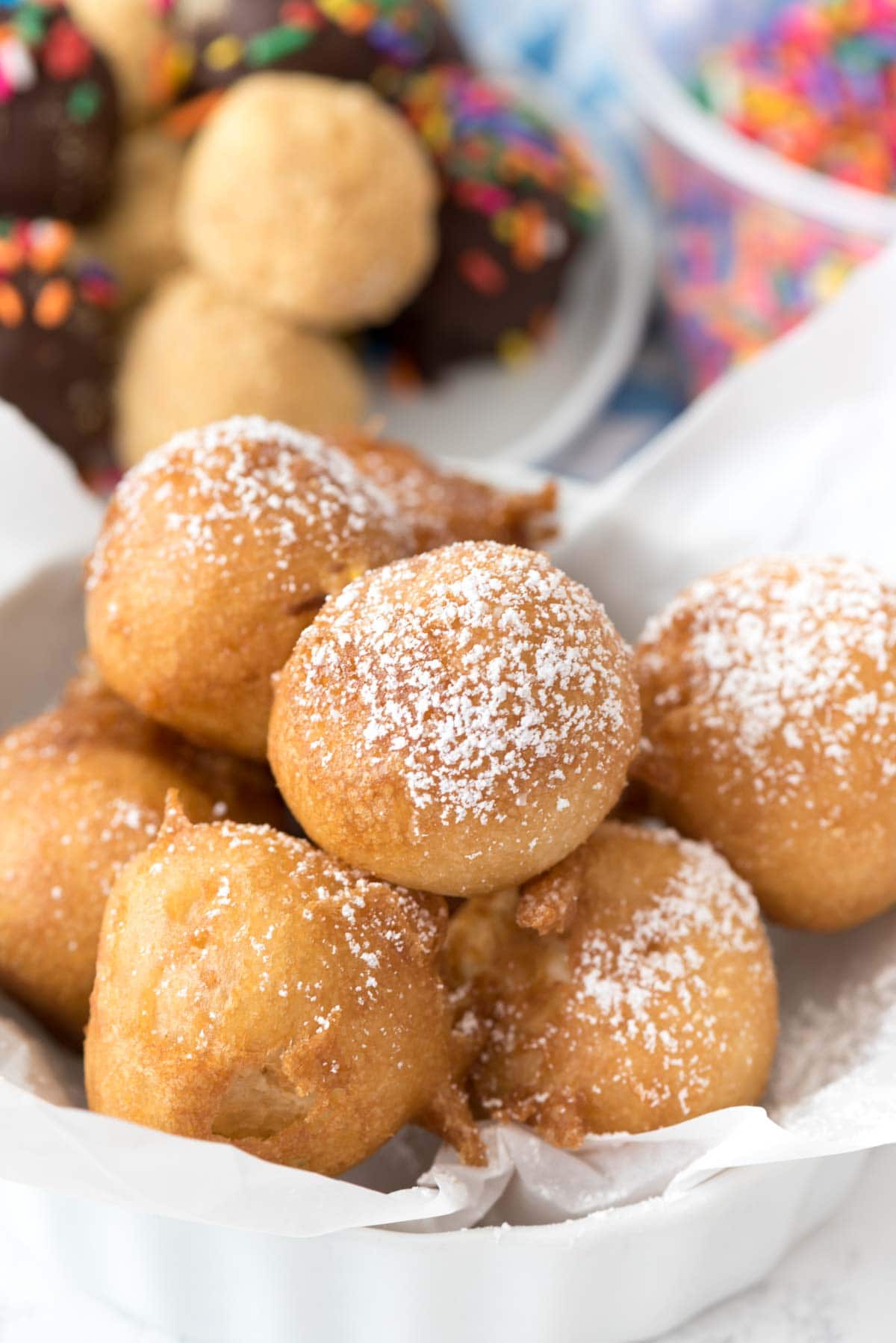 This post is sponsored by Farm Rich. All opinions are 100% my own.
Last Updated on May 13, 2020