This post may contain affiliate links. For more information, read my disclosure policy.
These soft and chewy Gingerbread Cookies are my favorite gingerbread cut out cookies! Frosted with an easy royal icing, they're the perfect holiday cookie.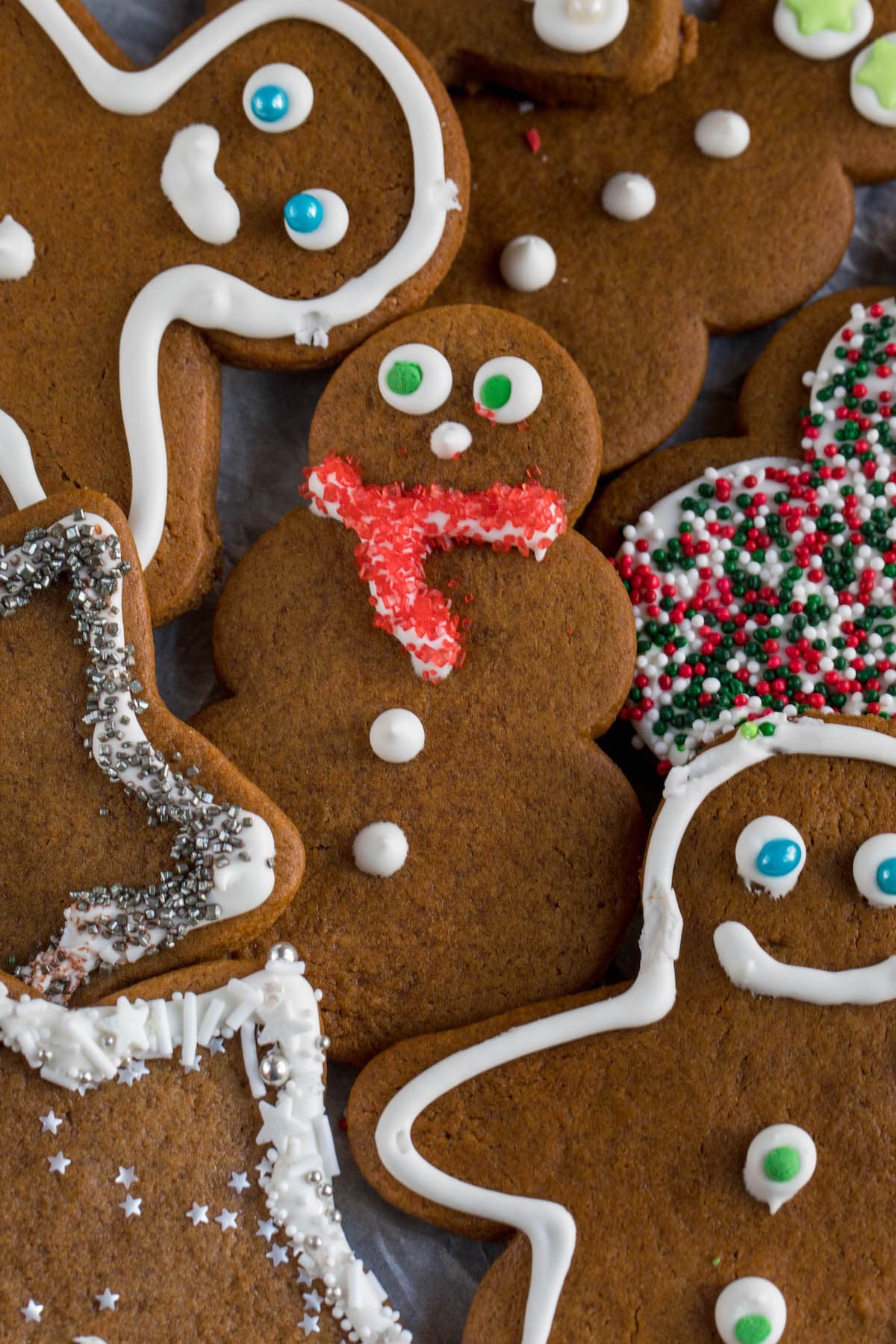 The BEST Soft Gingerbread Cookie Recipe
I make gingerbread cookies every year, but I haven't made gingerbread cut out cookies in a really long time. It's probably been at least 25 years since my last batch, so I figured it was about time to make them again. We normally make sugar cookie cutouts but this year I decided I want BOTH.
Why you'll LOVE this recipe
My dad and I both love gingerbread. When I was young, we'd make this recipe every Christmas. I remember going to the cookbook cabinet and sorting through to find the Christmas one that held this recipe. Back then we only had a hand mixer so I remember how, by the 4th cup of flour, mixing would get hard. Usually my dad was called in to help finish up the dough.
The only difference between making them in the past and present is how much EASIER I've made it. I promise: you will no longer hate rolling out cookie dough after you see how I do it.
If you're wondering how to make chewy gingerbread cookies that are also soft AND keep their shape, this is the recipe for you.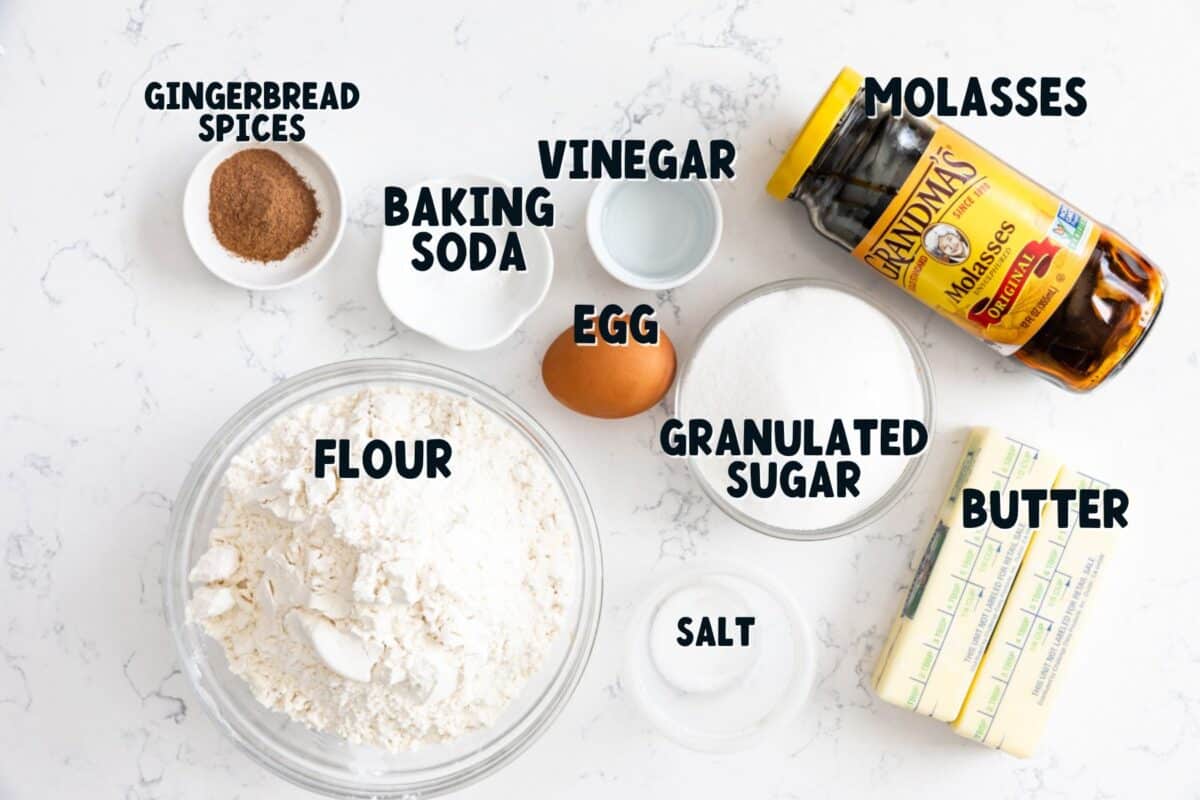 Gingerbread Recipe Ingredients
Butter: make sure it's softened to room temperature
Molasses: I use the regular kind you find at the grocery store
Sugar: This recipe uses granulated sugar. I wouldn't substitute brown sugar; they're soft enough by design and brown sugar might make them too soft.
Egg, vanilla, salt: regular cookie ingredients!
Baking Soda: You'll need 1 1/2 teaspoon baking soda – this makes a lot of cookies.
Vinegar: the SECRET to soft and chewy gingerbread cookies! This activates the baking soda to keep them nice and soft. Substitute lemon juice if you don't have white vinegar.
Flour: All-purpose flour, be sure to spoon and level it into the measuring cup.
Spices: A teaspoon ground cinnamon, 2 teaspoons ground ginger and a teaspoon ground cloves.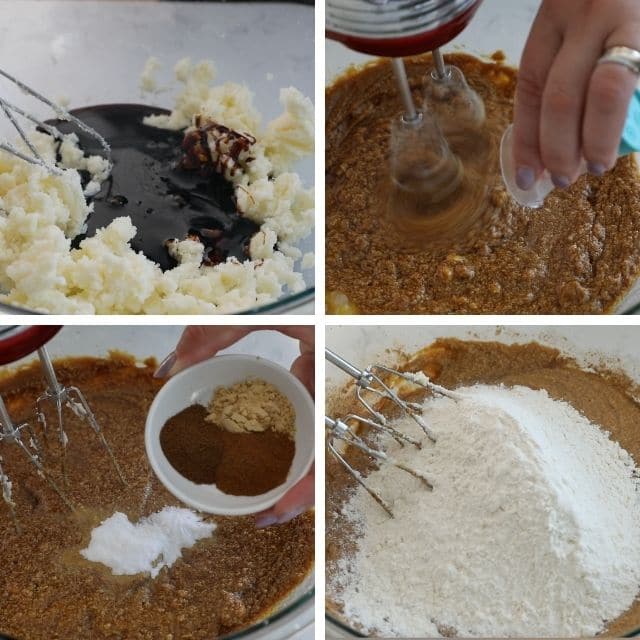 How to make Ginger Bread Cookies
Cream butter and sugar: Beat butter, sugar, and molasses in a stand mixer (or very large bowl with a hand mixer) until smooth.
Add wet ingredients: Mix in the egg, then add the vinegar, baking soda, salt, and spices. Mix until combined (mixture may look a bit curdled, that's normal.)
Add Flour: Mix in flour, 1 cup at a time, until dough forms. Divide dough into two or three sections (depending on how much space you have for rolling out).
At this point your mixture is pretty wet but using my hack for rolling cookies, it's okay.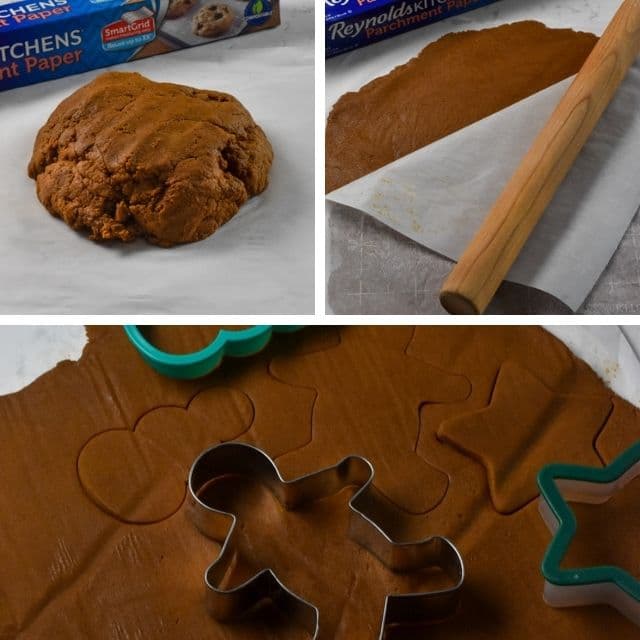 Hack for Rolling Out Cookie Dough
The trick to making an EASY rolled out cookie recipe comes after the dough is made, when it's time to roll it out.
A few years back I discovered the trick that's going to change your life: roll your cookie dough between sheets of parchment paper before you chill it.
Roll dough: Cut the cookie dough in half or into thirds, like you normally would. Then, sandwich each half between two sheets of Parchment Paper. Roll out the dough to 1/4″ thick using a rolling pin, and use the guidelines on the parchment paper to help with your rectangular shape.
Chill the dough: Once you've rolled out your cookie dough between the sheets of parchment, cover with plastic wrap and chill it until it's firm.
Cut your shapes: use your favorite cookie cutters to cut out your cookies, re-rolling the dough between the parchment as needed. NOTE: if your dough is too soft to remove to the cookie sheet, chill the dough first.
Before baking: Once you cut your shapes, I like to chill it again because the chances of spread are reduced if you bake these COLD. Plus, baking a cold cookie ensures softness and lessens the likelihood of an overdone cookie.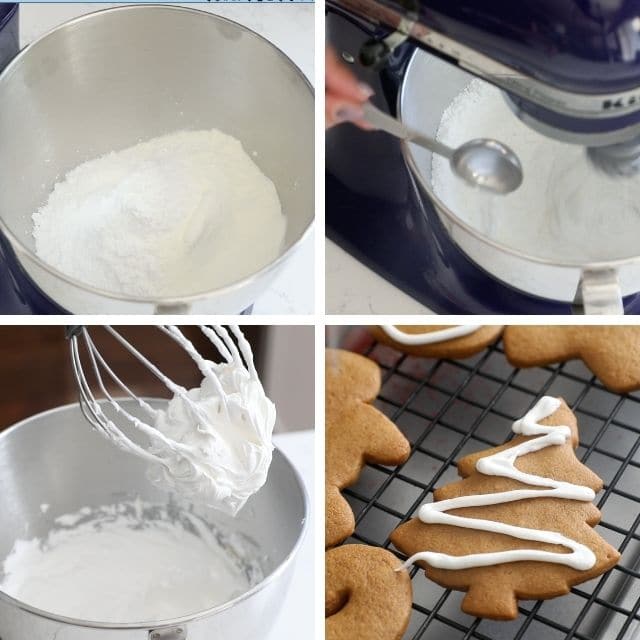 How to Make Royal Icing Frosting
Once cooled, I make a simple royal icing to decorate with. You can definitely use regular sugar cookie frosting, but I love making a simple royal icing. Royal icing comes together fast and dries hard, so you can stack the cookies for giving.
Powdered Sugar – be sure not to pack it (spoon it into the measuring cup)
Meringue Powder – powdered egg whites; this is why the icing hardens
Vanilla Extract – for flavoring (use any extract you like)
Water – the amount depends on how thick you want your icing
Whisk the powdered sugar and meringue powder.
Start with 5 tablespoons water and mix on high speed until it's no longer glossy, then add more water as needed for consistency (whether you plan to pipe, flood, or frost).
Mixing will take 7-10 minutes. It's done when it's no longer glossy.
Pipe or frost as desired!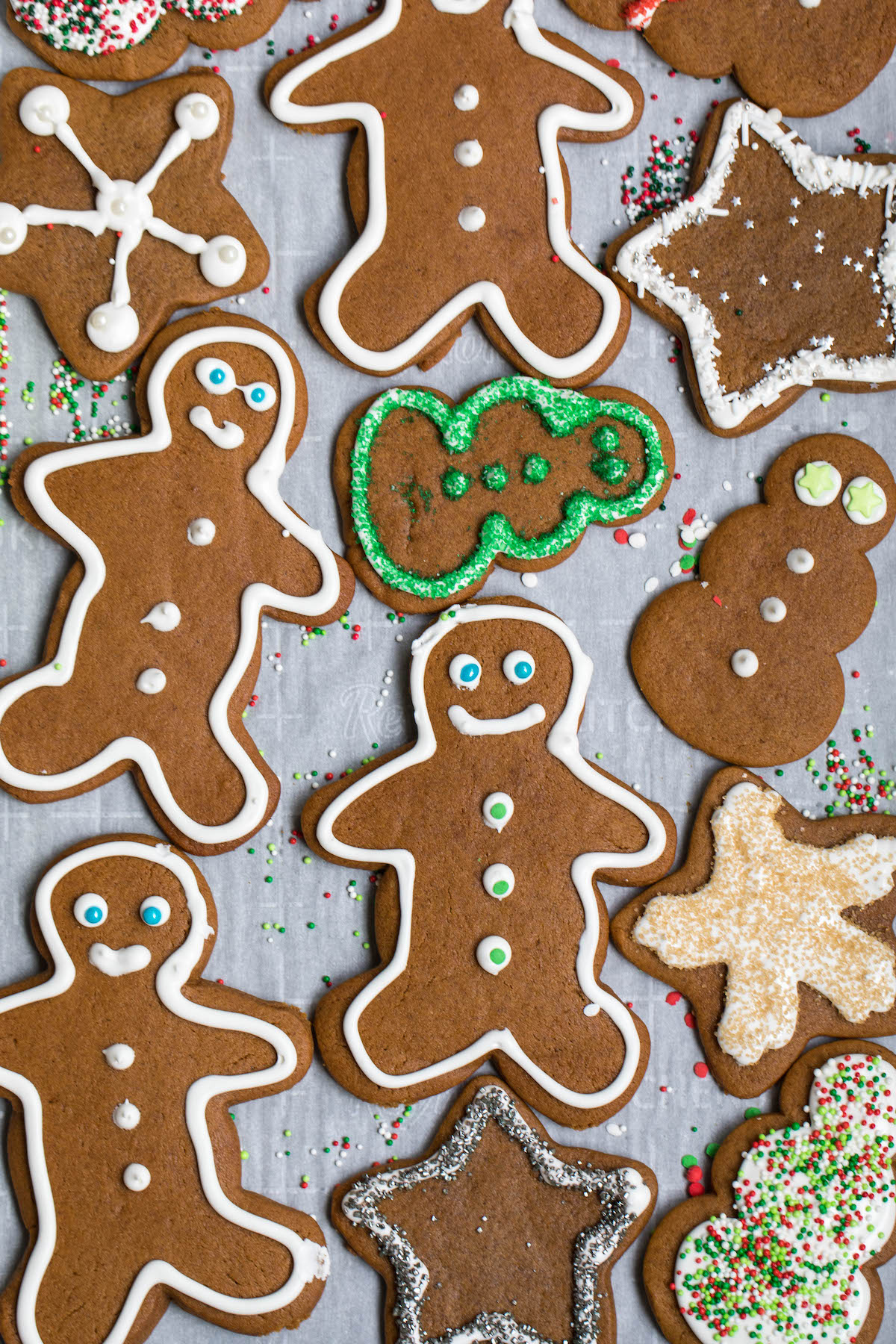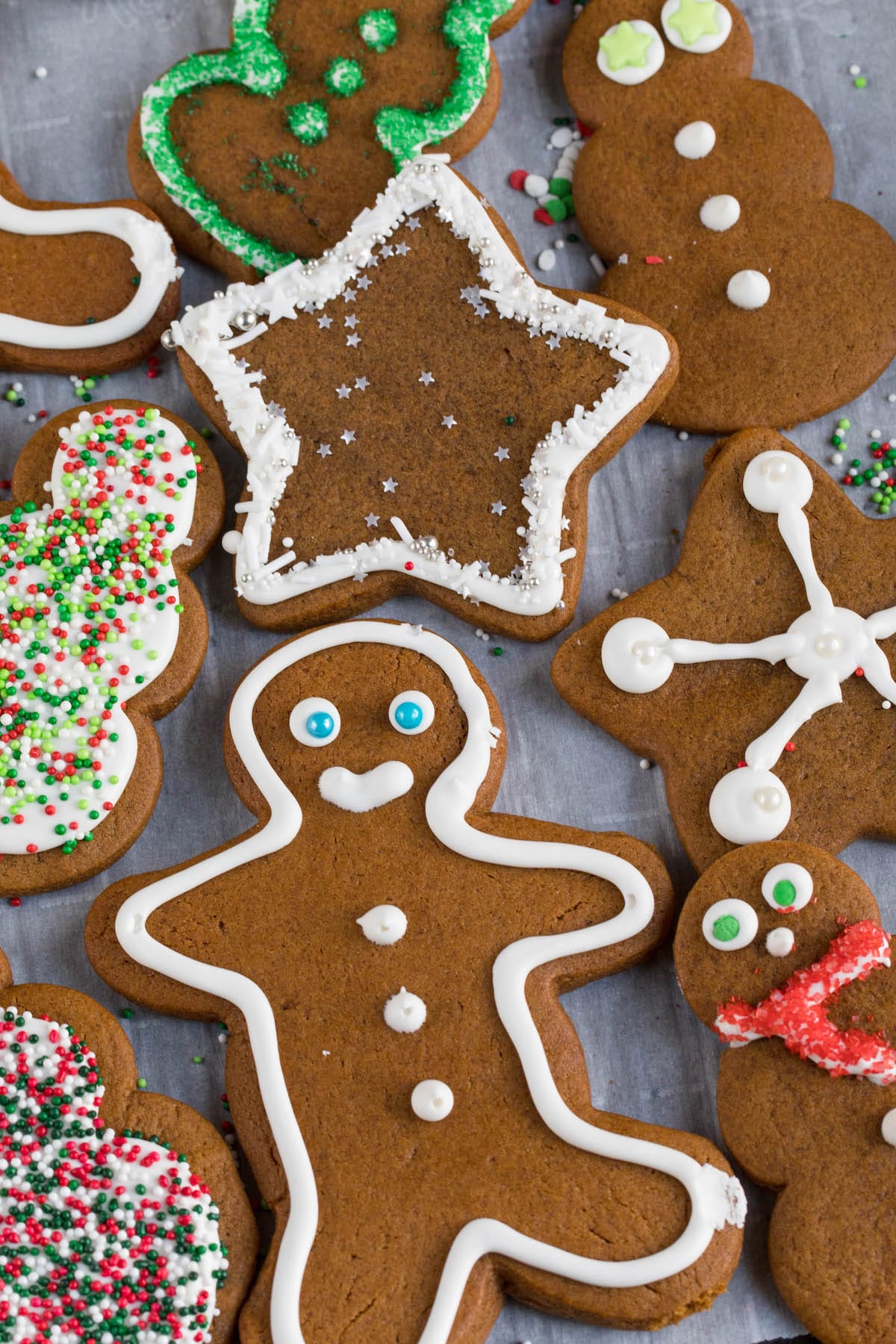 FAQs
My dough is too sticky and I can't get my cookies off the parchment.
The dough is a sticky dough, so make sure to chill the rolled out sheets until they are hard (they shouldn't move if you pick them up). I use a spatula sometimes to help me release them up from the parchment paper. If you're still having trouble, cut your cookies then chill again, then try moving them.
Can I use apple cider vinegar?
Yes you can use any vinegar (or lemon juice) instead of white distilled. But don't use red wine or balsamic – you don't want to taste it.
How do you make gingerbread cookies keep their shape during baking?
As long as you follow the recipe you shouldn't have this problem: be sure to chill the cookies before baking and to measure the ingredients correctly.
Should Gingerbread Cookies be hard or soft?
It's personal opinion – but I think they should be soft. Gingerbread cutouts are soft, gingersnaps are hard and crunchy.
Why are my gingerbread cookies so dry?
Chances are you added too much flour during the rolling process or you packed it and/or used too much when mixing. This recipe requires chilling a few times by design – the cookies stay the right shape when you chill them but the amount of flour used leaves a soft cookie that's never dry.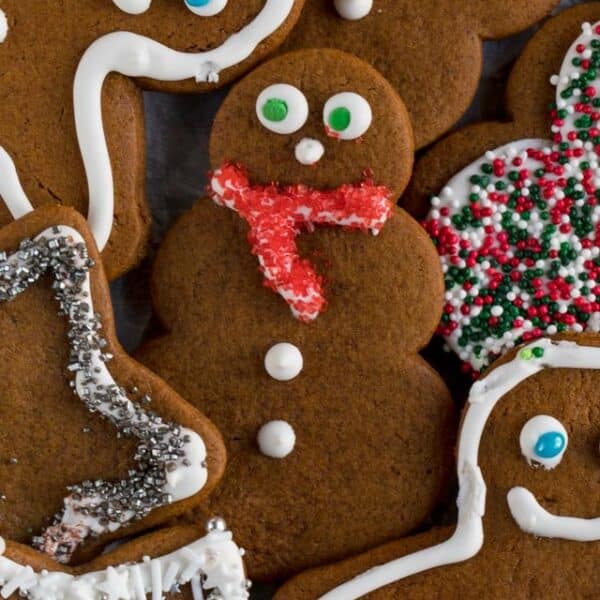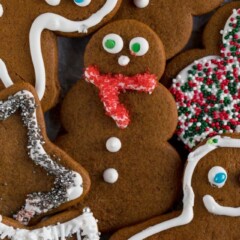 Chewy & Soft Gingerbread Cookie Recipe
These easy soft and chewy gingerbread cookies are the perfect holiday cutout cookie recipe!
Ingredients
For the cookies:
1

cup

(226g) unsalted butter

softened

1

cup

(200g) granulated sugar

1

cup

(237ml) molasses

1

large

egg

2

tablespoons

white vinegar

1 ½

teaspoons

baking soda

½

teaspoon

salt

2

teaspoons

ground ginger

1

teaspoon

ground cinnamon

1

teaspoon

ground cloves

5

Cups

(620g) All purpose flour

Sifted
For the frosting:
3

tablespoons

meringue powder

4

cups

(452g) powdered sugar

1

teaspoon

vanilla extract

5

tablespoons

water
Instructions
Make the cookies:
Beat butter, sugar, and molasses in a stand mixer (or very large bowl with a hand mixer) until smooth. Mix in the egg, then add the vinegar, baking soda, salt, and spices. Mix until combined (mixture may look a bit curdled, that's normal.)

Mix in flour, 1 cup at a time, until dough forms. Divide dough into two sections.

Lay out a sheet of Reynolds Kitchens Parchment Paper with SmartGrid on your work surface. Add half the cookie dough and add a second sheet of parchment paper on the top. Use a rolling pin to roll the dough to 1/4″ thick, in between the pieces of parchment. Periodically, gently lift the parchment off the layer to make sure it's not sticking. Repeat with second half of dough.

Chill the rolled out dough in the refrigerator for at least 30 minutes.

Preheat oven to 375°F. Line two cookie sheets with Reynolds Kitchens Parchment Paper with SmartGrid. Cut shapes from chilled dough, placing on the prepared pans. Chill another 10 minutes before baking.

Bake for 8-12 minutes, depending on cookie size. Re-roll any scraps of dough and re-chill and repeat.

Cool cookies completely before frosting.
Make the frosting:
While cookies are cooling, make the frosting. Add meringue powder, powdered sugar, vanilla, and water to the bowl of a stand mixer. Beat until peaks form and it's lost it's glossy sheen, about 7-10 minutes. Add a bit more water as needed for piping consistency.

At this point you can color the frosting if you want, using food coloring. Frost cookies and top with sprinkles. (I used a small piping tip in a disposable pastry bag.) Let set for at least an hour before stacking.
Recipe Notes
You can find meringue powder at most craft stores in the baking section, and even at Walmart in the cake decorating aisle.
Recipe from Christmas Gifts From the Kitchen, a complimentary Bell Savings cookbook.
Recipe Nutrition
Serving:
1
cookie
|
Calories:
212
kcal
|
Carbohydrates:
39
g
|
Protein:
2
g
|
Fat:
5
g
|
Saturated Fat:
3
g
|
Cholesterol:
19
mg
|
Sodium:
85
mg
|
Potassium:
161
mg
|
Fiber:
1
g
|
Sugar:
26
g
|
Vitamin A:
166
IU
|
Calcium:
25
mg
|
Iron:
1
mg
Nutritional information not guaranteed to be accurate
Other Holiday Favorites
This post was sponsored by Reynolds Kitchens in 2018; I know you'll love the simple hack for rolling out the cookies I do with their parchment paper.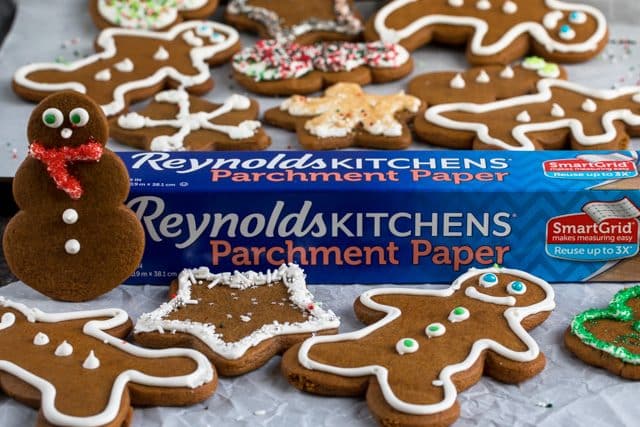 I absolutely love this parchment paper because it comes with a SmartGrid to help you with placement and it also helps you cut the paper to fit your baking sheet. I use parchment paper because it offers a non-stick cooking surface and easy clean-up, but the SmartGrid is a major added bonus. Plus: you can reuse this parchment paper up to three times, reducing waste, and it's compostable. You can bake ALL your gingerbread cookies on two cookie sheets, easy peasy.
**Did you make this recipe? Don't forget to give it a star rating below!**
Last Updated on October 11, 2022