These soft and chewy Gingerbread Cookies are my favorite gingerbread cut out cookies! Frosted with an easy royal icing, they're the perfect holiday cookie.
This post is sponsored by Reynolds Kitchens; their parchment paper helps cut the mess and time in making these easy cookies!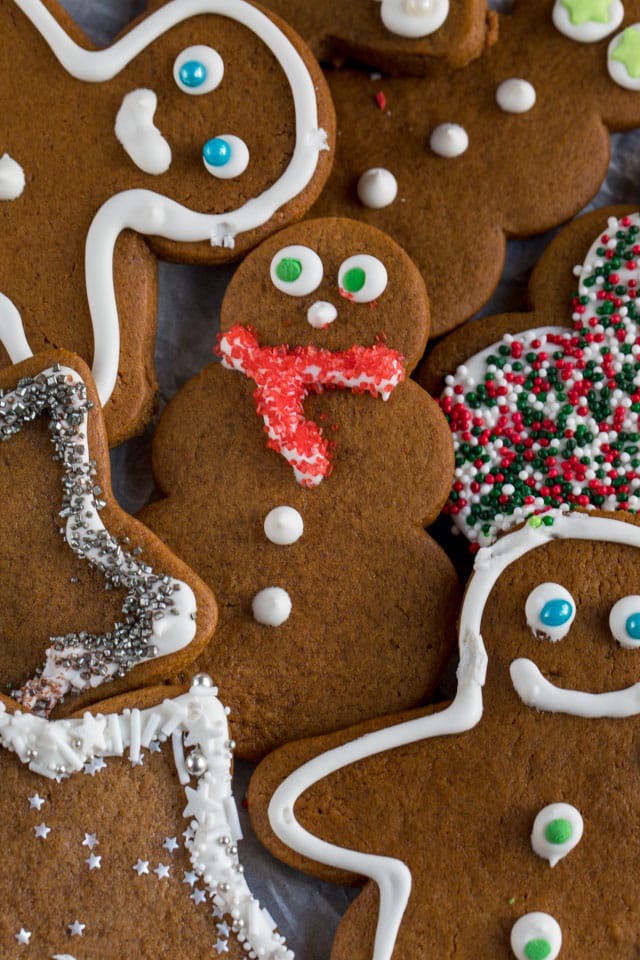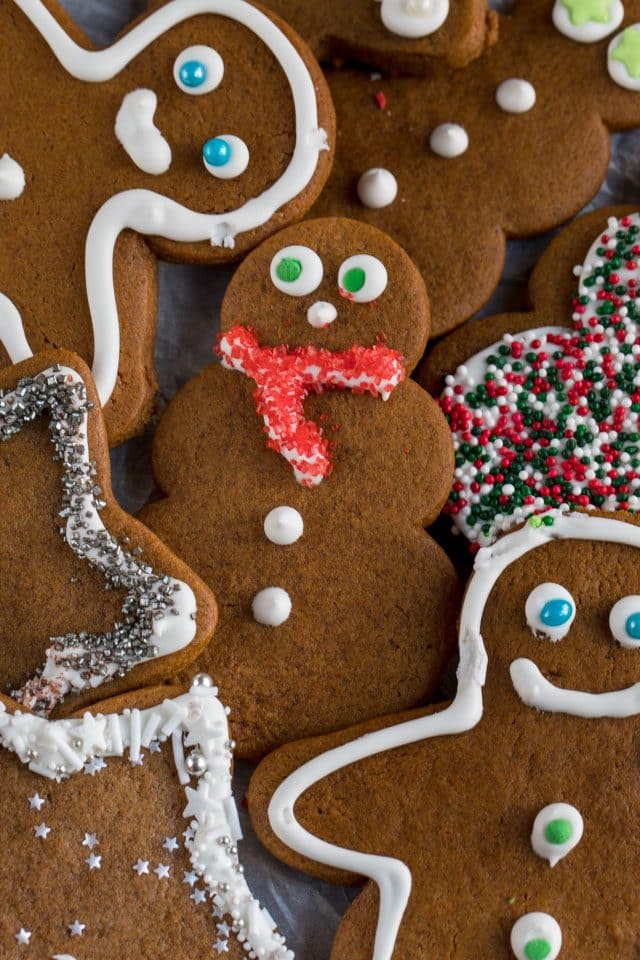 I make gingerbread cookies every year, but I haven't made gingerbread cut out cookies in a really long time. It's probably been at least 25 years since my last batch, so I figured it was about time to make them again. We normally make sugar cookie cutouts but this year I decided I want BOTH.
My dad and I both love gingerbread. When I was young, we'd make this recipe every Christmas. I remember going to the cookbook cabinet and sorting through to find the Christmas one that held this recipe. Back then we only had a hand mixer so I remember how, by the 4th cup of flour, mixing would get hard. Usually my dad was called in to help finish up the dough.
I remember wrapping the cookie dough in disks and chilling them and then rolling the dough out with a sprinkle of flour. We'd sort through all the cookie cutters and make trees and gingerbread men and little animals. My mom would show me how to maximize the cutting by arranging the cookie cutters just so, so that no dough was wasted. We'd re-roll the dough once to make more cookies…and then my dad and I usually snuck some of it to snack on.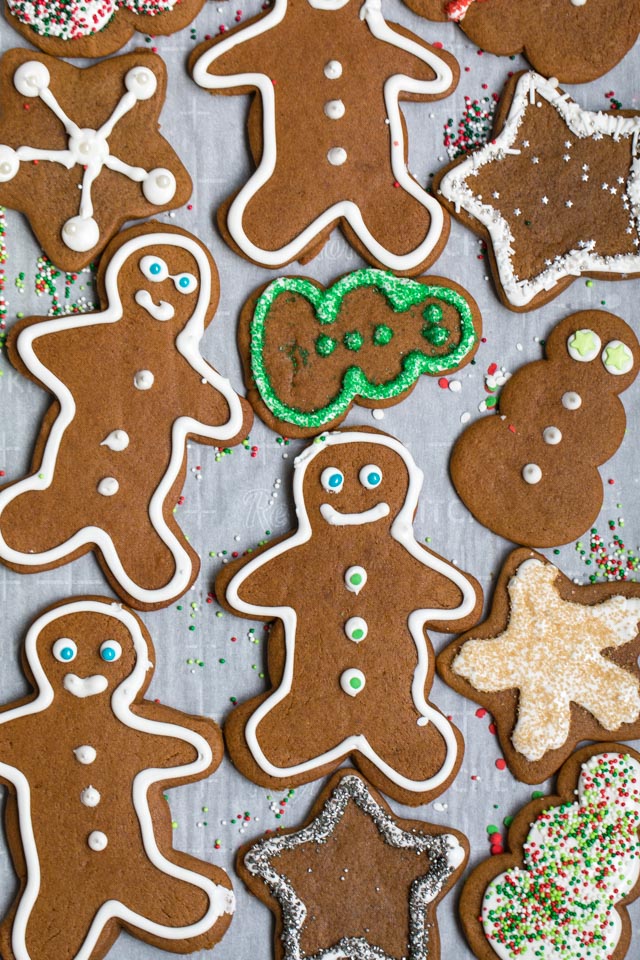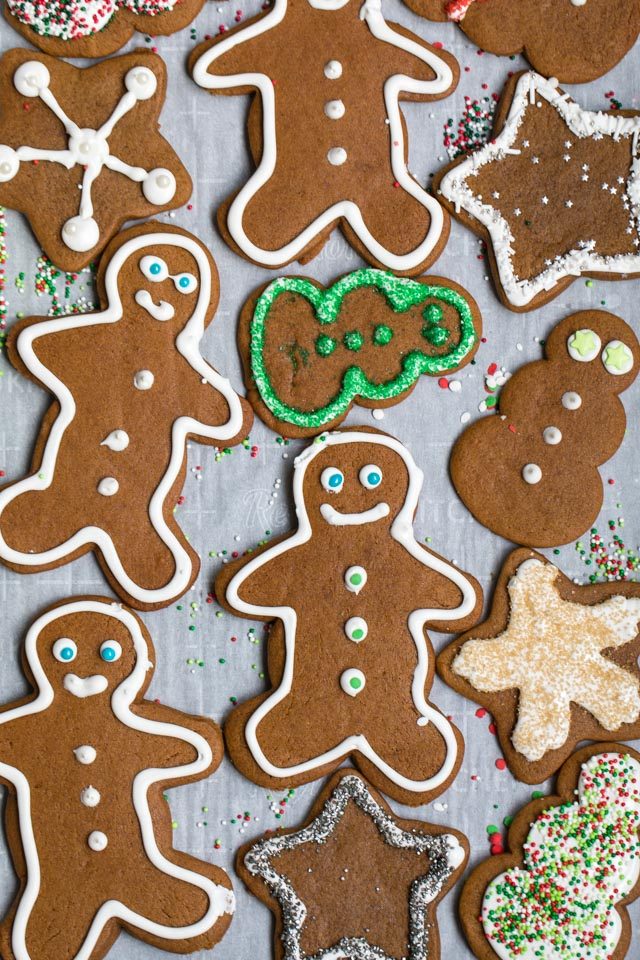 It's funny the things you remember: when I asked my mom to send me a photo of the recipe so I could share it here I could exactly see where it came from in the cabinet.
"It's one of the paperback ones that was a series. It was a Christmas one and the photo of the gingerbread in the recipe had a picture of a gingerbread box they made to hold all the cookies."
Gingerbread is synonymous to Christmas for me. Just opening a jar of molasses makes me feel like I'm back in my mom's kitchen, sneaking cookie dough with my dad and spending hours decorating cookies.
The only difference between making them in the past and present is how much EASIER I've made it. I promise: you will no longer hate rolling out cookie dough after you see how I do it.
And it's all thanks to Reynolds Kitchens Parchment Paper with SmartGrid.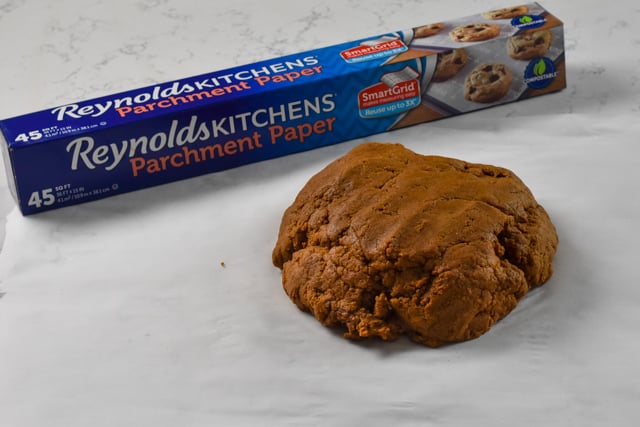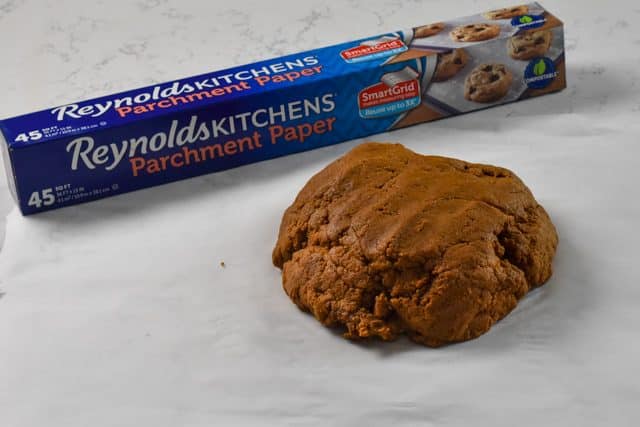 First, make your gingerbread dough. (This also works with ANY kind of rolled out cookies!)
My gingerbread dough is made with sugar and molasses, and gingerbread spices: ginger, cinnamon, and clove.
If you're wondering how to make chewy gingerbread cookies that are also soft AND keep their shape, this is the recipe for you.
You'll notice that I use baking soda, as I do for a majority of my cookie recipes. However, you'll also notice that there is vinegar in the recipe. The vinegar is there as an acid; it reacts with the baking soda make these cookies soft while they stay chewy and keep their shape.
When it comes to choosing molasses, there's nothing special that I do. I just go to the baking section and buy the molasses they sell next to the corn syrup.
The trick to making an EASY rolled out cookie recipe comes after the dough is made, when it's time to roll it out.
Most recipes say to wrap the dough in plastic and chill it, then roll it out on a lightly floured surface. I hate that method for two reasons:
Rolling out chilled dough takes some serious bicep work.
A "lightly floured surface" usually means there is flour all over my counter, me and the floor.
A few years back I discovered the trick that's going to change your life: roll your cookie dough between sheets of parchment paper before you chill it.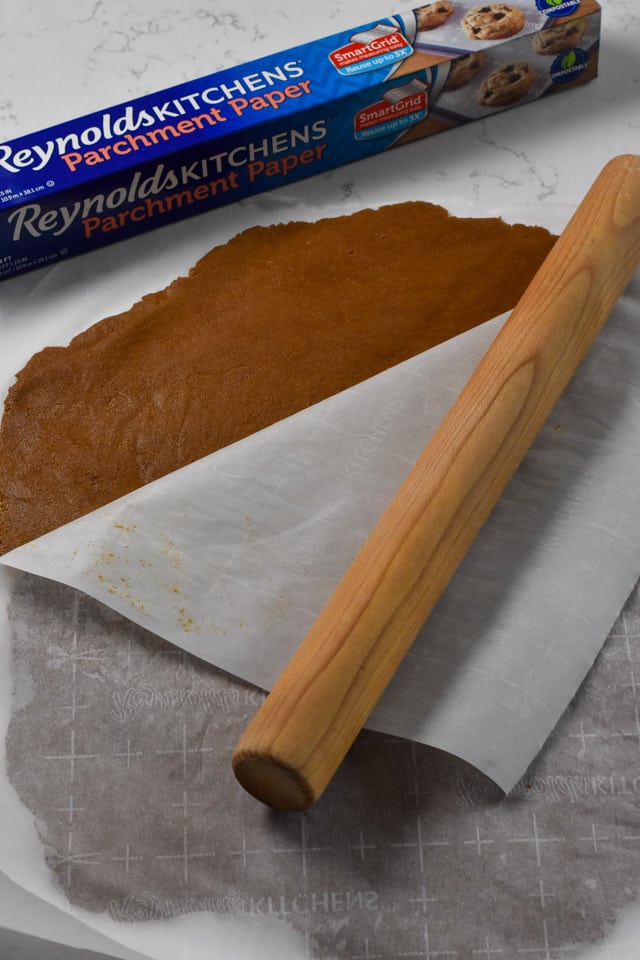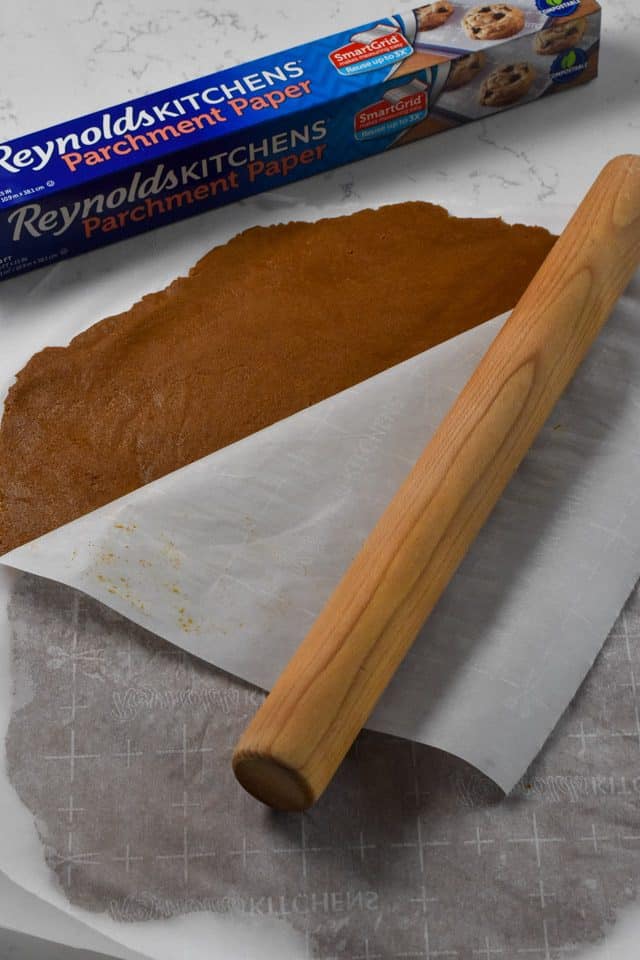 Cut the cookie dough in half, like you normally would. Then, sandwich each half between two sheets of Reynolds Kitchens Parchment Paper with SmartGrid. Roll out the dough like you normally would, and use the guidelines on the parchment paper to help with your rectangular shape.
I absolutely love this parchment paper because it comes with a SmartGrid to help you with placement and it also helps you cut the paper to fit your baking sheet. I use parchment paper because it offers a non-stick cooking surface and easy clean-up, but the SmartGrid is a major added bonus. Plus: you can reuse this parchment paper up to three times, reducing waste, and it's compostable. You can bake ALL your gingerbread cookies on two cookie sheets, easy peasy.
Once you've rolled out your cookie dough between the sheets of parchment, chill it until it's firm. Once you cut your shapes, I like to chill it again because the chances of spread are reduced if you bake these COLD. Plus, baking a cold cookie ensures softness and lessens the likelihood of an overdone cookie.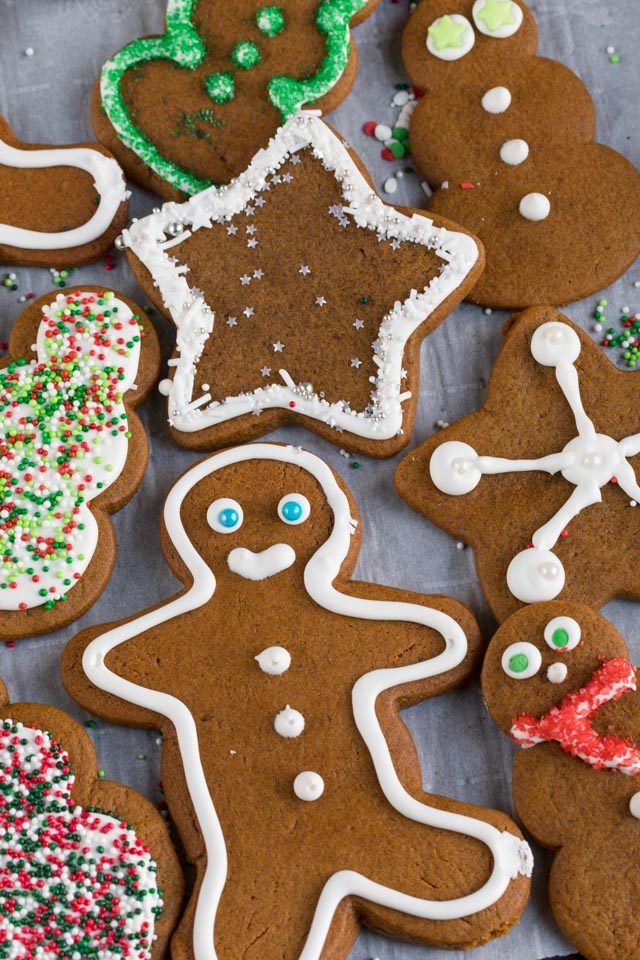 Once cooled, I made a simple royal icing to decorate with. Royal icing is easy when you use meringue powder, which you can find at most craft stores and in the Walmart cake aisle. It comes together fast and dries hard, so you can stack the cookies for giving.
My favorite part about decorating cookies like this are adding eyes. I love seeing how they turn out dependent on how the eyeballs land. Confused? Scared? Happy?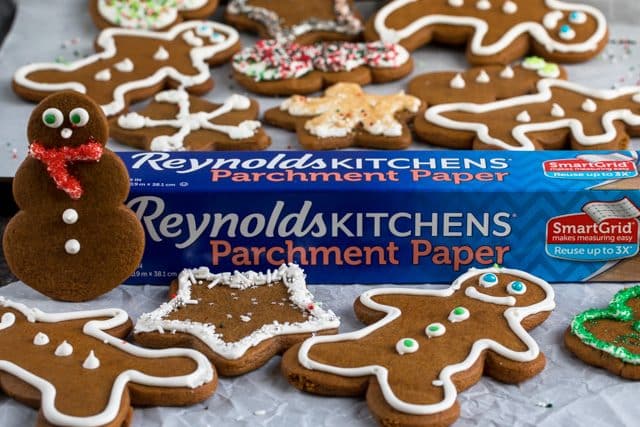 (Mr. Snowman is definitely giving a side eye to something off camera. HA!)
If you're looking for the perfect gingerbread cookie recipe, this is the one for you. It's childhood approved!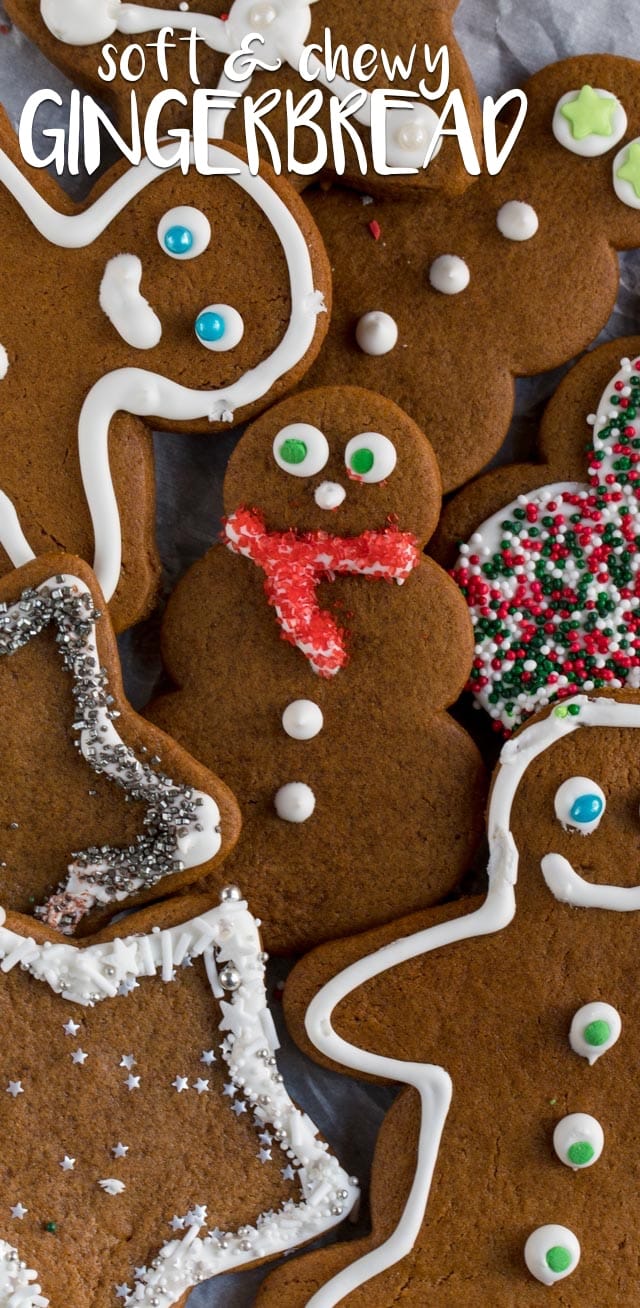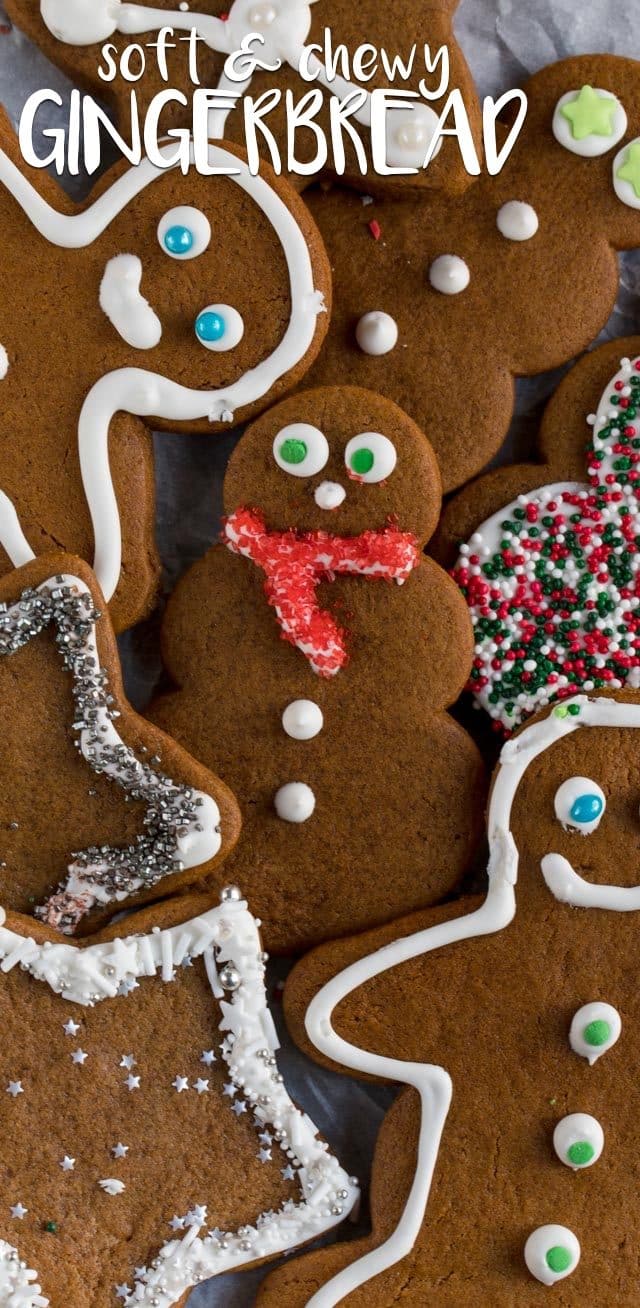 Tips and tricks for making the perfect gingerbread cookies:
Be sure to use vinegar to activate that baking soda. You can substitute lemon juice if you don't have white vinegar.
Roll the cookie dough out to 1/4″ thick (or thereabouts) between two sheets of Reynolds Kitchens Parchment Paper with SmartGrid. Use the grid to help guide you, and to easily line your cookie sheets.
Chill the dough AFTER it's rolled – you won't need any extra flour!
Chill again after you cut shapes to ensure that they don't puff too much.
A simple royal icing is perfect for decorating, but you can also use my sugar cookie icing.
Want even more? Subscribe to Crazy for Crust to get new recipes and a newsletter delivered to your inbox. And stay in touch on Facebook, Pinterest, Twitter, and Instagram for all my latest updates.
Gingerbread Cookies (soft & chewy cutouts)
These easy soft and chewy gingerbread cookies are the perfect holiday cutout cookie recipe!
Ingredients
For the cookies:
1

cup

unsalted butter

softened

1

cup

granulated sugar

1

cup

molasses

1

large

egg

2

tablespoons

white vinegar

1 1/2

teaspoons

baking soda

1/2

teaspoon

salt

2

teaspoons

ground ginger

1

teaspoon

ground cinnamon

1

teaspoon

ground cloves

5

Cups

All purpose flour

Sifted
For the frosting:
3

tablespoons

meringue powder

4

cups

powdered sugar

1

teaspoon

vanilla extract

5

tablespoons

water
Instructions
Make the cookies:
Beat butter, sugar, and molasses in a stand mixer (or very large bowl with a hand mixer) until smooth. Mix in the egg, then add the vinegar, baking soda, salt, and spices. Mix until combined (mixture may look a bit curdled, that's normal.)

Mix in flour, 1 cup at a time, until dough forms. Divide dough into two sections.

Lay out a sheet of Reynolds Kitchens Parchment Paper with SmartGrid on your work surface. Add half the cookie dough and add a second sheet of parchment paper on the top. Use a rolling pin to roll the dough to 1/4" thick, in between the pieces of parchment. Periodically, gently lift the parchment off the layer to make sure it's not sticking. Repeat with second half of dough.

Chill the rolled out dough in the refrigerator for at least 30 minutes.

Preheat oven to 375°F. Line two cookie sheets with Reynolds Kitchens Parchment Paper with SmartGrid. Cut shapes from chilled dough, placing on the prepared pans. Chill another 10 minutes before baking.

Bake for 8-12 minutes, depending on cookie size. Re-roll any scraps of dough and re-chill and repeat.

Cool cookies completely before frosting.
Make the frosting:
While cookies are cooling, make the frosting. Add meringue powder, powdered sugar, vanilla, and water to the bowl of a stand mixer. Beat until peaks form and it's lost it's glossy sheen, about 7-10 minutes. Add a bit more water as needed for piping consistency.

At this point you can color the frosting if you want, using food coloring. Frost cookies and top with sprinkles. (I used a small piping tip in a disposable pastry bag.) Let set for at least an hour before stacking.
Recipe Notes
You can find meringue powder at most craft stores in the baking section, and even at Walmart in the cake decorating aisle.
Recipe from Christmas Gifts From the Kitchen, a complimentary Bell Savings cookbook.
Nutrition Information
Serving:
1
cookie
|
Calories:
212
kcal
|
Carbohydrates:
39
g
|
Protein:
2
g
|
Fat:
5
g
|
Saturated Fat:
3
g
|
Cholesterol:
19
mg
|
Sodium:
85
mg
|
Potassium:
161
mg
|
Fiber:
1
g
|
Sugar:
26
g
|
Vitamin A:
166
IU
|
Calcium:
25
mg
|
Iron:
1
mg
**Did you make this recipe? Don't forget to give it a star rating below!**
I also use this rolling method for my cutout sugar cookies.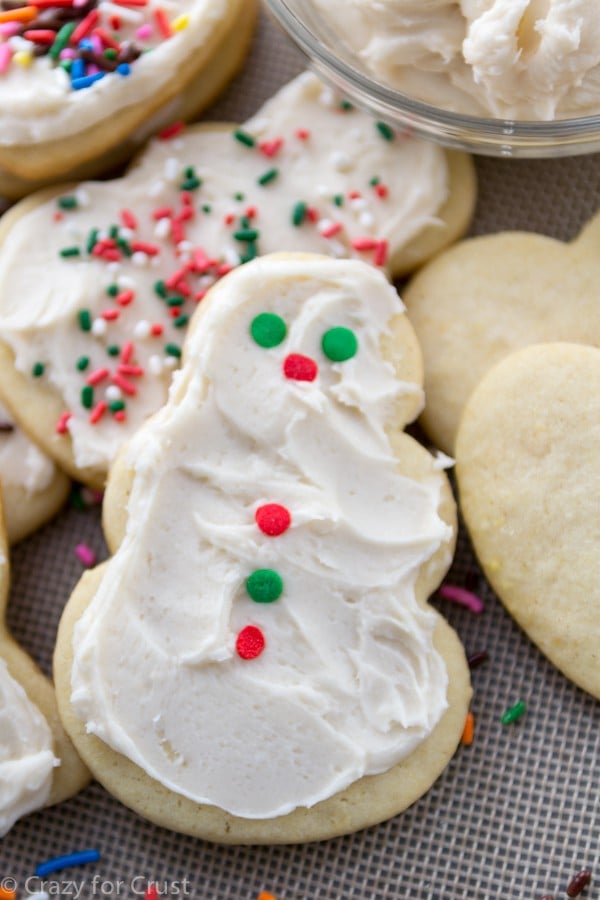 Lofthouse Sugar Cookies are also perfect for the holidays.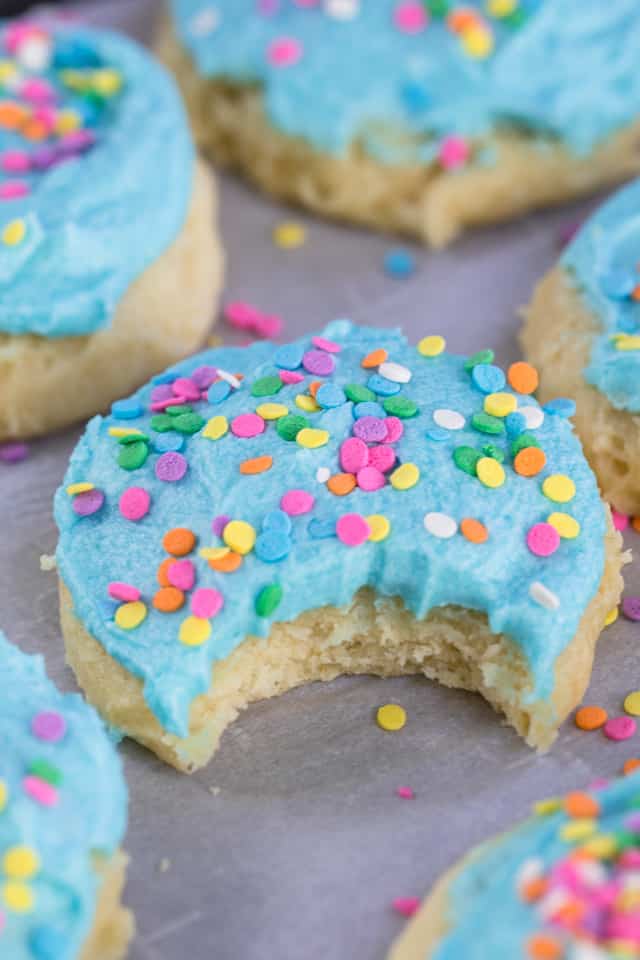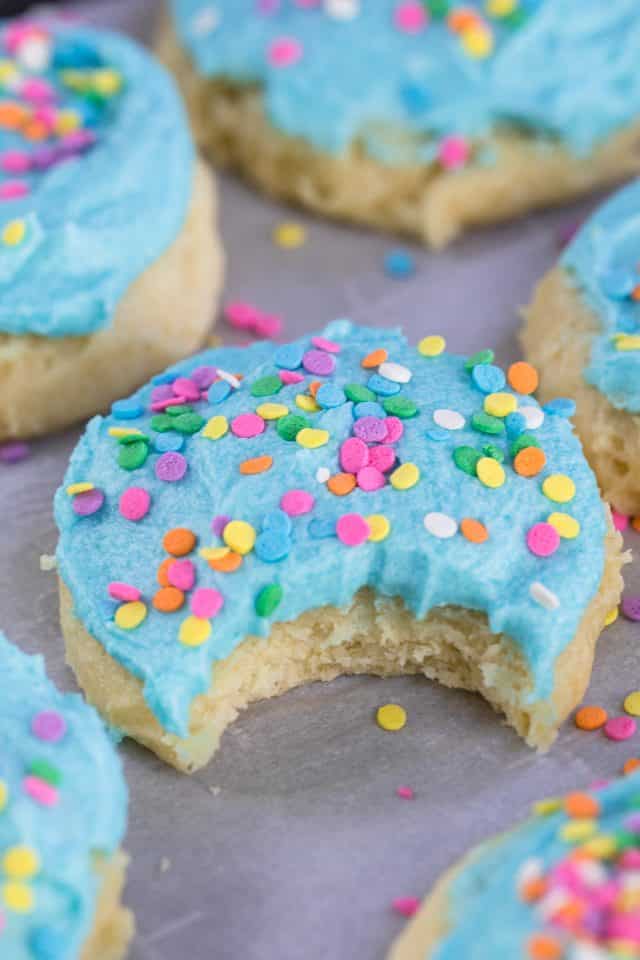 All text and images © DOROTHY KERN for Crazy for Crust. Please do not use my images without prior permission. If you want to republish this recipe, please re-write the recipe in your own words, or link back to this post for the recipe. Disclaimer: Nutrition information shown is not guaranteed to be accurate.
This post may contain affiliate links. For more information, read my disclosure policy.
Published on: November 29, 2018