This post may contain affiliate links. For more information, read my disclosure policy.
You bet! These Dinner Rolls will be on your table in under 45 minutes, I promise. Yeasted rolls in a flash! Fresh baked bread – the best part of any meal.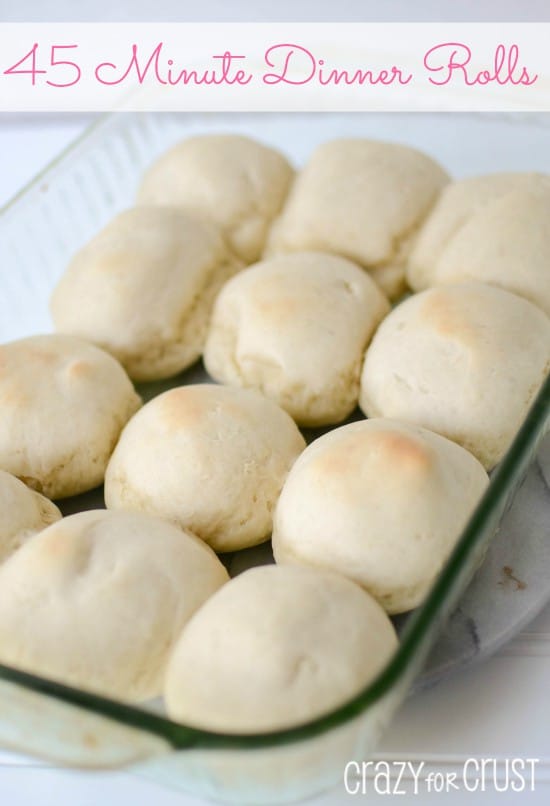 Bread and me, we're BFFs. I can remember back when I was a kid, my favorite snack was a slice of Home Pride white bread.
I'd eat the crust, then mash the center up into a little ball and savor it slowly.
As a teen and then, later, a college student, I discovered the wonder of sourdough bread. I loved it so much I wanted to marry it. And how, despite how hard they try, grocery stores outside of San Francisco just don't do sourdough properly. (It was a loooong 5 years in Arizona without my Boudin, believe me.)
I used to be afraid of cooking with yeast. Terrified. It's alive. What if I killed it? Then one day I made pizza dough from scratch and was hooked. Unless I'm back home eating Village Host, I want my own, homemade pizza crust. After pizza I moved onto cinnamon rolls. And well, we all know how good those are!
It was only the next natural progression to venture into dinner rolls. I love having bread with dinner. Or lunch. Or breakfast. Or dessert. Or anytime of the day. I love bread, remember?
About a year ago, I came across this recipe for 30 minute dinner rolls by Your Homebased Mom. I was incredulous. 30 minutes? REALLY? Because that would be life changing.
And these dinner rolls were!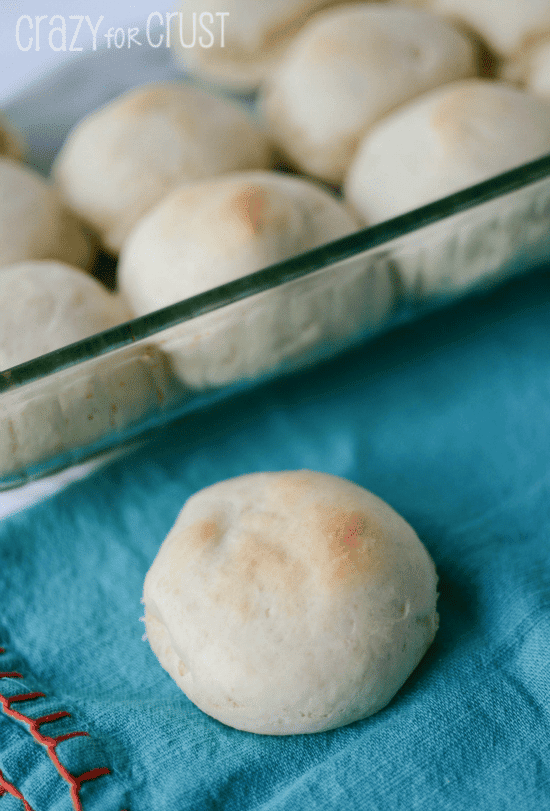 These dinner rolls are a little crusty on the outside and super fluffy on the inside. Honestly, they're the perfect dinner roll for me. I love a super doughy roll (remember, I lived on the center of Home Pride when I was a kid!) and that's exactly what these are. Dense, chewy, yeasty, and perfect.
Now…30 minutes seemed like a stretch but I went for it anyway. But I'm no Rachael Ray – the time to cook and rise is 25 minutes, leaving 5 minutes in between for everything else. Needless to say, it was longer than 30 minutes start to finish. Which is why I'm calling my version of these rolls 45 Minute Dinner Rolls. Or, maybe Less than 45 Minute Dinner Rolls.
Since making things with yeast was scary to me for a long time and probably still is for some of you, I thought I'd do some process photos, so you can see what the dough looks like at each step in the (less than) 45 minute process.
Ready?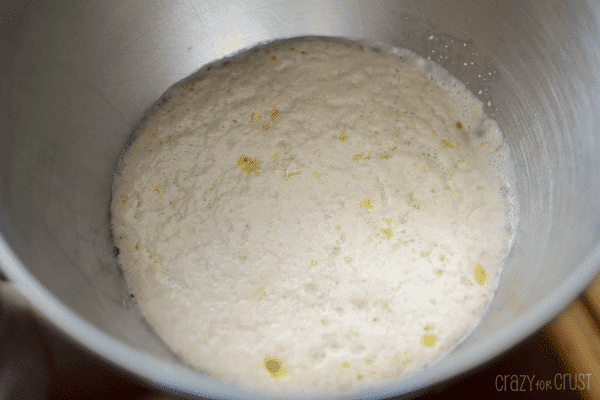 Now, in order to have yeasted rolls in less than 45 minutes, you need to start with a lot of yeast.
This recipe has a whopping 2 tablespoons of yeast. You need to get the yeast to wake up and rise quickly – so you need warm water and sugar. I heat my 1 cup of water in the microwave for about 30 seconds before adding it to the yeast, sugar, and olive oil. Place it all in the bowl of a stand mixer and let it sit for 15 minutes. Set a timer, walk away, start the rest of your dinner.
When you come back after the 15 minutes, it will look like that photo up there. Nice and foamy and very fragrant. Then you have to add your flour and salt. (The original recipe calls for an egg, but I've found leaving it out doesn't change the flavor, so I don't use it anymore.)
Start your mixer on "Stir" until the flour mixes in enough that you won't be wearing it when you speed it up. Turn it to "2" for about 30 seconds, then kick it up to "3". At that point, the dough should be coming together nicely. Don't worry if it's stuck to the sides of the bowl – the mixing should clean it off just fine. After a few minutes of mixing this is what you'll have: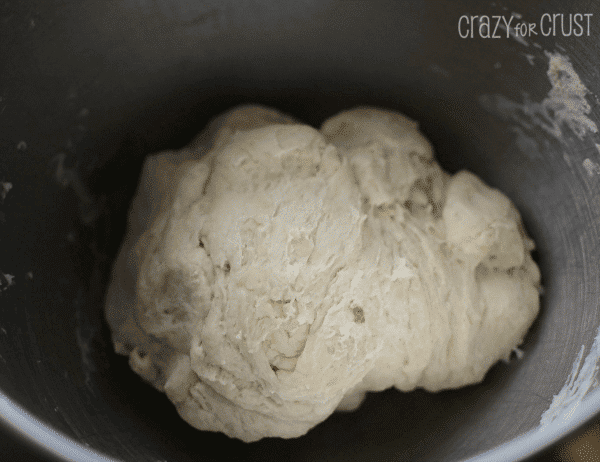 A pliable and not-too-sticky dough and an almost clean bowl.
If you're having trouble getting to this point, add a few more tablespoons of flour. I don't have to do that very often, but occasionally I do. I think it has something to do with the weather. Or maybe I just made that up.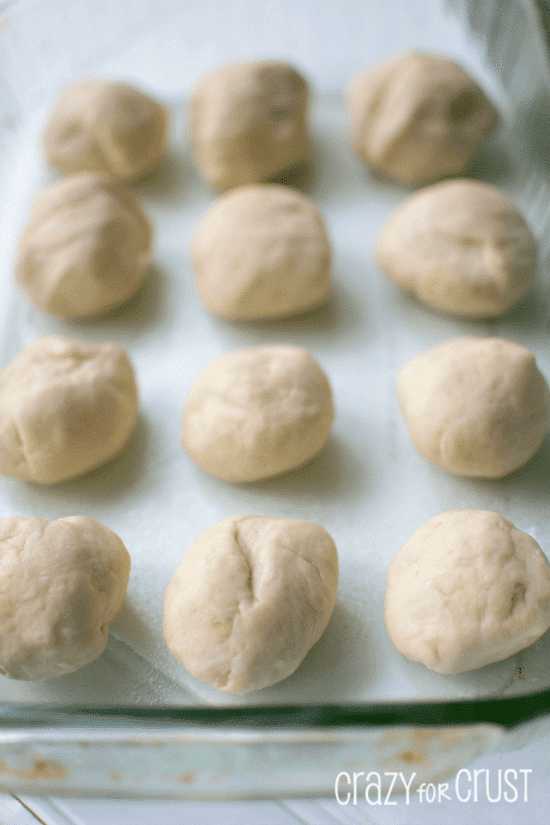 Divide your dough into 12 rolls. I have a Pampered Chef dough cutter thing I love to use, but you can use a knife. Roll them into little balls and place in your pan (that has been sprayed with cooking spray). Let them rest for 10 more minutes. Then bake for 10 minutes at 400 degrees. They'll puff and brown and be fabulous.
Dinner rolls are practically a requirement at my house.
The best part is that this recipe makes 12. There are only 3 of us, which means we get leftovers. Or, rather. I get leftovers. Breakfast, lunch, dinner, and snacks!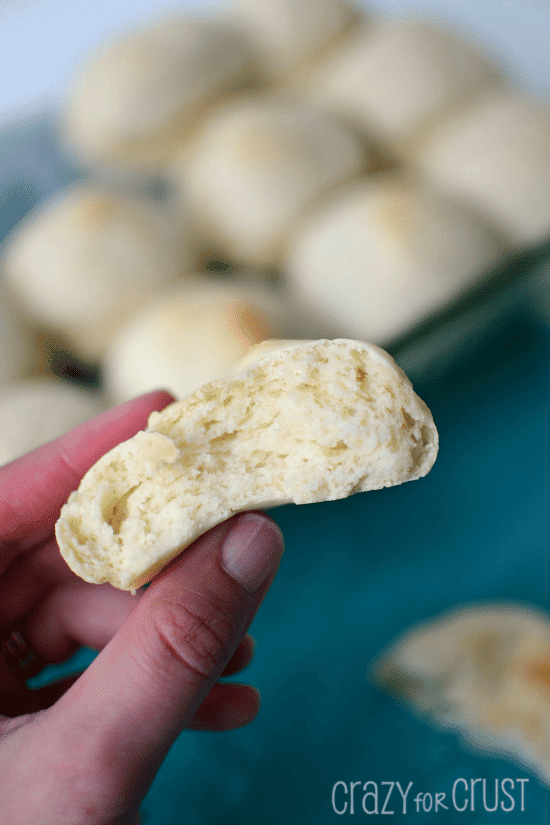 See all that fluffiness and yum? I'm swooning over a photo, and I still have some in my kitchen.
Bread addiction. I think it's a serious issue, people. 😉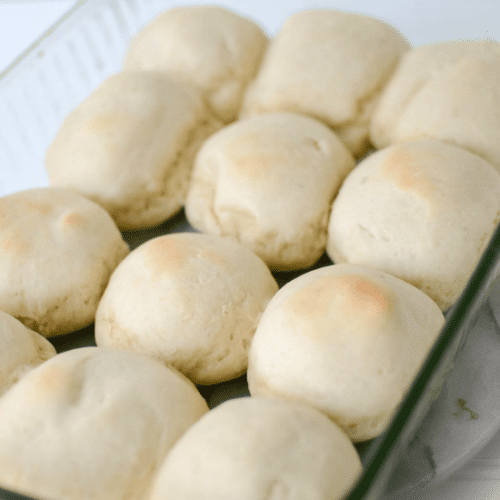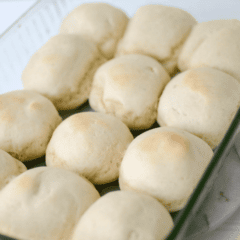 45 Minute Dinner Rolls
Dinner rolls on the table in under 45 minutes - it can be done!
Ingredients
1

cup

warm water

30 seconds in the microwave

1/3

cup

olive oil

2

tablespoons

sugar

2

tablespoons

active dry yeast

1/2

teaspoon

salt

3

cups

all-purpose flour
Instructions
Preheat oven to 400 degrees.

Place the water, olive oil, sugar, and yeast in the bowl of a stand mixer fitted with the dough hook. Let the mixture rest for 15 minutes. It will be very frothy when your timer rings! Mix in the salt and flour using the dough hook. Start on "Stir" for a few seconds, until the flour starts to incorporate. Switch to "2" for about 30 seconds and then kick it up to "3" until the dough completely comes together. You know it's done when all of the dough will join to form a ball and the sides of the bowl are almost clean (no dough left). If your dough is too wet, add an additional tablespoon or two of flour.

Place dough on a cutting board and section into 12 balls. Place the rolls in a 9x13" baking dish sprayed with cooking spray. Let rest for 10 more minutes.

Bake for about 10 minutes, until the tops start to get golden. Enjoy!
Recipe Nutrition
Serving:
1
roll
|
Calories:
170
kcal
|
Carbohydrates:
24
g
|
Protein:
3
g
|
Fat:
6
g
|
Saturated Fat:
1
g
|
Sodium:
1654
mg
|
Fiber:
1
g
|
Sugar:
2
g
Nutritional information not guaranteed to be accurate
Are you a carb lover like me? Check these out:
Monkey Bread made with Dinner Rolls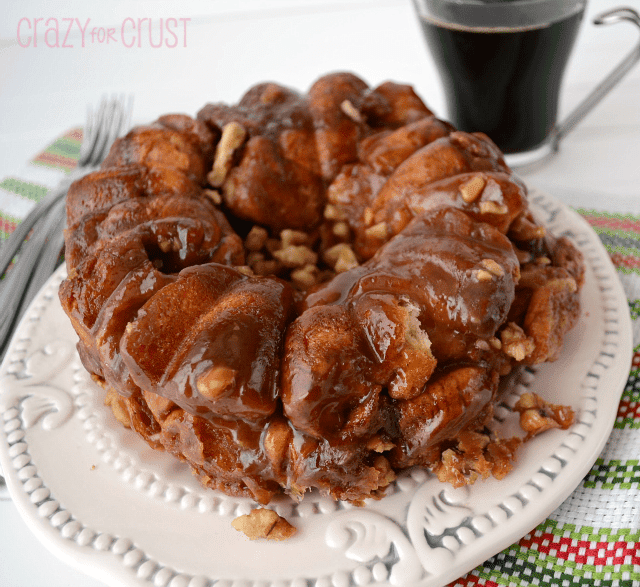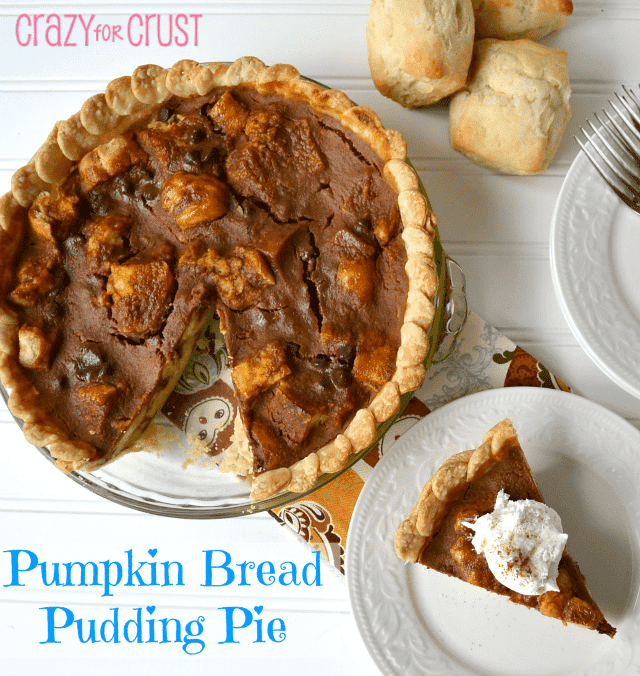 Sweets from friends:
Easy Egg Bread Recipe by Roxana's Home Baking
Garlic Cheesy Bread by Oh Sweet Basil
Baguettes with Air by Bitter Baker
Nutella Chocolate Chip Banana Bread by Something Swanky
Last Updated on May 19, 2020