Marshmallow Popcorn Balls are the EASIEST kind of popcorn balls to make. This simple recipe is done fast without any guesswork and they're perfect for any occasion. Dress these up with sprinkles or holiday colors if you want! Our daughter loved these so much she couldn't stop eating them.
This post is sponsored by Challenge Dairy, and all opinions are my own. I used their butter in the recipe so you know they must be good!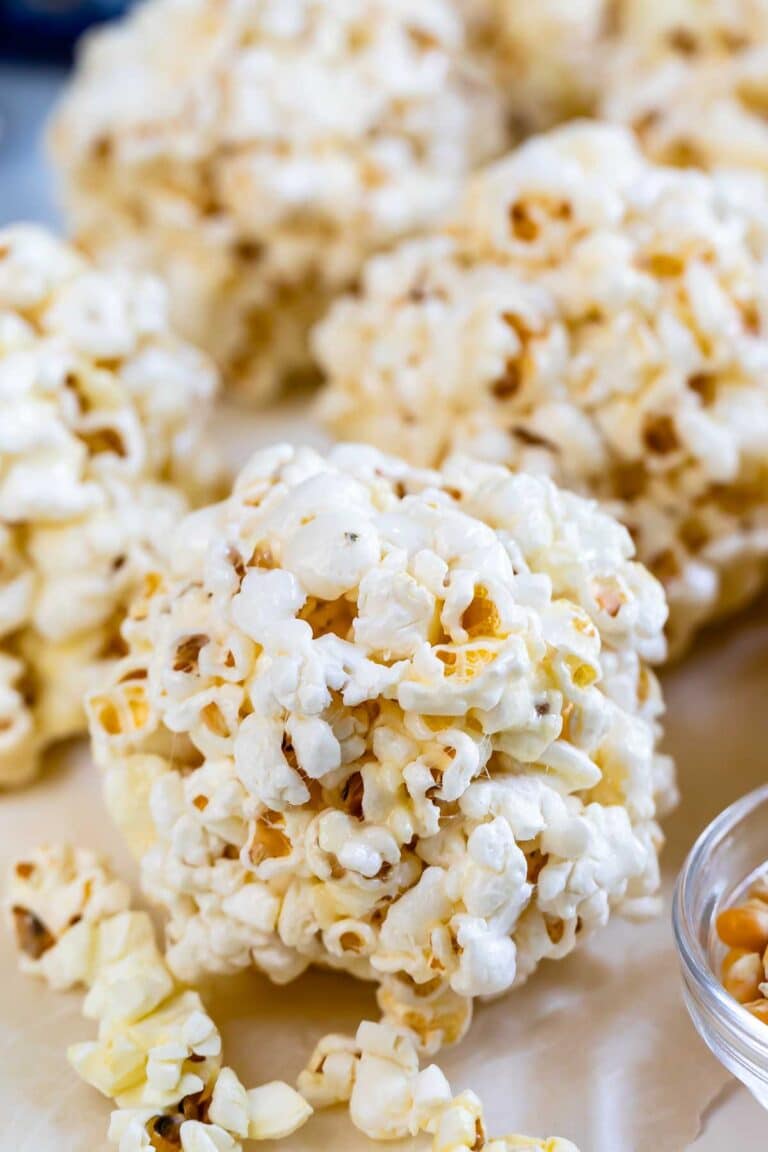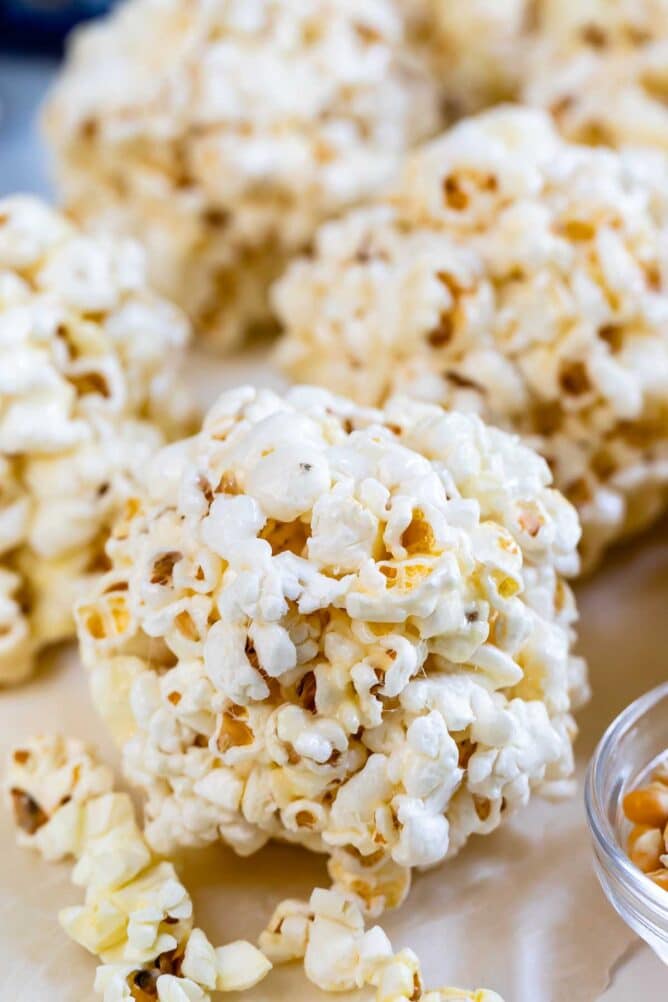 I have never made popcorn balls before and I'm kind of mad I never did it before now. They're SO good! Not only are they delicious but they are also easy and fast with this marshmallow version.
I wavered between making a traditional popcorn ball and the marshmallow ones and decided to go the easier route because I hate using a candy thermometer. I feel like making candy is an art and I can do it, but it's so temperamental.
If you're like me and haven't tried these before because you were worried they'd be difficult to make, then THIS is the recipe for you!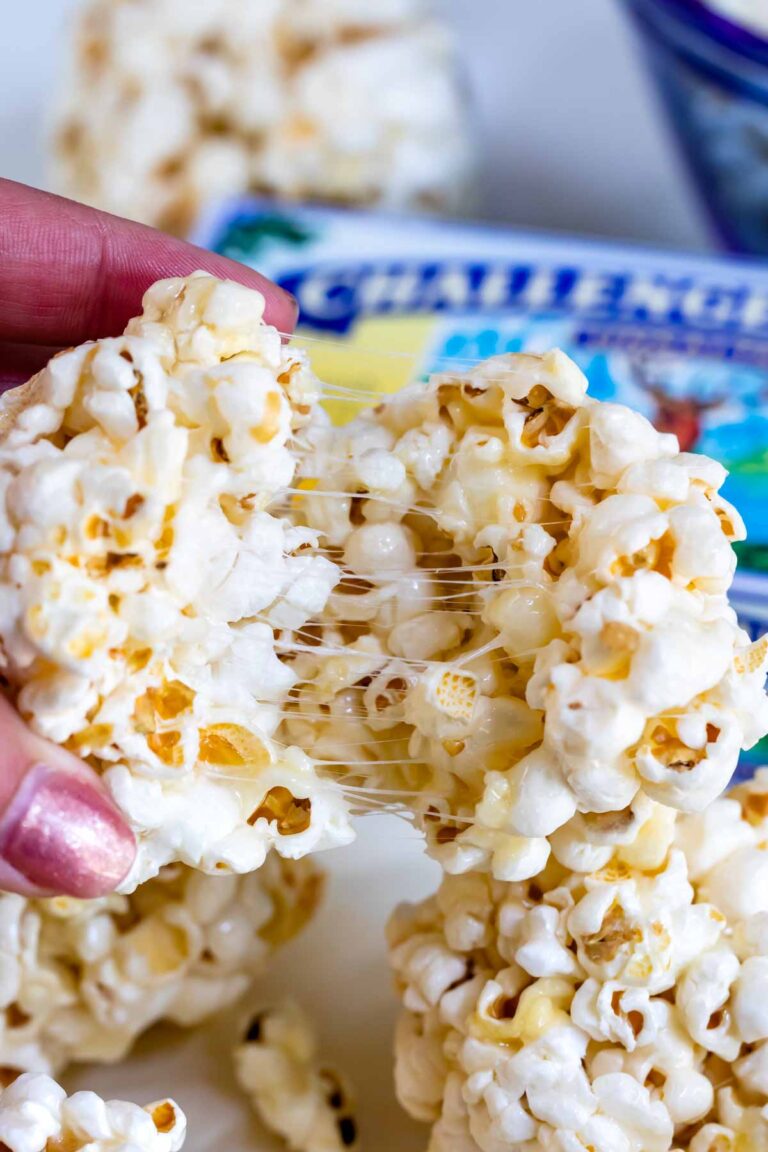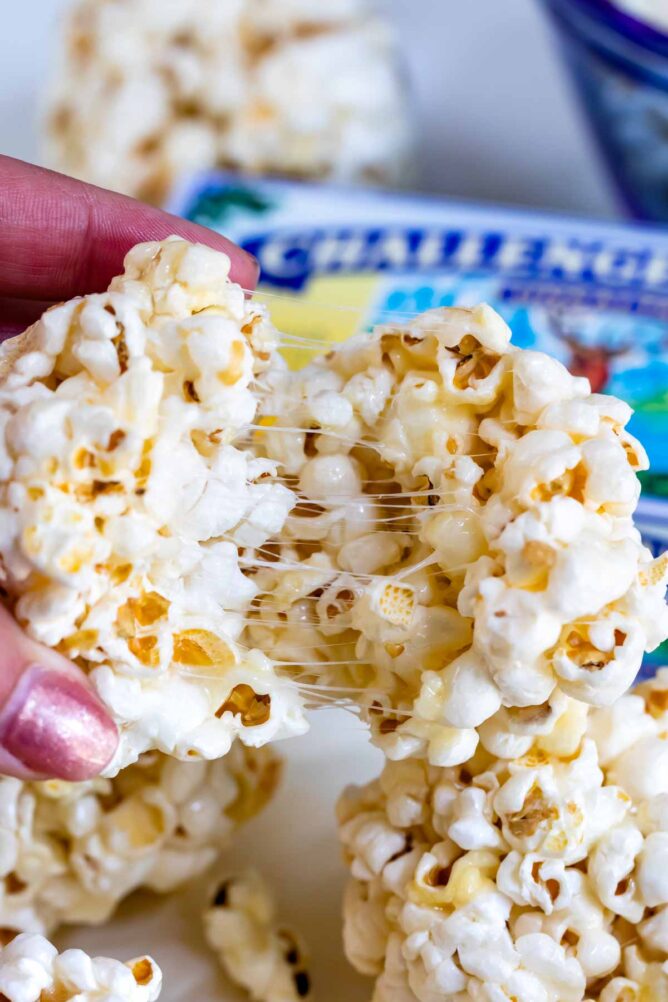 What are popcorn balls made of?
These just have a few ingredients and they're similar to cereal treats, but the mixture is cooked instead of done in the microwave.
To make the gooey mixture you'll need:
Challenge Unsalted Butter
Light Corn Syrup
Water
Powdered Sugar
Marshmallows
The use of the marshmallows and powdered sugar adds sweetness and a gooey texture without having to cook the sugar to soft ball stage. This eliminates all guesswork and the need for a candy thermometer so this is a FOOLPROOF recipe.
That's right: it works every time.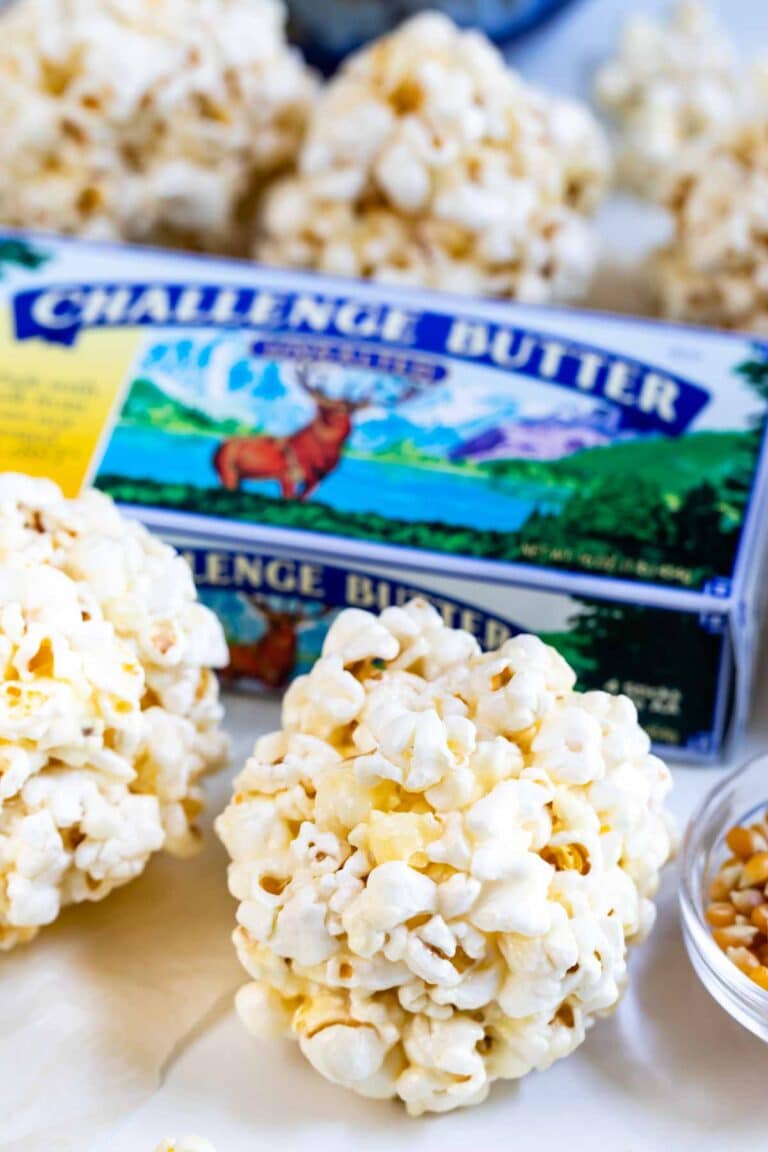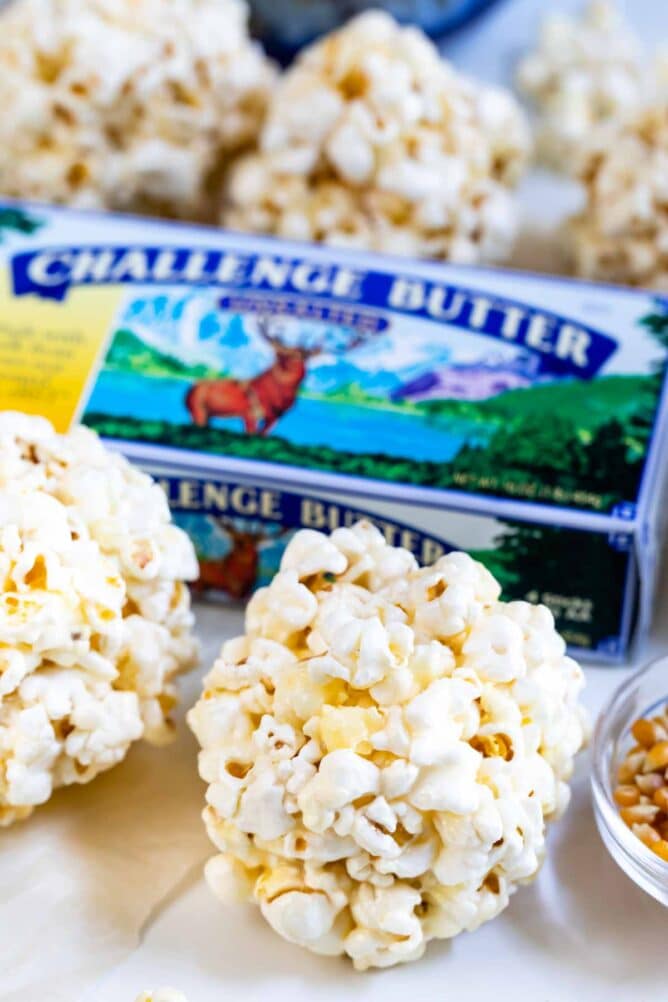 When it comes to choosing ingredients, you'll want to pick the best ones. Challenge Butter is my absolute favorite and it is the only butter I use, no matter what I'm making. I've eaten it my entire life so it's natural this blog runs on Challenge.
Challenge Butter has no additives, hormones, or fillers and it comes from happy cows at family-owned dairies across California. It's been churned fresh daily for over 100 years and is available nationally. Challenge Unsalted Butter was also selected as Cook's Illustrated's favorite among top-selling brands!
The other important ingredient to pay attention to in this recipe are the marshmallows. Be sure you use fresh marshmallows, otherwise they may not melt right in the mixture.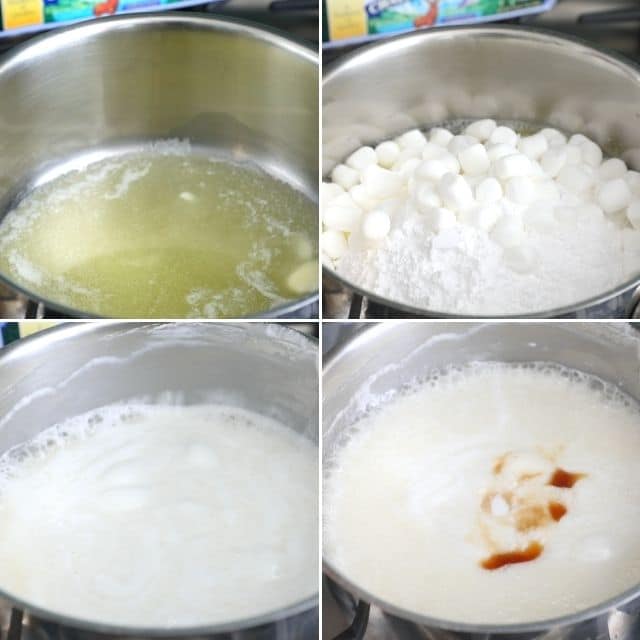 How to make popcorn balls with marshmallows
First you need to make the gooey mixture to spread over the popcorn. This is done in a medium size pan on the stove.
Melt your Challenge Unsalted Butter over medium heat. Then add the corn syrup, powdered sugar, and marshmallows and stir until the marshmallows are melted.
Once the mixture boils take it off the heat and add vanilla and salt. (This is also where you'll add food coloring if you want, see below when I talk about variations.)
Microwave Popcorn vs Fresh Popped Popcorn
You can use EITHER microwave popcorn or freshly popped. I've done all the figuring and math for you!
First, let's talk about popcorn conversions:
The recipe calls for 20 cups of popcorn, which is about 5 quarts. One quart = 4 cups popped popcorn. 2 tablespoons (1 ounce) of kernels makes 4 cups or 1 quart of popcorn.
Popping your own popcorn
Measure out 2/3 cup of popcorn kernels and use your favorite method for popping popcorn (I love using an air popper). Make sure to remove any un-popped kernels before making popcorn balls!
Using Microwave Popcorn
Hate popping your own popcorn? Me too. I live on microwave popcorn! Now, not all popcorn bags are created equal. The yield per bag varies across brands and even across bags in the same pack (sometimes you get a dud bag that doesn't pop right).
Generally, a 3.5 ounce bag of microwave popcorn will yield about 6-7 cups of popped kernels, so you'll need about 3-4 bags to get enough for the recipe.
Be sure to remove any unpopped kernels and omit the salt in the recipe, because most microwave popcorn brands come salted and buttered in some fashion.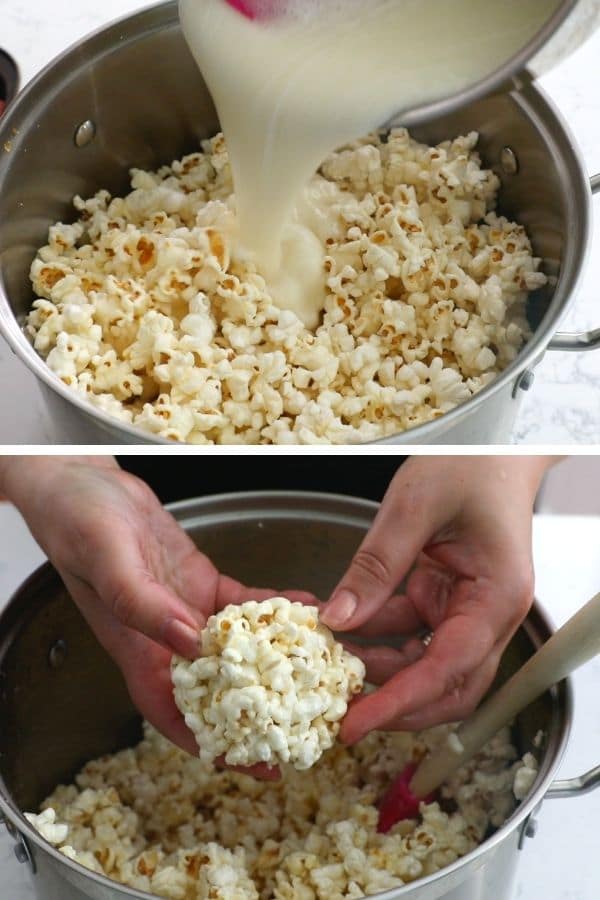 Forming Popcorn Balls
It's important to put your popcorn in a very large pot or bowl. I used a large pasta pot and it was the perfect size.
Pour your hot marshmallow mixture over the popcorn and stir. Be sure to get all the gooey mixture off the bottom of the pan so it coats all the popcorn.
The mixture is HOT at this point so be careful!
When it's time for form the balls, remember that this is super sticky. I like to rub some extra Challenge Butter on my hands to grease them so the popcorn doesn't stick.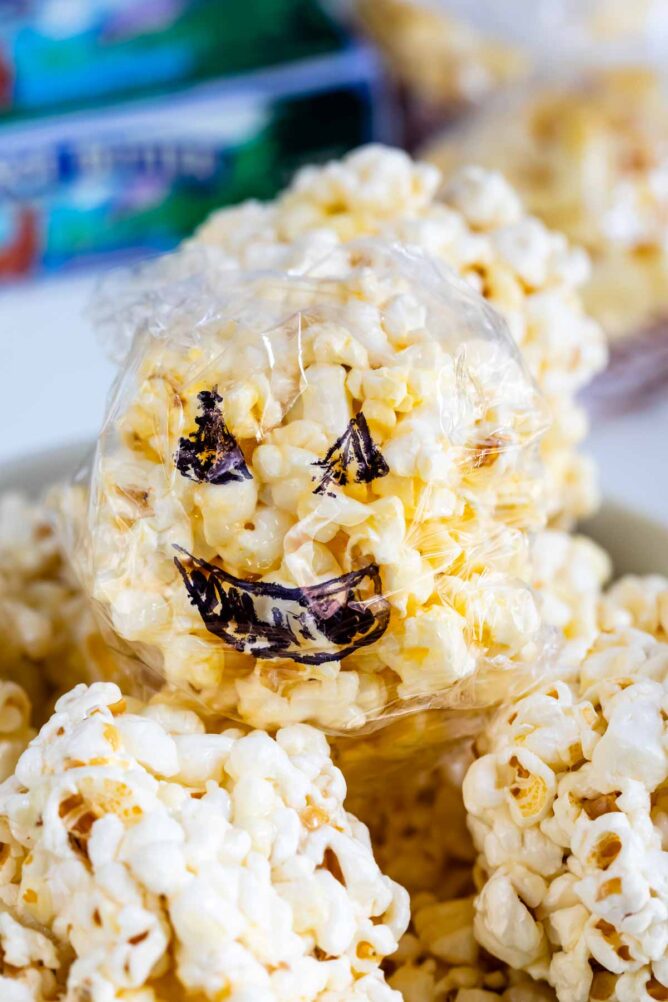 Variations
There are SO many different ways to make popcorn balls and to package them and decorate them.
Food Coloring: add a few drops of food coloring into the mixture before pouring it over the popcorn.
Sprinkles: once you have the mixture all coated on the popcorn you can add some sprinkles then or add them to the top of the balls after they're rolled.
Size: make these as big or as small as you want! You could also press them into a 9×13-inch pan to make popcorn treats.
Turn them into Jack O' Lanterns by wrapping them in plastic and drawing cutout faces on the front.
Decorate them for a holiday by placing them in a cupcake liner, wrapping with plastic and using colorful ribbon. This would work for Christmas, Halloween, or even a birthday party!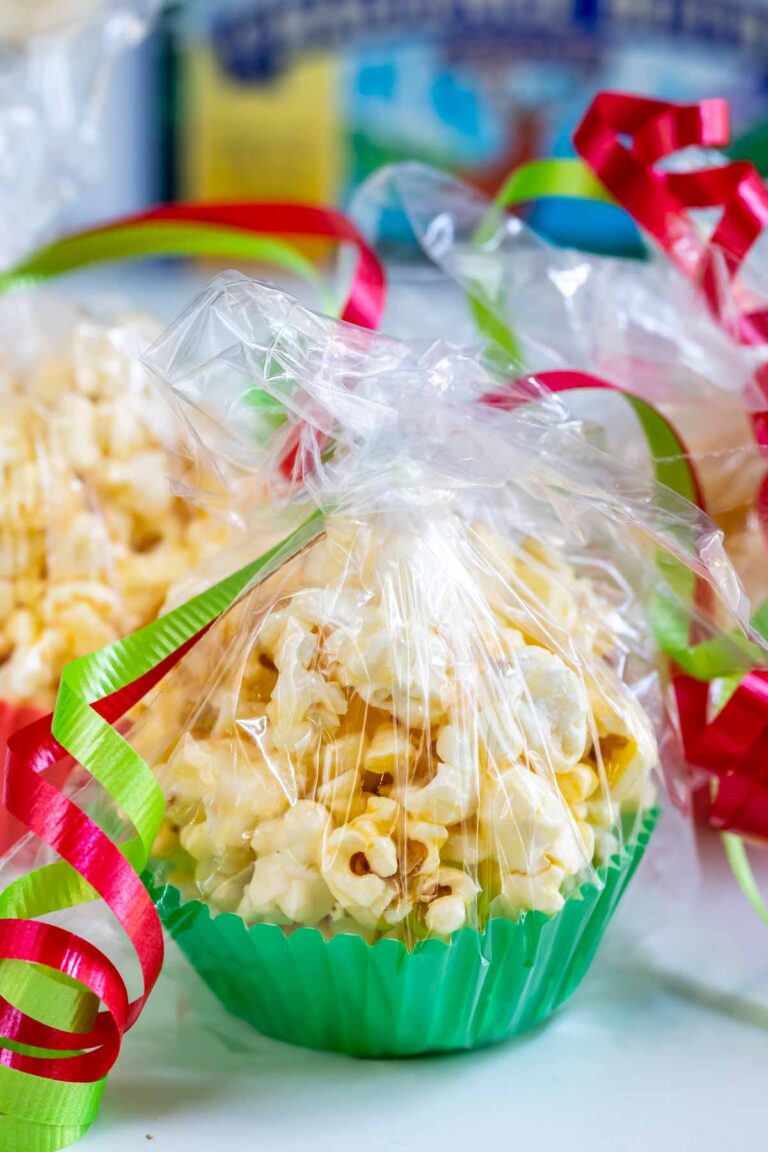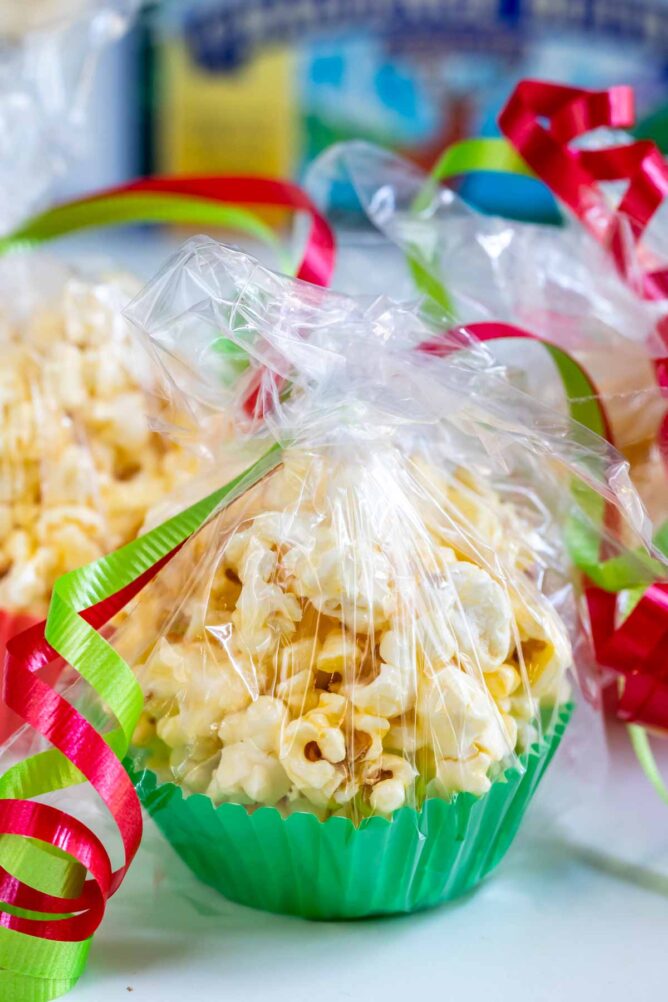 FAQ & Tips
Why won't my popcorn balls stick together?
After pouring the hot mixture over the popcorn make sure to stir it to coat evenly. If the popcorn isn't coated in the gooey mixture then it won't stick together.
How many does this recipe make?
It can make up to 20 popcorn balls, depending on size.
How do I avoid unpopped kernels?
Did you know you can FREEZE unpopped popcorn? This will help reduce the amount of unpopped kernels you get in your batch. When it comes to microwave popcorn, you can't really avoid it. Just be sure to remove them all before making the balls.
My marshmallows won't melt into the hot mixture!
This is most likely because they aren't fresh. Be sure and use a new bag of marshmallows for best results.
How far in advance can you make popcorn balls?
If they're sealed well, wrapped in plastic and placed in an airtight container, they'll last close to a week but they're best within 3 days of being made.
Be sure to check out Challenge Dairy for more fun recipes, tips and tricks!
Other favorite recipes to try:
Have you made this recipe?
Tag @crazyforcrust on Instagram or hashtag it #crazyforcrust
Easy Popcorn Balls Recipe
Marshmallow Popcorn Balls are SO easy and fast and they're totally foolproof. These are a perfect classic childhood treat that you can dress up for any holiday or occasion.
Ingredients
3/4

cup

light corn syrup

1/4

cup

Challenge Unsalted Butter

plus more for greasing your hands

2

teaspoons

water

2 1/2

cups

powdered sugar

1

cup

mini marshmallows

see note

20

cups

plain popped popcorn

see note

1/4

teaspoon

salt

1/2

teaspoon

vanilla extract
Instructions
Place popcorn in a large pot or bowl.

Melt butter in a medium saucepan over medium heat. Add corn syrup, water, powdered sugar and marshmallows. Heat and stir the mixture until it boils. Remove from heat and stir in salt and vanilla.

Pour the mixture carefully over the popcorn and stir to coat each kernel. Do this carefully – the mixture is very hot.

Grease your hands with additional butter and shape coated popcorn into popcorn balls. Work quickly to make all the balls before they cool.

Wrap each ball in plastic wrap. Decorate as desired. Store at room temperature.
Recipe Notes
Popcorn Conversions: 20 cups of popcorn is about 5 quarts. (One quart = 4 cups popped popcorn.) 2 tablespoons (1 ounce) of kernels makes approximately 4 cups or 1 quart of popcorn). To pop your own popcorn: Pop 2/3 cup kernels either on the stove or in your popcorn popper according to package directions. Remove any un-popped kernels before making popcorn balls. To use microwave popcorn: Microwave bags of popcorn vary across brands but a 3.5 ounce package is approximately 6-7 cups. Make sure you remove all unpopped kernels before measuring out popcorn, some bags end up popping more than others. You'll need 3-4 bags of popcorn to get the right amount of popcorn for the recipe. Omit the salt from the marshmallow mixture as microwave popcorn usually comes buttered and salted. Note about marshmallows: it's best to use fresh marshmallows when you're melting them. Fresher marshmallows will melt faster and easier than old ones.
Nutrition Information
Serving:
1
serving
|
Calories:
738
kcal
|
Carbohydrates:
148
g
|
Protein:
18
g
|
Fat:
9
g
|
Saturated Fat:
3
g
|
Cholesterol:
6
mg
|
Sodium:
51
mg
|
Potassium:
449
mg
|
Fiber:
21
g
|
Sugar:
27
g
|
Vitamin A:
71
IU
|
Calcium:
11
mg
|
Iron:
5
mg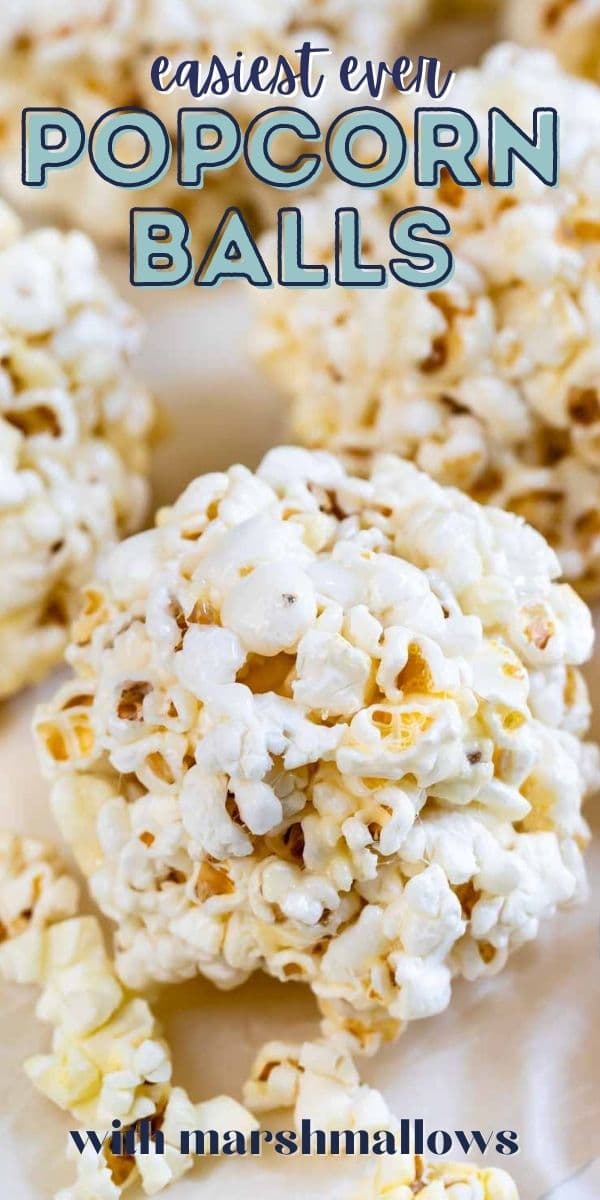 Easy Marshmallow Popcorn Balls are a homemade recipe perfect for Halloween, Christmas, Fall or any occasion. Learn how to make easy Popcorn Balls and how to decorate them for the holidays!
All text and images © DOROTHY KERN for Crazy for Crust. Please do not use my images without prior permission. If you want to republish this recipe, please re-write the recipe in your own words, or link back to this post for the recipe. Disclaimer: Nutrition information shown is not guaranteed to be accurate.
Join for FREE to start saving your favorite recipes
Create an account easily save your favorite content, so you never forget a recipe again.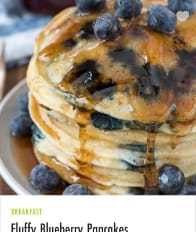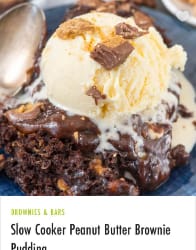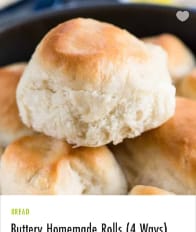 This post may contain affiliate links. For more information, read my disclosure policy.
Published on: October 8, 2020