This post may contain affiliate links. For more information, read my disclosure policy.
Easy Oven Roasted Potatoes with garlic are the perfect side dish! We par-boil our roasted potatoes for the perfect crunchy outside and soft inside.
I have been making potatoes this way my entire life and they are by far my favorite way to roast them.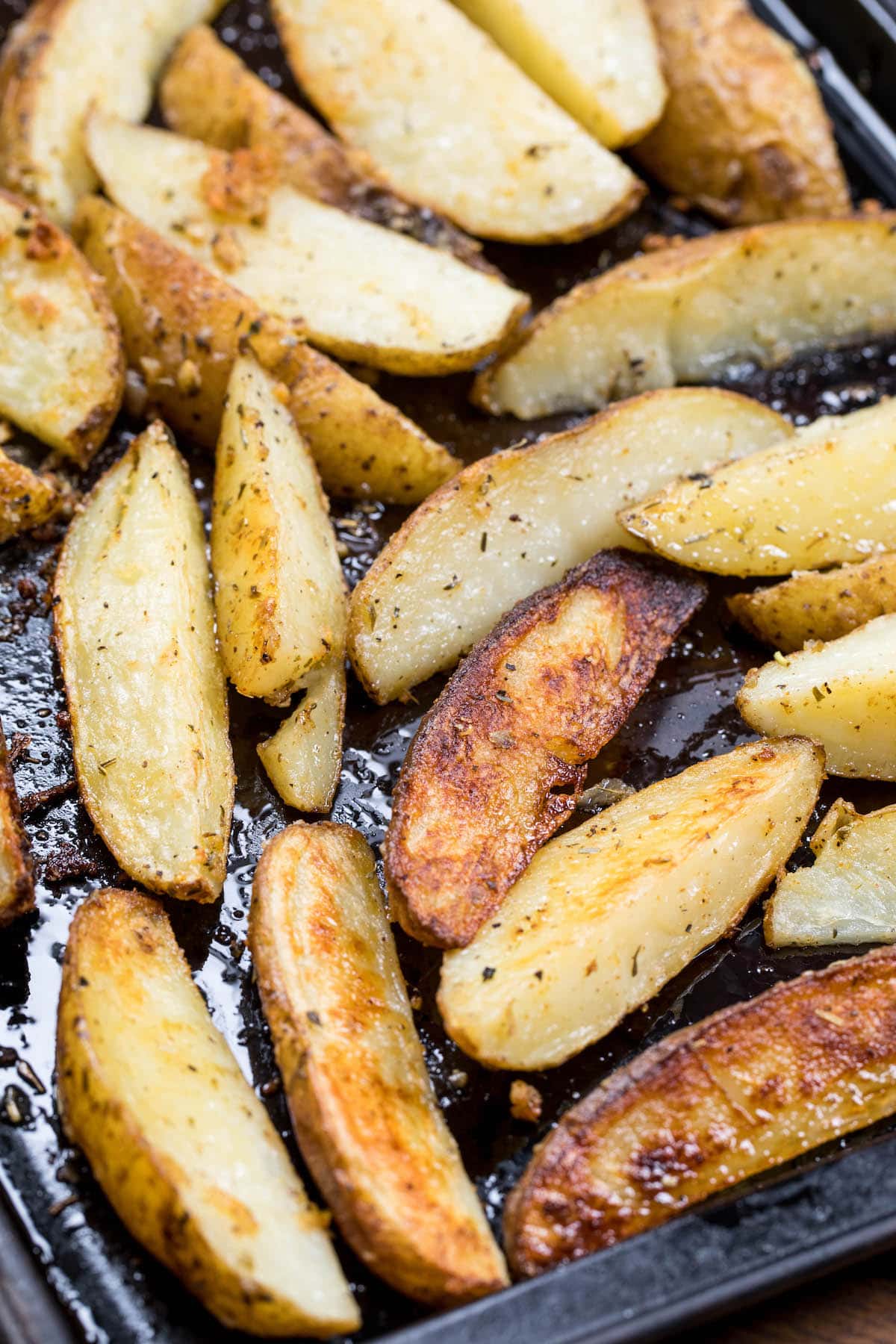 BEST Oven Roasted Potatoes – every time!
I'm not ashamed to say that potatoes are one of my favorite side dishes.
I'll take my potatoes any way you want to serve them: mashed, au gratin, French fries….but my favorite way to make potatoes are these oven roasted potatoes. They're flavorful, crisp on the outside, and soft on the inside, just like potato wedges should be.
Growing up, we'd have these potatoes every time my Nana made lamb. I'm pretty sure it was the only time we'd eat them because her "lamb pan" was the best one for roasting potatoes: it was seasoned and old and dark and turned out the BEST roasted potatoes every single time.
Now, I don't have my Nana's lamb pan (my mom has it), but you can make delicious roasted potatoes anytime you want using this easy method.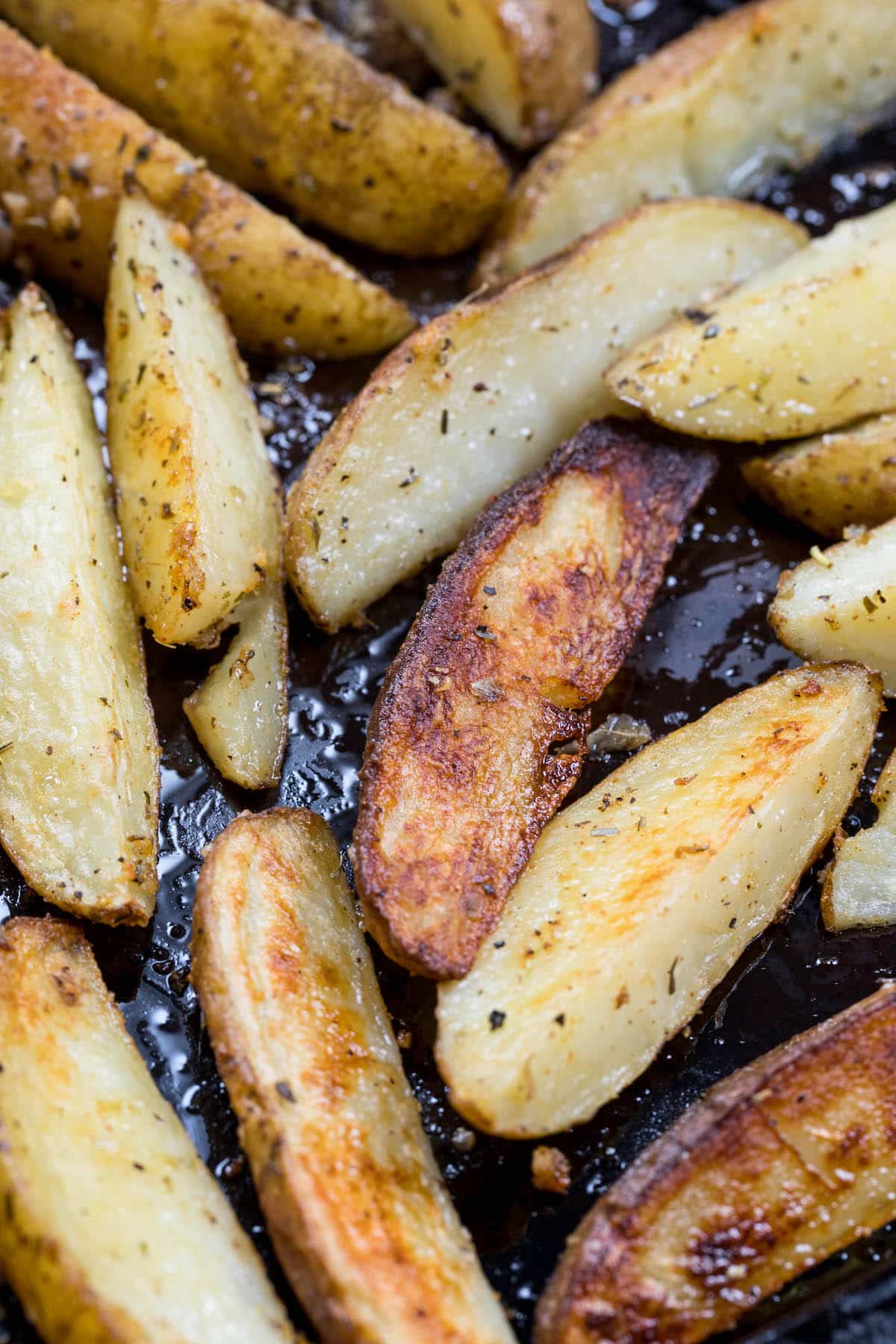 Secret to the Perfect Roasted Potatoes
My oven roasted potatoes with garlic have a secret step that ensures they'll be golden, crispy, and soft on the inside: par-boiling.
I'd never thought about pre-cooking potatoes before roasting them until I was in my 20s. My husband and I were visiting friends of his in London and she par-boiled the potatoes before roasting them. An additional step, sure, but it produced the BEST cooked-through potatoes. I've been par-boiling them ever since.
What does Par-Boil mean?
Par-boil means partially boil, that is you boil the vegetable for just a few minutes, then roast it or cook it how the recipe calls for. Why do people par-boil potatoes? I do it because it ensures that the potato will be cooked through and allows the roasting step to give the potatoes a golden and crispy outside.
How to par-boil potatoes
It's super simple, and I'm going to show you how.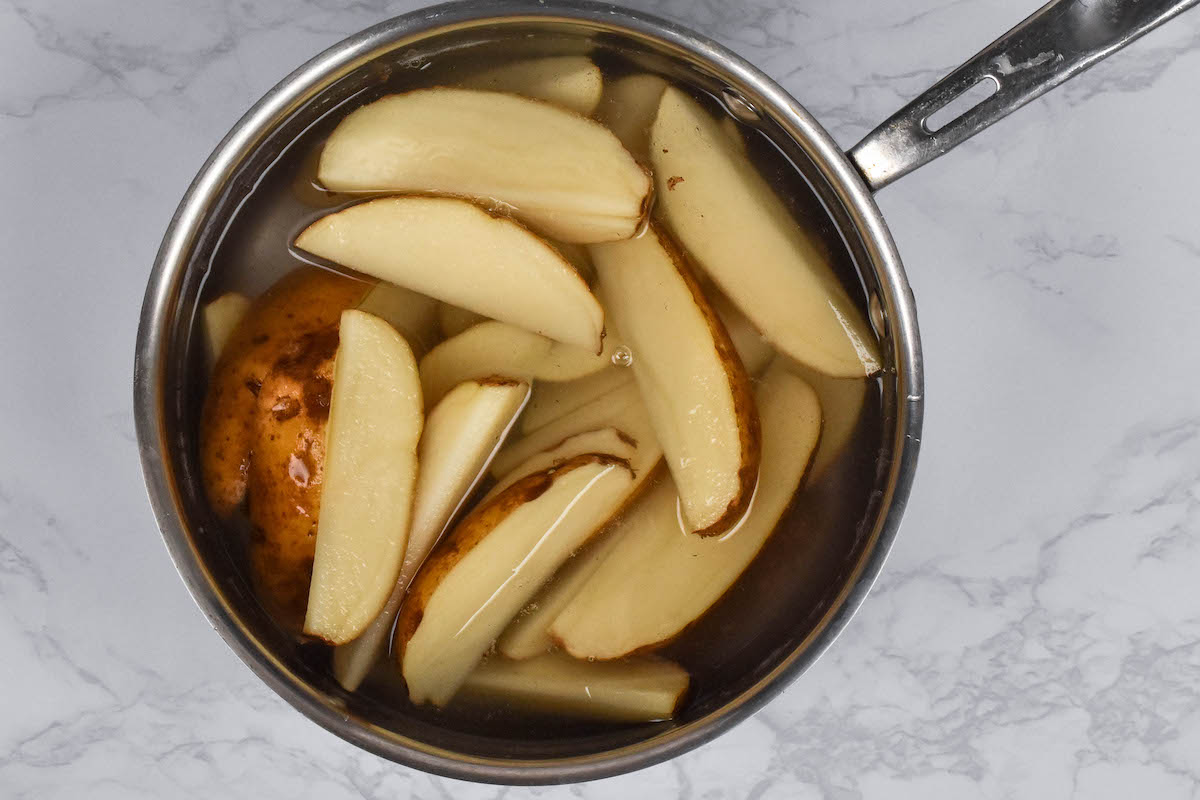 Simply slice your potatoes in the desired shape (for this recipe I cut them in wedges).
Important: make sure all your wedges are the same size for even cooking time.
Simply cover the potatoes with water in a large saucepan. Cover and bring to a boil. Boil for just 2 minutes, then drain well.
Your potatoes are now par-boiled!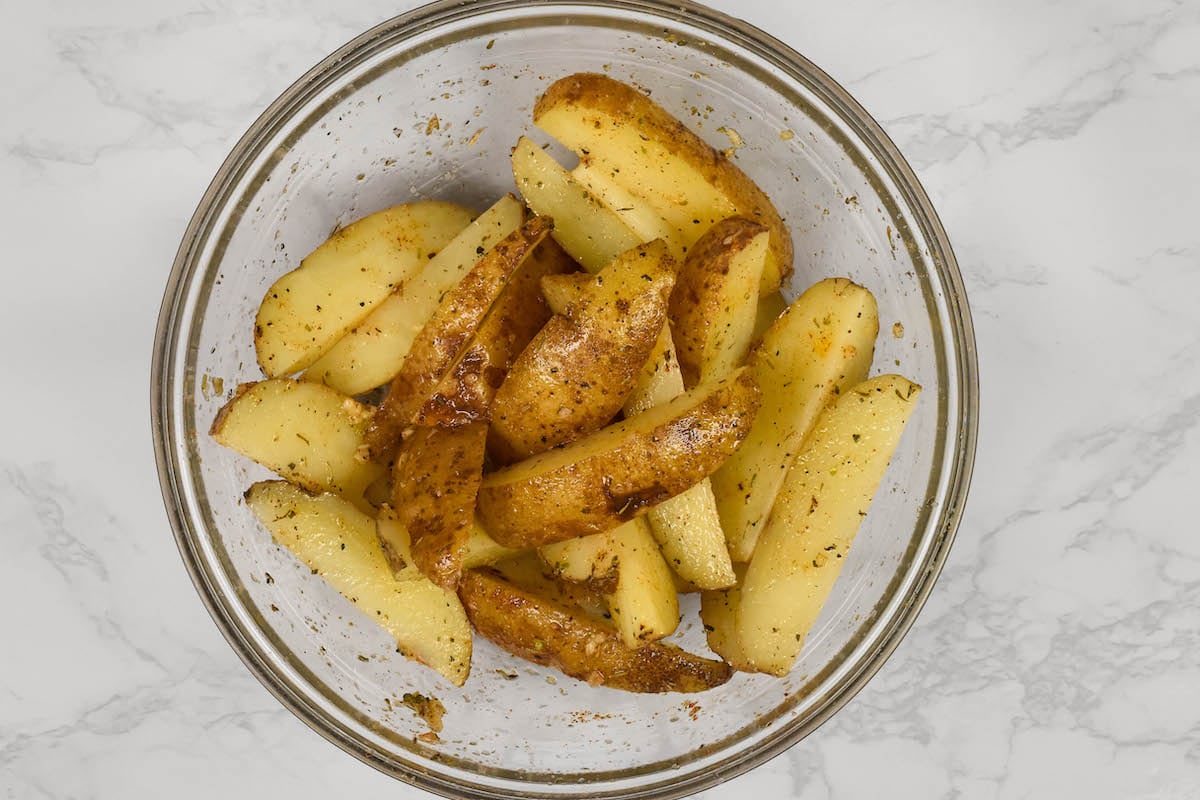 Ingredients for Potato Wedges
Then I toss my par-boiled potatoes with olive oil and herbs before I roast them:
Garlic
Salt
Ground Black Pepper
Granulated onion
Italian seasoning
Smoked Paprika (or regular paprika)
You can also use seasoning salt during that step or add some red pepper flakes.
Then, place the sliced potatoes in the oven. I roast them on a greased cookie sheet in a single layer.
How long do you roast potatoes in the oven?
I roast my par-boiled potatoes at 400°F for about 20-30 minutes, depending on their size. Try to remember to turn them partway through baking so they are evenly browned (unlike mine!)
Expert Tips
Make sure to use a rimmed baking sheet. Grease it with oil so they don't stick.
Place the potatoes in a single layer on the baking sheet.
Do NOT use foil or parchment: bake the potatoes right on the baking sheet. This will help them brown!
Don't skip the par-boiling step. It ensures a crispy potato with a soft center!
Mix up the herbs and spices you use but don't skip the garlic. Garlic roasted potatoes are delicious!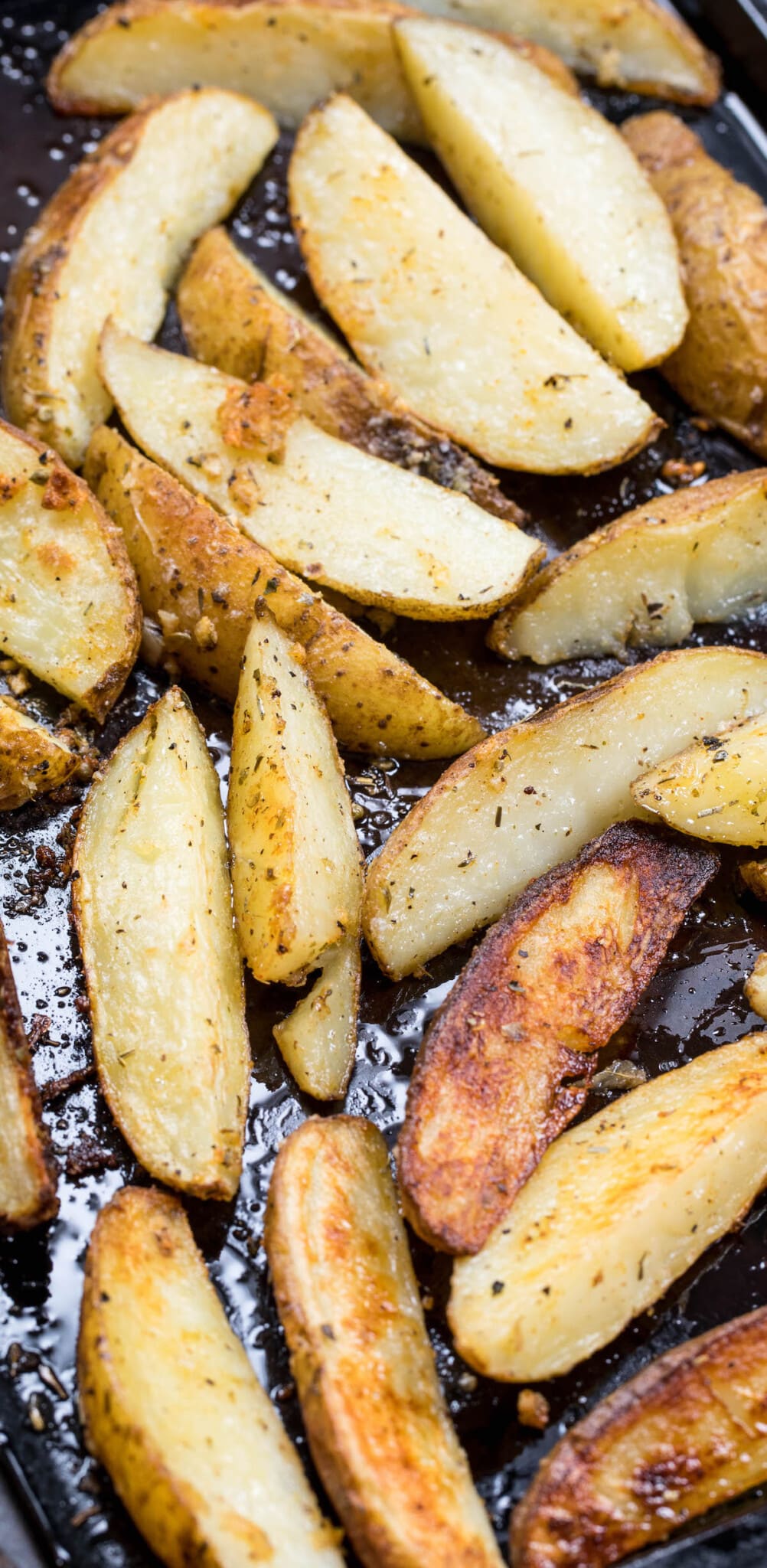 FAQs
Should you boil potatoes before roasting them?
Yes! Boiling them cooks them slightly so you get a nice crispy outside and soft inside that's completely cooked through.
Why do you soak potatoes before roasting?
Parboiling is different than soaking but achieves a similar goal: removing some of the starches so that the potatoes will crisp up in the oven.
How long does it take for potatoes to cook in the oven?
Roasting time depends on size. For potato wedges like this, they'll be about 20-30 minutes, but if yours are thicker or thinner, the time will increase or decrease.
Do you cover oven roasted potatoes?
No, you do not have to cover them while roasting.
Can you freeze oven roasted potatoes?
You can but I don't recommend freezing unless you have an air fryer to reheat.
Crispy oven roasted russet potatoes are the perfect side dish for any meal!
Serving Suggestions
Have you made this recipe?
Tag @crazyforcrust on Instagram or hashtag it #crazyforcrust
Easy Oven Roasted Potatoes Recipe
Easy Oven Roasted Potatoes with garlic are the perfect side dish! We par-boil our roasted potatoes for the perfect crunchy outside and soft inside.
Ingredients
4

medium

Idaho potatoes

washed and sliced into wedges

2

tablespoons

olive oil

2

cloves

garlic

minced

1

teaspoon

salt

1/2

teaspoon

pepper

1

teaspoon

onion powder

1/2

teaspoon

Italian seasoning

1/4

teaspoon

smoked paprika
Instructions
Preheat oven to 400°F. Grease a rimmed baking sheet with oil.

Place sliced potatoes in a 2 Qt saucepan. Fill with water and cover. Place over medium-high heat and bring to a boil. Boil for two minutes; drain.

Place par-boiled potatoes in a large bowl. Toss with olive oil, garlic, and spices. Spread on prepared pan.

Bake 15-30 minutes, or until browned and cooked through. (Baking time with depend on the size and thickness of your potato wedges.)
Recipe Nutrition
Serving:
1
serving
|
Calories:
235
kcal
|
Carbohydrates:
39
g
|
Protein:
4
g
|
Fat:
7
g
|
Saturated Fat:
1
g
|
Sodium:
592
mg
|
Potassium:
888
mg
|
Fiber:
3
g
|
Sugar:
1
g
|
Vitamin A:
60
IU
|
Vitamin C:
12.6
mg
|
Calcium:
34
mg
|
Iron:
1.9
mg
Nutritional information not guaranteed to be accurate
**Did you make this recipe? Don't forget to give it a star rating below!**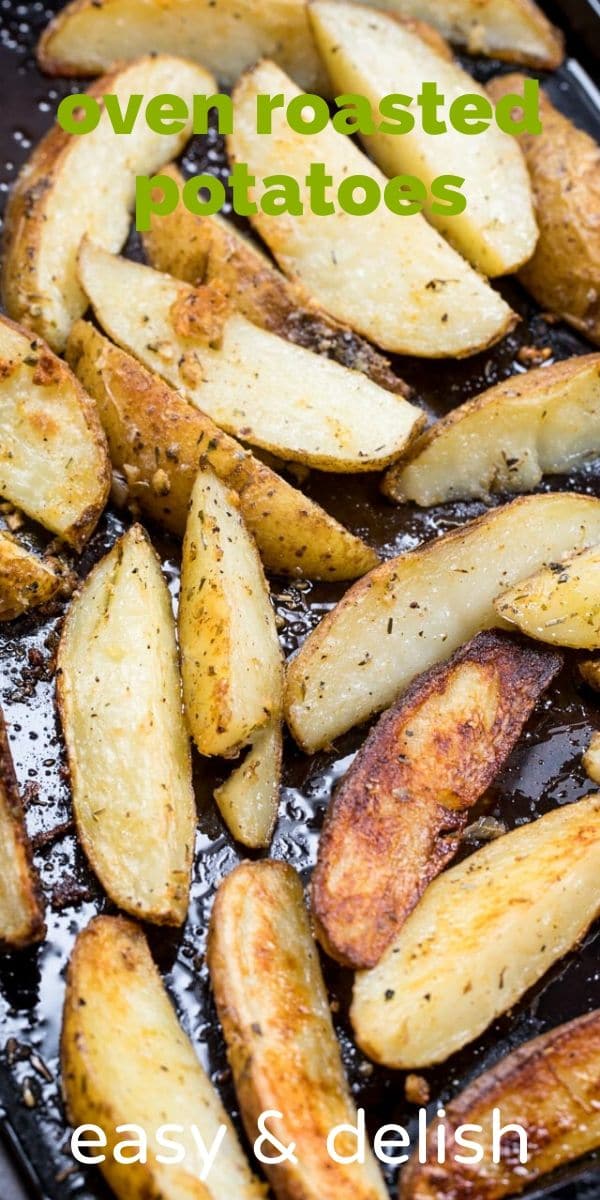 Oven Roasted Potatoes are an easy side dish – this method uses par-boiling and roasting to make the best potato wedges ever. We love this potato recipe!
Last Updated on September 6, 2022