This post may contain affiliate links. For more information, read my disclosure policy.
Brandy Caramel Sauce is an easy pourable caramel with just 5 ingredients and takes less than 10 minutes to make. It's a buttery caramel with brandy that's perfect for pouring over dessert.
This post is sponsored by Walkers Shortbread whose Holiday Mince Pies are the perfect way to use this caramel topping!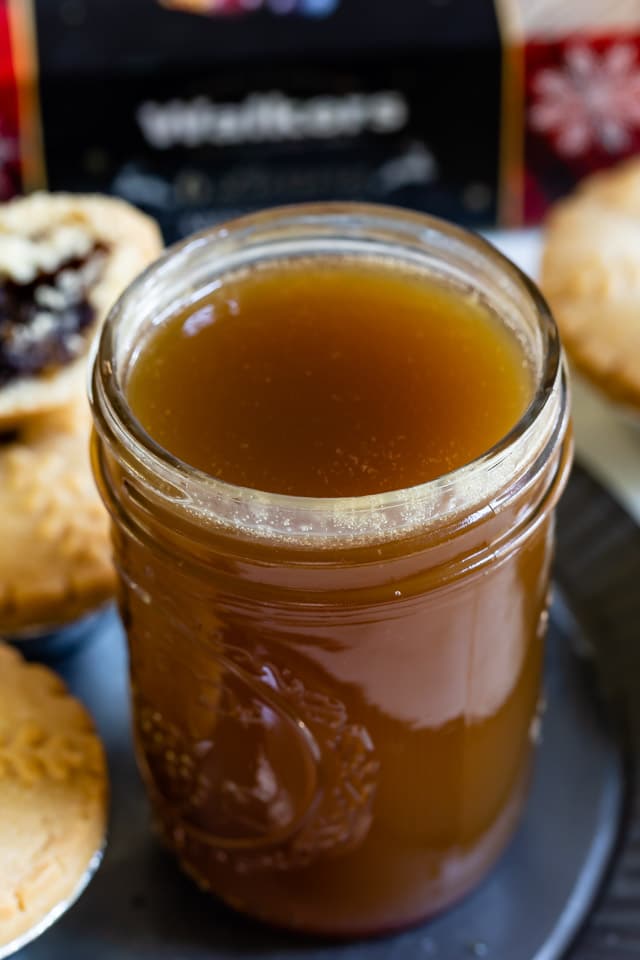 This holiday season is much quieter than normal and I'm actually okay with that. Instead of tons of holiday parties and recitals and gatherings, we're spending time with the people that matter most: family.
Our traditional celebrations will be quieter too, with just close family members. Instead of spending hours shopping and baking and cooking, I'm going to take some help from my favorite products and just make simple recipes so that I can enjoy this quieter time.
Simpler and easier is why I love this recipe! It's much easier than making normal caramel with less ways it can go wrong. Plus the Brandy adds such a great depth of flavor to the sauce and it's the perfect way to serve up my favorite Walkers Shortbread. I'm shopping their holiday catalogue this year to help me get Christmas on the table faster and easier.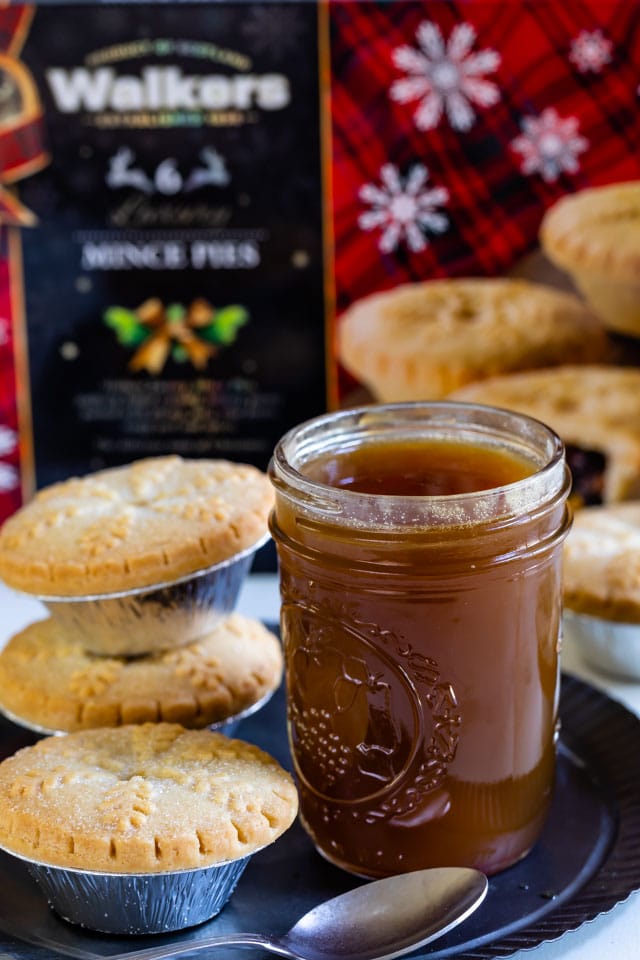 Ways to use Brandy Caramel
Caramel sauce is good in so many ways: over ice cream, on dessert, on a spoon, through a straw. But this recipe isn't just your usual ice cream topping: it's a sauce infused with Brandy liquor.
A stepped-up caramel sauce means it's great for a fancy occasion – like the holidays. You can drizzle this sauce over bread pudding or pecan pie, but it's also an easy way to create a semi-homemade holiday.
We loved pouring this caramel over Walkers Shortbread Holiday Mince Pies. It makes the fruit pies even more indulgent! The holidays look a little different this year and adding Walkers Shortbread is a trusted Holiday tradition.
The sweetness of the caramel with the telltale brandy flavor is a perfect pairing with the tarts and their mince filling of apples, currants, sultanas, ginger, candied citrus and more. They're traditionally served warm with fresh cream, ice cream or brandy butter. Brandy Caramel Sauce is an even better accompaniment!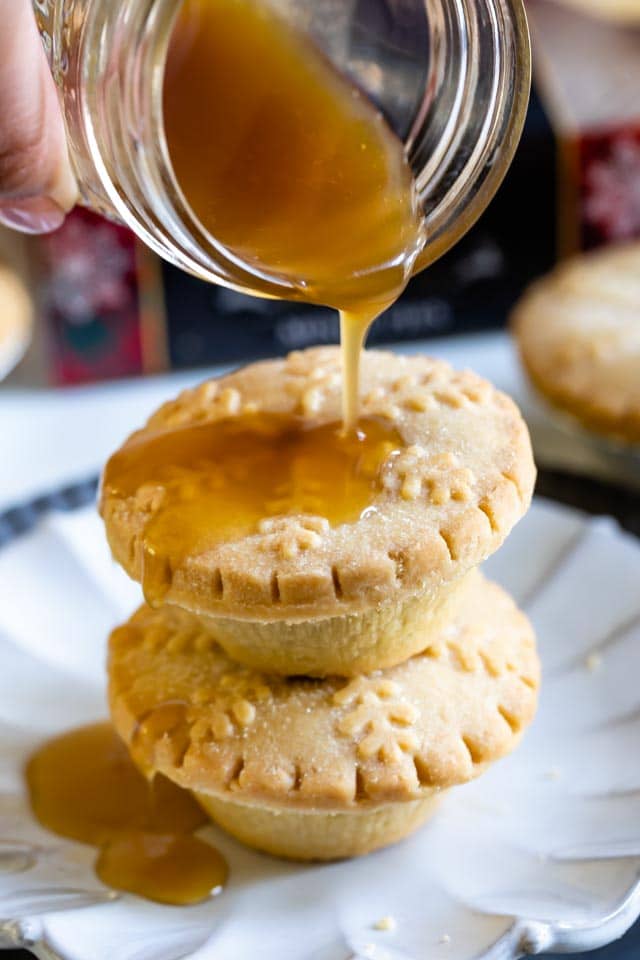 Easy Caramel Sauce Ingredients
This caramel sauce could not be easier to make – it has just 5 ingredients:
Butter – a key caramel ingredient, use unsalted for best results
Brown Sugar
Heavy Whipping Cream
Vanilla
Brandy
Butter: Butter and sugar are two of the most important ingredients when making homemade caramel. I always use unsalted butter so that I can control the amount of salt in my sauce (and you can add a bit to taste if you'd like).
Brown Sugar: When it comes to sugar, granulated sugar is the most popular to use in caramel, but I love the flavor of brown sugar. You can use either in this recipe, but brown sugar adds a depth of flavor I love.
Heavy Whipping Cream: Another important ingredient when making caramel is heavy whipping cream. The sugar alone can create caramel when melted but adding the cream at the end makes it thin enough to be a sauce. The more cream you add, the thinner the sauce will be.
Brandy: Last but not least, we need flavoring. Vanilla is a traditional flavor, but this recipe also adds brandy, giving the caramel that deep fruity flavor of the liquor.
In place of the brandy you could make bourbon caramel sauce or even substitute cognac.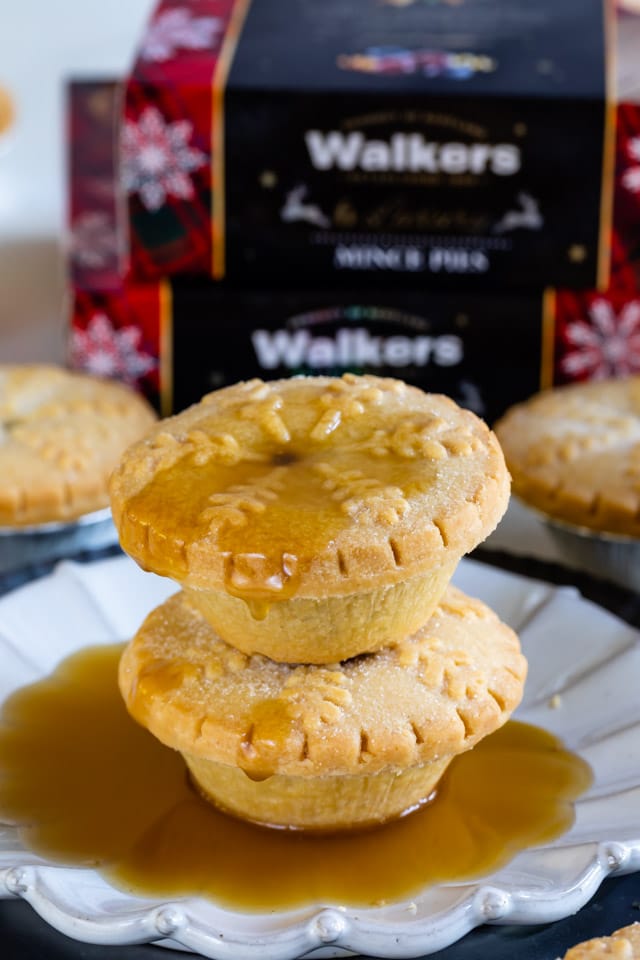 A Recipe for Easy Entertaining
Every year I tend to make huge lists and have big ideas for the holidays but then get super stressed out trying to make it all happen. This year, since the holiday will look a little different and be smaller than normal, I'm going to embrace simplicity.
Simplicity in entertaining is one of the things I love about using Walkers Shortbread; their shortbread is so recognizable and delicious all on its own that you don't need to do much to make it memorable.
I have a long history of entertaining with Walkers (I'll never forget getting that plaid box for Christmas) and here are a few of my favorite ways to use their shortbread and special Holiday collection:
Be sure to check out the Walkers Shortbread Holiday Catalog to see all the new and much-loved Walkers Shortbread products with creative recipes for holiday baking and entertaining! The catalog includes festive holiday shortbread, novelty tins, pies and tarts and so much more.
Get 15% off using code DK15HOLIDAY when you shop online here.
Making and Storing 10 Minute Caramel Sauce
Making this caramel couldn't be easier – in fact it takes under 10 minutes!
Melt the ingredients: Instead of cooking the sugar, as in a traditional caramel, we first melt the butter then add the brown sugar and heavy cream.
Boil: Once it boils you remove it from the heat and add the vanilla.
Add the Brandy: After it cools a few minutes, you add the brandy. You don't want to add the liquor when it's too hot or the brandy vapor will become too strong.
You can use the sauce once it cools enough to eat or store it in a jar in the refrigerator. It should stay pourable (the cream and the brandy are enough it won't solidify) but if it gets too thick, simply warm it slightly in the microwave so it will pour.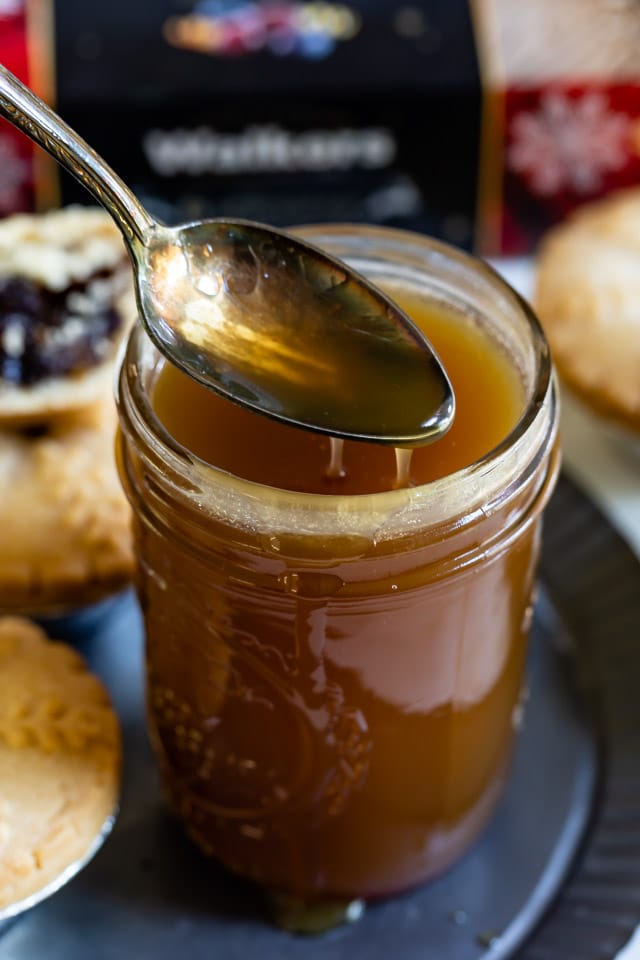 Caramel Sauce FAQ
My sauce is grainy, what happened?
Grainy caramel sauce happens when sugar crystals are formed. This can happen while you're stirring (the sugar hardens on the side of the pot and then one falls into the cooking caramel). To avoid this, be careful when stirring not to splash the sauce up the sides. While you don't have to stir normal caramel sauces, this one needs stirring while cooking because of the order ingredients are added. To fix, add a few teaspoons of water into the caramel and reheat until smooth.
My caramel is runny.
That is how this sauce is supposed to be. It will thicken as it cools, but not be a thick ice cream topping texture; it will be pourable.
Whew – my kitchen smelled when I added the brandy!
That can happen if you add the brandy when the mixture is too hot. It causes the alcohol to burn off quickly and the vapor is released. Letting the mixture cool about 5 minutes before adding the brandy can avoid this problem.
I don't drink alcohol. Can I skip the brandy?
Yes, you can but then you'll just have caramel sauce. 🙂
I want my sauce thicker than in your photos. What do I do?
You can use less brandy or add a bit less cream.
No matter how you serve this Brandy Caramel Sauce, be sure to try it on Walkers Shortbread Holiday Mince Pies – it's the perfect accompaniment!
Have you made this recipe?
Tag @crazyforcrust on Instagram or hashtag it #crazyforcrust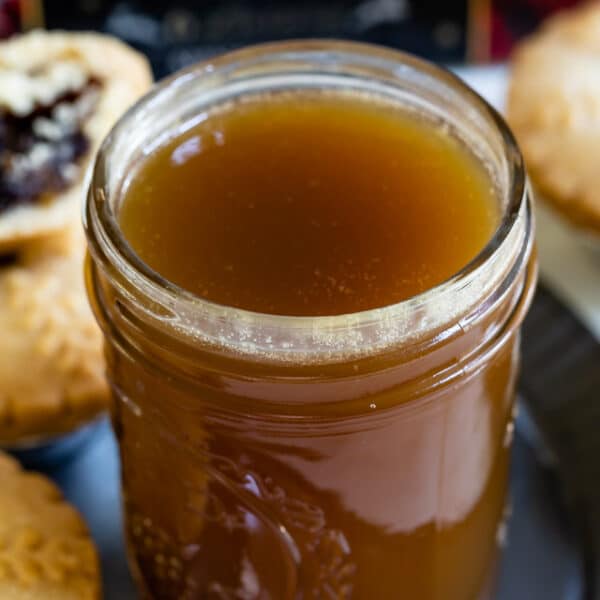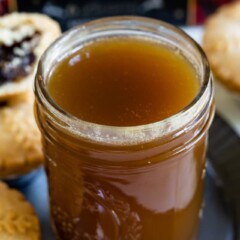 Brandy Caramel Sauce
Easy Brandy Caramel Sauce is a great topping for ice cream or bread pudding or mince pies. It's a 5-ingredient recipe that's done in under 10 minutes.
Ingredients
1/3

cup

unsalted butter

sliced

2/3

cup

packed light brown sugar

1/3

cup

heavy whipping cream

1/2

teaspoon

vanilla extract

2

tablespoons

brandy
Instructions
Melt butter in a 3-quart saucepan over medium heat. Add the brown sugar and heavy whipping cream and cook, stirring constantly, until the mixture comes to a boil. Once it boils, remove the pan from the heat and stir in the vanilla. Let the mixture cool about 5 minutes, then add the brandy.

Pour into jar or storage container and let cool. Store covered in refrigerator.

The caramel should stay pourable but if it thickens, just heat it a little in the microwave to thin.

This caramel sauce makes a wonderful topping for Walkers Mince Pies – drizzle as much or as little as you wish over the pies before serving.
Recipe Nutrition
Serving:
1
serving
|
Calories:
145
kcal
|
Carbohydrates:
15
g
|
Protein:
1
g
|
Fat:
9
g
|
Saturated Fat:
6
g
|
Cholesterol:
27
mg
|
Sodium:
8
mg
|
Potassium:
25
mg
|
Sugar:
14
g
|
Vitamin A:
306
IU
|
Calcium:
19
mg
|
Iron:
1
mg
Nutritional information not guaranteed to be accurate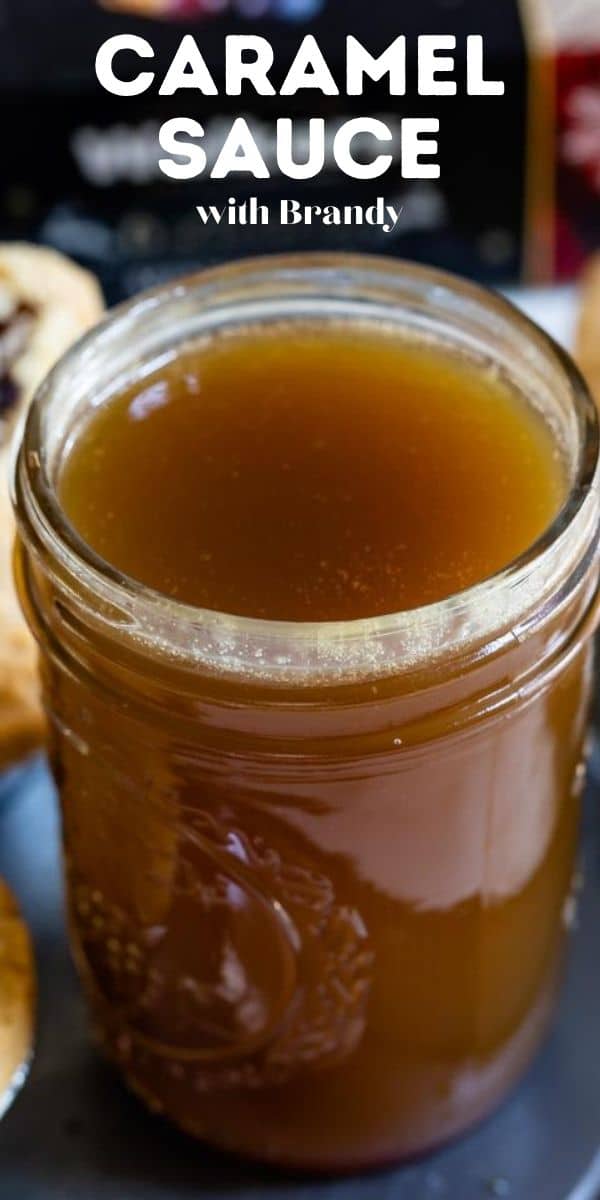 Brandy Caramel Sauce is an easy butter caramel with brandy liqueur in it. This quick caramel is pourable and simple to make with just a few ingredients and it's perfect for pouring over mini pies or bread pudding.