This post may contain affiliate links. For more information, read my disclosure policy.
DoubleTree chocolate chip cookies are amazing, but this chocolate chip cookie recipe is even BETTER than the DoubleTree Chocolate Chip Cookies recipe!! It's gooey and full of chocolate, oats, and walnuts. Plus, these are HUGE cookies!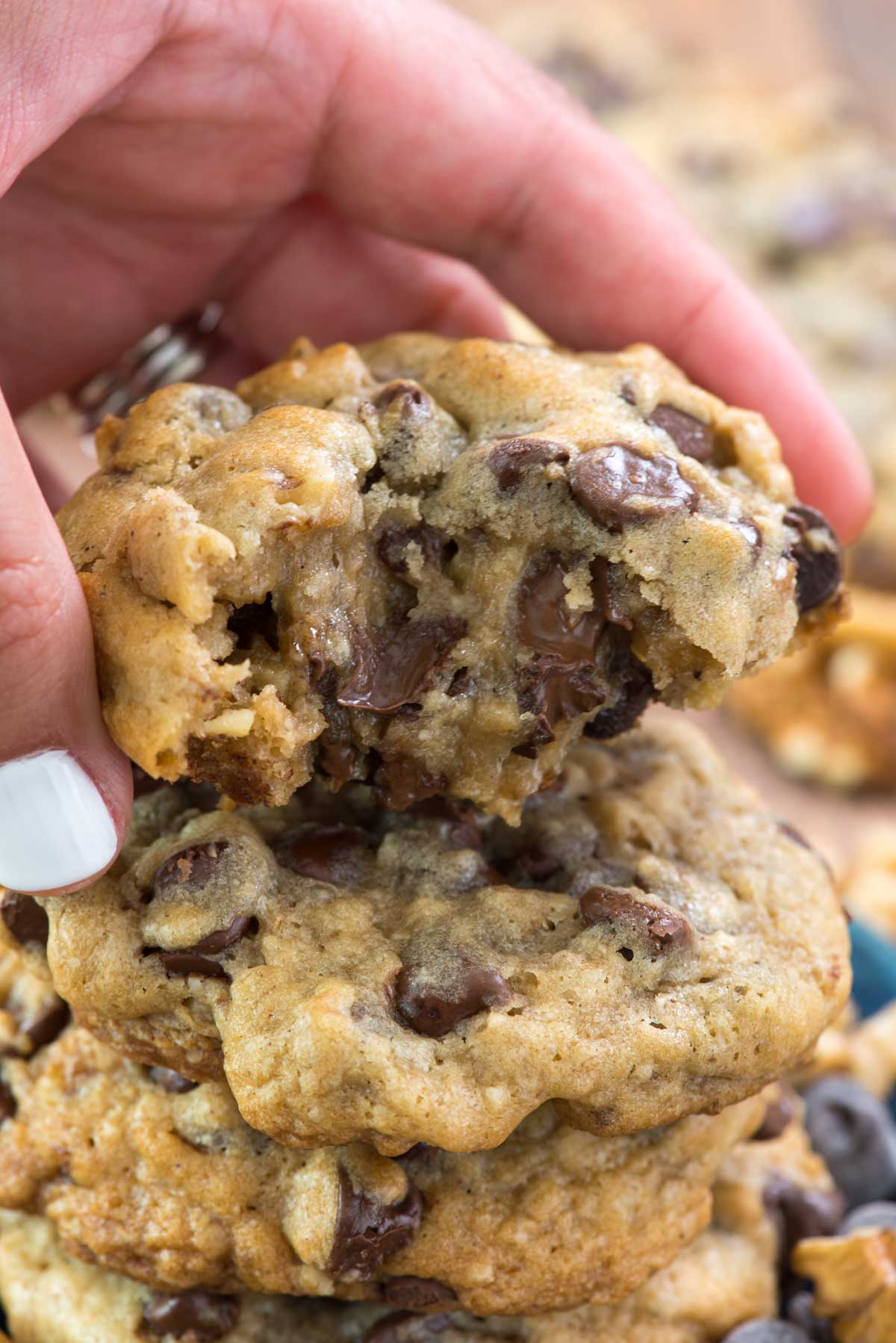 What's so special about DoubleTree Cookies?
Did you know that when you stay at a DoubleTree hotel, they give you warm (ginormous) chocolate chip cookies at check-in? I know this, of course, because I've stayed at DoubleTree many times over the course of my life. But the funny thing is, I forget EVERY TIME. So when I'm checking in and they hand me warm cookies, it's like a sweet surprise. I'm not sure if they have a mix that they distribute to each hotel or if the hotel chef bakes up a new batch every day, but there's a warming drawer at the front desk so you're assured nice warm and gooey cookies along with your room key.
A few weeks ago, we stayed at the DoubleTree Santa Monica, and I was surprised yet again when they handed us cookies. You'd think I'd remember that from visit to visit, but I don't, haha! Anyway, I jumped for joy like a kid and couldn't wait to savor every bite.
A DoubleTree chocolate chip cookie is warm and melty, gooey, with a hint oats that you can see in the dough. They're not oatmeal cookies at all, so as you're eating them you wonder about the oats. (Or maybe that's just me?) All I know is that when I finish my cookie I want MORE.
Lucky for me, Mel doesn't eat his….so I got two. 🙂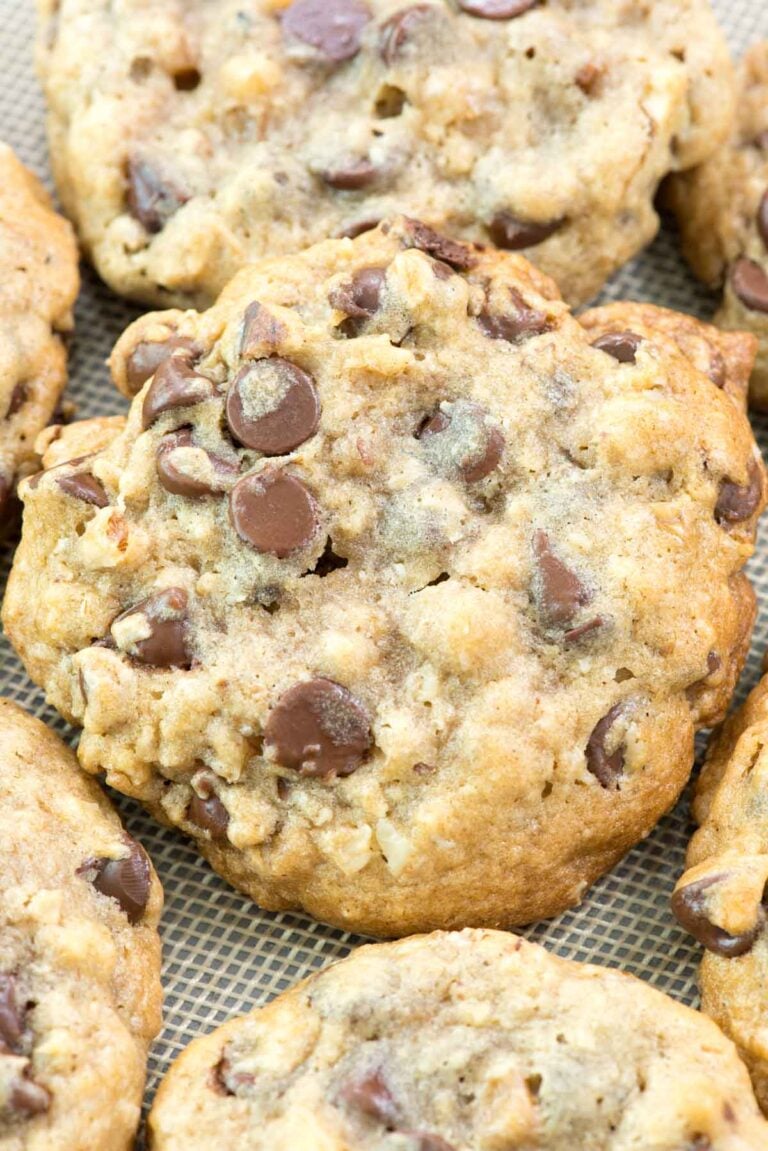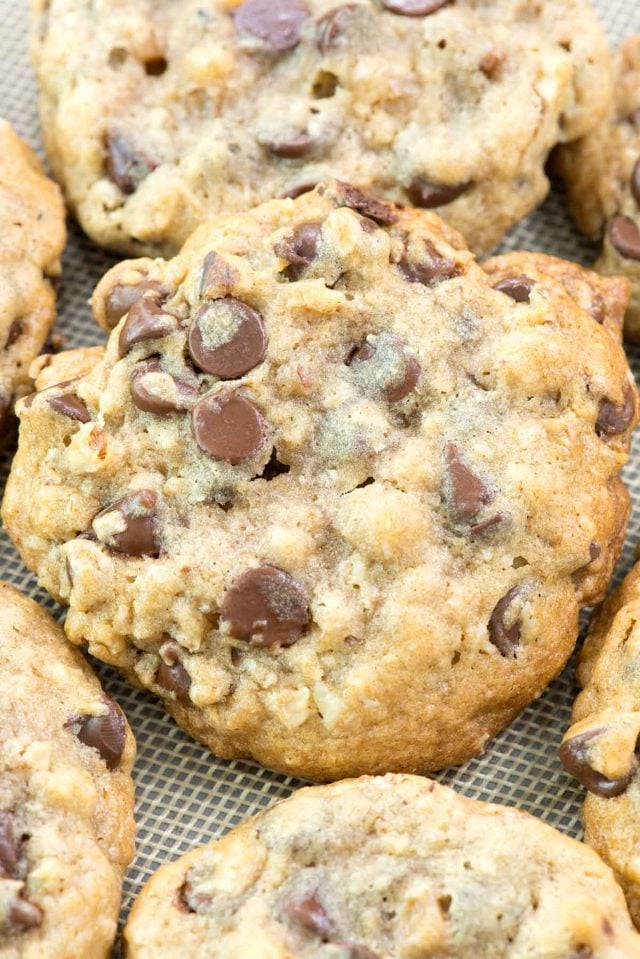 Better than DoubleTree Chocolate Chip Cookies? YOU BET!
I have really high standards when it comes to chocolate chip cookies. I love them a lot, and over the years I've become a cookie snob. Cookies that are bland, dry, over baked, or crunchy do NOT satisfy my chocolate chip cookie craving. My perfect chocolate chip cookie is just a tad under-baked so it's gooey, with melty chocolate, nuts are a bonus, and they need to be bursting with flavors.
Basically, I want fireworks in my mouth when I eat a chocolate chip cookie…otherwise it's not worth the calories.
The DoubleTree chocolate chip cookies come within a few percent of my idea of a perfect chocolate chip cookie, which is why when I made this copycat version I had to make them BETTER than the DoubleTree Chocolate Chip Cookie.
And they are. BETTER, that is. I just made a few tiny changes to the original recipe and the result? My absolute favorite cookie. I will never again make any other chocolate chip cookie…unless I'm making these. Oh, or these. Or THESE.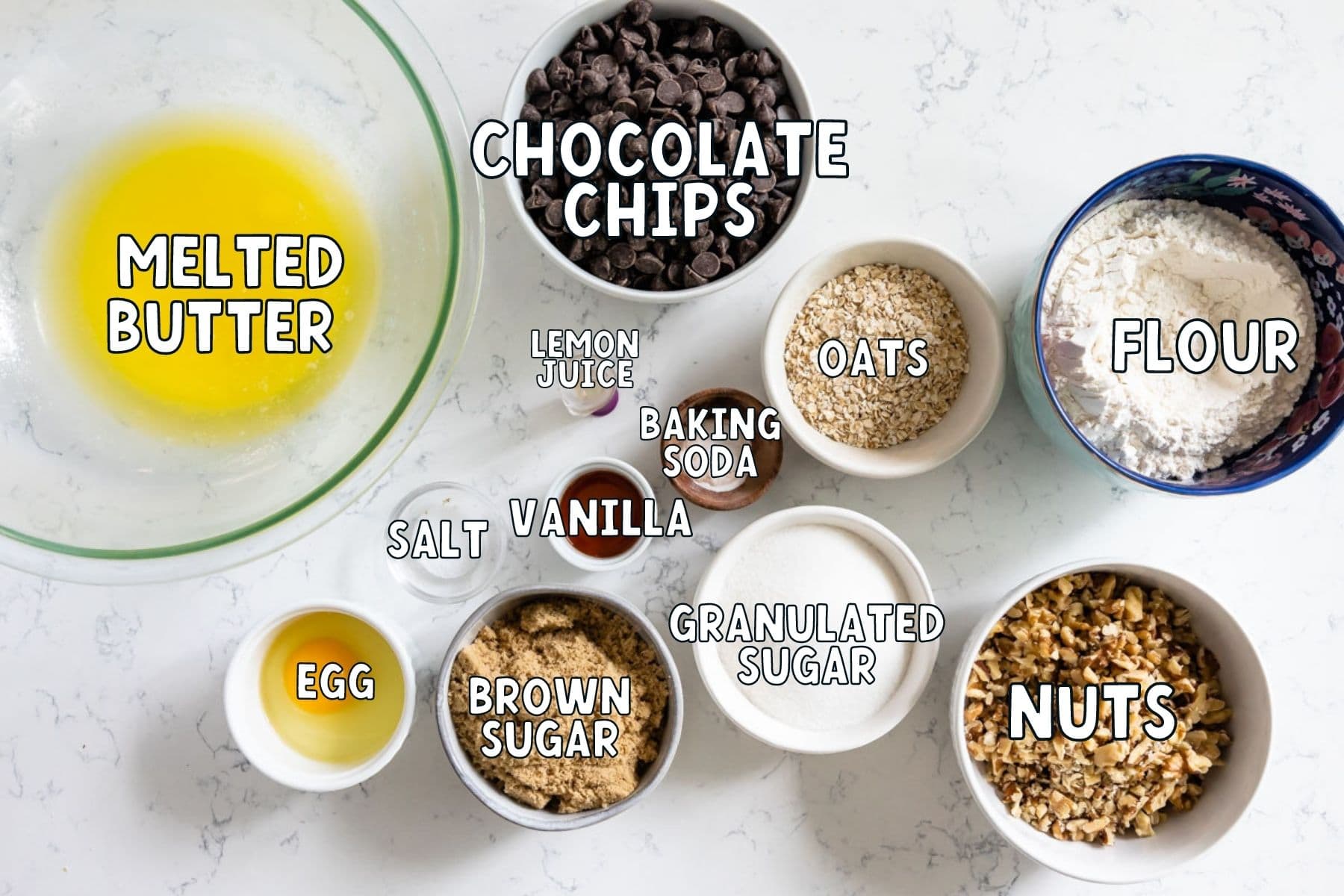 Ingredients You Need for this DoubleTree Cookie Recipe
Butter: I start my version of this recipe with MELTED butter. This makes mixing easy, plus I love the flavor it adds. This recipe was written for unsalted butter.
Sugars: You'll need both granulated sugar and brown sugar, like most chocolate chip cookie recipes!
Vanilla: Always use PURE vanilla extract.
Egg: One large egg adds structure, and the fat from the yolk keeps the cookies moist and chewy.
Baking Soda: Baking soda helps cookies spread and be nice and chewy.
Lemon Juice: Don't worry, these don't taste like lemon. The acid in the lemon juice activates the baking soda, helping the cookies be a little softer and chewier. You can substitute white vinegar if needed.
Salt: Balances the recipe.
Oats: This isn't an oatmeal cookie! The oats are ground into oat flour and just add texture and chewiness to the cookie. You can start with whole or quick oats.
Flour: The recipe uses all-purpose flour and shouldn't be substituted with anything else.
Chocolate Chips: Use your favorite brand and flavor.
Nuts: The original recipe uses walnuts, but you can also use pecans. Or omit nuts if needed.
How To Make BETTER than DoubleTree Chocolate Chip Cookies? Let me tell you:
I start with melted butter. I always start with melted butter for my chocolate chip cookie recipes. I love the caramelized, toffee-like flavor it gives to the cookies, especially when paired with gobs of brown sugar.
The recipe calls for ground oats, which I used. The oats give a bit of flavor and texture, and help bind the cookies. Don't leave them out; these aren't oatmeal cookies at all, but the oats give them the ultimate flavor.
TONS of chocolate. These cookies have 3 cups of chocolate chips!! I used regular chocolate chips, but you can use minis for an even richer cookie.
CHILL THE DOUGH. I know. It's annoying. It takes a long time. But you MUST. Otherwise these will spread and not be thick and gooey. Scoop baseball sized balls of dough and chill them at LEAST 4 hours (or overnight) before baking. You won't be sorry. (Good things come to those that wait!)
UNDER-BAKE them. They're done just when the top looks done and not a minute later. They'll still be gooey in the center. THAT'S the solution to the best chocolate chip cookie problem: THE GOOEY CENTER.
SIZE. I was going for a huge cookie, so I used 1/4 cup of dough each. But you could make these less insanely huge by using a smaller cookie scoop. Still chill them, but they'll bake up quicker.
How To Store DoubleTree Cookies?
Store these cookies in an airtight container for up to 3 days or freeze the baked cookies for up to a month. You can also freeze the cookie dough balls to bake when you have a cookie emergency!
How To Freeze Double Tree Chocolate Chip Cookies?
I always freeze cookies in gallon size bags (like ziploc). Place them in layers, with paper towels between the layers. As they defrost, the paper towels will absorb the moisture so the cookies don't get soggy.


Good luck just eating one. That's the one plus of the hotel: you only get one (or two). These? You get more than a dozen!
Tools for success:
Want even more? Subscribe to Crazy for Crust to get new recipes and a newsletter delivered to your inbox. And stay in touch on Facebook, Pinterest, Twitter, and Instagram for all my latest updates. If you make this recipe, share a photo on social media tagging @crazyforcrust and using the hashtag #crazyforcrust.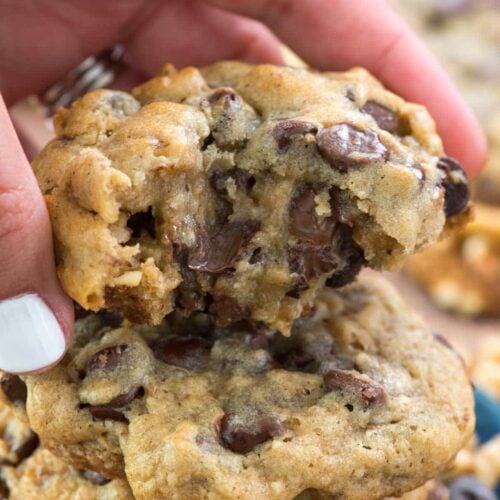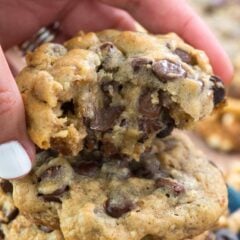 BETTER than Doubletree Chocolate Chip Cookies
This chocolate chip cookie recipe is even BETTER than the Doubletree Chocolate Chip Cookie recipe!! It's gooey and full of chocolate, oats, and walnuts. Plus, they're HUGE!
Ingredients
1/2

cup

old fashioned oats

2 1/4

cups

all-purpose flour

1

teaspoon

baking soda

1

teaspoon

salt

1/4

teaspoon

ground cinnamon

1

cup

unsalted butter

melted

3/4

cup

brown sugar

packed

3/4

cup

granulated sugar

1

tablespoon

vanilla extract

1/2

teaspoon

lemon juice

2

large eggs

3

cups

chocolate chips

use your favorite kind

1 1/2

cups

chopped walnuts
Instructions
Place oats in a small food processor or blender and grind until they turn powdery. Place them in a medium sized bowl and whisk in the flour, baking soda, salt, and cinnamon. Set aside.

Stir together melted butter, brown sugar, and granulated sugar until smooth. (No mixer needed – just use a wooden spoon or spatula!) Stir in vanilla, lemon juice, and eggs. Stir until smooth, then stir in flour mixture. Mixture may be slightly lumpy because of the ground oats. Stir in chocolate chips and walnuts.

Line a cookie sheet with wax or parchment paper or a silicone baking mat. Scoop 1/4 cupfuls of the dough into balls and place on the cookie sheet. You do not need to space them; this is just for chilling. Cover well with plastic wrap and chill at least 4 hours or overnight before baking.

Preheat oven to 350°F. Place cookies well spaced on cookie sheets lined with parchment paper or silicone baking mats. Slightly depress each ball with the palm of your hand.

Bake for 13-17 minutes. Do not over bake – these are best a bit under done.
Recipe Nutrition
Serving:
1
cookies
|
Calories:
401
kcal
|
Carbohydrates:
47
g
|
Protein:
5
g
|
Fat:
21
g
|
Saturated Fat:
10
g
|
Cholesterol:
44
mg
|
Sodium:
199
mg
|
Potassium:
80
mg
|
Fiber:
1
g
|
Sugar:
32
g
|
Vitamin A:
370
IU
|
Vitamin C:
0.3
mg
|
Calcium:
55
mg
|
Iron:
1.5
mg
Nutritional information not guaranteed to be accurate
**Did you make this recipe? Don't forget to give it a star rating below!**
Click here for my ultimate Football Party Menu!
Click here to see more of my Christmas cookie recipes!
Ice Cream Chocolate Chip Cookies
XL Bakery Style Chocolate Chip Cookies
Chocolate Chip Cookie Magic Bars
Want to try some other copycat desserts? My friends have some awesome copycat recipes!
McDonald's Cherry Pie Copycat Recipe, from Amanda's Cookin'.
Copycat Krispy Kreme Doughnuts Recipe, from Brown Eyed Baker.
Copycat Starbucks Double Chocolate Brownies, from A Dash of Sanity.
Last Updated on January 9, 2023