This post may contain affiliate links. For more information, read my disclosure policy.
These Cut Out Sugar Cookies are my family's annual Christmas tradition and they're so easy they can be yours too. I've been making this recipe for so many years because they're soft and easy to make and they hold their shape!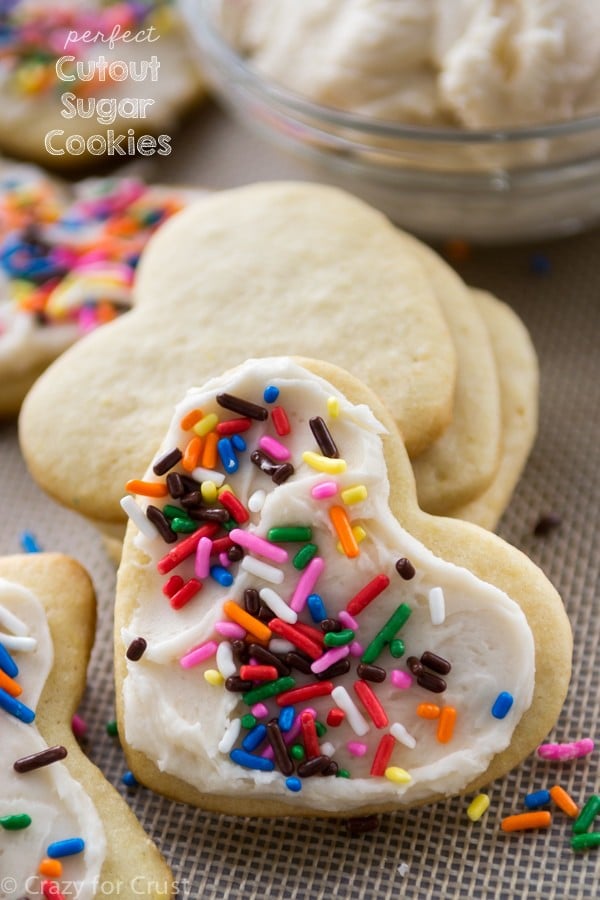 My daughter is really big on traditions. Things at holidays happened once when she was little and now that's the way they're supposed to happen. She takes after my dad in that way; I'm less inclined to care about doing things the same way year after year.
For Christmas, this means we have to do three things: have Christmas Eve at her Aunts house, have monkey bread for breakfast, and make cut out sugar cookies on Christmas Eve with my mom.
As un-traditional as I am, I love her sugar cookie obsession. Sugar cookies with frosting are my absolute hands down FAVORITE cookie. I like all sorts of cookies (chocolate chip and peanut butter being my second and third favorites) but sugar cookies are what I will go to if I have a choice.
This is the only sugar cookie recipe I've used for more than 17 years….so you know it has to be the best Cut Out Sugar Cookie recipe in the world.
Plus it's easy and the cookies hold their shape!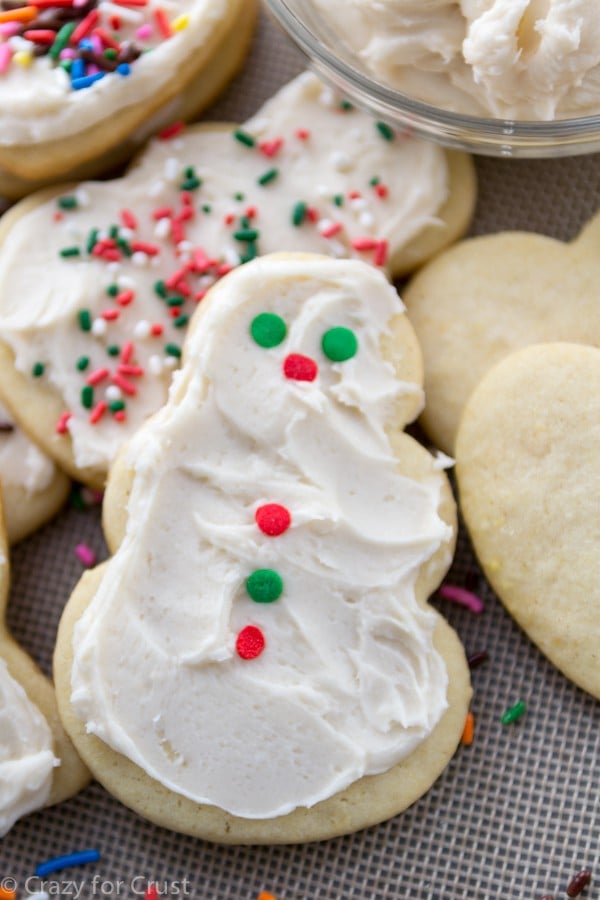 I love this recipe for so many reasons but mainly because it makes a soft cut out sugar cookies and they're frosting with a buttercream frosting.
What makes sugar cookies soft?
There are two main factors that keep these cookies soft for days:
Powdered Sugar: instead of using granulated sugar, this recipe uses powdered. Powdered sugar has a teeny bit of cornstarch in it to keep it from clumping and that plus the powdery consistency of confectioners sugar keeps the cookies soft and tender.
Cream of Tartar: in addition to baking soda keeps these from spreading AND keeps them soft.
Unless you radically over bake these cookies they stay soft for days!
How do you get sugar cookies to hold their shape?
This is probably the biggest question people ask and I get it – I've made other sugar cookie recipes and all of a sudden your snowman looks like an Easter egg. You want your cookies to hold their shape!
Here are my tips for cut out cookies that hold their shape:
Use this recipe, with the powdered sugar instead of granulated.
Chill the dough – a lot of times. Bake them cold for best results!
It really is better to chill sugar cookie dough for best results. It will ensure that your cookies hold their shape but are tender and soft and not too floury.
Read on for my secret tip for rolling out and chilling sugar cookie dough!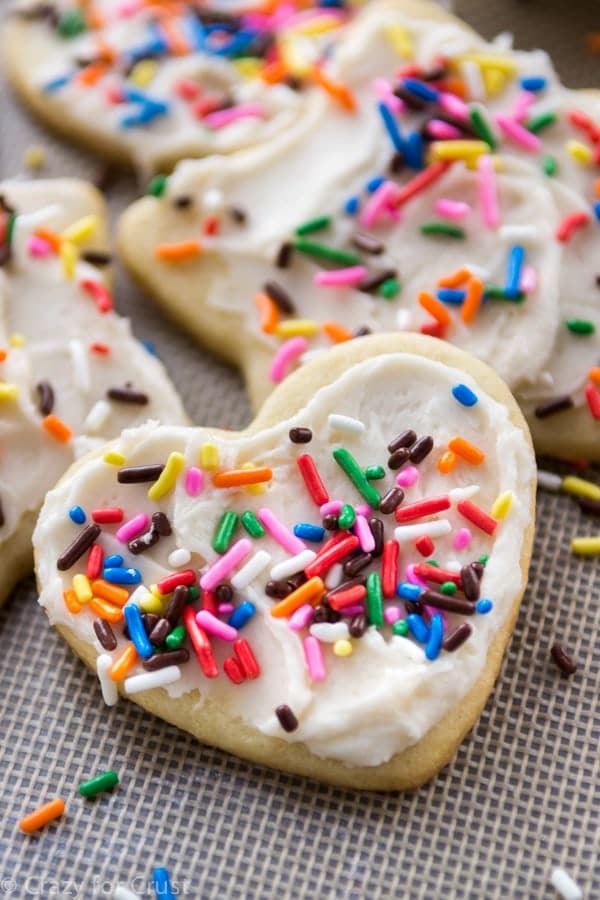 My Best Rolled Sugar Cookie Recipe Tips:
Much like I roll out my pie dough, I roll out my cookie dough between two sheets of wax paper, right after I've mixed it up. Just place the dough between two sheets of wax paper and press it into a disk, then roll flat.
While I'm rolling, I'll occasionally (carefully) lift up the wax paper on the top, put it back down, flip, and do the same on the bottom. That's because the force of the rolling can cause the wax paper to crinkle.
Roll out the dough before chilling it for easy rolling!

PRO TIP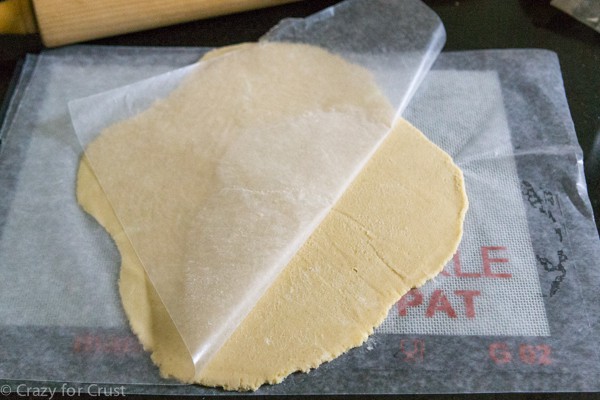 Using room temperature just-made dough makes rolling out easy. No elbow grease is needed, like when you chill the dough first.
Using two sheets of wax paper makes less mess and eliminates the need for extra flour, which makes a more tender cookie.
Chilling it once it's already rolled flat makes the dough chill so much faster – you can cut out your cookies after as little as 30 minutes.
Chilled dough means your cookies stay in the shapes you cut them in. I love that about this recipe – the cookies always stay in shape. No bloated gingerbread men or round hearts here – a candy cane stays a candy cane and a tree stays a tree!
Chill the rolled out dough, then cut your shapes, then chill them again before baking so they hold their shape!

PRO TIP
It sounds like a lot of chilling but in the time it takes the oven to preheat your cookies will be ready.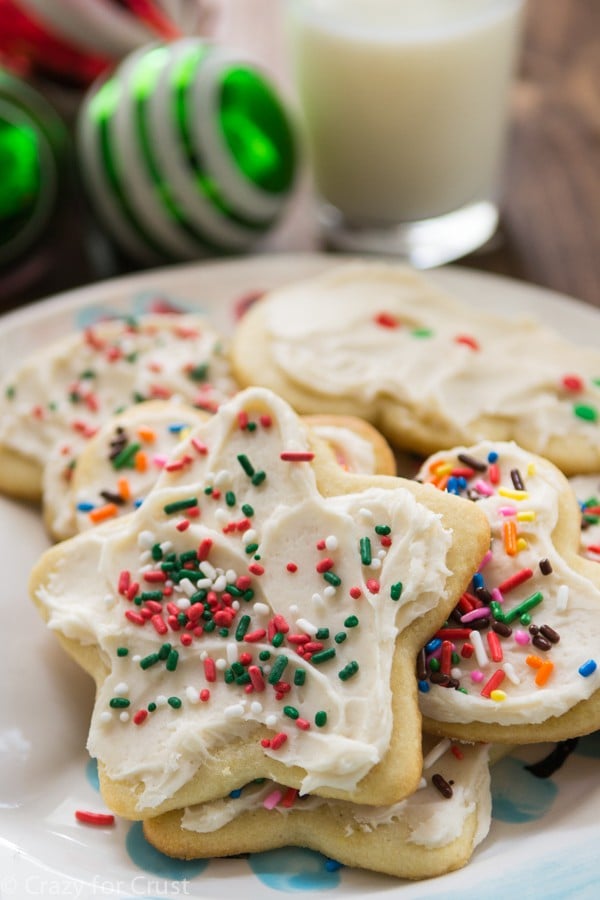 How do you decorate sugar cookies for Christmas?
Pro Tip: you don't have to make flood icing or royal icing for sugar cookies. Buttercream tastes better, is easier to make, and more fun! I make a homemade buttercream for these cookies and it's SO delicious.
The sugar cookies icing has:
Butter
Powdered Sugar
Vanilla
Salt
Milk
Just mix it together like you'd mix a buttercream. You can color your frosting as desired, but I like leaving it white and decorating with all sorts of fun sprinkles.
Kids LOVE this frosting so much better than royal icing (and so does Santa).
How far in advance can you make these easy cut out cookies for Christmas?
You can easily freeze this dough or the cookies! I either freeze the rolled out sheets of sugar cookie dough to cut out later (or I chill it overnight in the fridge to make it a day ahead). You can also freeze the baked cookies OR the frosted ones!
Because of the powdered sugar, these soft easy cut out cookies are delicate, so be careful when freezing them!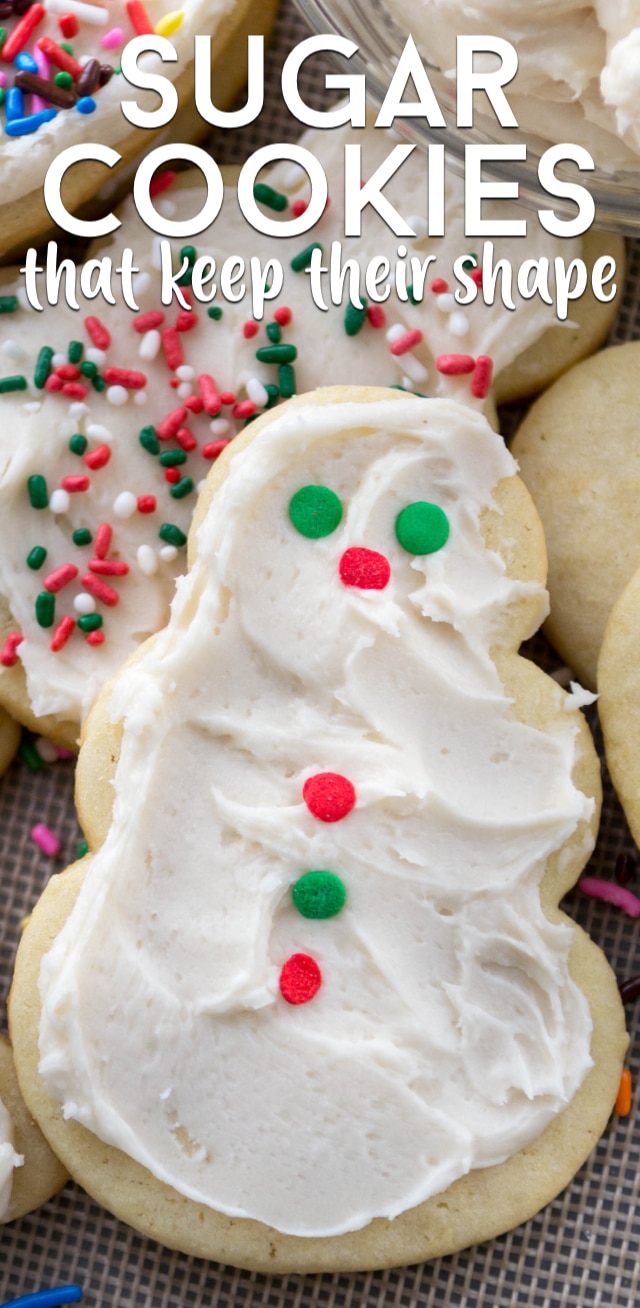 The Best Cut Out Sugar Cookies are great ALL year, not just for Christmas!
I love making these for every holiday – cookie cutters come in all shapes! They are my favorite cookie, after all.
Some of my other favorite cookie recipes:
Have you made this recipe?
Tag @crazyforcrust on Instagram or hashtag it #crazyforcrust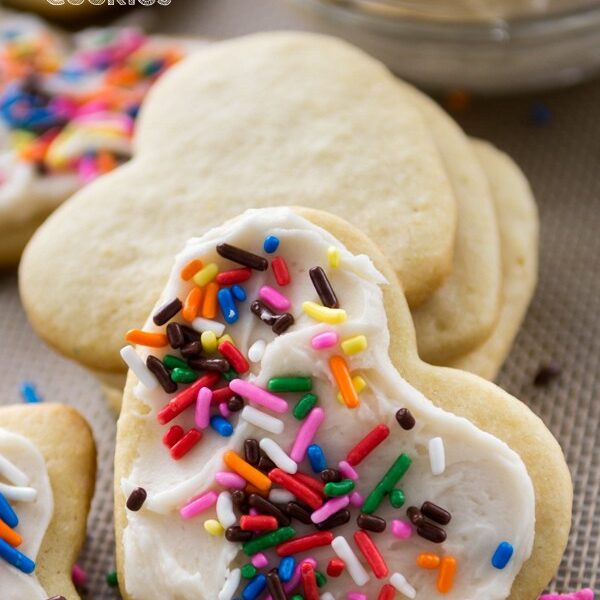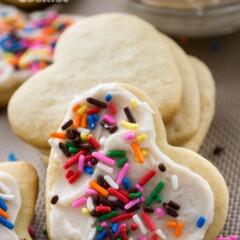 Best Cut Out Sugar Cookie Recipe
These are my family's favorite Cut Out Sugar Cookies! This easy cookie recipe holds it's shape and makes soft and delicate sugar cookies!
Ingredients
Cookie:
2 1/2

cups

all-purpose flour

1 1/4

cups

powdered sugar

1

cup

unsalted butter

softened

1

large egg

1/2

teaspoon

salt

1

teaspoon

baking soda

1

teaspoon

cream of tartar

1

teaspoon

vanilla extract

1

teaspoon

almond extract

optional
Frosting:
4

cups

powdered sugar

1/2

cup

unsalted butter

softened

2

teaspoons

vanilla extract

3 to 4

tablespoons

milk

regular, low- or non-fat are all fine

Food color and/or sprinkles

if desired
Instructions
Combine all ingredients in the bowl of a stand mixer fitted with the paddle attachment (or in a large mixing bowl if using a hand mixer). Mix on low, scraping the bowl occasionally, until the mixture forms a cookie dough. Be sure to start on low or the dry ingredients will fly everywhere!

Divide the dough in half. Place a large sheet of waxed paper on a large cutting board or flat surface. Place the cookie dough on the wax paper. Place another large sheet of wax paper on top of the cookie dough. Press down into a flat disk with the palm of your hand, then roll out the dough between the two pieces of wax paper. After each 3-4 rolls, carefully lift the top sheet of wax paper off the dough, then replace it, flip the dough over, and carefully peel the other wax paper sheet, replace it, then continue rolling until the dough is about 1/4" thick. Place the dough, still between the wax paper sheets, on another cutting board or cookie sheet.

Repeat with second half of dough. Place both rolled out cookie dough sheets in the refrigerator for at least 30 minutes (or wrap them well with plastic wrap and chill overnight).

When ready to cut cookies, preheat oven to 375°F.

Cut cookies in desired shapes and place them on a parchment or silpat lined baking sheet. Save the scraps of dough and re-roll them as needed. Note: once you re-roll the dough, you may want to chill those cutouts for about 10 minutes before baking them so they'll keep their shape.

Bake cookies for 6-10 minutes depending on the size. I take them out as soon as the bottoms start to brown because we like them softer. If you want crunchy cookies, let them cook longer. Cool completely before frosting and decorating.

To make frosting, beat butter until smooth in a large bowl with an electric mixer. Slowly mix in powdered sugar, then vanilla and 1 tablespoon of milk at a time until the frosting is the consistency you desire. Tint the frosting if you want it a color.

Frost cookies, decorating them with sprinkles. Store loosely covered at room temperature.
Recipe Nutrition
Serving:
1
cookie
|
Calories:
171
kcal
|
Carbohydrates:
24
g
|
Protein:
1
g
|
Fat:
8
g
|
Saturated Fat:
5
g
|
Cholesterol:
25
mg
|
Sodium:
67
mg
|
Potassium:
28
mg
|
Fiber:
1
g
|
Sugar:
17
g
|
Vitamin A:
245
IU
|
Calcium:
6
mg
|
Iron:
1
mg
Nutritional information not guaranteed to be accurate
If you're looking for other Christmas cookie recipes click here.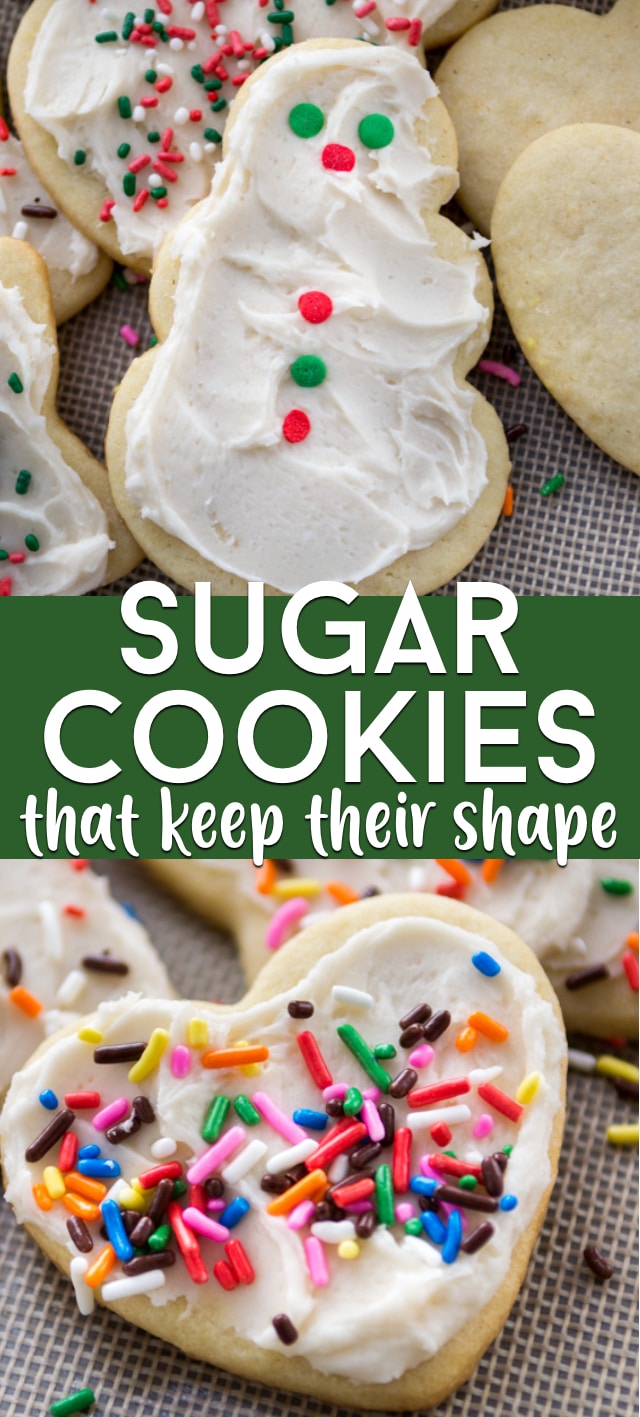 These are the BEST Cut Out Sugar Cookies we've been making for years. Easy soft cut out sugar cookies that hold they're shape and topped with sugar cookie icing that's like a buttercream – it's easy and fast.
Last Updated on September 13, 2021