These Cut Out Sugar Cookies are my family's annual Christmas tradition…and I hope they'll become yours too!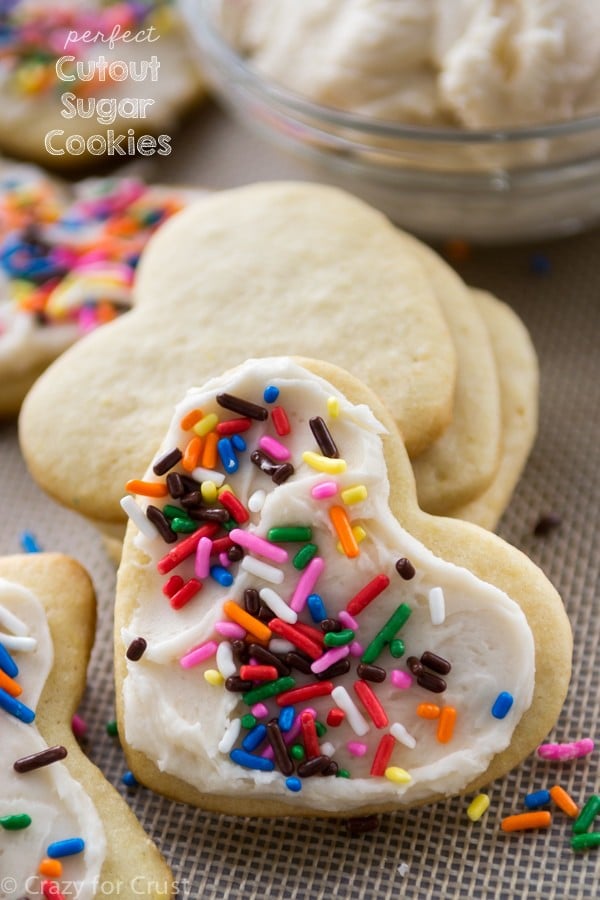 Do you use the Timehop App? It's that app you have on your phone and every day it tells you what you posted on Facebook (or twitter or Instagram) on that day in the past. It's pretty cool, seeing photos I posted on Facebook of Jordan 5 years ago.
And then I see the status updates I posted a year ago, two years, four years ago. And I think to myself…wow. I have nothing relevant or important to say but I put it out there so everyone could read it anyway.
It makes me kind of want to post "I can't wait to see what I think a year from now when Timehop gives me this status" right now on Facebook and just wait for it next year to see what I think. Tell me I'm not the only one who thinks that way?
One of the things that Timehop does is remind me of all our traditions. For instance, on December 24th I'm probably going to check it and see 5 straight years of Instagram and Facebook posts with Jordan decorating sugar cookies. Because that's what we do on Christmas Eve: we make sugar cookies.
We make these cut out sugar cookies, to be exact.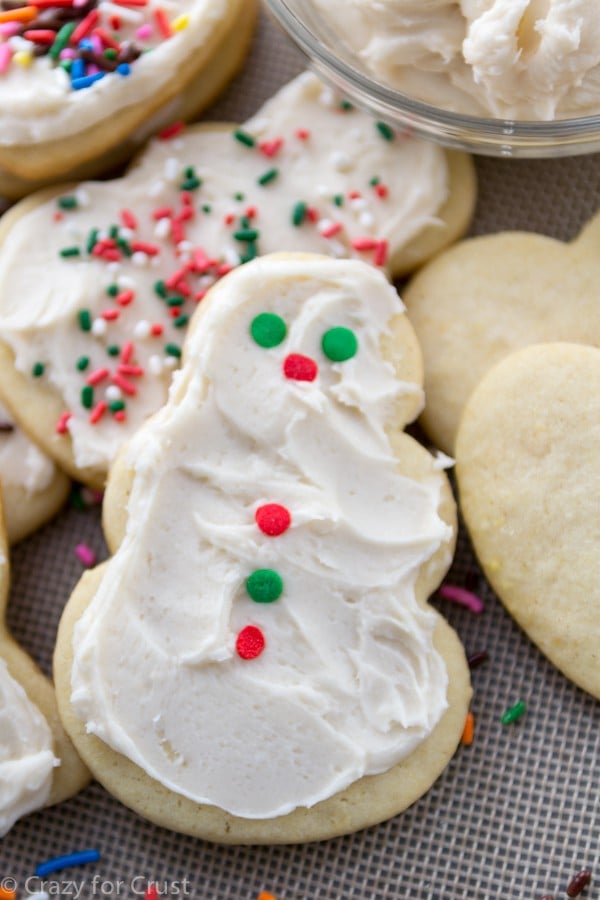 Jordan is really big on traditions. I think it's funny, because she's just like my dad. Traditions mean a lot to him and I hate when they change, because I know he hates it too. Me? I don't really care about what we do when and where, but Jordan is just like her Papa. Who knew tradition loving skipped a generation?
Jordan's so into traditions that when her Aunt moved to a new house this summer the first thing she said was "Is she still hosting Christmas Eve????" When I told her I wasn't sure, you'd have thought the house was on fire by how she reacted. Then there is the monkey bread requirement on Christmas morning, the mint chocolate dessert mandate on her birthday, and these sugar cookies.
When I made these and said, jokingly, "Well, now we don't need to make them on Christmas!" you should have seen the look she gave me. Dead and buried, that's for sure.
We'll be making these cut out sugar cookies for the next gazillion years, I'm sure. And that's okay with me, because they're my favorite cookie choice. 🙂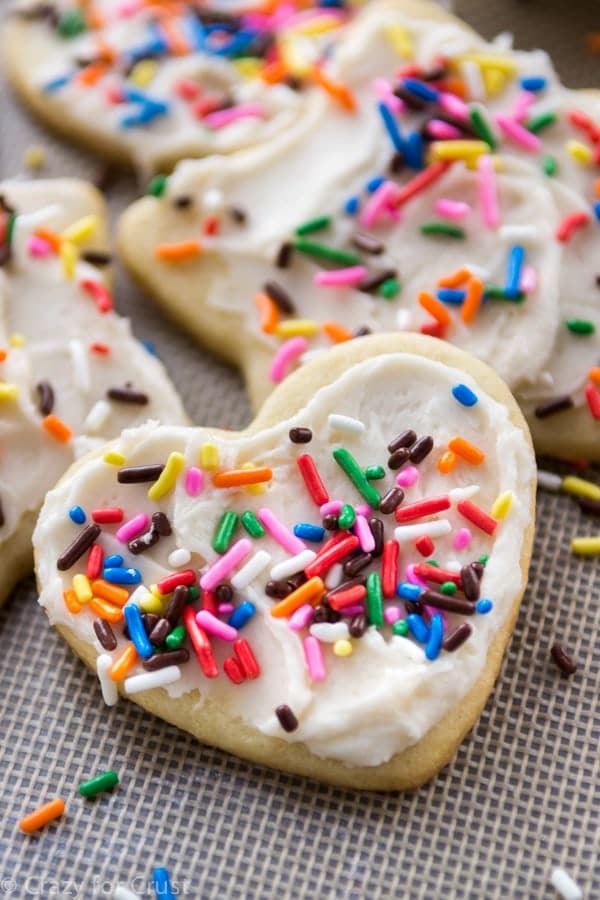 This is recipe #2 of the family favorites I realized I'd never posted. We have made them every Christmas (and Valentine's Day and the 4th of July and …) for at least 8 years. I've tried many cut out sugar cookies and this is the one I always gravitate back to for cut outs.
Now, ya'll know I don't really like cutting out sugar cookies…but I make an exception for these. Plus, a few years ago, I discovered a fabulous tip for a less mess cookie cutout. Ready for it?
What's the worst part about rolling and re-rolling dough? For me, it's the mess. Flour gets everywhere. Dough sticks. Then it's too warm to bake.
Not anymore!
My Sugar Cookie Rolling Tip: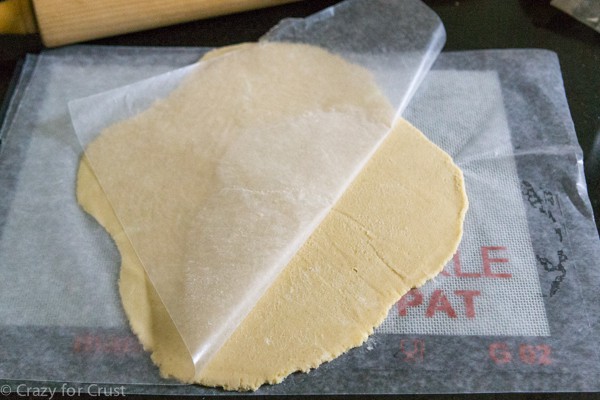 Much like I roll out my pie dough, I roll out my cookie dough between two sheets of wax paper, right after I've mixed it up. Just place the dough between two sheets of wax paper and press it into a disk, then roll flat. While I'm rolling, I'll occasionally (carefully) lift up the wax paper on the top, put it back down, flip, and do the same on the bottom. That's because the force of the rolling can cause the wax paper to crinkle.
Using room temperature just-made dough makes rolling out easy. No elbow grease is needed, like when you chill the dough first.
Using two sheets of wax paper makes less mess and eliminates the need for extra flour, which makes a more tender cookie.
Chilling it once it's already rolled flat makes the dough chill so much faster – you can cut out your cookies after as little as 30 minutes.
And, the chillier the dough is when you bake it? Means your cookies stay in the shapes you cut them in. I love that about this recipe – the cookies always stay in shape. No bloated gingerbread men or round hearts here – a candy cane stays a candy cane and a tree stays a tree!

The recipe for these cookies is very simple: you just add all the ingredients to the bowl and mix. The recipe uses powdered sugar instead of granulated, which helps control the spread and texture of the cookie. The cream of tartar works with the baking soda to give the cookie softness but with that cookie texture you expect.
I always use almond extract in the recipe for that extra little flavor bump. (I swear, I could drink that stuff.) But you can stick with just vanilla, or add another flavor: peppermint, lemon, coconut…
These cut out sugar cookies are the perfect not-too-sweet sugar cookie so they are ripe for frosting. This frosting is simple and sweet, made with butter and milk (or nonfat milk). Combined, the cookie and icing are the perfect sweetness. They're made to compliment one another.
You know who else loves these cookies, almost as much as Jordan? Santa.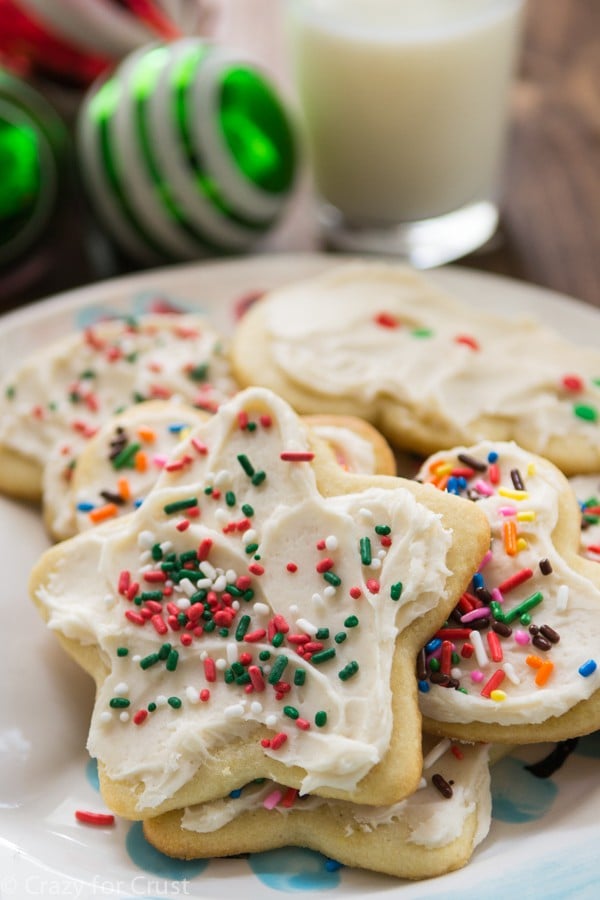 He gets a plate of cut out sugar cookies every year and he eats every last one. 🙂
Cutout Sugar Cookies
These are my family's favorite cutout sugar cookies! They hold their shape and they're soft, sweet, and the perfect recipe.
Yield
3
-4 dozen, depending on size
Ingredients
Cookie:
2 1/2

cups

all-purpose flour

1 1/4

cups

powdered sugar

1

cup

unsalted butter

softened

1

large egg

1/2

teaspoon

salt

1

teaspoon

baking soda

1

teaspoon

cream of tartar

1

teaspoon

vanilla extract

1

teaspoon

almond extract
Frosting:
4

cups

powdered sugar

1/2

cup

unsalted butter

softened

2

teaspoons

vanilla extract

3 to 4

tablespoons

milk

regular, low- or non-fat are all fine

Food color and/or sprinkles

if desired
Instructions
Combine all ingredients in the bowl of a stand mixer fitted with the paddle attachment (or in a large mixing bowl if using a hand mixer). Mix on low, scraping the bowl occasionally, until the mixture forms a cookie dough. Be sure to start on low or the dry ingredients will fly everywhere!

Divide the dough in half. Place a large sheet of waxed paper on a large cutting board or flat surface. Place the cookie dough on the wax paper. Place another large sheet of wax paper on top of the cookie dough. Press down into a flat disk with the palm of your hand, then roll out the dough between the two pieces of wax paper. After each 3-4 rolls, carefully lift the top sheet of wax paper off the dough, then replace it, flip the dough over, and carefully peel the other wax paper sheet, replace it, then continue rolling until the dough is about 1/4" thick. Place the dough, still between the wax paper sheets, on another cutting board or cookie sheet.

Repeat with second half of dough. Place both rolled out cookie dough sheets in the refrigerator for at least 30 minutes (or wrap them well with plastic wrap and chill overnight).

When ready to cut cookies, preheat oven to 375°F.

Cut cookies in desired shapes and place them on a parchment or silpat lined baking sheet. Save the scraps of dough and re-roll them as needed. Note: once you re-roll the dough, you may want to chill those cutouts for about 10 minutes before baking them so they'll keep their shape.

Bake cookies for 6-10 minutes depending on the size. I take them out as soon as the bottoms start to brown because we like them softer. If you want crunchy cookies, let them cook longer. Cool completely before frosting and decorating.

To make frosting, beat butter until smooth in a large bowl with an electric mixer. Slowly mix in powdered sugar, then vanilla and 1 tablespoon of milk at a time until the frosting is the consistency you desire. Tint the frosting if you want it a color.

Frost cookies, decorating them with sprinkles. Store loosely covered at room temperature.
If you're looking for other Christmas cookie recipes click here.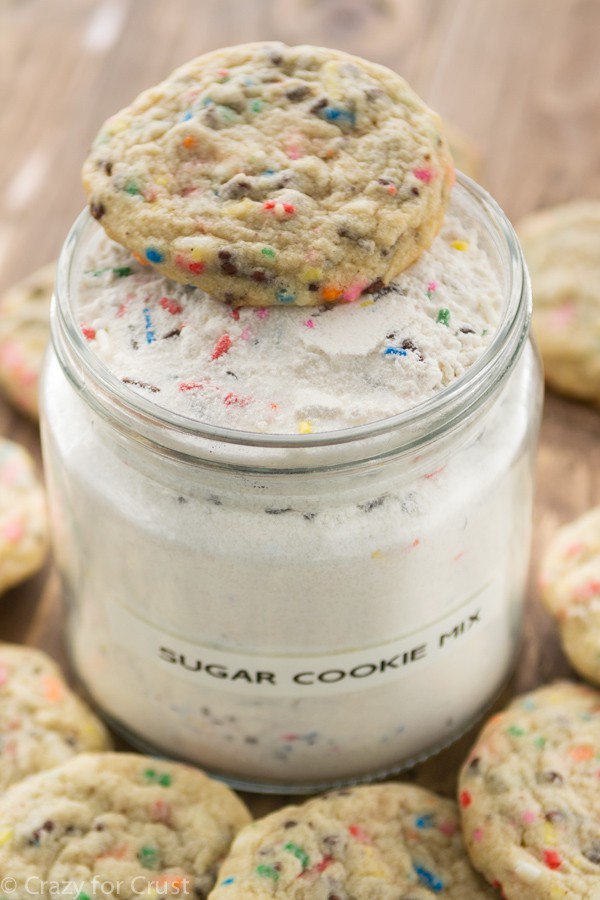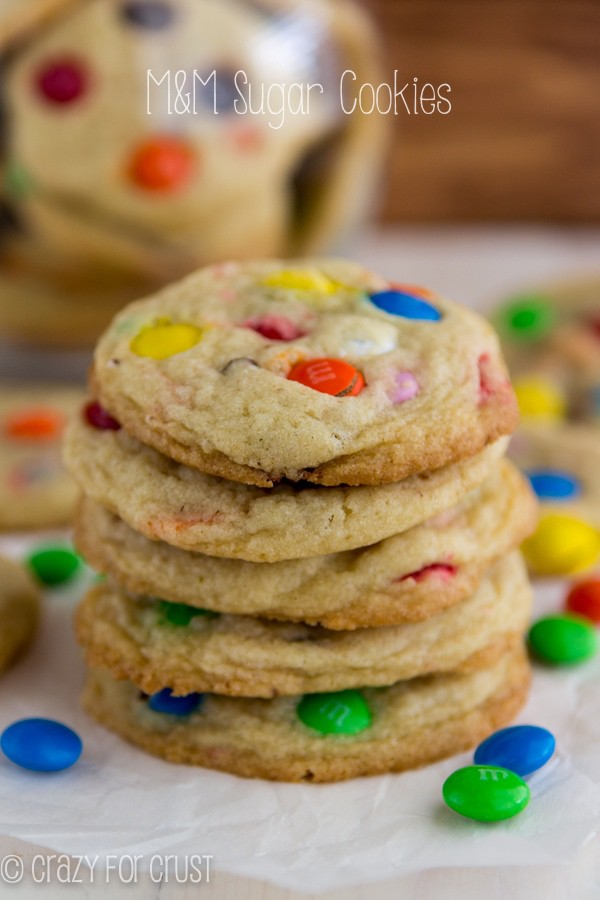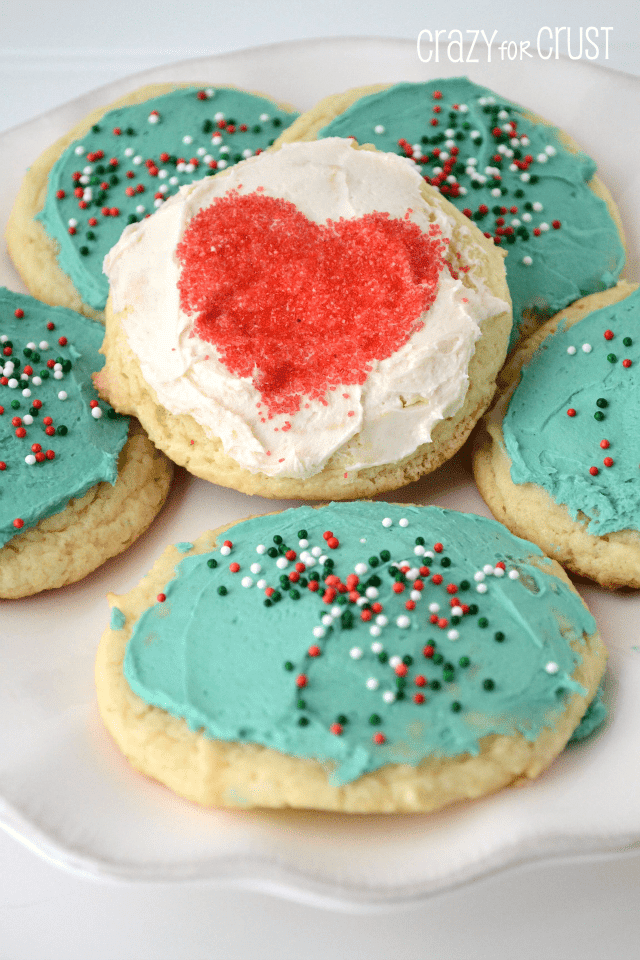 Sweets from friends:
XXL Buttery Sugar Cookie by Sally's Baking Addiction
Chocolate Sugar Cookies by Table for Two
Confetti Sugar Cookies by Buns in my Oven
All text and images © DOROTHY KERN for Crazy for Crust. Please do not use my images without prior permission. If you want to republish this recipe, please re-write the recipe in your own words, or link back to this post for the recipe. Disclaimer: Nutrition information shown is not guaranteed to be accurate.
This post may contain affiliate links. For more information, read my disclosure policy.
Published on: December 1, 2014