This post may contain affiliate links. For more information, read my disclosure policy.
Make this Christmas Cake Roll for the perfect holiday dessert! A yellow cake roll filled with cream cheese whipped cream then topped with chocolate ganache and sprinkles. It's the perfect cake roll recipe for the holidays.
People call me the cake roll queen. I don't know if I deserve that title, but I'm definitely obsessed with cake rolls. This Christmas cake roll is no exception!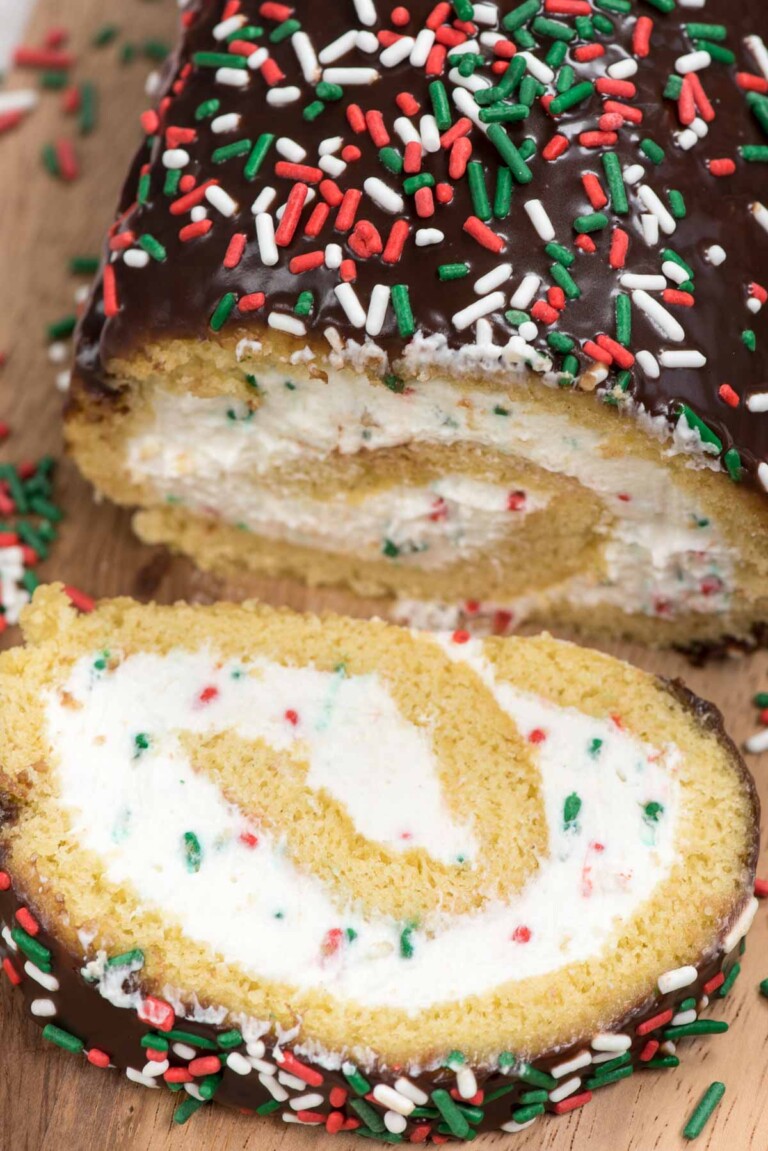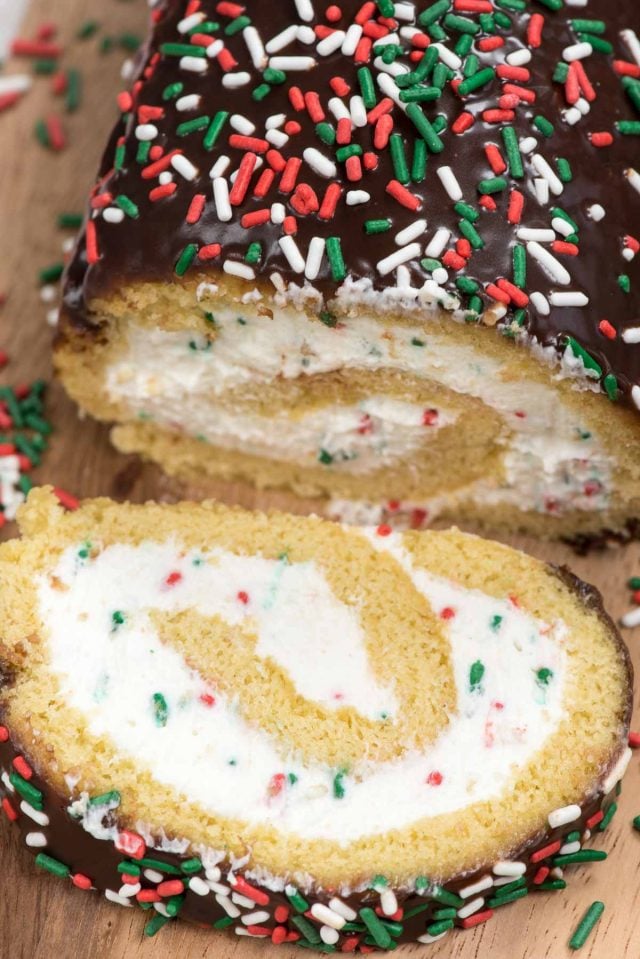 The Perfect Christmas Cake
Every year the 6th grade classes at our local elementary school study a story called The Family Under The Bridge. It's a story about homelessness and accepting people for who they are, not what they look like or their situation in life. Along with the story, the classes do a sock drive for the homeless and some other things revolving around the story. At the end of the unit, the teacher serves "log cakes" to the class, because the family eats a Yule Log for Christmas in the story.
The teach would usually would buy them but, knowing my blog, asked. I said yes (and my most popular cake roll to date was born: the Oreo Cake Roll). I have been making the rolls for her ever since (and Jordan is long out of 6th grade!)
I had the hardest time trying to think of a cake roll recipe to make. I've already made so many flavors, like lemon and mint, apple and so many more. The problem I was having was that I was making these for a bunch of 11 year old kids; they probably didn't want orange or peppermint or anything I haven't already done (like birthday cake flavor). Then it finally hit me: go simple. That's my motto this season, after all.
This Christmas Cake Roll is the marriage of three of my favorite cake rolls: vanilla sponge from the birthday cake roll, the cream cheese whipped cream filling from the strawberry shortcake cake roll, and the chocolate ganache topping from the peanut butter cup cake roll.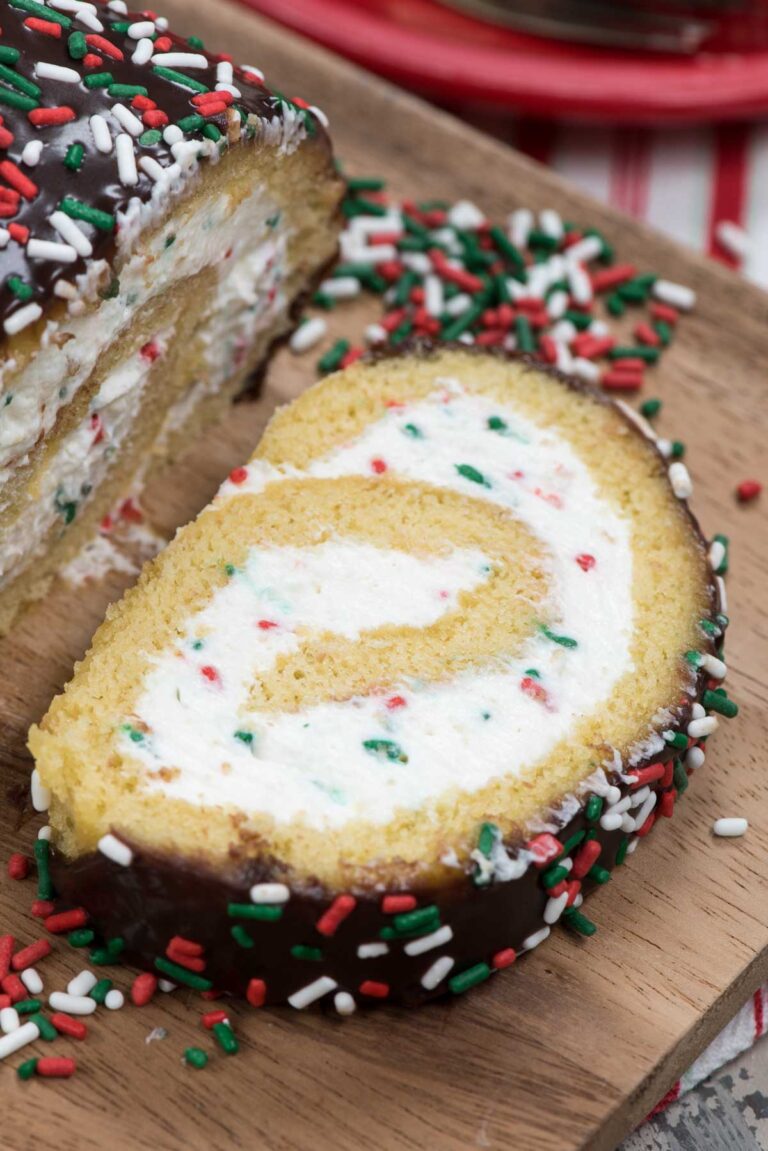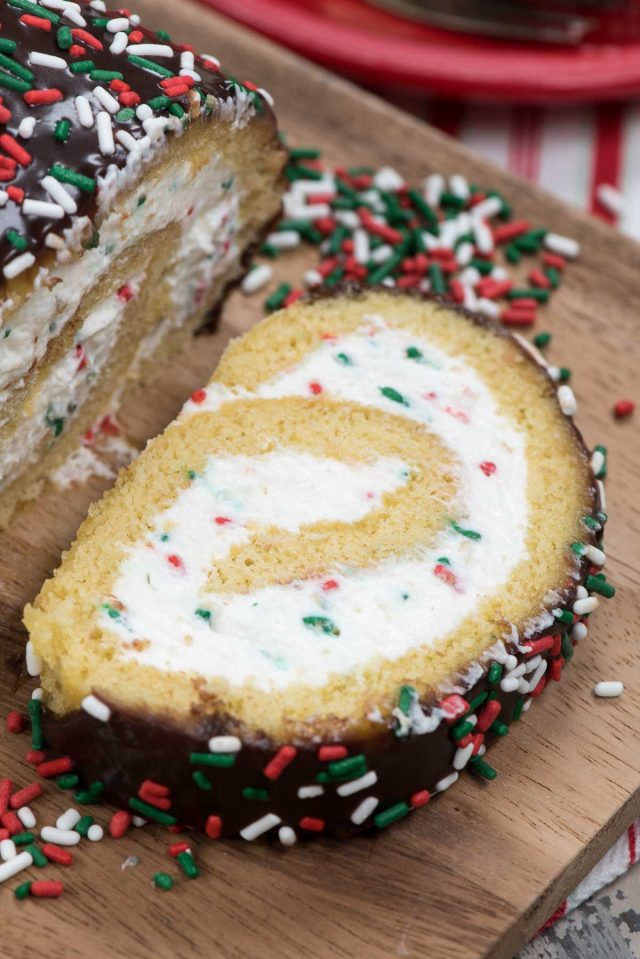 What is a cake roll?
A cake roll is a cake that's rolled. Other names include jelly roll and Yule log. They seem daunting but they are actually easy if you have the right tools, the right recipe, and the know-how.
Why do cake rolls crack?
I feel like I've made so many cake rolls that I can't give any more advice about making them. You're scared it'll crack, I know. It might, even if you follow my guidelines. Cake rolls are finicky beasts: they crack because you made a mistake in baking or execution but they can also crack because it's humid, or it's dry, or it's Tuesday or the Niners lost.
Really, nine times out of ten, your cake rolls will succeed. The tenth time it'll crack which isn't that big of a deal because it means you get to frost the outside. Cracks can be hidden with filling and frosting!
How to make a Christmas Cake?
This cake roll is so festive. Red and green is such a fun and happy color combination, and the pop of colors in that filling is magical.
Over bake the cake rather than under bake it. With a cake roll there is a sweet spot when the cake is done but not too much (or it'll crack) and not under done (or it'll crack). That is when the cake bounces back when you touch it.
Roll it while it's hot – that's the secret to getting the cake to roll with the frosting.
Check out my cake roll tutorial as well as the rules for cake roll making.
If it cracks, no problem. Glue it back together with the filling. If you're worried about how it will look, make extra filling and frost the outside like I did my strawberry shortcake cake roll.
Christmas Cake Frosting
By the way, let's talk about that filling for a sec, mmmkay? It's cream cheese whipped cream. I could eat it with a spoon!
Now, when people make my strawberry cake roll, they often complain of watery frosting. That happens for two reasons:
You didn't mix it enough and the cream isn't beaten enough. Or,
You mixed it too long and made butter.
I know, I'm so helpful. Again, like baking a cake roll, the filling has a sweet spot. The whipped cream should stand up on it's own when it's done. I often stop the mixer halfway through and scrape down the bowl, just to make sure that the cream cheese is all mixed in and there aren't puddles of cream on the bottom.
The topping is a basic chocolate ganache, which is perfect for covering up any cracks or blemishes and then I coat it with more sprinkles!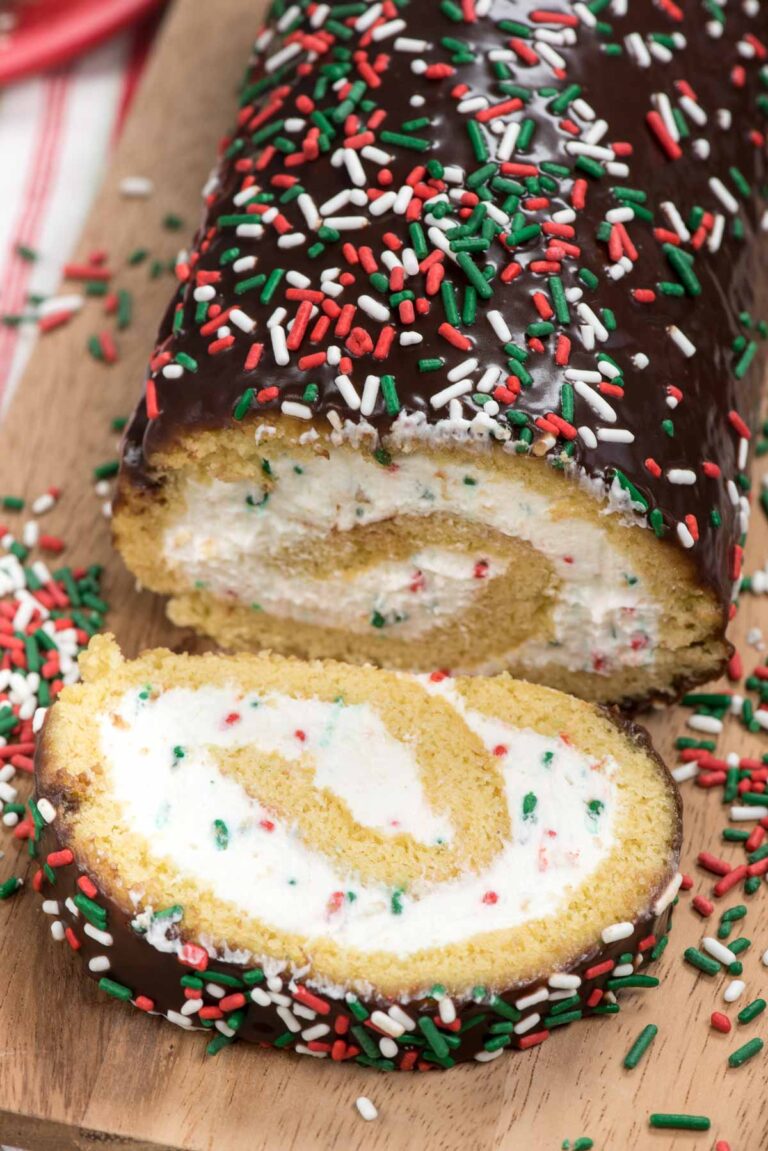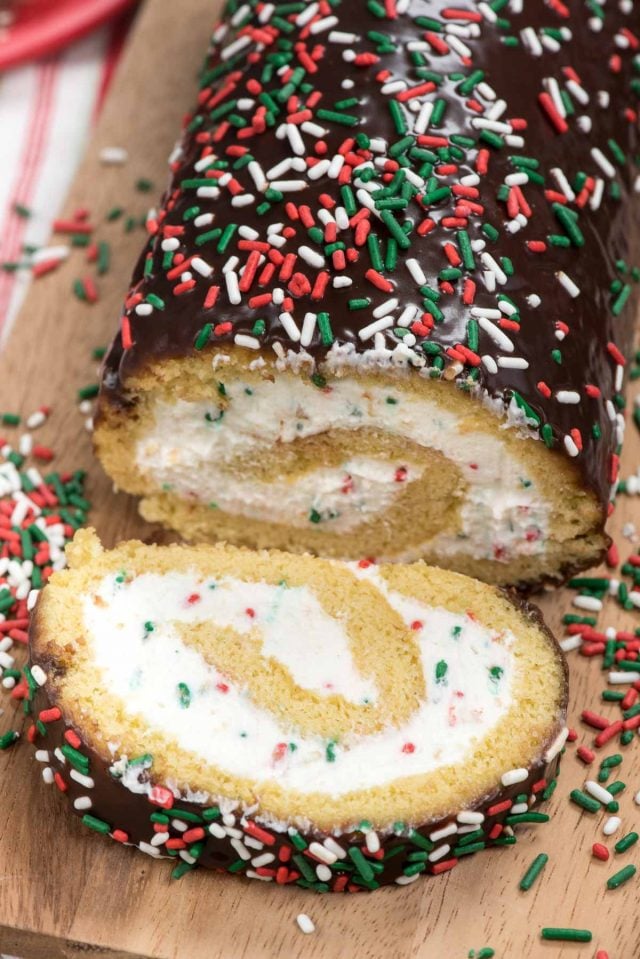 A Christmas Cake Roll is the perfect holiday dessert that's festive with holiday sprinkles, ganache, and whipped cream.
FAQ
How do you roll a cake roll?
You roll cake rolls hot in a powdered sugared kitchen towel or parchment paper. Let it cool and then unroll and fill it.
Can I make this with cake mix?
Not exactly. You can, but it requires a different recipe and makes two rolls. See my Turtle Cake Roll for instructions.
Do I have to have a special pan to make a cake roll?
Yes, you need a "jelly roll pan" which is a 10×15-inch (approximately) baking sheet with 1-inch sides. This is the one I use.
Can you freeze Christmas Cake?
Yes you can freeze this! I recommend freezing before putting on the ganache, but you can do it after too, I've done it both ways.
My filling is watery what happened?
You need to slowly add the sugar while mixing and then make sure it's mixed enough. See my tutorial here.
Other Christmas Cake Ideas
Be sure to check out all my other cake roll recipes. If you're looking for a fabulous holiday dessert recipe you should also try my Eggnog Cake Roll or my Pumpkin Caramel Cake Roll. I'm also dying to try a Tiramisu Cake Roll. My friend Lisa's Candy Cane Cake Roll is also perfect for Christmas, as is Leigh Anne's Peppermint Ice Cream Cake Roll!
Have you made this recipe?
Tag @crazyforcrust on Instagram or hashtag it #crazyforcrust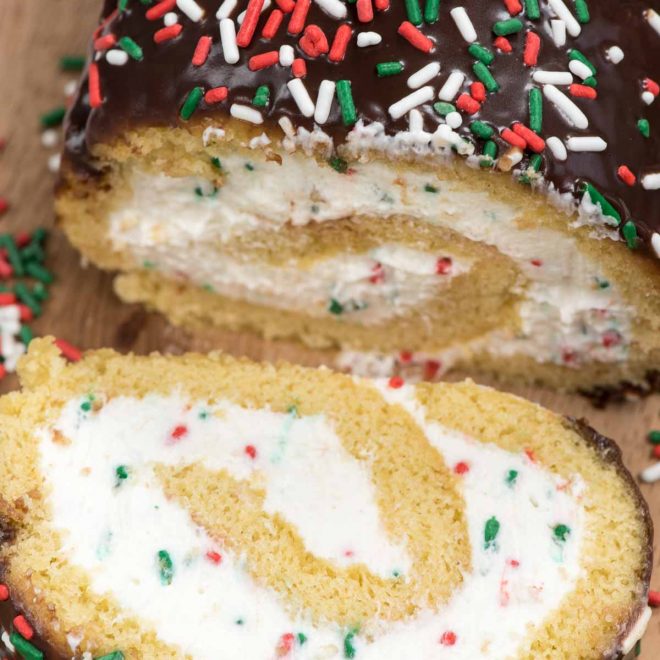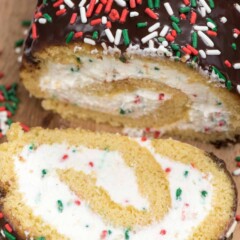 Christmas Cake Roll
Make this Christmas Cake Roll for the perfect holiday dessert! A yellow cake roll filled with cream cheese whipped cream then topped with chocolate ganache and sprinkles.
Ingredients
Cake
3

large eggs

3/4

cup

granulated sugar

1

tablespoon

vegetable oil

1

teaspoon

baking powder

1/4

teaspoon

salt

1

teaspoon

vanilla extract

3/4

cup

all purpose flour

Powdered sugar

to aid in rolling
Filling
4

ounces

cream cheese

softened

1/2

cup

granulated sugar

1/2

teaspoon

vanilla

1

cup

cold heavy whipping cream

1/2

cup

Christmas colored sprinkles

plus more for topping
Topping, optional
1/2

cup

heavy whipping cream

1

cup

chocolate chips
Instructions
Preheat oven to 350°F. Line a 10x15" or 10.5x15" cake/jelly roll pan with foil and spray with floured nonstick cooking spray.

Place eggs in a large bowl or the bowl of an electric mixer. Beat at medium speed with mixer for 5 minutes until foamy and yellow. Add sugar and mix for 2 more minutes, until the mixture is thickened slightly. Mix in oil, baking powder, salt, and vanilla, then add flour and mix slowly until just combined. Pour into prepared pan, spreading as needed with a spatula. Bake for 10-15 minutes, or until the top is browned and the cake springs back when touched lightly. (Mine took 12 minutes, but all ovens differ.)

While the cake is baking, lay out a clean kitchen towel onto the counter. Spread with about 1/4 cup powdered sugar.

Remove the hot cake from the oven and carefully, using oven mitts so you don't burn yourself, flip the cake onto the towel. This might make a mess, but that's okay. Carefully remove the pan and foil (they're hot!) and then, using the towel, roll up the cake from the short side. The towel will be rolled into the cake. Let this cool completely before continuing.

Note: you can wrap the cooled cake in plastic wrap and let it sit overnight before finishing.

Make the filling: place cream cheese and sugar in a large bowl or the bowl of an electric mixer. Use mixer to beat the cream cheese and sugar until it's smooth and fluffy, then beat in vanilla. Slowly add the heavy whipping cream, then turn the mixer up to high and beat until stiff peaks form. Halfway through mixing, stop the mixer and scrape down the sides and bottom of the bowl. Stir sprinkles into the whipped cream.

To fill cake: Carefully unroll the cake. Spread with the whipped cream mixture. Carefully roll the cake back up as tight as possible, unsticking it from the towel as you go. Wrap the cake roll in plastic wrap and chill until ready to top and serve.

To top: place chocolate chips and heavy whipping cream in a microwave safe measuring cup or bowl. Heat on high power for 60-90 seconds or until the cream is hot, then whisk until smooth. Let cool for 10 minutes. Place cake roll on a wire rack set over a cookie sheet. Pour the ganache over the cake evenly. Top with rmore sprinkels. Chill until set.
Recipe Nutrition
Serving:
1
slice
|
Calories:
402
kcal
|
Carbohydrates:
44
g
|
Protein:
4
g
|
Fat:
23
g
|
Saturated Fat:
15
g
|
Cholesterol:
97
mg
|
Sodium:
886
mg
|
Fiber:
1
g
|
Sugar:
36
g
Nutritional information not guaranteed to be accurate
Tools for cake roll making success:
**Did you make this recipe? Don't forget to give it a star rating below!**
Last Updated on March 4, 2023