This post may contain affiliate links. For more information, read my disclosure policy.
This Spiced Caramel Apple Cake Roll is my favorite flavor combo yet! And it's so easy, I promise you can do it.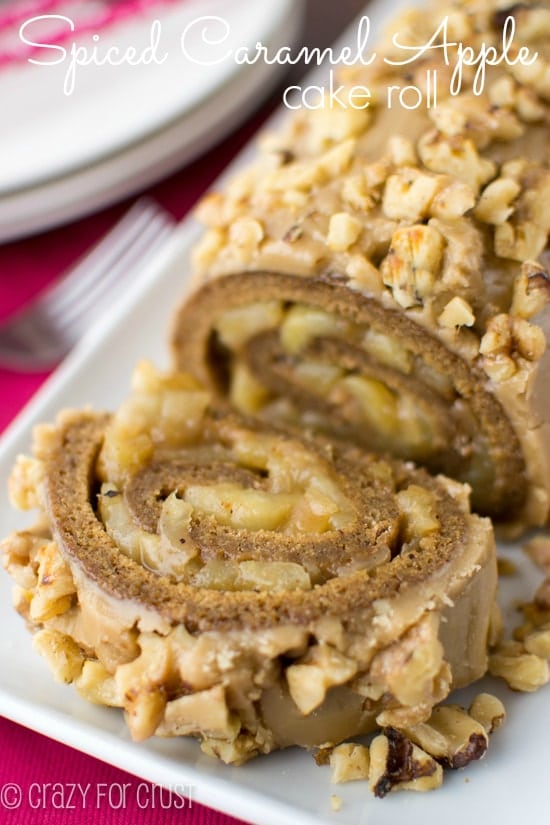 Okay, can we ignore the … browness of these photos? Isn't it the worst when you make the BEST thing ever and it's all…brown?
This is where I need a professional stylist to help me. Because I'm not a professional. I know that – Martha told me so.
I may not be a pro, but I do know what tastes good…and this cake roll is the bomb.
Let me clarify: it's the bomb-diggity.
Really. Brown-ness aside, it's the BEST cake roll I've made yet!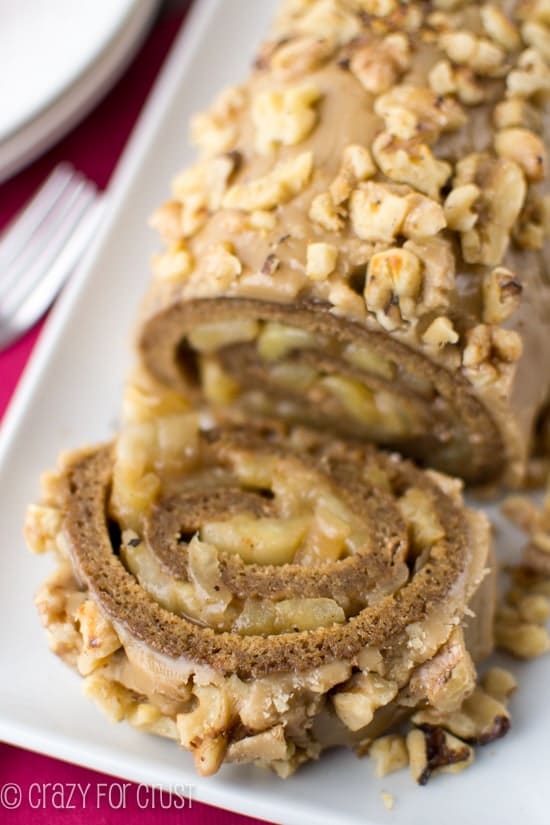 I've been trying to think of a Fall cake roll idea. I love pumpkin…but that's kind of been done. Like a trillion +1 times. So…caramel apple it is.
This cake roll has three amazing components:
The cake is a spice cake.
The filling is apple pie-like.
And the frosting? Is the BEST part: it's caramel.
Put the three together and it's a party in your mouth.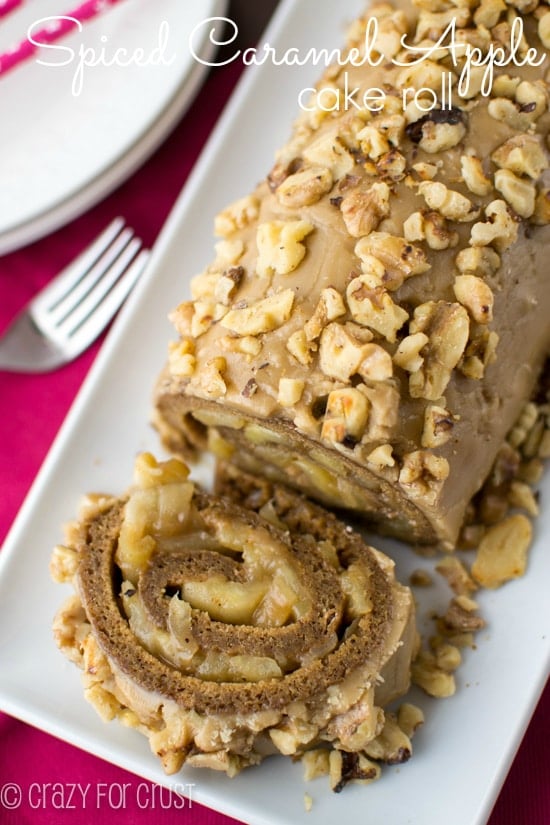 The cake roll recipe is adapted from my mother-in-law. It's the same recipe I used to make the Carrot Cake Roll. I also used her caramel frosting recipe too. Because it's awesome – and SUPER easy!
Don't be afraid of cake rolls. They're actually easier than you think. I wrote a bunch of rules for making one, if you need some tips. Really, the keys to success are: cook it all the way (this one is very springy when done; the apples keep it moist after rolling), use LOTS of powdered sugar (if your kids sitting two rooms away aren't covered in it, you're not using enough), and roll it straight from the oven (burned fingers are worth it). It sounds way more complicated than it is, I promise!
My husband actually said to me "That looks really really good. I want to eat it."
If you know him, you know that's, like, the hugest compliment ever.
Even if it is a pile of brown-ness.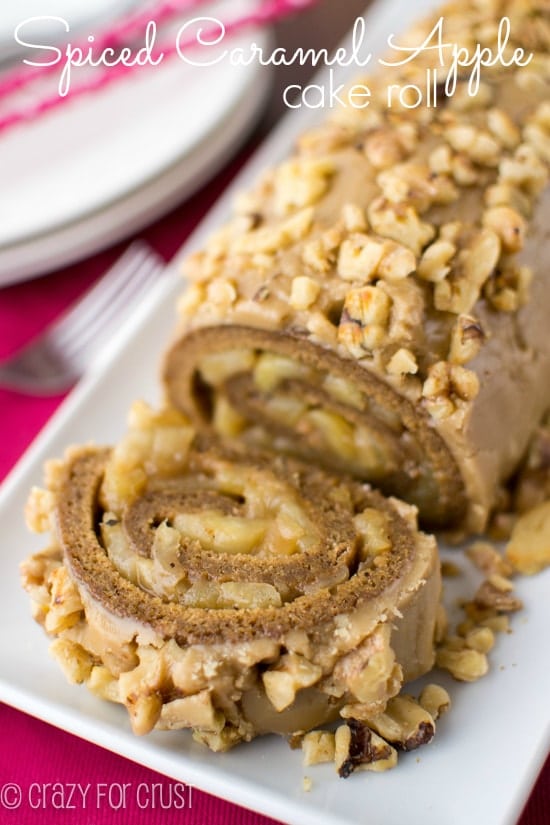 Just like you can't judge a book by it's cover, you can't judge a cake roll by it's color. In this case, all that brown makes it fabulous!
Be sure to check out all my cake roll recipes!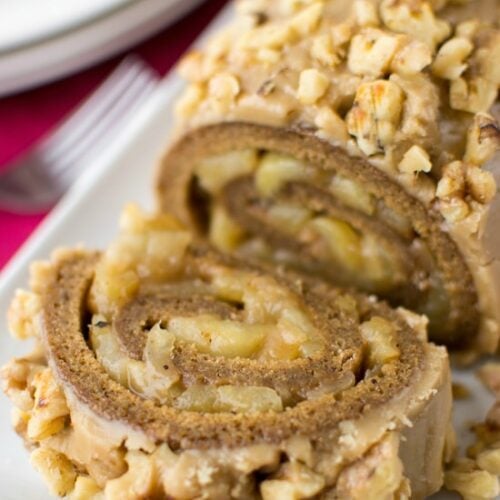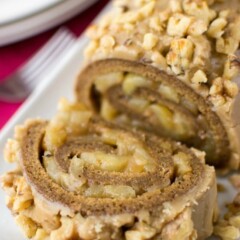 Spiced Caramel Apple Cake Roll
Ingredients
For the cake:
3

eggs

2/3

cup

granulated sugar

1/2

cup

no sugar added applesauce

2

tablespoons

molasses

3/4

cup

flour

1

teaspoon

baking powder

2

teaspoons

cinnamon

1/2

teaspoon

cloves

1/2

teaspoon

allspice

1/2

teaspoon

nutmeg

1/2

teaspoon

salt
For the filling:
2

tablespoons

butter

3

granny smith apples

peeled, cored, and diced

1/3

cup

sugar

1/2

teaspoon

cinnamon

1/4

teaspoon

nutmeg

1

teaspoon

cornstarch

1/4

cup

water
For the frosting:
1

cup

walnuts or pecans

chopped (optional)

1/2

cup

1 stick butter

1

cup

firmly packed brown sugar

4

tablespoons

heavy cream

2

cups

powdered sugar

1

tablespoon

vanilla extract
Instructions
Preheat oven to 375F. Line a jelly roll (10x15") pan with foil and spray with cooking spray. I like to use the spray with flour in it.

Beat eggs at high speed for 5 minutes.  Gradually beat in sugar, applesauce, and molasses.

Stir together flour, baking powder, cinnamon, allspice, nutmeg, cloves and salt. Add to other mixture. Spread into prepared pan.

Bake for 10 minutes. Turn out immediately onto a kitchen towel sprinkled liberally with powdered sugar. Starting at the narrow end, roll towel and cake together. Cool completely.

While the cake is baking and cooling, make the filling. Melt butter in a medium frying pan. Add apples, sugar, cinnamon, and nutmeg. Stir to combine. Cook for about 2 minutes, until apples start to release their juices. Stir together water and cornstarch and add to pan. Stir, and continue cooking over medium-low heat for about 5 minutes, until liquids are absorbed and apples are cooked. Remove from heat, then place apples in a bowl and chill until ready to assemble cake.

Once cake and apples are cool, carefully unroll the cake. Spread apples evenly across the cake, being sure to spread to the edges as much as possible. Starting at the narrow end, re-roll the cake. Place on a rack set over a cookie sheet to await frosting.

Toast chopped nuts in a small frying pan over low heat, stirring often, for just a few minutes. DO NOT WALK AWAY from the stove. They can burn in an instant. You can also toast them in a 350 degree oven on a cookie sheet, shaking the pan occasionally, for just a few minutes. Same thing: don't walk away! Cool while preparing frosting.

To make the frosting, melt the butter in a medium sauce pan. I use salted butter, if you use unsalted, add a pinch of salt.

Stir in brown sugar and cook over medium-low heat, stirring constantly, for 2 minutes. Stir in heavy cream and stir until the mixture comes to a boil (it will probably be boiling almost instantly). Remove from heat and whisk in powdered sugar until no lumps remain, then whisk in vanilla extract. If frosting is too thick to pour at this point, add more cream (1 tablespoon at a time). Mine was pourable as written.

Pour frosting over cake roll evenly, being sure to get the ends and sides. Working quickly, use an offset spatula to help spread the frosting where it's missing. The excess frosting will drip onto the cookie sheet. You can discard that, or eat it with a spoon. Sprinkle nuts over the top, if desired, to make it look prettier for serving. Carefully transfer to serving platter. Store in refrigerator, but serve at room temperature.
Nutritional information not guaranteed to be accurate
Sweets from friends:
Rainbow Cake Roll by Wine and Glue
Gingerbread Cake Roll by Roxana's Home Baking
Chocolate Peanut Butter Roulade by Dieter's Downfall
Pumpkin Nutella Poke Cake by Something Swanky
SaveSave
Last Updated on May 31, 2020