These Caramel Crunch Blondies are a great way to use up Halloween Candy…and they stay soft and chewy for days!
This is my absolute FAVORITE blondie recipe. They're full of brown sugar and have the most amazing flavor.
PIN THEM NOW TO SAVE FOR LATER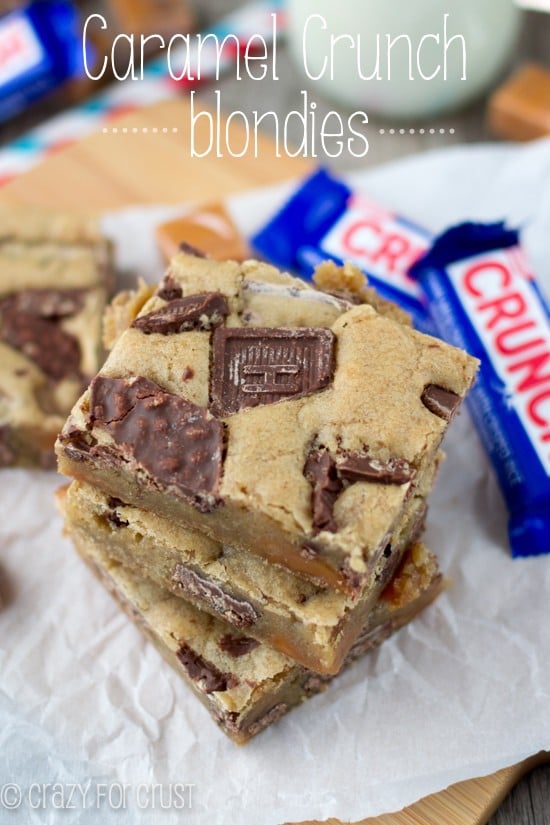 This post was originally written in 2013. Updated July 2018.
I want to thank all of you who have served our country, who are currently serving, and the families too. You all sacrifice so much for our safety. An especially big hug goes out to my dad and my father-in-law, both of whom are Vietnam veterans.
Desert Storm happened when I was in middle school. I don't remember much about it (what 12 year old pays attention to the news?) but what I do remember is having a pen pal. Sergeant Gonzolez and I wrote back and forth for several months, until I assume he was sent home.
If we're being totally honest, I *think* I may have been a wee bit smitten with my solider. I had grand visions of him returning home and finding me. There *may* have been wedding plans involved. But, I was 12 and he was an adult, probably married with kids, and shortly after our correspondence ended I realized Joey McIntyre was my true love, so I stopped thinking about Sgt. Gonzolez in that way.
One of the things I remember vividly about our pen pal letters was that he sent me some Iraqi sand. He emptied out a mini tabasco bottle and filled it with sand and mailed it to me. It's still at my mom's house in her china cabinet, and it's a wonderful memory of a pen pal program that was so important to the soldiers of that time.
So when my friend Betsy, from Java Cupcake, started a care package program for her husband who recently deployed, I jumped at the chance to join in. It's my small (minuscule, really) chance to give back to those that give so much for us.
I knew I was going to bake for our care package (duh, this is me we're talking about!) so I had to do some research and thinking about what to send. Sometimes packages can take weeks to be delivered so you have to send something that will last. Also, it gets pretty hot there and with all the transportation, nothing should be sent that can get too melty. After thinking about it for awhile, I knew I wanted to make these Caramel Crunch Blondies for our care package. I know the soldiers are going to love them!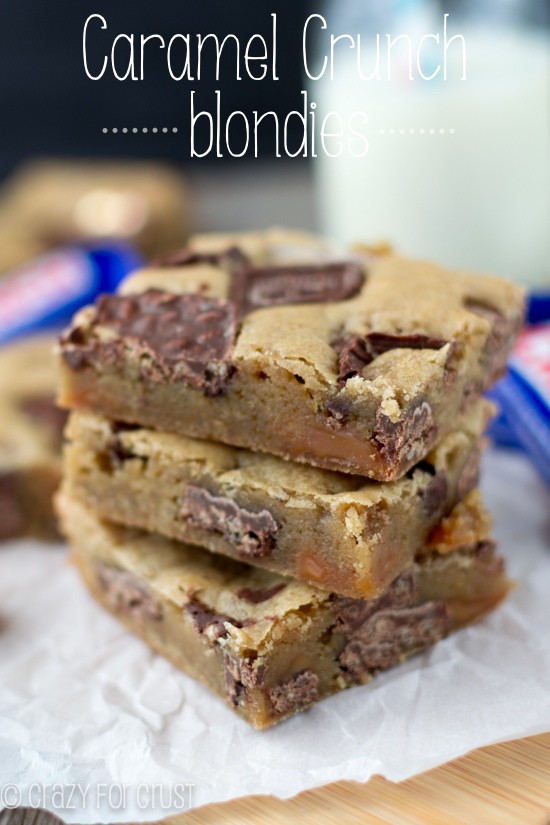 How do you make the best blondies?
This recipe is really the best – no matter what you put in them. I love adding caramel and chocolate, but you can add whatever you want (hello, Milky Way Blondies). These taste almost like melted toffee. If you're looking for the best blondie recipe, look no further – you've found it.
These blondies are perfect for long-distance travel. When wrapped with plastic wrap and sealed in a ziploc container, they last a really long time.
What's the secret to super soft blondies?
Brown sugar. Lots and lots and lots of it!
Under-baking them – do NOT over bake. Take these out when they don't look done and they'll finish cooking as they cool.
These blondies are the same base that I used to make these Loaded Chocolate Chip Cookie Bars, Toffee Blondies, and Nutter Butter Butterscotch Blondies. You really cannot go wrong with these – no matter how you cook them and what you add, they turn out fabulous every time. Plus, they come together in just one bowl and you can be eating blondies in under an hour…unless you're deployed. Then you have to wait for the mail.
When I asked Facebook what else I should include in a care package, one of the overwhelming responses was to send a letter. I immediately thought of my pen pal days and decided to ask Jordan's teacher to help out. Each child in her class made a Thanksgiving card to send in the care package, to go along with our theme of "We are thankful for you" in honor of Thanksgiving this month.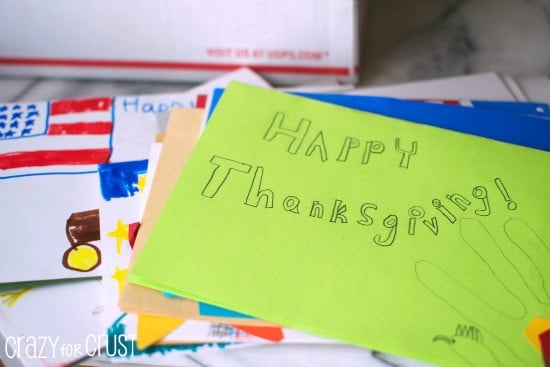 I had Jordan decorate the inside of the box. We used construction paper and decorated each flap with our theme.

Betsy's husband had mentioned that their "fresh" food supply wasn't good. So I decided to send a bunch of canned goods, including Spam, and some canned bean salad, fruit, tuna, and other vegetables. Did you know that you can use the large priority mail box at the USPS and fill it as heavy as you want, and it's less than $13 to send the care package? I stuffed that thing so full I could barely lift it!
We added some gum and Red Vines to fill in the holes, and Jolly Ranchers for padding across the top. No bubble wrap was needed for that package, no sir!
It really felt good to put something like this together. And when I realized how cheap it was, I realized I want to do it again. It's so easy to make someone's day…even on the other side of the world. If you're interested in sending a care package, check out Java Cupcake for all the details. She has all the fun information on the care packages that have been sent to her husband, and if you are interested in sending something she has a form you can fill out so she can connect you with a platoon in need.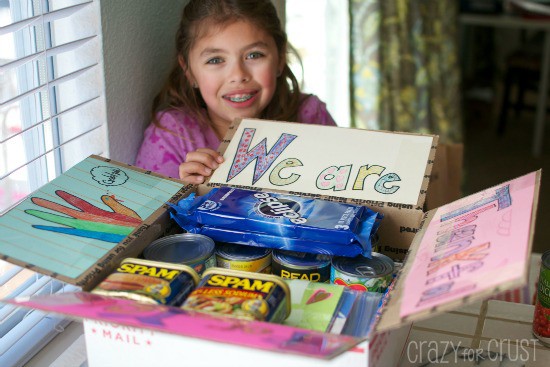 So many men and women will be without their families this Thanksgiving, so it felt good to do just a little something to make it better.
I often wonder what Sergent Gonzalez is doing today. If I could meet him, I'd make him some blondies. 🙂
Thanks for reading!
Want even more? Subscribe to Crazy for Crust to get new recipes and a newsletter delivered to your inbox. And stay in touch on Facebook, Pinterest, Twitter, and Instagram for all my latest updates.
[mv_recipe post_id="40518″]I also love Cake Batter Blondies, Fluffernutter Blondies, and Peanut Butter Chocolate Chunk Blondies!
Lemon Blondies are like brownies but with LEMON flavor!! And coconut too!
Nutter Butter Butterscotch Blondies have tons of delicious butterscotch flavor inside!
Milky Way Blondies are pure heaven!
**Did you make this recipe? Don't forget to give it a star rating below!**
Caramel Crunch Blondies
This blondie recipe is my absolute favorite!! Rich with brown sugar they stay soft for days and are great with any candy inside.
Ingredients
2

cups

brown sugar

1/2

cup

1 stick butter

2

eggs

1

tablespoon

vanilla extract

1

teaspoon

baking powder

1/4

teaspoon

salt

2

cups

flour

2

cups

chopped Crunch Bars

about 18 minis, divided

15

caramel squares

such as Kraft, unwrapped and quartered
Instructions
Preheat oven to 350 degrees. Line a 9x13" pan with foil and spray with cooking spray.

Cream brown sugar and butter in the bowl of an electric mixer fitted with a paddle attachment. Add eggs and vanilla and beat until combined. Add baking powder, salt, and flour and mix.

Stir in 1 cup of the chopped Crunch Bars and all of the quartered caramel squares.

Press into prepared pan (dough is sticky, spray your hands with cooking spray to avoid it sticking to your hands).

Sprinkle the remaining 1 cup of chopped Crunch bars over the top and press lightly to make them stick to the surface.

Bake at 350 for about 25 minutes. (Be careful not to overcook - the center will still be jiggly when you take these out of the oven and they will finish cooking and firming up as they cool.) Cool completely before slicing into squares.
All text and images © DOROTHY KERN for Crazy for Crust. Please do not use my images without prior permission. If you want to republish this recipe, please re-write the recipe in your own words, or link back to this post for the recipe. Disclaimer: Nutrition information shown is not guaranteed to be accurate.
This post may contain affiliate links. For more information, read my disclosure policy.
Published on: November 11, 2013