One last delicious dessert perfect for Easter or any party! Lemon Coconut Blondies are thick and chewy like a blondie, but made with coconut, lemon, and white chocolate. The perfect bite for your citrus fix!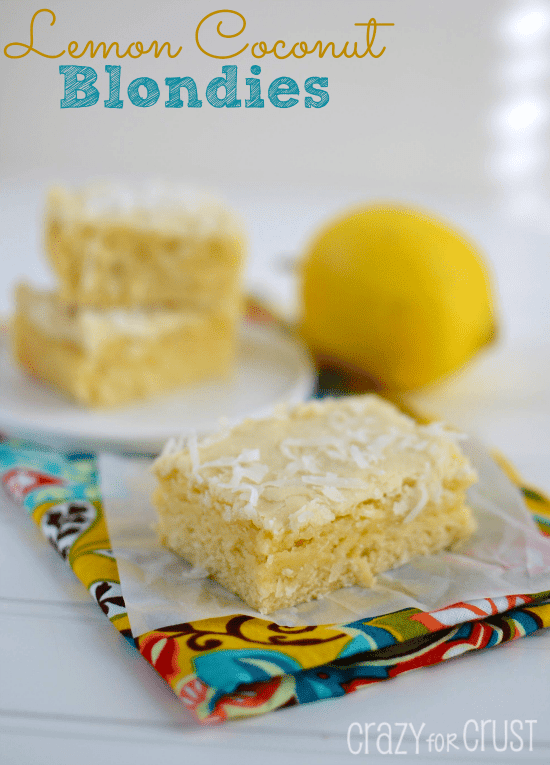 Never underestimate the power of social media.
Sometimes I forget how many people are really watching – and this week I was reminded of that (in a good way).
On Sunday, when I posted my Carrot Cake Roll and talked about being alone for a blissful few hours so I could get a weeks' worth of work done, my site went down. Sure, it was only for about a half hour, just enough time for me to take a shower, which I needed to take a break and do anyway. But I was angry – angry because my site seems down more than it's up. I've had no less than 10 "server issues" since I started with Bluehost back in September. Whenever I called tech support I got the "maintenance" spiel (yeah, at 9am on a Sunday morning? Riiiiiight.) There have been too many excuses to list here, really, so needless to say, the tech on the phone got an earful.
During this saga, someone tweeted me because they couldn't get to my site. In my anger, I wrote back something along the lines of "I hate…" which, yes, I know is totally childish but, come on. After months and months of this, I was fed up. My traffic doesn't dictate that I should pay gazillions of dollars a month for a dedicated server – so why couldn't they fix the problem? Or tell my WHY?
I didn't use an # or @ in any of my posts that day. I mentioned Bluehost by name, but never actually tweeted them. Ah, but you see – Big Brother is watching.
Never underestimate the power of social media.
That afternoon, they actually called me to upgrade me to Pro (for free) because they had "seen some tweets."
By Monday, I had a scheduled server transfer to a Pro server (I guess that's better than shared – I have my own IP address now, whatever that means). Of course, we won't talk about how they didn't actually switch me as scheduled. And the L1 tech on the phone I was screaming at at 6am on Tuesday was less than impressed with me. He thought I should be "grateful" that "they called me" and offered "the Pro service for FREE!" (Yes, I'm quoting).
Anyway, I later talked to two higher-up people who actually apologized and my switch happened Tuesday night. So now I can *hopefully* breathe easy for a little while, until all of a sudden a gazillion people start to love me and I need a dedicated server. 😉
So, I'm saying a (albeit shaky) thank you to Bluehost. For the upgrade. And the nice tech named Mike. Mike, I'd like your personal phone number so I can just call you from now on, mmkay?
Never underestimate the power of social media.
Or, the power of lemon.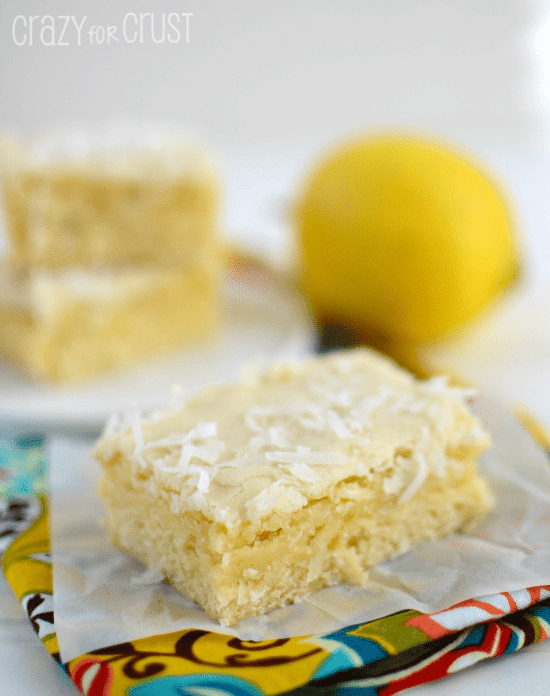 Since my obsession with lemon began, I've been wanting to make a lemon brownie/blondie/bar thingy. I actually made these a few times. First, I used the Vanilla Bar recipe (the same one I used to make the Peanut Butter Brownies) to make a lemon version.
Total and complete fail.
So, I started over. Once I discovered the recipe for Toffee Blondies, which I then turned into Nutter Butter Butterscotch Blondies, I had the right measurements. So I took that recipe and turned it into these.
Instead of brown sugar, I used white. And I added coconut and lemon juice and zest. They baked up dense and chewy, almost like a cake. But they're a bar. Let's call them a cakar. Or a barake. Or, maybe we should stick with Lemon Coconut Blondies.
Because lemon and white chocolate should be married and have children, I frosted these with a white chocolate frosting. I melted white chocolate and butter together, and mixed in powdered sugar and cream. It seems like it's funky and separated, but once it spreads on the bars, it's totally fine. And since I topped them with coconut, any imperfections are totally covered. When in doubt, add more coconut.
These would be the perfect complement to your holiday table. Or to any table, really. Or, maybe you can make them in the hopes that it will stop snowing where you live. Maybe the sunny lemon will bring the sun.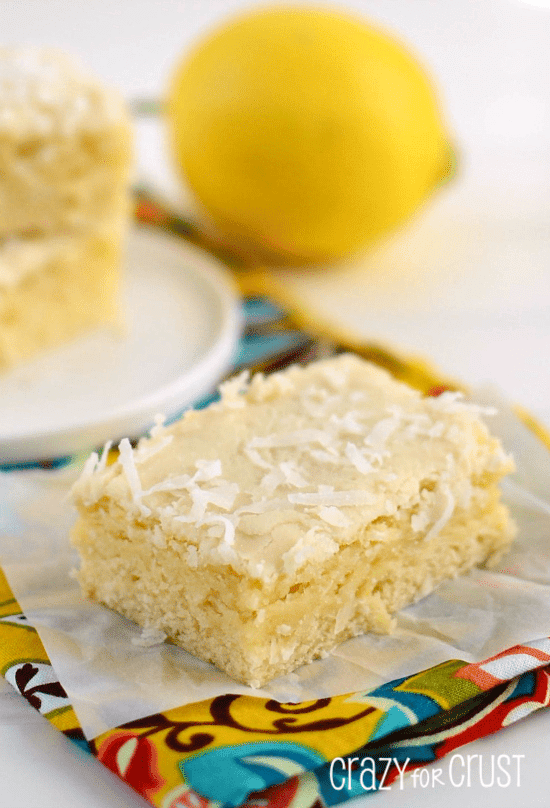 Never underestimate the power of social media. Or lemon bars. Both can bring really good things.
Lemon Coconut Blondies
Lemon Blondies full of coconut and white chocolate!
Ingredients
½

cup

(113g) unsalted butter, softened

1

cup

(200g) packed brown sugar

½

cup

(100g) granulated sugar

2

large eggs

1

teaspoon

vanilla extract

1

tablespoon

lemon juice

½

teaspoon

lemon extract

2

tablespoons

lemon zest

1

teaspoon

baking powder

½

teaspoon

salt

2

cups

(248g) all-purpose flour

1

cup

(68g) shredded sweetened coconut

1

cups

(180g) white chocolate chips

½

cup

(57g) powdered sugar

1

tablespoon

lemon juice

2

teaspoons

heavy whipping cream

Additional coconut, for garnish, optional
Instructions
Preheat oven to 350°F. Line a 9x13" pan with foil or parchment paper and spray with cooking spray.

Cream butter, brown sugar and granulated sugar in a large bowl using an electric mixer. Add eggs, vanilla, and lemon juice and lemon extract and beat until combined. Add lemon zest, baking powder, salt, and flour and mix. Stir in white chocolate chips.

Press into prepared pan (dough is sticky, spray your hands with cooking spray to avoid it sticking to your hands).

Bake for about 18-23 minutes or until the bars just lose their glossy sheen and are light golden around the edges. Be careful not to overcook - the center will still be jiggly when you take these out of the oven and they will finish cooking and firming up as they cool.

Store in an airtight container in the refrigerator for up to 3 days or freeze in a single layer for up to 1 month.
Recipe Notes
Variations:
Add ½ teaspoon coconut extract in addition to (or in replacement of) lemon extract.
Omit white chocolate chips, if preferred.
Regular or non-dairy milk can be used in the icing, but you will probably need less and the icing will be thinner and less white.
Feel free to replace any or all of the lemon juice in the icing with more milk if preferred.
If you want to add flavor to the icing, you can add ⅛ teaspoon lemon or coconut extract.
Nutrition Information
Serving:
1
serving
|
Calories:
195
kcal
|
Carbohydrates:
27
g
|
Protein:
2
g
|
Fat:
9
g
|
Saturated Fat:
6
g
|
Trans Fat:
1
g
|
Cholesterol:
25
mg
|
Sodium:
99
mg
|
Potassium:
91
mg
|
Fiber:
1
g
|
Sugar:
18
g
|
Vitamin A:
141
IU
|
Vitamin C:
1
mg
|
Calcium:
36
mg
|
Iron:
1
mg
Click here to see the complete list of Lemon Recipes!
Click here to see more of my ULTIMATE COCONUT recipes!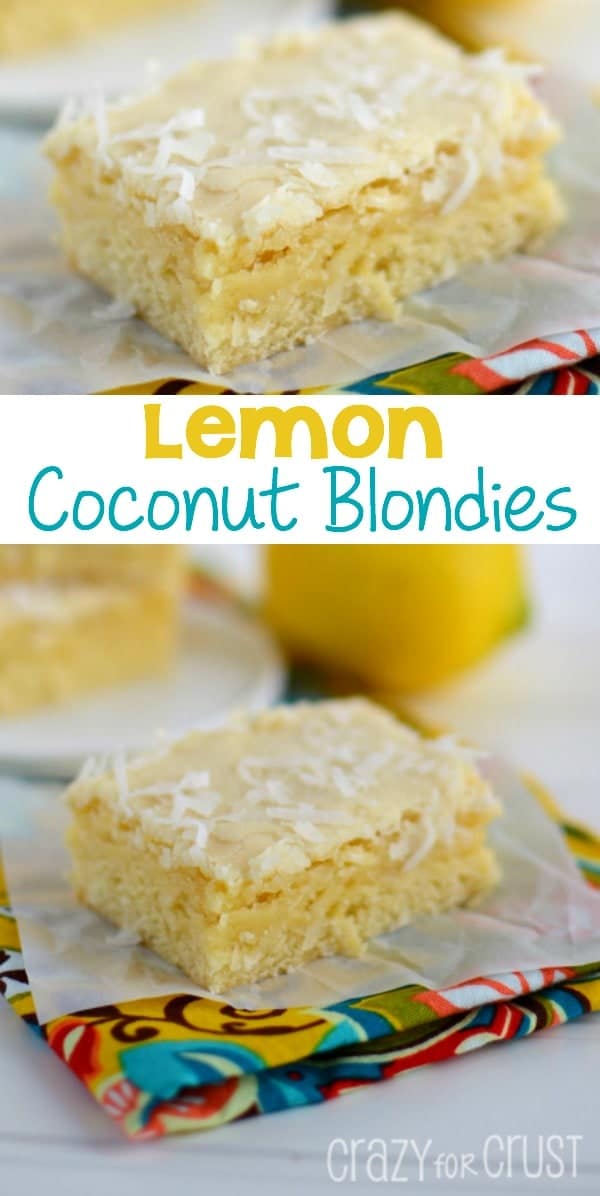 Other lemon goodness:
Sweets from friends:
Lemon Pie Bars by Everyday Insantiy
Lemon Bars by A Family Feast
Lemon Meringue Pie Dip by Something Swanky
All text and images © DOROTHY KERN for Crazy for Crust. Please do not use my images without prior permission. If you want to republish this recipe, please re-write the recipe in your own words, or link back to this post for the recipe. Disclaimer: Nutrition information shown is not guaranteed to be accurate.
This post may contain affiliate links. For more information, read my disclosure policy.
Published on: March 28, 2013