8
Feb 02
Baked Churro Chips with chocolate ganache dip
Easy Baked Churro Chips start with Naan that is baked until crisp then dipped in butter and cinnamon sugar. They're even better dipped in chocolate ganache!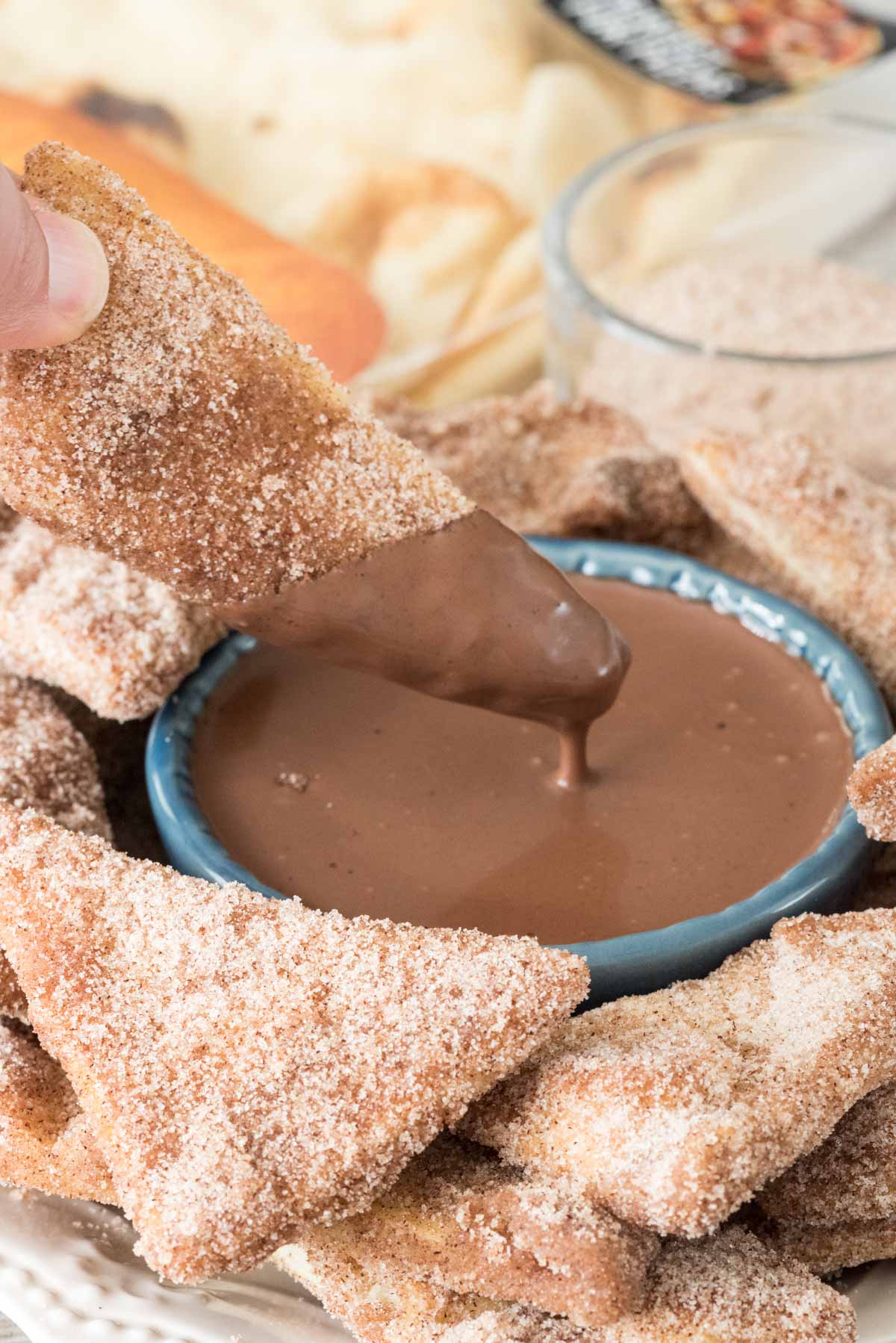 Game day is this weekend!! My husband is BEYOND excited. He's focused on the game, the players, the statistics, the weather in the host city…and I'm focused on FOOD. Because, if there is anything we know, it's that football games are all about food!
This is actually only the 3rd or 4th year I've been allowed in the house while my husband watches the game, if you want to know the truth. For a long time I would take Jordan to my parent's house overnight so he could watch the game alone. Now that she has school on Mondays, we can't do that, so for several years he'd make a business trip for Monday morning so he could stay overnight in a hotel. Pretty much, my husband is SERIOUS about his big game watching: no talking, no interruptions, just football.
The last few years he's been unable to travel, so he's stuck with us. Sometimes he floats the idea of a party but only with "your friends that don't talk" and then he pretty much gives up on that and Jordan and I banish ourselves to my bedroom where we eat party snacks and fast-forward the game to watch the commercials.
Long story short, this Sunday is all about food. My favorite two Game Day meals are pizza and chips with dip, especially when the chips are Churro Chips and the dip is chocolate ganache.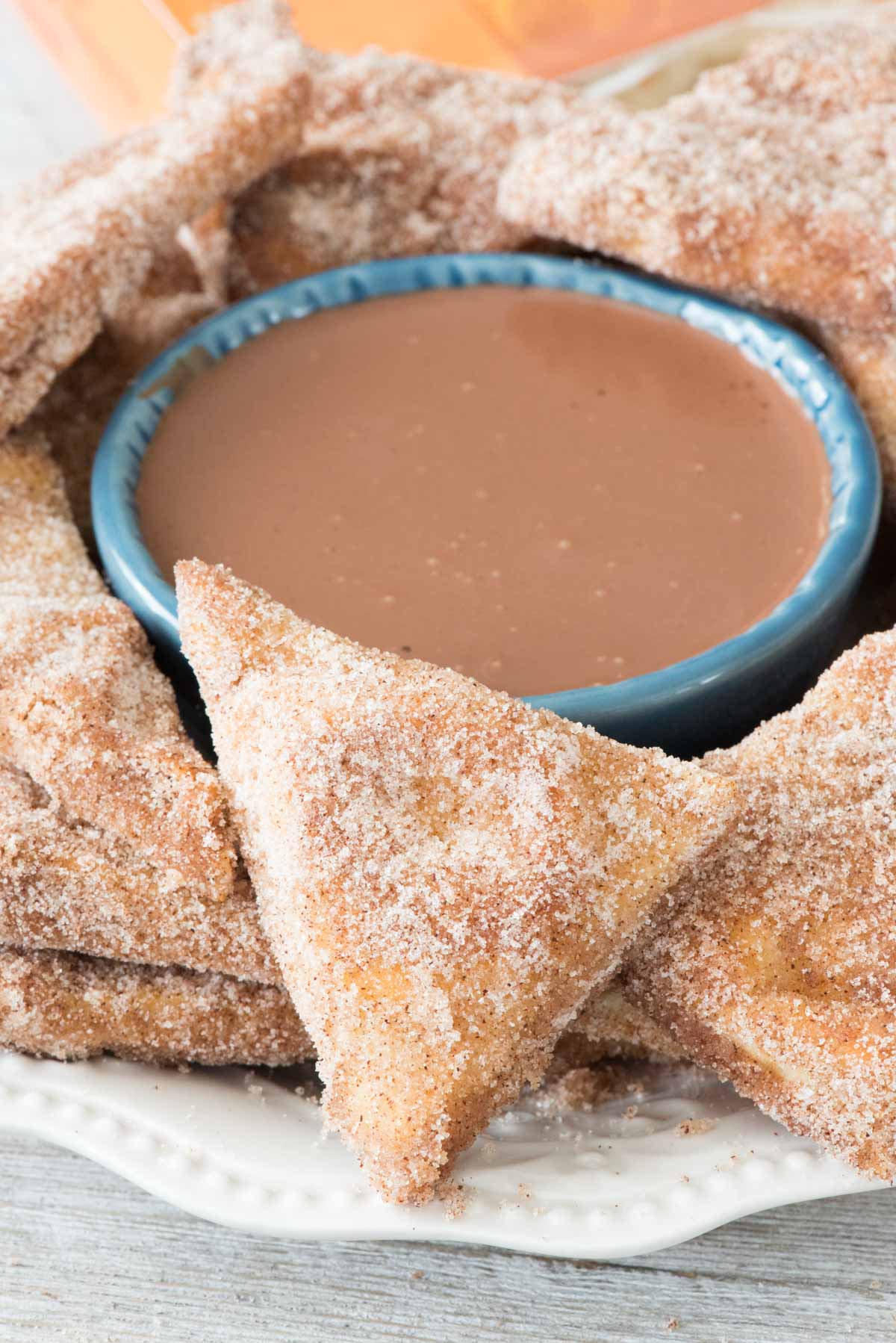 I know everyone thinks about savory foods like cheesy dips, pizza, and bite sized appetizers on game day, but you can't forget about dessert. Cinnamon sugar is one of my favorite combinations so making homemade churros are something we love to do. However, I don't like frying things so I prefer to BAKE my churros. I'm also lazy, so I don't even like to mix up dough to make churros. Instead I start with an easy prepared product and then make them taste like a churro.
You're welcome.
For these Baked Churro Chips, I started with naan. Naan is a leavened flat bread typically used in Indian cooking, but it's so versatile and is perfect in so many recipes.
#HelloNaan #NiceToMeetYou #WhereHaveYouBeenAllMyLife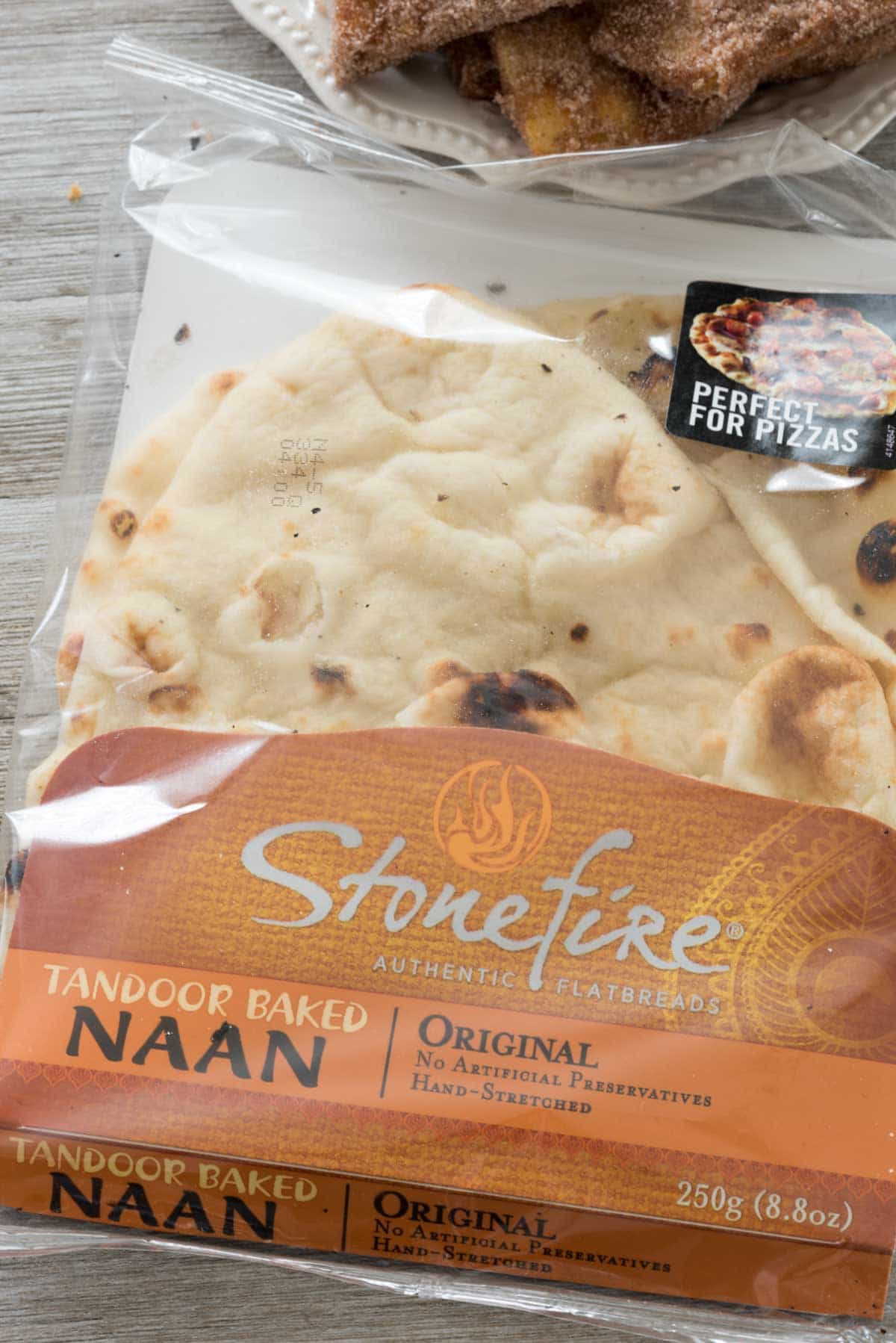 Stonefire Naan can be found at many grocery stores, including Public, Ralphs, Ahold and Giant, if you live near those stores. It comes in several flavors (like Original, Whole Grain, and even minis). It's the perfect blank canvas for all of your game day hosting needs. You can use them to make pizzas, tacos, or chips to dip in cheesy dips. Or…do what I did and turn them in CHURROS and then dip them in CHOCOLATE GANACHE! Be sure to check out Stonefire for even more recipes and to get a coupon.
These are very easy to make and they're baked, not fried, so I feel like you can enjoy even more of them with less guilt. Simply slice the naan into pieces and bake until the outside is crispy. Then I rolled them in butter and cinnamon sugar and tried not to eat them all. Jordan loved them too!
And as for the ganache…just hand me a straw.
We will be enjoying these while huddling in our room to watch the big game this weekend. Mel will be enjoying them too, and I'm making the naan into pizzas for him. My hosting tip for those of you who have football husbands: take the kids away and keep the house quiet. Stash a cooler of drinks near the couch and make sure the table is full of plenty of chips and dip…and then save the churros for yourself.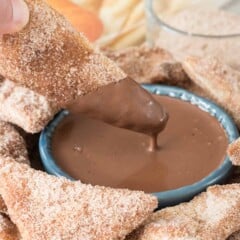 Baked Churro Chips
Yield: 8-10 servings
Total Time: 30 minutes
Easy Baked Churro Chips start with Naan that is baked until crisp then dipped in butter and cinnamon sugar. They're even better dipped in chocolate ganache!
Ingredients:
1 1/2 cups heavy whipping cream
1 cup chocolate chips (I used 60% cacao)
1 package Original Stonefire Naan (pack of 2)
1/2 cup butter, melted
1 cup granulated sugar
1 tablespoon ground cinnamon
Directions:
Preheat oven to 400°F. Line a cookie sheet with parchment paper.
Place heavy whipping cream and chocolate chips in a microwave safe measuring cup or bowl. Heat approximately 2 minutes, then whisk until smooth. Chill or freeze for at least 30 minutes before serving, or until the mixture has cooled and thickened but is not solid. (If it gets too solid, just microwave it to thin it out.)
Place the naan on the prepared cookie sheet. Use a knife or a pizza cutter to slice each naan into wedges or strips. Bake for 12-14 minutes, flipping them halfway through baking, so they are crunchy on the outside.
Stir together the cinnamon and sugar. While they're still warm, dip each piece in butter then the cinnamon sugar and place back on the cookie sheet.
Serve warm or cool with the chocolate ganache for dipping.
© Crazy for Crust
. All images & content are copyright protected. Please do not use my images without prior permission. If you want to republish this recipe, please re-write the recipe in your own words, or link back to this post for the recipe.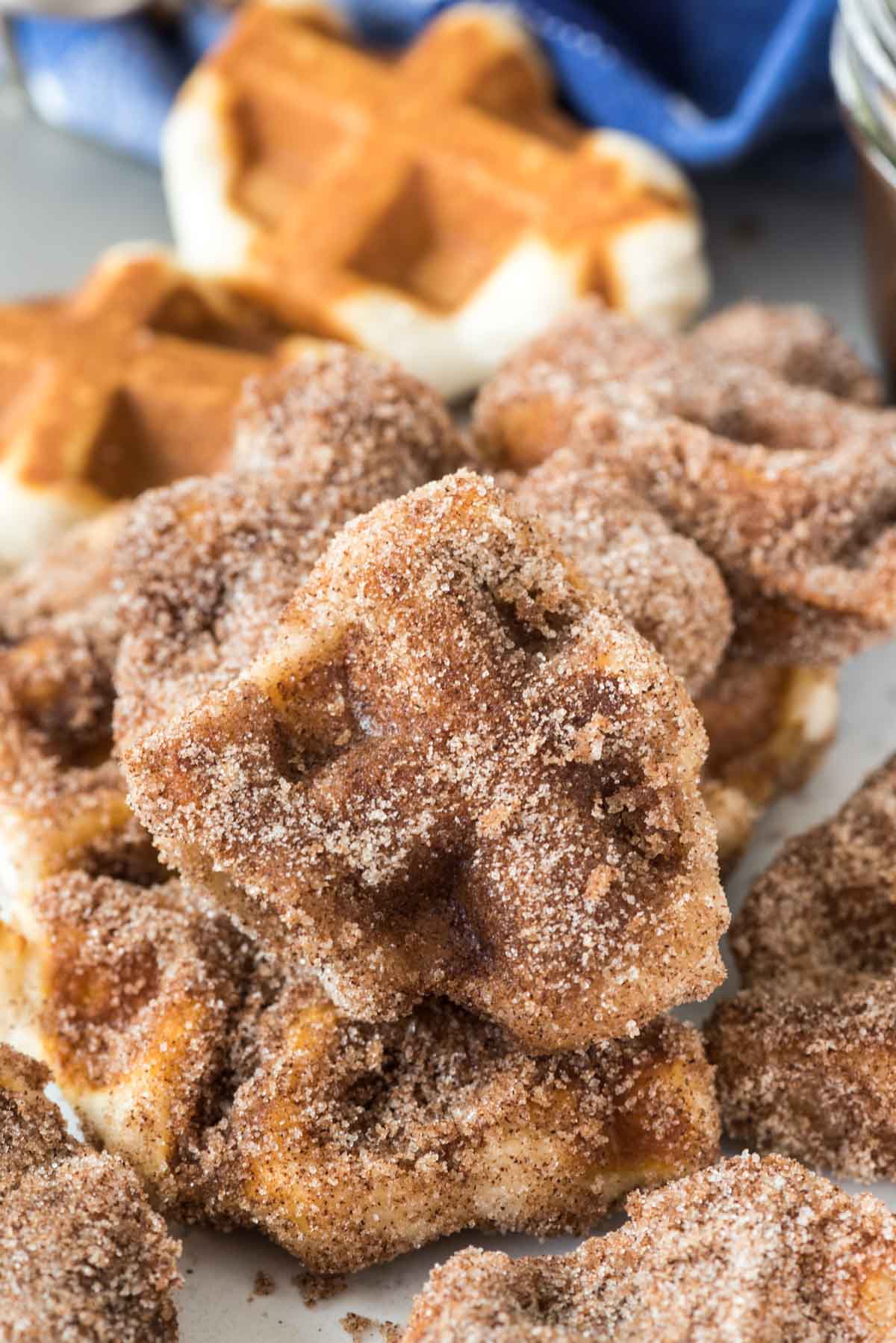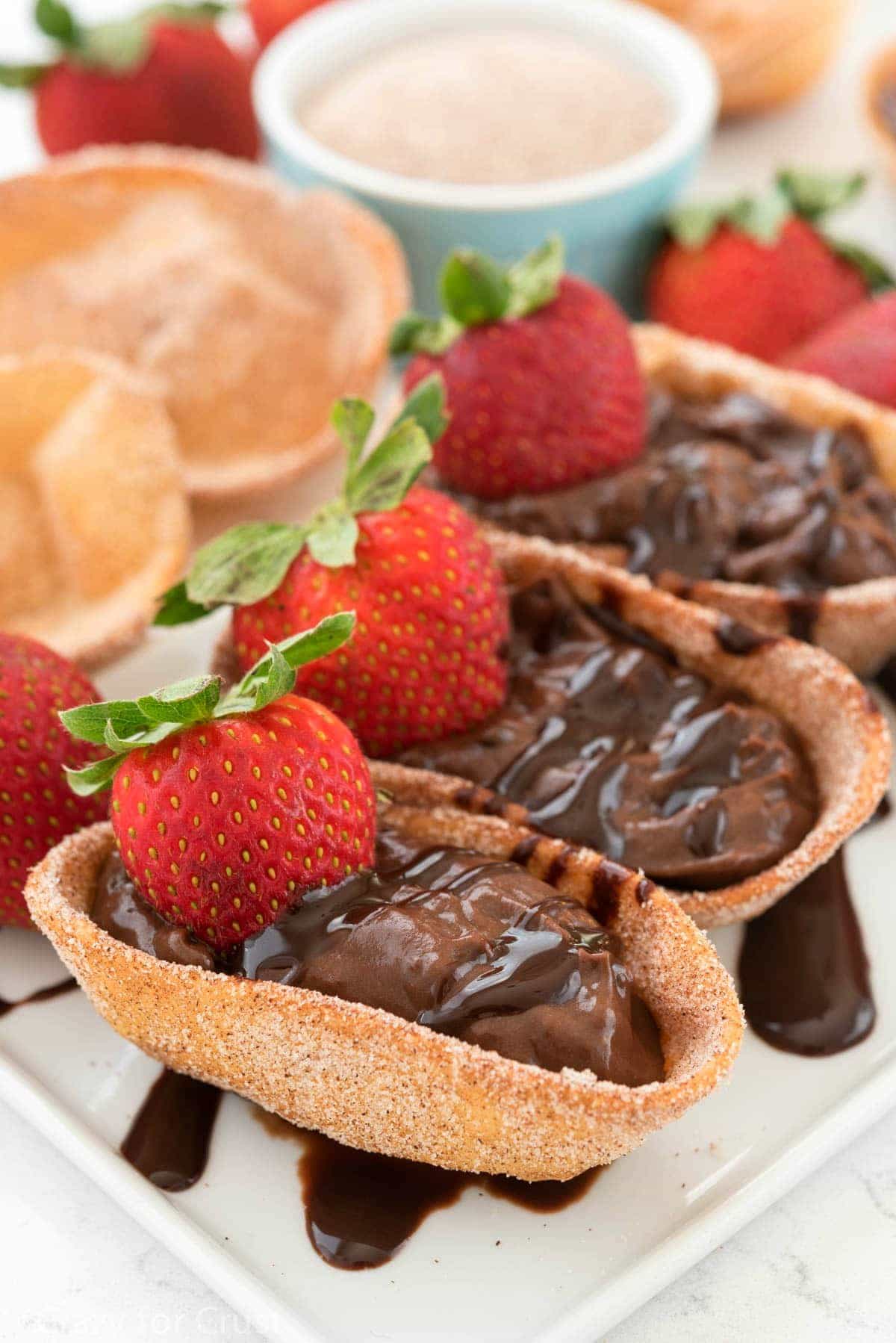 Easy Cinnamon Sugar Soft Pretzel Bites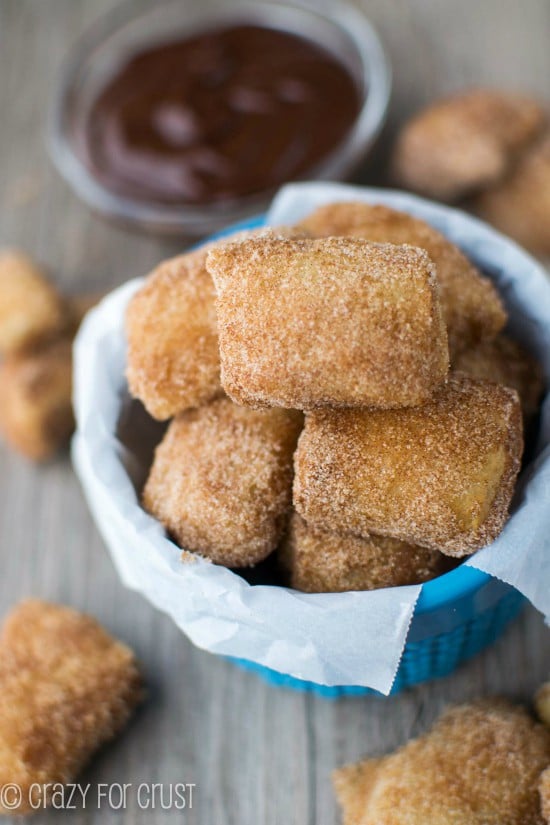 This blog post was sponsored by Stonefire but the opinions are completely my own based on my experience.