This post may contain affiliate links. For more information, read my disclosure policy.
Chocolate Churro Pies are crunchy cinnamon sugar tortillas filled with rich chocolate pudding…oh diet. See you next year! This churro pie recipe is too delicious to pass up!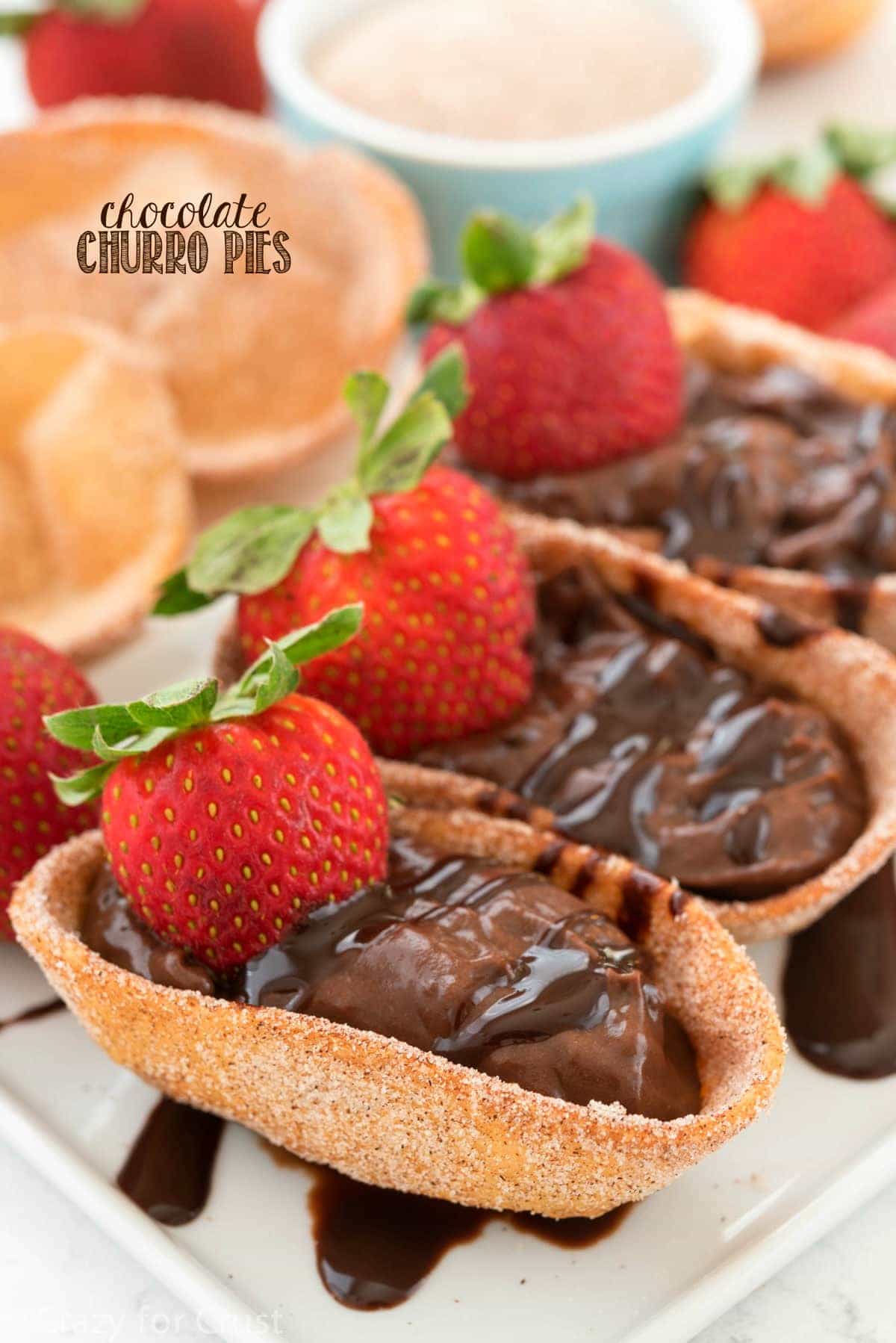 When I was a kid, we ate churros all the time. This was back in the early 80's, and I'm pretty sure that, while churros weren't new, they were the fad at that time. It seems that every store and fair and event served a nice, hot, churro. Man, I loved those things. I can still taste them in my memories; the hot oily crunchiness, the cinnamon sugar rain that would end up all over everything.
Those were the days, right? The ones that, when churro rain got all over your shirt, you didn't care? And, better yet, your mom had to clean it up and you didn't?
Nowadays you see churro everything. Cupcakes, cookies, trail mix, pretzels…you name it, it's been cinnamon sugared within an inch of it's life. But, really, is there anything wrong with that?
In my research of churros for this post, one thing that was shortchanged was a churro PIE. I mean, obviously I had to fix that problem, right? I made my own churro pies out of tortillas…and then I filled them with a rich chocolate pudding.
These are totally worth the cinnamon sugar rain, I promise.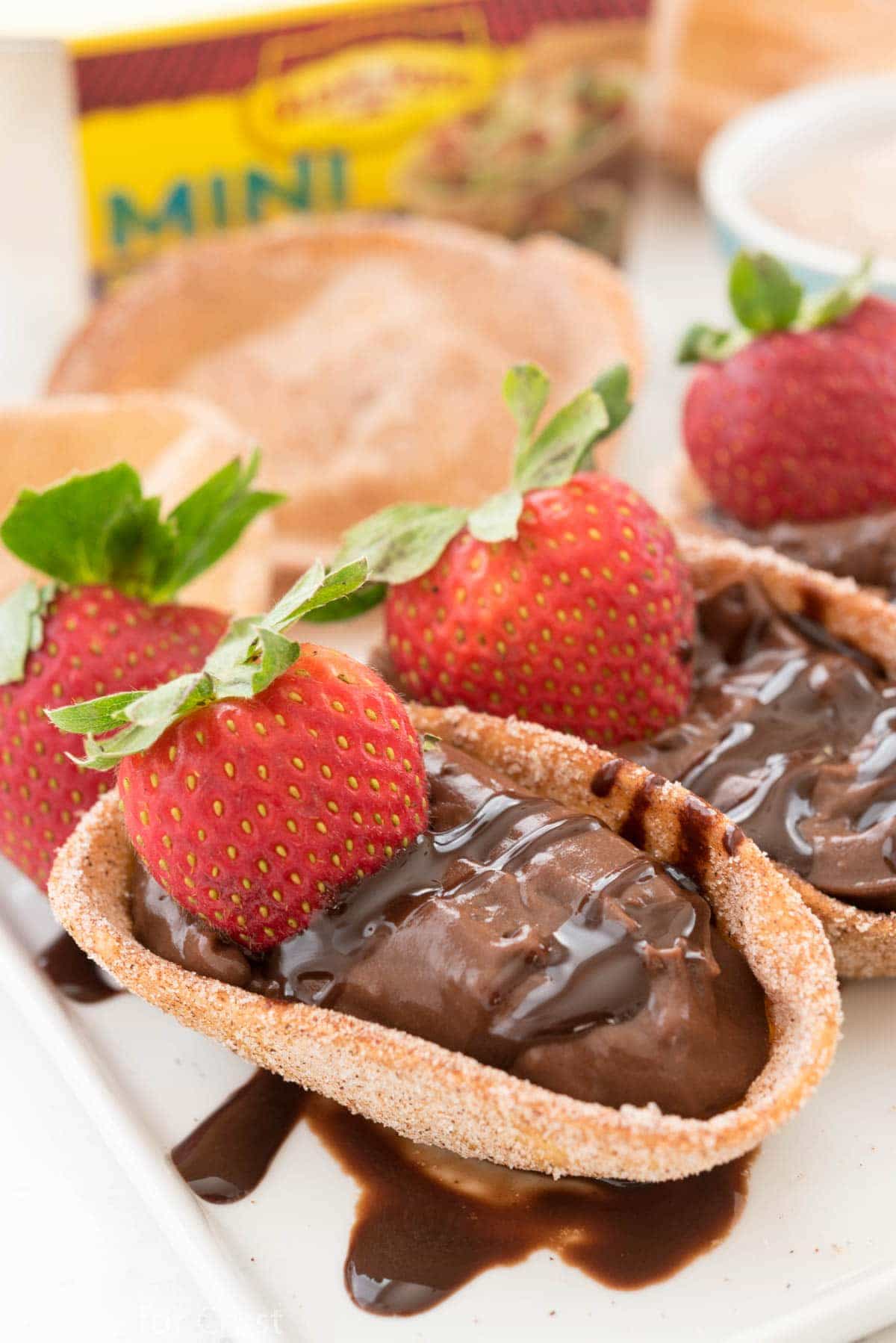 I'm totally drooling thinking about these Chocolate Churro Pies, BTW. I couldn't get enough of the crunchy cinnamon sugary tortilla bowl and chocolate pudding filling. I also topped it with chocolate sauce (because, duh) and a strawberry (so I could fulfill my fruit quota).
Back Story for Chocolate Churro Pies
I decided to make churro pies after shopping at Safeway a few weeks ago. I was buying some Old El Paso Soft Tortilla Taco Boats for dinner when I saw the mini version. We love having taco night using the tortilla boats – they're so much more fun than a regular taco shell – and the minis made me think of mini pies. That made me think about making a churro pie and, well, here we are.
(BTW, are you a Safeway shopper? I shop there weekly, using their Just4U coupons. They currently have Old El Paso coupons online for adding to your Just4U account, so be sure to do that before you shop!)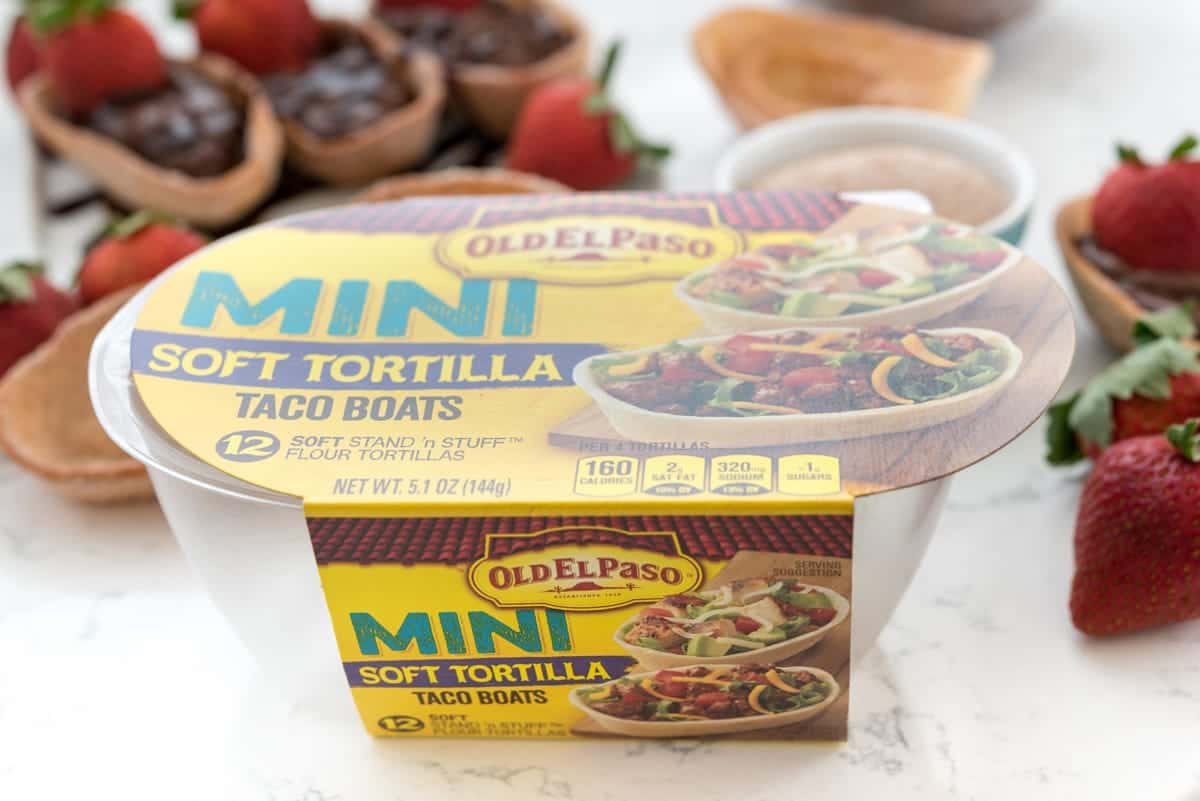 Seriously, the taco boats (regular size or mini) are perfect for Taco Tuesday. They're also perfect for game day – just fill with dip or taco salad and serve as an appetizer. Or do what I do – make them sweet.
Cooking Tips for Chocolate Churro Pies Recipe
This recipe is really easy, even if you've never fried anything before. The taco boats are already in the perfect pie shape, so all you have to do is make them nice and crunchy in some hot oil.
Here are some frying tips for you:
Use a

heavy bottom pan

. I like to use a small dutch oven or a heavy bottom 2-3 quart saucepan. The heavier the better because it helps you regulate your oil temperature better.
It really helps if you have a

thermometer

. I just use my candy thermometer and clip it on the side of the pot, so that I can continually know the temperature of the oil.
You can start frying around 340-350°F, and just

make sure to adjust the burner temperature throughout frying

so that your oil doesn't go much above 350°F. Depending on your pot and stove, you may have to adjust the temperature up or down during fying.
Have a

cookie sheet

sitting next to your pot and

line it with paper towels

. Keep your cinnamon sugar mixture close at hand for dipping. And use a slotted spoon to help you fry the tortilla boats and remove them from the hot oil. This helps the oil to drain so you don't end up with rivers of oil on your cookie sheet.
Once the fried pie shells are cool enough to touch but still warm, roll them in the cinnamon sugar mixture. Then, once they're cool, you can roll them again if you want them even more sugary.
Then, it's time to fill them.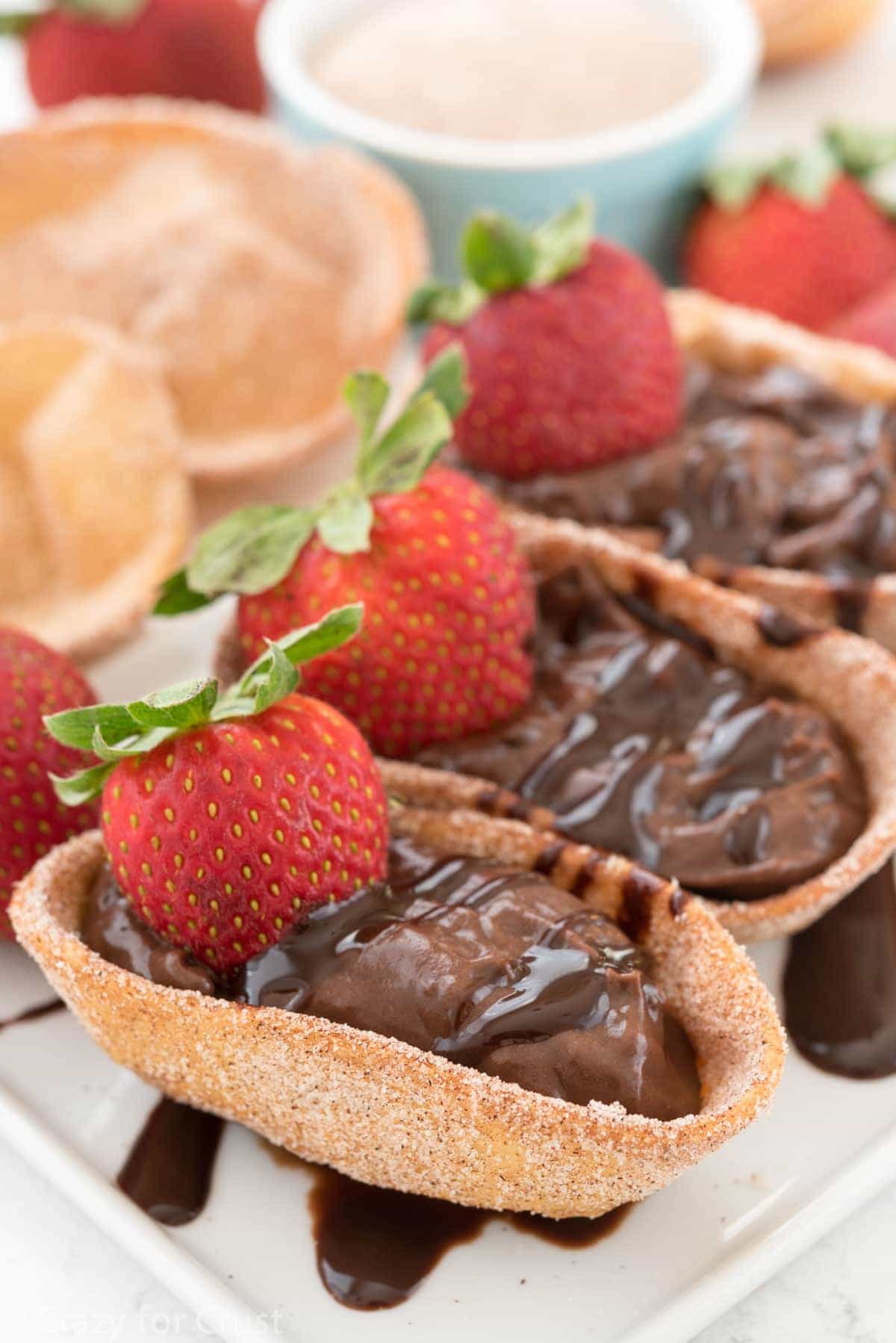 I filled the churro pies with a boxed pudding mix. I love the chocolate fudge flavor, but you can use regular chocolate flavor as well, or any pudding flavor you like. If you prefer a from scratch chocolate pudding, you can use the pudding recipe from this pie.
Simply fill each cooled churro pie shell with pudding, then drizzle with chocolate sauce and garnish with berries. And there you have it, Chocolate Churro Pies. A No Bake Cheesecake filling would be amazing in these too.
But, then again, anything is better with a thick coating of cinnamon sugar, am I right?

These Chocolate Churro Pies kind of look like footballs, right? I'm making them for the big game next week and piping laces down the center, like I do with my favorite brownie recipe. I have a thing for football shaped food, do you blame me??
Chocolate Churro Pies Recipe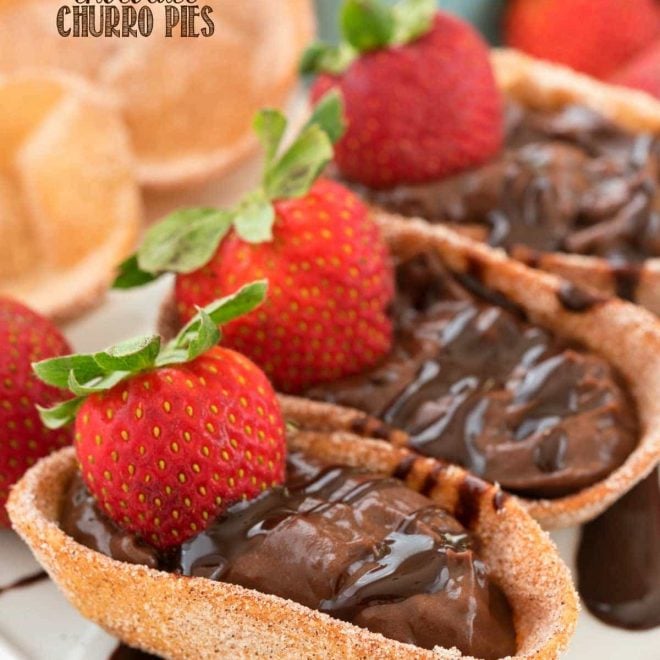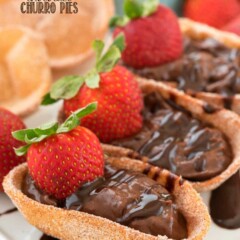 Chocolate Churro Pies
These Chocolate Churro Pies are so easy and fun to make! Fried tortilla bowls get drenched in cinnamon sugar and filled with chocolate pudding. They're crunchy and sweet and the perfect dessert for any day or a party!
Ingredients
3-4

cups

vegetable oil

1

3.9 ounce box instant chocolate or chocolate fudge pudding mix

1 3/4

cups

milk

1

teaspoon

vanilla

1

package Old El Paso Mini Soft Tortilla Taco Boats

12 count

1/2

cup

granulated sugar

1 1/2

teaspoons

cinnamon

Fresh strawberries

if desired, for serving
Instructions
https://www.crazyforcrust.com/2015/11/double-chocolate-cream-pie/Place vegetable oil in a 2-3 quart saucepan over medium heat. Bring the oil up to about 340-350°F. I like to use a candy thermometer for this. I clip it on the side and then leave it in to regulate the oil temperature. You want the oil to be about 1" up the side of the pan.

While the oil is heating, whisk the pudding mix, milk, and vanilla in a medium sized bowl for 2 minutes. Let sit to set.

Unwrap the Taco Boats. Place two layers of paper towels on a cookie sheet and set it near the pan where you'll be frying. Place the sugar and cinnamon in a small bowl and leave it near the cookie sheet.

Once the oil is hot, fry the Taco Boats in batches of one or two, using a slotted spoon to help keep them under the oil, flipping as needed. They'll fry up in 1-2 minutes. Adjust the temperature on the burner as needed to keep the oil around 340-350°F.

Remove each shell from the oil and drain on the paper towels. Let sit for a few seconds, until they're cool enough to touch, then (while they're still warm) roll them in the cinnamon sugar mixture to completely coat.

Once you're done frying, you can give the shells a second coating of cinnamon sugar, if desired. Once they're totally cool, fill each with pudding and top with a strawberry.

These are best served the day they are made.
Recipe Nutrition
Serving:
1
churro boat
|
Calories:
331
kcal
|
Carbohydrates:
31
g
|
Protein:
4
g
|
Fat:
22
g
|
Saturated Fat:
4
g
|
Cholesterol:
3
mg
|
Sodium:
363
mg
|
Sugar:
18
g
Nutritional information not guaranteed to be accurate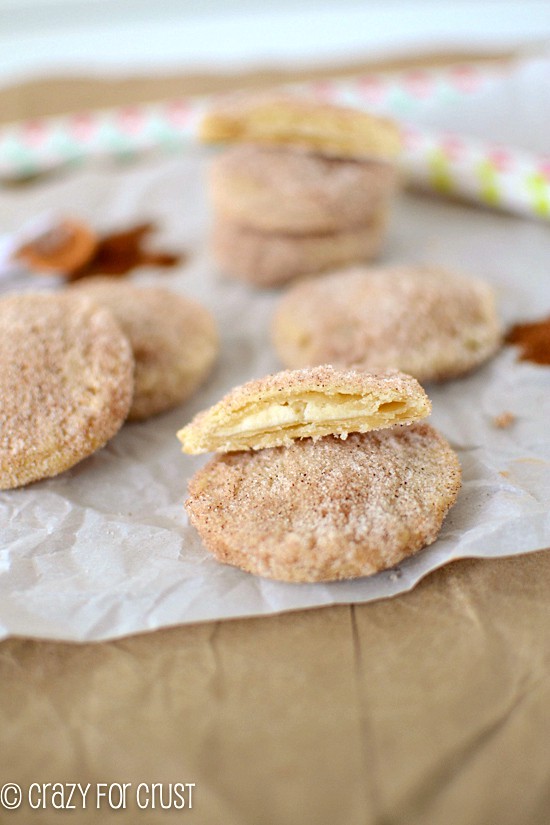 Churro Sopapilla Cheesecake Ice Cream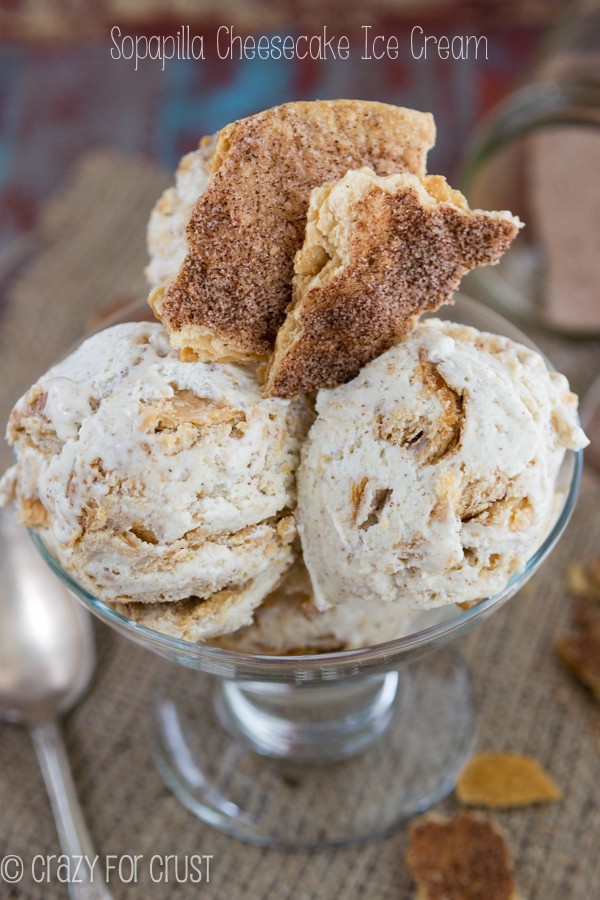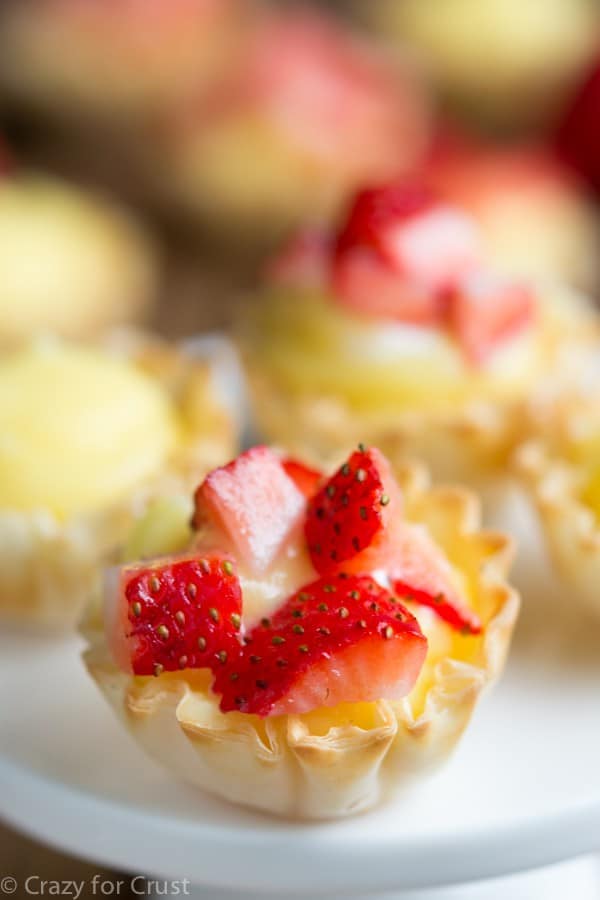 This is a sponsored conversation written by me on behalf of Albertsons. The opinions and text are all mine.
Last Updated on April 30, 2023