This post may contain affiliate links. For more information, read my disclosure policy.
These Easy Soft Pretzel Bites recipe has only 3 basic ingredients and are done in under 30 minutes! They're delicious with salt and butter and if I'm not careful I can eat the entire batch!
Starting these with canned biscuits makes them an easy and delicious way to enjoy your favorite soft pretzels – FAST.
Soft pretzels are a huge weakness for me; I can't even walk by Wetzel's at the mall and not stop. There's something intoxicating about the way they smell and the texture of the soft inside and crusty outside, bonus points when they take a post oven bath in butter and salt.
One of the things I hate is when a store or restaurant (*cough* Target) sells soft pretzels in their cafe but they don't taste a thing like an actual soft pretzel. Don't get me wrong; they're good, but they're more of a breadstick folded to look like a soft pretzel. A good soft pretzel needs to have that telltale pretzel flavor to qualify as a good one (and be worth the calories).
These easy soft pretzel bites recipe actually taste like a real soft pretzel and rival the ones you can get at the mall at a fraction of the cost. Plus, they're SO super easy because these soft pretzel bites start from biscuit dough so there's no yeast, no mixing, and no rising time. In under 30 minutes you're going to be able eat your heart out!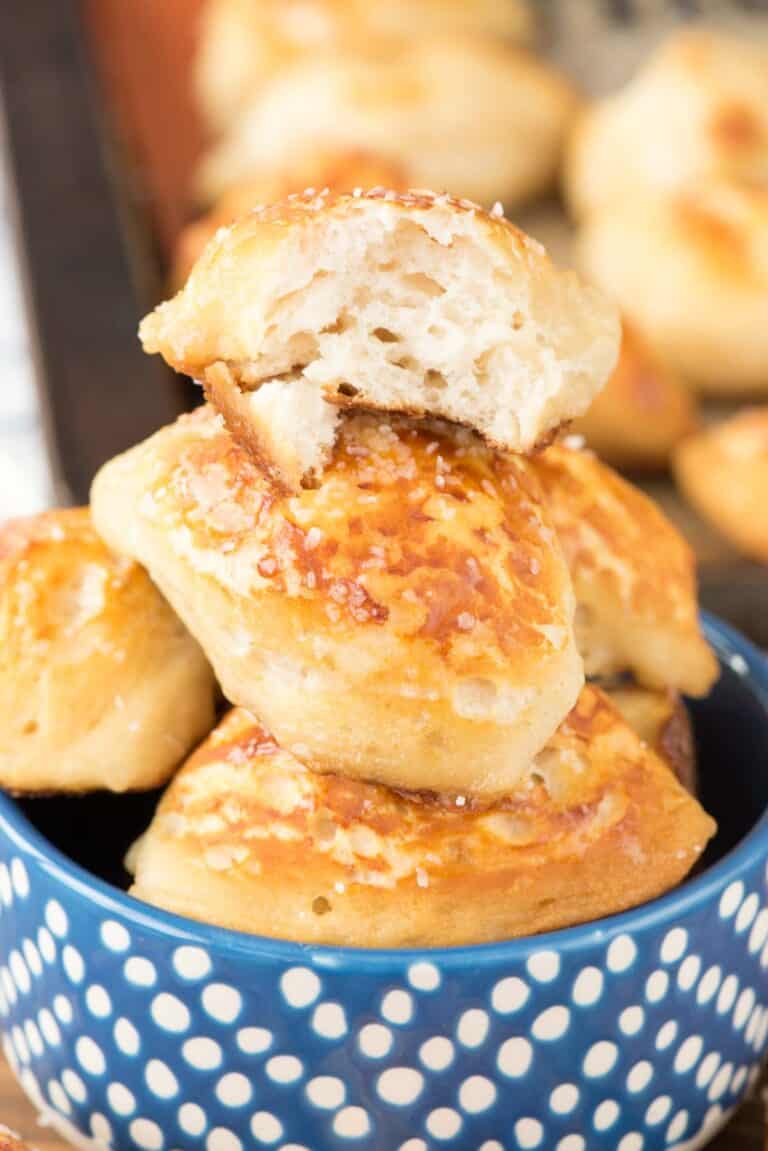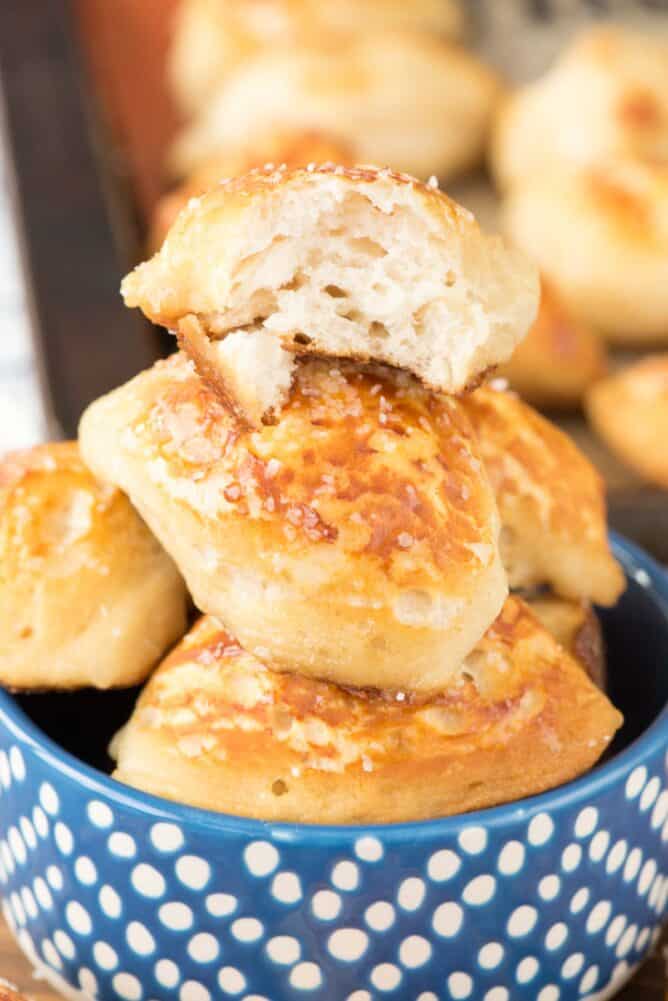 Did you know that soft pretzels could be made from biscuit dough? You might remember that I've made cinnamon sugar pretzel bites from dough before, but those were made from breadstick dough. I've also made soft pretzel buns for sliders, but those started with frozen dinner rolls.
These are even easier than both of those: I started with refrigerated canned biscuits. No rise time and they taste SO MUCH MORE like pretzels than any other "cheater" recipe I've tried.
Now, unlike some soft pretzel bite recipes you'll find on the internet, these are much more authentic, even though they start from prepared dough. Some recipes for soft pretzels just call for forming them and baking them. That's not a pretzel; that's the aforementioned breadstick shaped like a pretzel.
What makes a pretzel different than a biscuit or breadstick? Being boiled before they're baked. Yes, it's an extra step, but if you want authentic pretzel flavor you need to boil them. Boiling the dough gives soft pretzels their signature chew, kind of like bagels have. Now, you ask, what's the difference between a pretzel and a bagel? Bagels are boiled, right? Yep, they are. But there is one big difference between boiling bagels and boiling soft pretzels:
Baking soda!
That's right: boiling soft pretzels in a bath of baking soda water is what gives them the telltale "pretzel" flavor and color. Now, if you're being all authentic and technical, you should be boiling your pretzels in lye but most of us don't have food-grade lye lying around. Sure, we have liquid plumber, but that's poisonous, so don't use it. Instead, use what all kitchens and refrigerators across America do have: baking soda.
Easy Soft Pretzel Bites made from biscuit dough are a fast way to make soft pretzels at home easier and cheaper!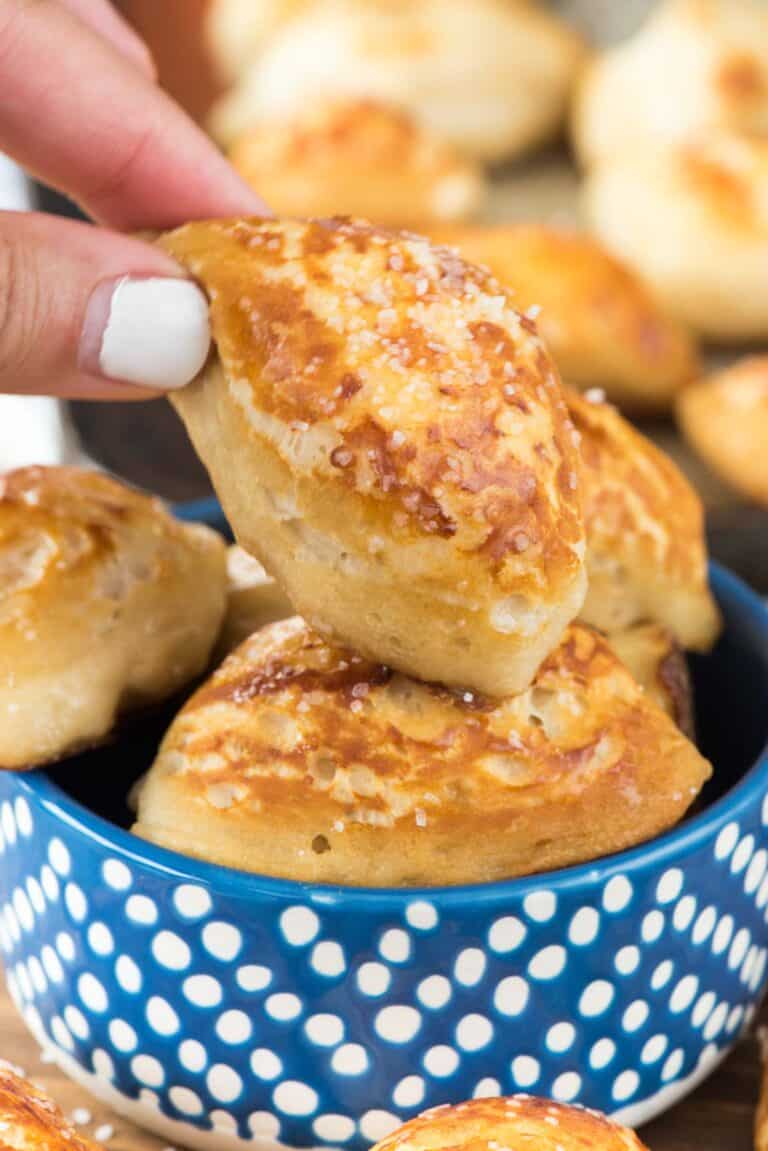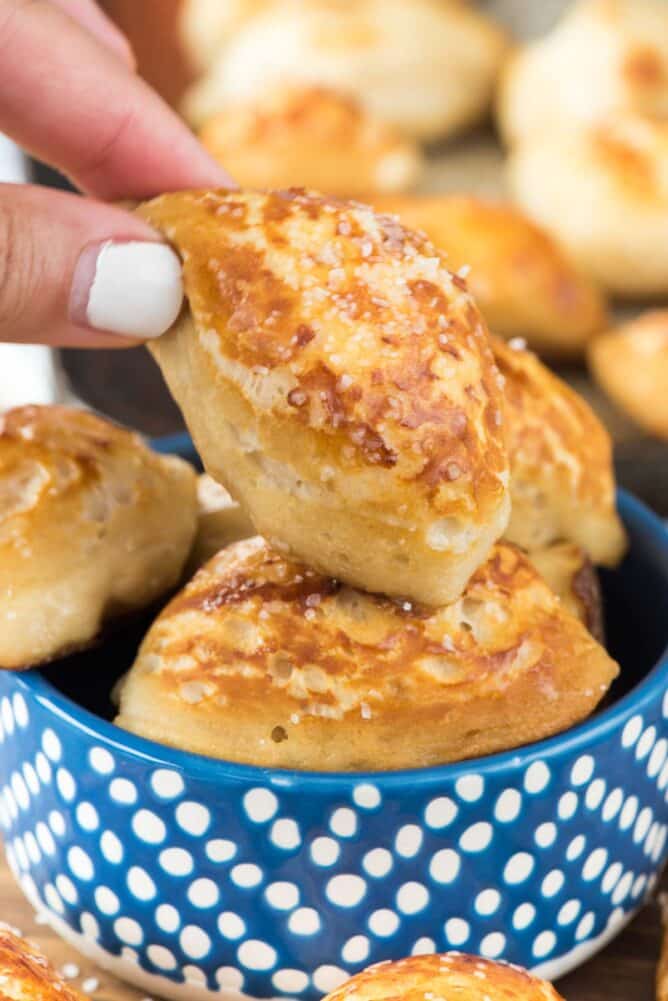 How to make soft pretzel bites with biscuit dough:
First, bring a pot of water to boil and then add a hefty dose of baking soda.
Working in batches, boil the bites for just a few seconds on each side. Then place on a cookie sheet and bake until golden.
Top with melted butter and salt for an authentic pretzel, or top with a number of other things (like ranch or parmesan or cinnamon sugar).
Can you make soft pretzels with pizza dough if you don't have biscuit dough? Yes you can!
These are best served the day they're made.
Making EASY soft pretzel bites with Grands! Biscuits will definitely satisfy your pretzel craving. Add some gooey cheesy dip and you've got a great appetizer recipe!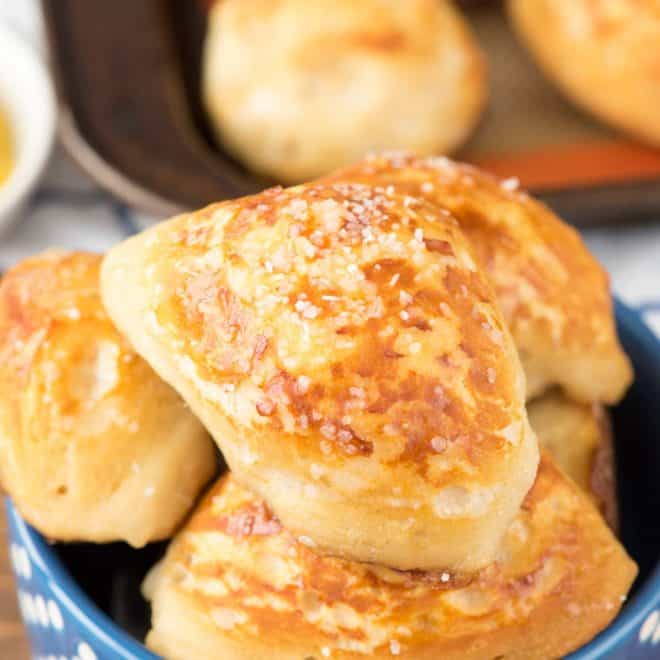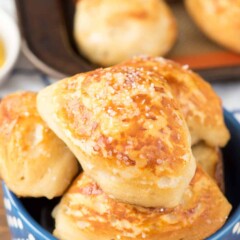 Easy Soft Pretzel Bites
These Easy Soft Pretzel Bites recipe has only 3 basic ingredients and are done in under 30 minutes! They're delicious with salt and butter. Starting these with Grands! Biscuits makes them an easy and delicious way to enjoy your favorite soft pretzels - FAST.
Ingredients
1

tube

8 count Grands Biscuits

1/4

cup

baking soda

Butter

melted

Kosher or pretzel salt
Instructions
Preheat oven to 400°F. Line two cookie sheets with silicone baking mats or parchment paper.

Fill a 3-4 Qt. saucepan halfway with water and bring to a boil.

Open biscuits and slice each into 4 pieces to make 32 pretzel bites.

Once the water boils, add the baking soda. The water will bubble up!

Working in batches, boil the biscuit quarters for about 30 seconds each, turning halfway. Remove from the boiling water with a slotted spoon and place evenly on prepared cookie sheets.

Bake for about 13-18 minutes, or until golden brown. Some will get more brown/golden than others.

Brush bites with melted butter and sprinkle with salt. Serve warm or room temperature, store in an airtight container for up to 1 day.
Recipe Nutrition
Serving:
4
bites plain
|
Calories:
100
kcal
|
Carbohydrates:
14
g
|
Protein:
2.1
g
|
Fat:
3.9
g
|
Saturated Fat:
1.4
g
|
Sodium:
362
mg
|
Fiber:
0.5
g
|
Sugar:
1.6
g
Nutritional information not guaranteed to be accurate
Click HERE for more Pillsbury Dough Recipes!
Looking for other flavors to try with these Pretzel Bites? What about Ranch Soft Pretzel Bites, Pizza Pretzel Bites, or (OMG) Macaroni and Cheese Stuffed Pretzel Bites??!!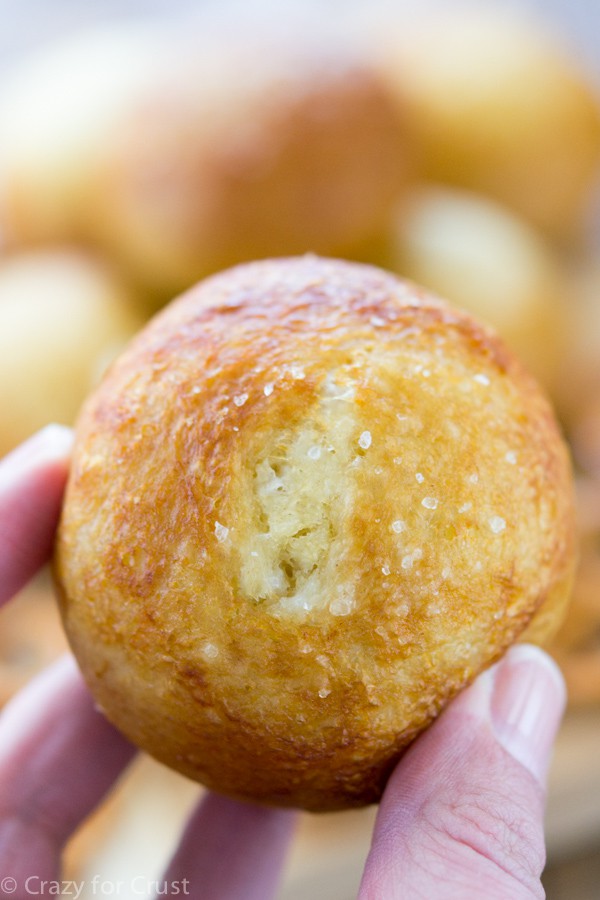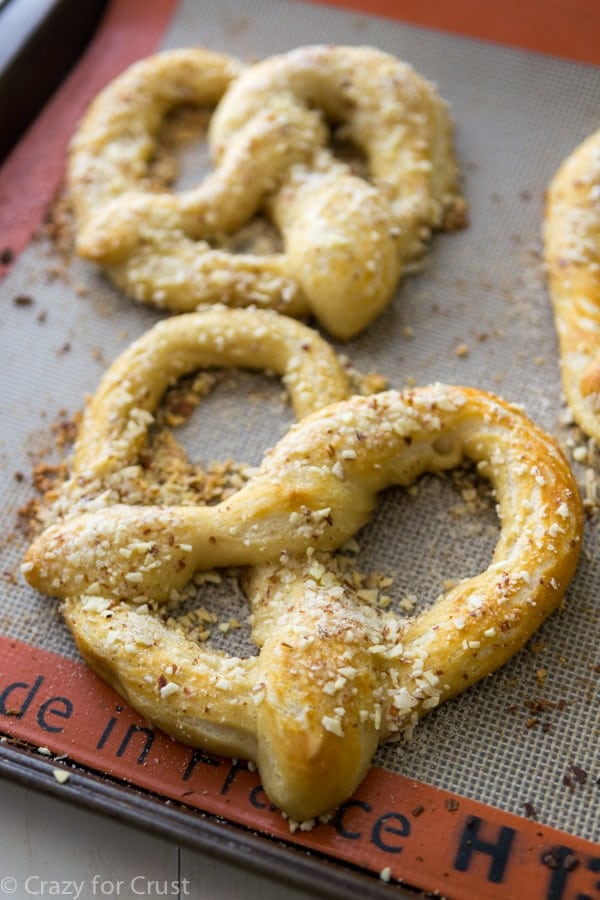 Cinnamon Sugar Soft Pretzel Bites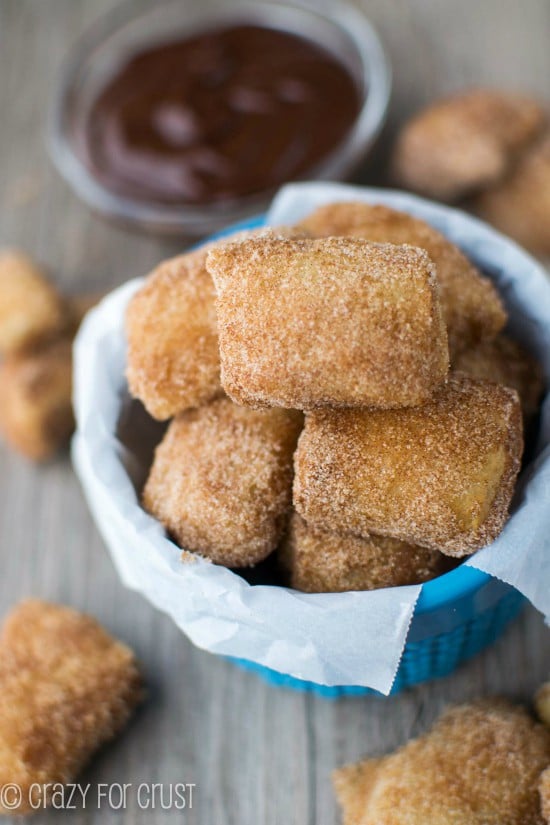 Last Updated on May 12, 2020