This post may contain affiliate links. For more information, read my disclosure policy.
Witch Cauldron Cupcakes are the perfect fun and spooky Halloween Cupcake! This easy cupcake recipe is easy to make from scratch or semi-homemade and they even have a surprise inside!
I've been hired by Wilton to showcase some of my favorite products, and all opinions are my own. They have some of my favorite sprinkles to use in all my recipes, especially for Halloween.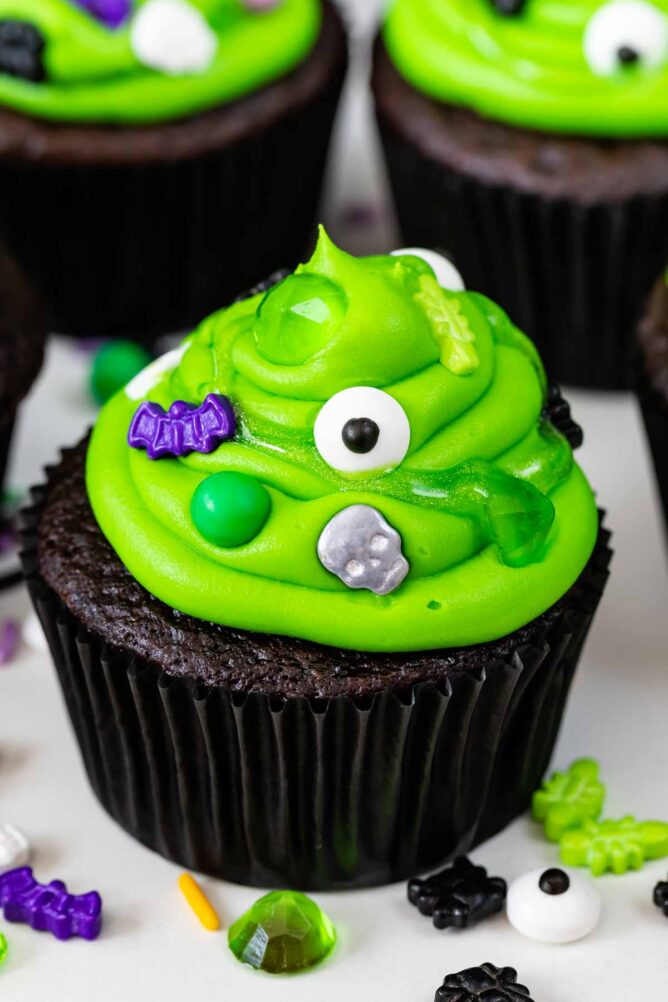 Halloween might look different this year but that doesn't mean we can't celebrate with cupcakes! I love making cute cupcakes for holidays like Halloween and these couldn't be easier.
When I was young my mom's favorite Halloween costume was a witch. She'd paint her face green and wear a big hat and cackle to all the kids that came to the door. She has the BEST witch cackle I've ever heard – and whenever I look at these cupcakes, I remember Halloween at home with her.
These are the EASIEST but most fun Halloween Cupcakes to make: they look like Witches Cauldrons! The black cupcake liner is the cauldron, with the green frosting bubbling out full of all the things witches love: eyes, bats, bugs and skeletons!
Read on to see how I made these cupcakes and how you can make an easy Halloween cupcake topper with some of my favorite products from Wilton.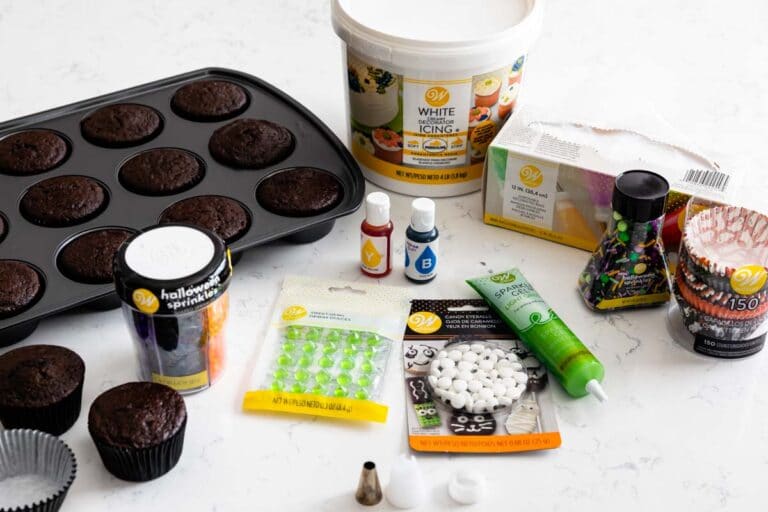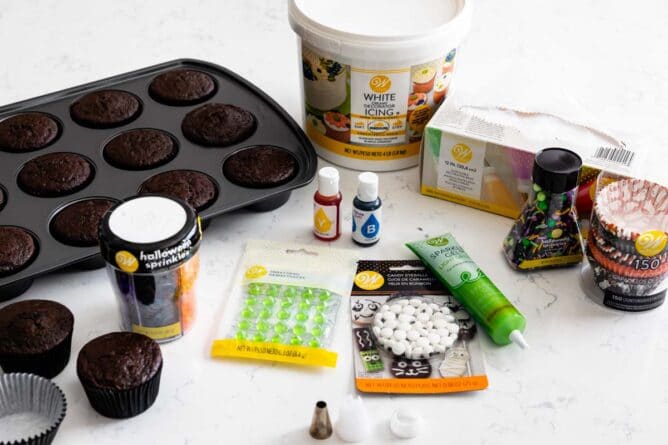 Favorite Wilton Products
Whenever I head to the store to think about making cute treats, I always look for Wilton sprinkles and equipment. They've been my go-to longer than I've been blogging!
Not only do I love their sprinkles, but I also swear by their pans, tips, and piping bags. I have TONS of them in my kitchen and I use them for every project.
Here are the tools you need to make Cauldron Cupcakes:
Halloween Cupcake Liners
Frosting – if you don't want to make your own frosting, I highly recommend their White Decorator Icing!
Piping Bags and Tips (I used a #12 tip for these cupcakes)
Candy Eyes, Isomalt Gems, and Halloween Sprinkles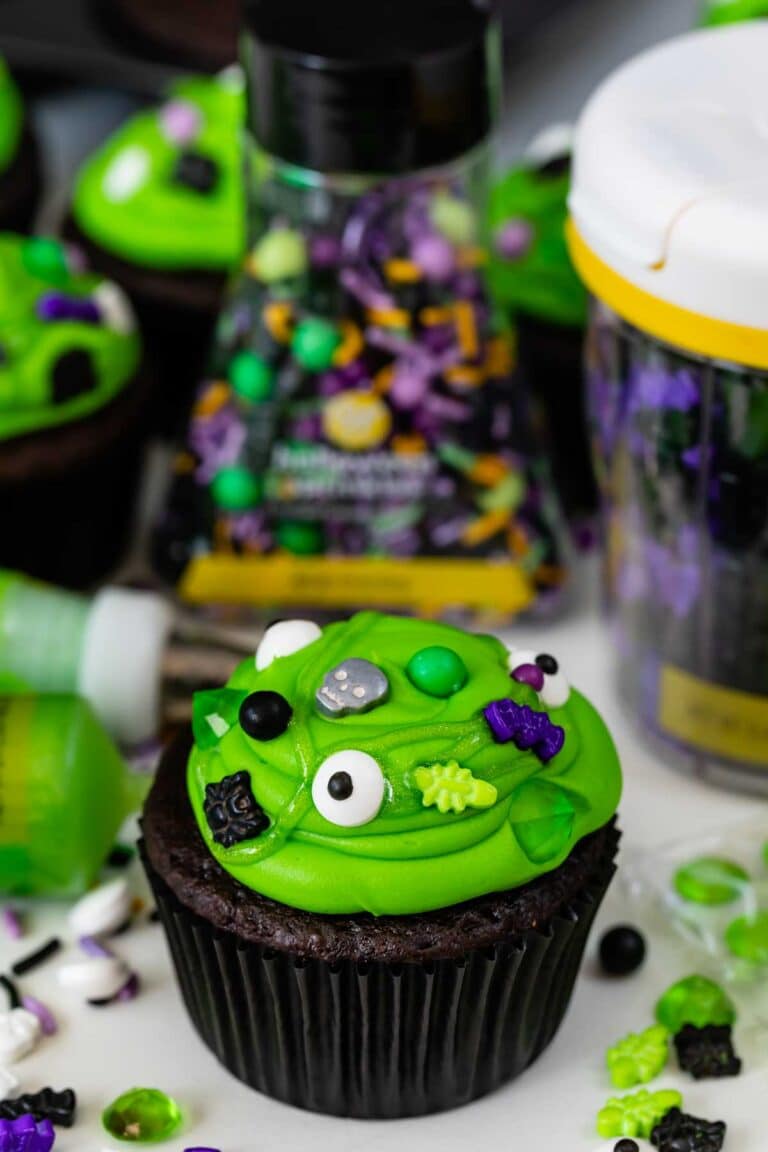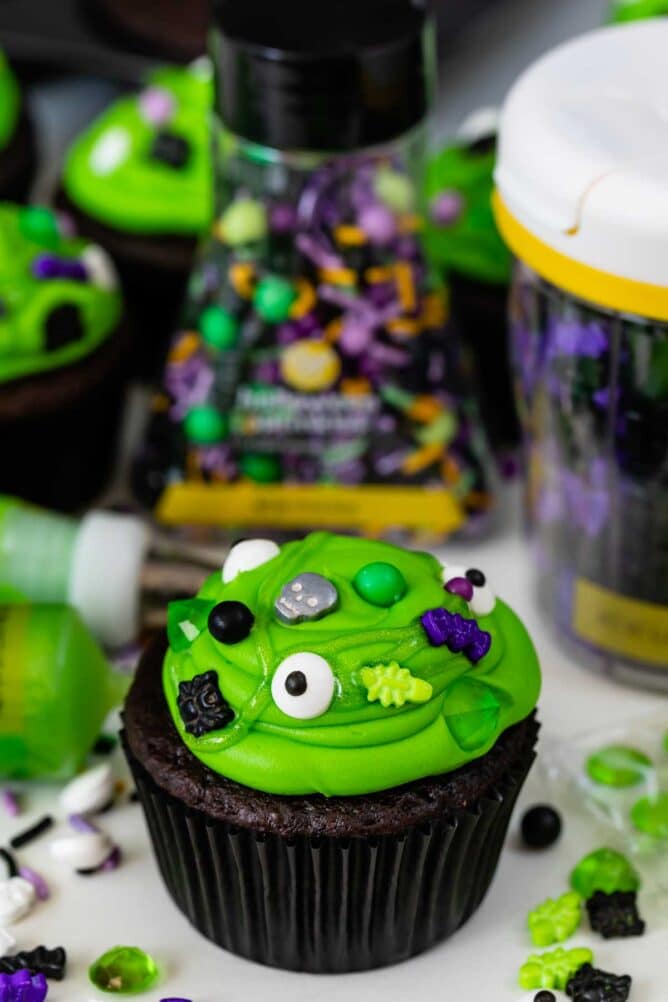 Perfect Cupcakes for Halloween
Now when it comes to the actual cupcakes themselves, you can use ANY kind you like, but I think that chocolate cupcakes are perfect for Witches Cauldrons because they're dark like a cauldron would be.
You can use any mix for the cupcakes or make my perfect Chocolate Cake recipe into 24 cupcakes. If you need more than 24, you can use my Favorite Chocolate Cupcake recipe that makes just over 30.
Cupcakes Look Like Cauldrons
To make the cupcakes look like cauldrons, I used the black liners from a set of Wilton Ghost Assortment Cupcake Liners. I used some of the others later on in the process of making them.
To bake my cupcakes, I used the Wilton 12-cavity Cupcake Pan. It's nonstick and easy to clean – I have several of the Wilton pans and they're my favorite ones.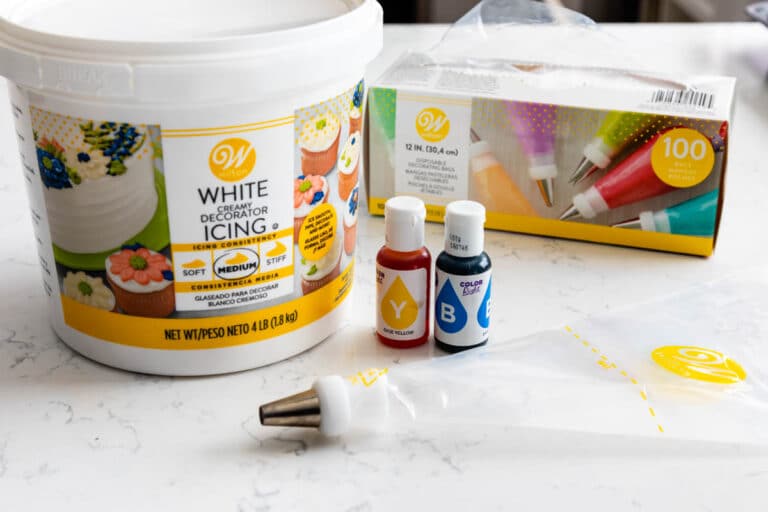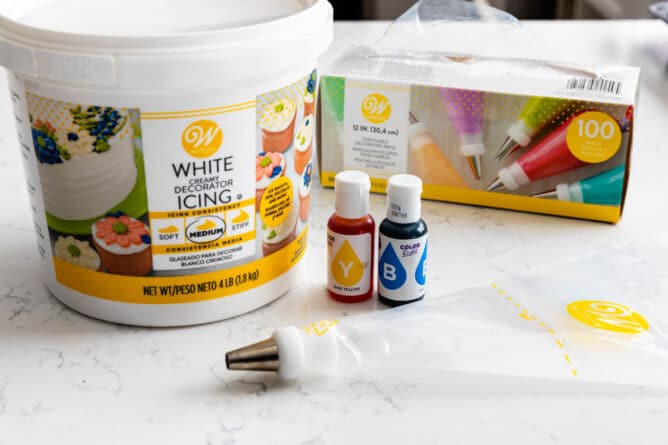 Tools for Frosting
Now you could make yourself a batch of my vanilla buttercream but I went the semi-homemade route for these cupcakes. I love Wilton White Creamy Decorator Icing (medium) for frosting cakes (see how I used it for my Strawberry Shortcake Cake). It colors well and pipes perfectly!
To frost 24 cupcakes I recommend 2-3 smaller cans of their icing (if you're shopping in a store) or grab one of the large 4 pound tubs if you're ordering online, and use about half to three-quarters of it.
Disposable piping bags are one of my favorite kitchen tools and I always have boxes of them in my baking pantry. To prepare for frosting, fit your piping bag with a coupler and tip. To achieve the kind of piled look I did for my cupcakes I recommend a #12 tip, but you can use any you like.
I have the Wilton Color Right Performance Food Coloring and I use it all the time. They also have a food coloring chart on their website I refer to often so I know how to get the exact color I want with their food coloring.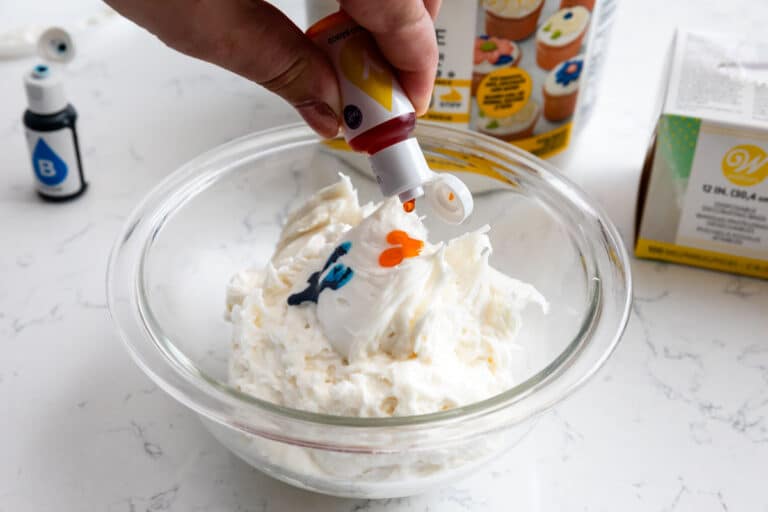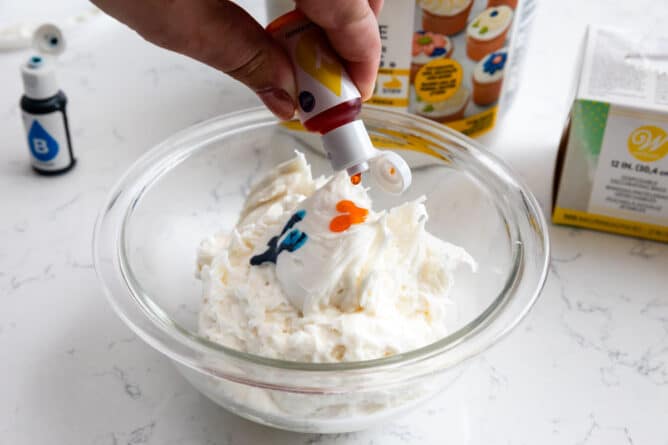 To get the NEON GREEN frosting for my Halloween Cupcakes I used 3 drops of blue and 25 drops of yellow. Having an exact ratio like that makes it foolproof for whipping up more frosting if you run out, and it makes it easy to get the color you want.
Surprise Inside Cupcakes
Instead of just frosting the outside of the cupcake I wanted to make them have a little extra witch-y surprise inside so I made them into Piñata Cupcakes!
A surprise inside piñata cupcake is when you have sprinkles inside the cupcake so they sprinkle out when you eat it. it's really easy to do after the cupcakes have cooled.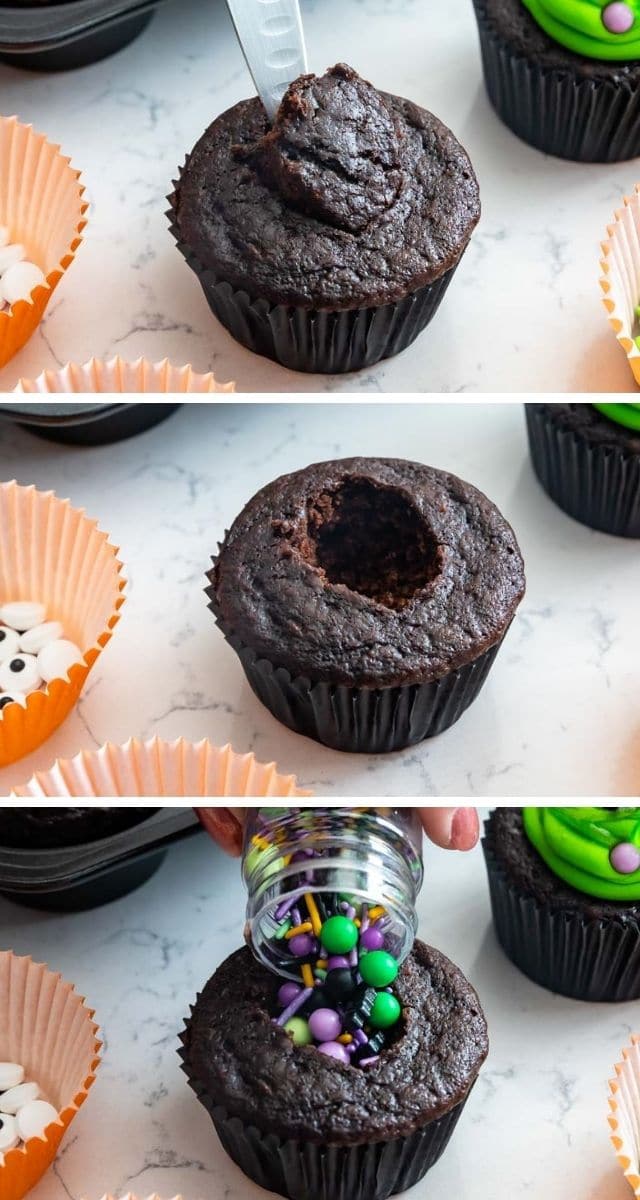 Just cut a small bit of the top of the cupcake out. Then fill the cupcake with your favorite sprinkles. I used one of Wilton's Halloween Sprinkle mixes (the bat sprinkle mix) because it fit my color palette (and I used them on the outside as well), but you can use ANY color or mix they have.
Then place the top of the cupcake back on the cupcake (you may need to cut off some of what you pulled out so it fits) and frost as desired.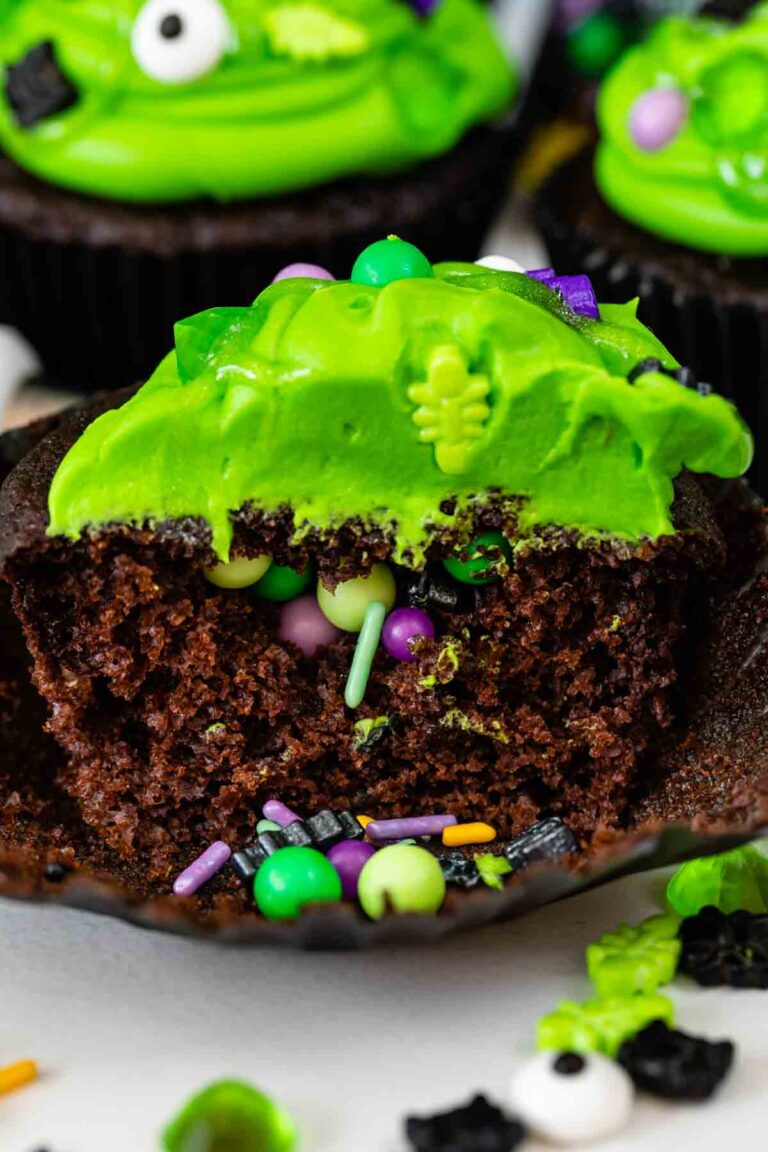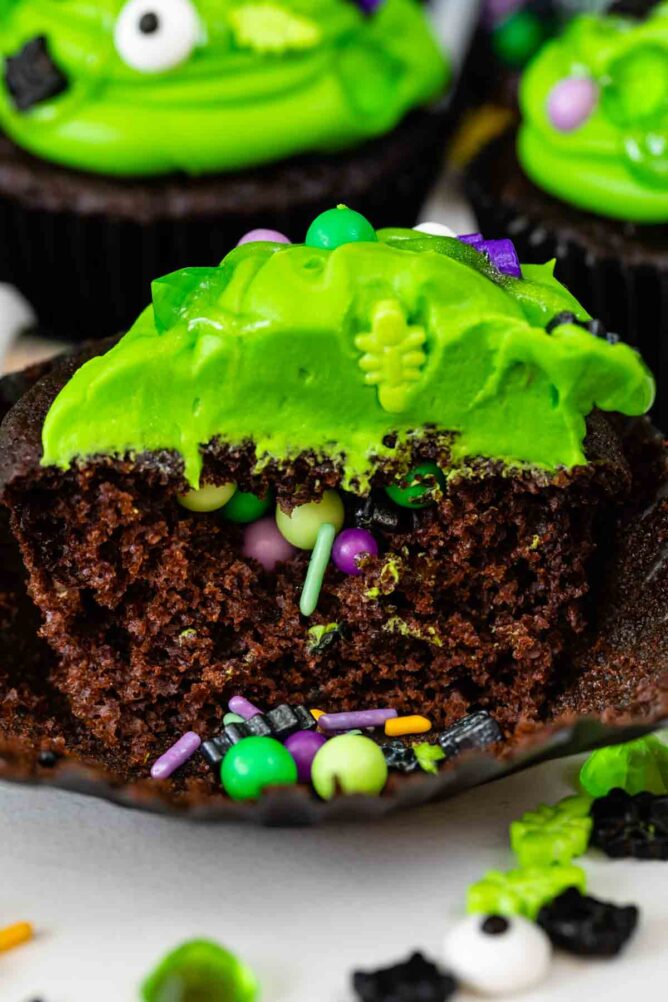 How to Frost Cauldron Cupcakes
Once you have your cupcakes filled with sprinkles and your frosting made, it's time to frost and decorate your cupcakes!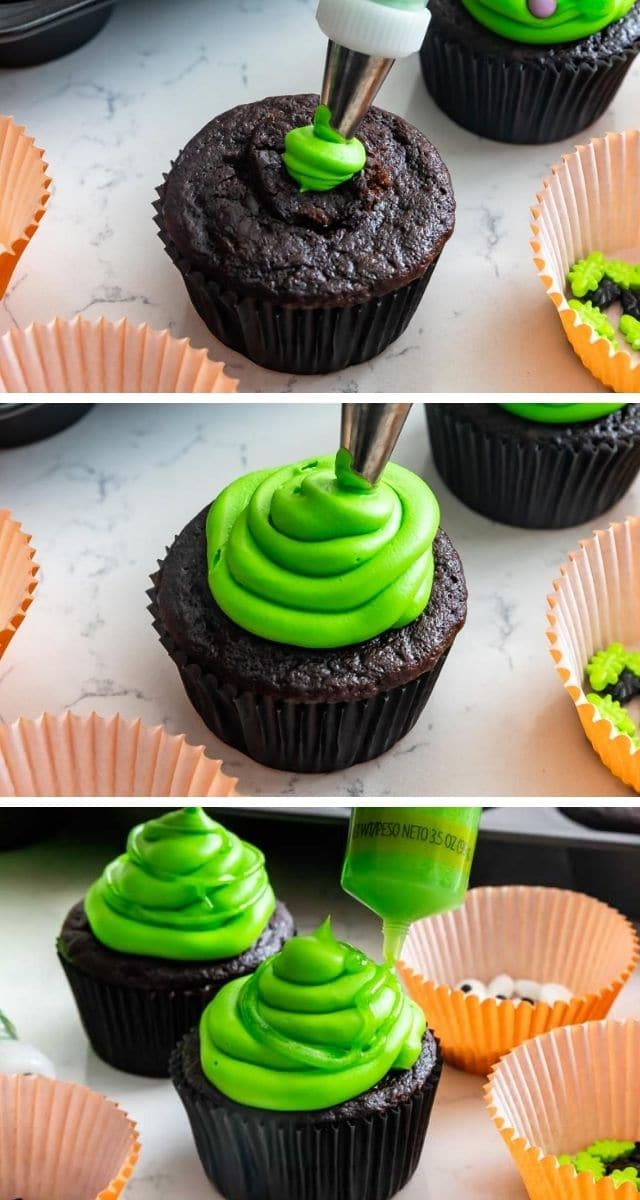 I frosted them with a high pile of the frosting so they look like a cauldron bubbling up. The neon green color really pops! Here's how I get my frosting nice and high:
Pipe a small bit in the center of the cupcake
Swirl around that and use the center spot to build it high
For a finishing touch I used some of the Wilton Sparkle Gel to add some depth and glitter to the frosting.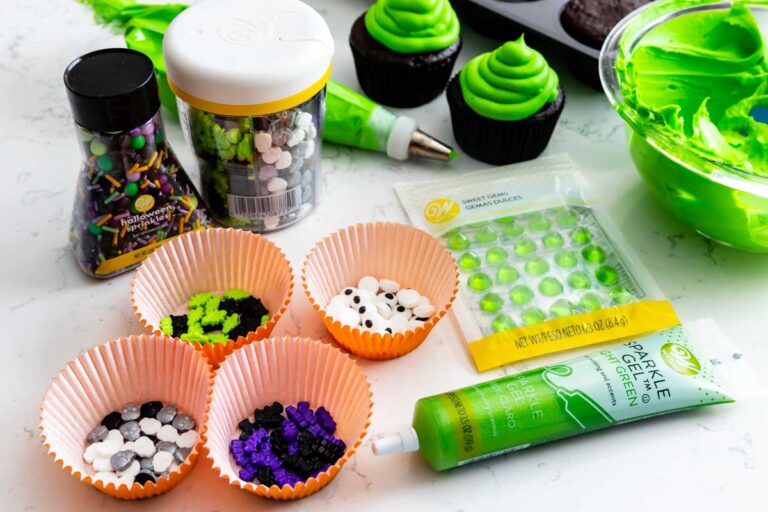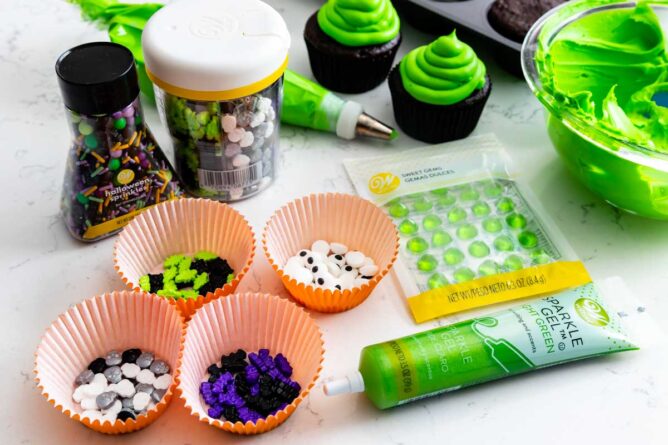 Decorating Halloween Cupcakes
I used lots of different fun sprinkles and candy to decorate my Cauldron Cupcakes.
Here's a tip: use extra cupcake liners to hold your sprinkles. I don't like reaching into the jar because my hands get sticky, so I pour some sprinkles into cupcake liners. It makes for easy cleanup too!
Once your Cauldron Cupcakes are decorated it's time to get all your little witches together for a Halloween celebration!
Other Fun Recipes
Have you made this recipe?
Tag @crazyforcrust on Instagram or hashtag it #crazyforcrust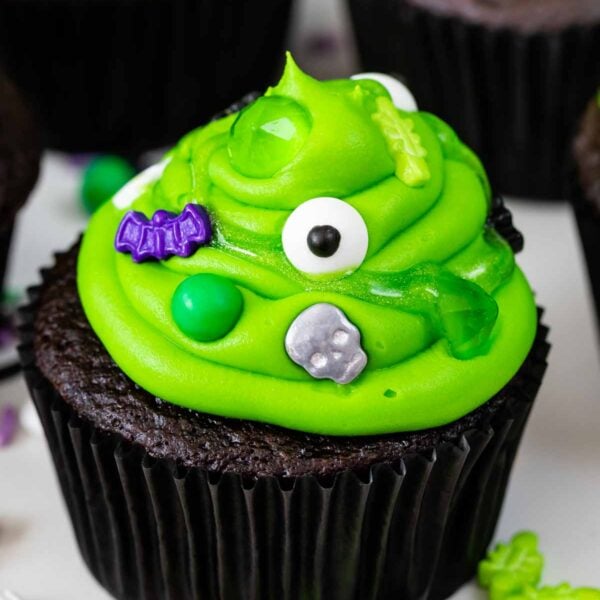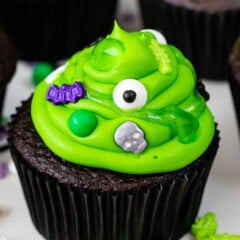 Cauldron Cupcakes Recipe
Make easy Halloween Cupcakes for your little witches with these Cauldron Cupcakes – a chocolate cupcake with green frosting decorated with spooky sprinkles.
Instructions
Prepare your frosting: stir together frosting with blue and yellow food coloring. Place in a piping bag fit with a Wilton #12 tip.

Make surprise inside cupcakes: cut a small portion out of the top of each cupcake. Fill with sprinkles and replace as much of the cut out piece as you can.

Frost cupcakes with a nice amount of frosting.

Decoration: add sparkle gel as desired. Add candy eyes and other Halloween sprinkles to decorate your cauldron.

Store in the refrigerator for up to 3 days. Serve room temperature.
Recipe Nutrition
Serving:
1
cupcake
|
Calories:
154
kcal
|
Carbohydrates:
25
g
|
Protein:
2
g
|
Fat:
5
g
|
Saturated Fat:
1
g
|
Cholesterol:
1
mg
|
Sodium:
141
mg
|
Potassium:
41
mg
|
Fiber:
1
g
|
Sugar:
15
g
|
Vitamin A:
22
IU
|
Vitamin C:
1
mg
|
Calcium:
56
mg
|
Iron:
1
mg
Nutritional information not guaranteed to be accurate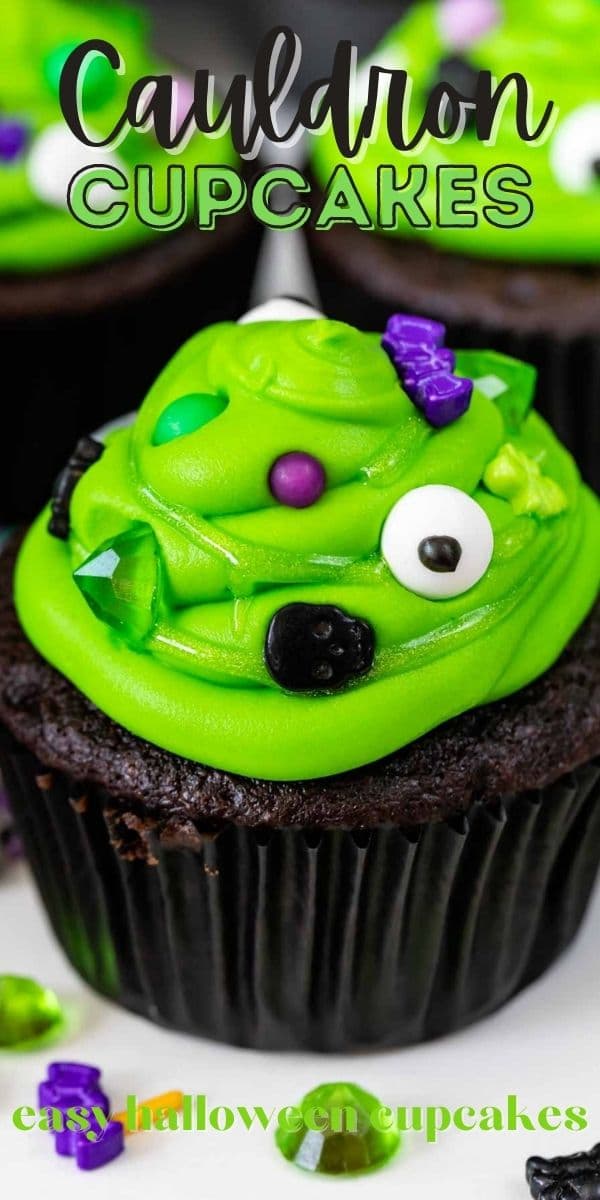 Cauldron Cupcakes are a fun and easy creative Halloween Cupcake for kids! The easy decoration is done with green frosting and lots of different sprinkles to look like a witch cauldron, perfect for a spooky celebration.
Last Updated on April 1, 2023