This post may contain affiliate links. For more information, read my disclosure policy.
16 things you MUST EAT at Disneyland – don't miss these restaurants and treats when you're at Disneyland! From meals to candy and snacks, this list has EVERYTHING!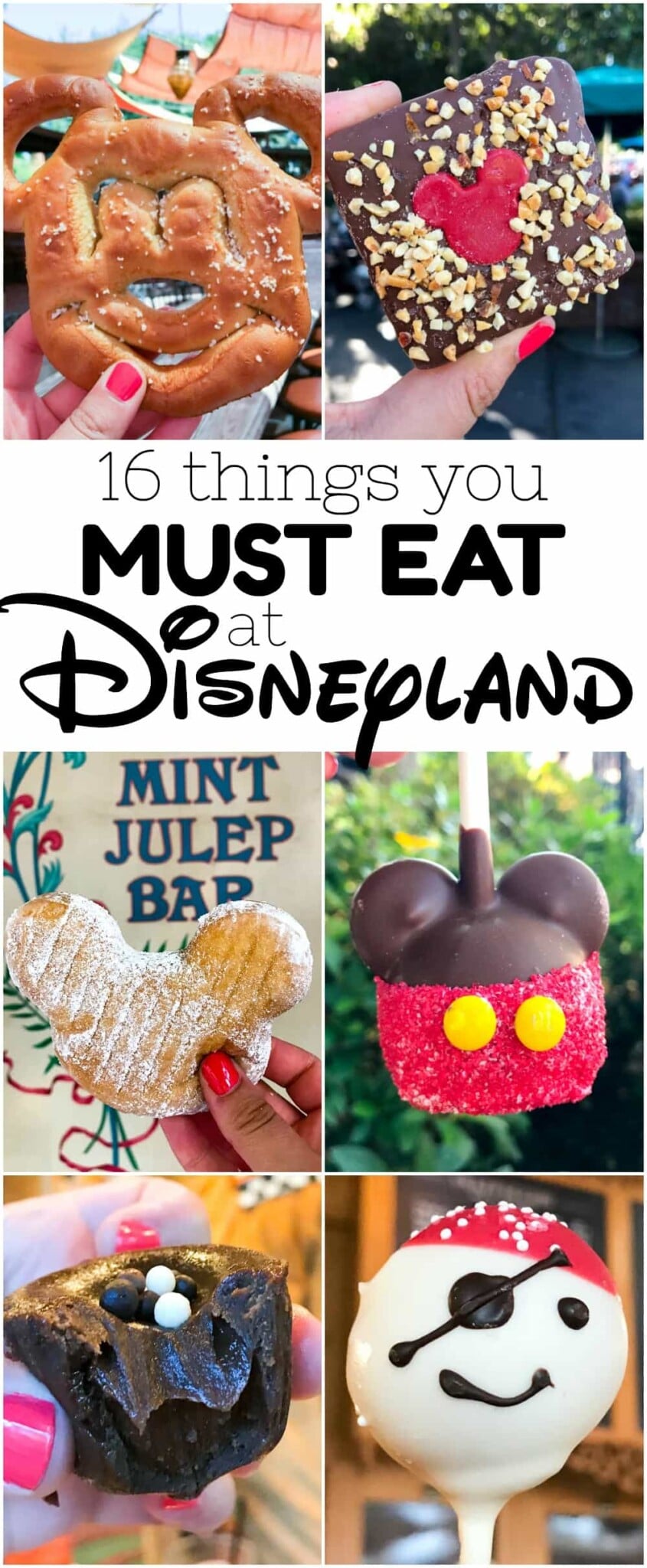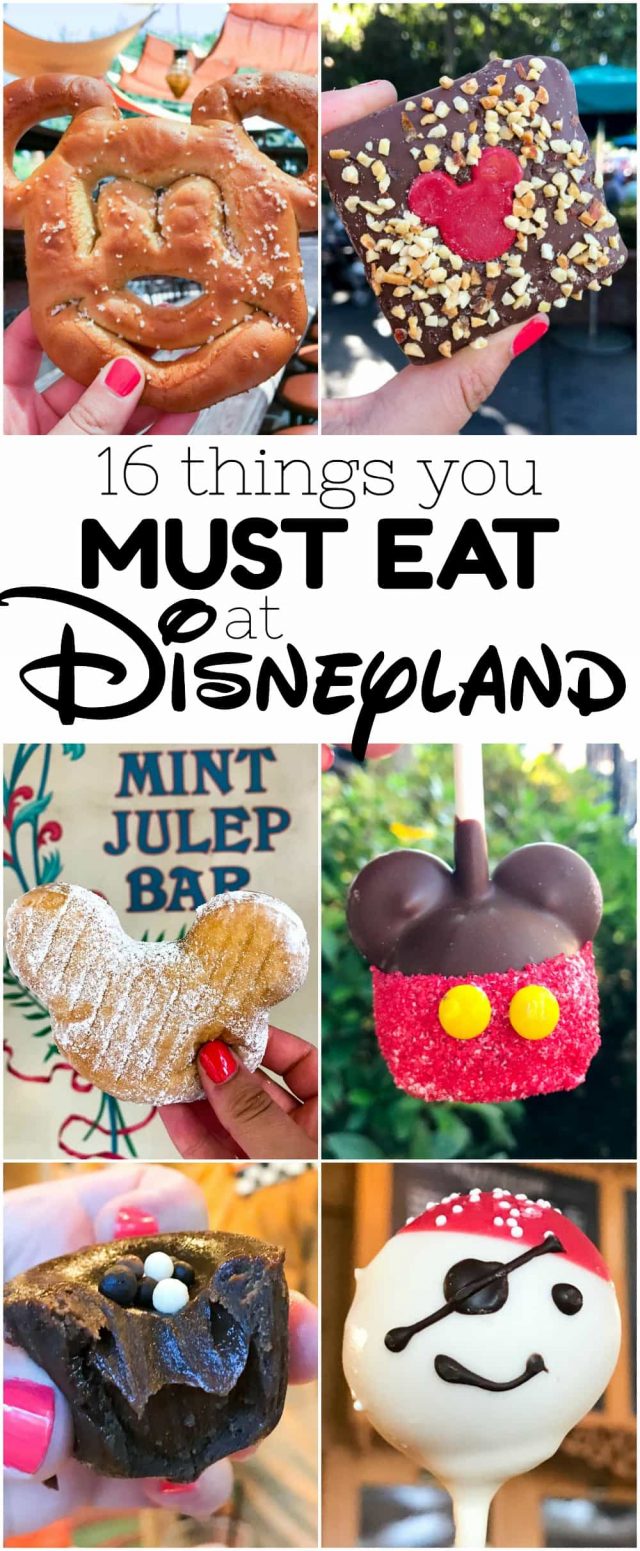 Some people get excited about rides when they go to Disneyland. Some people look forward to seeing the characters or strolling main street. Me? I get excited about THE FOOD. I love all the food at Disneyland and every time I go I can't wait to try new (and old) favorites. Usually I hit up every single bakery and buy way too many goodies, then we eat them for a week. That's not abnormal, right?
If you're going to Disneyland or Downtown Disney and want to get some quintessential Disney food, you must try at least one (or ten) of these 16 foods you MUST eat at Disneyland. It wouldn't be a trip to Disneyland with out filling up your stomach or emptying your wallet, now would it?
Oh, and quick tip. You know you can bring food and drinks into Disneyland, right? (Just make sure drinks are in plastic bottles, not cans or glass.) I always pack snacks and lunch and waters, and save my money for DESSERT.
What are the best foods to eat in Disneyland? Here are my favorites – 16 things you MUST EAT at Disneyland!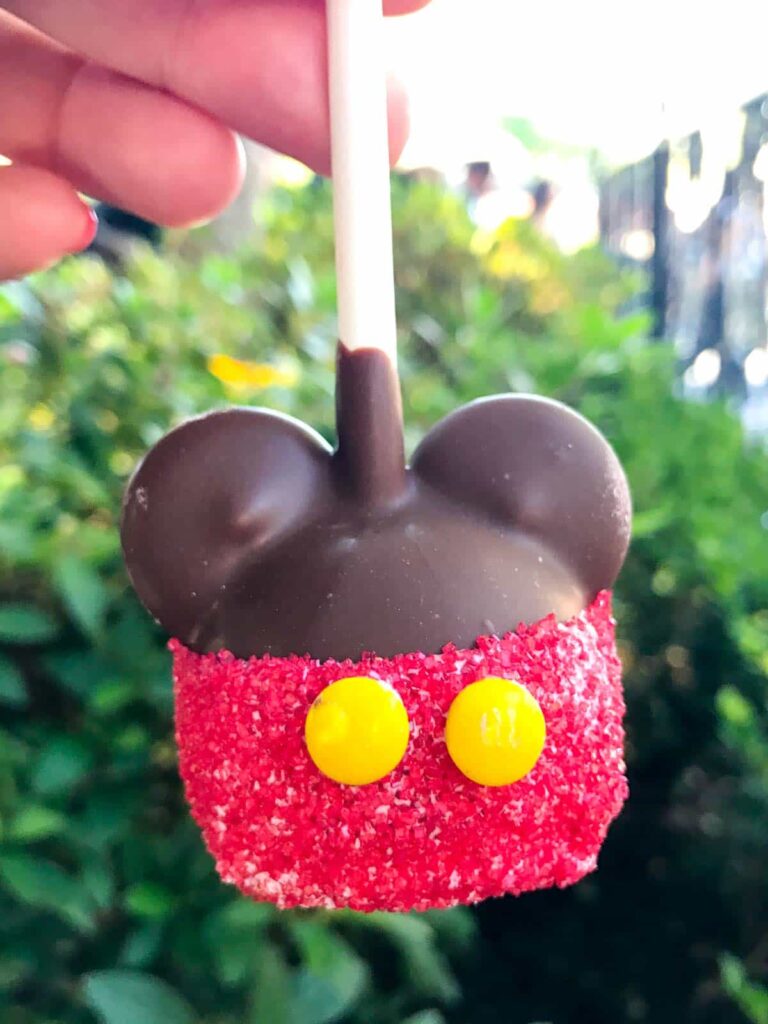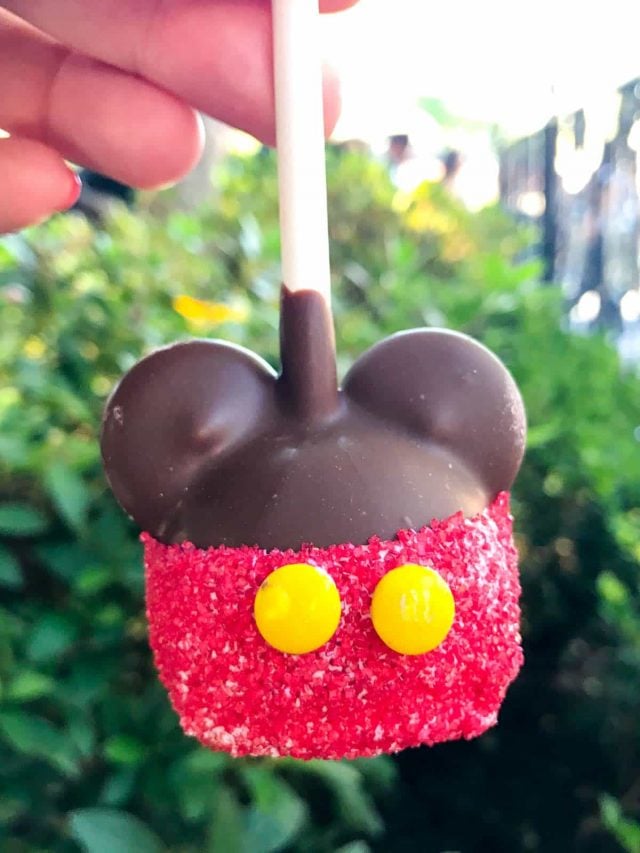 1. Mickey Mouse Cake Pop
Really, any cake pop. The cake pops at Disney are amazingly good. You can find them in almost every single bakery, made for almost every character depending on the land you're in. But my favorite is Mickey or Minnie because they're just classic!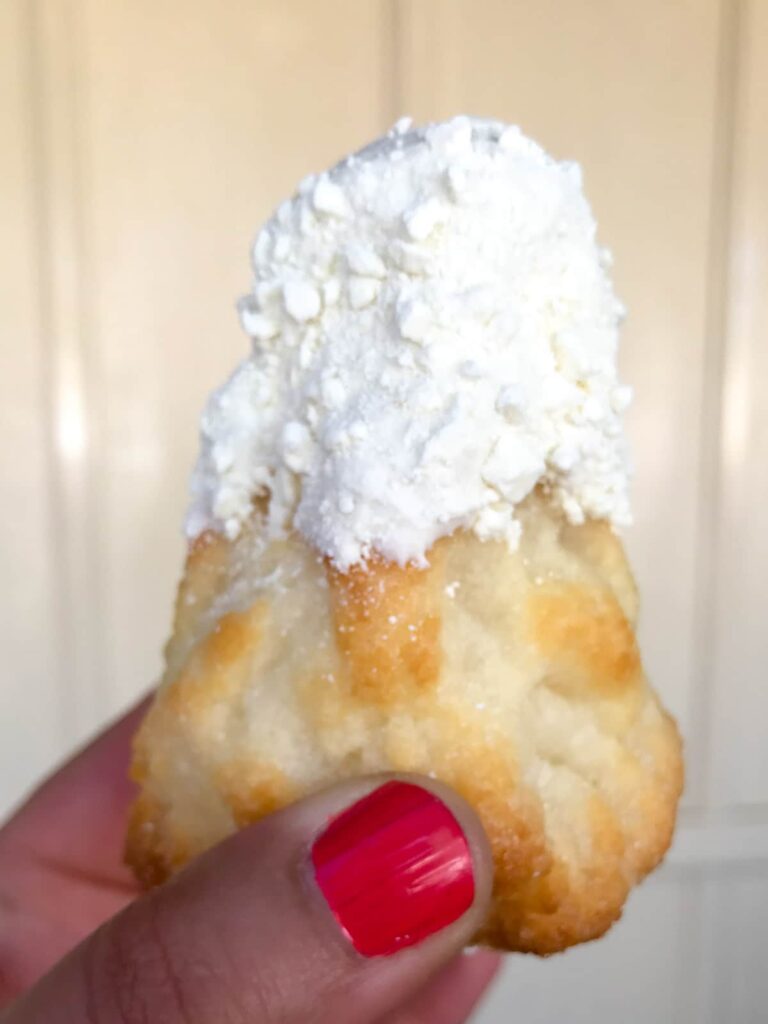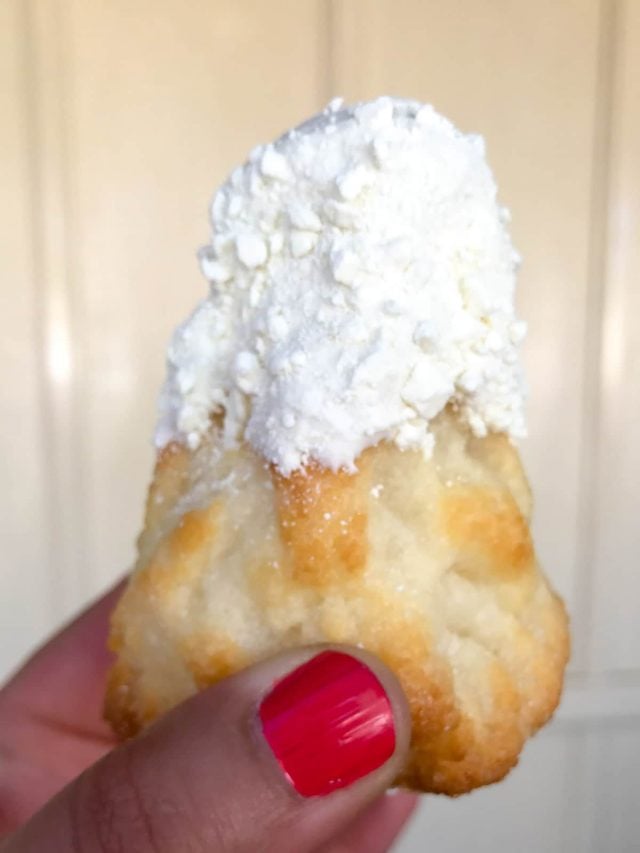 2. Matterhorn Macaroon
Hands down, the Matterhorn Macaroons are the BEST MACAROON YOU'LL EVER EAT. They do something to the batter to get them almost buttery, and the white chocolate topping is the icing on the cake. I've even made a copycat version of them, with my BEST Macaroon Recipe. You can find the Matterhorn Macaroons at the Jolly Holiday Bakery Cafe.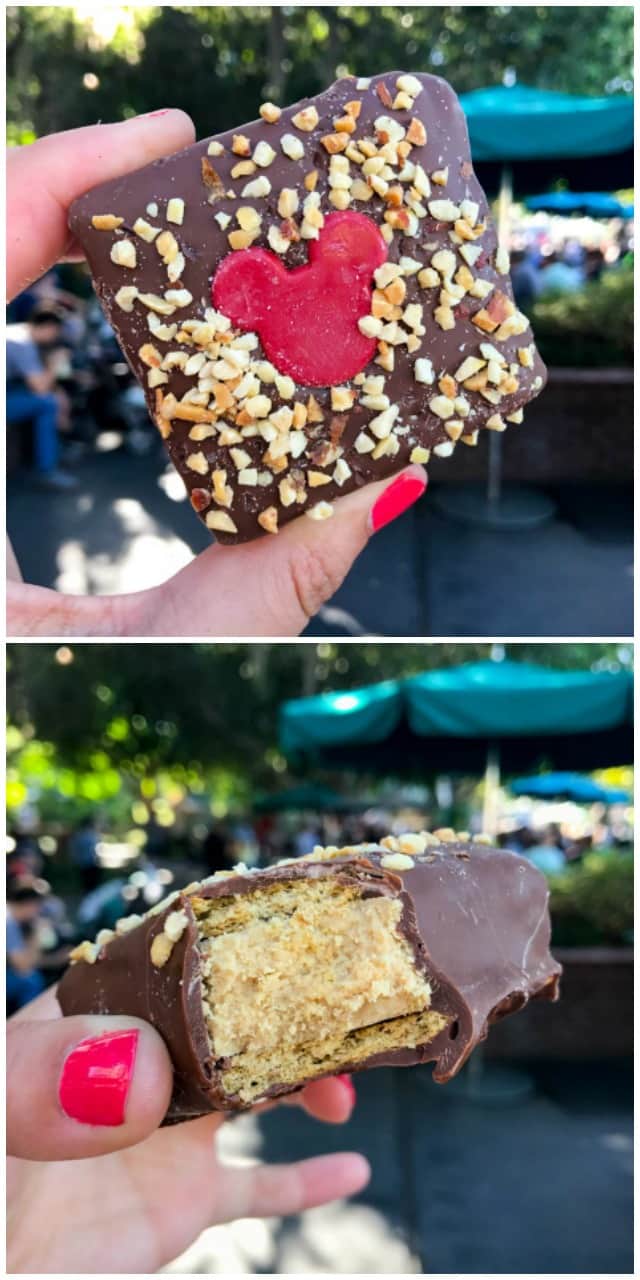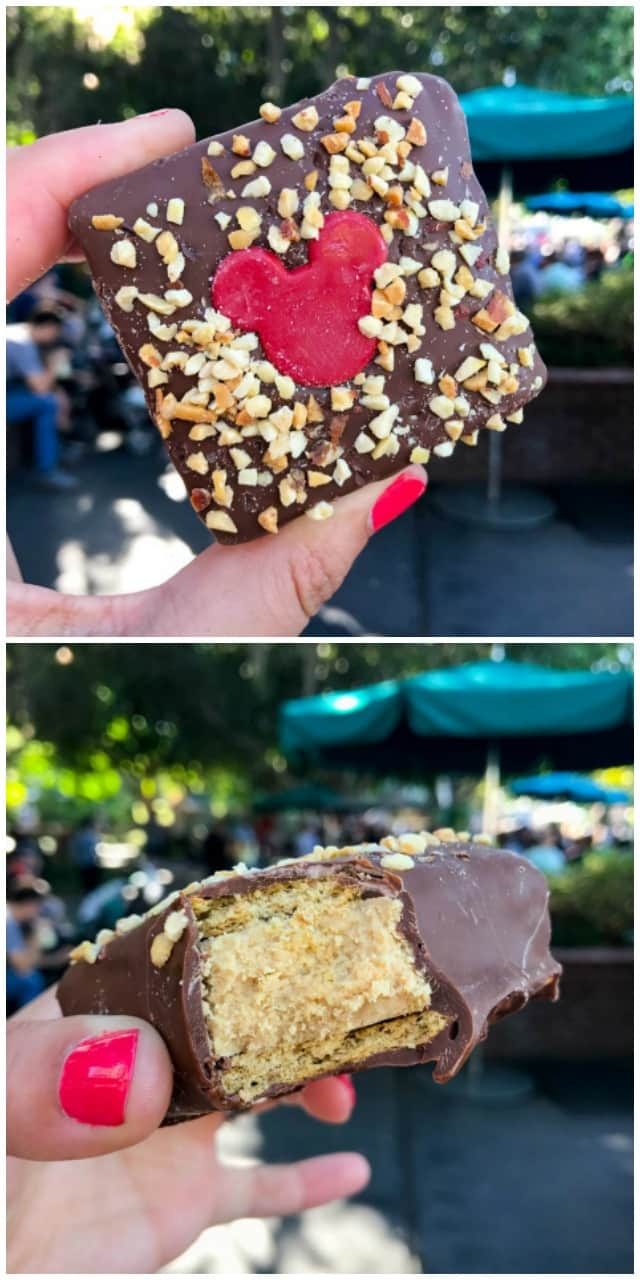 3. Peanut Butter Sandwiches
Hands down, these are one of my favorite indulgent Disneyland treats. Two graham crackers are sandwiched with a thick and rich peanut butter filling and then the whole thing is dipped in chocolate. It's a meal in itself! Find them at most of the bakeries around the park, or make your own with my copycat Disneyland Peanut Butter Sandwich Bars recipe.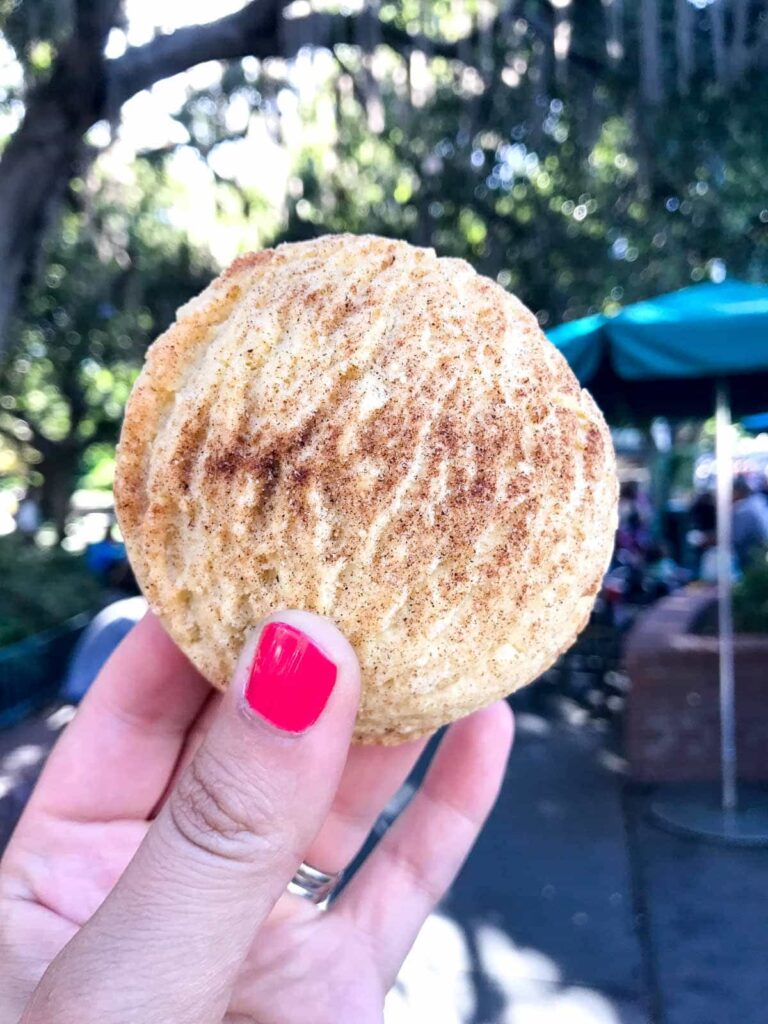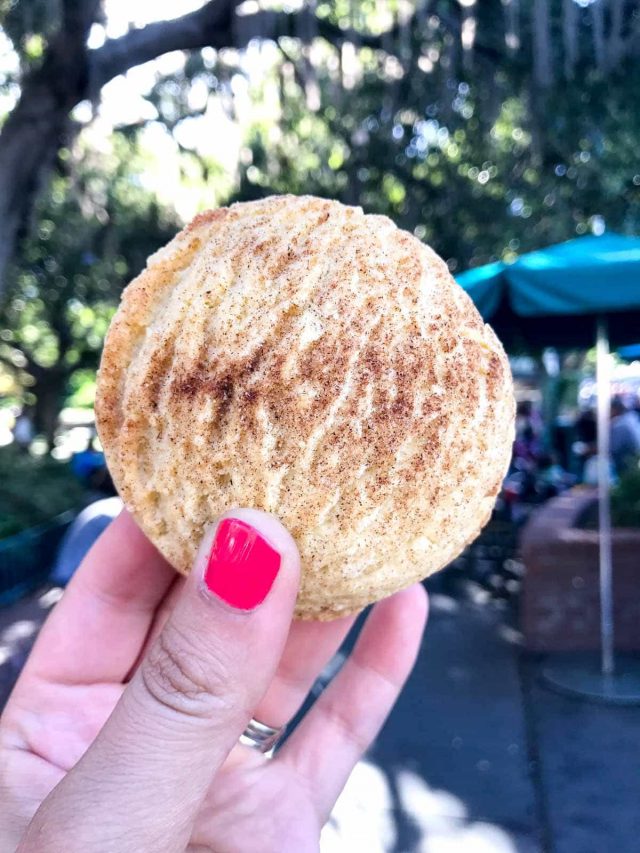 4. Ginormous Cookies
I always hit up the bakery on Main Street for their ginormous cookies. They have chocolate chip, peanut butter, and snickerdoodle and they're all good, although the peanut butter is my favorite. If you don't want to wait to go to Disneyland, try my Disney copycat Bakery Style Chocolate Chip Cookies and XL Peanut Butter Cookies, and I'm pretty sure my Snickerdoodle recipe gives Disneyland a run for it's money!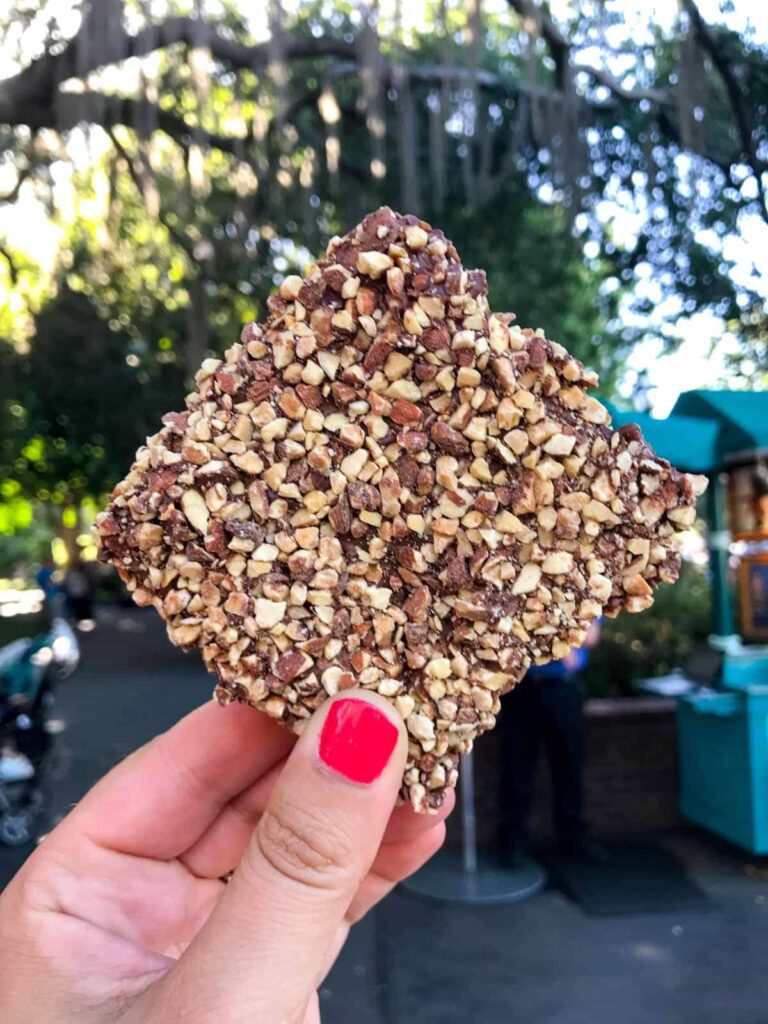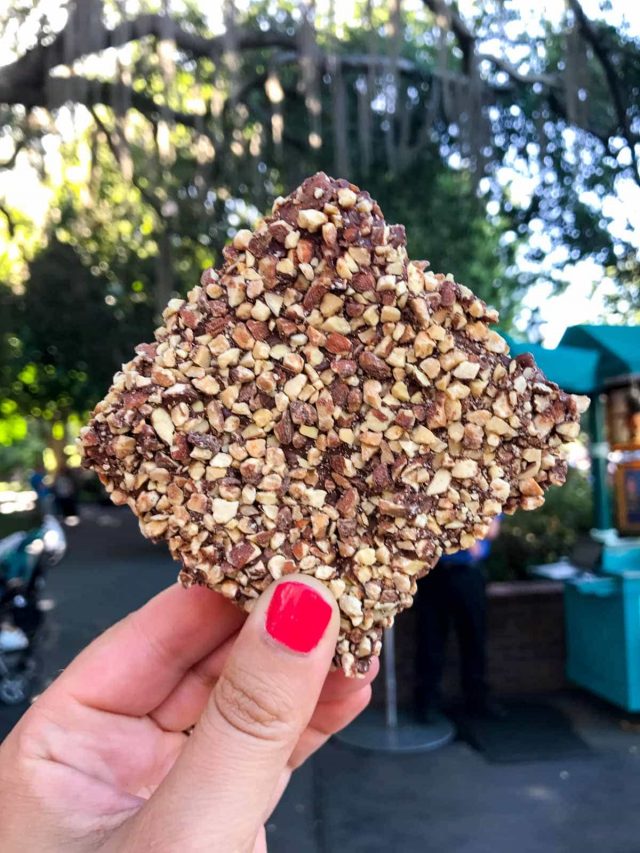 5. Toffee
Where else can you get a piece of toffee the size of your hand? DISNEYLAND of course. We always buy a toffee square because it's Mel's favorite! You can find them at the candy shop on Main Street. This toffee is a MUST EAT at Disneyland!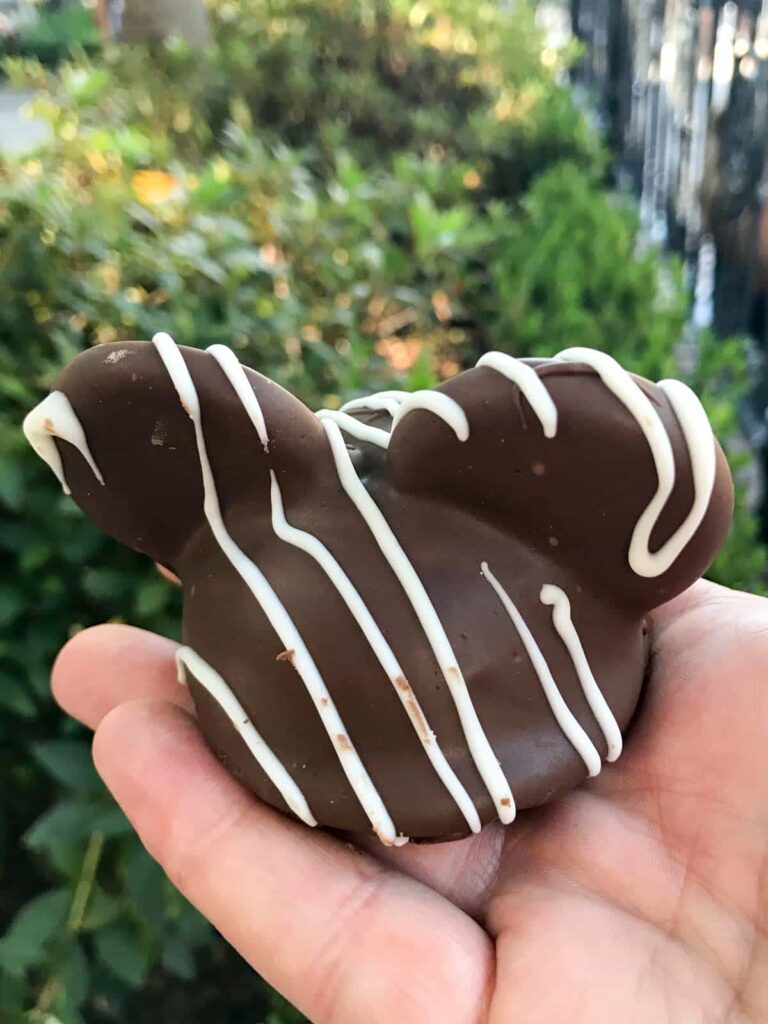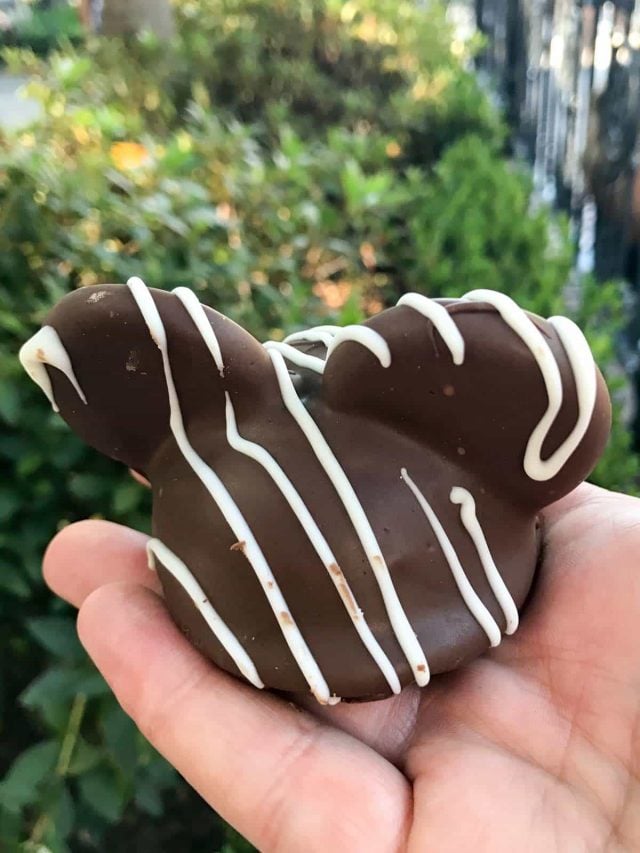 6. Mickey Brownie
I mean, who can say no to brownies in general, but one shaped as Mickey ears? I'm doomed…to eat the whole thing! Find them at the bakery on Main Street. Speaking of Mickey Mouse, check out these adorable Mickey Mouse Oreo cupcakes from Big Bear's Wife. SO cute!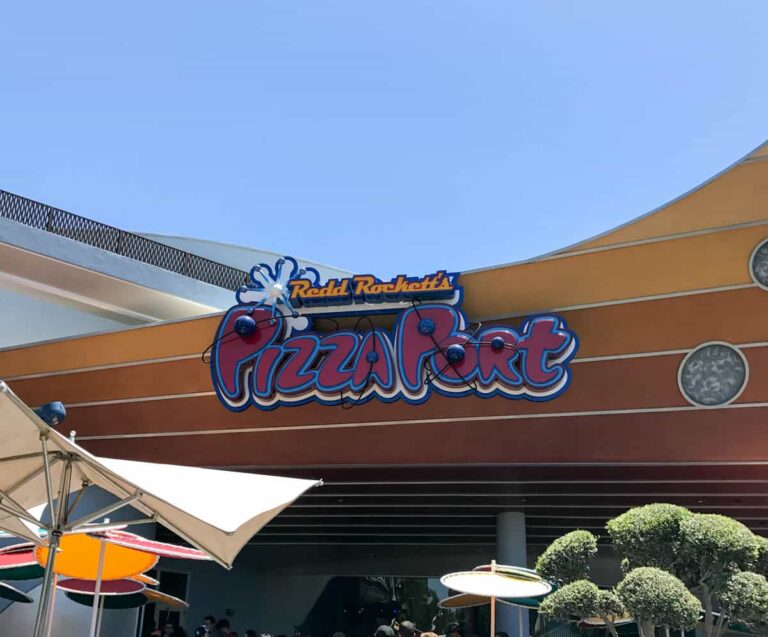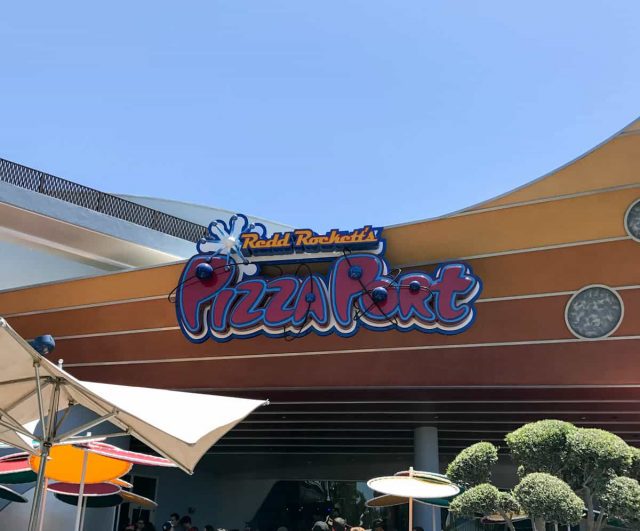 7. Redd Rockett's Pizza Port (Tomorrowland)
If you need a quick lunch that's really good (and has a shady spot to sit down), try Redd Rockett's Pizza Port. The slices are huge and even though there will be a long line, it moves fast. Have your family stalk a table while you wait in line and you can all have a good rest before heading back out for more touring. Plus the pizza is actually really good!
Tell me that this adorable cake pop isn't something that you MUST EAT at Disneyland… and I'll call your bluff. 😉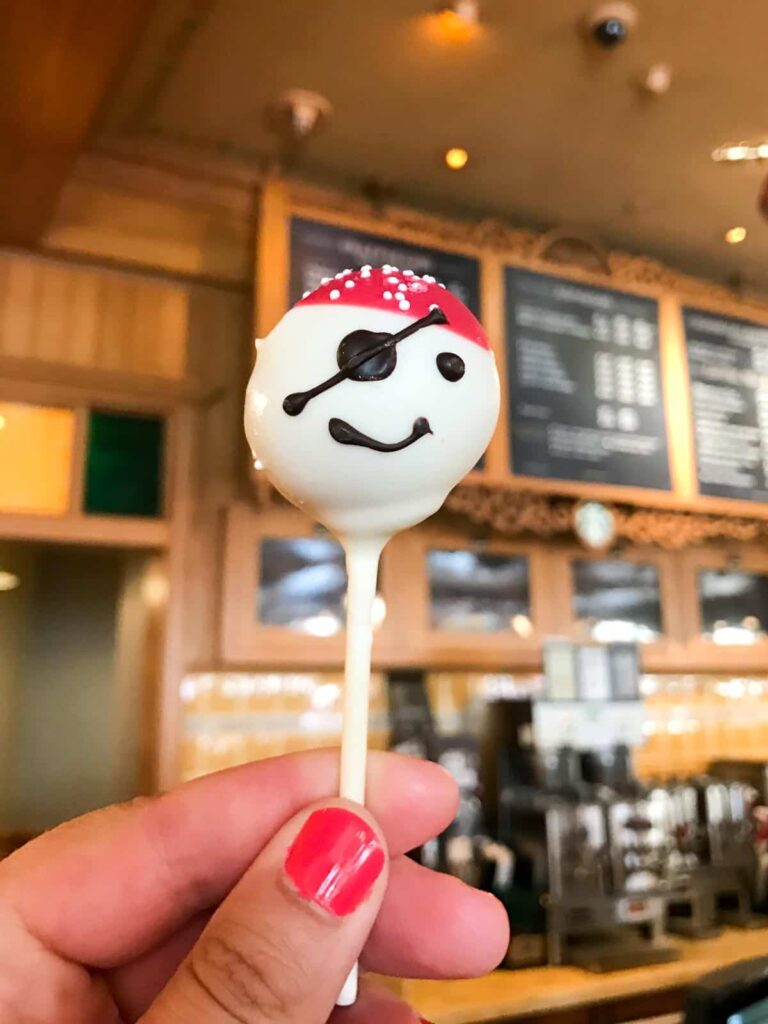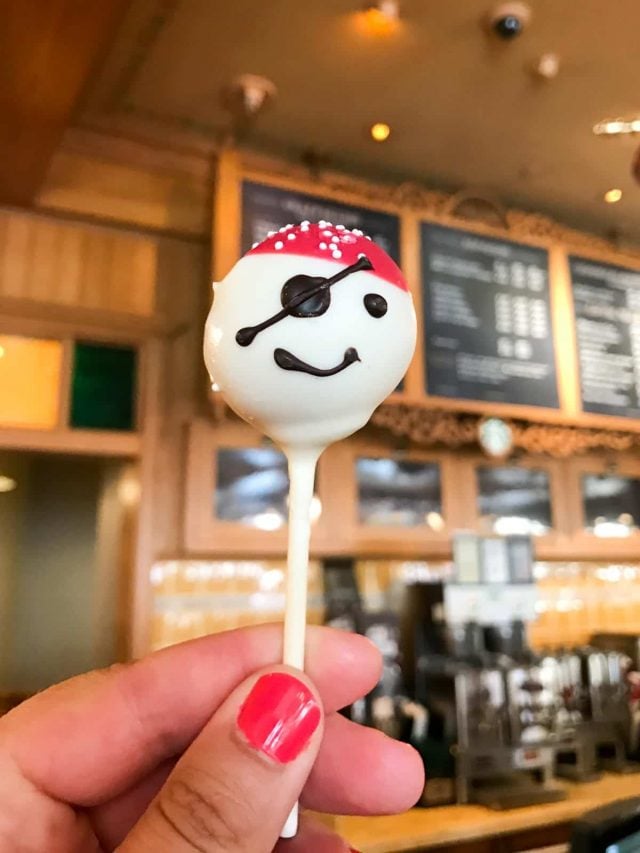 8. Starbucks (Main Street)
I know, there are Starbucks everywhere. Why go in Disneyland? Well, one because they sell Pirate's of the Caribbean Cake Pops. And two, because you can get your Starbucks City Mug that says Disneyland. And if you've been in the park since 8am, you probably need some caffeine to keep going until fireworks.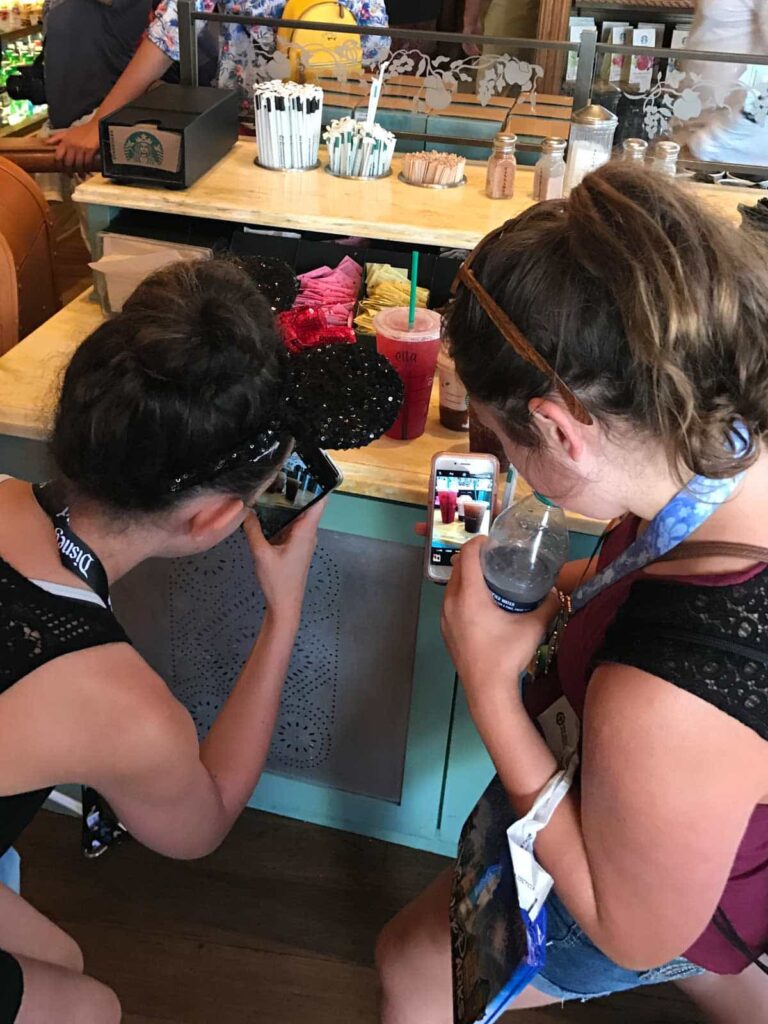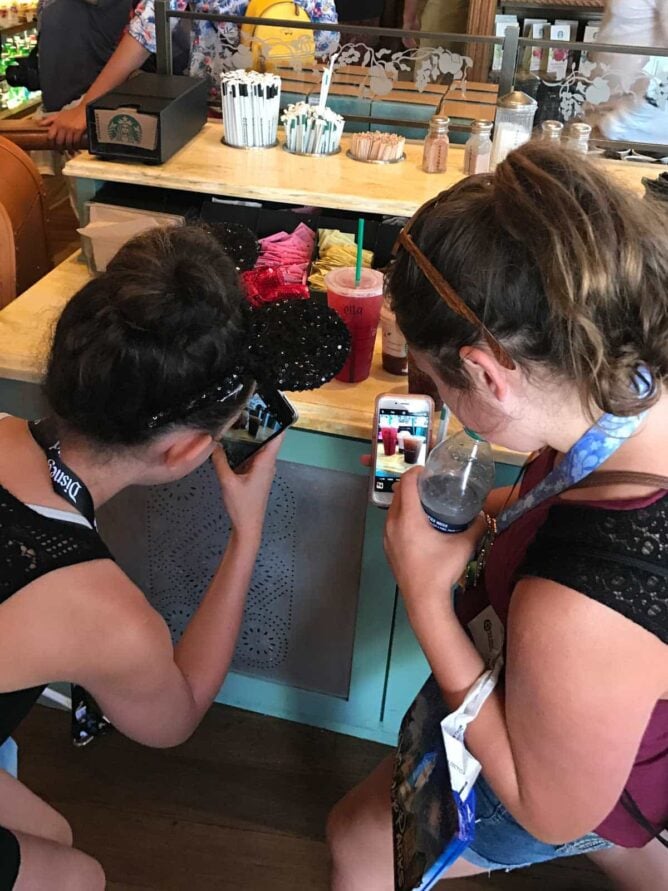 (And you can train your kids to be like you and Instagram their drinks!)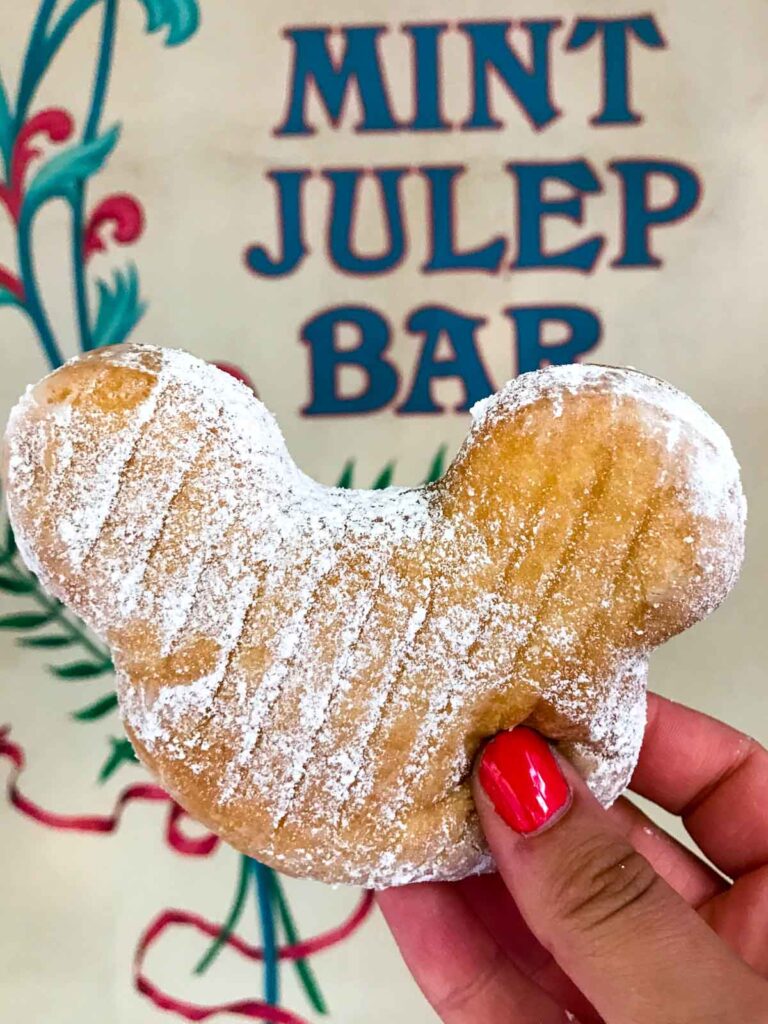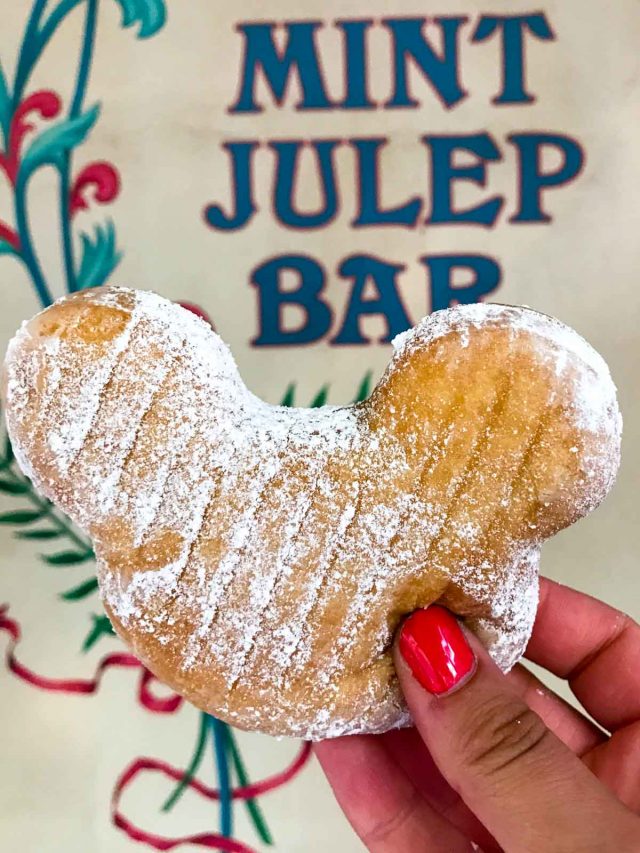 9. Mickey Mouse Beignets
I never knew these existed until recently and OMG, THEY ARE SO GOOD. You find them at the Mint Julep Bar, right next to the train station in New Orleans Square. Skip the mint juleps (really, what's a mint julep without alcohol?) and get a bag of these beignets. They're served warm and they're pillowy soft, plus they stay good all day…if they last that long. If you can't make it to Disneyland for Mickey Mouse beignets, make Cafe Du Monde beignets at home.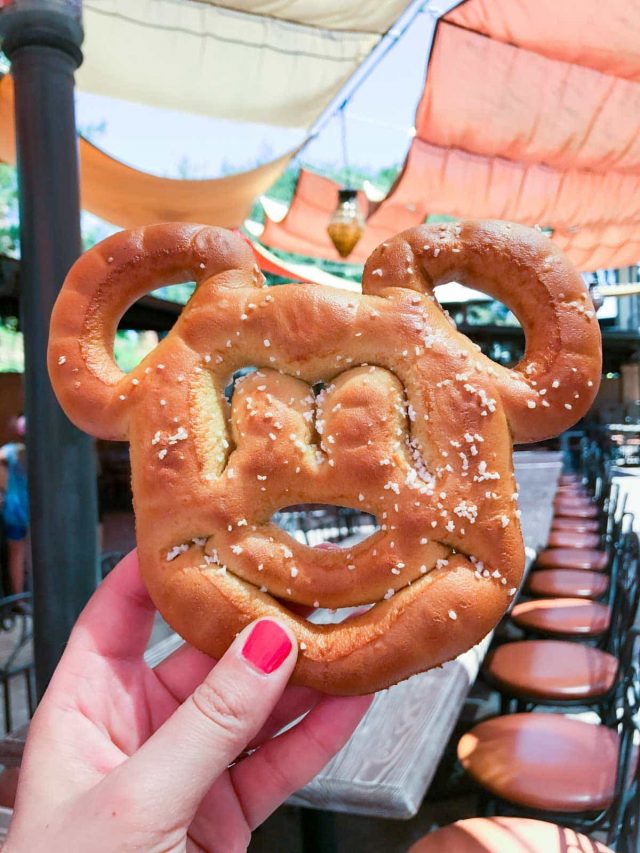 10. Mickey Mouse Soft Pretzel
I mean…it's a must. I get one every single time I'm in the park. The pretzel itself is mediocre compared to the perfect soft pretzel, or even the mall pretzels, but it's shaped like Mickey. That makes it the best pretzel you've ever eaten! Find a pretzel cart just on your way into Frontierland (around the corner from Big Thunder Mountain) or in a cart on Main Street near the Walt Disney statue.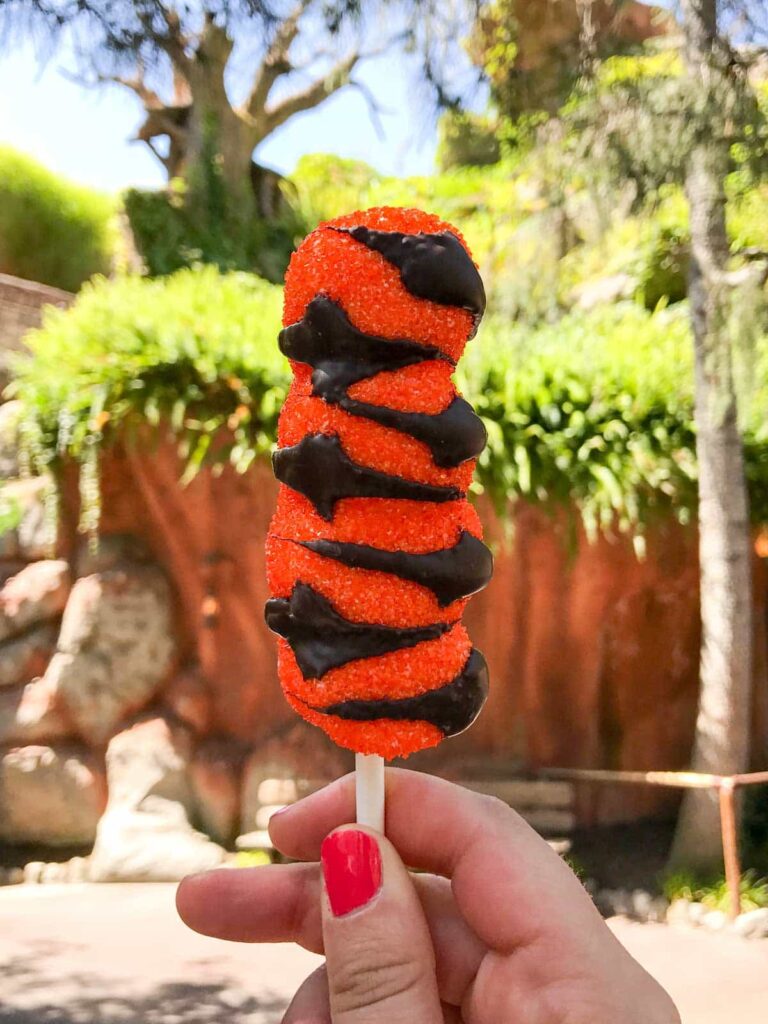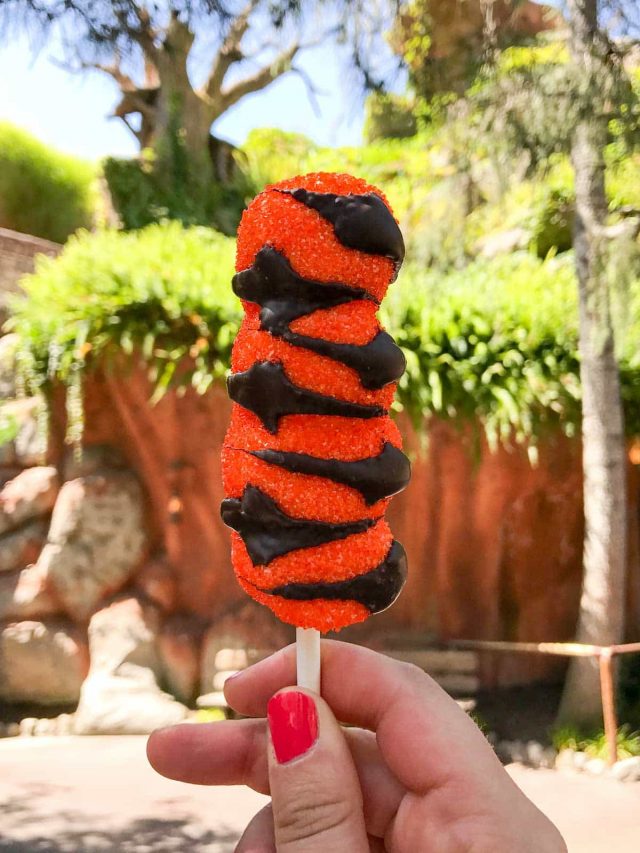 11. Tigger Tail
Okay, I don't like marshmallows that much but this? THIS WAS WORTH EVERY CALORIE. Three marshmallows, dipped in caramel, then dipped in chocolate. They have them for every character just about, but Tigger is the original. If you've ever had spoon candy, this is just like it, but on a stick. You can find them on Main Street at the bakery or in the store next to the Winnie the Pooh ride. (That store also carries DOG GEAR, like bowls and toys!)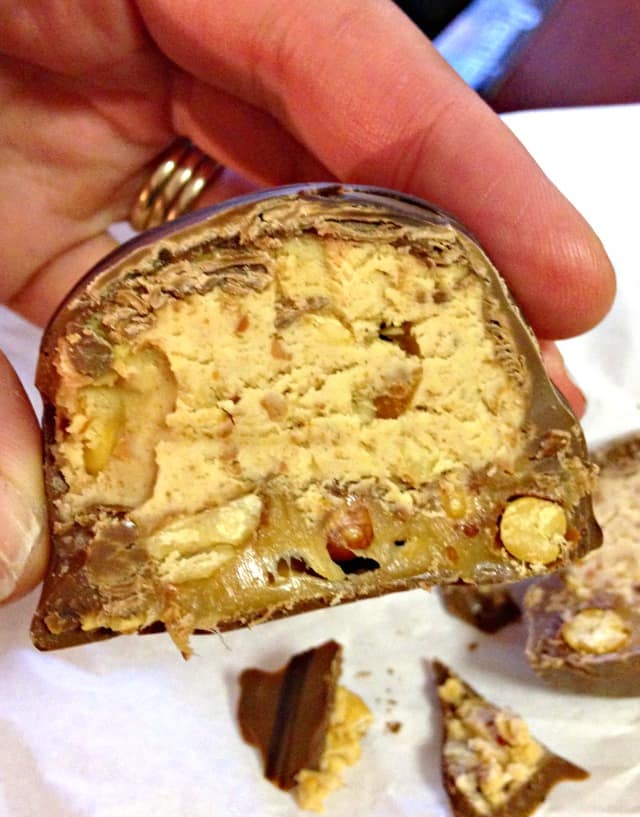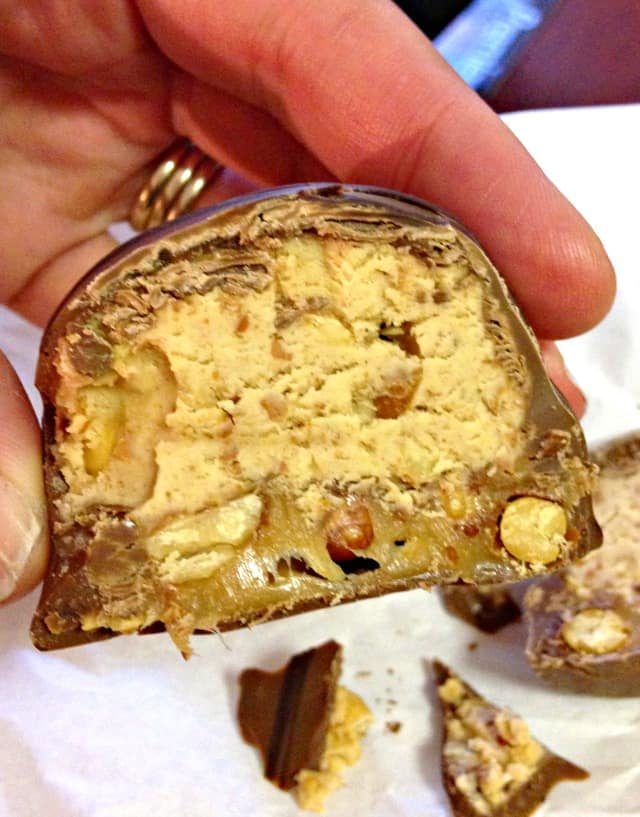 12. Peanut Butter Heaven
I had this a few years ago and it's one of the best candies in all of Disneyland. It's almost like a peanut butter Snickers bar: peanut butter nougat with caramel and peanuts dipped in chocolate. They usually have them at the Main Street candy shop or the Jolly Holly Bakery. Also check the candy shop in Downtown Disney!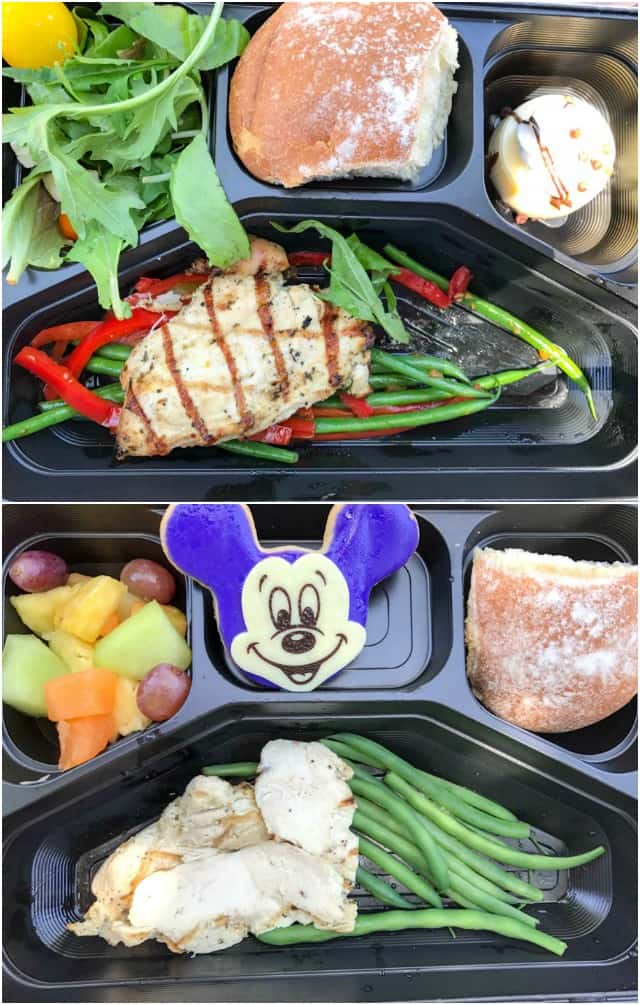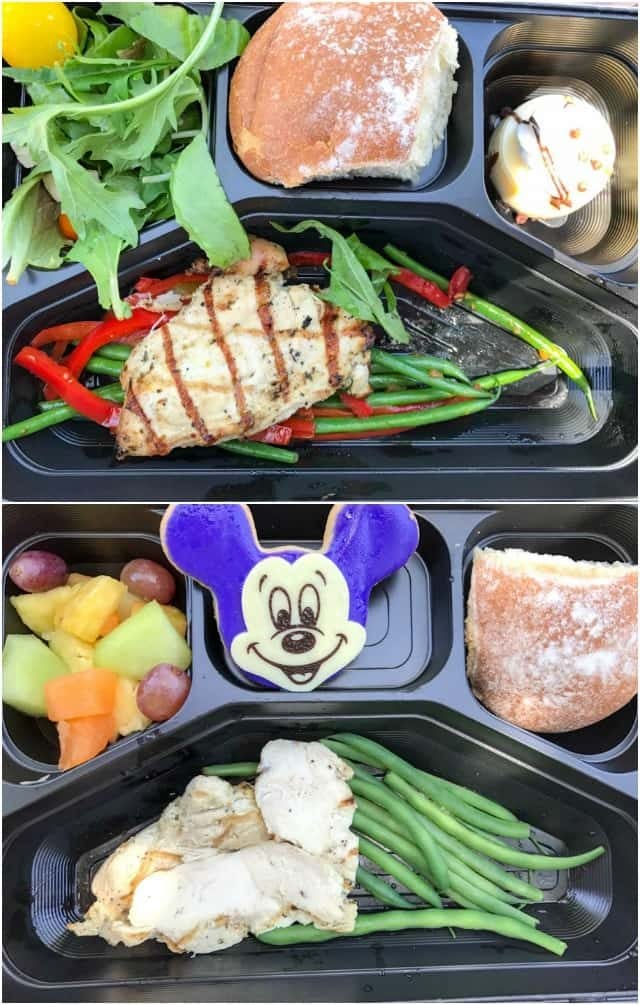 13. Aladdin's Oasis Grab-n-Go
If you're doing the Main Street Electrical Parade and want reserved seating (which I talked about in my Disney Touring Plan post) you can reserve a meal at Aladdin's Oasis. It can be eaten there (in the shade, a great time to rest and relax) or taken to go. There were some different choices but the kids and I both got the chicken. It's actually a pretty healthy meal and you get a good quantity of food (although it's as much as a character meal!) Reservations required!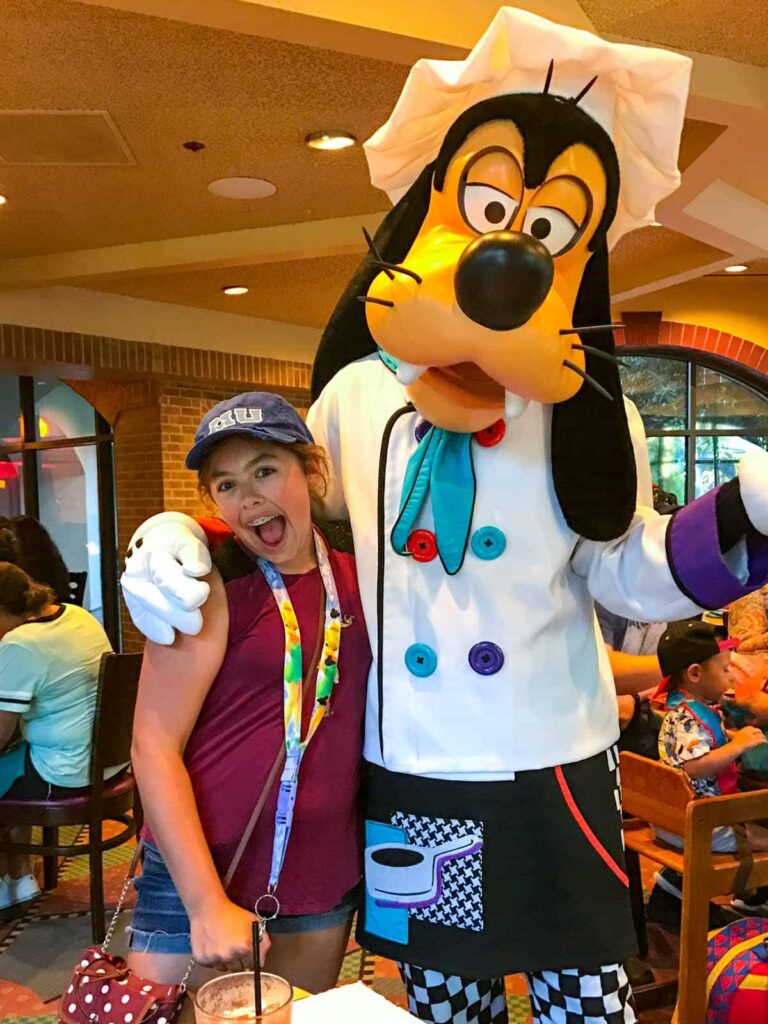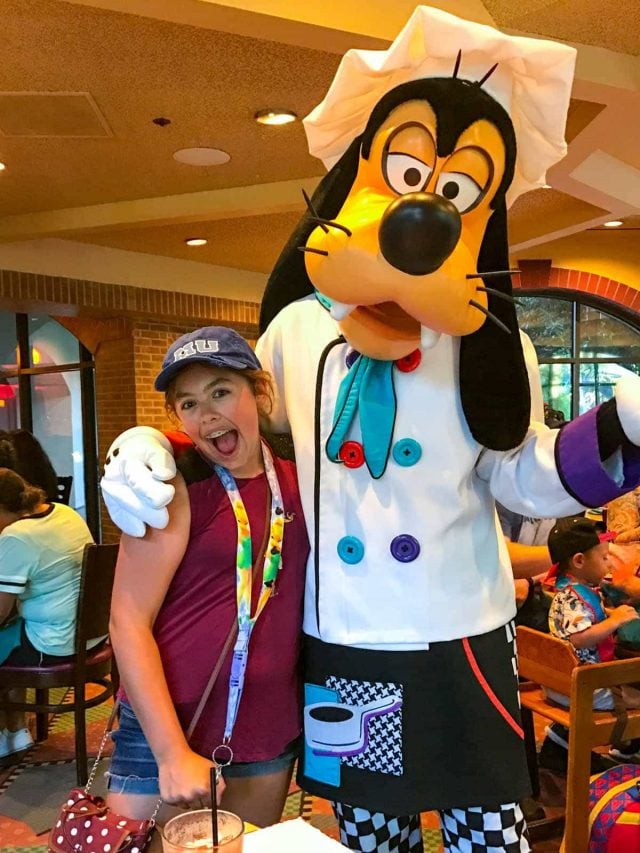 14. Goofy's Kitchen (Downtown Disney/Disneyland Hotel)
If you want to do a character meal but don't want to waste a park day, do it at Goofy's Kitchen. It's located just outside Downtown Disney in the Disneyland Hotel area. Do dinner the night before you go to the park or breakfast the day after, so you don't waste valuable touring time. You get to meet all the characters, the food is good (it's a buffet) and you can order cocktails. Reservations required.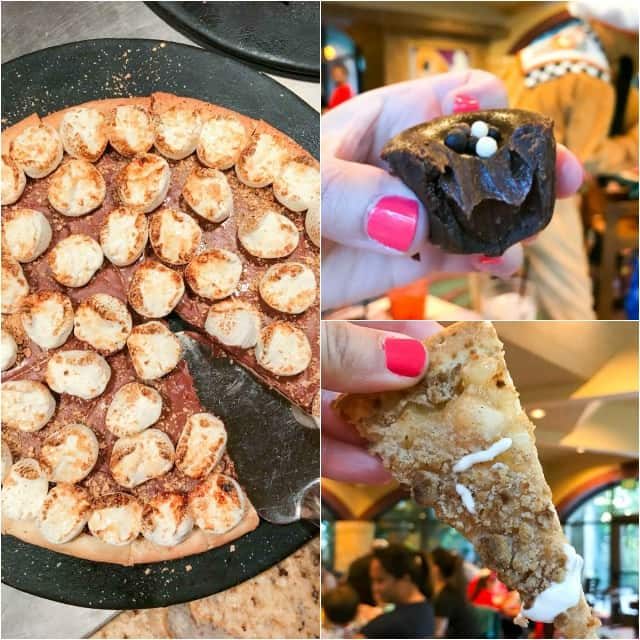 My favorites: the dessert pizzas, the cake pops, and that flourless chocolate tart. I could have eaten 12 of the tarts, they are SO delicious, and something you MUST EAT at Disneyland.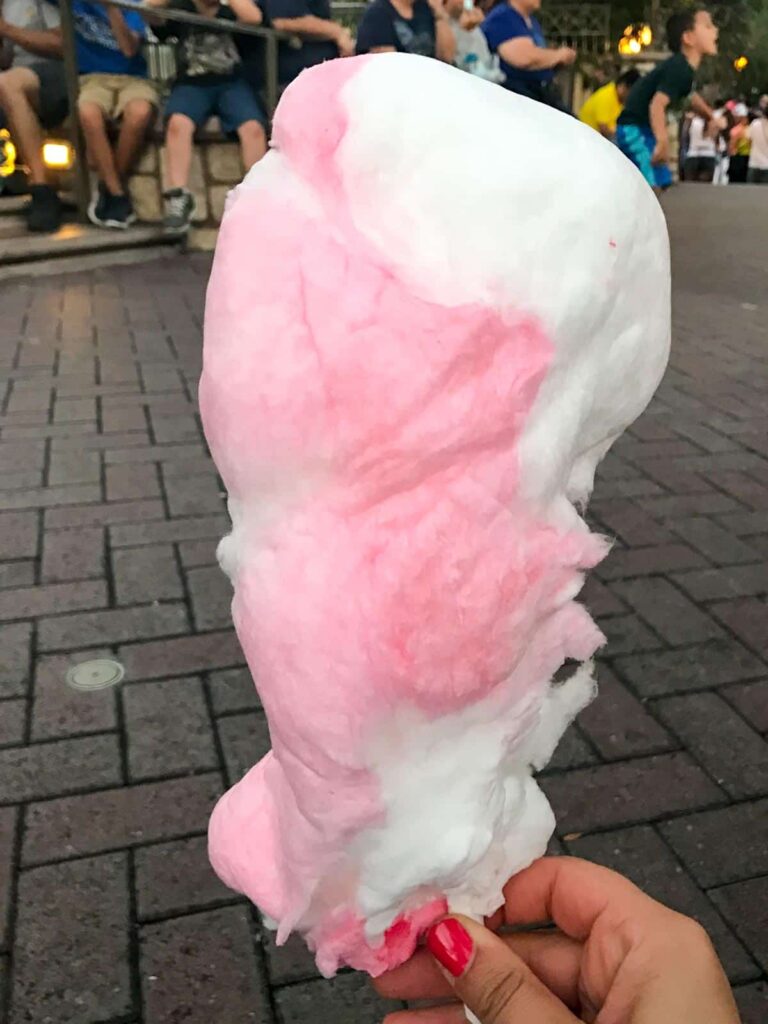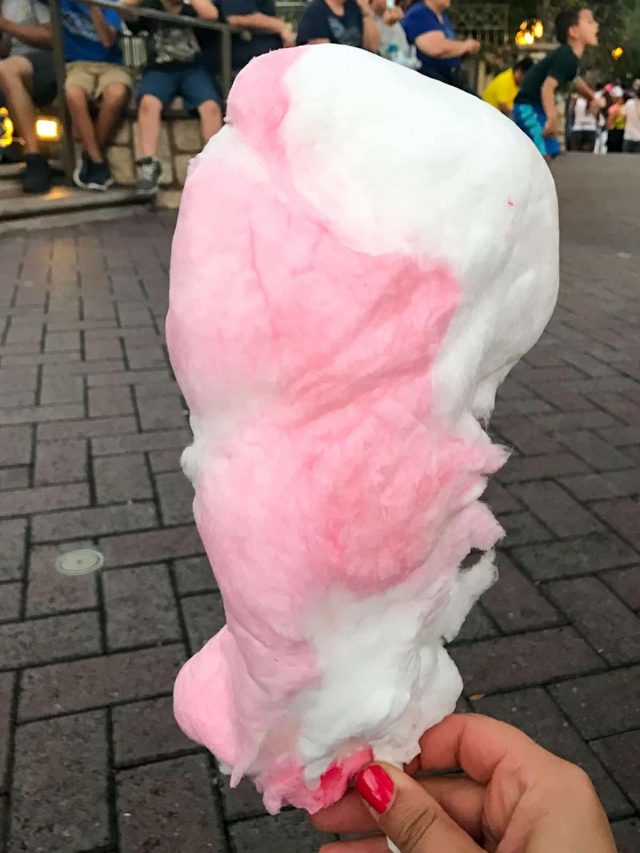 15. Pop Rock Cotton Candy
They sell these at street vendors in the evening. We got ours right on main street before the first parade. There are pop rocks IN THE COTTON CANDY!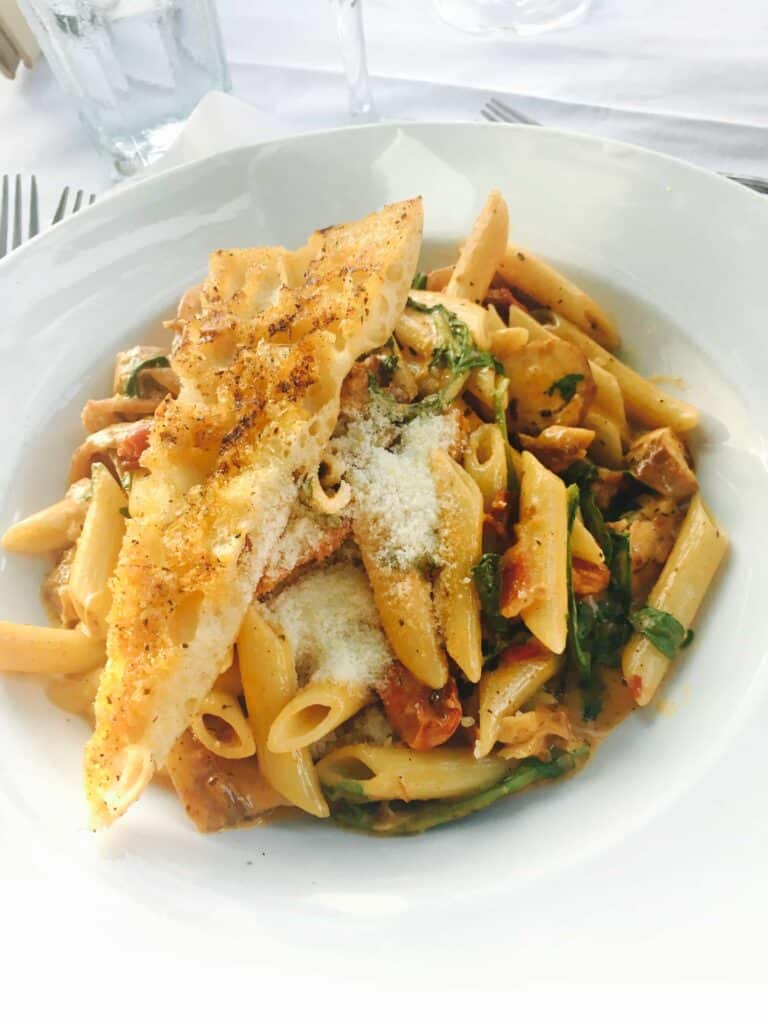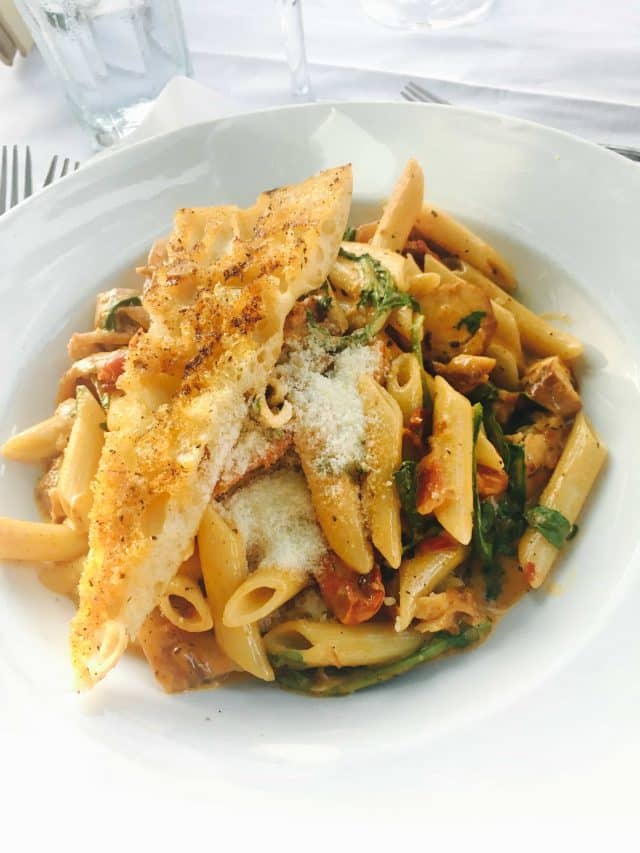 16. Ralph Brennan's Jazz Kitchen (Downtown Disney)
Looking for a nicer meal? Try Ralph Brennan's Jazz Kitchen in Downtown Disney. The food is really good and the ambience is even better. (Ask to sit on the balcony overlooking Downtown Disney.) It's upscale but worth it after a long day of touring. Plus, they have a full bar. Reservations recommended.
That's where we love to eat in Disneyland…what do YOU think are the things you MUST EAT at Disneyland???
Last Updated on September 10, 2022