In case you didn't know what Almond Roca is, it's toffee covered in chocolate and almonds. Is there anything better?
Yes. Yes, there is something better. Adding peanut butter to homemade Almond Roca is a gillionty times better!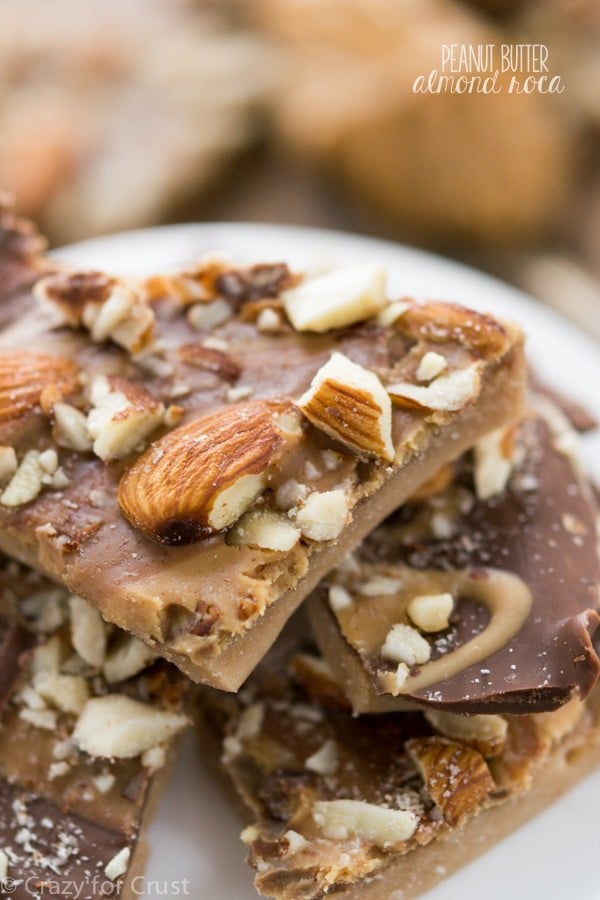 You guys. Something super exciting happened! Sit down, because you're gonna be excited too:
You can use Emojis on a Mac computer!!! RIGHT? That's totally exciting. ?
(It's the little things that give me pleasure.)
Now that I know about this useful tool I can pepper my posts with EMOJIS!! Like, holy cow. ?
I can write about ? and tell you I'm ? and show you I'm ?.
Jordan and I can have entire text discussions using emojis. We do this while we're sitting across from each other on the couch. #MomOfTheYear
I ? emojis. Okay, sorry, I'm really done now.
For those of you with a Mac, you can do it too! Put your curser where you want the emoji to appear. Press Control+Command+Spacebar and the menu will pop open. #headexploding right??!!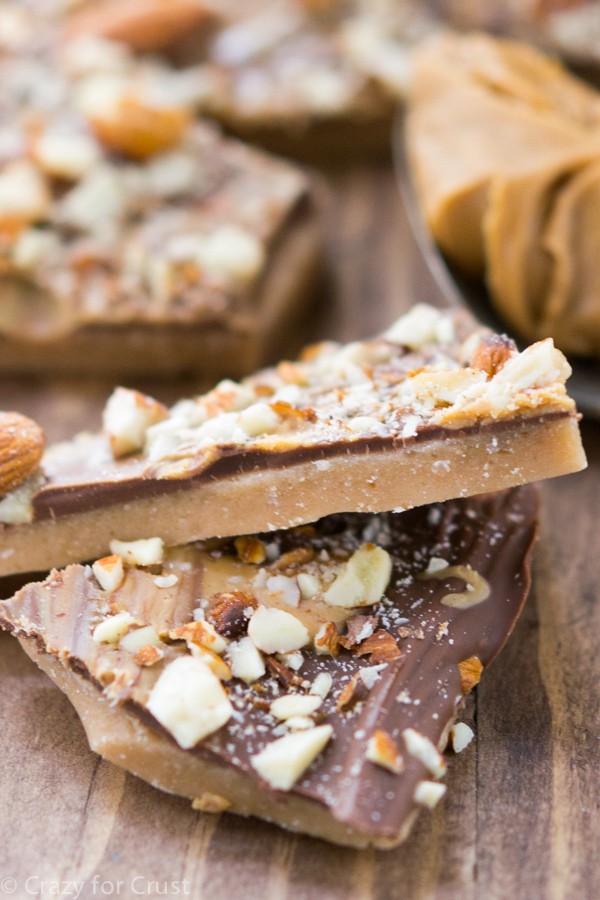 Now that you know that I'm really a tween girl at heart (and also a total dork), let's talk about PEANUT BUTTER ALMOND ROCA. Because if I hadn't already peppered this post with way too many emojis, I'd put 5 party signs.
Almond Roca, if you've never had it, is a butter toffee that's covered in chocolate and chopped almonds. It's made by Brown-Haley, the same people that make Mountain Bars. Last fall my husband and I went to Seattle and stopped at the factory store. I bought one of every flavor Almond Roca. They have peppermint bark, macadamia, dark chocolate, sugar-free, you name it. The one flavor they didn't have? Peanut Butter. I know, right?
So I made my own peanut butter almond roca. And then we ate all of it.
And when I say WE, I mean ALL of us. MEL INCLUDED!
Toffee, Almond Roca, and peanut butter are all his weaknesses. Bwahahahaha. ?

Let's talk a little bit about the recipe, because while it is easy, it does require some patience. (And a candy thermometer.) Put it this way: until I made this I'd never made butter toffee before. I'd only ever made cracker toffee, which is similar but different.
Here are two important tips about making this recipe:
Have everything ready to go when you start. Read the entire recipe before you start. That's very important!
Pay attention to the candy thermometer. And don't leave the cooking toffee mixture and go watch RHONY. Stay in the kitchen and pay attention.
To make toffee, you boil butter, sugar, water, and corn syrup together in a heavy saucepan. Pretty much you just let it boil, stir it occasionally, and wait for it to reach soft-crack stage (which is 290°F). You pour the hot mixture carefully into a pan and let it set for a few minutes. Then you add the chocolate and the peanut butter and swirl it around on top.
Really, it's very easy. Even someone who has never made toffee can do this recipe! Using a candy thermometer takes all the guesswork out of it and your Almond Roca will be perfect every time. I can't stop thinking about all the versions I want to make…and devour.
The toffee is buttery and crunchy, the chocolate and peanut butter add the perfect salty and sweet, and the almonds add a nice crunch. I dare you to eat just one piece. You won't be able too!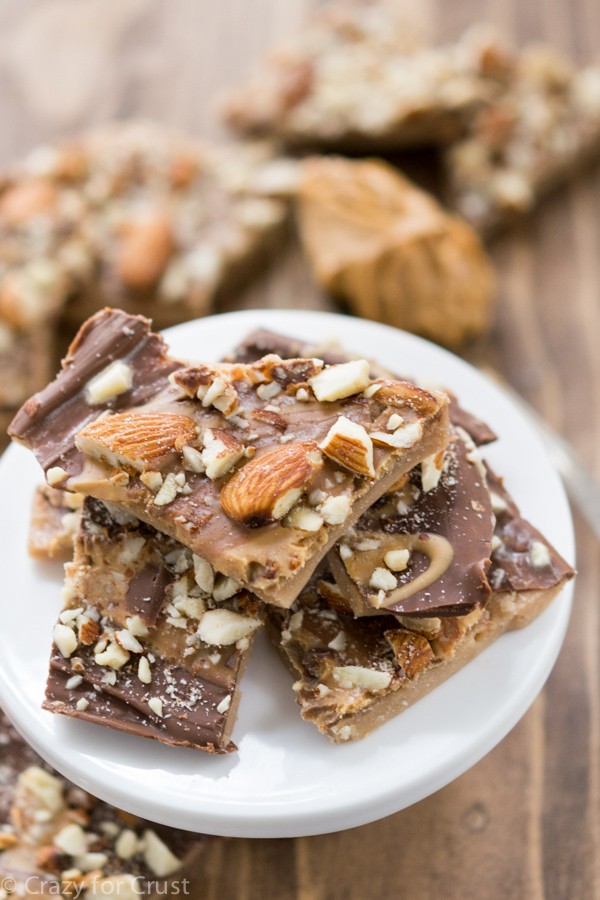 Enjoy! ?
Peanut Butter Almond Roca
This butter toffee recipe tastes just like almond roca but it has PEANUT BUTTER in it!
Ingredients
1

cup

unsalted butter

1

cup

granulated sugar

3

tablespoons

water

1

tablespoon

light corn syrup

1

teaspoon

vanilla

1/4

teaspoon

salt

1

cup

chocolate chips

1/4

cup

creamy peanut butter

3/4

cup

chopped almonds
Instructions
Line a 9x13" pan with foil and spray with cooking spray. You can also use parchment, if you prefer.

Melt butter in a 2-quart heavy saucepan over low heat. Stir in sugar, water, and corn syrup. Bring to a boil over medium-high heat, stirring until sugar is dissolved. Try not to splash the side of the pan too much or the sugar will stick and crystalize; stir gently. Once sugar is dissolved, place a candy thermometer in your pan and cook over medium heat, stirring frequently, until the candy thermometer reaches 290°F (soft-crack stage). This will take from 10-14 minutes, depending on your stove. Watch the heat and adjust it as necessary to keep the boiling uniform throughout cooking. Don't walk away from the stove; watch it especially carefully during the last 5 minutes or so as it can reach temperature fast. Remove thermometer once it gets to 290°F. Turn off heat, stir in vanilla and salt quickly. Pour into prepared pan.

Cool for 4-5 minutes just until the top is set. Sprinkle with chocolate chips. Let them sit for about 2 minutes then use a knife or offset spatula to spread the chocolate evenly. While the chocolate is sitting, place the peanut butter in a small bowl and heat about 30 seconds in the microwave to make it pourable. Drizzle peanut butter over the top and swirl with melted chocolate using a knife or offset spatula. Sprinkle with nuts.

Let sit at room temperature about 3 hours or until set. Remove toffee from pan using foil, remove the foil and then break into pieces. Store in an airtight container for up to two weeks.
Click here to see more PEANUT BUTTER recipes!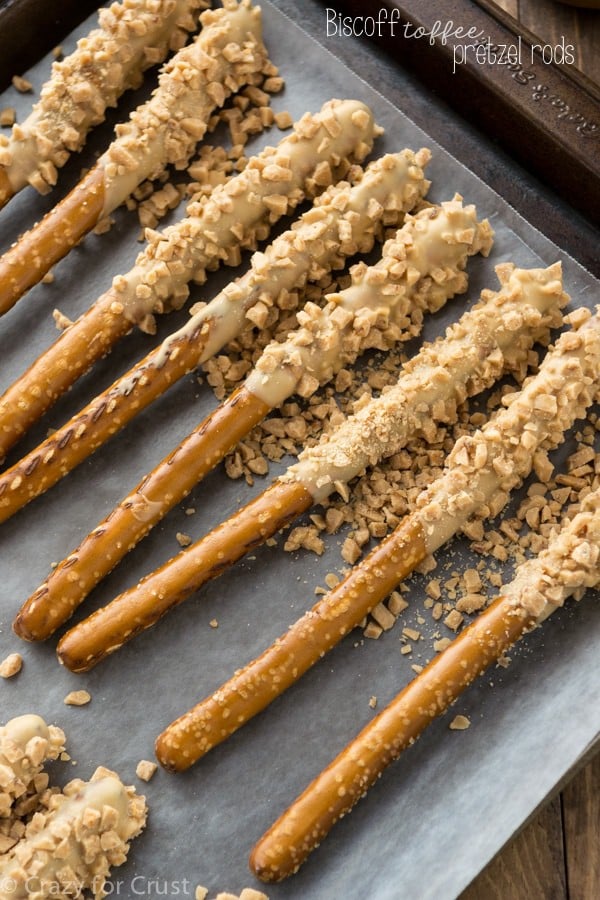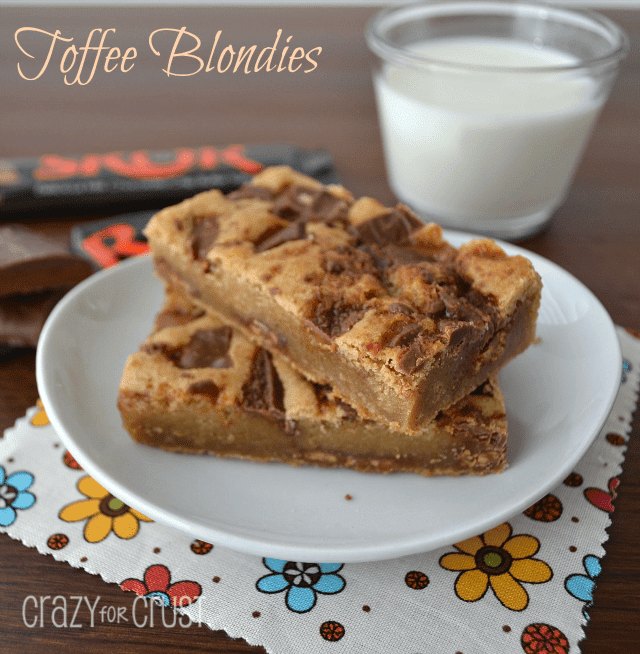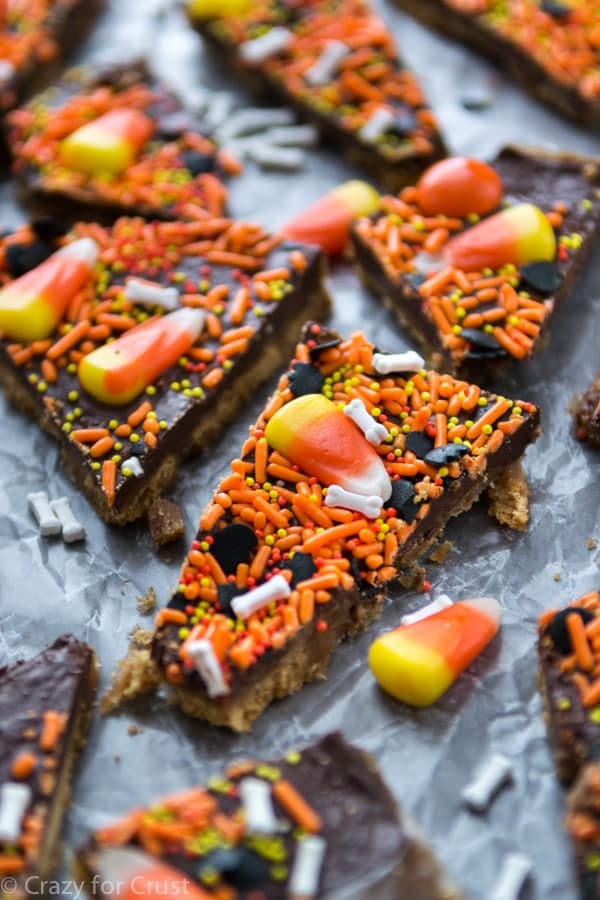 Sweets from friends:
Almond Roca Bars by The Food Charlatan
Saltine Toffee by Shugary Sweets
Almond Toffee Tart by Our Best Bites
All text and images © DOROTHY KERN for Crazy for Crust. Please do not use my images without prior permission. If you want to republish this recipe, please re-write the recipe in your own words, or link back to this post for the recipe. Disclaimer: Nutrition information shown is not guaranteed to be accurate.
This post may contain affiliate links. For more information, read my disclosure policy.
Published on: August 25, 2015