This post may contain affiliate links. For more information, read my disclosure policy.
My Homemade Toffee Recipe is a fun and easy candy that is perfect for the holidays or whenever you're craving a crunchy, sweet treat. This homemade toffee recipe is topped with a chocolate peanut butter swirl and chopped almonds – I'm telling you step-by-step how to make it, so it turns out perfectly every time.
This is my husband's FAVORITE and it's on every single cookie platter every year!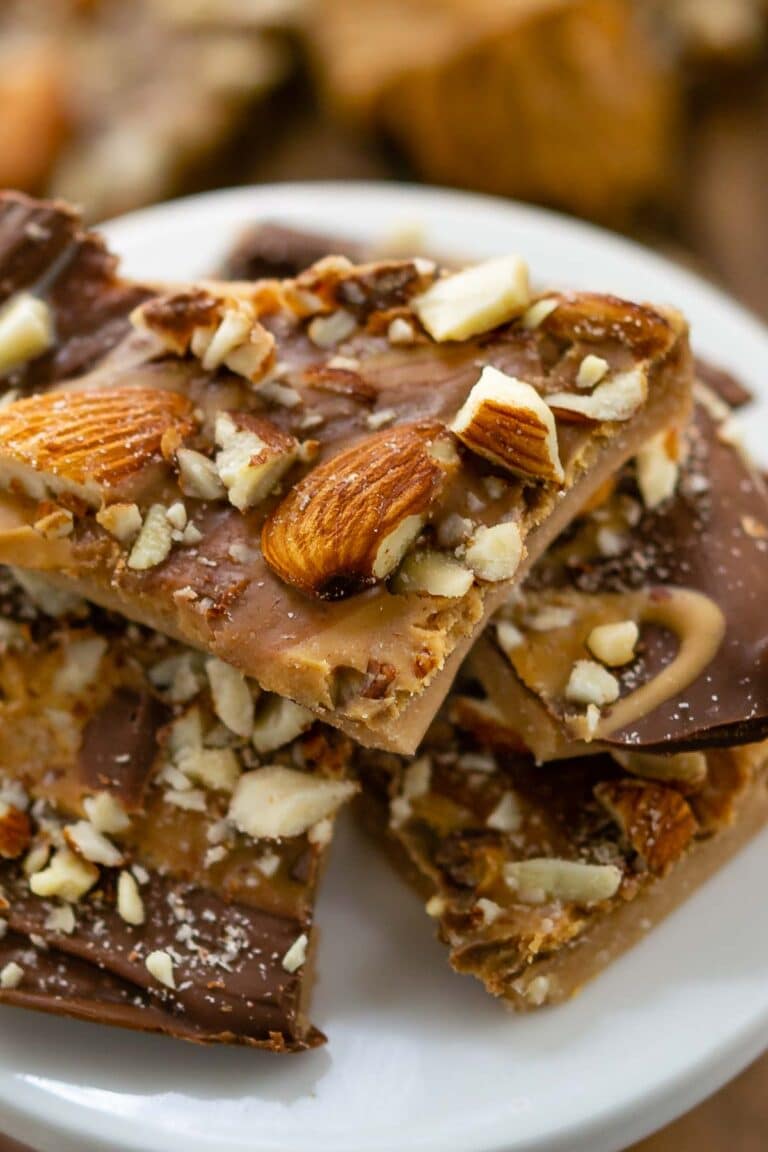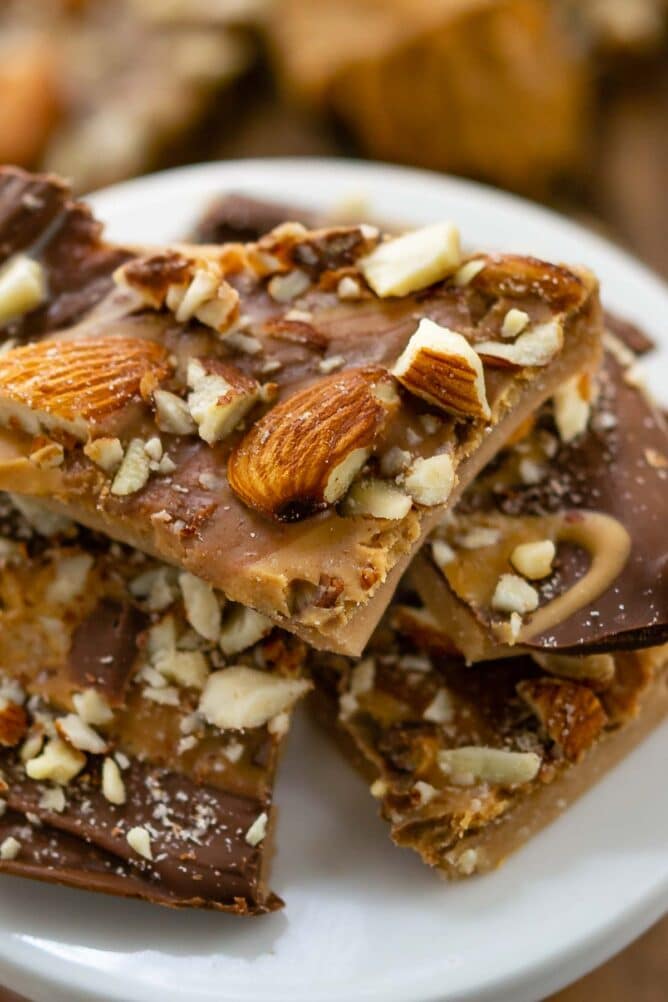 Homemade candy is so fun to make, and there's nothing better than toffee! If you've never made candy before, it's a great recipe to start with.
Best Toffee Recipe EVER
Toffee has a rich, buttery, caramel flavor, and my version has a chocolate peanut butter topping with nuts. Unlike English toffee, which is made with brown sugar, this recipe is made with granulated sugar. It's my go-to toffee recipe that is perfect for the holiday season or any time you want a batch of buttery candy to share with family and friends.
Table of Contents
Does toffee have nuts?
Traditionally, it does. The nuts are sprinkled over the top and not mixed into the toffee. If you are worried about nut allergies, you can make a nut-free version and top it with chocolate.
In this version I also add peanut butter to the coating but it's not required so you can leave it out if you want.
What is toffee made of?
You don't need any complicated ingredients – toffee is made with just a few simple things you might already have in your kitchen. I give mine a peanut butter twist that takes it over the top.
Here's what you'll need to make it:
Butter: I always use unsalted butter
Sugar: Granulated sugar is traditional in English toffee
Water and Light corn syrup are required for the chemistry of the toffee to work
Vanilla and Salt: for flavoring
Chocolate chips: to coat the toffee in chocolate at the end
Creamy peanut butter: optional for topping
Chopped almonds: optional for topping
Pro Tips for Making my Homemade Toffee Recipe
There are a few tips to consider before you make toffee – follow them, and you'll have the best batch of toffee when you're done!
Review the recipe: Read through the whole recipe first. This is a good tip for baking in general, but especially for toffee. It's easier to make when you've reviewed the recipe first!
Have all of your equipment ready: a 9×13″ baking pan lined with foil, cooking spray or parchment paper, 2-quart saucepan, a candy thermometer, and offset spatula (or knife).
Yes, you need a candy thermometer! Candy making requires precision with temperature, and a candy thermometer takes all of the guess work out.
Minimize distractions: Making toffee is not hard, but it requires all of your attention. So, give yourself time to focus on it and avoid distractions.
The tips sound serious, but I promise making toffee is fun!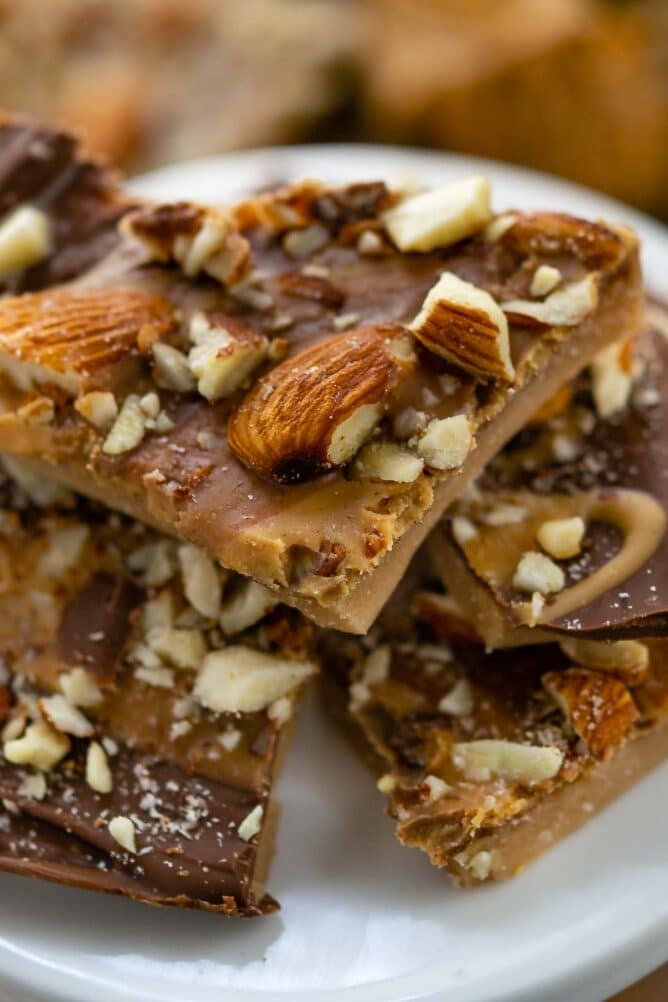 Equipment You'll Need
9×13″ baking pan for the toffee
Tinfoil or parchment paper for the pan
2-quart saucepan for cooking the candy
Candy thermometer for monitoring the temperature of the candy while it cooks
Offset spatula for spreading the chocolate
A small microwave-safe bowl for warming the peanut butter
Prepare the Pan
Line a 9×13″ pan with foil or parchment paper and coat it with cooking spray. The piece foil (or parchment) should be big enough to drape over the sides. You can use them to lift the candy out once it's set. Do this first before anything else because once the candy is at temperature, you will need to quickly pour it into the pan.
Make the Toffee
Melting: In the saucepan, melt the butter over low heat. Add the sugar, water, and corn syrup and stir. Increase the heat to medium-high and bring the mixture to a boil. Stir until the sugar is dissolved. Stir gently, so the sugar doesn't splash onto the side of the pan. This can cause the sugar to crystallize and will make your toffee grainy.
Cooking: Place the thermometer in the pan and continue stirring until the mixture's temperature reaches 290°F, the soft crack stage. This will take about 10 to 14 minutes.
IMPORTANT: While you're waiting for it to come to temperature, don't leave the stove. You need to keep a close eye on it because you may need to adjust the heat. In the last five minutes, the temperature will rise quickly, so don't leave it alone.
Add in flavor: As soon as the temperature is 290°F, turn off the heat. Quickly add the vanilla and salt, stir, and then pour the candy into the prepared pan.
Add the Toppings and Let it Set
Chocolate: Sprinkle the chocolate chips over the top. The heat from the candy will melt them, which will take about two minutes. While they're melting, warm the peanut butter in the microwave to thin it.
Peanut Butter (if using) and Nuts: Use the offset spatulas to spread the melted chocolate chips over the top of the toffee. Drizzle the warm peanut butter over the top and use the spatula to swirl it with the chocolate. Sprinkle the nuts over the top.
Setting: Let the toffee sit out at room temperature for three hours so it can set. Lift the candy out using the excess foil or parchment hanging over the sides as handles. Once it's out of the pan, peel the foil off.
Storing: Break the toffee into pieces and then store them in an airtight container for up to two weeks.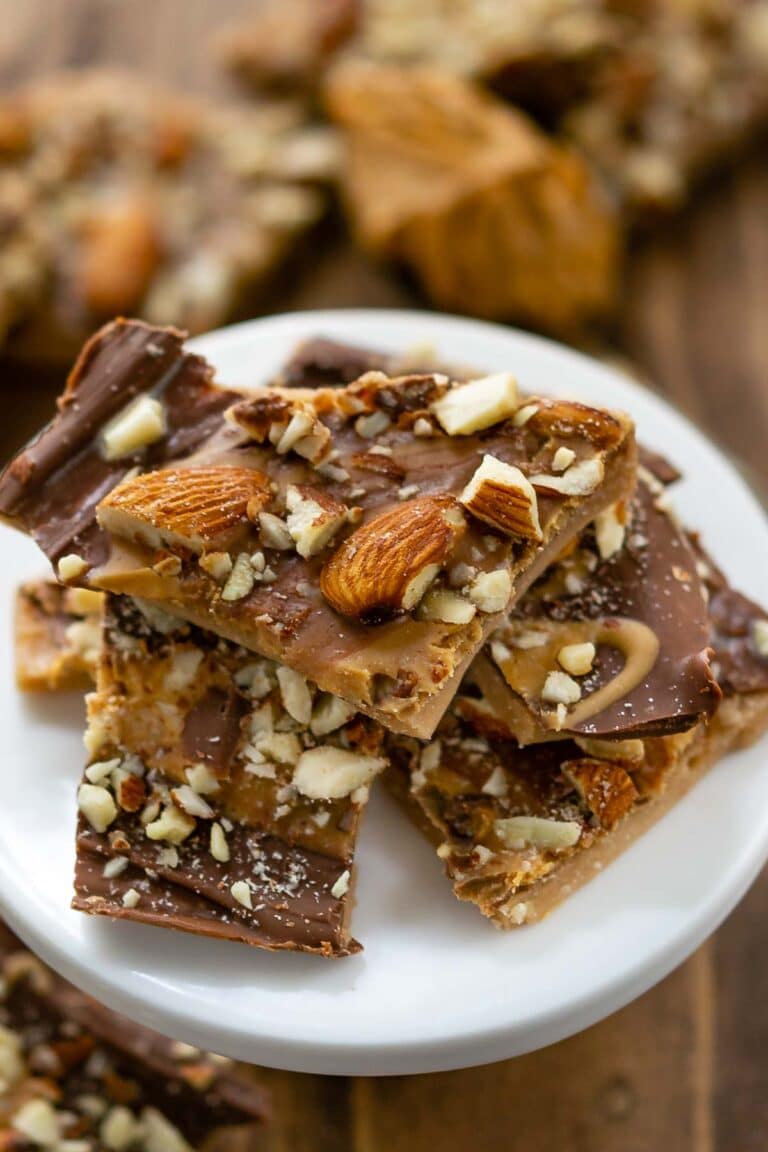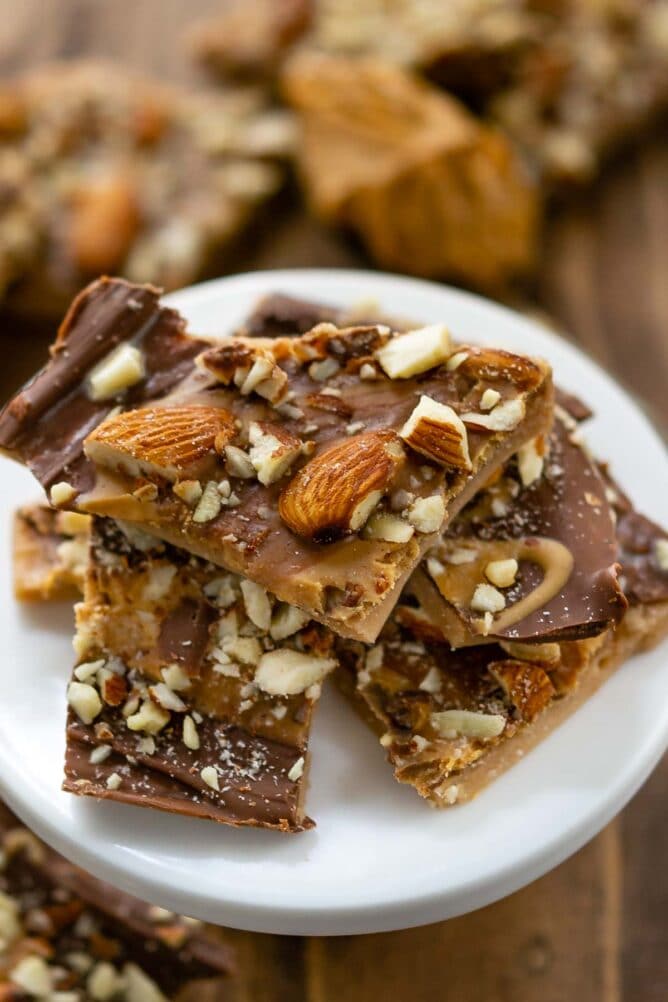 Variations
Once you know how to make it, it's easy to switch up the recipe to create a new version!
You can swirl the peanut (which is what you see in the photos), or you can skip it and just top yours with chocolate.
Change up the nuts – I love it topped with almonds or use chopped toasted pecans, walnuts, peanuts, or skip the nuts!
Add a drizzle of melted white chocolate or almond bark over the top if you're feeling fancy. Just melt the chocolate in the microwave and then use a spoon to drizzle it over the top of the toffee.
Don't Forget These Tips!
Anyone can make this recipe – just remember these essential tips:
Don't leave it to chance – use a candy thermometer!
Have everything prepped and ready to go – the recipe moves fast, and having everything ready will make it much more manageable.
Have fun! Homemade toffee is such a special treat – everyone will love it!
It's buttery and crunchy, and the peanut butter and chocolate add the perfect salty-sweet flavor. I dare you to eat just one piece. You won't be able, too!
Other Candy Recipes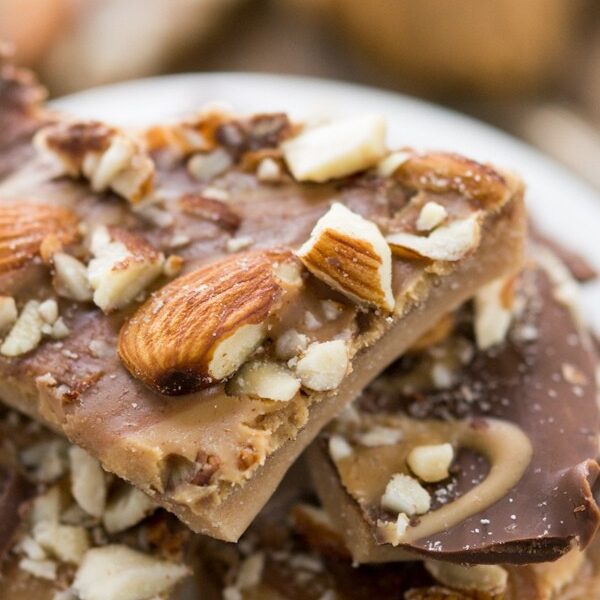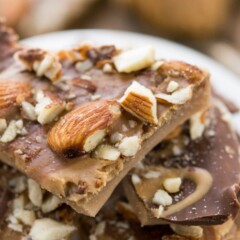 Homemade Toffee Recipe
This butter toffee recipe tastes so good and is the perfect English Toffee but I swirled the top with peanut butter.
Total Time
3
hours
40
minutes
Ingredients
1

cup

unsalted butter

1

cup

granulated sugar

3

tablespoons

water

1

tablespoon

light corn syrup

1

teaspoon

vanilla

1/4

teaspoon

salt

1

cup

chocolate chips

1/4

cup

creamy peanut butter

3/4

cup

chopped almonds
Instructions
Line a 9×13" pan with foil and spray with cooking spray. You can also use parchment, if you prefer.

Melt butter in a 2-quart heavy saucepan over low heat. Stir in sugar, water, and corn syrup. Bring to a boil over medium-high heat, stirring until sugar is dissolved. Try not to splash the side of the pan too much or the sugar will stick and crystalize; stir gently.

Once sugar is dissolved, place a candy thermometer in your pan and cook over medium heat, stirring frequently, until the candy thermometer reaches 290°F (soft-crack stage). This will take from 10-14 minutes, depending on your stove. Watch the heat and adjust it as necessary to keep the boiling uniform throughout cooking. Don't walk away from the stove; watch it especially carefully during the last 5 minutes or so as it can reach temperature fast. Remove thermometer once it gets to 290°F. Turn off heat, stir in vanilla and salt quickly. Pour into prepared pan.

Cool for 4-5 minutes just until the top is set. Sprinkle with chocolate chips. Let them sit for about 2 minutes then use a knife or offset spatula to spread the chocolate evenly. While the chocolate is sitting, place the peanut butter in a small bowl and heat about 30 seconds in the microwave to make it pourable. Drizzle peanut butter over the top and swirl with melted chocolate using a knife or offset spatula. Sprinkle with nuts.

Let sit at room temperature about 3 hours or until set. Remove toffee from pan using foil, remove the foil and then break into pieces. Store in an airtight container for up to two weeks.
Recipe Nutrition
Serving:
1
serving
|
Calories:
313
kcal
|
Carbohydrates:
29
g
|
Protein:
2
g
|
Fat:
22
g
|
Saturated Fat:
12
g
|
Cholesterol:
43
mg
|
Sodium:
87
mg
|
Potassium:
39
mg
|
Fiber:
1
g
|
Sugar:
28
g
|
Vitamin A:
506
IU
|
Vitamin C:
1
mg
|
Calcium:
24
mg
|
Iron:
1
mg
Nutritional information not guaranteed to be accurate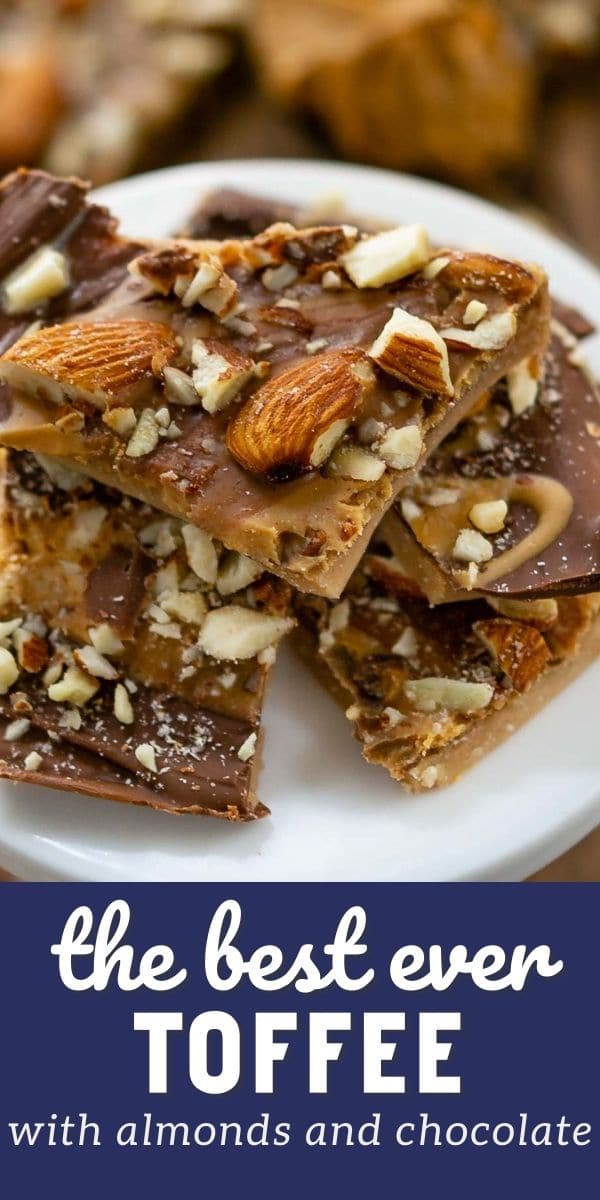 This homemade Toffee Recipe is topped with a chocolate peanut butter swirl and chopped almonds – I'm showing you step-by-step how to make it, so it turns out perfectly every time.
Last Updated on November 17, 2020