This post may contain affiliate links. For more information, read my disclosure policy.
Whoa, hold the phone. Did you know that Chocolate Chip Snickerdoodles are a THING?
Chocolate Chip Snickerdoodles are an easy snickerdoodle cookie recipe FULL of gooey chocolate chips and they're fantastic.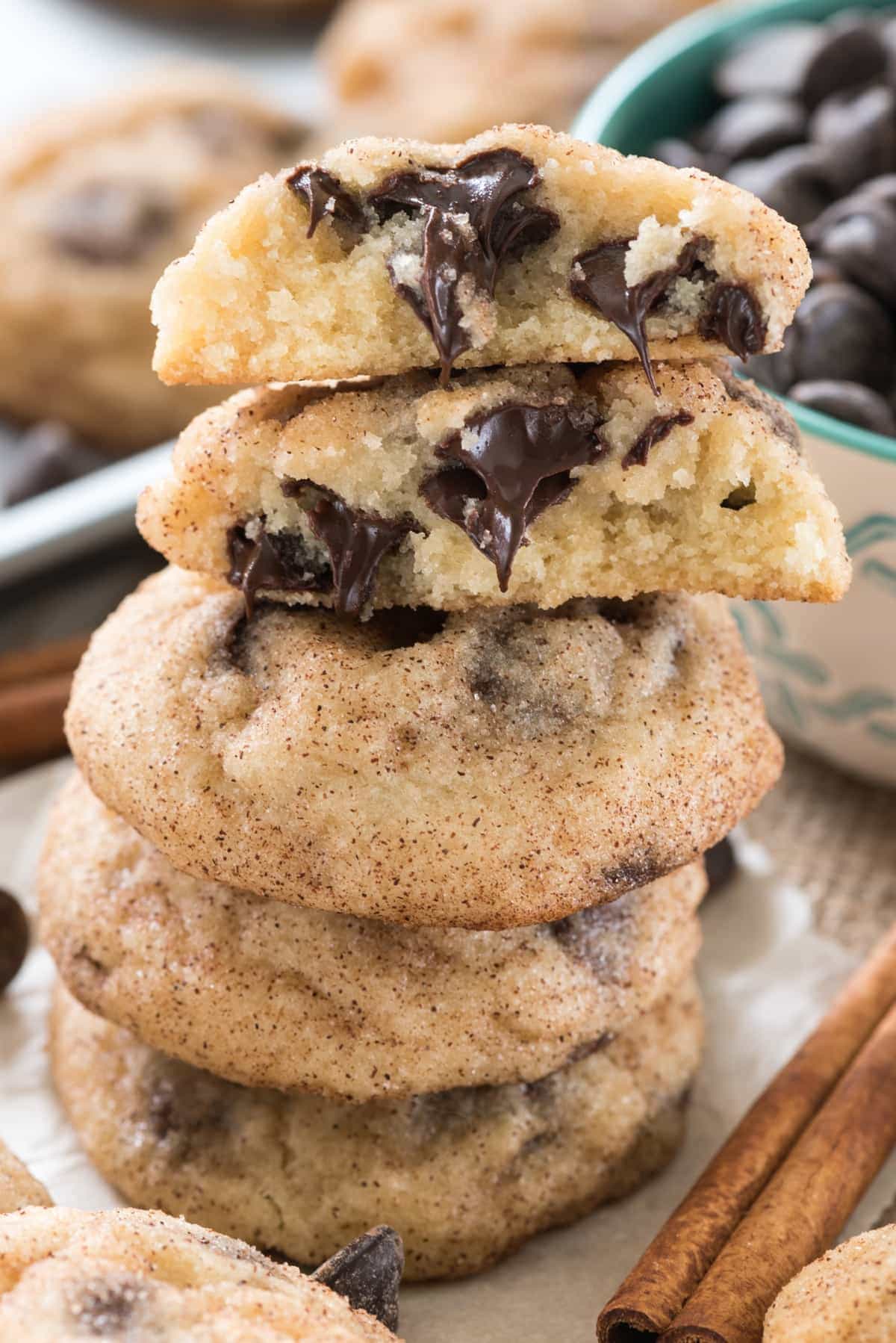 So, you might remember I'm no stranger to snickerdoodle cookies – I love tinkering with the traditional recipe. Case in point, my Peanut Butter Snickerdoodles; they're a reader AND family favorite. But why oh why have I never thought to put chocolate chips in my snickerdoodle recipe?
Life Changing, people, seriously. Capital L, capital C, and again, by Life Changing, I mean I went up a pants size…or two. (Moral of the story: make this recipe to share ONLY.)
Oh, you didn't know I had a snickerdoodle recipe on this blog? Well SURPRISE…I don't. But I DO have a Perfect Sugar Cookie, a cookie that, by chance, has cream of tartar on the ingredients list. Three guesses what the secret to amazing snickerdoodles is…ready? One, two…
Cream of Tartar <– that's the perfect ingredient in all good snickerdoodle recipes. If we're being all technical and cookie science-y, sugar cookies don't normally have cream of tartar because they are supposed to be crunchy and not puffy. (Whoever decided that is cray-cray, but whatever.) Snickerdoodles are supposed to have that little "tang" flavor from the cream of tartar, and it also gives them a chewy yet puffy texture.
(Which, if we're being honest, describes what every good cookie in the world should taste like, always, IMO.)
So, long story short, my sugar cookie recipe doubles as a snickerdoodle cookie recipe if you roll it in sugar.
If you want to make the absolute best snickerdoodle ever, you have to add chocolate chips. <–My new law.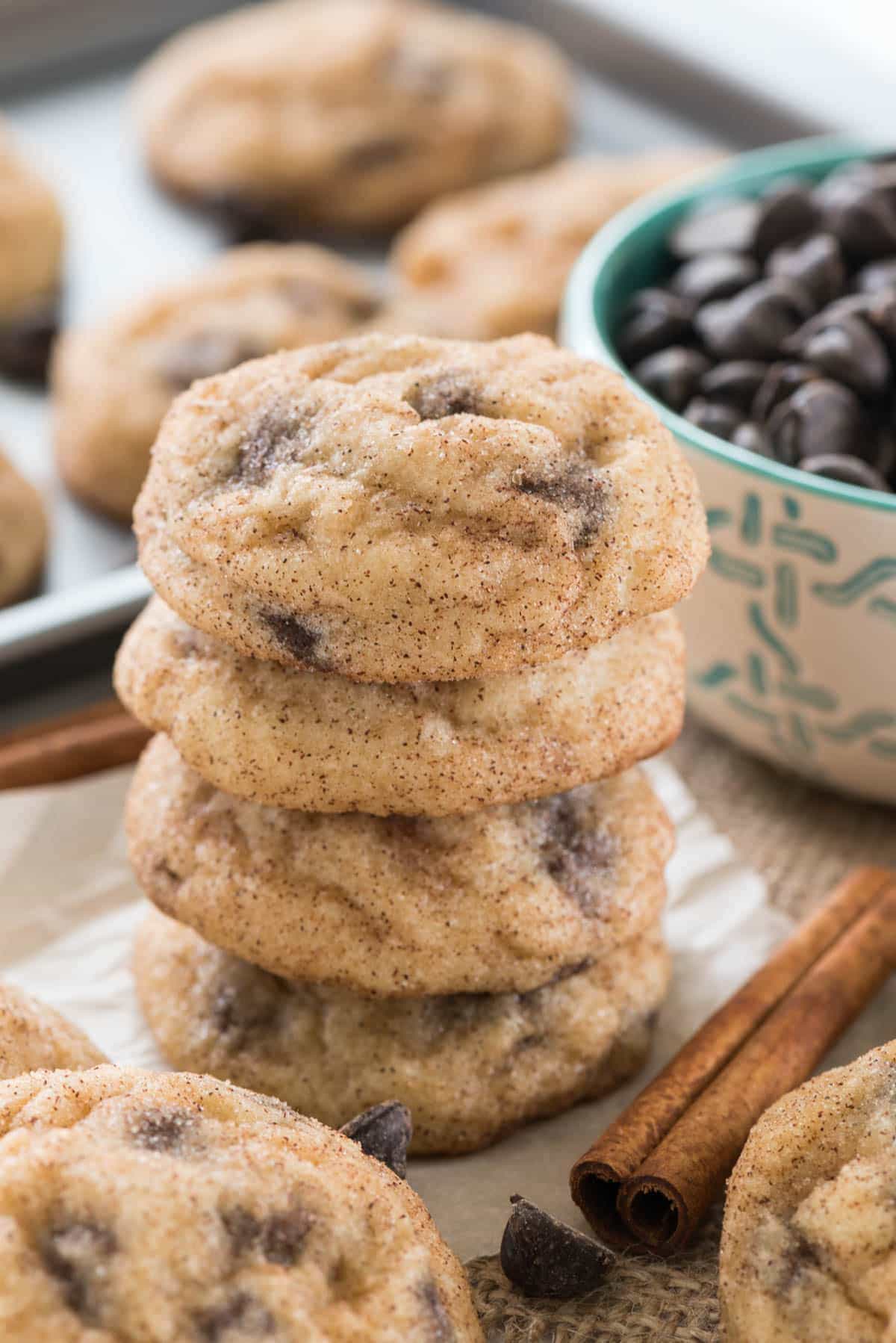 What kind of chocolate chips do you love?
Okay, so can we talk about chocolate chips for just a teeny second? There are tons of chocolate chip brands out there. We all probably have our favorite, right? I do 99% of my grocery shopping at Walmart or the sale items at Safeway, so I normally buy Hershey's. Sometimes I splurge of Ghiradelli or Guittard. But, my friends, I'm breaking up with my old chocolate chips.
From now until forever, I will brave dents in my car doors and being run over by speeding cars just so I can buy all my chocolate chips at Trader Joe's. A few of my blogger friends have recommended them and I finally remembered to buy a few packages during my last visit. (I try to only go there a few times a year, because I cannot handle the parking lot or the tubs of Cat Cookies I come home with.)
These are LIFE CHANGING chocolate chips. The taste is stellar, but more importantly? They stay gooey for hours and, even when the cookies are completely cool, they never get rock solid hard again. That makes these chocolate chip a dessert blogger's dream, because you can get the gooey shot without microwaving the heck out of a perfectly done cookie. (Can I get an Amen?)
Also? They create Life Changing Chocolate Chip Snickerdoodles.

How To Make Chocolate Chip Snickerdoodles:
Use a good quality butter.
These don't need chilling.
Don't skip the cream of tartar!
Skip the chocolate chips for a basic snickerdoodle recipe.
I'm not joking when I say I made these Chocolate Chip Snickerdoodles twice in a week. The cookies stay soft and chewy, the cinnamon sugar crunch is the perfect snickerdoodle flavor, and the chocolate. Oh man, the chocolate gets me every time.
Want even more? Subscribe to Crazy for Crust to get new recipes and a newsletter delivered to your inbox. And stay in touch on Facebook, Pinterest, Twitter, and Instagram for all my latest updates. If you make this recipe, share a photo on social media tagging @crazyforcrust and using the hashtag #crazyforcrust.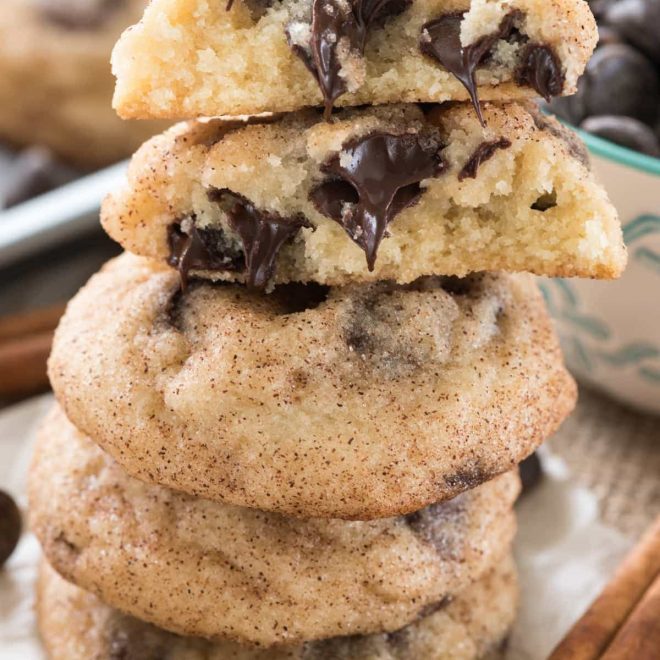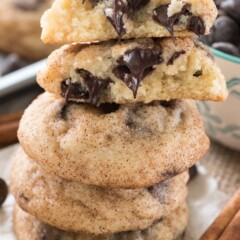 Chocolate Chip Snickerdoodles
Chocolate Chip Snickerdoodles are the best snickerdoodle cookie recipe filled with chocolate chips! These are a family favorite cookie recipe!!
Ingredients
3/4

cup

unsalted butter

3/4

cup

+ 1/3 cup granulated sugar

divided

1

large egg

1

tablespoon

vanilla extract

1/2

teaspoon

baking soda

1/2

teaspoon

cream of tartar

1/2

teaspoon

salt

2

cups

all purpose flour

1

cup

chocolate chips

2

teaspoons

ground cinnamon
Instructions
Preheat oven to 350°F. Line two cookie sheets with parchment paper or silpat baking mats.

Cream butter and 3/4 cup sugar with a stand mixer fitted with the paddle attachment (or you may use a hand mixer). Once the mixture is creamed and fluffy, mix in the egg and vanilla extract until smooth, then mix in the baking soda, cream of tartar, and salt. Slowly mix in flour until the mixture is just combined, then stir in the chocolate chips.

Place remaining 1/3 cup sugar and cinnamon in a small bowl and stir.

Scoop 2 tablespoon sized balls of cookie dough and roll them in the cinnamon sugar, then place them 2" apart on the prepared cookie sheets. Bake for 9-11 minutes, or until the bottoms just start to turn golden brown. (These taste better if you err on the side of under rather than over done). Cool at least 5 minutes on cookie sheet before removing.

Store in an airtight container for up to 3 days or freeze for up to 1 month.
Recipe Nutrition
Serving:
1
cookie
|
Calories:
181
kcal
|
Carbohydrates:
23
g
|
Protein:
2
g
|
Fat:
9
g
|
Saturated Fat:
5
g
|
Cholesterol:
23
mg
|
Sodium:
857
mg
|
Fiber:
1
g
|
Sugar:
15
g
Nutritional information not guaranteed to be accurate
**Did you make this recipe? Don't forget to give it a star rating below!**
Click here to see more of my Christmas cookie recipes!
Chocolate Mocha Snickerdoodles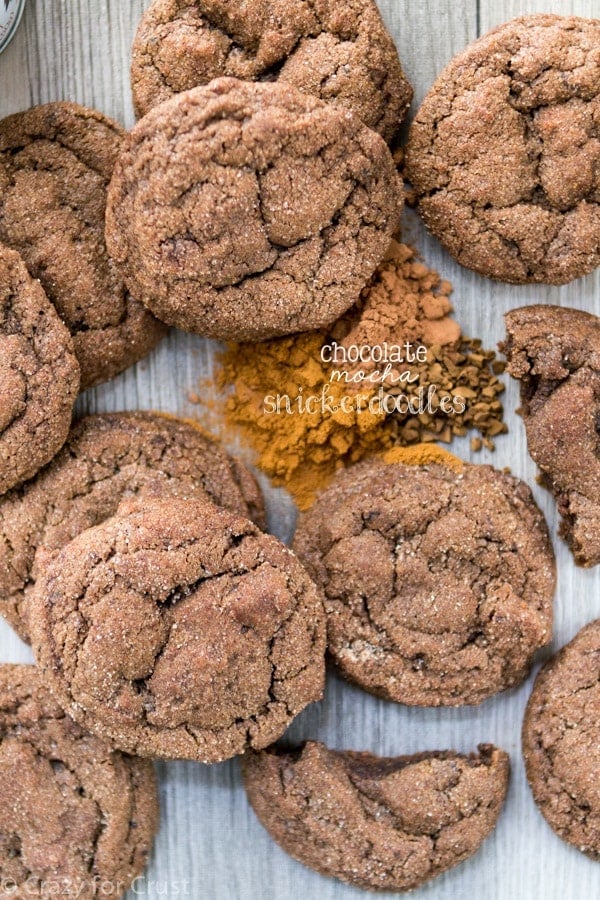 Peanut Butter Snickerdoodles – a reader and Kern family favorite!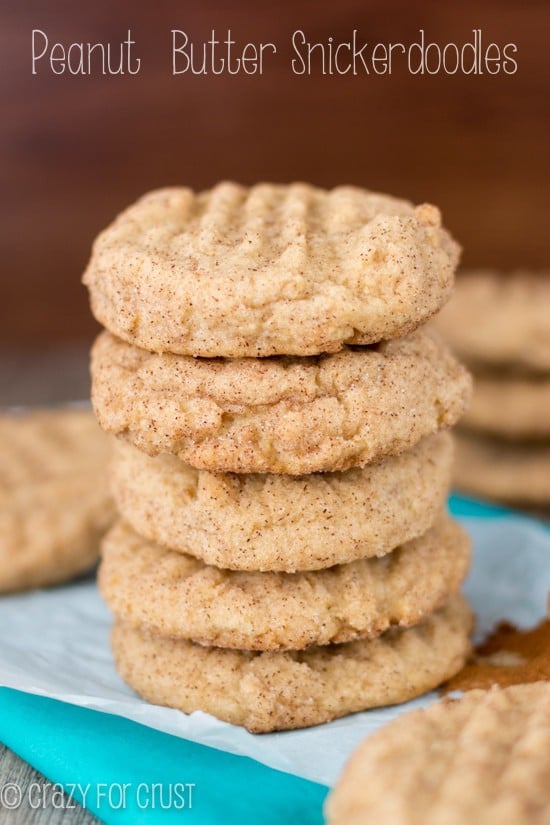 Chocolate Chip Macadamia Nut Shortbread Cookies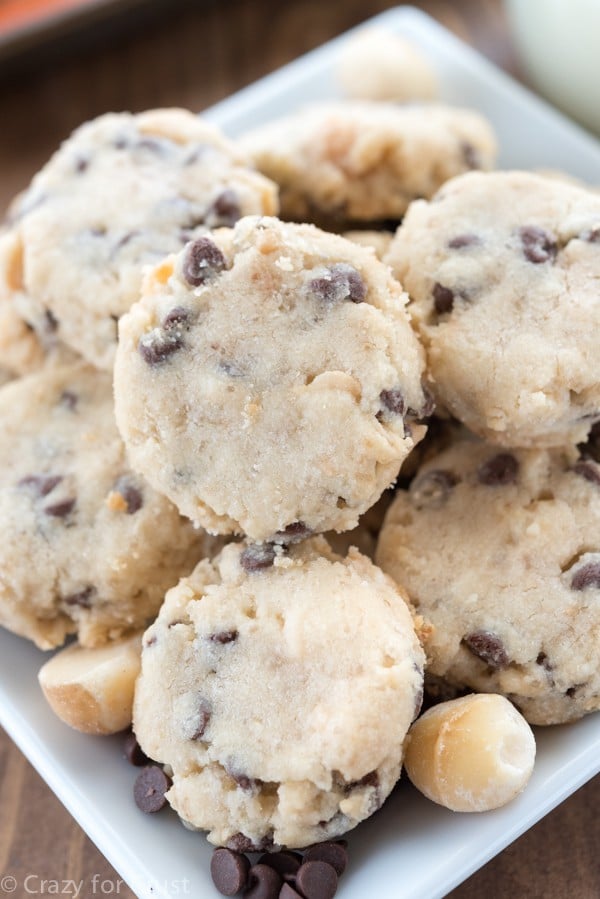 Last Updated on August 28, 2019