This post may contain affiliate links. For more information, read my disclosure policy.
Ding, dong. The Girl Scouts are coming! It's time to GS Cookie #allthethings. Don't worry, no Peanut Butter Patties were harmed in the making of these homemade Tagalong Bars. (What's with the two names, anyway??)
Copycat Tagalong Bars are a Girl Scout Cookie copycat recipe with a shortbread crust, creamy peanut butter filling, and chocolate topping. If you don't have any Peanut Butter Patties these will satisfy your craving for peanut butter and chocolate bars!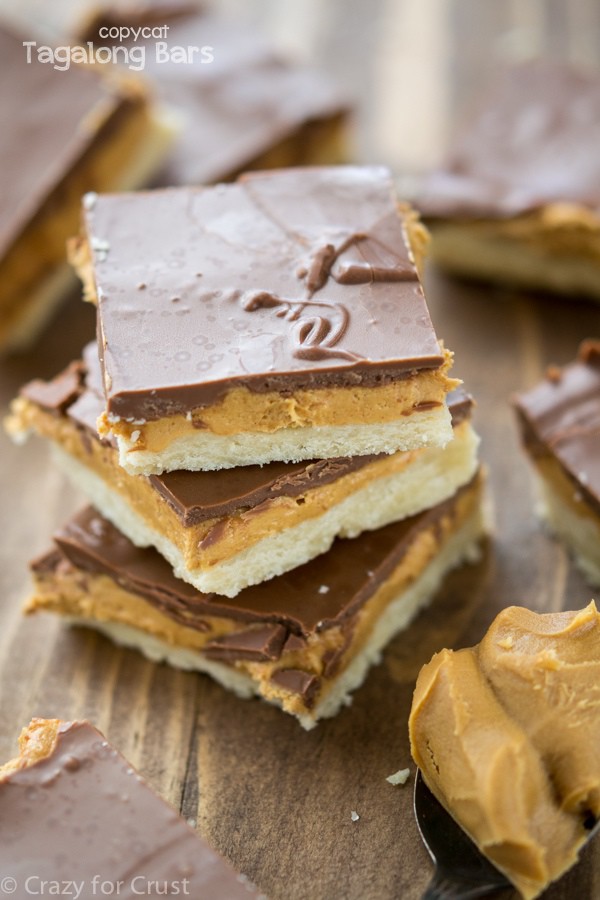 A friend of mine has this super cool sign outside her front door. It's the best no solicitors sign I've ever seen. It says, and I quote:
No Soliciting
We are too broke to buy anything
We know who we are voting for
We have found Jesus
Seriously.
Unless you're selling Thin Mints…
Please GO AWAY.
I would edit it to say:
No Soliciting
I don't need any more magazines
We already have insurance
We want solar, but unless you can give it to us for free (and even then, I wouldn't hire a door-to-door solar guy on principle)
We have an exterminator, and no, I know all my neighbors don't use you
Unless you're selling Thin Mints, Samoas, and Tagalongs…
Please do not ring the bell, open the screen and pound on the door.
Just GO AWAY.
Obviously the original sign was missing something important. Thin Mints are great…but Tagalongs are almost just as good. Sometimes? When I want peanut butter? They're better.

I'm impatient. No Girl Scouts have come to my door yet. I know they won't, for another few weeks. And then? I'll have to wait until March. #notfair
So I made my own Tagalong/Peanut Butter Patties. And I made them into bars because bars are way easier. Plus? I can make a super rich and thick shortbread layer/crust and that's kind of the point.
How do you make the best copycat Tagalong Bars?
The bottom layer is the cookie layer: a buttery, rich shortbread cookie. It's pressed into your 9×9″ pan and baked. It's soft and perfect.
The

peanut butter layer

just makes these bars. It actually tastes like the peanut butter inside a Tagalong! Peanut butter, powdered sugar, and vanilla gets mixed and spread over the crumbly shortbread.
The

chocolate

. Obviously, a copycat tagalong bar needs chocolate. I used simple milk chocolate chips (you could use semi-sweet) and I added some shortening for three reasons: so the chocolate would melt easier, it would spread easier, and so it would cut easier. Mission accomplished.
A note about cutting these bars: before cutting, you need to let your chocolate set. I did this on the counter, overnight. Since it's winter, it gets cold in my house and the chocolate hardened no problem. You can chill them to speed up the setting (or if it's summer), but be sure that you bring them up to room temperature before cutting, for 2 reasons. One, if you cut cold chocolate (even with shortening in it) it will crack, leaving your bars looking like plaster after an earthquake. And two, the peanut butter does not harden. It stays soft, like peanut butter. If you have very cold chocolate on on top and cut it with a knife, the force you exert on the top will cause the peanut butter to squish out the sides. That's not good.
Copycat Tagalong Bars are the perfect way to enjoy Girl Scout Cookies anytime – they have a shortbread crust, a peanut butter filling, and a chocolate topping!
Moral of the story: room temperature cutting is important. The end.
Now if I were to ring your doorbell…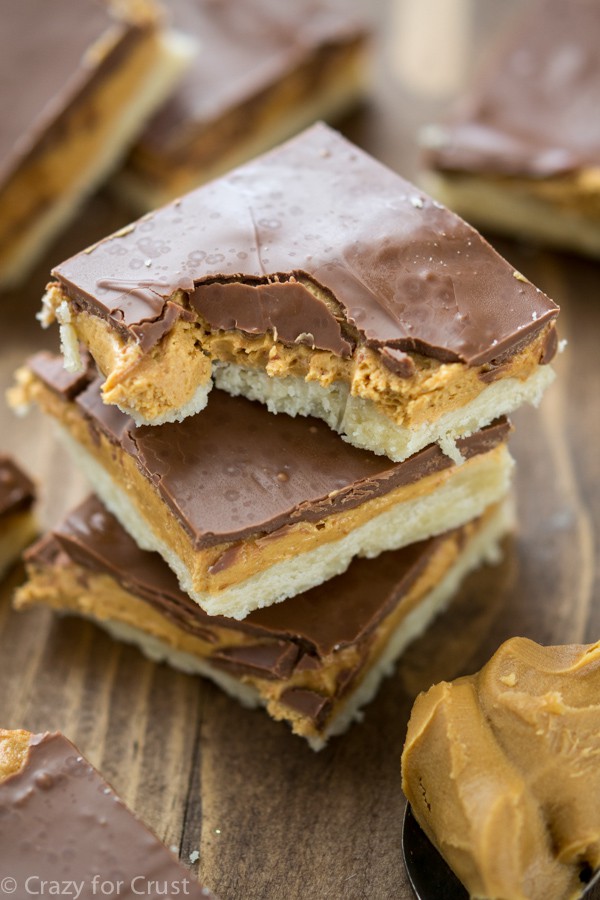 You probably should answer. I'm not selling magazines or solar, but I do come with edible presents.
We all know how much I love Girl Scout cookie recipes, like Samoa Magic Bars or Thin Mint S'mores. I also loved making a chocolate version of these bars! And you can click here to see more of my PEANUT BUTTER recipes! Did you know you can make homemade Tagalongs using Ritz Crackers? Genius!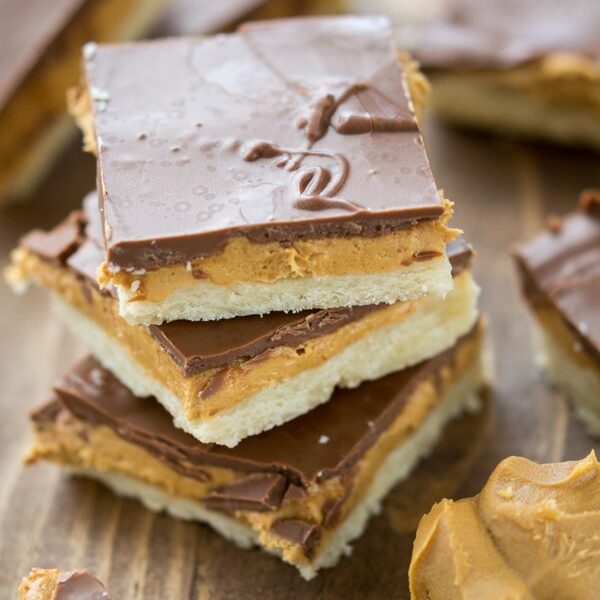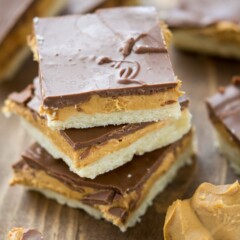 Tagalong Bars
These Tagalong Bars are just like the Girl Scout Peanut Butter Patties...but they're in bar form. And they're homemade. A shortbread bar cookie is topped with peanut butter and chocolate for a bar version of your favorite cookie.
Ingredients
1/2

cup

unsalted butter

softened

1/3

+ 1/2 cup powdered sugar

divided

2

teaspoons

vanilla extract

divided

1 1/4

cups

all-purpose flour

1/4

teaspoon

salt

1

cup

creamy peanut butter

I use Skippy

1

cup

milk chocolate chips

2

teaspoons

Crisco shortening
Instructions
Preheat oven to 350°F. Line a 9x9" pan with foil and spray with cooking spray.

Cream butter and 1/3 cup powdered sugar in the bowl of a stand mixer (or using a hand mixer). Add 1 teaspoon vanilla and mix, scraping the bowl a few times to make sure that the butter and powdered sugar are completely incorporated. Mix in salt and flour until combined. It will take a few moments to turn from crumbly into an actual dough. Just keep mixing until it does.

Press dough into the prepared pan, like a crust.

Bake for 14-18 minutes, until the shortbread is no longer shiny or translucent. It won't brown very much, if at all. Let cool completely before the next step.

Mix peanut butter, 1/2 cup powdered sugar, and 1 teaspoon vanilla with a hand mixer. Spread evenly over the top of the cooled shortbread.

Melt chocolate chips and shortening in a microwave safe bowl. (Heat on high in 30 second increments, stirring between each, until melted and smooth.) Spread over the top of the peanut butter layer.

Important: it was cold in my house when I made these bars. I let them set and the chocolate harden on the counter. If you must chill them to set the chocolate, make sure you let them come up to room temperature before cutting so that the chocolate doesn't break. The peanut butter is smooth and does not harden, so if the chocolate is too hard the peanut butter layer will smoosh out while cutting. Letting the bars harden overnight on the counter shouldn't be a problem, unless it's summer and very warm in your house
Recipe Nutrition
Serving:
1
bar
|
Calories:
272
kcal
|
Carbohydrates:
5
g
|
Protein:
5
g
|
Fat:
18
g
|
Saturated Fat:
8
g
|
Cholesterol:
15
mg
|
Sodium:
153
mg
|
Fiber:
1
g
|
Sugar:
15
g
Nutritional information not guaranteed to be accurate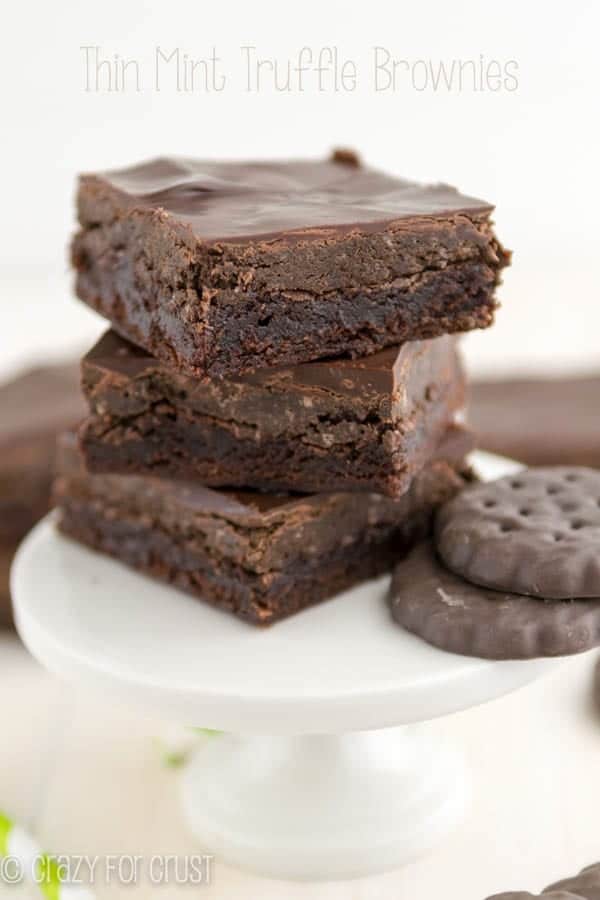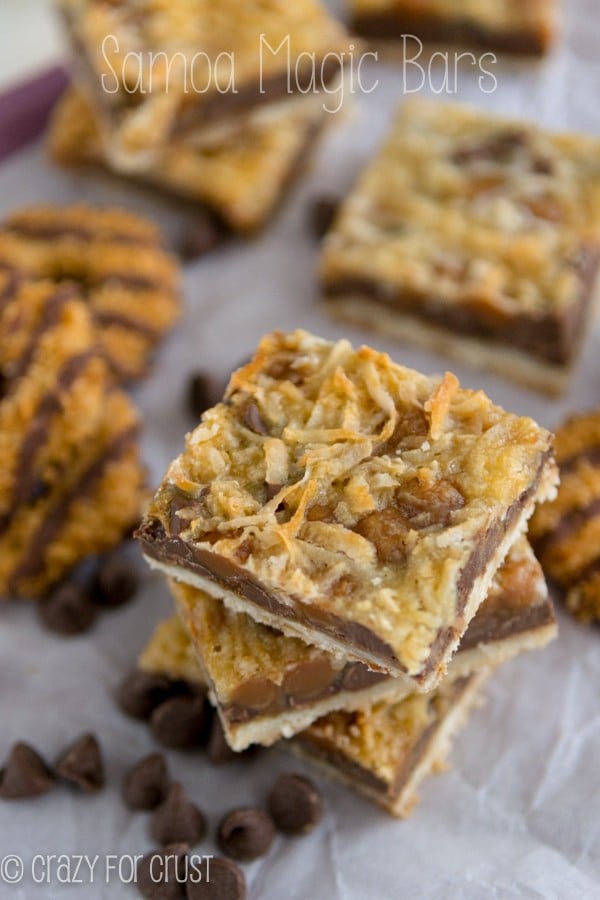 No Bake Peanut Butter Pretzel Bars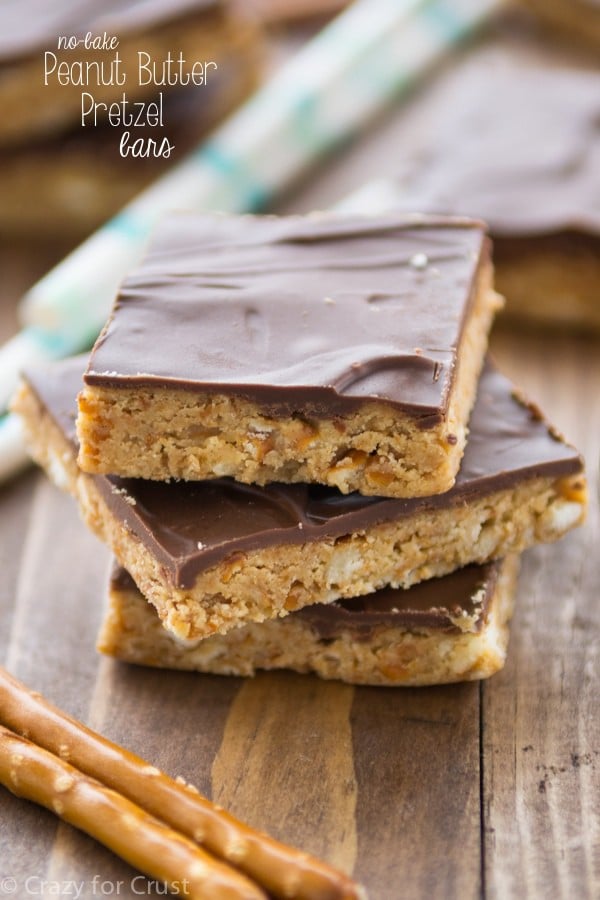 Peanut Butter Caramel Shortbread Bars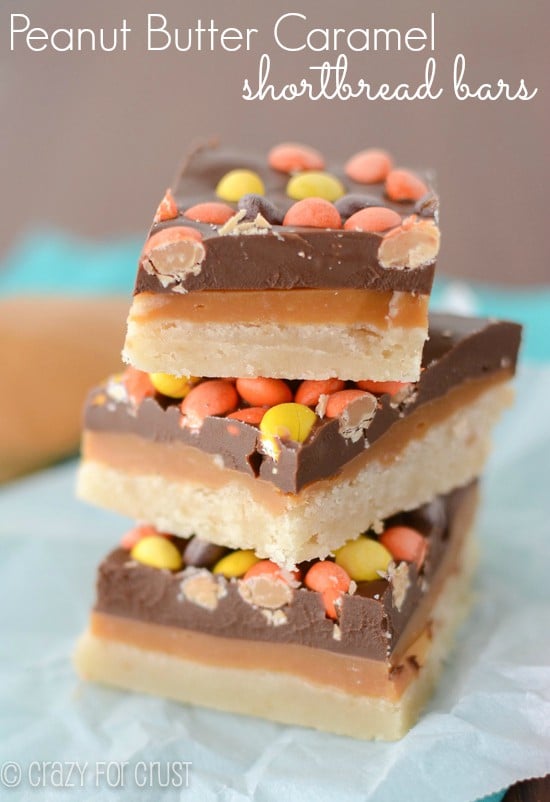 Sweets from friends:
Tagalong Popcorn by Something Swanky
Tagalong S'mores by The Cooking Actress
Homemade Tagalongs by Bakeaholic Mama
Last Updated on August 21, 2018