This post may contain affiliate links. For more information, read my disclosure policy.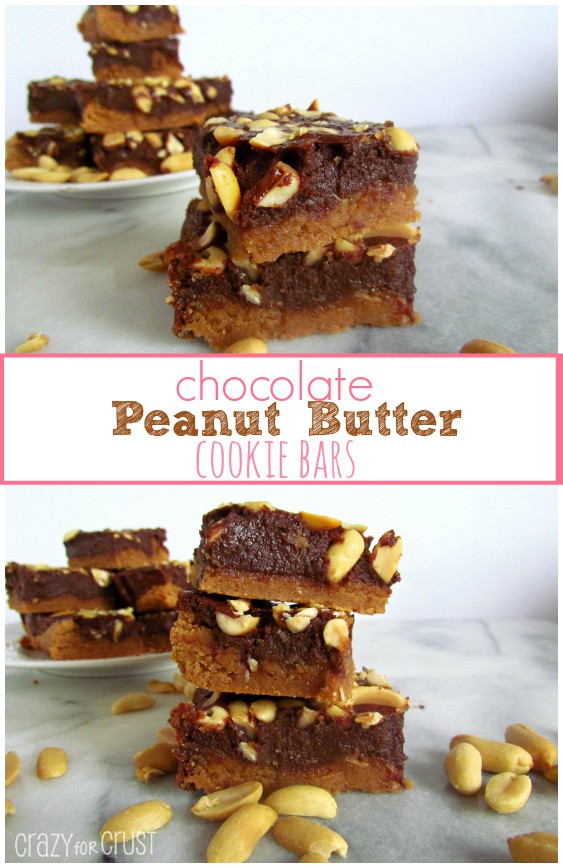 Here is a snapshot into how my days have been starting lately:
5:40 AM Jordan awakes and goes to the bathroom, which is down the hall from my room. She flips on the light without closing the door, causing my retinas to burst awake from sleep.
5:45 AM She heads back to her room, leaving the light on and the bathroom door open, ceasing all chances for my return to slumber.
5:50 AM She comes to stare at me from my doorway.
5:52 AM I give in and ask why she's up so early. She pulls the "I'm scared" card. I try to give her a hug and send her back to her room but drop the No Wire Hangers! act and let her get into bed with me on strict instruction to BE QUIET and LAY STILL.
6:07 AM I can feel her tenseness, knowing it has been unbelievably hard for her to not move for a whole 15 minutes. I let her snuggle with me.
6:08 AM She kicks me in the shin.
6:09 AM She asks me a question that I answer with a grunt. This answer is not satisfying to her, so she asks again, louder. Process continues.
6:10 AM The music in her head starts to play the Macarena, or so it seems from the dance moves she does up against me while leaning against my back.
6:12 AM She hits me in the face with her elbow.
6:12:36 AM She is released from my bed and allowed to go watch TV. The light in the bathroom is still on.
When I awake to days like these, I need treats. These Peanut Butter Chocolate Cookie Bars fit the bill. A rich peanut butter cookie base topped with a chewy chocolate mixture and chopped peanuts. If you like peanut butter and chocolate, these bars are perfect for you.
I have a feeling I'll be making them a lot. Since the time the sun rises doesn't seem to matter to Jordan.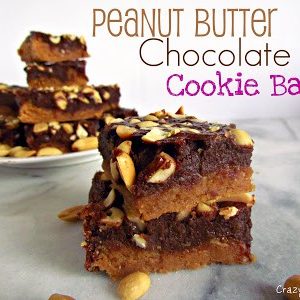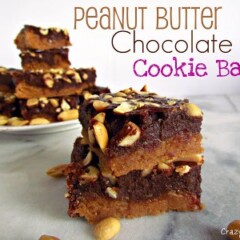 Peanut Butter Chocolate Cookie Bars
Ingredients
1

cup

peanut butter

1

cup

sugar

2

eggs

1

can

(14 ounces) sweetened condensed milk

2

ounces

unsweetened baking chocolate

, melted and cooled

1

teaspoon

vanilla extract

½

cup

coarsely chopped peanuts
Instructions
Preheat oven to 350°. Line a 9x9" baking pan with foil and spray with cooking spray. Set aside.

Mix the peanut butter, sugar, and 1 egg in a large bowl by hand. Spread into the bottom of the prepared pan. Bake for 12 minutes. While the crust is baking, make the filling.

In a medium bowl, stir together the melted and cooled chocolate with the sweetened condensed milk. Add remaining egg and vanilla and stir until combined. When crust comes out of the oven, spread chocolate mixture over hot crust. Sprinkle the peanuts evenly on top. Return to oven and bake an additional 20-25 minutes until the top bounces back when you touch it. Cool completely and cut into bars.
Nutritional information not guaranteed to be accurate
Yield: about 18 bars, depending on size.
Last Updated on September 12, 2022