This post may contain affiliate links. For more information, read my disclosure policy.
Skinny Chocolate Muffins – Want a satisfying muffin with only 102 calories? These Skinny Chocolate Muffins pack 3.5 grams of protein and you can still have chocolate for breakfast!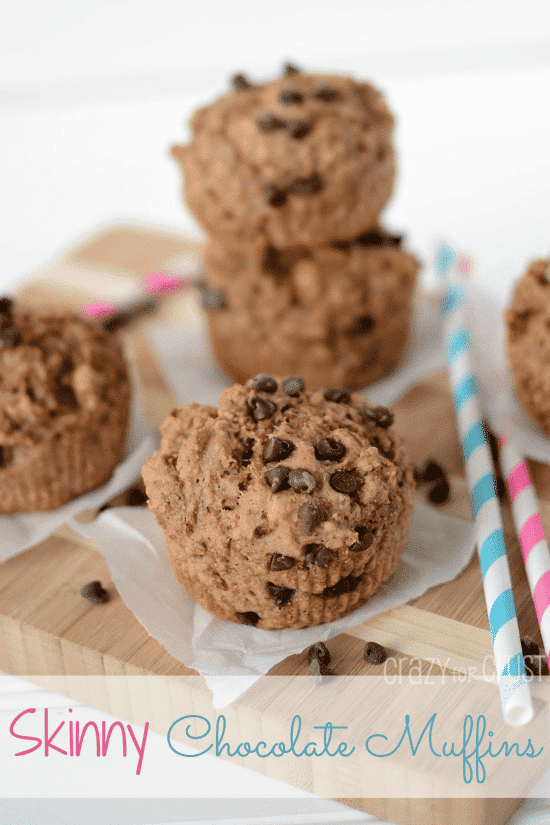 So I started working with a personal trainer. I've always resisted doing it, but I switched gyms and it came with a really great deal on 3 sessions, so I figured I'd try it out.
He started out by asking me what I typically ate in a day. I told him the "truth" – you know. The one you'd tell your doctor?
"Bran flakes for breakfast, coffee. More coffee, a muffin, An apple after my workout. A frozen WW pizza and five cookies Some hummus and turkey for lunch, and a healthy dinner. And a huge small dessert."
Then he weighed me and calculated my body fat. I closed my eyes during both. One, I know I'm overweight – my pants are tight. Knowing the number will cause me to eat five pounds of cookies and hate myself after. As for the body fat calculation…I have no idea what it was and I don't want to know. Plus, I don't even really believe that holding a Xbox controller straight out in front of me for 30 seconds can tell anyone anything but that I am able to hold out my arms in front of me with my eyes closed for 30 seconds. Electrical current? Pffft.
Anyway, during our first session he ran me through some drills and gave me some pointers. Today he actually came over while I was running and told me what intervals to do. (7 mph for 1 minute, 5 mph for 1 minute, walk for 1 minute, repeat for 30 minutes. I had sweat where I didn't know you could have sweat, so that's a keeper.)
One thing my trainer told me that I didn't realize is that I'm not eating enough for breakfast. I need more protein – and if I eat more in the morning I'll be fuller all day. I do eat breakfast – bran cereal – every day, so I thought that was enough. Turns out, it's not. So, I'm trying to add in more protein into my morning.
Of course, my first thought was to make muffins. That's the logical thing to do, right? Have a training session, go make muffins.
BUT – these are healthy muffins. Skinny. Each of these Skinny Chocolate Muffins contain only 102 calories each and they have 3.5 grams of protein each!
They also have 3.7 grams of fiber, because they have a secret. I lied by omission.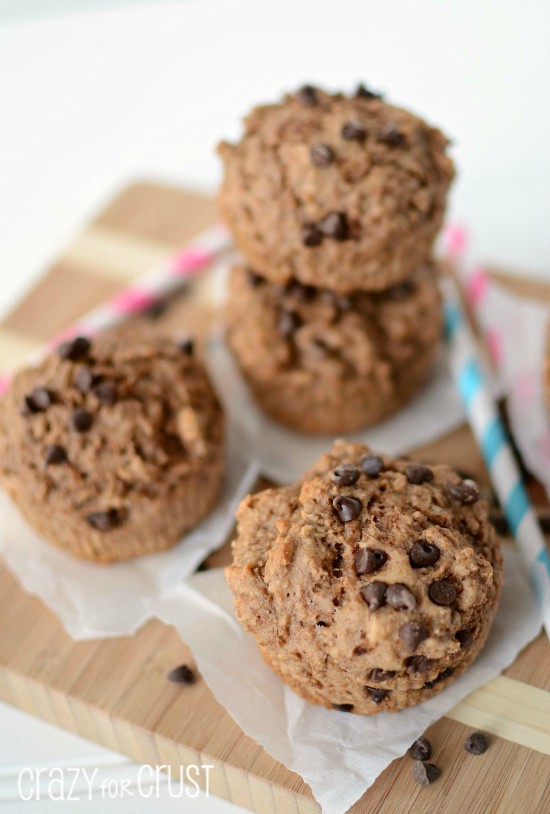 These are Skinny Chocolate BRAN Muffins. See why I lied? You wouldn't have come to visit if you'd know that. I apologize for my pathological lying. I mean, I did it before, when I posted Pumpkin Streusel Muffins. But you liked those, right?
I really like bran muffins (homemade ones anyway). I've eaten them since I was a kid. My Nana always made them for me, from the recipe on the side of the All Bran box. Over the years I've edited them to make them more healthy. Now I'm adding chocolate, because chocolate makes everything better.
The secret to the chocolate is to use Chocolate Almond Milk. I used Almond Breeze, and it adds a nice but not overwhelming chocolate flavor. The milk has sugar in it, so I only added 1 tablespoon of sugar to the batter. These Skinny Chocolate Muffins are not overly sweet, but perfect for the morning. If you want them sweeter, you can add 1-2 additional tablespoons of sugar, but it will alter the calorie count.
These Skinny Chocolate Muffins have no oil or butter at all.
Instead of oil, I used Nonfat Plain Greek Yogurt. I love subbing Greek yogurt for fat. Even though you wouldn't think it, the yogurt actually keeps the muffins moist!
Then, for a little extra chocolate, I added a sprinkling of mini chocolate chips on the top. It doesn't add much in the way of calories, but you get a little more chocolate! More chocolate = Better!
These Skinny Chocolate Muffins are the perfect breakfast. They aren't too sweet, and they have substance. I also like them as a post-workout snack. They are best enjoyed within 2 days, but I always freeze them the day I make them. Then I have them handy, whenever I want one!
So, I'm telling you – chocolate for breakfast is okay. I think my trainer would be okay with these Skinny Chocolate Muffins.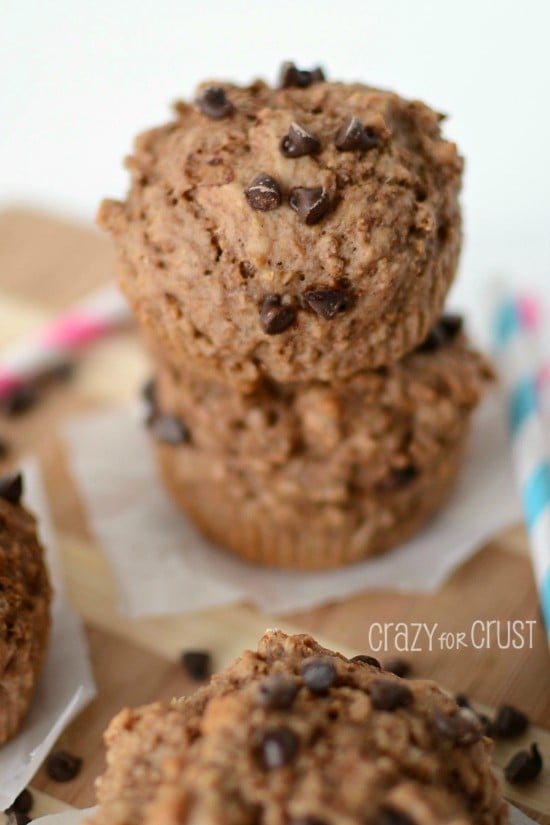 Er…maybe I should just not tell him. 😉
What do you eat for breakfast? High protein? I need ideas!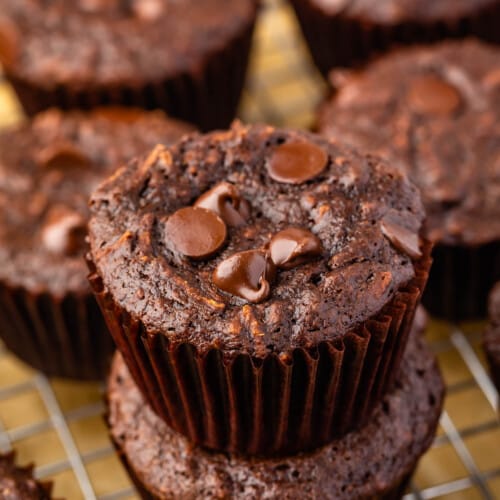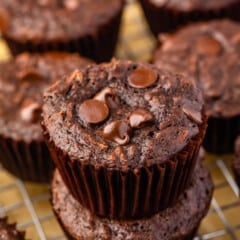 Chocolate Bran Muffins Recipe
A skinny chocolate muffin with only 102 calories and 3.5 grams of protein!
Ingredients
2

cups

(123g) All Bran Cereal

1 ¼

cups

milk

nondairy, nonfat, or 2%

½

cup

(100g) granulated sugar

2

tablespoons

(33g) unsweetened applesauce

2

tablespoons

(30ml) vegetable oil

1

large egg

¼

teaspoon

salt

1

tablespoon

baking powder

½

cup

(40g) unsweetened cocoa powder (not Dutch process)

¾

cup

(93g) all-purpose flour
Instructions
Preheat oven to 350°F. Line 12 muffin cups with paper liners and spray them with nonstick cooking spray.

Place bran cereal and milk in a medium bowl. Make sure all the bran is underneath the milk; set aside to soak while mixing remaining ingredients.

Place sugar, applesauce, oil, egg, salt, and baking powder in a large mixing bowl. Stir or use a hand mixer to mix until smooth. Stir in coco powder.

Add bran cereal mixture to the sugar mixture along with the flour and stir or mix until combined.

Fill muffin cups ¾ full. Bake 18-24 minutes or until toothpick comes out clean. Allow to cool at least 10 minutes before removing wrappers or they'll pull off some of the muffin.

Store in an airtight container for up to 3 days or freeze for up to 3 months.
Recipe Notes
Any kind of milk is okay to use – any fat content, regular milk or nondairy.
You can substitute sugar-free sweetener for the sugar (I use equal amounts Swerve
Granulated amount used will differ for other brands)
For a fluffier muffin, omit applesauce and increase oil to ¼ cup.
For a lower-fat muffin, omit oil and increase applesauce to ¼ cup (will change the texture slightly.)
For lower cholesterol, use 2 egg whites in place of the 1 large egg (will slightly change the texture).
Recipe Nutrition
Serving:
1
muffin
|
Calories:
138
kcal
|
Carbohydrates:
26
g
|
Protein:
4
g
|
Fat:
5
g
|
Saturated Fat:
1
g
|
Polyunsaturated Fat:
2
g
|
Monounsaturated Fat:
1
g
|
Trans Fat:
0.02
g
|
Cholesterol:
17
mg
|
Sodium:
92
mg
|
Potassium:
314
mg
|
Fiber:
5
g
|
Sugar:
11
g
|
Vitamin A:
242
IU
|
Vitamin C:
2
mg
|
Calcium:
123
mg
|
Iron:
3
mg
Nutritional information not guaranteed to be accurate
(Calorie count and nutritional information was calculated through SparkPeople.)
Pumpkin Streusel Muffins {Bran, low-cal}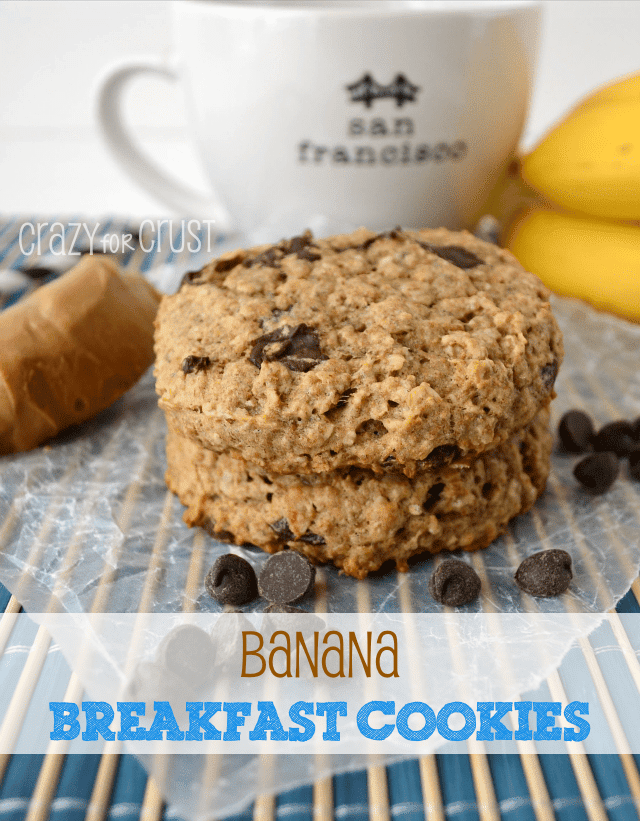 Sweets from friends:
Skinny Banana Blueberry Muffins by Sally's Baking Addiction
Healthy Chocolate No-Bake Cookies by Sweet Treats and More
Dark Chocolate Overnight Oats by Something Swanky
Last Updated on May 19, 2020