This post may contain affiliate links. For more information, read my disclosure policy.
Did you know that you can make Lava Cupcakes with cake mix? I love making Red Velvet Lava Cupcakes for Valentine's Day but you can make these all year long with ANY flavor cake mix!
They're basically a cupcake filled with a rich chocolate ganache – they're SO rich and easy to make!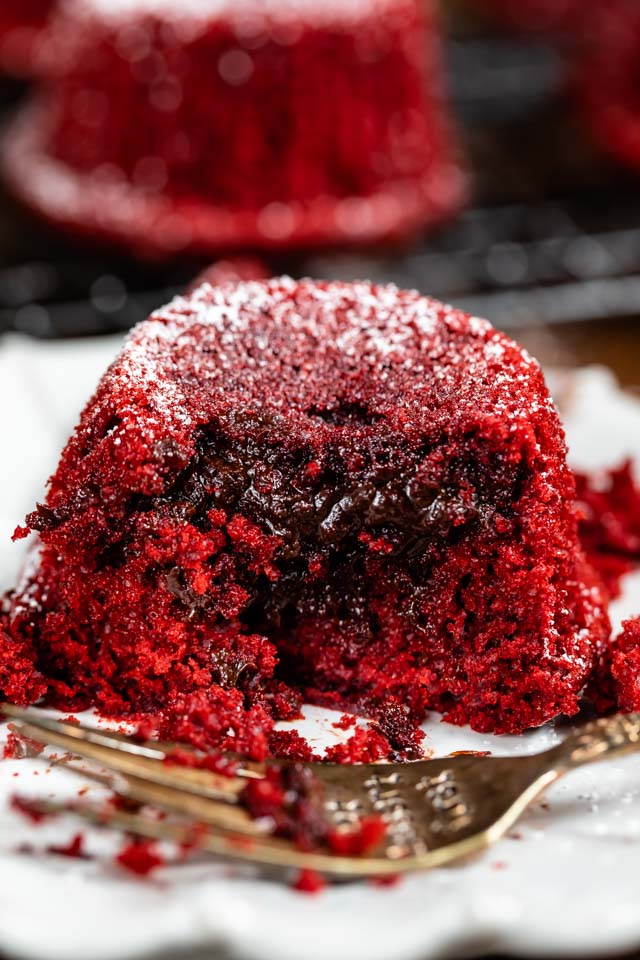 Things that I find magical:
Unicorns (they DO exist)
Love and being with my family.
Snagging the first parking spot in the Walmart Parking lot. (If that's not magical, I don't know what is.)
CAKE MIX. (RIGHT?? Isn't it the BEST?)
Even better: making molten lava cake out of cake mix!
When I was a kid, I seriously thought that chefs did something magical to make the chocolate "lava" flow out of the center of a cake. Why didn't it bake? How is it melty like that? It must be magic!
As an adult, I have come to understand the workings of the molten lava cake magic trick: ganache. But it's still magical. Especially in red velvet cupcakes!
Table of Contents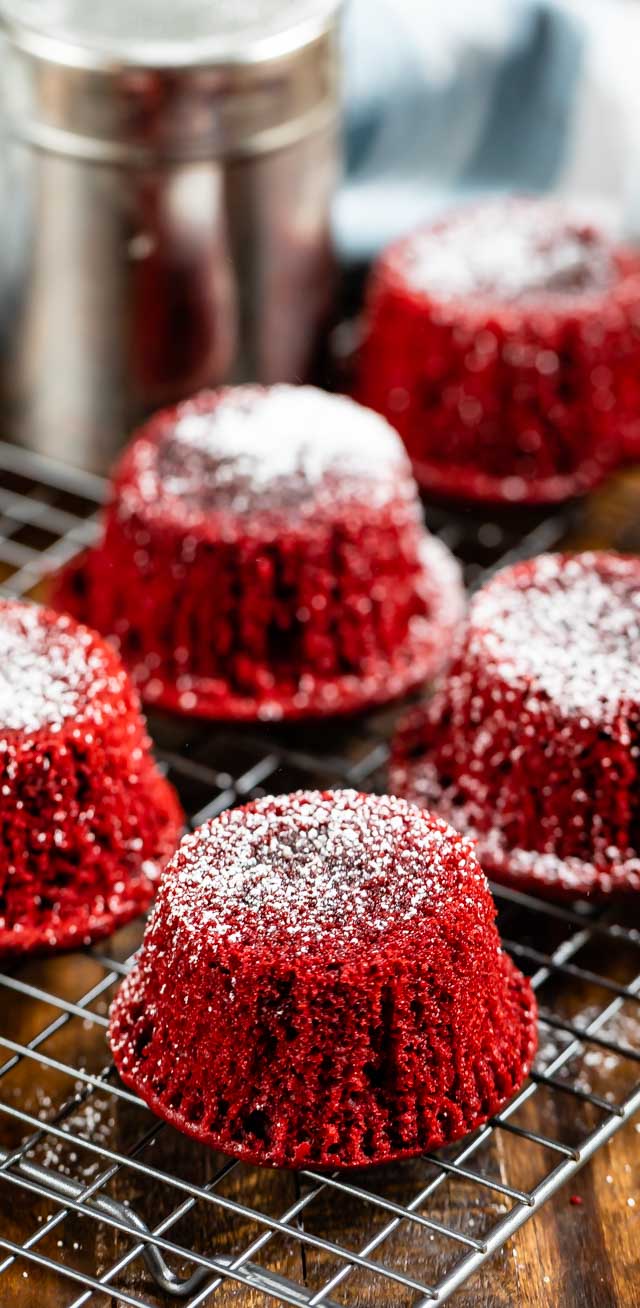 What is a Lava Cake?
A traditional Molten Lava Cake (aka Molten Chocolate Cake) is a cross between a soufflé and a flourless chocolate cake. When you dig your spoon into the center of the cake, the chocolate center flows out like lava, get it?
Now, these aren't traditional lava cakes – they're lava cupcakes – and they're made with ganache. But they're easy to make and SO GOOD, so they're a good starting point if you've never made lava cake before.
Make Lava Cake with CAKE MIX!
I started with a red velvet cake mix. You could use my red velvet cupcake recipe, but I hate making red velvet from scratch. One reason: food coloring.
Am I the only one who manages to get red food coloring over all-the-things when working with it? Droplets that you find for weeks? I barely have to look at my food coloring basket and all of a sudden I have red fingers and blue drops all over my counters.
So, to save my sanity, I made a red velvet cake mix and lined a cupcake tin with liners. Fill up the liners only about halfway – not the usual 2/3 full, otherwise they will spill over.
Then it's time for the secret ingredient: chocolate ganache!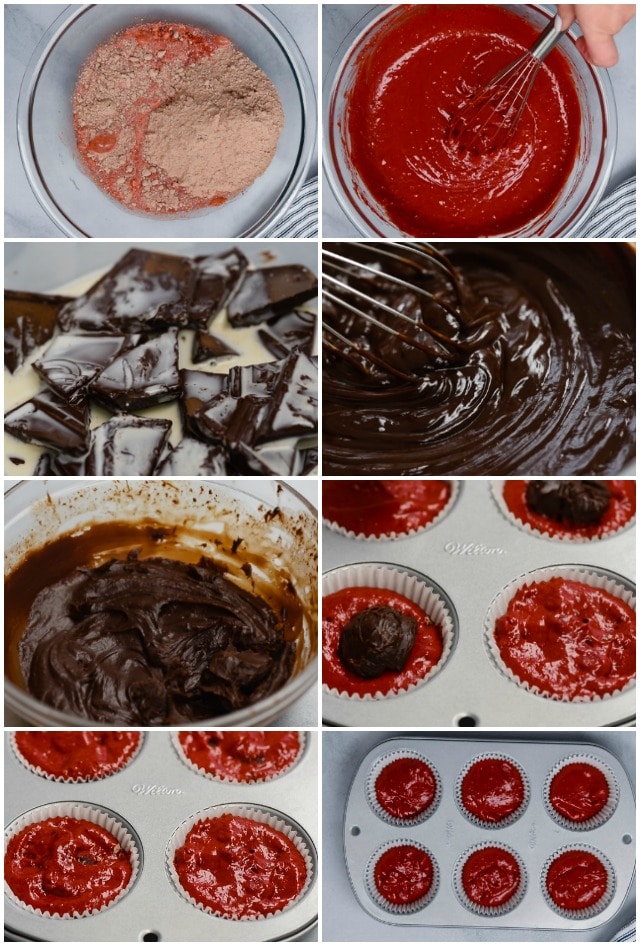 Make chocolate ganache for the center of the cupcake
You make a simple truffle mixture for the center of these cupcakes.
Equal parts chocolate and cream, melted, stirred until smooth
Then chill until it sets.
Each cupcake gets a tablespoon-sized ganache ball in the center. When you bake the cupcakes, they grow up and over the ganache, but it doesn't dissolve into the cupcake. It says chocolatey and gooey and good.
Once the cupcakes are baked, you let them cool only slightly, then remove the wrappers and get them ready to serve. When you cut open the cupcake (when it's still warm) you get a gooey chocolate center.
It's not super lava, but my lava cupcakes are just as good as a molten lava cake!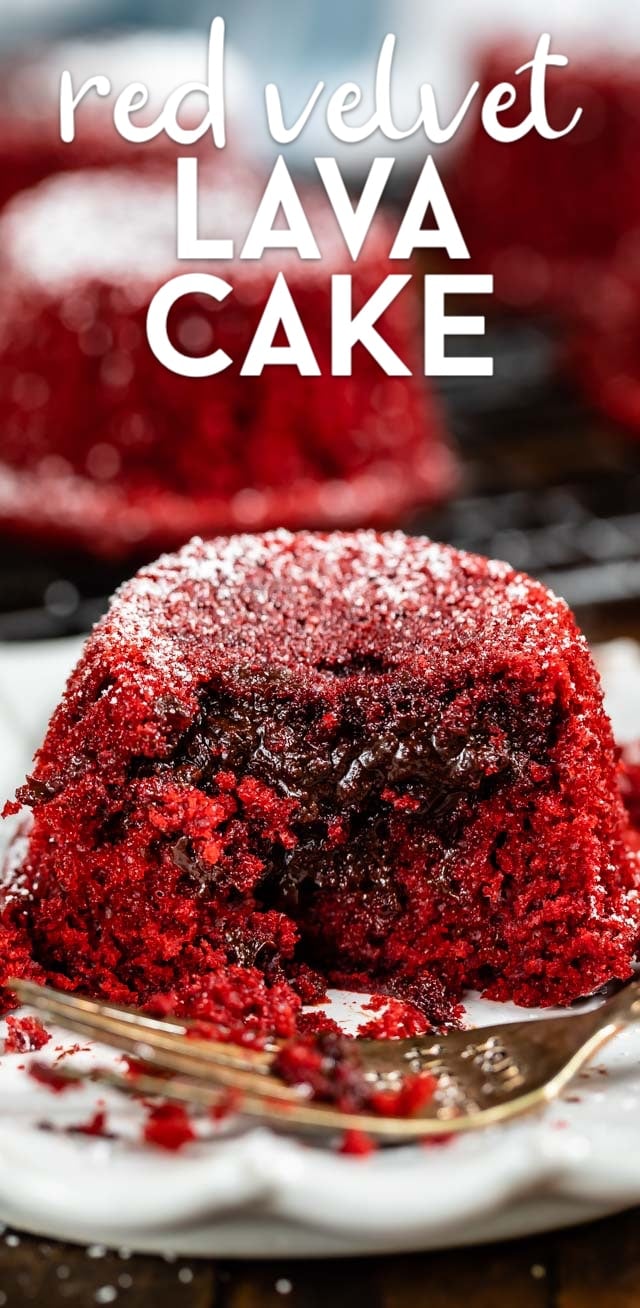 Serving Lava Cupcakes
Serve these warm, without the wrappers. If they've cooled, just heat them in the microwave for a few seconds. Dust them with powdered sugar for a delicious special dessert!
Other Cake Mix Favorites:
Have you made this recipe?
Tag @crazyforcrust on Instagram or hashtag it #crazyforcrust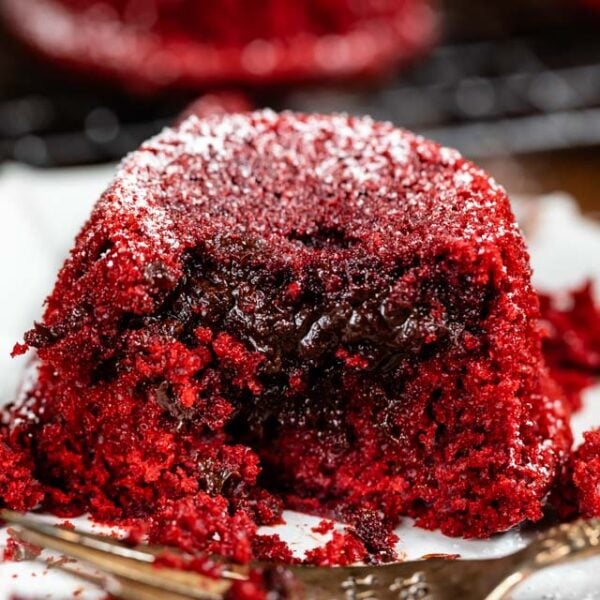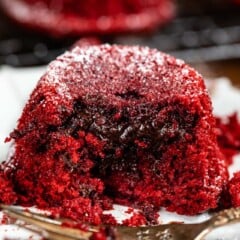 Red Velvet Molten Lava Cupcakes Recipe
Make Lava Cake as Lava Cupcakes with your favorite cake mix! Red Velvet Lava Cupcakes are the perfect easy dessert – cupcakes filled with ganache!
Ingredients
1

approximately 15 ounce

box red velvet cake mix

plus ingredients called for to make the cake (eggs, water, and oil)

8

ounces

semi-sweet baking chocolate

1/2

cup

heavy cream

Powdered sugar

for garnish
Instructions
Chop or break up baking chocolate and place in a medium sized bowl. Heat the cream over low heat until it just simmers (or in the microwave for about 45 seconds). Pour over the chocolate. Stir until melted and smooth. (If it's having a hard time melting, place it in the microwave for about 15 seconds.) Chill chocolate mixture until hardened, at least 2 hours.

Preheat oven to 350 °F. Line muffin tins with cupcake liners.

Mix up cake batter according to the box directions. Fill each liner about 1/2 full of batter. (You don't want to fill them as full as 2/3, or they will spill over. A little less than is called for on the box is good.)

Remove chocolate ganache from the refrigerator. Scoop 1 tablespoon balls (I used a cookie scoop) and place one ball in the center of each cupcake batter.

Bake 20-23 minutes, until a toothpick inserted in the side of the cupcake (not the center!) comes out clean. Cool for just a few minutes in the pans.

When ready to serve, remove the cupcakes from the pan and remove the liners. Turn upside down on a plate and sprinkle with powdered sugar.

These are best served warm. If they cool off, just heat them for a few seconds in the microwave to heat.
Recipe Nutrition
Serving:
1
cupcake
|
Calories:
72
kcal
|
Carbohydrates:
5
g
|
Protein:
1
g
|
Fat:
5
g
|
Saturated Fat:
3
g
|
Cholesterol:
7
mg
|
Sodium:
3
mg
|
Potassium:
57
mg
|
Fiber:
1
g
|
Sugar:
3
g
|
Vitamin A:
78
IU
|
Calcium:
9
mg
|
Iron:
1
mg
Nutritional information not guaranteed to be accurate
Click here for my complete list of Valentine's Day Recipes!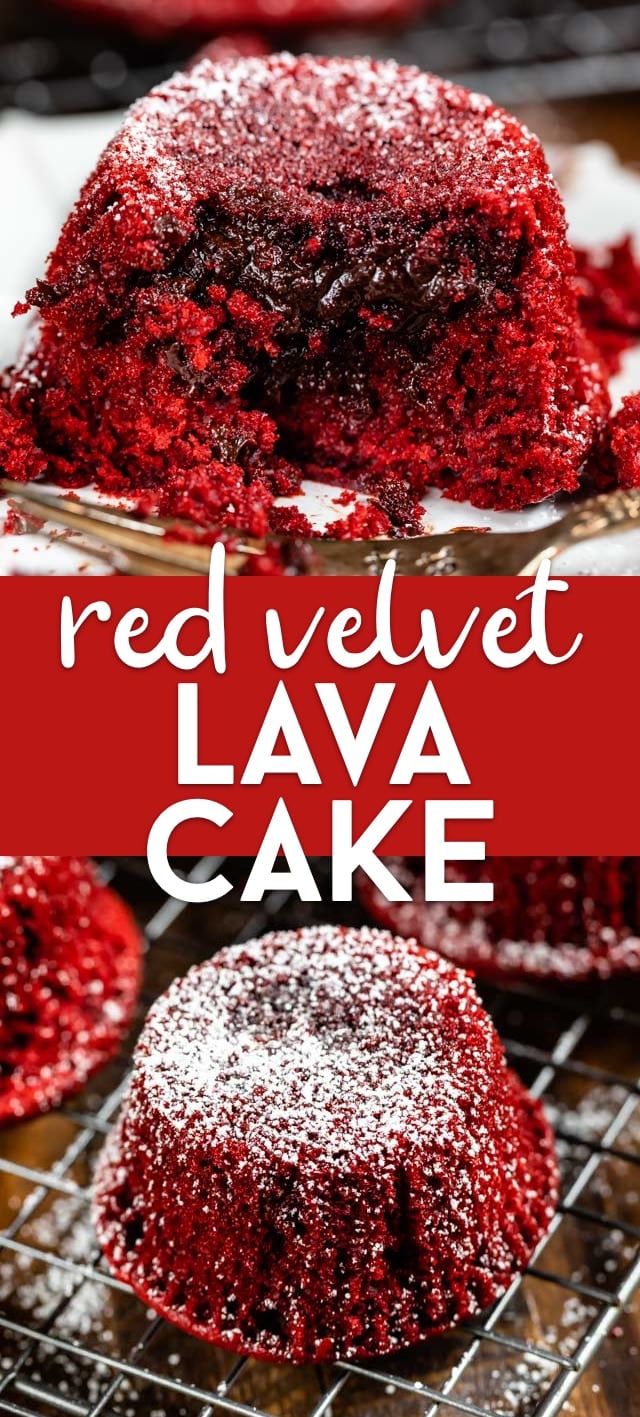 Make Lava Cake as Lava Cupcakes with your favorite cake mix! Red Velvet Lava Cupcakes are the perfect easy dessert – cupcakes filled with ganache!
Last Updated on February 2, 2020