Pumpkin Streusel Muffins
This post may contain affiliate links. For more information, read my disclosure policy.
Okay, so I kinda lied a little. Well, more like, omitted.
These aren't just Pumpkin Streusel Muffins. They are Pumpkin Streusel BRAN muffins.
I figured the "bran" part would scare you away.
It doesn't taste like a bran muffin. I promise! I tastes like pumpkin goodness.
I know that many of you balk at the thought of bran muffins. I usually do too, except for this recipe. It's the one from the All-Bran box, and it's awesome.
My Nana (my dad's mom) introduced me to the All-Bran muffin recipe. From third grade until sixth, Nana watched me before and after school, and all day during the summers.It was from her that I learned not only about a loving grandparent, but also about how lunch should be a three-course meal and it should be followed by dessert.
Nana also introduced me to the best sugar cookies ever. She used to make them for me all the time. I'd lick the sugar off the top and eat my weight in them. Years later I asked for the recipe and guess what? They were Pillsbury slice-and-bake.
My Nana knew how much I loved all things carb. Whenever we'd have dinner at her house she'd make me biscuits, or what we called "bissy-cats".
Every few weeks I'd get to her house in the morning and a fresh batch of bran muffins would be sitting on the counter, cooling in the peach-colored muffin tin. These muffins were the reason I begged my mom and dad for her muffin tin. It's in my cabinet, and I use it often. Mainly, I have it so that I can remember my Nana.
Now, I admit. These aren't Nana's bran muffins. I mean, they are her basic recipe, but I added Fall to them.
I'm SO ready for Fall. I'm over sweating, hot weather, and shorts.
It's cooled off in the mornings here to high 50s…but by school pick-up it's still in the 90s. HOT. We've got at least another month before we get relief. Sigh.
So I figured, if I make Fall treats…maybe Fall will come.
Like the Field of Dreams...only with sugar.
I replaced the oil and eggs in this recipe with canned pumpkin. Then I topped them with brown sugar streusel. Because streusel makes everything better. (Double the recipe for more of a coating…I was trying to be all "healthy" and stuff. Stupid pants don't fit anymore.)
The pumpkin amazingly makes these SO moist and delicious. Like, more moist than regular eggs and oil. Seriously.
You reeealllly don't taste the bran. I promise! And, they are filling – great for a post workout snack.
So there you have it. Low-fat healthy Fall on a plate.
Mother Nature? You listening? Bring Fall please and I'll make you some muffins.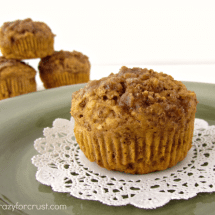 Ingredients:
1 1/4 cups all-purpose flour + 1 tablespoon, divided
3 tablespoons sugar
1 tablespoon baking powder
1/4 teaspoon salt
1 teaspoon pumpkin pie spice
2 cups bran cereal (I used All-Bran original, not flakes)
1 1/4 cups fat-free milk
1 cup canned pumpkin
2 tablespoons brown sugar
1 tablespoon unsalted butter or butter spread, melted
Directions:
Preheat oven to 400°. Line a 12-cup muffin pan with liners and spray with cooking spray. (Don't forget to spray the liners – the muffins will stick if you don't!)
Place the bran and milk in a large bowl. Let soak while you mix your dry ingredients.
Place 1 1/4 cups flour (reserve the 1 tablespoon for the topping), sugar, baking powder, salt, and pumpkin pie spice in a separate bowl and whisk.
Add pumpkin to bran mixture and stir. Add dry ingredients to wet and stir until combined. Evenly divide batter among 12 muffin cups (they don't rise much, so you can fill them pretty full).
Mix melted butter, brown sugar, and 1 tablespoon flour in a small bowl. Using your hands, sprinkle a little on each muffin.
Bake for 14-18 minutes, or until a toothpick comes out clean. Cool slightly before serving. Best served warm. (I like to keep some in the freezer to microwave after a workout.)
Notes:
Muffins are best served within 2 days. They also freeze well; just microwave for a few seconds for a warm snack any time of day!
Adapted from the All Bran Cereal box.
All images and text © . Please do not use my images without prior permission. If you want to republish this recipe, please re-write the recipe in your own words, or link back to this post for the recipe. Disclaimer: Nutrition information shown is not guaranteed to be accurate.
Enjoy!