This post may contain affiliate links. For more information, read my disclosure policy.
You knew this was forthcoming, right? A Pumpkin Apple No Bake Dessert Lush? I'm addicted to these desserts…so it was only a matter of time.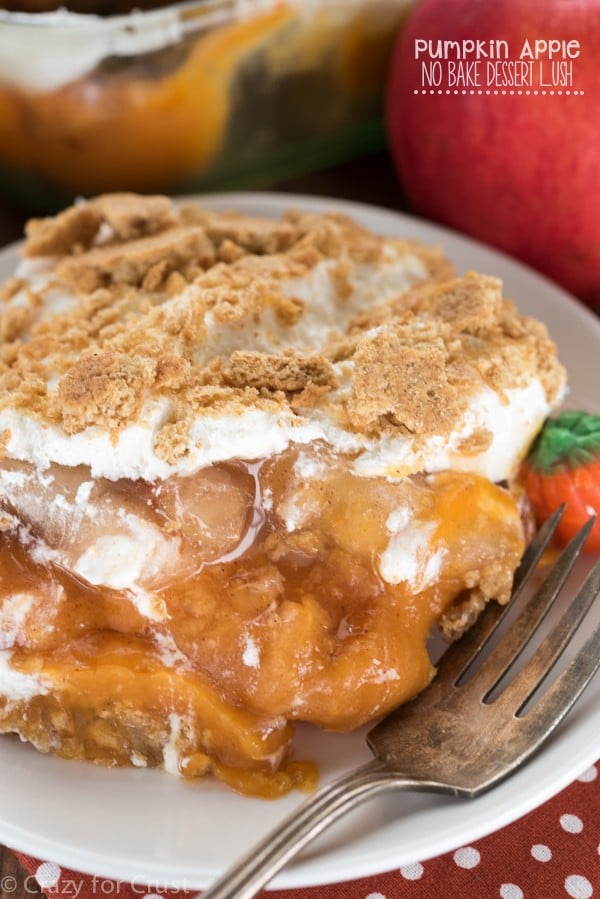 Can we talk about yoga pants for a minute? First of all, I'm totally pro-yoga pant. Between running a dessert blog and working at home where no one sees me, I'd be hard pressed to put anything else on.
But there is one thing I'd like to know about yoga-pants wearing. This might be a little TMI, but whatever. It's my blog and I'll go there if I want too. Let's just get real for a minute: when did going commando become a thing? Because, like, it's not a thing with me. At all. And it never will be. Forever and ever I will wear underpants, the end.
The reason I ask is that I feel like I'm in the minority on this. Yes? Here's the thing: I'll happily walk around town in my panty-line-showing yoga pants (forever and ever, amen) as opposed to the alternative. That alternative being going commando and everyone knows about it. Because, dudettes, yoga pants are see-through when they are not jet black and super thick. Especially when you're wearing a size too small.
Especially then. #OhMyEyesWillNeverBeTheSame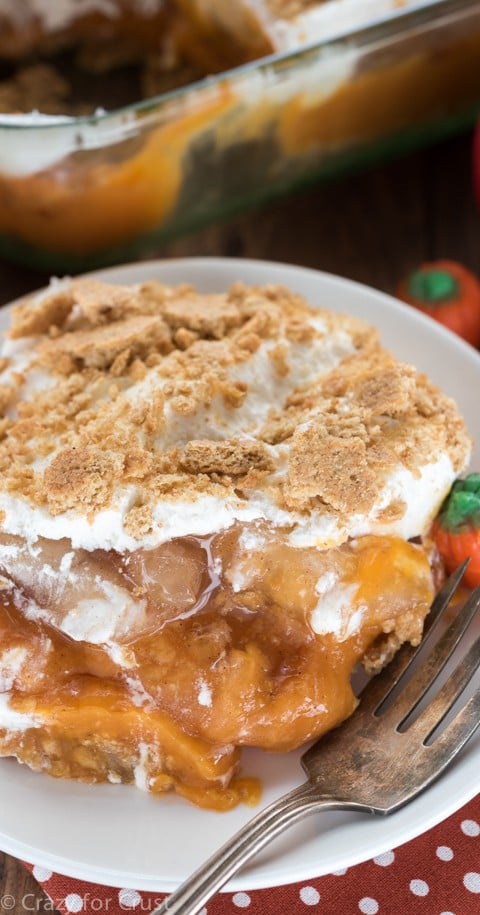 And, I mean, this convo is especially important right now. Fall is upon us (rather, it's upon those of you who don't live in Hotifornia) and the yoga pant wearers will be out in force. Especially if you start doing all the fall baking you've been dreaming about all summer.
PSA: please don't go commando, unless, you know, there is reinforcement. And don't mock me for my lines. I'm proud of my lines.
Speaking of fall baking…let's talk about NO BAKE dessert lush! See, you can still make no bake desserts even though it's not summer. And you must make them with pumpkin and apple.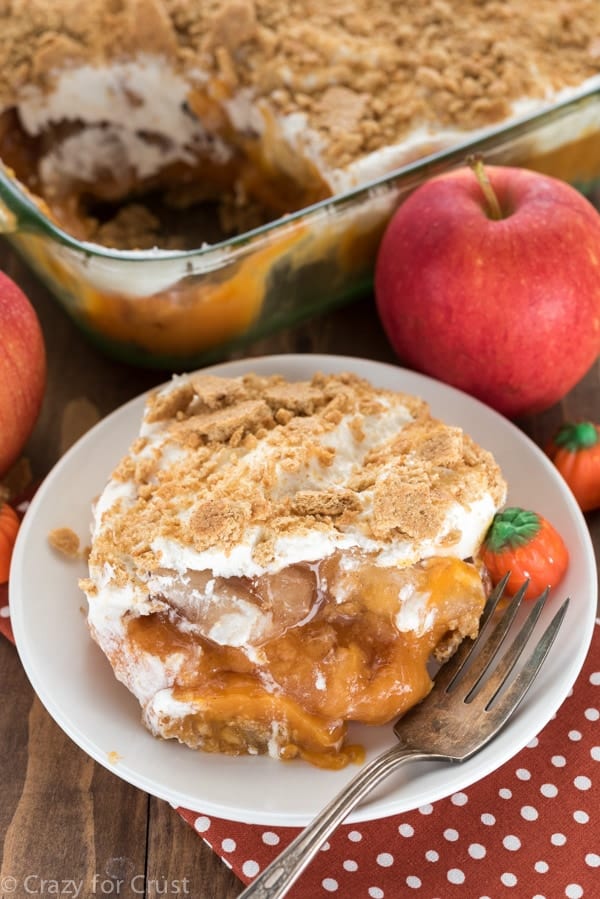 This dessert is a riff on two I've made over the past few years. Last year I made a No Bake Pumpkin Dessert which was thebombdotcom with it's pretzel crust and chocolate shavings. The year before that I made a Pumpkin Apple Dump Cake which went over like gangbusters. Marry the two and what have you got?
Pumpkin Apple No Bake Dessert Lush! #YoureWelcome
This dessert has four fabulous fall-licious layers:
The crust is made of cinnamon graham crackers. You guys, why do I always forget those exist?
The pumpkin layer is made of pumpkin puree, pumpkin pie spice, and vanilla pudding. It's like pumpkin pudding!
Throw a can of apple pie filling on top of that and then…
Top it all with some fresh whipped cream or whipped topping and more cinnamon graham crackers.
This recipe is fall in a bite. Great for when it's still hot outside or for when you want to throw together a no bake pumpkin pie that's not just pumpkin pie.

Worth every calorie.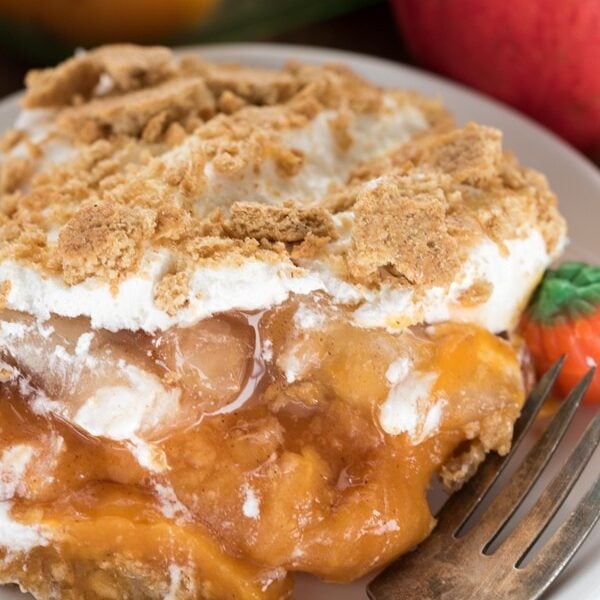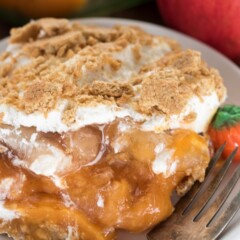 Pumpkin Apple No Bake Dessert
This Pumpkin Apple No Bake Dessert has all the flavors of fall in one bite! Cinnamon graham crackers make up the crust, topped by a no bake pumpkin pie filling, apple pie filling, and whipped cream. This easy and fast dessert is perfect for any fall occasion!
Ingredients
9

Cinnamon Graham Cracker Sheets

2

tablespoons

brown sugar

4

tablespoons

unsalted butter

melted

1

box

3.4 ounces INSTANT vanilla pudding mix

1 1/2

cups

milk

1

cup

pumpkin puree

1

teaspoon

pumpkin pie spice

1

can

approximately 20 ounces apple pie filling

1 1/2

cups

Cool Whip or freshly whipped cream
Instructions
Finely crush 6 graham cracker sheets by placing them in a gallon size ziploc bag and rolling over it with a rolling pin (seal the bag all but 1/2" to allow air to escape). This nets approximately 1 cup of graham cracker crumbs. Place in a large bowl and stir in brown sugar. Stir in melted butter with a fork, then press into the bottom of a 9x9 inch square pan. Chill until filling is ready.

Wipe out the bowl you made the crust in. Place pudding mix, milk, pumpkin, and pumpkin pie spice in a the bowl. Whisk until smooth. Pour carefully over crust, spreading it evenly.

Evenly spread apple pie filling over the pumpkin layer. Top evenly with whipped cream or Cool Whip. Crush remaining graham crackers into chunky pieces and sprinkle over the top.

Chill dessert for at least 3 hours before serving, but overnight is best. Store covered in refrigerator for up to 3 days.
Nutritional information not guaranteed to be accurate
Enjoy!
Spiced Pumpkin Apple Dump Cake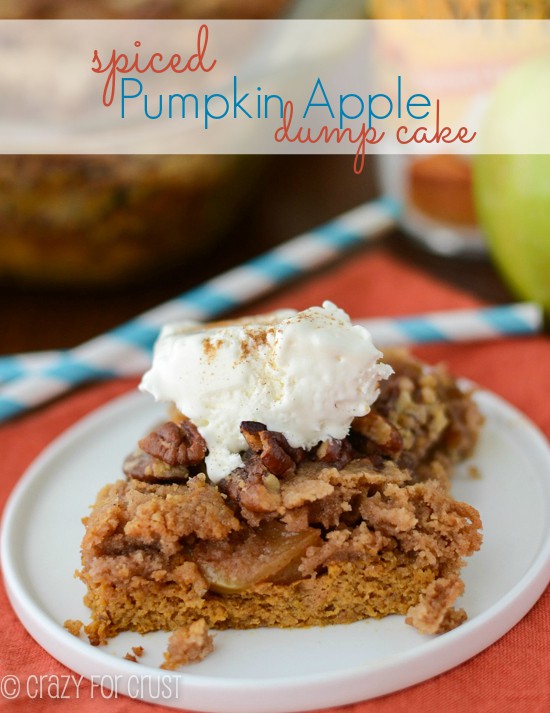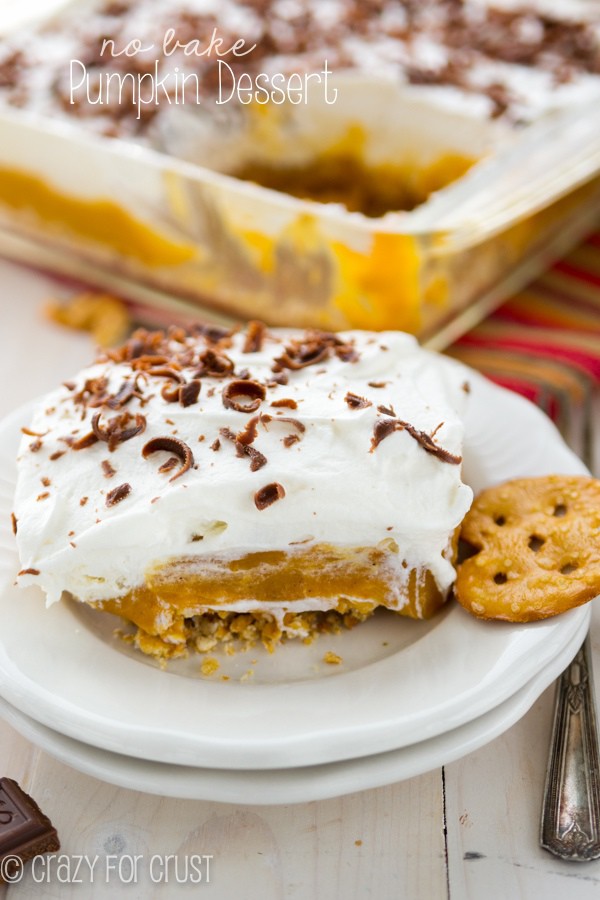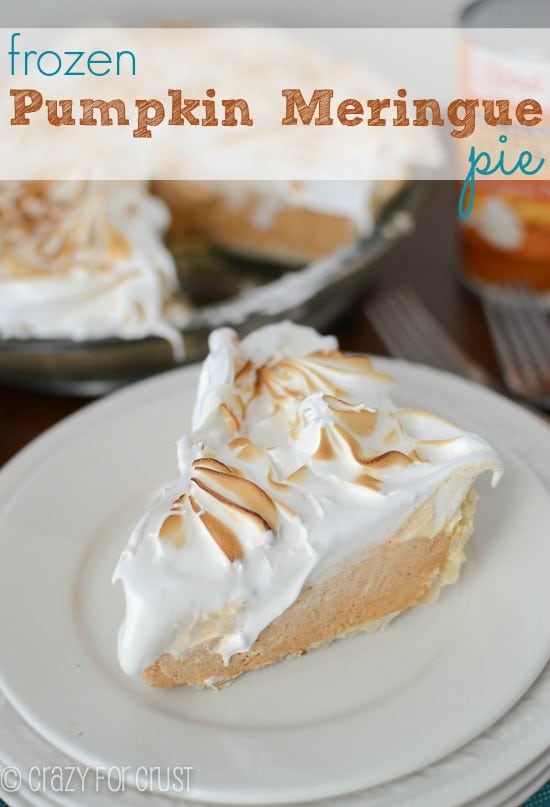 Sweets from friends:
Two ingredient Pumpkin Cake with Apple Cider Glaze by Noble Pig
Pumpkin Apple Butter by Love Grows Wild
Pumpkin Apple Cider Doughnuts by Heather's French Press
Last Updated on September 23, 2019