This post may contain affiliate links. For more information, read my disclosure policy.
Learn how to make the BEST No Bake Cookies! You will love this classic no bake cookies recipe – they are so good they taste like a peanut butter cup! I'm sharing my best tips so yours turn out perfectly set every time. They are destined to be a family favorite!
Seriously, these disappear within minutes of setting. (And my secret tip for setting makes them turn out every time.)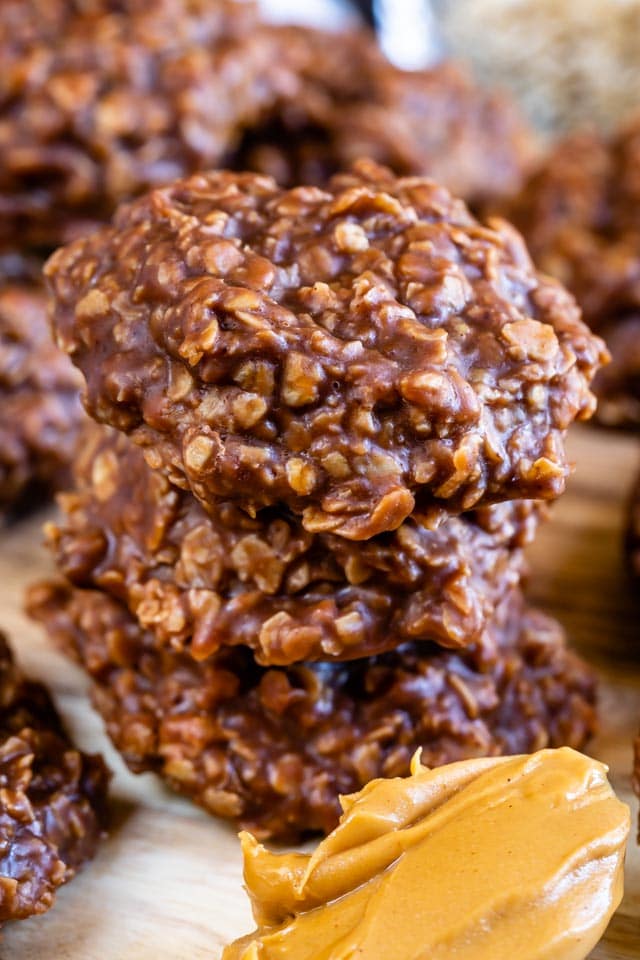 Remember the classic peanut butter no bake cookies with oatmeal? They've been around forever and it's definitely one of my favorite easy cookie recipes to make. Especially during the summer when the last thing I want to do is turn on the oven. I can handle the stove, but a hot oven. No, thanks!
If it's been a while since you've had no bake oatmeal cookies, my recipe has that classic peanut butter, oatmeal and chocolate combination that you will instantly remember! Every time I make these, I can't help but be transported back to my childhood – they were always a favorite.
There are lots of recipes out there and they're not all the same. Although they're quick and easy to make, there's a few things to keep in mind so they turn out perfectly. I'm showing you exactly what you need to do so your chocolate no bake cookies set up properly every time you make them. Once you try them you won't need any other recipes. This is definitely the best no bake cookie recipe!
What You'll Need to Make these No-Bake Cookies
For this recipe, it's best to have everything set up and ready to go before you make the cookies. They are easy, but the process goes fast.
You will need two cookie sheets lined with parchment paper.
3-quart saucepan
A whisk
Candy or instant read thermometer (more on this in minute!)
A cookie scoop
You will also want to have all of your ingredients measured and ready to go. Here's what you'll need:
Unsalted Butter – slice it for easy melting
Granulated Sugar
Non-fat Milk – you can use any fat or any non-dairy milk
Unsweetened Cocoa Powder – you can use regular or dutch process
Peanut Butter – creamy or crunchy
Vanilla Extract
Salt – omit if you're using salted butter
Quick Cooking Oats
Don't have quick oats? Make your own by pulsing regular old fashioned oats a few times in a blender or food processor!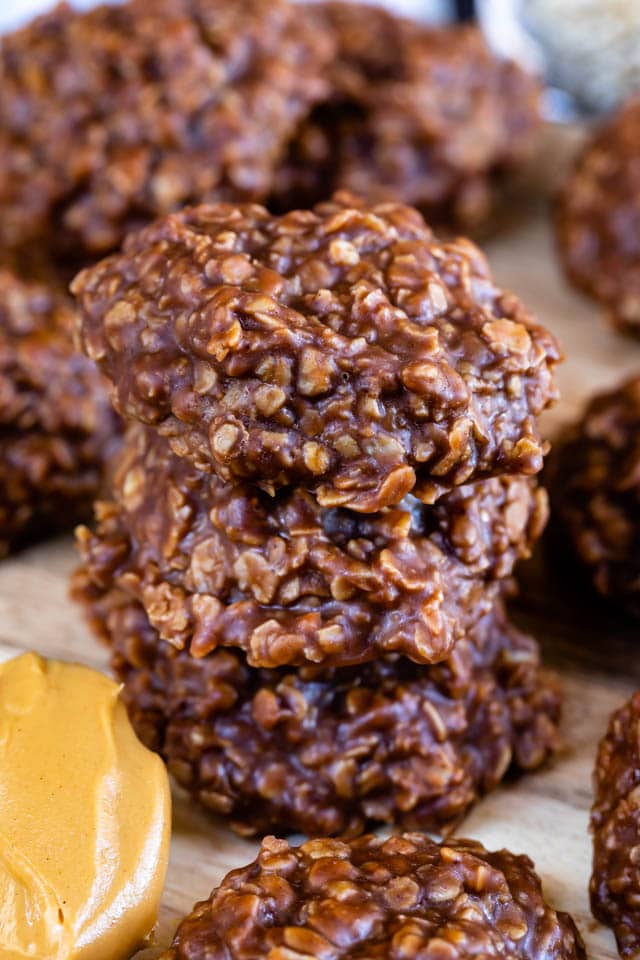 How to Make No Bake Cookies
Melt the butter in the saucepan over medium heat. Add the sugar, milk, and cocoa powder and whisk until smooth. Bring the mixture to a boil.
Boiling the mixture is the most important step because you want to cook it long enough to reach a certain temperature and no longer than that.
Secret Tip for Success
You can take the guesswork out of this step by using a candy thermometer or instant read thermometer and boil the mixture until the temperature reaches 230°F.
If you don't have a thermometer boiling the mixture for 1 minute and 30 seconds is enough, but be sure to set a timer.
It's important to be specific with this step because if you don't boil it long enough your cookies will not set up properly. They won't harden and will stay soft, which isn't what we want!
As soon as the time expires (or the thermometer reaches the right temperature) remove the sauce pan from the heat. Quickly stir in the peanut butter, vanilla, salt and oats.
Use the cookie scoop to scoop two tablespoons to make each cookie. Let the cookies sit until they've hardened and set. If you want to speed up the process, you can chill them in the refrigerator until they've set.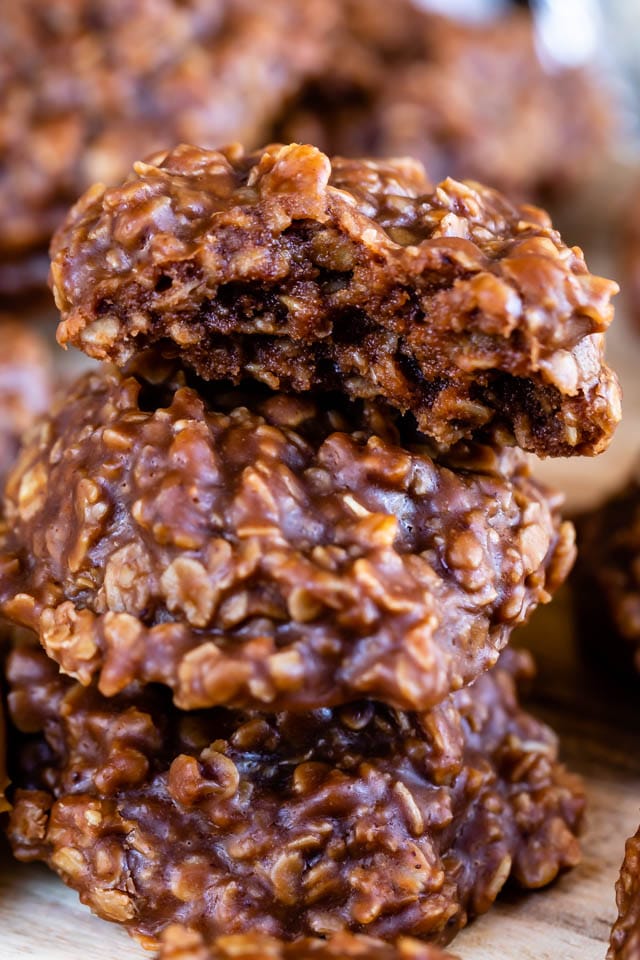 FAQ About No Bake Oatmeal Cookies
Why won't my no bake cookies harden?
If your cookies are too soft and not set up that means you didn't cook the cookie mixture long enough. In order for the cookies to harden properly the mixture must be boiled until it reaches a temperature of 230°F. This is approximately 1 ½ minutes on medium heat.

How long does it take for no bake oatmeal cookies to set up?
It doesn't take long for the cookies to set up. They will be soft set in 30 minutes, but you can pop them in the refrigerator so the set up faster.
How long do these chocolate no bake cookies last?
Keep them in an airtight container and they will last for up to a week at room temperature. Or, store them in the refrigerator and they will last for up to two weeks.
Why did my no bake cookies not set?
There is a good chance they needed to be cooked longer. Make sure you use a candy thermometer and cooke the mixture until it is 230° for a stress-free set.
How do you fix no bake cookies that didn't set up?
If they don't set, try placing them back in your pan and reheating them, bringing them to a boil until they reach 230°F.
Can I use tin foil instead of wax paper for no bake cookies?
Yes you can use foil, wax paper, or parchment.
Does the weather affect no bake cookies?
There is conflicting evidence of this, but supposedly if there is a lot of humidity in the air they might not set up right. However, I do think that the most important thing about making these is cooking them to the proper temperature to ensure they'll set.
Don't Forget These Tips for the Best Results!
Gather everything you need before you start! The recipe goes fast.
Measure out all of the ingredients beforehand to make it super easy.
Use a candy thermometer to monitor the heat of the cookie mixture- takes away all the guesswork!
Work fast and you'll be rewarded with perfectly set cookies.
Once you've made them, be patient! Allow the cookies time to harden and set-up. It doesn't take long, especially if you put them in fridge.
Everyone loves these peanut butter chocolate no bake cookies. They tell me they taste like peanut butter cups and I take that as a compliment! They're a classic for a reason – no one can resist them. Enjoy!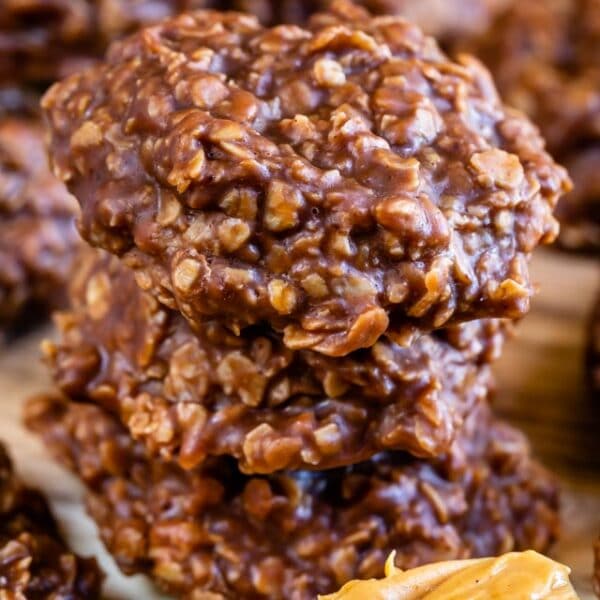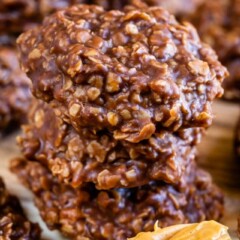 The BEST No Bake Cookies Recipe
These are the Classic No Bake Cookies of your childhood! They taste like a peanut butter cup and are no bake!
Ingredients
1/2

cup

(113g) unsalted butter

diced

2

cups

(400g) granulated sugar

1/2

cup

(119ml) nonfat milk

1/4

cup

(20g) unsweetened cocoa powder

1/2

cup

(120g) creamy peanut butter

1

teaspoon

vanilla extract

1/4

teaspoon

salt

3

cups

(240g) quick cooking oats
Instructions
Line two cookie sheets with parchment paper.

It's very important that all your ingredients are measured and ready to go before you start and make sure you've read the directions before making these cookies. The process goes fast!

Melt the butter in a 3 quart saucepan over medium heat. Stir in the sugar, milk, and cocoa powder. Whisk until smooth then bring to a boil and cook for about 1 1/2 minutes, stirring occasionally. NOTE: you MUST boil them long enough or they will not set. To be sure of this, boil the mixture until it reaches 230°F on a candy or instant read thermometer. If you do not have a thermometer, this will take about 1 1/2 minutes on medium heat.

Remove from heat and stir in peanut butter, salt, vanilla, and oats.

Use a cookie scoop to drop 2 tablespoon size balls of cookie mixture onto the prepared baking sheets. Let sit to set or chill to harden quicker.
Recipe Nutrition
Serving:
1
serving
|
Calories:
171
kcal
|
Carbohydrates:
25
g
|
Protein:
3
g
|
Fat:
7
g
|
Saturated Fat:
3
g
|
Cholesterol:
10
mg
|
Sodium:
52
mg
|
Potassium:
92
mg
|
Fiber:
2
g
|
Sugar:
18
g
|
Vitamin A:
129
IU
|
Calcium:
16
mg
|
Iron:
1
mg
Nutritional information not guaranteed to be accurate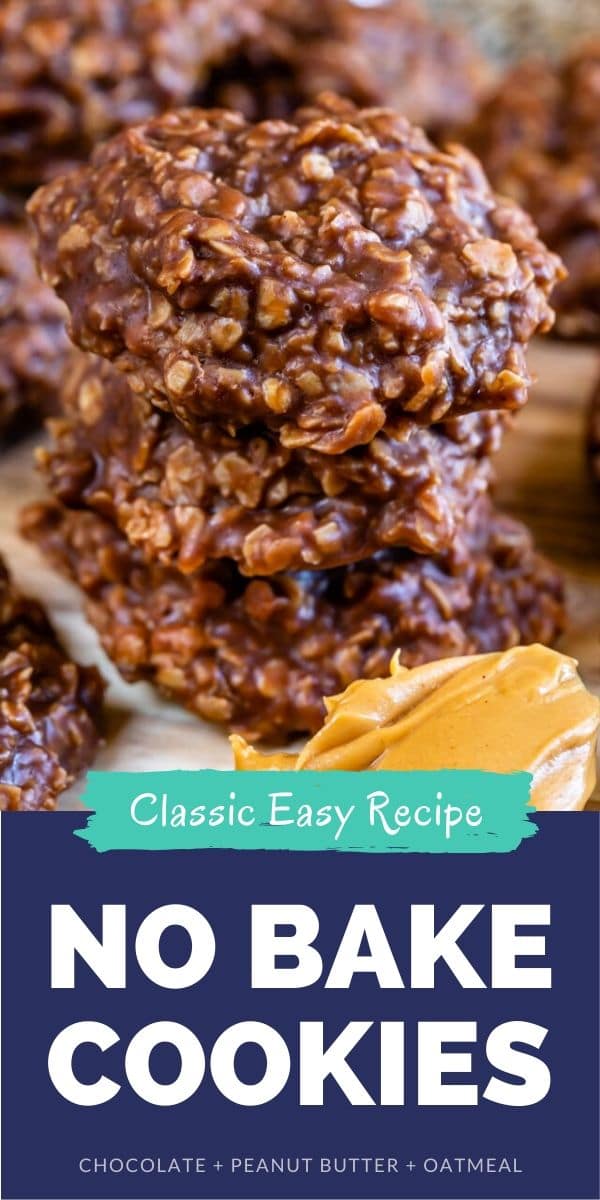 These Classic No Bake Cookies with peanut butter are the best recipe for easy chocolate no bake oatmeal cookies! They set up perfectly every time and are SO good they taste like a peanut butter cup!