This post may contain affiliate links. For more information, read my disclosure policy.
This easy homemade basil pesto sauce is the perfect from scratch recipe! My ultimate pesto recipe is so easy to make and adds so much flavor to so many recipes. If food could be a perfume, I'd want this one.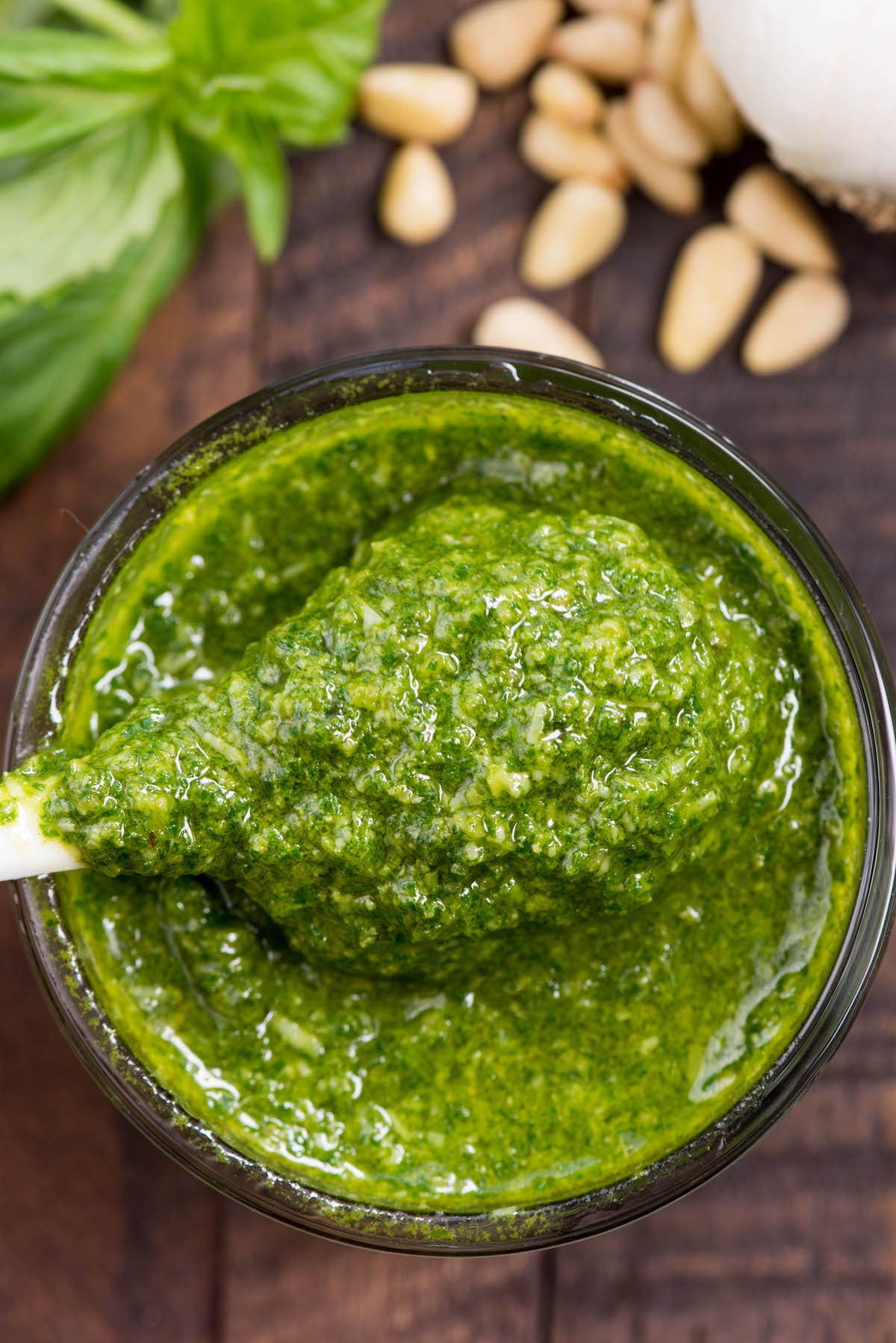 Best Recipe for Basil Pesto
Classic Pesto Sauce is a game changer: it's one of the best sauces that you can use in so many recipes.
I'll never forget the first time I saw pesto: I was in college and hanging out at my boyfriend's apartment. His roommate brought home a pesto pizza and it was the weirdest thing I'd ever seen. A green sauce on pizza? No thanks!
Besides the fact that I made it to 19 years old without seeing pesto, it's not surprising I was grossed out by seeing it on pizza. I was a very picky kid and still am quite…choosy…when it comes to what I like. Condiments are not something I normally eat, much to the shock of most people I know. However, PESTO is one thing I absolutely love.
Once I met my husband I started to branch out in my eating habits and discovered how delicious pesto is. Then, when we first got married, I started a garden and grew my own basil.
I have to say, I fell in love with pesto after trying it a few times but I my infatuation with it didn't start until I began making homemade pesto myself.
Not only is it delicious, but pesto is easy to make from scratch. Jarred pesto is good but homemade pesto is the best.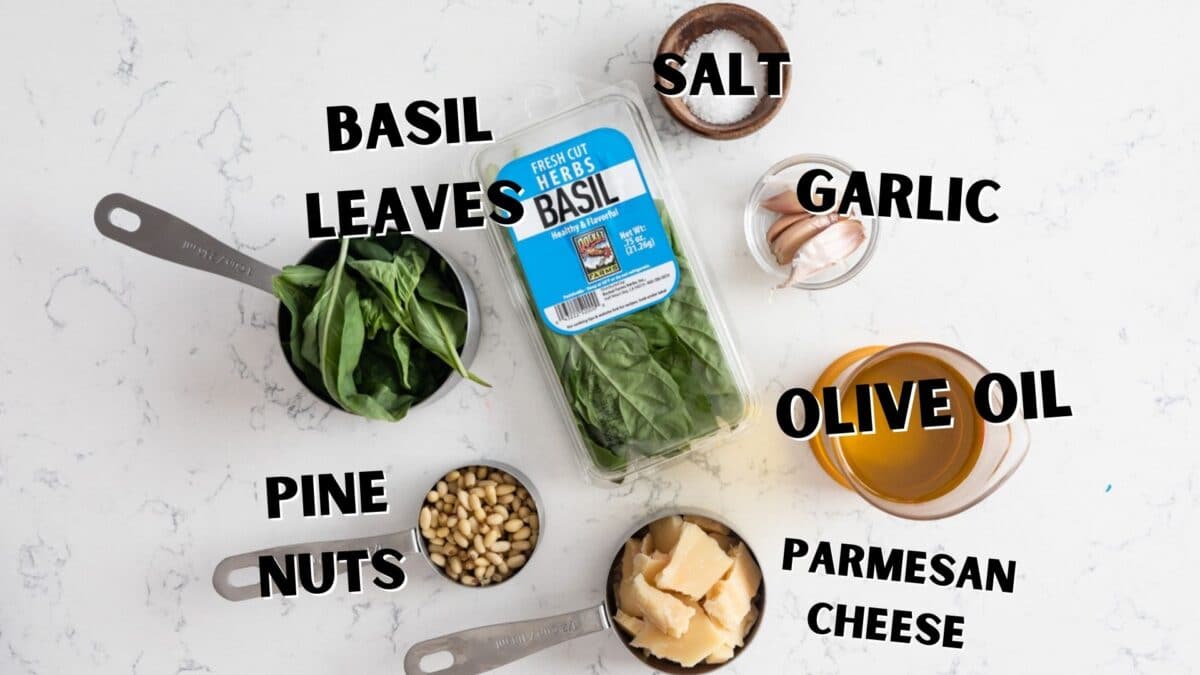 Basil Pesto Ingredients
Basil: Traditionally, pesto is made with fresh basil. I love the smell of basil! You must use FRESH basil for the best pesto. The basil is why it's called green pesto!
Toasted pine nuts: These add a nutty flavor to the sauce and are a super important component. Check the bulk bin section so you don't have to buy a whole package.
Parmesan cheese: Use a block of parmesan – not pre shredded and don't use the green can.
Garlic: A must in pesto!
Olive oil: The oil is the emulsifier in the recipe – what makes it sauce. So be sure to use a good quality oil.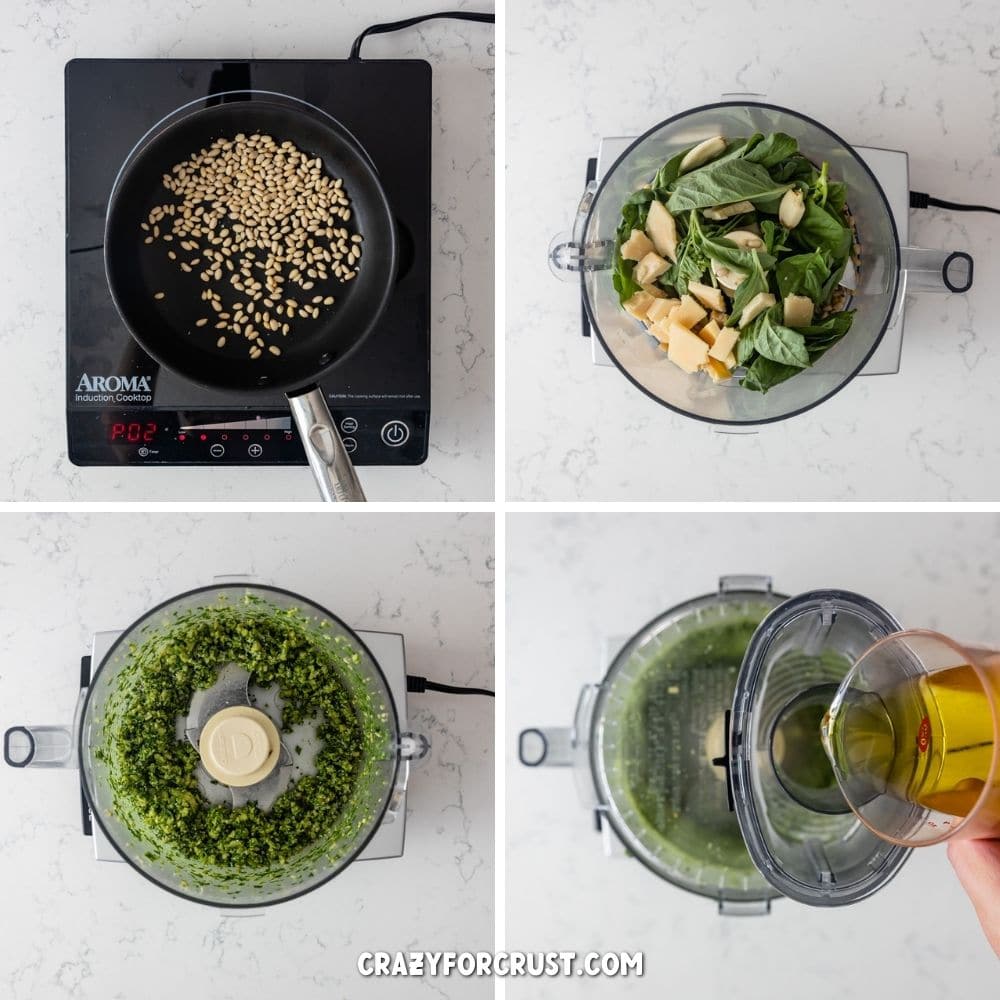 How to make Basil Pesto
To toast pine nuts, simply place them in a small frying pan over medium-low heat. Stir them often until they just start to get golden and don't walk away from the stove. Nuts burn fast so keep a close eye on them. While toasting the pine nuts isn't absolutely required, it adds a toasty depth of flavor to the pesto sauce, so I highly recommend it.
Pesto is made in a food processor (or you can use a powerful blender). It only takes about 5 minutes! All you have to do to make the pesto is add the basil, garlic, nuts, and Parmesan cheese to the food processor.
Pulse to chop the ingredients fine.
Then add your olive oil slowly, while the machine is running, to for the pesto sauce.
What goes with pesto?
There are so many uses for my ultimate pesto recipe! One recipe makes just over a cup of pesto and can be used in several meals: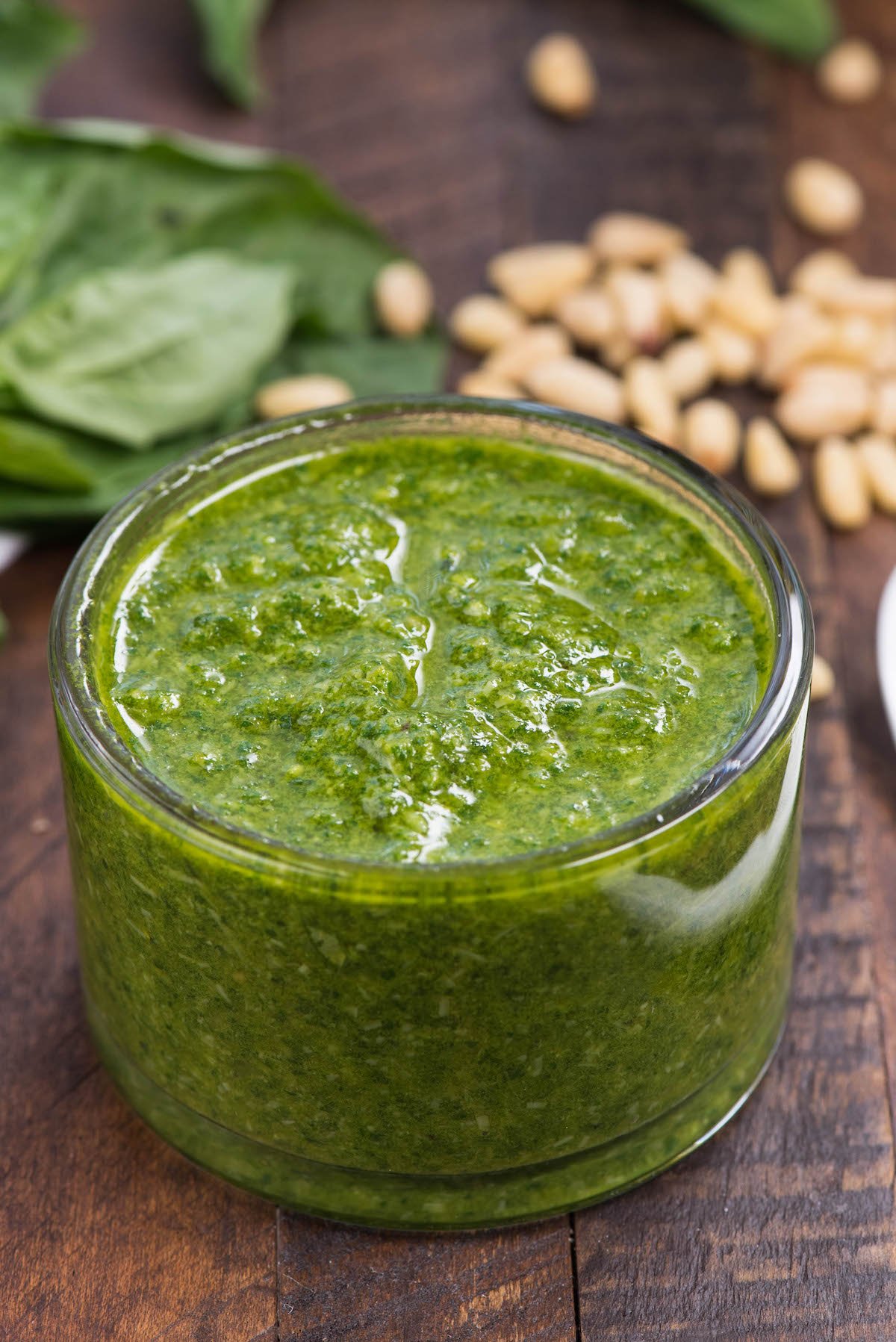 Recipe Swaps
Make Walnut Pesto by using walnuts in place of pine nuts.
Same if you want to make my pesto recipe with almonds!
Lemon Basil Pesto – add the juice of half a lemon into the mixture before the oil.
Tomato Pesto – instead of using basil, use a jar of sun-dried tomatoes in oil (you'll need less olive oil this way).
Spicy Pesto – add some red Chile flakes to the mixture with the cheese and garlic.
FAQs
Can you use basil stems in pesto?
Yes! Just throw the whole stalk of basil in the food processor.
Does pesto go bad?
Yes it will eventually spoil. Store in the refrigerator so it will last longer.
How long does pesto last in fridge?
Homemade pesto recipes will only last about a week in the refrigerator. Jarred pesto will last longer, but it will eventually spoil and grow mold.
How to freeze pesto with fresh basil?
To freeze pesto sauce, place it in ice cube trays. Freeze, then place each pesto cube into a small sandwich bag and store in the freezer. Grab one to add to soups!
How to make pesto with a blender?
Make sure you're using a high powered blender (like a Ninja or Vitamix). Old fashioned or cheap blenders won't be able to grind up the nuts and cheese properly.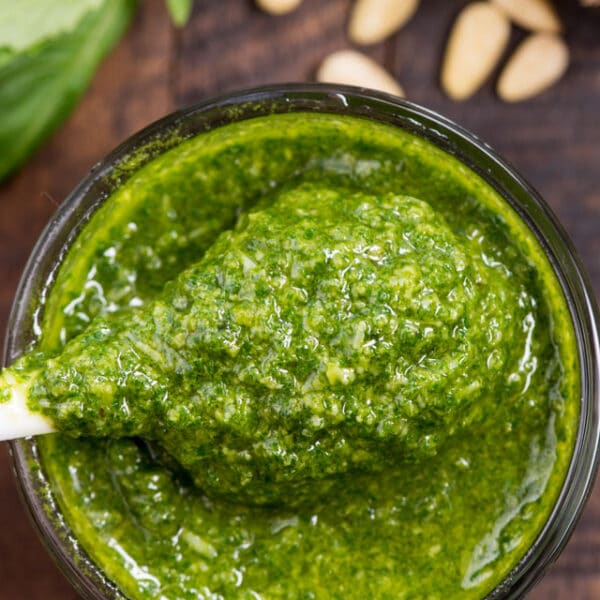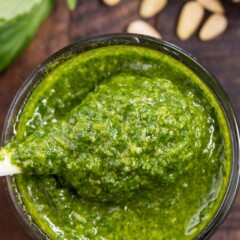 Best Homemade Basil Pesto
This easy homemade basil pesto sauce is the perfect from scratch recipe! Homemade pesto is so easy to make and adds so much flavor to so many meals.
Ingredients
¼

cup

pine nuts

2

cups

packed basil leaves

fresh

2

cloves

garlic

½

cup

fresh parmesan cheese

½ – 1

teaspoon

salt

to taste

½ – ¾

cup

(118-177ml) olive oil
Instructions
Place pine nuts in a small skillet over medium-low heat. Stir often, cooking for just a few minutes, until they start to brown. Remove from heat and cool.

Place basil, pine nuts, garlic, and parmesan in a the bowl of a food processor or blender. Pulse until a paste forms. Add 1/2 teaspoon salt and pulse to combine.

While running the machine, pour in olive oil, starting with 1/2 cup. Once the pesto emulsifies it will become a thick sauce. If you want thinner pest, add another 1/4 cup olive oil.
Recipe Notes
Recipe from The Simple Kitchen by Donna & Chad Elick
Recipe Nutrition
Serving:
1
serving
|
Calories:
55
kcal
|
Carbohydrates:
1
g
|
Protein:
3
g
|
Fat:
4
g
|
Saturated Fat:
1
g
|
Cholesterol:
4
mg
|
Sodium:
100
mg
|
Potassium:
48
mg
|
Vitamin A:
365
IU
|
Vitamin C:
1.3
mg
|
Calcium:
86
mg
|
Iron:
0.5
mg
Nutritional information not guaranteed to be accurate
**Did you make this recipe? Don't forget to give it a star rating below!**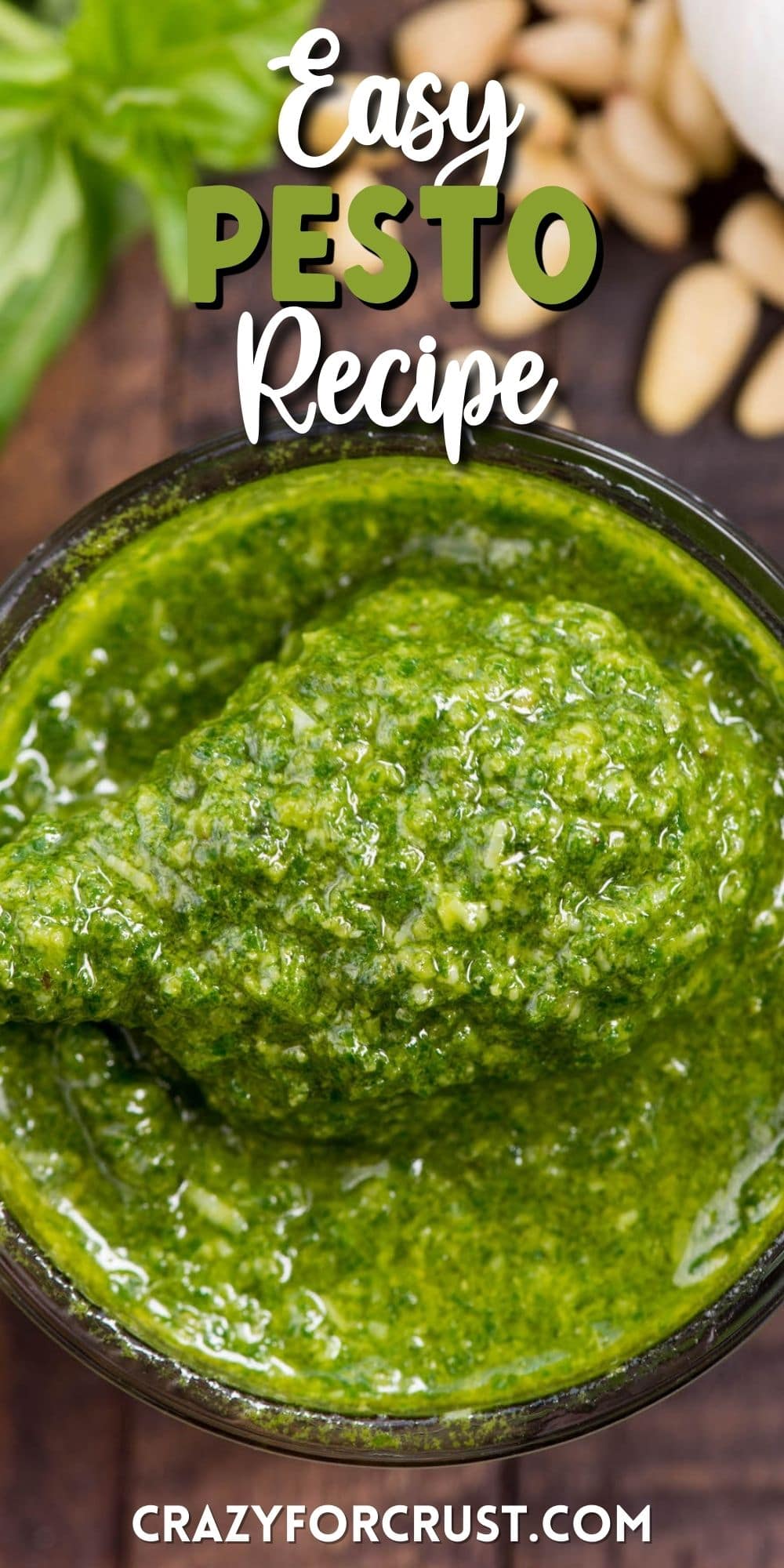 Last Updated on June 24, 2022