This post may contain affiliate links. For more information, read my disclosure policy.
This EASY Crockpot Chicken Marinara is a great weeknight meal! Chicken breasts cooked in Great Value Organic pasta sauce served with penne – even the picky eaters like this pasta recipe.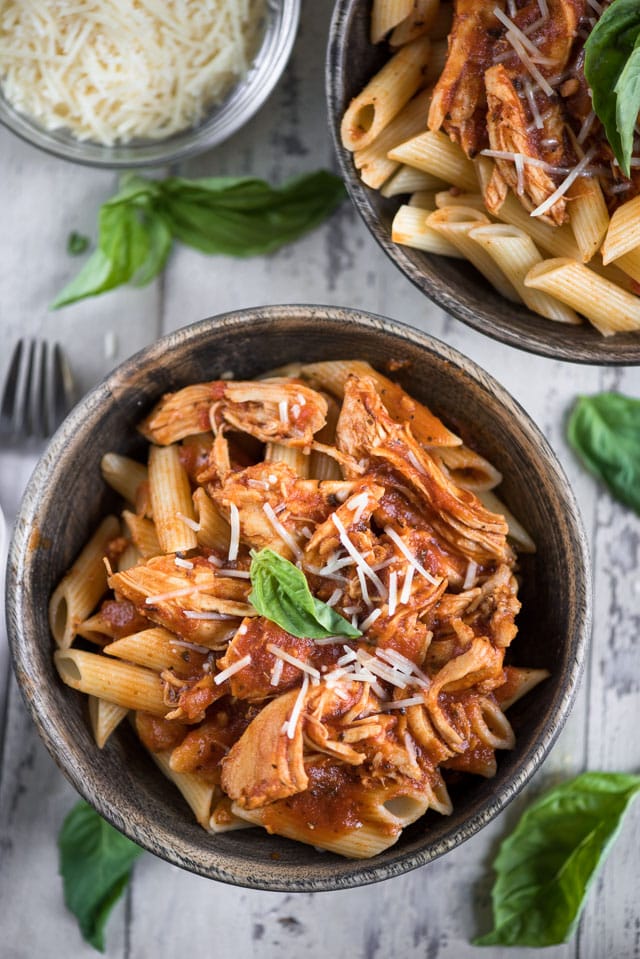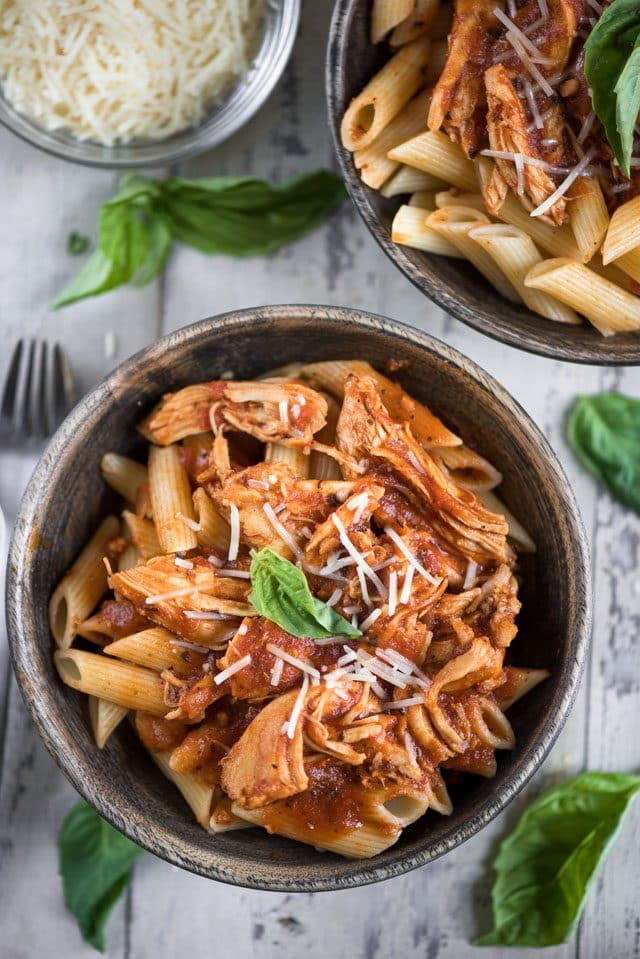 Why You'll Love Chicken Marinara
The day I made this dinner I was texting with a friend about how frustrating it is to make dinner. She joked that in the morning she has all the intention to make a nice meal and by the time 4:00 rolls around it's cereal again because the chicken is usually still frozen or she's too tired to cook. I totally agreed with her; making dinner is exhausting.
That's why, about this time of year, I break out my crockpot and just leave it on the counter. After a long day of work the last thing I want to do is cook dinner. If the slow cooker is out it will remind me to set it and forget it and dinner is ready when we are!
Chicken is always my go-to dinner: it's easy and you can make it in so many ways. My daughter always complains about all the grilled chicken we eat over the summer (apparently it's boring), but she eats up my crockpot versions.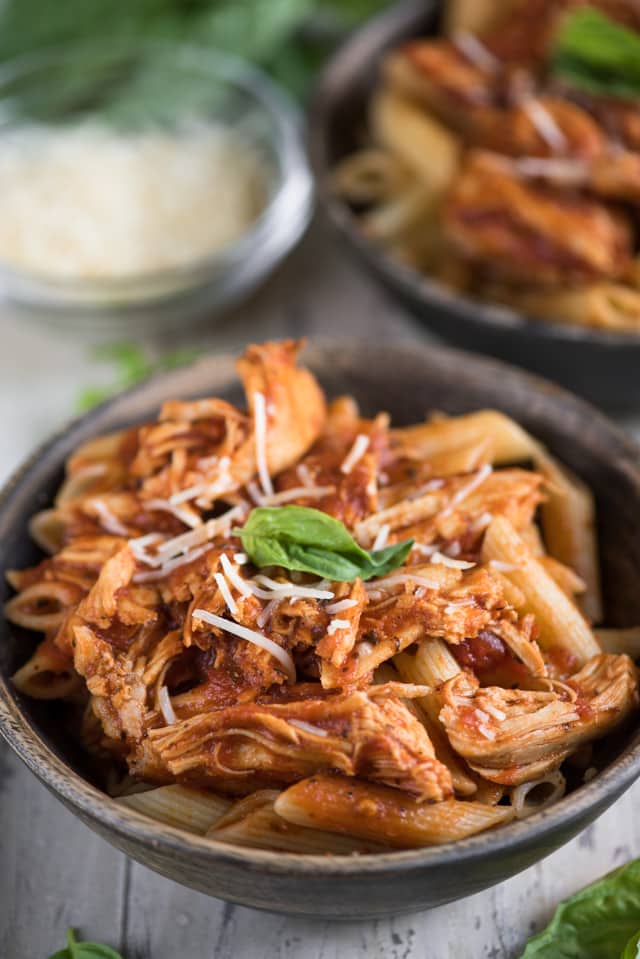 Secret to perfect Crockpot Chicken
The key to making a delicious chicken recipe in the slow cooker is adding a lot of flavor. I love to do this by adding sauce to my crockpot instead of just cooking the chicken plain or with herbs. One, the sauce lends flavor into the chicken and two, it keeps it nice and moist.
There are so many ways to make a crockpot chicken, but today I decided to make an old standby: Crockpot Chicken Marinara. Bonus: it's so easy to prep this meal you'll be back at work in no time.
A lot of people I talk to complain about chicken not tasting good when you slow cook it, so let me give you some crockpot chicken tips:
Don't overcook your chicken in the slow cooker.
Thawed and boneless chicken breasts take about 2-4 hours on HIGH in a crockpot. I always check the chicken after about 2 1/2 hours to see if it's cooked through. Chicken cooked too long gets dry, so be sure not to overcook.
What if I forget to thaw my chicken breasts?
I'm not going to lie: I forget all the time. While it's not recommended to cook frozen chicken breasts in a slow cooker, it can be done but you have to make sure it's fully cooked. Frozen breasts (that aren't stuck together) will take at least 4 hours (or more) on high. Do NOT stop cooking until the chicken is no longer pink and the temperature should be 165°F if you're checking with an instant read thermometer.
How do I make my crockpot chicken stay moist?
That's what this recipe is great for: Crockpot Chicken Marinara is super flavorful because the chicken absorbs all the flavor of the marinara as it cooks. This is the perfect chicken to serve over pasta!

Italian food is one of my favorite go-to dinners. Whether it's pasta with sauce or plain, with chicken or without, I probably make Italian-style food at least 2-3 times a week.
This chicken marinara recipe is made even easier because it's semi-homemade, but with good ingredients. That's the key when you're starting with prepared food: make sure it's good quality. The better the products are,the better the end result will be
For years we've heard about how important it is to buy organic, but I have so much trouble shelling out the money sometimes. That's why I'm so excited that Walmart now exclusively has several organic options in their Great Value Organic line and they are a reasonable price, even for organic. They offer a wide assortment of quality organic food in several different grocery categories.
I've always shopped at Walmart because of their amazing prices, and now I can get organic food at an amazing value!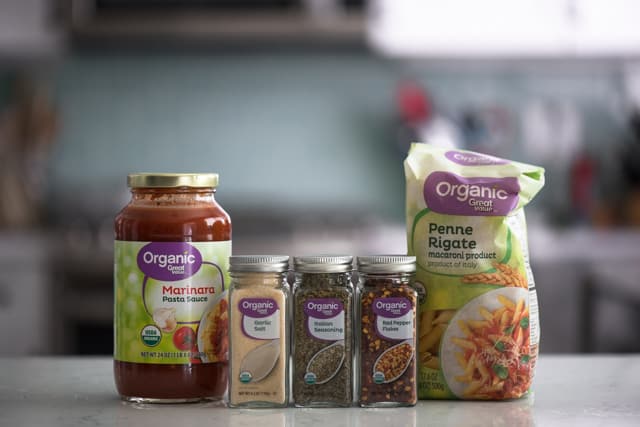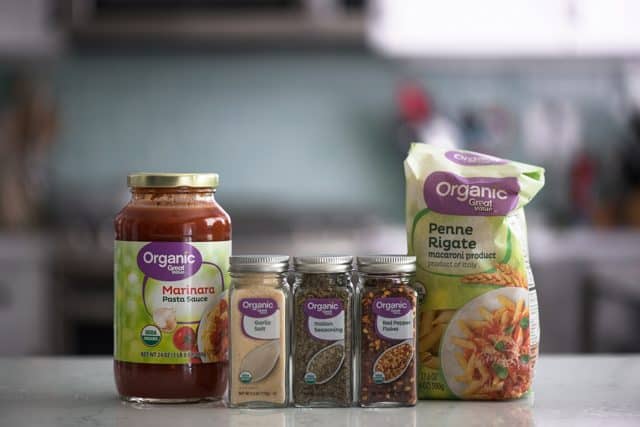 5 Ingredient Crockpot Chicken Marinara
The main ingredients are a jar of Great Value Organic Marinara Sauceand chicken breasts. Since we're starting with a jarred sauce, I like to doctor it up a little, so I added some of the Great Value Organic spices: red pepper flakes, Italian Seasoning, and Garlic Salt.
If you like making sauce from scratch, they also have Great Value Organic canned tomatoes. Grab my crockpot marinara sauce and make it using the Great Value ingredients!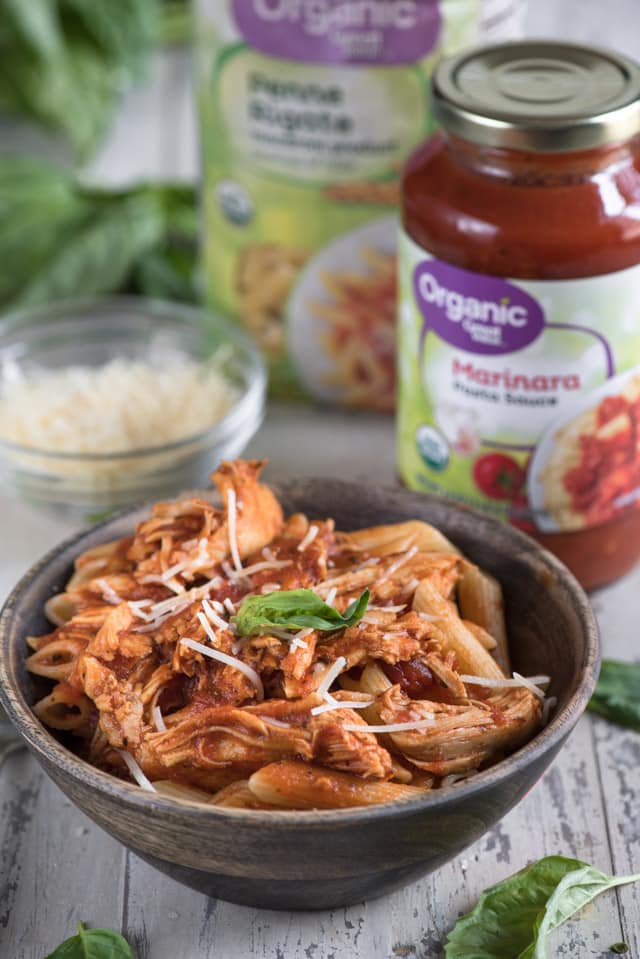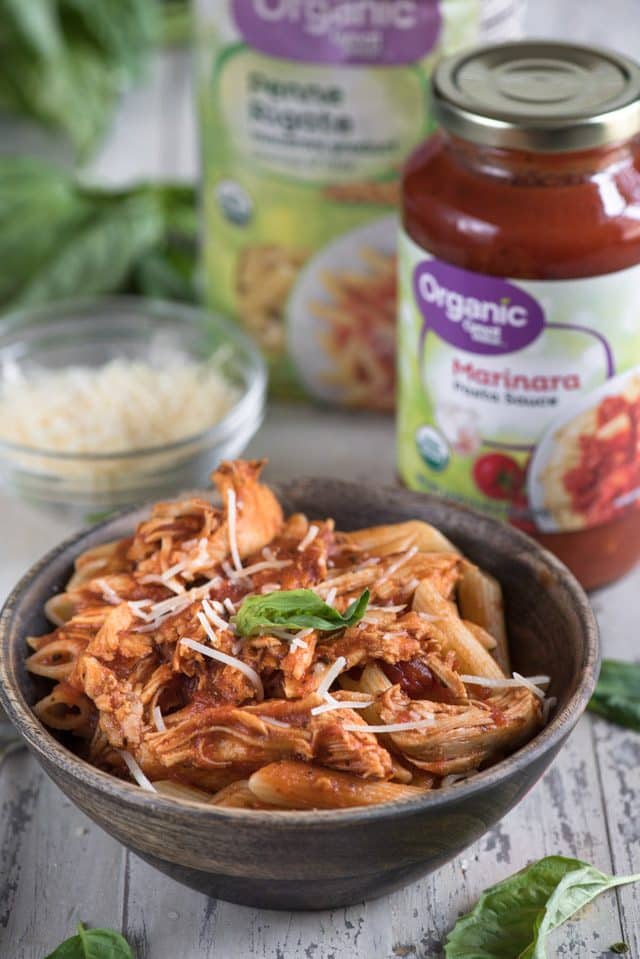 How to Make Chicken in the Crockpot with Sauce
Once you stir together the sauce and spices, just add the chicken and cook on high until it's done. Then shred it and serve with some of the Great Value Organic pasta that you can find only at Walmart. (I used penne, but they also have spaghetti!)
This is a great twist on a family favorite meal. It also makes your house smell wonderful; I love coming home to a crockpot smelling house. It makes my stomach growl the second I walk in the door!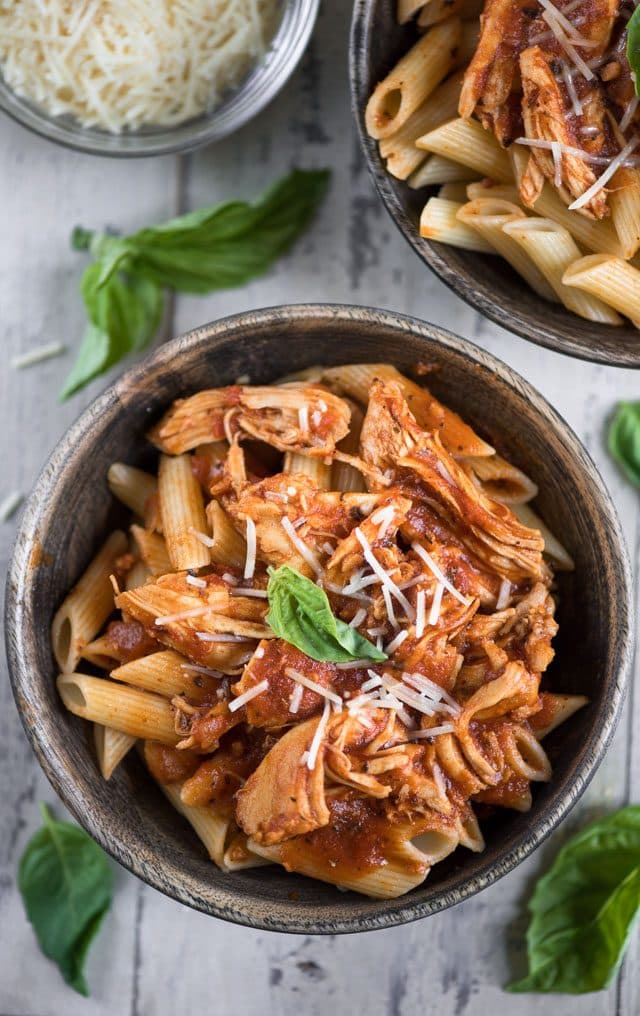 Quick tips for making my Crockpot Chicken Marinara:
I like using a slow cooker liner for easy clean-up, but it's not required. If you're not using a liner, spray your crockpot insert with nonstick cooking spray.
Check your chicken after 2 1/2 hours. Chicken cooking time will depend on the size and thickness of the breasts.
Serve with pasta or even just a salad and some garlic bread.
Leftovers keep well in the fridge and are perfect eaten within 3 days.
Want even more? Subscribe to Crazy for Crust to get new recipes and a newsletter delivered to your inbox. And stay in touch on Facebook, Pinterest, Twitter, and Instagram for all my latest updates.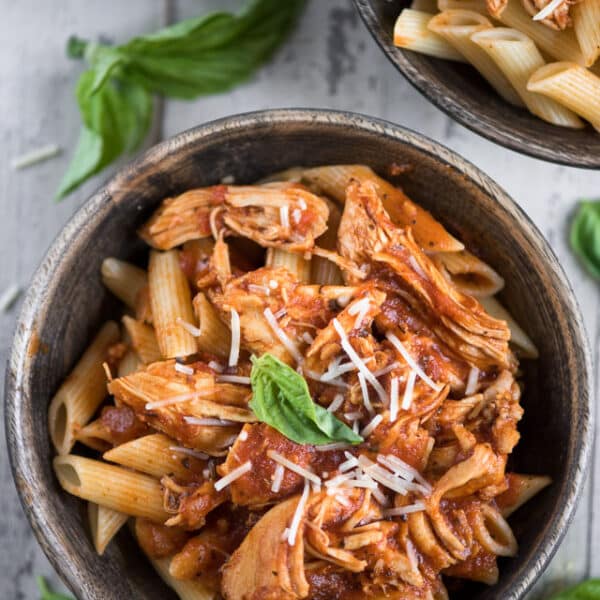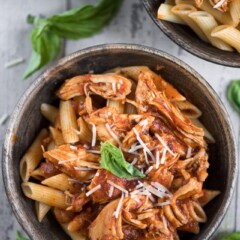 Crockpot Chicken Marinara
This EASY Crockpot Chicken Marinara is a great weeknight meal! Chicken breasts cooked in organic pasta sauce served with penne – even the picky eaters likes this pasta recipe.
Total Time
4

hours
5

minutes
Ingredients
1 jar

(24 ounces)

Great Value Organic Marinara Pasta Sauce

1/4

teaspoon

Great Value Organic Red Pepper Flakes, optional

1

teaspoon

Great Value Organic Italian Seasoning

1/4

teaspoon

Great Value Organic Garlic Salt, optional

1

pound

chicken breasts (thawed)

1 package

(17.6 ounces)

Great Value Organic Penne Rigate pasta

Parmesan cheese and basil, for garnish
Instructions
Line your crockpot with a slow cooker liner or spray with nonstick cooking spray. Place pasta sauce in the bottom of a crockpot. Add red pepper flakes, Italian seasoning, and garlic salt and stir.

Place the chicken breasts on top the sauce. Turn a few times to coat. Cover and cook on HIGH 2 1/2-4 hours, or until chicken is cooked through (internal temperature reaches 165°F).

Cook pasta according to package directions. Drain.

When chicken is cooked, slice or shred using two forks. Return to crockpot with sauce until pasta is ready.

Serve pasta with chicken marinara and a sprinkle of parmesan cheese.

Store in an airtight container in the refrigerator for up to 3 days.
Recipe Nutrition
Serving:
1
serving
|
Calories:
421
kcal
|
Carbohydrates:
68
g
|
Protein:
28
g
|
Fat:
3
g
|
Cholesterol:
48
mg
|
Sodium:
686
mg
|
Potassium:
840
mg
|
Fiber:
4
g
|
Sugar:
7
g
|
Vitamin A:
515
IU
|
Vitamin C:
8.8
mg
|
Calcium:
36
mg
|
Iron:
2.5
mg
Nutritional information not guaranteed to be accurate
Use the Great Value Organic products to make these other dinnertime favorites:
Cheesy Baked Penne Pasta is vegetarian.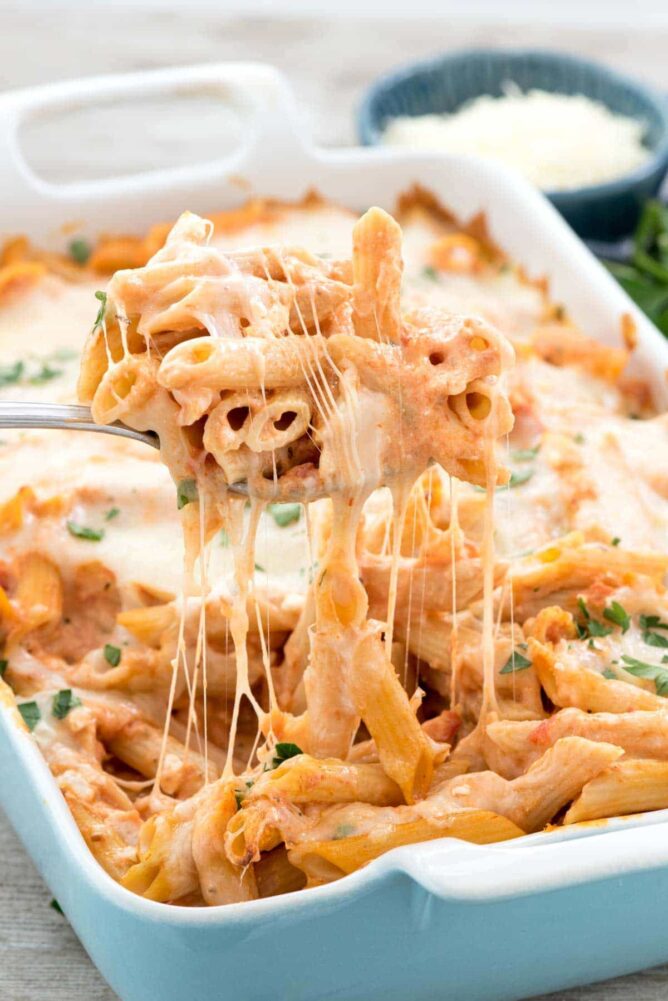 Steak Fajita Pasta is a fun twist on taco night!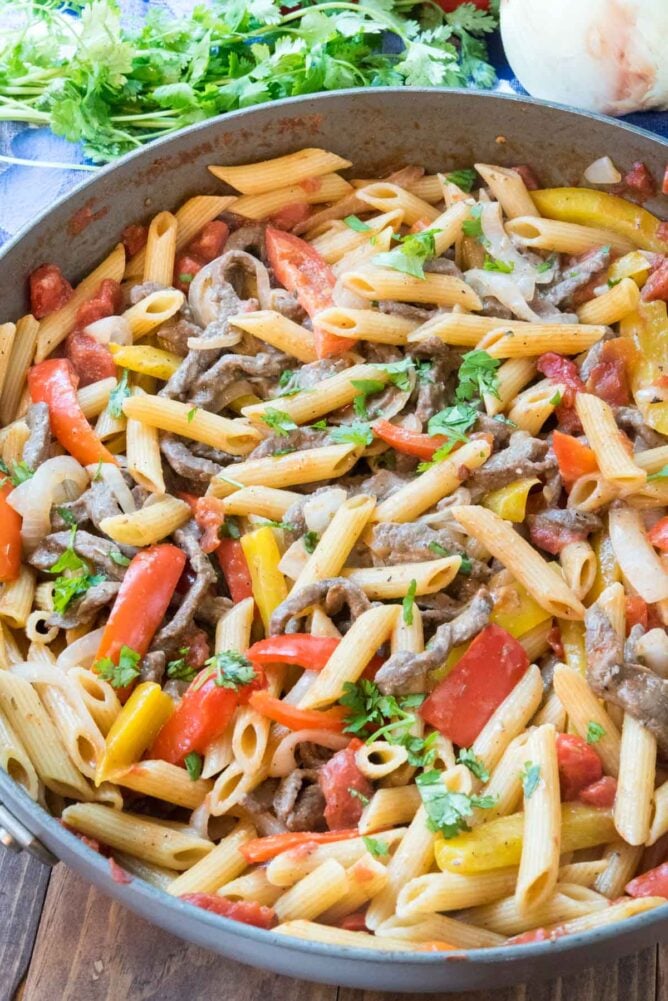 Stuffed Zucchini is a lower carb marinara meal!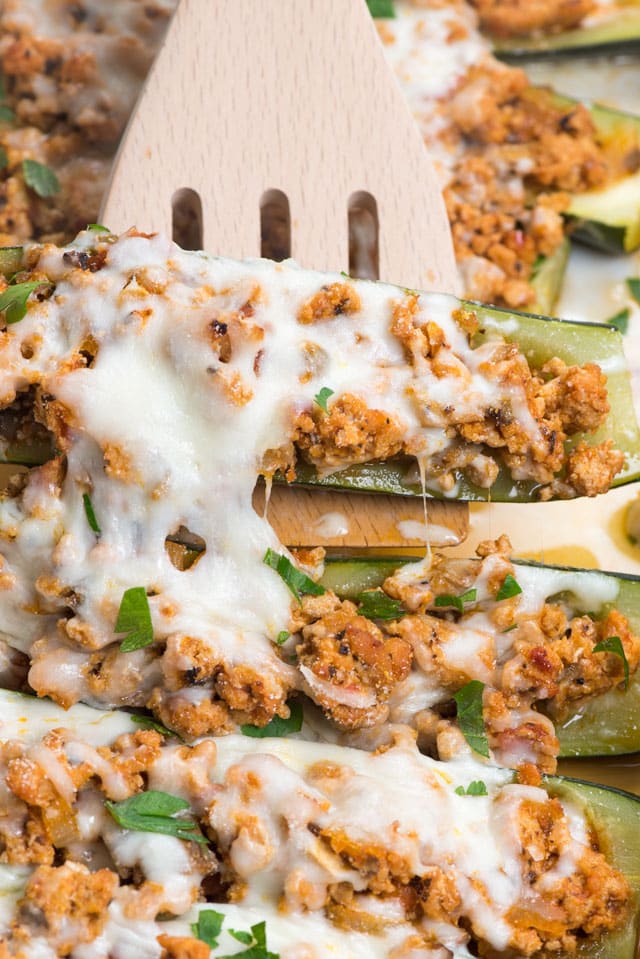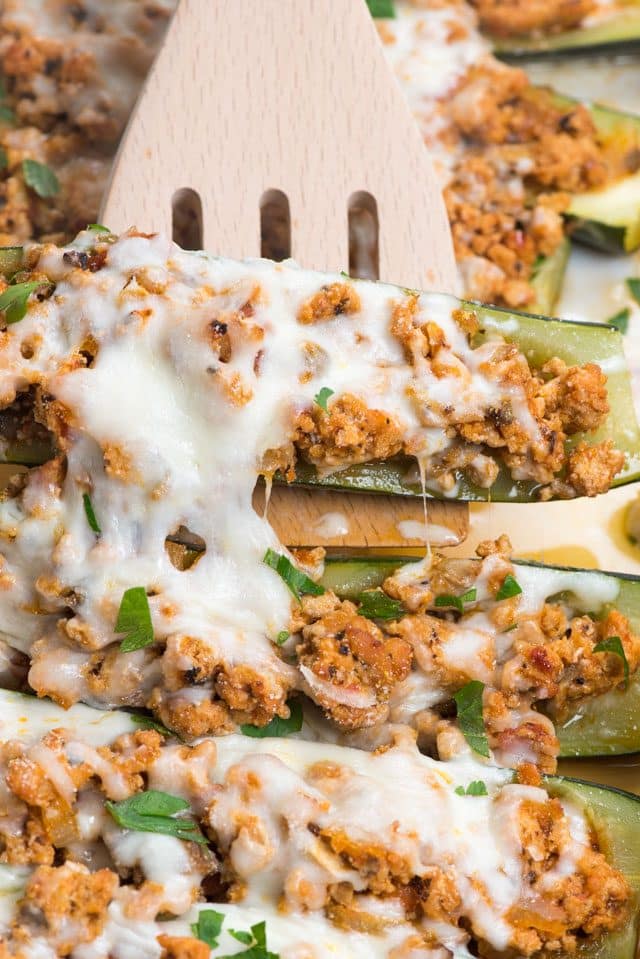 **Did you make this recipe? Don't forget to give it a star rating below!**
This post was sponsored by Walmart and SheKnows Media in 2018.
Last Updated on December 29, 2021