This post may contain affiliate links. For more information, read my disclosure policy.
Mini S'mores Cheesecakes – I don't know about you, but I crave cheesecake all year long. And when s'mores time comes around, I just make them indoor: Mini S'mores Cheesecakes!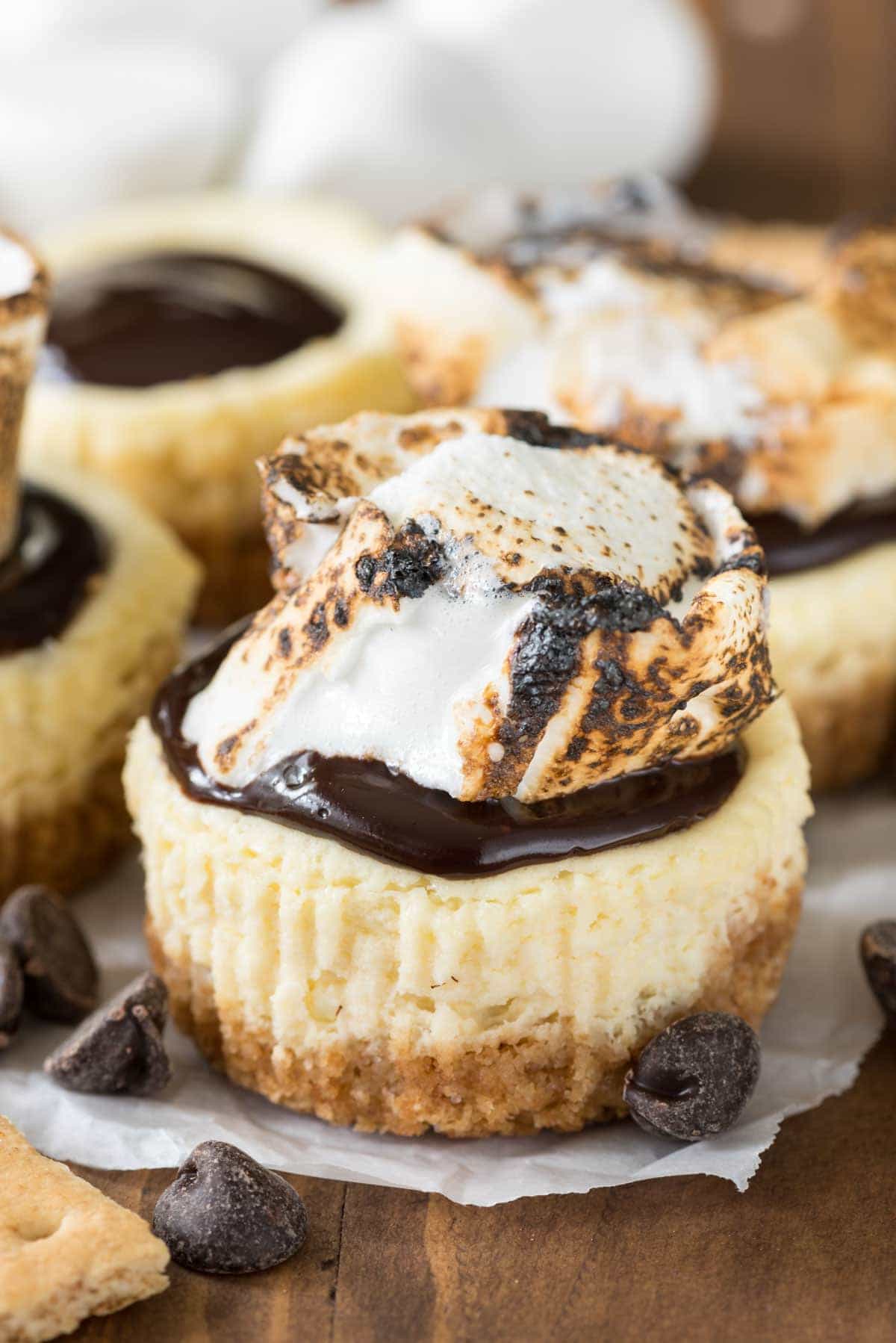 Jordan gets out of school in 6 weeks. 6 weeks!! Let's stop thinking about how she'll be done with 5th grade (gasp) but in 6 weeks I'll have 8 loooooong weeks to look forward too. I have a love/hate relationship with summer. I love that it's easy, no alarm clocks, do what we want when we want. I hate that when I start doing all those things I realize that I still have a job and now my 6 hour a day babysitting gig is gone.
A few weeks ago a friend posted this on Facebook: Oh I just can't wait until summer when these kids can be home with me ALL DAY LONG! I just love being with them every minute!
I almost spit my coffee all over the screen (Okay, it wasn't coffee. It was wine, you got me.) Now, I'm sure there are those people that really love being with their kids 24/7, every minute of every day. Those are the kind of moms that love crafts, sports, getting down on their hands and knees and playing Barbies and Legos, and they actually play at the park. Those people exist, and I admire those people. I wonder how they survive (drugs? wine?) and I wish I could be like them.
I'm not like those people. I love my daughter with all my heart. She's fun, she's funny, and she's a great little shopper. But 24/7? For 8 loooong weeks of summer? People, there's just not enough wine in the universe. Is there anyone else out there like me? Because on social media, all of the people are like that friend.
Thank goodness for summer camp.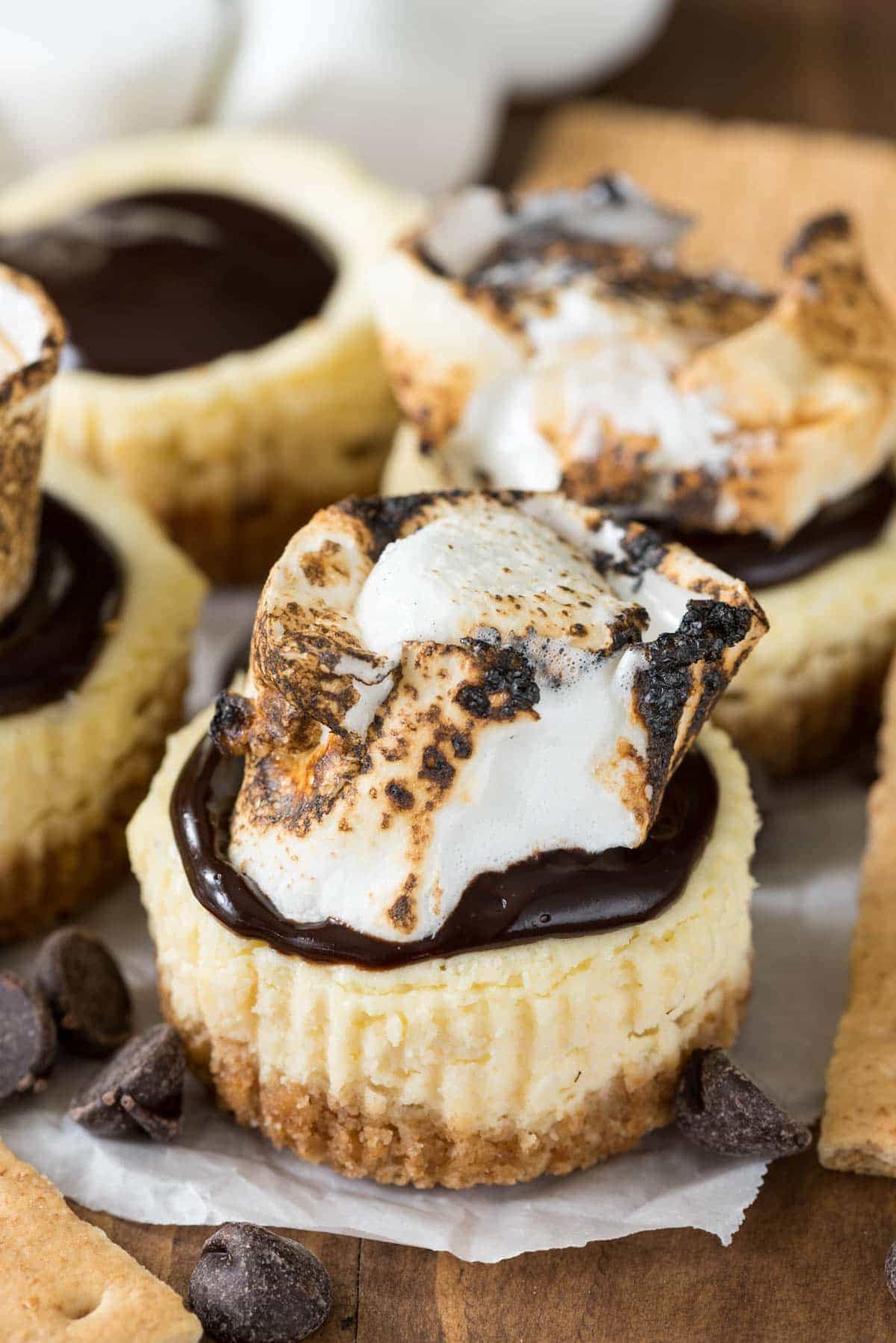 Anyway, the thinking about summer got me thinking about summer things, like the beach, the pool, and s'mores. We all know I'm not an outdoor s'more person unless it's at a resort with a fire pit, so I stick to doing indoor s'mores. I rarely eat traditional s'mores; I make pies and cookies and pudding. And now? Now I've made cheesecake: MINI S'mores Cheesecakes!
EASY Mini S'mores Cheesecakes Recipe
This is a super simple cheesecake recipe (no fuss, no springform pan, no water bath) and you bake it up in muffin tins so it's perfectly portioned. You get 12 cheesecakes, perfect for a party! Or, you can freeze them and eat them one at a time for 12 days straight (not that I'd know anything about that).
Then, you top your cheesecake with chocolate ganache (or hot fudge ice cream topping) and a toasted marshmallow. But wait, you ask, how do you toast a marshmallow without a fire? Well, I did these with my kitchen blow torch. Or you could toast them over a gas stovetop. Or broil them for a few seconds, then place them on top the cheesecakes.
Or be all outdoorsy and toast them over an open flame. I'll watch you from the comfort of my hotel room. 😉

This easy Mini S'mores Cheesecakes recipe is perfect for any occasion, summer or all year long. That chocolate and gooey marshmallow gets me every time!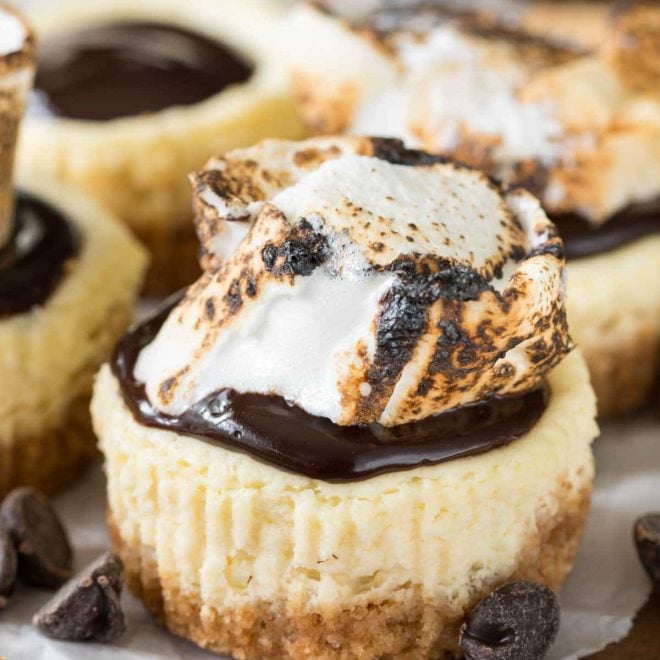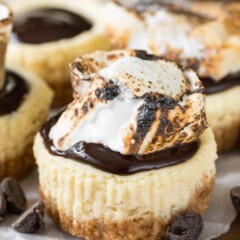 Mini S'mores Cheesecakes
This easy recipe makes a perfect 12 Mini S'mores Cheesecakes! This is the perfect indoor s'more recipe for cheesecake lovers!
Ingredients
For the Crust:
1 1/4

cups

Graham Cracker crumbs

3

tablespoons

granulated sugar

5

tablespoons

unsalted butter

melted
For the Cheesecakes:
8

ounces

Challenge Cream Cheese

softened

1/4

cup

sour cream

room temperature

1

egg

room temperature

1/4

cup

granulated sugar

1

teaspoon

vanilla extract

2/3

cup

chocolate chips

1/4

cup

heavy whipping cream

12

large marshmallows
Instructions
Preheat oven to 350°F. Line 12 muffin pan holes with liners.

Stir together graham cracker crumbs, sugar, and melted butter. Press about 2-2 1/2 tablespoons of the mixture into the bottom of each muffin liner and press to compact.

Beat room temperature cream cheese with a hand mixer until fluffy. Beat in room temperature sour cream. Beat in egg, sugar, and vanilla extract. (Room temperature ingredients are a must to avoid lumps!)

Evenly divide (about 2-2 1/2 tablespoons each) cheesecake among crusts. Bake for 18-20 minutes, until they just begin to brown. Cool completely and refrigerate for at least 3 hours or overnight.

Make the ganache (about 2-3 hours before you're ready to serve): place cream and chocolate chips in a microwave safe bowl or measuring cup. Heat for 45 seconds, then whisk until completely smooth (may take more or less time depending on your microwave). Let sit until it's thick enough that you can spread it but it's not drippy.

To assemble: spread ganache over the chilled cheesecakes. Toast a marshmallow over a gas stove or BBQ and place on top (or use a kitchen torch). Serve immediately after you've placed the marshmallow on top.

Cheesecakes can be made and frozen for up to one month before topping. Once topped with ganache and marshmallow, serve immediately.
Recipe Nutrition
Serving:
1
mini cheesecake
|
Calories:
303
kcal
|
Carbohydrates:
32
g
|
Protein:
4
g
|
Fat:
19
g
|
Saturated Fat:
11
g
|
Cholesterol:
57
mg
|
Sodium:
134
mg
|
Fiber:
1
g
|
Sugar:
22
g
Nutritional information not guaranteed to be accurate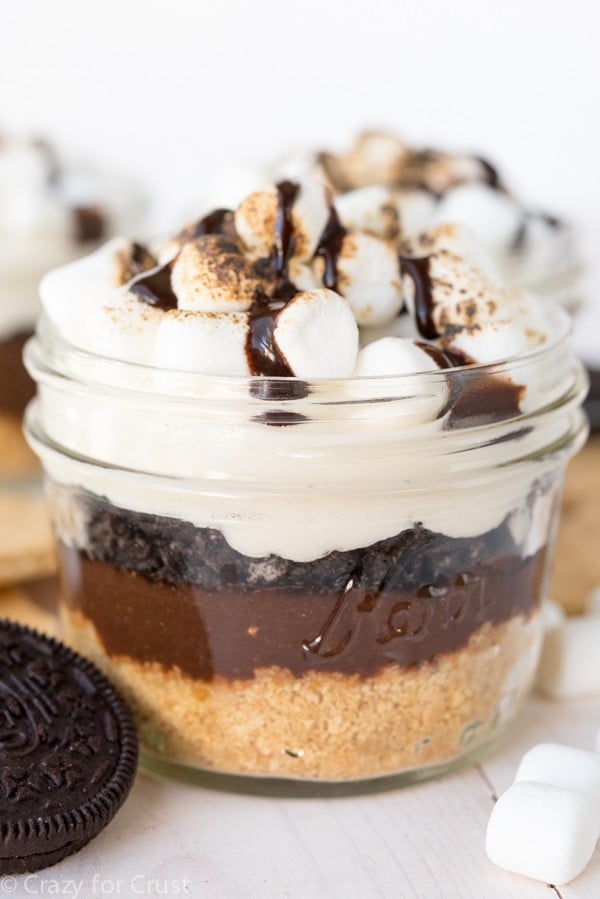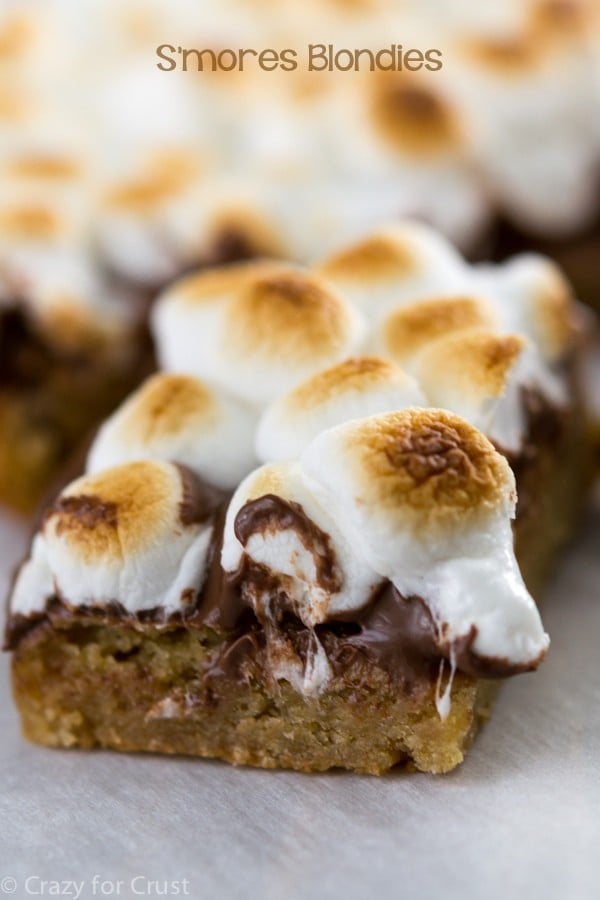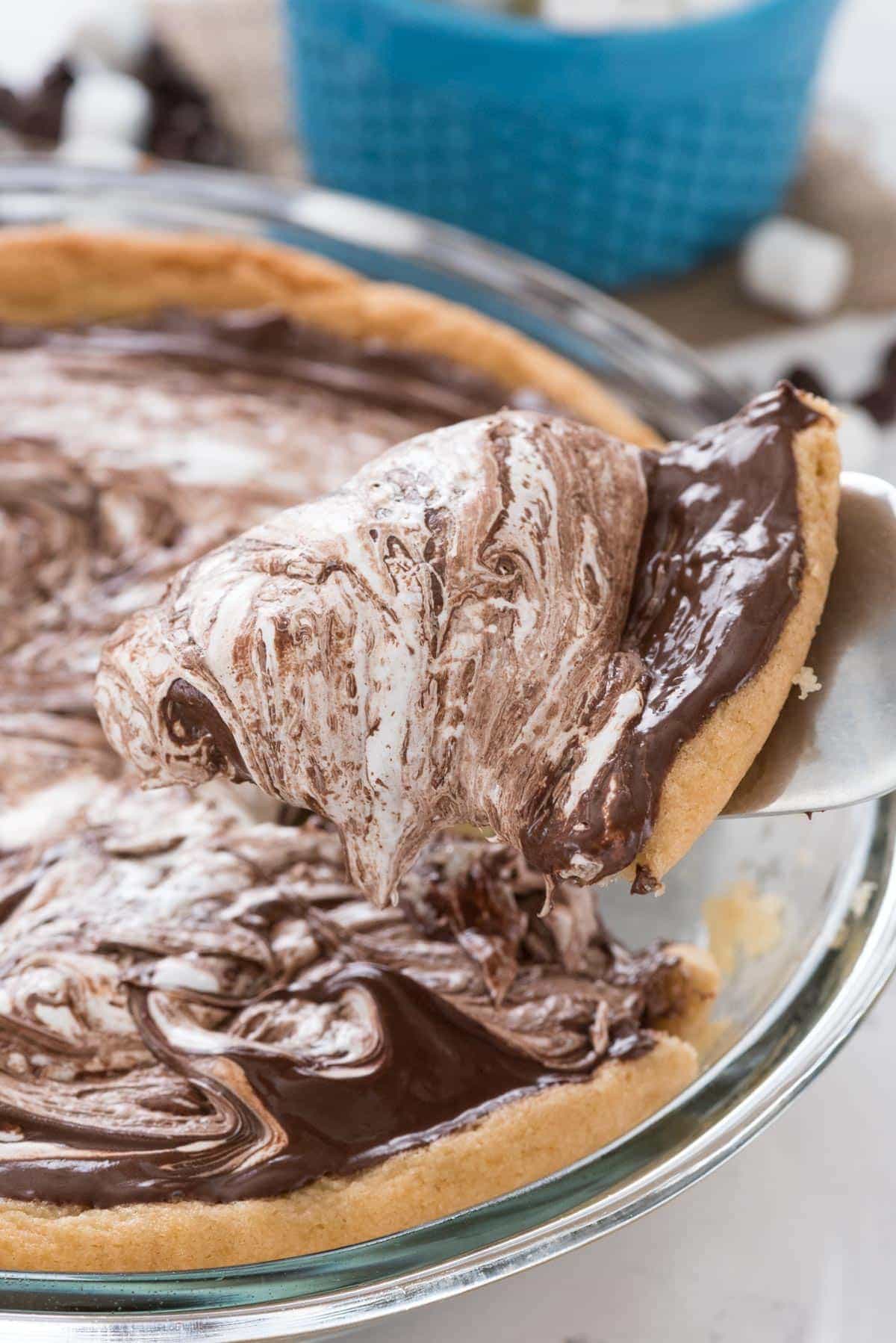 Sweets from friends:
S'mores Pie Pops by The Gunny Sack
Chocolate S'mores Cheesecake by Life, Love and Sugar
S'mores Cinnamon Roll Cake by Chelsea's Messy Apron
This post has been sponsored by Challenge Cream Cheese. All opinions are 100% my own.
Last Updated on August 21, 2018