This post may contain affiliate links. For more information, read my disclosure policy.
Want to make HOMEMADE Crescent Rolls? Learn how to make them here – they're easy to make from scratch, plus you can control the ingredients. My favorite dinner rolls are potato rolls, so I'm making Potato Crescent Rolls today!
This post is sponsored by Ibotta. I used their app to shop and get all the ingredients I needed for this recipe and got cash back. All opinions are 100% my own.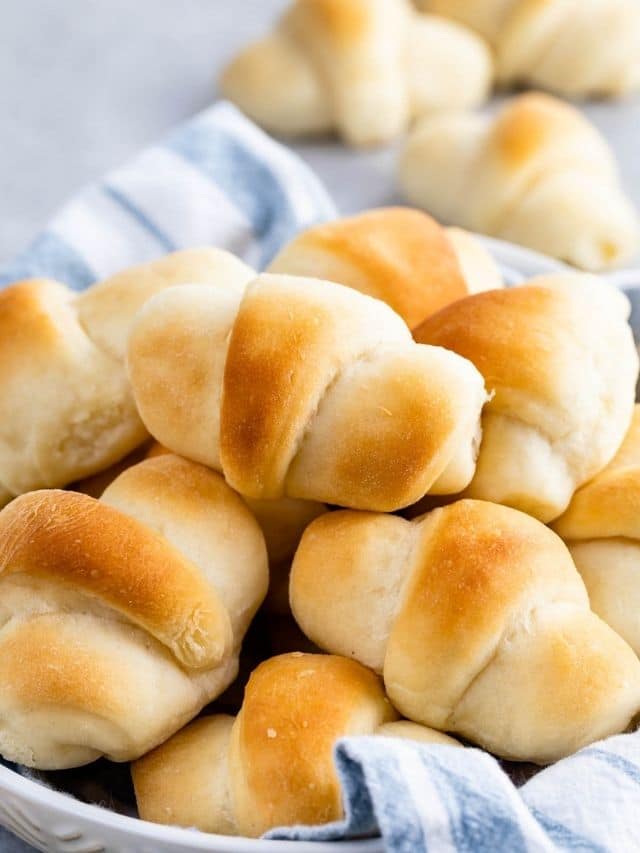 Buttery Crescent Rolls From Scratch
Dinner rolls are my favorite part of any meal – especially when they're made from scratch! That's why I decided to make buttery homemade crescent rolls this year.
Why you'll love this recipe:
Making homemade rolls is EASY, I promise.
These are quick crescent rolls too – only one rise and some resting time because I'm using instant yeast.
These are POTATO Crescent rolls – a variation on my favorite potato roll recipe.
Buttery, homemade and delicious – everyone loves them as a side dish or just because!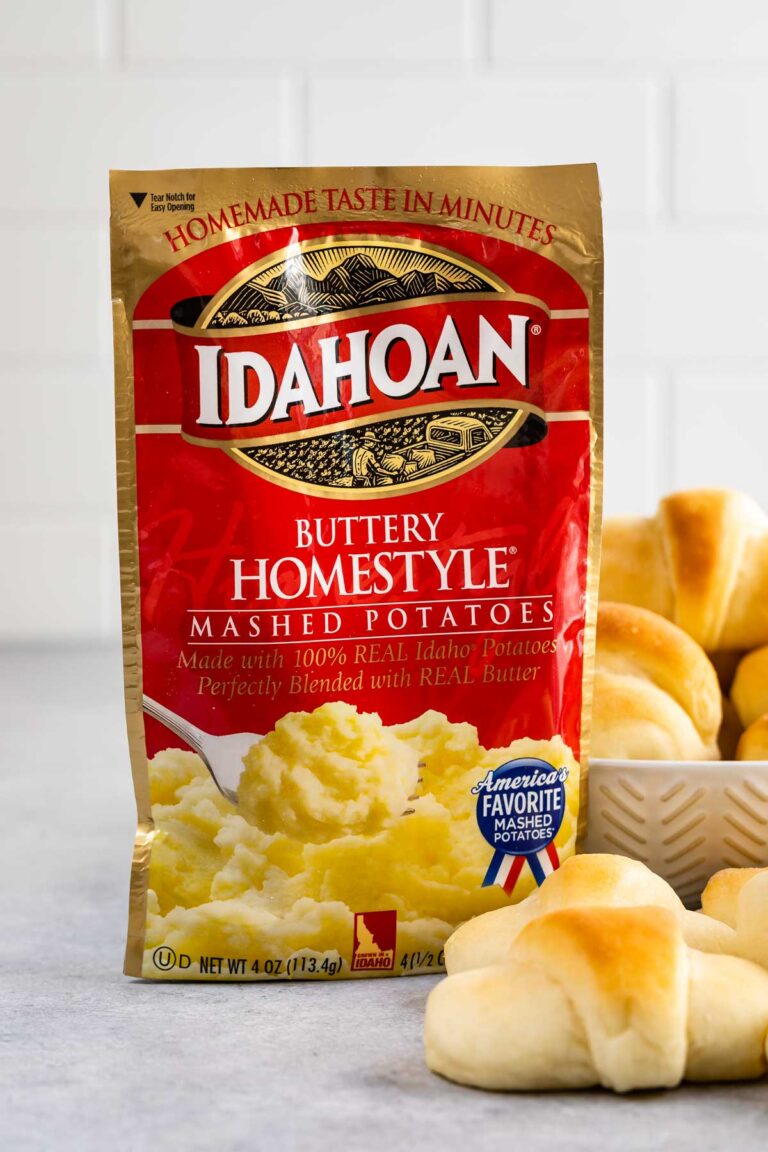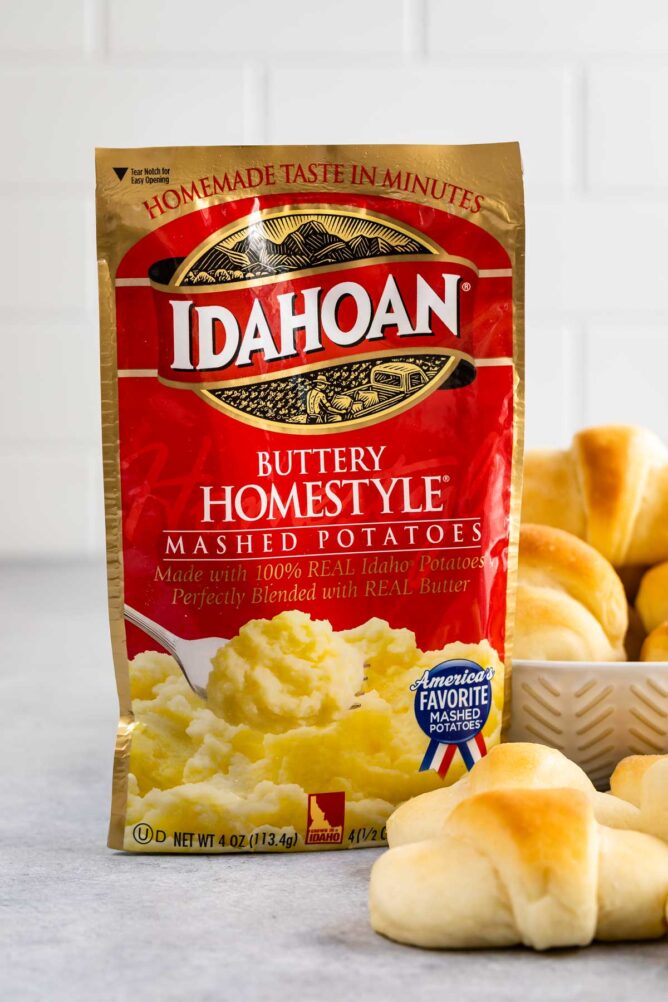 What is Crescent Roll Dough Made of?
Flour: Use all-purpose flour for best results, and be sure to measure it correctly.
Instant Yeast: This helps cut down the rise time! You find this wherever yeast is sold. Yeast comes in a few different forms (active dry, bread machine, and instant, so be sure to buy instant yeast).
Sugar: We add some granulated sugar for sweetness and to help activate the yeast.
Salt: Needed for flavor!
Milk & Water: Milk adds great flavor to the dough. Use regular or nonfat.
Butter: I used unsalted butter, but you can use salted, just reduce the salt to 3/4 teaspoon. You'll need butter for both in the rolls and brushing on top.
Potato Flakes: I love making potato flakes with instant potatoes. My favorite instant potatoes are Idahoan Mashed Potatoes that come in the pouch.
Egg: Egg adds structure and adds a richness to the bread dough.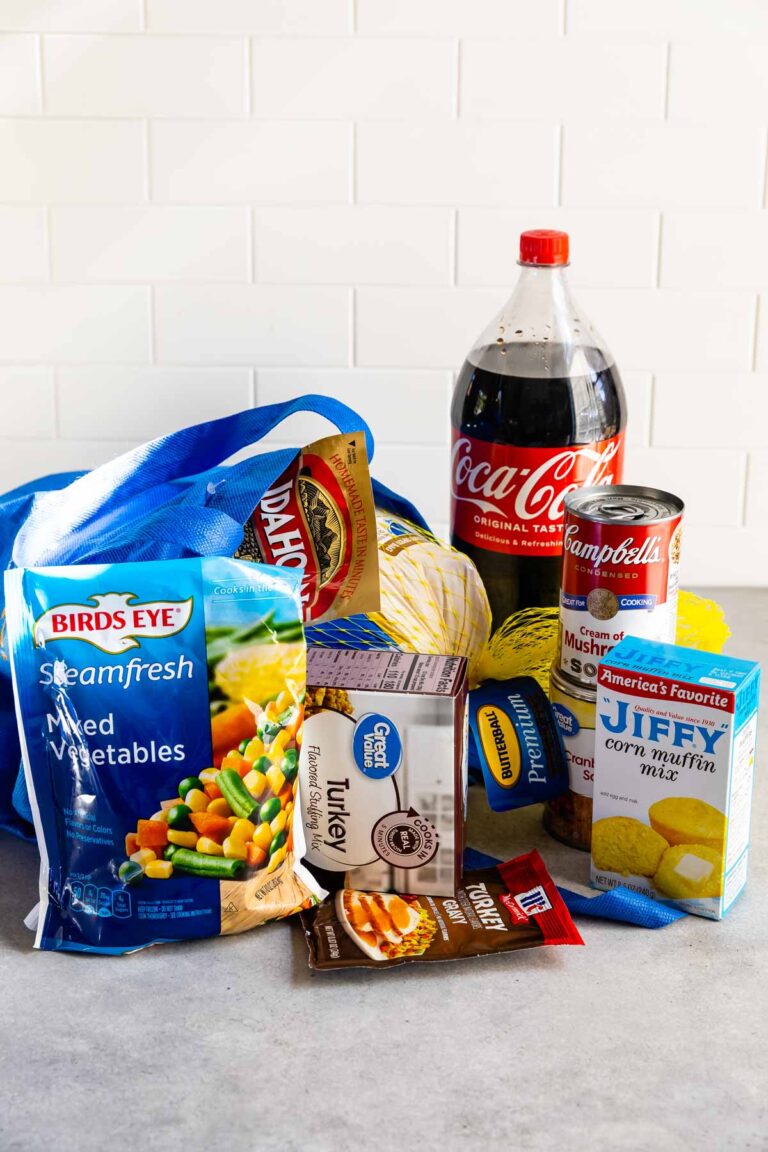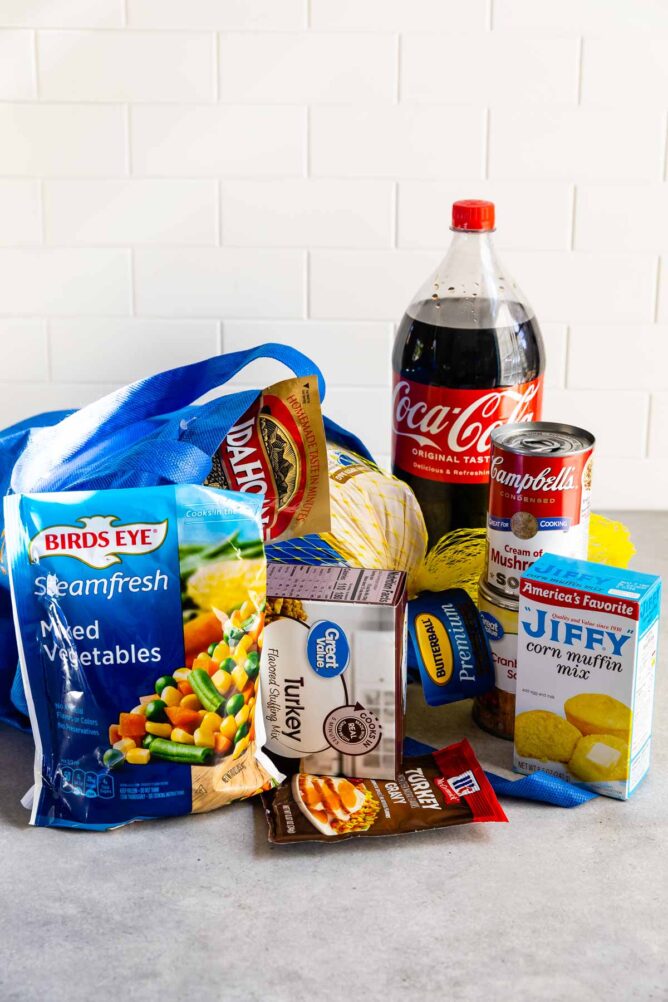 Where To Buy Crescent Roll Recipe Ingredients
You can get all your ingredients to make this recipe, as well as all the things you need to make your Thanksgiving dinner using the Ibotta App, website or browser extension at select retailers.
By using the Ibotta App you can get your Thanksgiving dinner for free! Yep – the free Thanksgiving dinner is back and better than ever with even more sides and a larger turkey!
Use the Ibotta App, website, and browser extension (for online grocery and pickup orders) and receive 100% cash back on a full bundle of items for Thanksgiving dinner. New users get a free turkey worth up to $15 (existing users can unlock the turkey by referring a friend).
These items are available at select retailers, while supplies last, so get shopping!
Here are the items you can get in the bundle: Birds Eye Frozen Vegetables, Idahoan instant potatoes, a 2L of Coca-Cola, Campbell's cream of mushroom, Turkey, Great Value Stuffing, McCormick gravy, Great Value cranberry, Great Value Crispy Onions and Jiffy Corn Muffin Mix.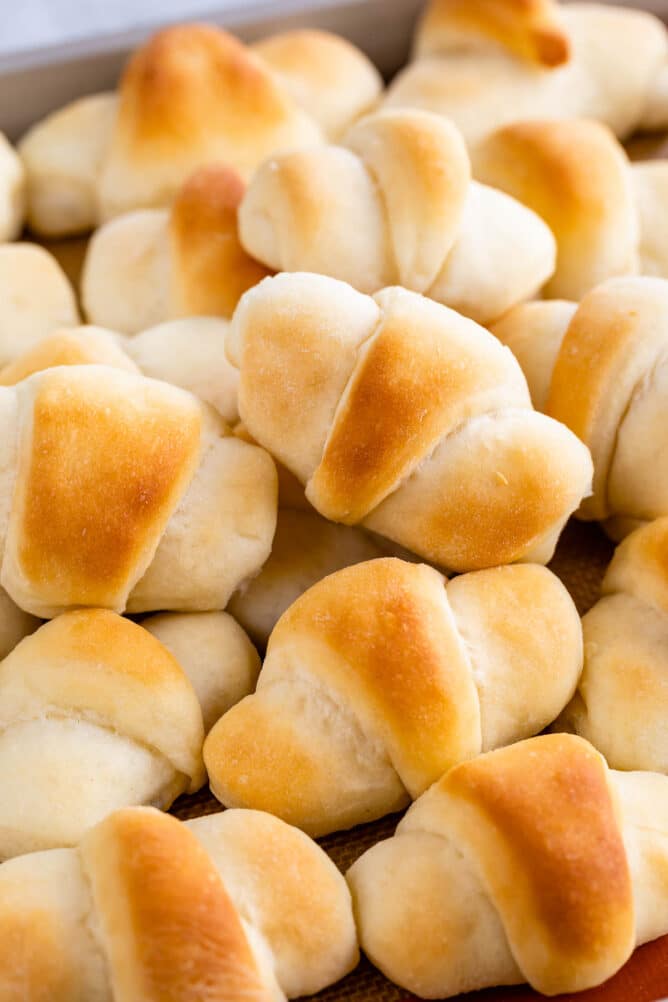 How to Make Homemade Crescent Rolls
First you'll need to add the milk, water and butter to a measuring cup. Heat until it reaches 120-130°F. I recommend using an instant read thermometer to test the water temperature. If you don't have a thermometer, think hot bathwater. Then stir in the potatoes.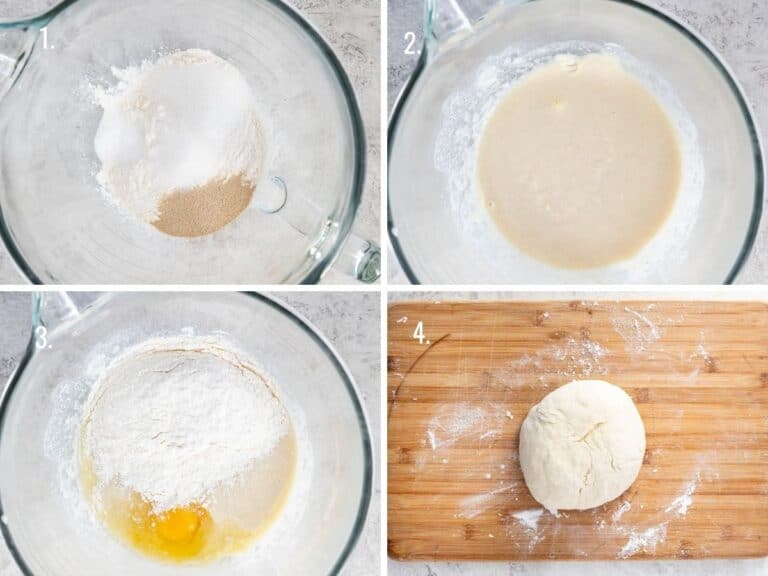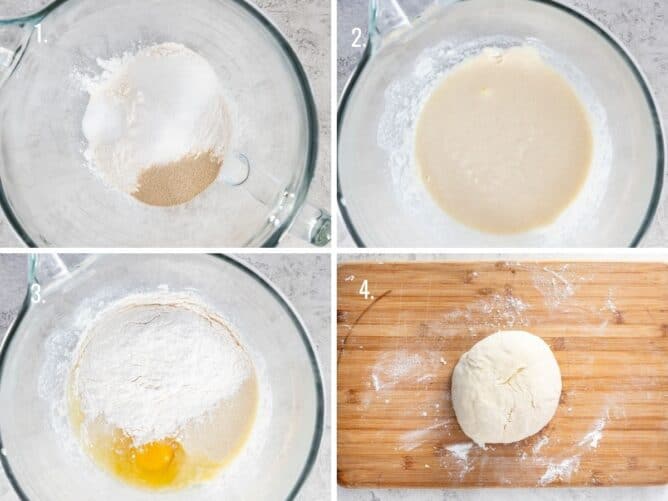 While that's heating, whisk together some of the flour with the yeast, sugar and salt.
Add the wet ingredients to the flour mixture and mix for 1 minute.
Add the egg and another cup of flour and mix for another minute, then add the third cup of flour and mix until the dough comes together. It'll be slightly sticky (minimal transfer to your hands when touched).
Place the dough onto a floured surface and knead until it comes together in a ball that bounces back when pressed lightly with 2 fingers. Cover with a towel and let rest for 10 minutes.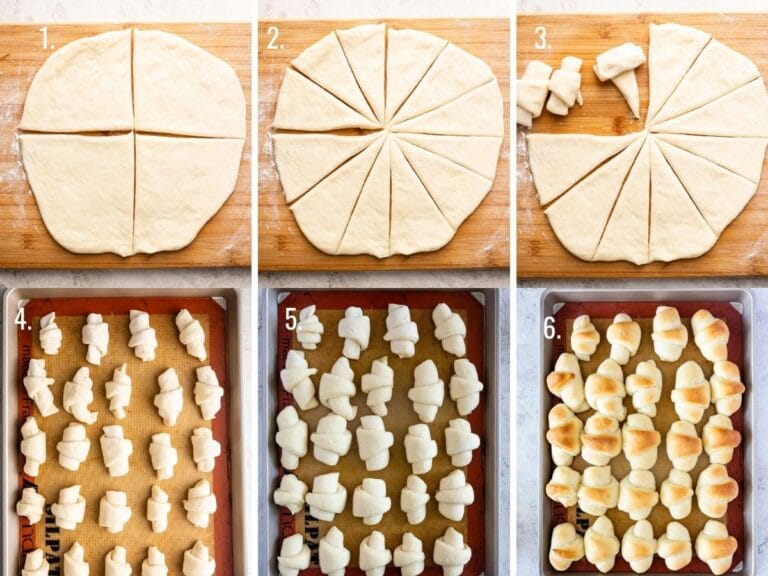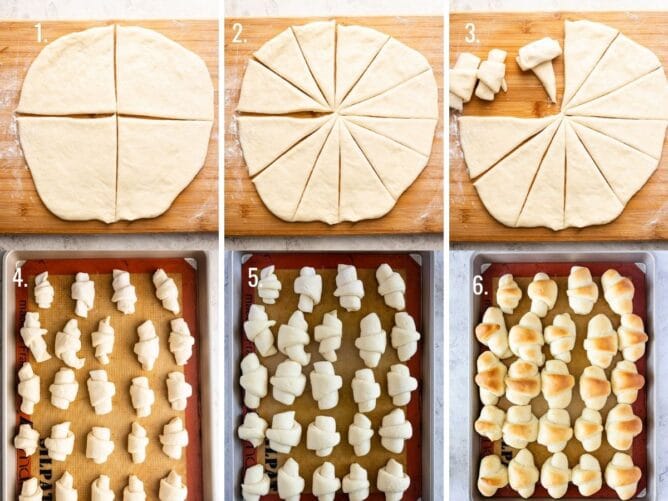 After the 10 minute rest, divide the dough into 2 pieces and roll each to a 10-inch circle. Cut each circle into quarters.
Cut each quarter into thirds, to make 12 rolls per circle.
To form the crescent rolls, roll each triangle up from the wide end to the point.
Place on a cookie sheet.
Let the rolls rise until doubled in size.
Bake until golden then brush with butter.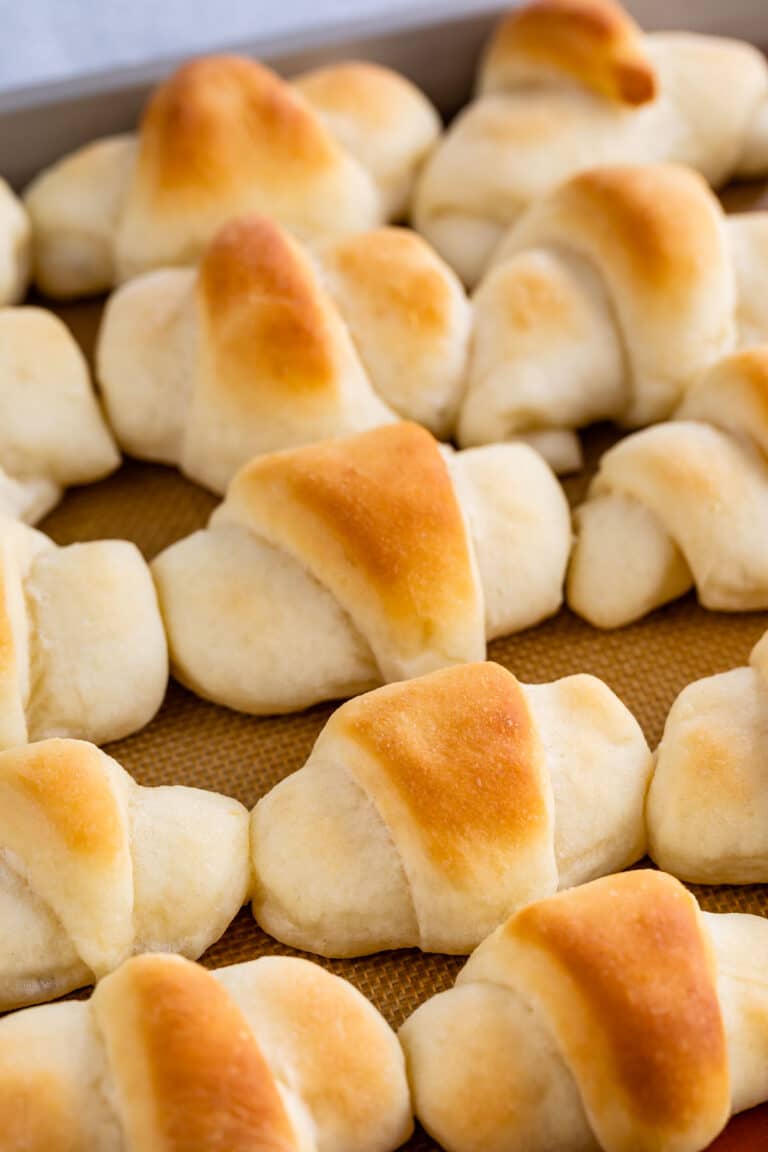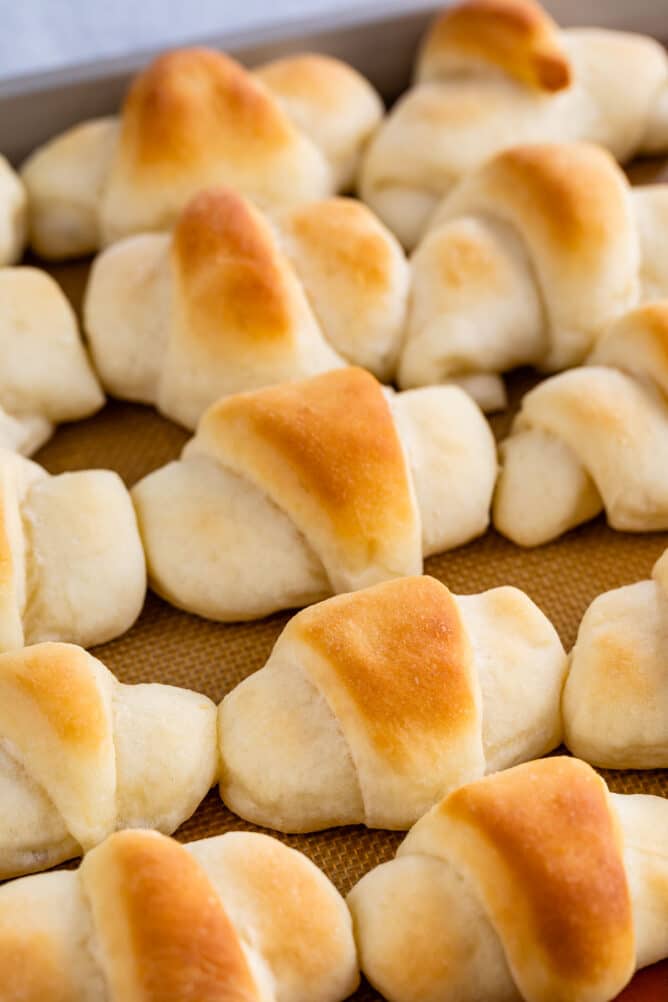 Make Ahead Instructions
It's easy to make Potato Crescent Rolls ahead of time!
In step 4 above, before leaving them to rest, cover tightly with plastic wrap and chill for up to 24 hours. Let come to room temperature and rise before baking.
How to store Homemade Crescent Rolls
Store these in an airtight container for up to 3 days. Homemade bread doesn't have preservatives and won't last as long as store bought.
You can freeze the baked rolls for up to 3 months.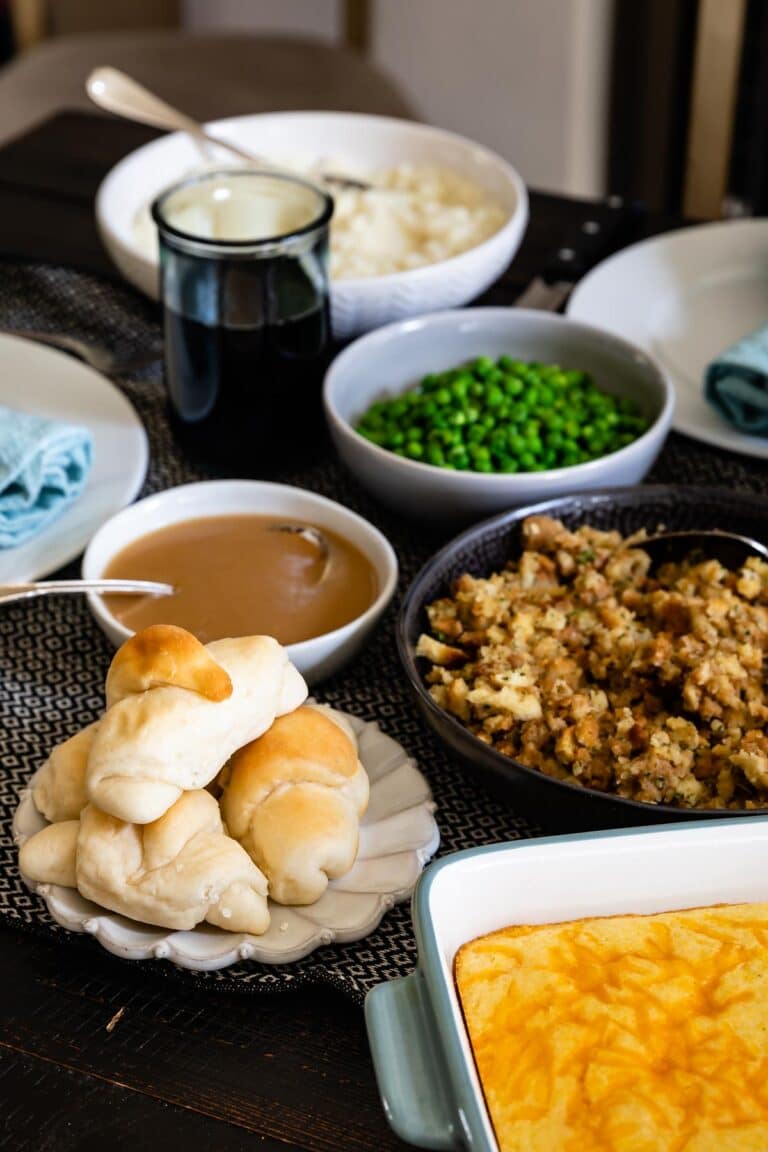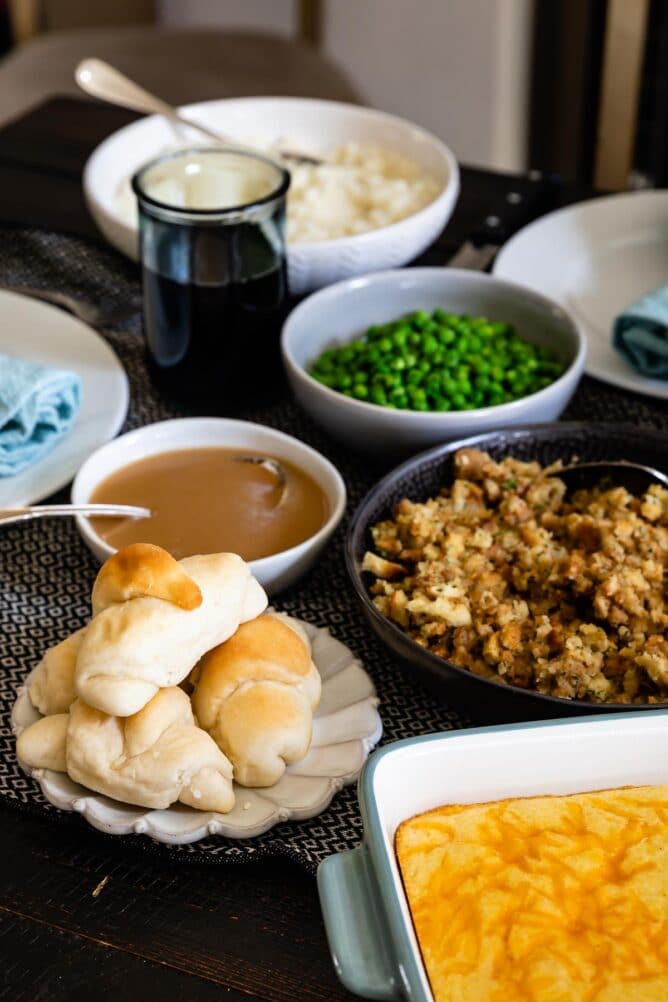 Dinner Roll FAQ
Is crescent dough the same as croissant dough?
No, croissant dough is more flakey and is more like frozen puff pastry.
How far in advance can you make crescent rolls?
You can make this recipe up to 24 hours ahead.
How to roll crescent rolls?
Start rolling at the base of the triangle and roll to the point. To form, twist in the ends a bit.
What kind of yeast is best to use for dinner rolls?
Instant Yeast is my favorite to use because it's fastest – just a 10 minute rest and then one rise. Most brand names have instant yeast under different names so check the package.
Why didn't my dinner rolls rise?
Make sure your yeast is fresh and not expired. Be sure to use an instant read thermometer to check the water/milk temperature (too cold and your yeast won't activate, too hot and it'll kill the yeast).
How do I know I'm done kneading my bread dough?
It will come together in a uniform ball, no longer be sticky, and bounce back when touched with 2 fingers.
What to serve with Crescent Rolls
Don't forget, you can get all the ingredients to make those and this recipe using the Ibotta App, website or browser extension. Shop in-store or for pickup or delivery from select retailers and you can get 100% cash back! But hurry; these are available only at select retailers while supplies last. All offers were valid as of publish date. Check your app for details, as offers change frequently and may not be available in all areas.
Have you made this recipe?
Tag @crazyforcrust on Instagram or hashtag it #crazyforcrust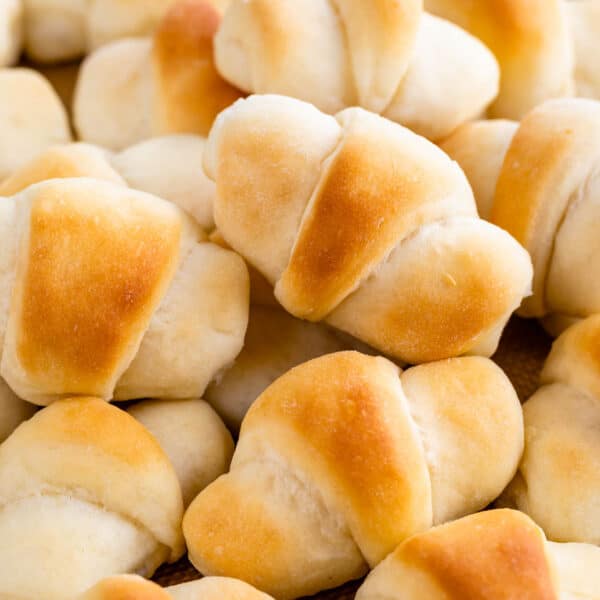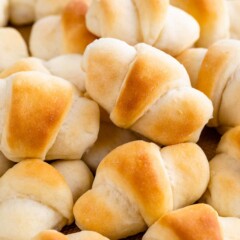 Homemade Crescent Rolls Recipe
Make easy homemade potato crescent rolls from scratch – these rolls are buttery and easy make, quick with instant yeast!
Rise Time
1

hour
10

minutes
Total Time
1

hour
55

minutes
Ingredients
3

cups

(372g) all-purpose flour (up to 3 ½ cups)

1

packet Instant Yeast

(2 ¼ teaspoons or 7g)

2

tablespoons

(25g) granulated sugar

1

teaspoon

salt

¾

cup

(177ml) milk

½

cup

(118ml) water

3

tablespoons

(42g) unsalted butter

⅓

cup

(33g) Idahoan Potato Flakes

1

large egg

2

tablespoons

(28 g) unsalted butter, melted (for brushing)
Instructions
Combine 1 cup flour, yeast, sugar, and salt in the bowl of a stand mixer fitted with the paddle attachment. Whisk to combine.

Combine water, milk and butter in a microwave safe measuring cup. Heat to between 120°-130°F (about 1 minute in my microwave). It's best if you can use an instant read thermometer, but if you don't have one, heat your water to very hot bathwater temperature. Stir in potato flakes.

Pour the liquid ingredients into the dry ingredients and mix with the dough hook for 1 minute on medium speed. Add egg and 1 cup flour and mix another 1 minute. Add a third cup of flour and mix until your dough comes together to a soft dough. It will be slightly sticky to the touch. If needed, add up to ¼ cup more flour.

Turn out the dough onto a floured surface and dust it with flour. Knead until the dough comes together in a ball and the dough bounces back when pressed with two fingers. This will take about 4-6 minutes (longer if you've done this process by hand). Cover and let the dough rest for 10 minutes.

After 10 minutes, divide the dough into two pieces. Roll each into a 10-inch circle and cut into 12 wedges (like a pizza).

To form the crescent rolls, roll each triangle from the wide end to the point. Place rolls on a cookie sheet covered with parchment paper or a silicone baking mat, 1-inch apart. Cover with a kitchen towel and let sit at room temperature until doubled in size, about 1 hour.

Preheat oven to 375°F. Brush with melted butter. Bake for 15-25 minutes, or until light golden brown and cooked through. Brush with additional melted butter after baking.

Store rolls in an airtight container for up to 3 days. Baked rolls can be frozen for up to 3 months.

Make ahead instructions: Once you place the rolls on the cookie sheet you can cover them tightly with plastic wrap and store in the refrigerator up to 24 hours. Let come to room temperature and double in size before baking.
Recipe Nutrition
Serving:
1
roll
|
Calories:
92
kcal
|
Carbohydrates:
14
g
|
Protein:
2
g
|
Fat:
3
g
|
Saturated Fat:
2
g
|
Polyunsaturated Fat:
1
g
|
Monounsaturated Fat:
1
g
|
Trans Fat:
1
g
|
Cholesterol:
14
mg
|
Sodium:
104
mg
|
Potassium:
40
mg
|
Fiber:
1
g
|
Sugar:
1
g
|
Vitamin A:
95
IU
|
Vitamin C:
1
mg
|
Calcium:
13
mg
|
Iron:
1
mg
Nutritional information not guaranteed to be accurate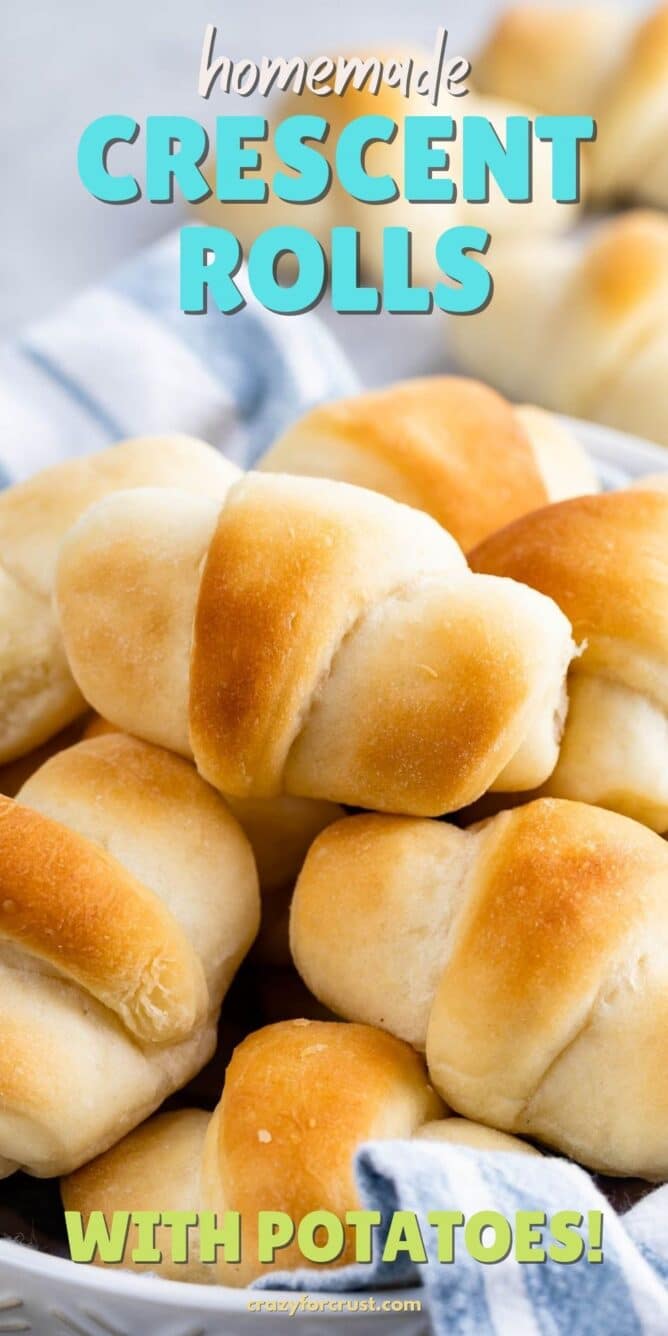 Learn how to make HOMEMADE CRESCENT ROLLS! These easy dinner rolls are potato rolls made into from scratch crescent rolls – perfect side dish for holidays or any dinner!
Last Updated on November 1, 2021