This post may contain affiliate links. For more information, read my disclosure policy.
Flourless Peanut Butter Brookies – an easy gluten-free dessert recipe that has a peanut butter cookie base and a gooey chocolate top layer that tastes like brownies!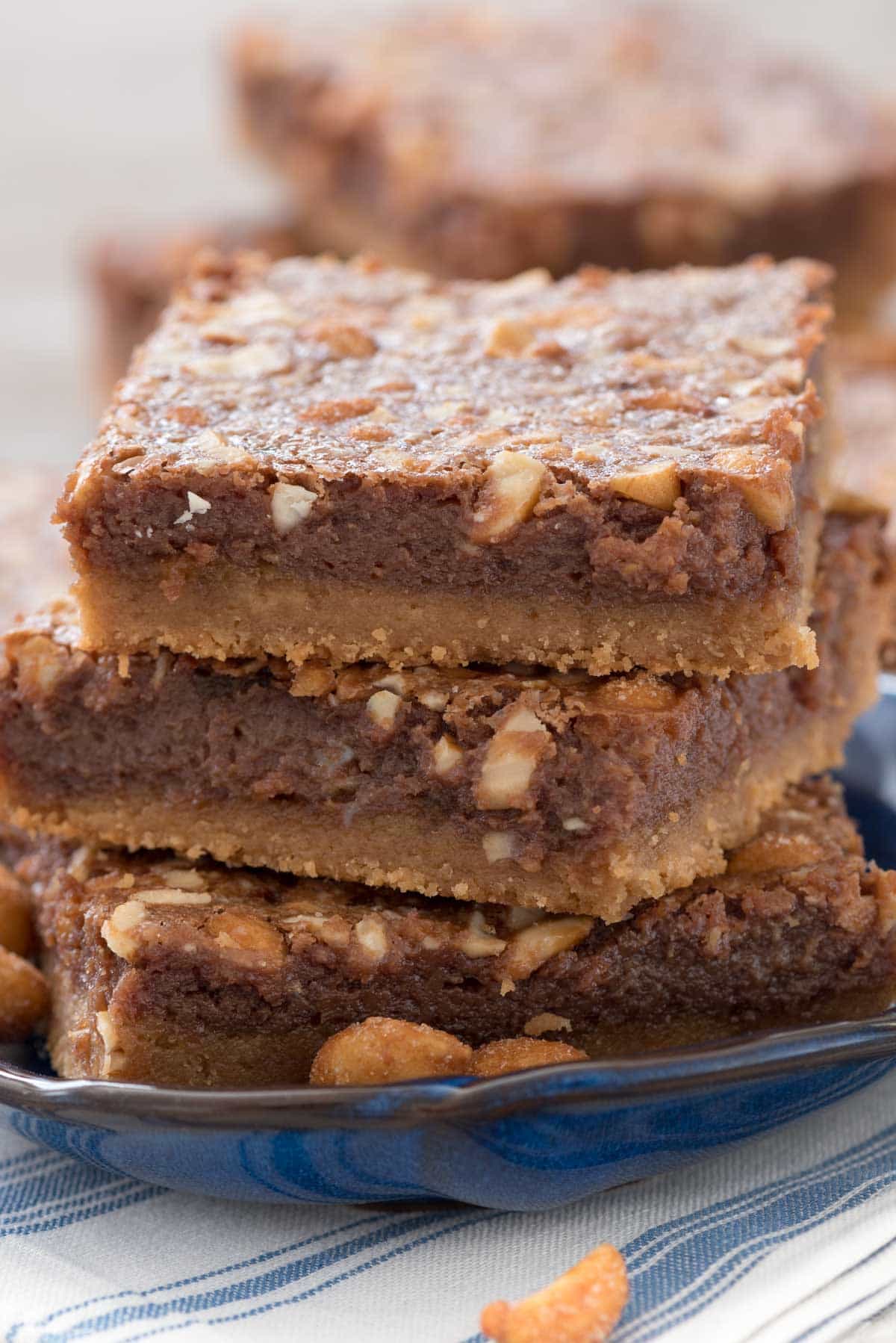 You guys. The school year is almost over. I almost have a … MIDDLE SCHOOLER. There are less than 55 days left in the 6th grade. Less than 2 months worth of school days left until we leave elementary school and the cocoon we've been in for the past 7 years.
I'm scared, my friends. TERRIFIED. Next week we're picking electives. In a few weeks I have to go to parent night at the middle school. We're planning the 6th grade farewell breakfast. In a few short months my kid will be in 7th grade and have three hours of homework a night.
Jordan's excited. I'm sure she'll be scared when we get to August but right now? She wants to get away from her elementary school. None of us much like the principal and we're all getting really tired of the drama of helicopter moms. I used to be a helicopter mom until I took a step back and realized what they look like to other people. Now I stay as far away from them as I possibly can.
In 6 months Jordan's school work, her attitude, and her friends could all look very different. She's excited…I'm terrified.
When I get terrified, I emotionally eat, so I'm stocking up on cookies and pie and all things peanut butter and brownie.
For this bar cookie recipe, I combined the two and made flourless peanut butter brookies, and they are accidentally gluten-free!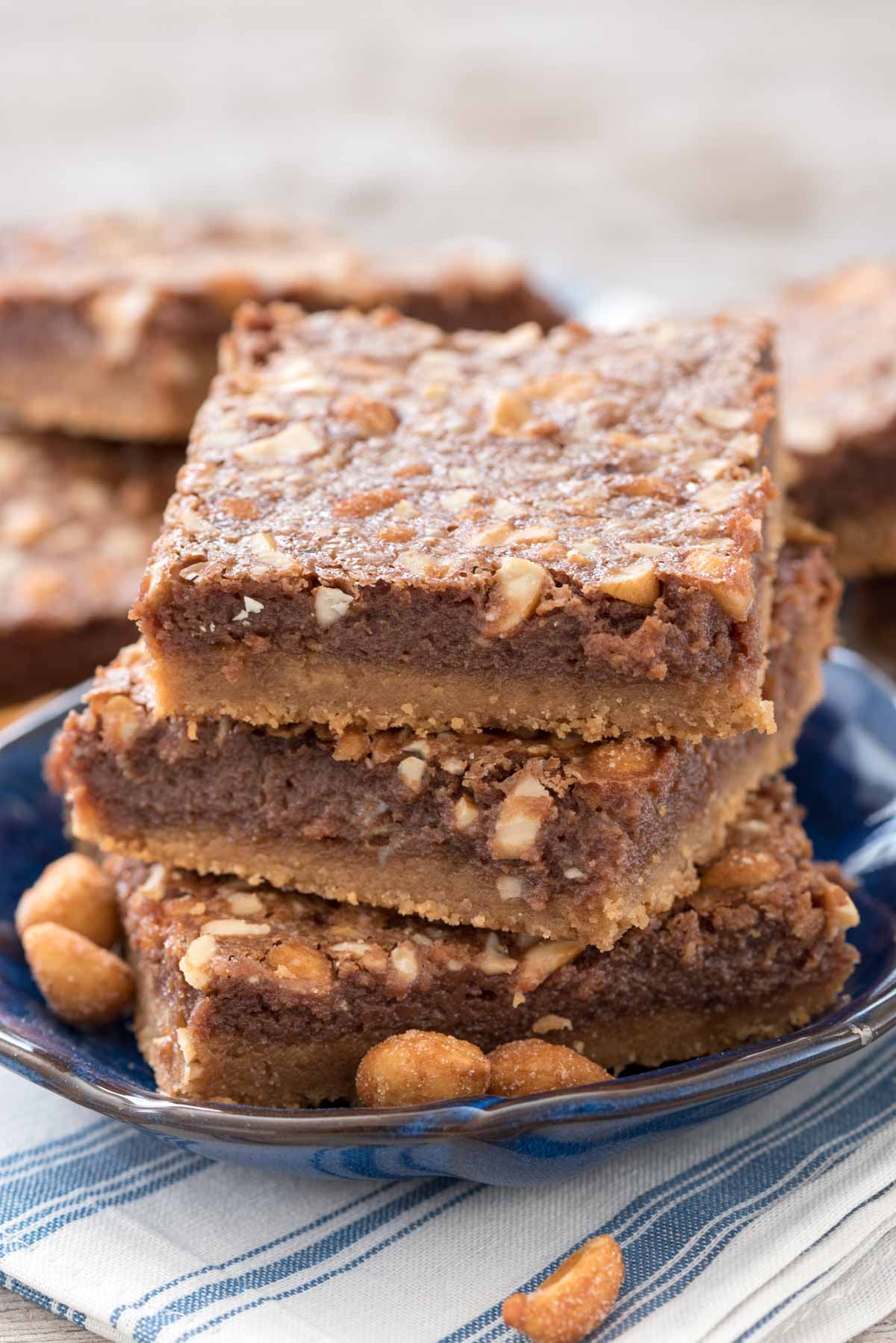 This flourless peanut butter brookies recipe is actually a really old remake of one here on the blog, but that one will remain nameless and unlinked. It was back when I first started and could not take photos or write recipes at all, so it's a really embarrassing one. But when I was looking at redoing old posts I found this one and realized the recipe itself is really a gem. It was a brookie before brookies got popular, plus peanut butter and chocolate and zero flour.
You know what a brookie is, right? It's a brownie + a cookie, all in one. I have lots of different versions on this blog, including coconut brookies, oatmeal scotchie brookies, and pumpkin brookies. I have a peanut butter brookie recipe in my book, but I don't have one on my blog…until now.

Flourless peanut butter brookies start off with a flourless peanut butter cookie, the basic one we all have made or seen on Pinterest. My favorite one is when Jordan added tons of Reese's to the recipe for her Reese's Overload Peanut Butter Cookies. It's topped with a recipe that's not actually a brownie recipe at all; in fact it's the base of this almond chocolate shortbread recipe and uses sweetened condensed milk, chocolate, and eggs as the base. It sets up as it bakes and turns very fudgy just like brownies, which is why I call them BROOKIES. I topped mine with chopped peanuts for texture, but you can leave those out or use chocolate or even peanut butter cups.
Either way, these are stick-to-your-ribs bars. The lack of flour in the peanut butter cookie totally amps up the peanut butter flavor and the gooey chocolate layer adds a sweet and chocolatey touch to the peanut butter.
These flourless peanut butter brookies are good cut as huge bars, of course, but they're best served in small squares. Either way…they're perfect for emotional eating!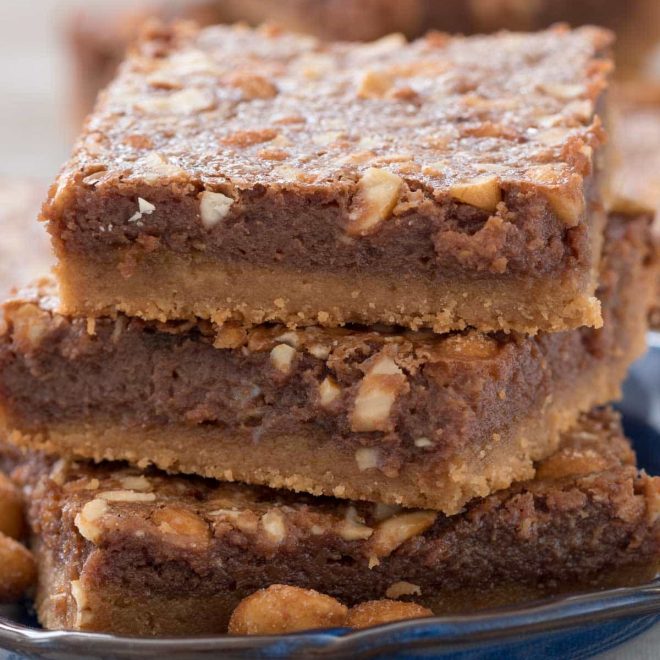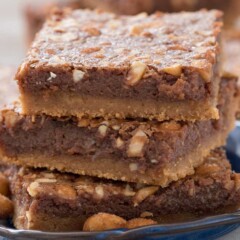 Flourless Peanut Butter Brookies
Flourless Peanut Butter Brookies - an easy gluten-free recipe that has a peanut butter cookie base and a gooey chocolate top that tastes like brownies!
Ingredients
1

cup

peanut butter

chunky or creamy but not natural

1

cup

granulated sugar

2

large eggs

divided

2

ounces

baking chocolate

semi-sweet

1

can

14 ounces sweetened condensed milk

1

teaspoon

vanilla

1/2

cup

chopped peanuts

optional
Instructions
Preheat oven to 350°F. Line a 9x9" pan with foil and spray with nonstick cooking spray.

Stir peanut butter, sugar, and one egg in a large bowl until the mixture comes together into a thick dough. Press into the bottom of the prepared pan. (The mixture is sticky, so it's good if you spray your hands with nonstick cooking spray to avoid it sticking to you.) Bake the peanut butter layer for 12 minutes.

While that layer is in the oven, melt the baking chocolate in a large bowl. Heat in the microwave in 30 second increments, stirring between each, until the chocolate is melted and smooth. Cool for 3-5 minutes, then stir in the sweetened condensed milk, vanilla, and remaining egg.

After the peanut butter cookie layer comes out of the oven, pour the chocolate mixture over the top and sprinkle with chopped nuts, if using. Place back in the oven and bake for 20-25 additional minutes, or until a toothpick comes out with just a few crumbs. Cool completely before slicing into bars.

Store in an airtight container for up to 3 days or freeze for up to one month.
Recipe Nutrition
Serving:
1
Bar
|
Calories:
508
kcal
|
Carbohydrates:
70
g
|
Protein:
13
g
|
Fat:
22
g
|
Saturated Fat:
7
g
|
Cholesterol:
57
mg
|
Sodium:
205
mg
|
Fiber:
2
g
|
Sugar:
64
g
Nutritional information not guaranteed to be accurate
Click here to see more PEANUT BUTTER recipes!
If you love these, check out my peanut butter brownies, or even this peanut butter brownie dessert, peanut butter truffle brownies, or even peanut butter cup STUFFED brownies!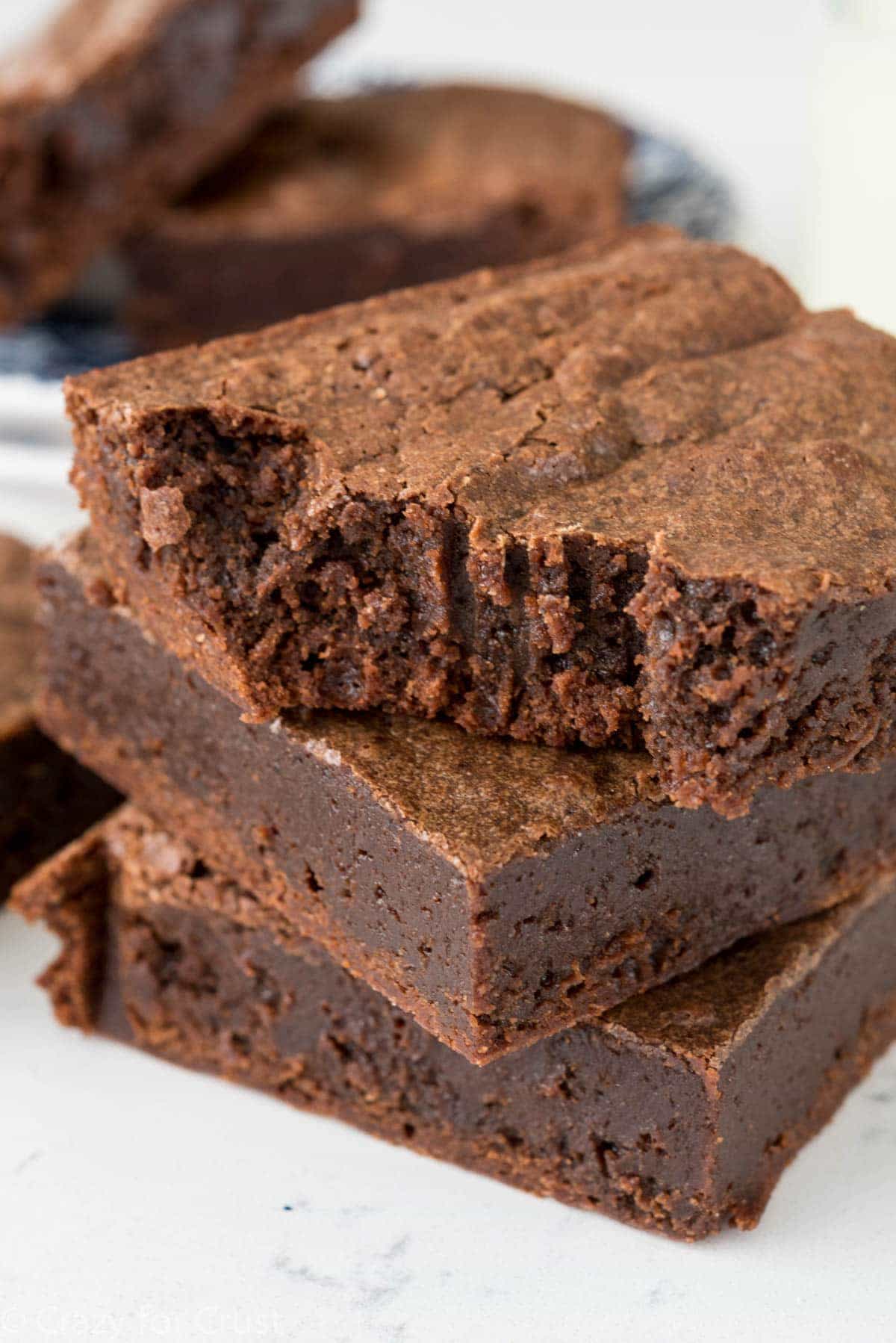 Flourless Reese's Explosion Peanut Butter Cookies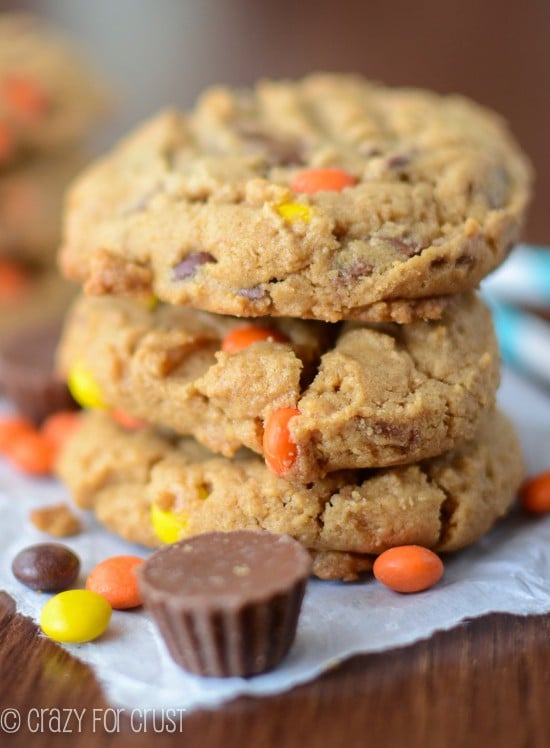 Peanut butter chocolate treats from friends:
Chocolate Peanut Butter Fudge, from Barefeet in the Kitchen.
Chocolate Peanut Butter Overnight Oats, from Crunchy Creamy Sweet.
Flourless Chocolate Peanut Butter Cookie Sandwiches, from Texanerin Baking.
Last Updated on May 20, 2020