This post may contain affiliate links. For more information, read my disclosure policy.
If you find soft pretzels as irresistible as I do, then this is the post for you. Homemade soft pretzels with an almond crunch topping (just like at the mall!) are on the docket for today. (And I've got a photo tutorial on pretzel twisting for you!)
#sorrynotsorry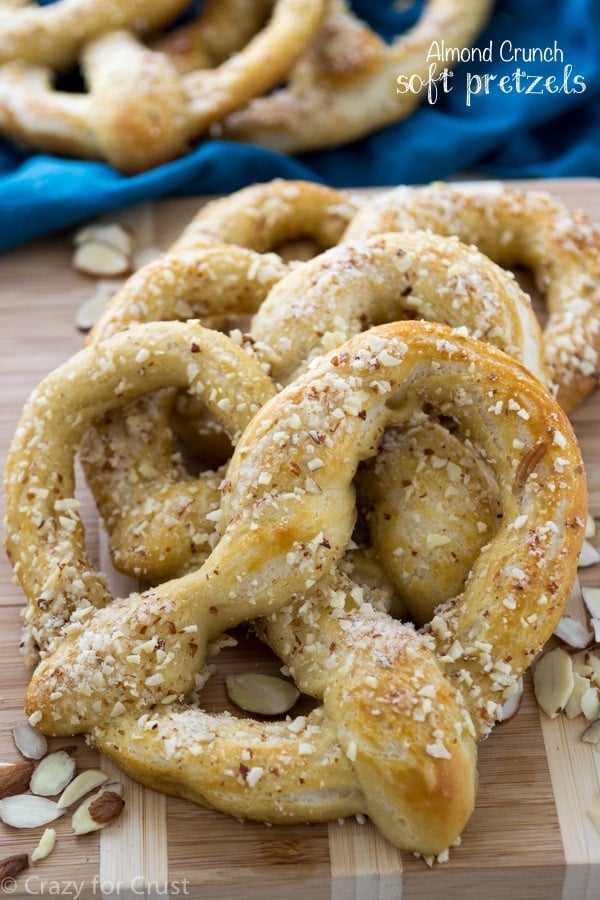 I have many food weaknesses, but my biggest one is the soft pretzel stand at the mall. Jordan is fully aware of this deficiency in my parenting armor and she uses it to her advantage, quite often. She could beg for See's Candy or Orange Julius all day long and I'll have to trouble saying no. But then we walk by the soft pretzel store.
And my resolve crumbles.
Into 5 million little pieces.
It's kind of like when we walk by the kids shoes at Payless or Target. She knows she's getting a new pair as long as she works it correctly. Same goes with pretzels.
After making Sally's and Averie's multiple times, I finally decided I needed my own soft pretzel recipe. Because if I love them so much, I'm sure you do too.
I decided that, since there are so many soft pretzel recipes out there, that I wanted to make a copycat of one of my favorite mall flavors: Almond Crunch Soft Pretzels. The result?
Holy carb addiction, Pretzelman. (In other words, I achieved success.)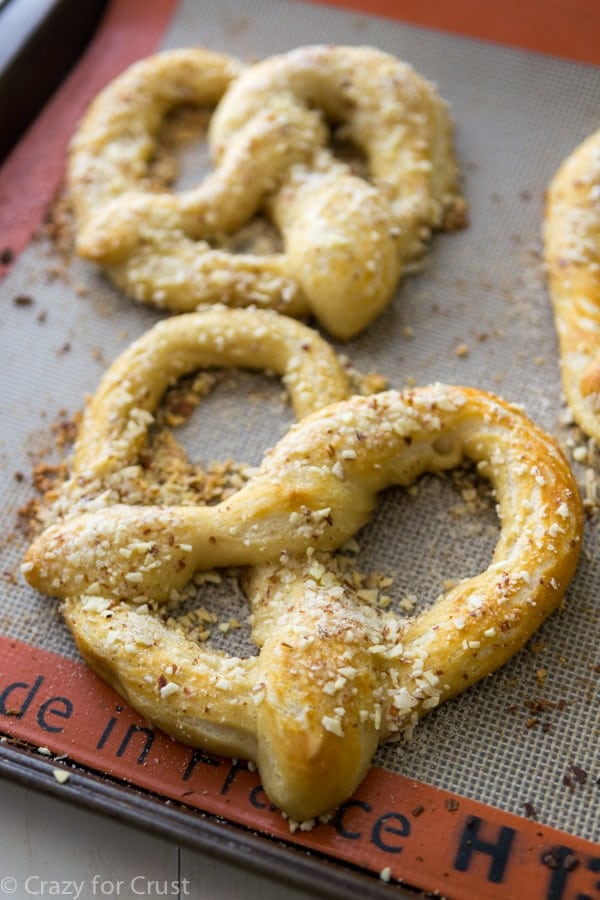 The base pretzel recipe is actually one I've been tweaking to make my own homemade pizza dough. (If there is one thing I love more than dessert or soft pretzels, it's homemade pizza!)
Until that recipe is 100% ready to share, we're going to enjoy some soft pretzel action. And because making soft pretzels is sometimes scary (how did she make that twist???) I'm going to show you how.
Ready? Okay, let's begin.
First, start with your risen dough.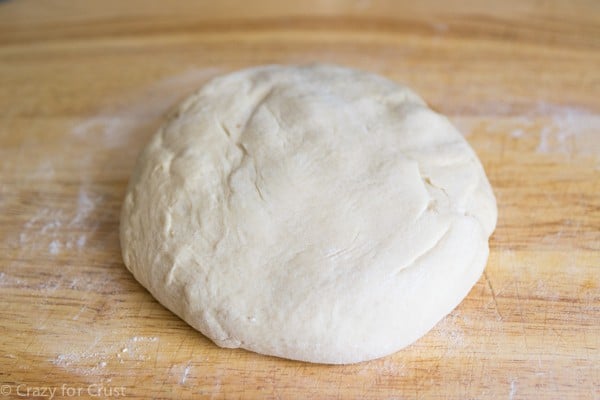 Before you continue, you put a pot of water onto boil. You're going to boil these pretzels to get that pretzel texture!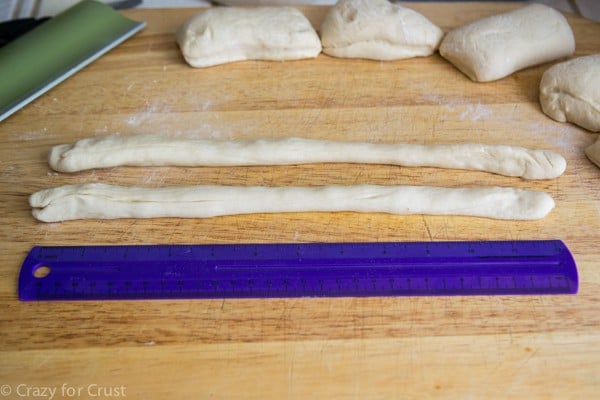 Then you slice your dough into 12 pieces. Roll each piece into a 12″ rope.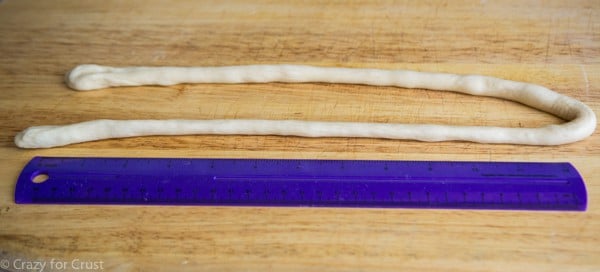 Then, roll each pretzel rope until it's double that, about 24″.
Time to start pretzel twisting like a pro!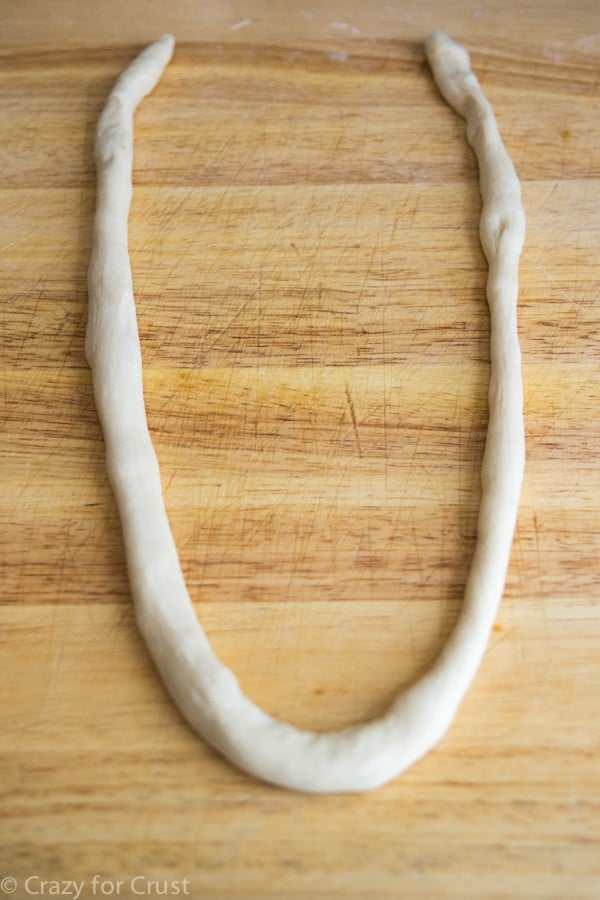 Form a "U".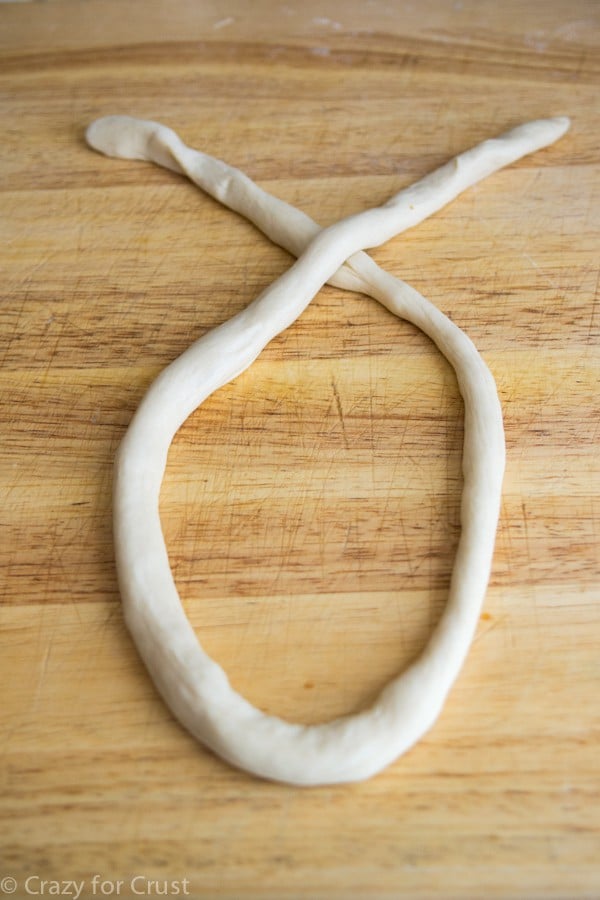 Cross over the tops of the "U".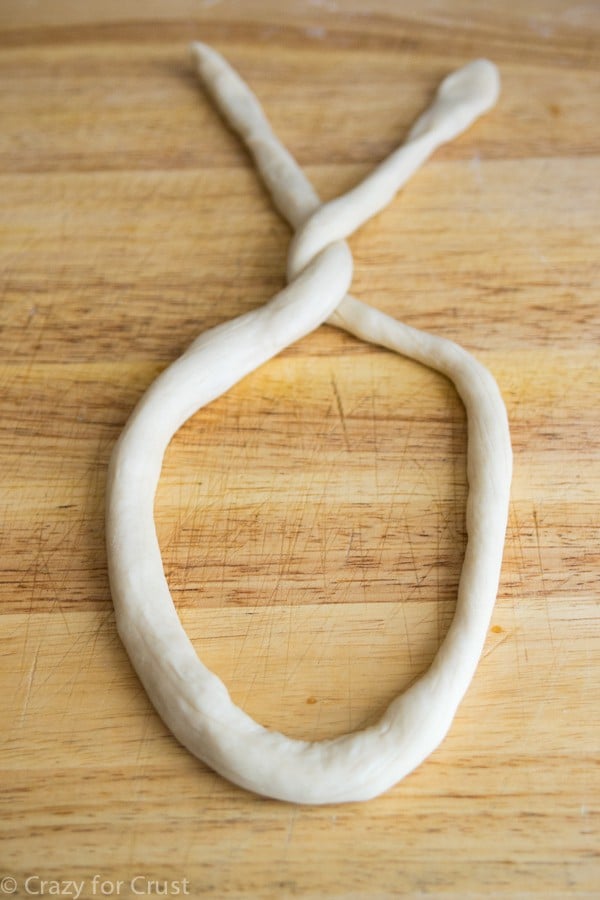 Twist it once. Then fold it down and seal the tops to the bottom of the pretzel. And voiala! You have a pretzel!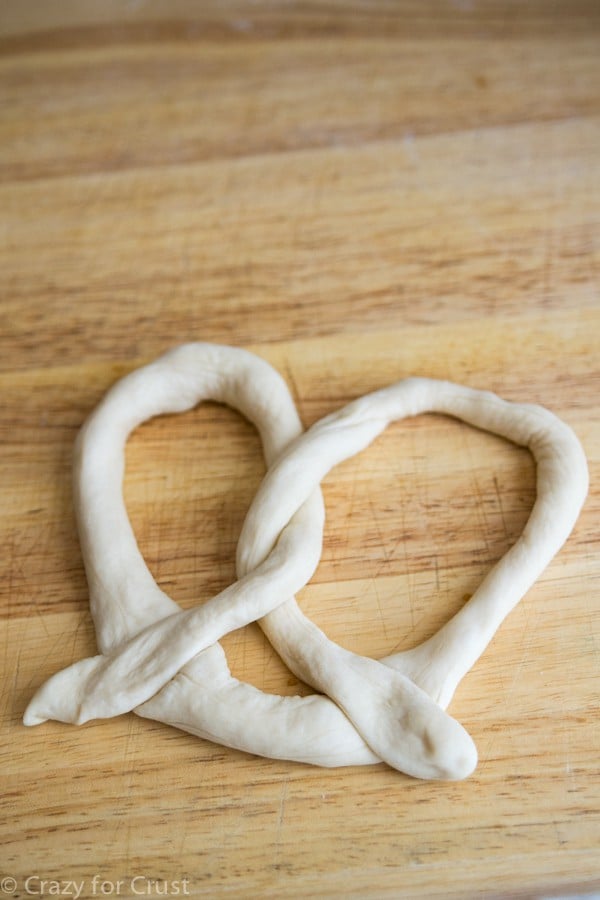 Now it's time for the boiling, topping, and baking. Here are a few tips:
Make sure the pot you're using for boiling is large enough to hold 8-10 cups of water and

still have some room at the top

. Once the water has boiled you add baking soda, and that can cause the water to bubble up (and over) if there's not enough room.
To top the pretzels, brush them with butter and sprinkle with the almond/sugar mixture (you pulse almonds + sugar in the food processor).

Try not to get too much of the nut mixture on the cookie sheet.

They'll brown/burn faster than the pretzel, which won't hurt the pretzel, but it'll smell.
Don't want almond topping? No problem! Brush them with butter before baking, then brush with butter after and sprinkle with

salt or cinnamon sugar

. These pretzels are great plain too!
The one thing you need to make sure of? That you have someone to share them with. Otherwise you'll eat them ALL!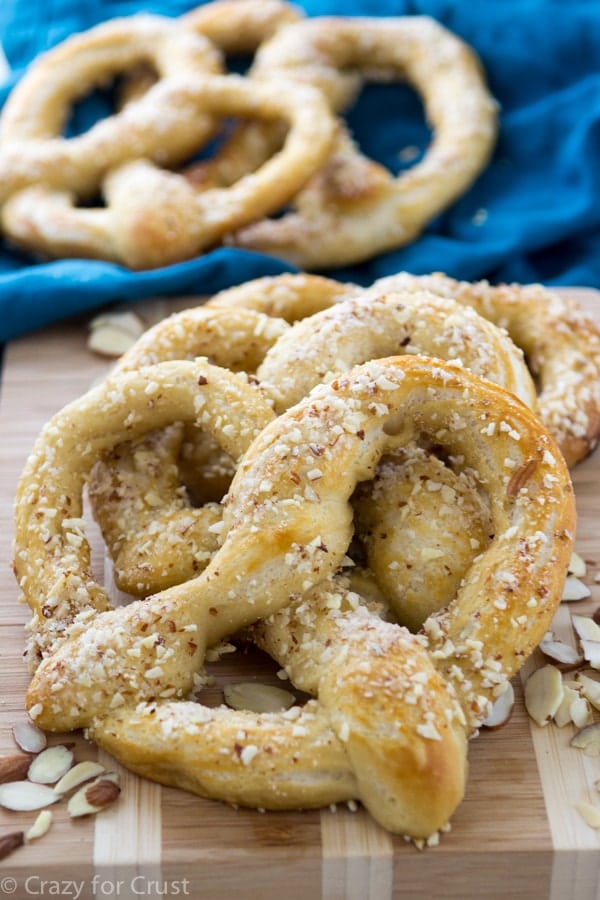 I kind of did!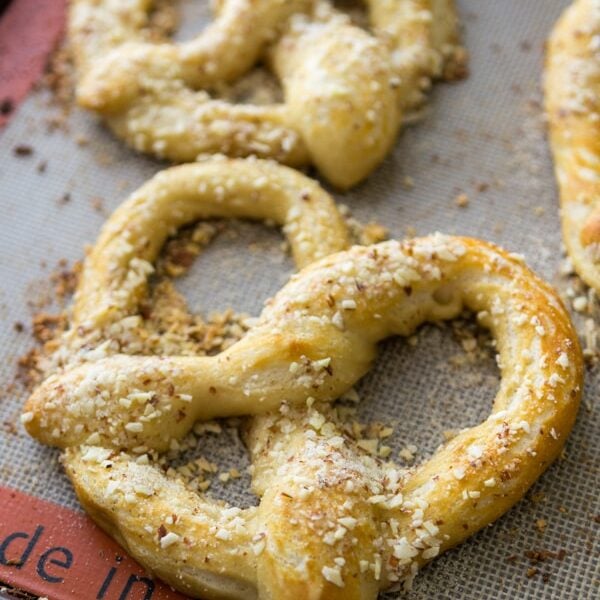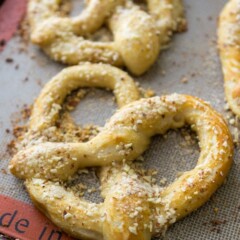 Almond Crunch Soft Pretzels
These homemade soft pretzels are boiled for that mall pretzel shop taste! Add some almond crunch topping for a copycat pretzel that's better than at the store!
Ingredients
1

cup

hot water

about 110-115°F

2 1/4

teaspoons

active dry yeast

2

tablespoons

packed brown sugar

1

teaspoon

salt

4

tablespoons

butter

melted, divided

3

cups

all-purpose flour

1/4

cup

baking soda

1/2

cup

slivered almonds

2

tablespoons

granulated sugar
Instructions
(Note: you can make these without a stand mixer by stirring by hand, then kneading until the dough comes together,but I used a stand mixer.)

Fit a stand mixer with the paddle attachment. Place hot water, yeast, and brown sugar in the bottom of your stand mixer bowl. Let sit until the yeast is fluffy, about 5 minutes.

Add the salt and 2 tablespoons of melted butter to the yeast mixture. Stir with the paddle attachment. Add flour and stir until the dough is semi-combined and starts to stick to the paddle. Switch out the paddle attachment for the dough hook. Continue mixing, raising the speed to medium-high, until the dough forms a ball and the sides of the bowl are mostly clean.

The dough should be slightly tacky but not wet. If it's too wet, add more flour, 1 tablespoon at a time until you can touch the dough with just a bit of stickiness (your hands should stay mostly clean but not totally).

Transfer the ball of dough to a bowl that has been sprayed with cooking spray. Cover with plastic wrap and let sit until doubled in size, about 1-2 hours.

Bring a large pot of water to boil (about 8-10 cups of water). Make sure there is at least 4-5 inches at the top of the pan that has no water (so there is room to add the baking soda in step 11.) Preheat oven to 425°.

Once the dough has risen, turn it out onto a lightly floured surface. Cut the dough into 12 pieces.

Roll each piece into a rope that is 12 inches long. Let them sit for 5 minutes.

Form each pretzel: roll rope until it is double in size (about 24 inches). Form it into a "U" shape. Cross the top ends of the "U" over each other. Twist once then fold over into a pretzel shape. Press the ends onto the bottom of the pretzel to seal. Repeat with remaining dough.

Line 2 cookie sheets with silpat baking mats or parchment paper.

Once the water is boiling, add baking soda to the water. Boil each pretzel for about 45 seconds to 1 minute, then transfer with a slotted spoon to prepared baking sheets. Continue until all the pretzels are boiled.

Place almonds and granulated sugar in a food processor and pulse until the almonds are small pieces.

Brush each pretzel with melted butter (from the 2 tablespoons remaining). Sprinkle with the almond and sugar mixture. Try not to get too much on your pan, it will brown in the oven. (This won't hurt the pretzels, but it will smell.)

Bake pretzels for about 8-14 minutes, until golden brown. Let cool before eating.
Nutritional information not guaranteed to be accurate
EASY (no-rise) Cinnamon Sugar Soft Pretzel Bites
Sweets from friends:
Soft Pretzel Bites by The Slow Roasted Italian
Soft Pretzel Sandwich Rolls by Foodie with Family
Soft Pretzels with Butterscotch Ganache by Something Swanky
Last Updated on May 13, 2020