This post may contain affiliate links. For more information, read my disclosure policy.
Y'all know I'm totally into dessert mash-ups, right? Obviously.
Two of my favorite things to mash together? Doughnuts and Cookies. Doughnut cookies: so you can have cookies for breakfast or doughnuts for an afternoon snack. #genius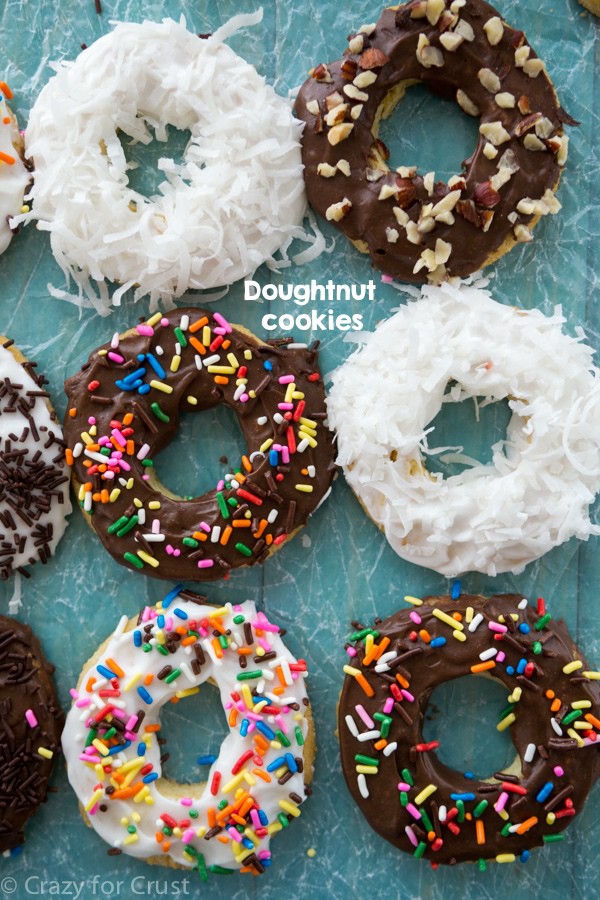 Jordan has this thing about Krispy Kreme Doughnuts. She's, like, in love with them. I think she'd marry them if she could. I, for one, just don't get it. Sure, they're good doughnuts. But when you have a mom that makes things like this or these or even this, why in the world would you rave about store-bought doughnuts?
It turns out that she's not the only KK addict. Every time there is a birthday in her class, the birthday boy or girl brings in Krispy Kremes. And by that I mean that their parents fork out $30 for a birthday class treat. I've never allowed her to do that because, really. I can bring these. OR THESE! But every year, she begs me. Her birthday isn't even until February and she's already started.
Part of me wants to give in. Part of me just wants to make Doughnut Cookies and tell her to tell everyone they're the newest Krispy Kreme fad. Think that would work?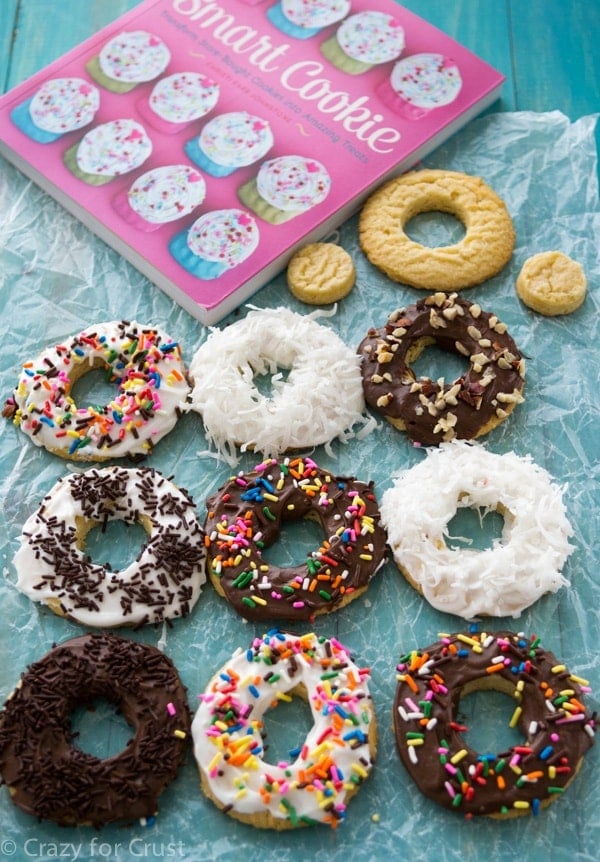 These Doughnut Cookies are so fun and fast. And YUMMY! AND they're from one of the most beautiful cookbooks I've read in a long time: the Smart Cookie Cookbook by my friend Christi from Love from the Oven. You know her blog – she makes amazing cupcakes, mouth-watering muffins, and super fun cookies! Christi was one of the first bloggers I read and fell in love with when I started my blog. It kind of blows my mind now that she not only knows who I am but she's also my friend. The internet is a small and amazing place sometimes!
As soon as her book became available for pre-order I reserved my copy. Then I waited no-so-patiently for it to arrive. And I've been picking it up and looking at it like it's artwork ever since it finally got here. Jordan loves to look through it too. Every single recipe has an amazing photo. And all the recipes are so easy that everyone can make them, even the kids!
The second I laid eyes on these Doughnut Cookies I knew I was going to make them to share with you. Because who doesn't love cookies that look like doughnuts???
These are really the easiest things you can ever make. Really. Even if you think you're baking or decorating challenged, you can make these easily.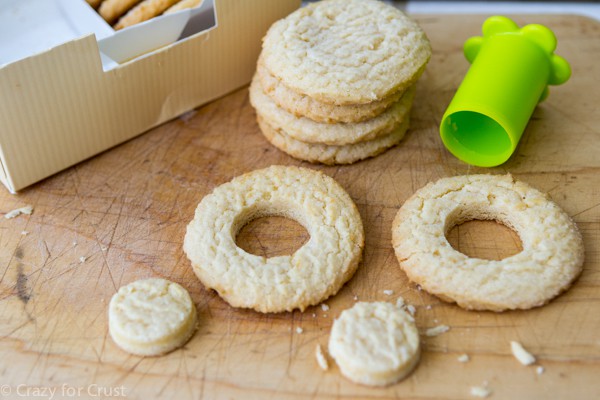 You start these with soft sugar cookies. You can make sugar cookies from scratch or buy them at your local grocery store. Just make sure they're soft – not crunchy.
Make them look like doughnuts by using a small round cookie cutter to cut out the center. Poof: cookies become doughnuts!
Then you just have to frost them and decorate them like doughnuts. My favorite doughnuts have sprinkles. Obviously!

I used chopped nuts, sprinkles, and coconut to decorate my cookies. I also used canned chocolate and vanilla icings because it was easy and fast. You can also use your favorite vanilla buttercream or chocolate frosting. These would be perfect for those times when you make a cake and have some leftover icing. You know, the kind that sits in your refrigerator, forgotten, until you find it a month later?
Because I'm also addicted to maple, I made a maple doughnut cookie by adding some extract to the vanilla frosting. Boom – maple bar. If only I'd had some bacon…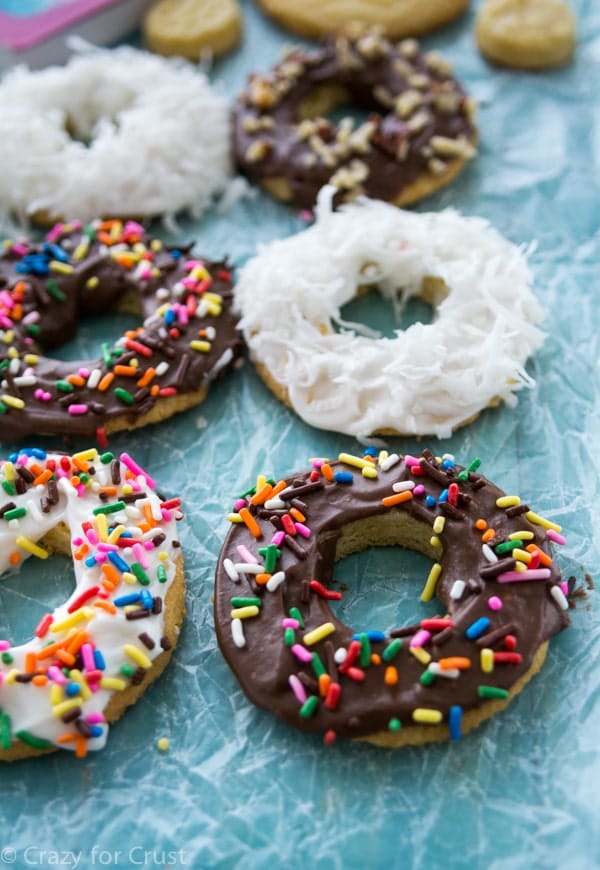 And don't forget about the pieces you cut out from the cookies. Waste not, want not, I always say.
I also made doughnut hole cookies. Those were my favorite, I think.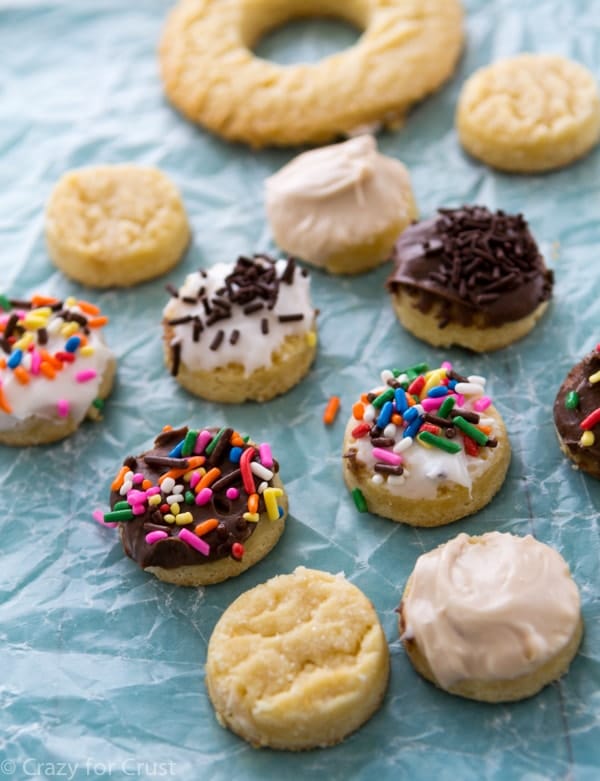 If you haven't checked out the Smart Cookie Cookbook, you need to. It's one of my favorites for sure – and it's totally going to come in handy for all the school parties and playdates over the next few months. This book is perfect for holidays…and because you love cookies.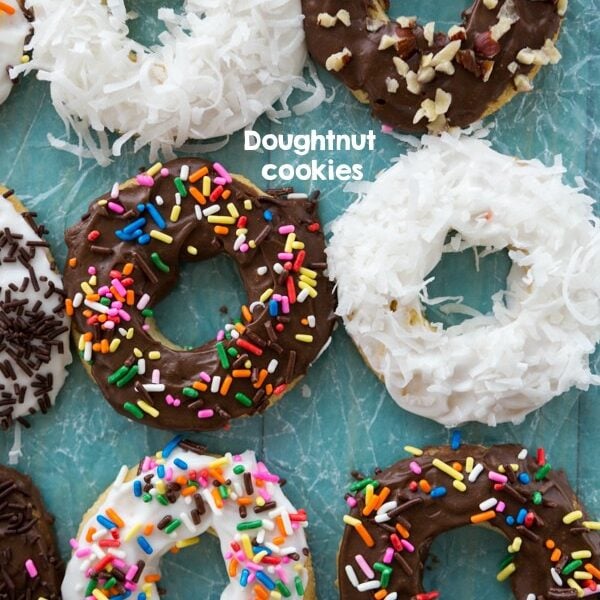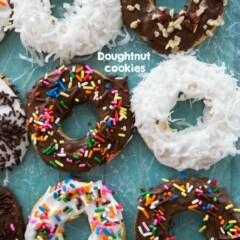 Doughnut Cookies
Ingredients
12

soft sugar cookies

from the store or homemade

Chocolate Frosting

I used 1/2 store-bought can

Vanilla Frosting

I used 1/2 store-bought can

Toppings: sprinkles

coconut, chopped nuts

Optional: flavorings like extracts or food coloring
Instructions
Assemble all your ingredients. Cover a cookie sheet with wax paper.

Make sure your cookies are soft and fresh. Stale or crunchy cookies will break.

Use a small round cookie cutter to cut out the center of each cookie (to form the doughnut shape).

Place frostings in separate microwave safe bowls. Heat in the microwave for about 10-20 seconds each.

This is the time to color or flavor your frosting, if desired.

Spoon or spread the frosting on the top of each doughnut cookie. Sprinkle with toppings. You can even do the "doughnut holes" (the cookie circles you cut out). Chill to set. Store loosely covered at room temperature.
Nutritional information not guaranteed to be accurate
This post was not sponsored. I bought my own cookbook and wanted to share my love of it (and Christi) here on the blog because, well, I pink puffy heart her. So go check it out!!!
Last Updated on February 2, 2023