This post may contain affiliate links. For more information, read my disclosure policy.
Is there anything better than peanut butter for breakfast? Oh yeah, there is.
Doughnuts. Peanut Butter Cream Doughnuts with chocolate glaze. That would be better.
And don't forget the sprinkles!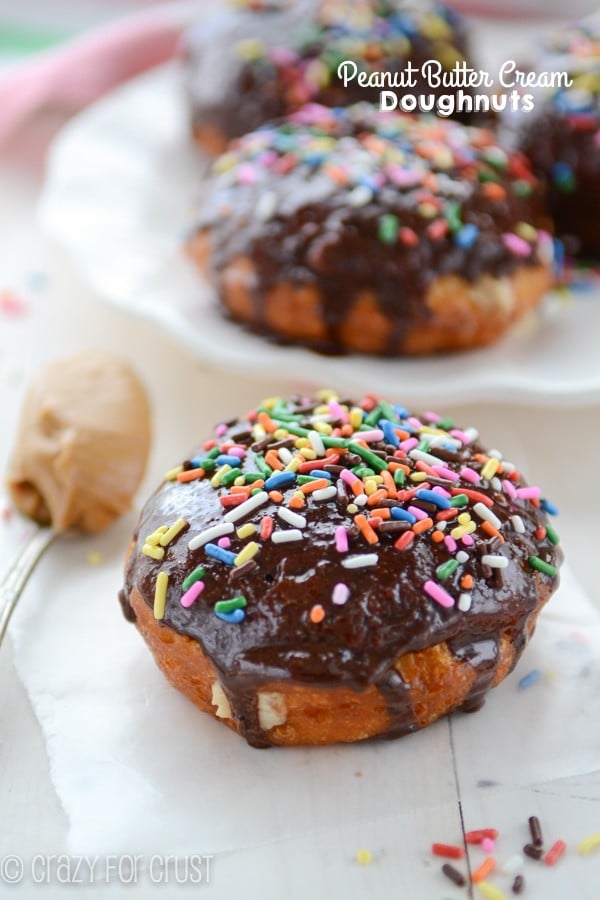 Bridal shower games that make the bride-to-be cry should not be allowed. And, let's face it. Those games are kind of boring anyway.
Who wants to make a toilet paper wedding dress? No thank you.
Who wants to walk around with clothespins clipped to every hem totally afraid to say a word? I mean, I don't know about you, but when I am forbidden to say something that is all that wants to come out.
Partygoer: "What do you do for a living?"
Me: "…. LOVE. LOVE LOVE LOVE LOVE. Now here, take my damn clothespins."
Who wants to cry at their bridal shower because they have to do a "how well do you know the groom" questionnaire and you get all the wrong answers because your bridal party gave your fiancé approximately 30 seconds to answer the questions so he answered them all wrong and then you fail and then you get teased all day about how wrong you are for each other?
Not me, for sure.
And I might be just a little bit bitter about that last one.
You know what's fun at bridal showers? Besides the family, friends, and the silky neglige you watch your BFF open in front of her grandma?
The food.
I think doughnuts are the perfect addition to any bridal shower. Especially peanut butter cream filled doughnuts that are topped with sprinkles.
And those would be an especially good item on the menu if the bride-to-be is in love with (1) sprinkles and (2) peanut butter. Like, maybe, my friend Sally, from Sally's Baking Addiction. Today is her virtual bridal shower!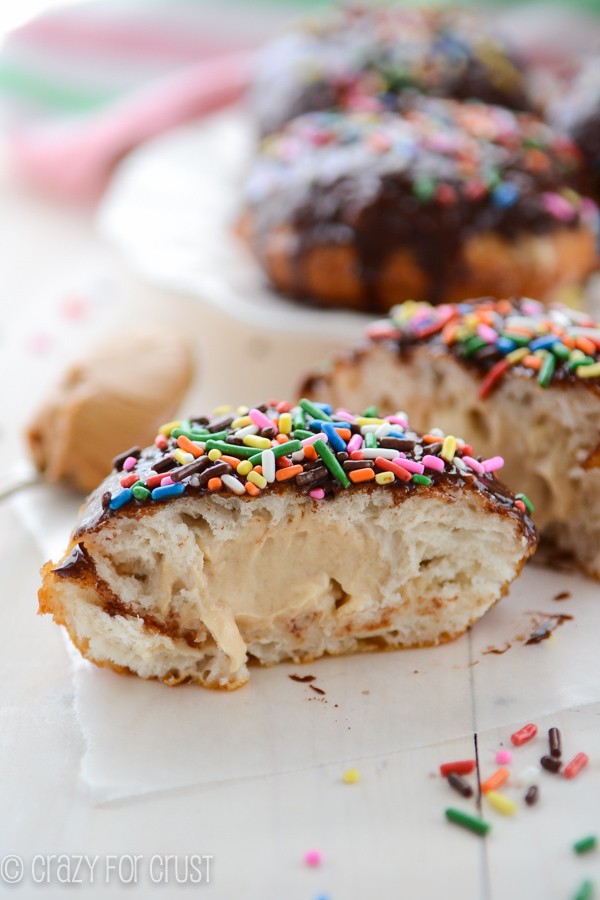 I know that Sally would love these almost as much as we did. These doughnuts (or donuts?) blew my mind. They're fried, which honestly, makes the doughnut, and they're filled with peanut butter. There's not much better than that!
I made these doughnuts the easy way using Pillsbury Grands! Biscuits. I always have a can in my refrigerator for doughnut (or monkey bread) emergencies!
These do need to be fried, but rest assured. Frying is easier than you think! You need a heavy bottomed pot (I use a Le Creuset Soup Pot), oil, and the most important thing: a candy thermometer.
Please don't skip the thermometer, unless you're a pro at frying. There are all sorts of tips out there for how you can tell if oil is ready, but if you're not a pro you run the risk of (1) turning the outside of your doughnuts black or (2) hurting yourself. A thermometer is cheap and they sell them pretty much anywhere. Pick one up the next time you're at any grocery store, drugstore, or Target.
I like to use a whole 48 ounce bottle of vegetable oil when I fry. That fills my pan up about 2″ with oil. It's probably overkill, but it works for me. Save the bottle, and once the oil cools, pour it back in to either save for future frying or for easy disposal.
Once your oil is at 350°F, your'e ready to fry your doughnuts.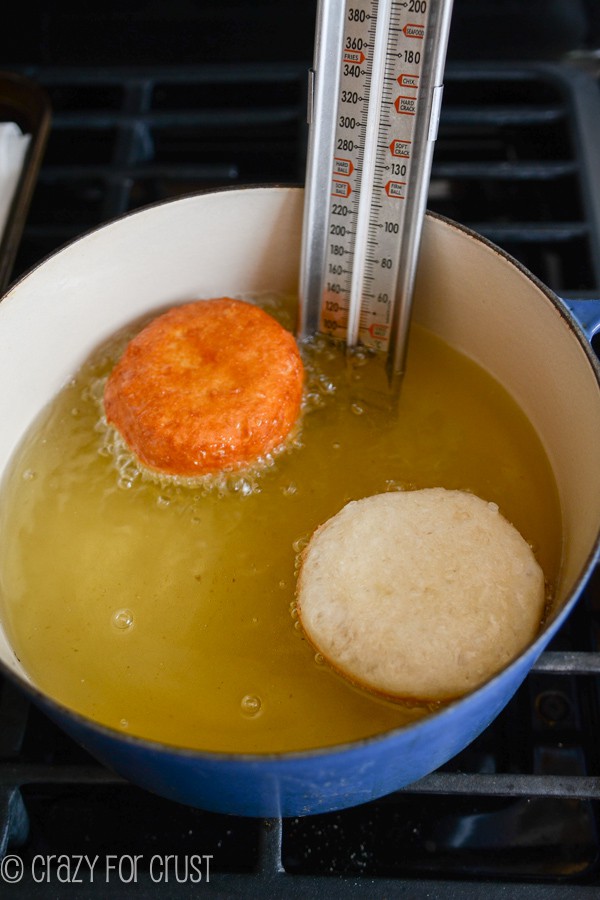 Now, if you've ever fried anything, you'll know it's hard to keep a consistent temperature. I still have trouble with that but I find that it helps to use the heavy bottomed pot (regular thin sauce pots will let the oil heat too much too fast and can burn your food). I also constantly play with the burner temperature. I start out at medium, sometimes I'll have to turn it up a little or down a little to help regulate.
I add 2 biscuits at a time so as not to crowd my pan. Cook until they're golden on one side, then flip and finish cooking. It takes a minute or two.
Then I remove them from the oil using a slotted spoon and place them on a cookie sheet covered in paper towels to drain. Let them cool and then add the best part: the peanut butter cream filling!
The filling is made with creamy peanut butter (Skippy Naturals is my favorite brand). I gave it volume by adding Greek Yogurt and some milk, and sweetened it with powdered sugar.
I use a Wilton filling tip (#230) to fill the doughnuts. Usually I use ziploc bags for piping, but it's much easier to use an actual piping bag with that tip. You can also use a squeeze bottle, if you have one. Just squeeze in the filling, made of peanut butter and butter and all things good.
You know you've added enough when you remove the tip and it spills out all over the cookie sheet. I won't tell what you do with the extra filling if you won't! 🙂
Then you dip them in a simple chocolate glaze made of cocoa and powdered sugar and milk. Note: the thicker the milk you use, the thicker the glaze. Nonfat milk will yield a thin glaze, regular milk thicker, and half and half or whipping cream will be an even thicker one. Use your favorite!
These doughnuts are chocolate + peanut butter wonderful!
But don't forget the sprinkles. Sally sure wouldn't!

Happy Bridal Shower Sally! My family and I wish you all the best and we're so excited to see pictures from your wedding! You'll be instagraming from the nuptials, right? 😉
Scroll down to see all the other bridal shower attendees today!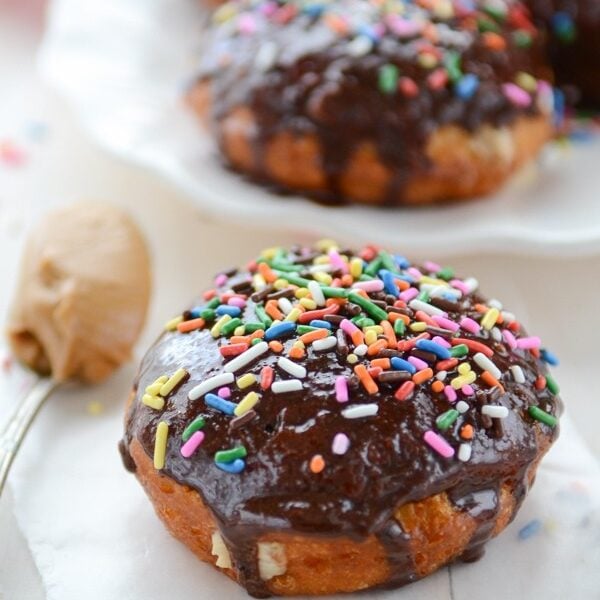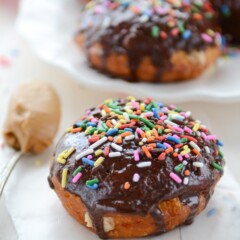 Peanut Butter Cream Doughnuts
Easy fried doughnuts are filled with peanut butter cream filling and glazed with chocolate glaze. And don't forget the sprinkles!
Ingredients
For the Doughnuts:
1

can Pillsbury Grands Homestyle Biscuits

8 biscuits

Vegetable oil

for frying (I use an entire 48 ounce container)
For the Peanut Butter Filling:
1

cup

vanilla greek yogurt

1/2

cup

creamy peanut butter

4

tablespoons

powdered sugar

4

tablespoons

milk

nonfat, 2%, or regular
For the Chocolate Glaze:
1 1/2

cups

powdered sugar

2

tablespoons

cocoa powder

2

teaspoons

vanilla extract

3

tablespoons

milk

nonfat, 2%, or regular

Sprinkles

for topping
Instructions
Place vegetable oil in a heavy bottom pot and heat until it reaches 350°F. I like to leave my candy thermometer in the pot during frying so I can regulate the heat up or down if it gets to hot or cold. A heavy bottomed pot is best for frying, it's easier to regulate the heat that way than with a thinner pot. (I use a Le Cruset soup pot.) You really should use a thermometer!

Drop 2-3 biscuits in your pot (depending on the size of your pot). Cook about 3 minutes until they are a deep golden, flipping halfway. Remove from oil using a slotted spoon and place the cooked donuts on a cookie sheet topped with two layers of paper towels. Let cool before filling and glazing.

Make the Peanut Butter Filling: Whisk all ingredients except milk until smooth. Add 2 tablespoons of milk, whisk. The end product should be the consistency of pudding. Depending on the brand of Greek Yogurt you use, it may need up to 4 tablespoons of milk. (I used Yoplait Greek and used 4 tablespoons.)

Place the filling in a pastry bag fitted with the Wilton 230 tip (or similar). (Normally I use a ziploc bag for frosting, but you really need a pastry bag for that tip. You can also use a squeeze bottle.) Press the tip into the center of each doughnut and fill. You can also turn the doughnut 90° and fill again to make sure you're getting enough in. You'll know you added too much when you remove the tip and it squirts out.

Make the Chocolate Glaze: whisk powdered sugar, cocoa, extract, and milk in a medium bowl. If glaze is too thick to dip, you can add up to 1 tablespoon more glaze. Dip tops of the doughnuts in glaze. Place on a wax paper lined cookie sheet and sprinkles with sprinkles. Let dry completely, about 30 minutes to 1 hour.
Nutritional information not guaranteed to be accurate
Click here to see more PEANUT BUTTER recipes!
Check out all the other bridal shower attendees today:
Chocolate Swiss Roll Cake from Lauren's Latest
Funfetti Cookie Dough Balls from Averie Cooks
Cake Batter Funfetti Cookies from Diethood
Cake Batter Popcorn from I Heart Naptime
Confetti Cookie Milkshake from Bake Your Day
Cake Batter Ice Cream Balls from Oh, Sweet Basil
Frosted Sugar Cookies from Roxana's Home Baking
Peanut Butter Filled Doughnuts from Crazy For Crust
Funfetti Sugar Cookie Cups from Crunchy Creamy Sweet
Shirley Temple from Damn Delicious
Funfetti Pudding Mix Cookies from Cooking Classy
Cherry Chocolate Chip Cupcakes from The Messy Baker
Chocolate Frosted Sugar Cookie Bars from Handle the Heat
Vanilla Banana Muffins from Love From the Oven
Homemade Funfetti Yellow Birthday Cake from Ambitious Kitchen
Frosting Filled Deep Dish Cake Batter Cookies from The Domestic Rebel
Congratulations Sally!!
Banana Caramel Pecan Doughnuts
Last Updated on February 2, 2023