This post may contain affiliate links. For more information, read my disclosure policy.
Is a Dole Whip one of your favorite Disney treats? If you're missing Disneyland or Disney World, don't worry: you can bring your favorite Dole Whip home with you! You only need THREE ingredients to make this classic treat at home.
This recipe shows you how to make the copycat soft serve Dole Whip Recipe, a Dole Whip Float and a Boozy Dole Whip!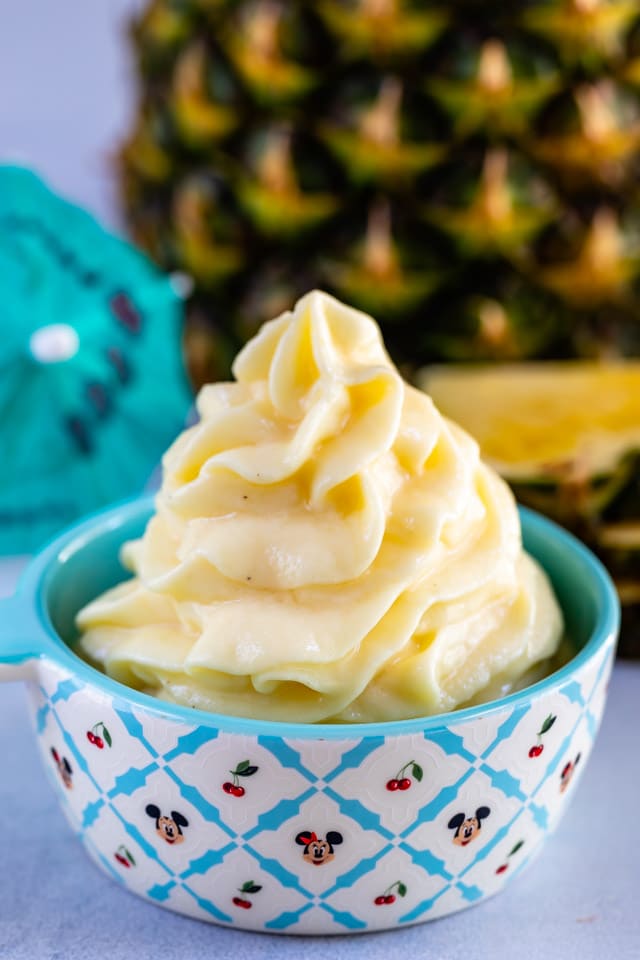 Make a Disney Dole Whip Copycat AT HOME
Want to know something funny? I never had a Dole Whip until about 2 years ago! I'd heard about them sure, and I'd always longed to try one, but the lines were always so long. Now that Disney offers mobile ordering, it's much easier to get one when you're in the parks!
Recently Disney released their official Dole Whip Recipe so I had to share it with you – with my own favorite modifications.
I prefer Dole Whip Floats to the soft serve variety, especially when I make them at home because I can add RUM!
I'm showing you how to make a Dole Whip THREE different ways in this post!
How to make a Dole Whip Recipe video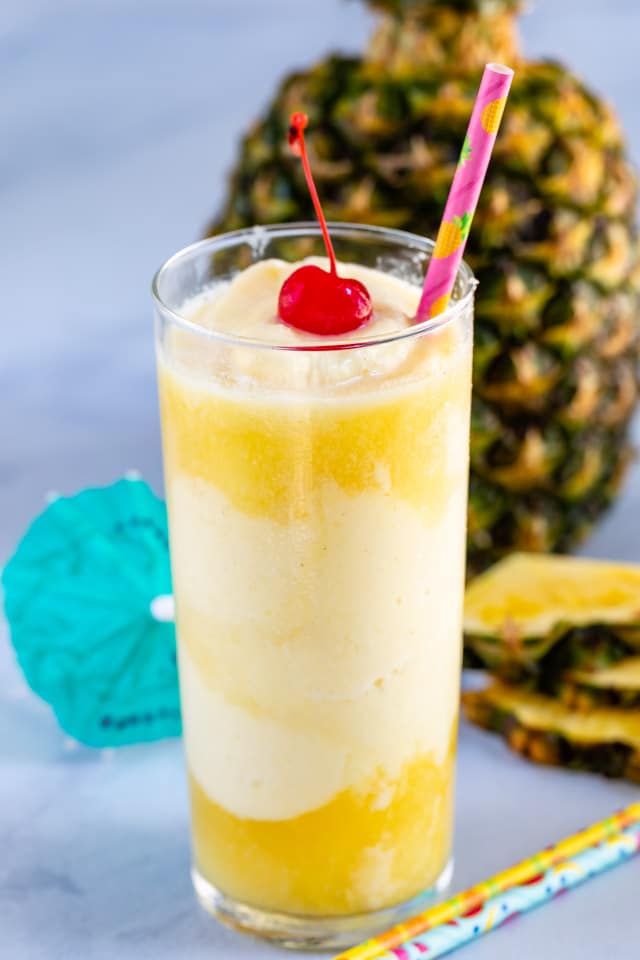 Ingredients in this Dole Whip Recipe
I've never known for sure what was in a Dole Whip but I've always had my suspicions. Obviously, pineapple would be a main ingredient, but what else?
Now we know the secrets! Here is what you need to make the basic Dole Whip Recipe:
Vanilla Ice Cream: use your favorite brand
Frozen Pineapple: slice your own and freeze it or use frozen from the store
Pineapple Juice: I love buying the small cans of Dole pineapple juice to keep on hand.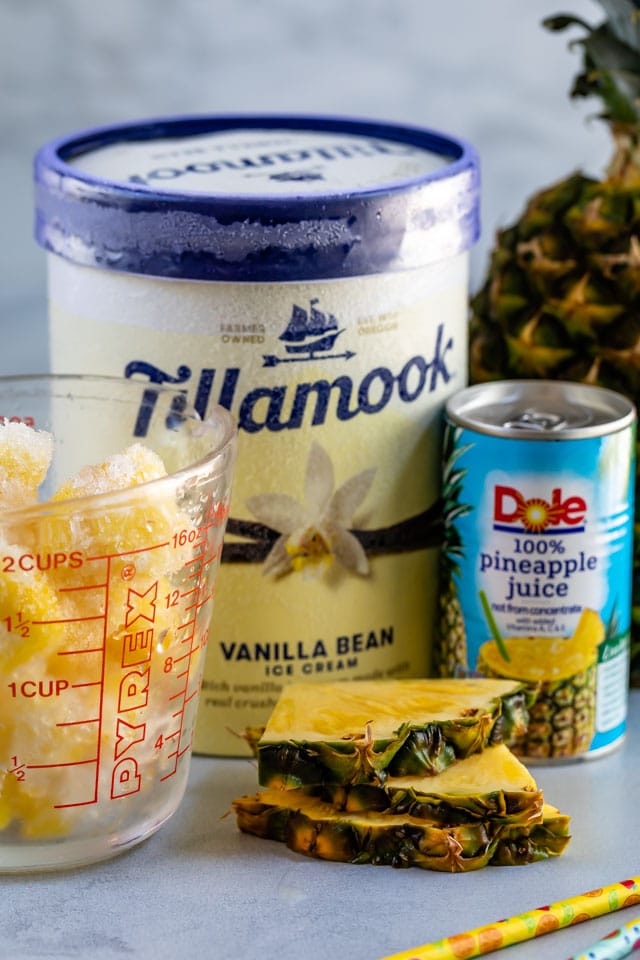 How do you make a copycat Dole Whip?
1. Tools: The regular Dole Whip is soft serve pineapple ice cream, and for that you need a blender (or you can use a food processor).
2. Blend: Just add all your ingredients to your blender and blend until smooth.
3. Swirl: You can just scoop it into a glass, but if you want the tell-tale soft serve Dole Whip "look" then you need a piping bag and a star (1M) tip to get that swirl.
Dole Whip Float
My favorite way to order this at Disneyland is to get a float. I just like the combination of juice and ice cream (like a root beer float).
To make a Dole Whip Float at home, you just add your soft serve to a tall glass and pour the rest of your pineapple juice over it, like you're making a float. I also love topping it with a cherry!
Boozy Dole Whip
Making these at home means that you can add booze! You can't get a Boozy Dole Whip in Disneyland, so I have to make mine at home.
To add booze, just add a shot of rum when you're blending your cocktail, like when you make a Pina Colada. Done!
You don't need any special mixes or fancy ingredients to make a homemade Dole Whip – just a blender and three easy ingredients!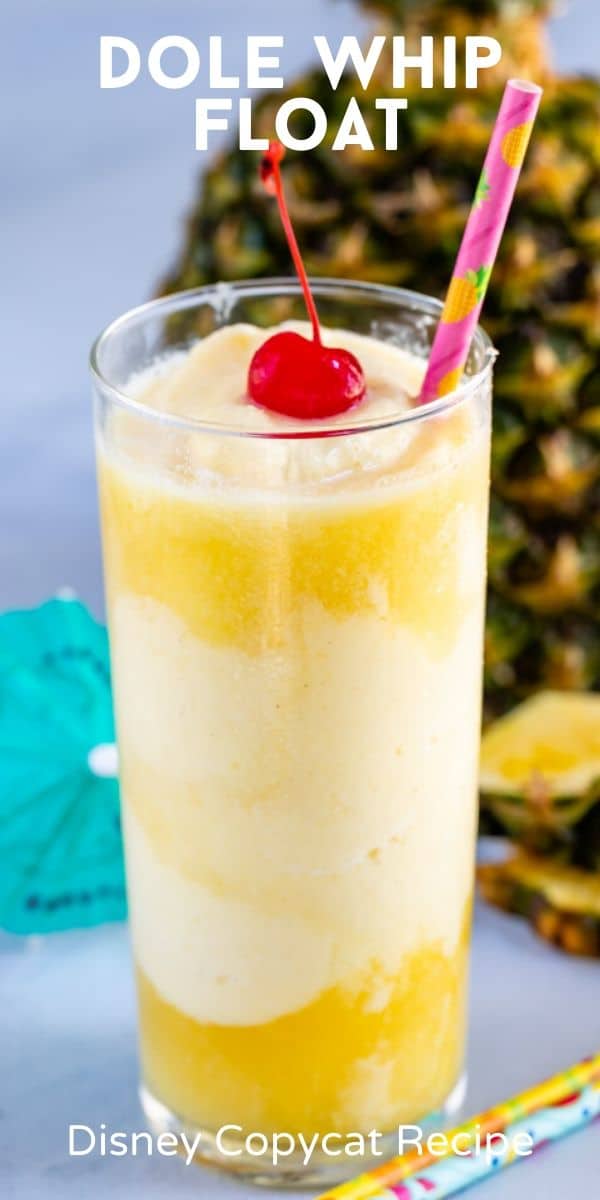 Tips
Powerful Blender Needed: the basic dole whip recipe doesn't have a lot of liquid, so be sure to use a powerful blender. Alternately, use a food processor.
For the swirl, use a piping bag and an open star tip (Wilton 1M) to pipe into your glass.
Variations: use any flavor ice cream or even sorbet or any frozen fruit. You can make a raspberry dole whip by using frozen raspberries, etc.
FAQ
Do I need an ice cream maker to make a dole whip?
No you don't – just a blender or food processor.
How to serve a dole whip
Serve in a cup like soft serve, or add juice to make a float.
Are dole whips vegan?
The dole whips you get at Disney are vegan and gluten free. This recipe as written isn't, but you can make it vegan. Ditch the ice cream and chill a can of coconut milk overnight. Discard the coconut water and just use the thick coconut mixture in the can. Reduce the amount of juice (start with no juice and add more as needed for consistency).
How to store leftover Dole Whip
This makes about 2 servings, but if you want to store it, put it in the freezer in an airtight container.
Other Disney Copycat Recipes
Have you made this recipe?
Tag @crazyforcrust on Instagram or hashtag it #crazyforcrust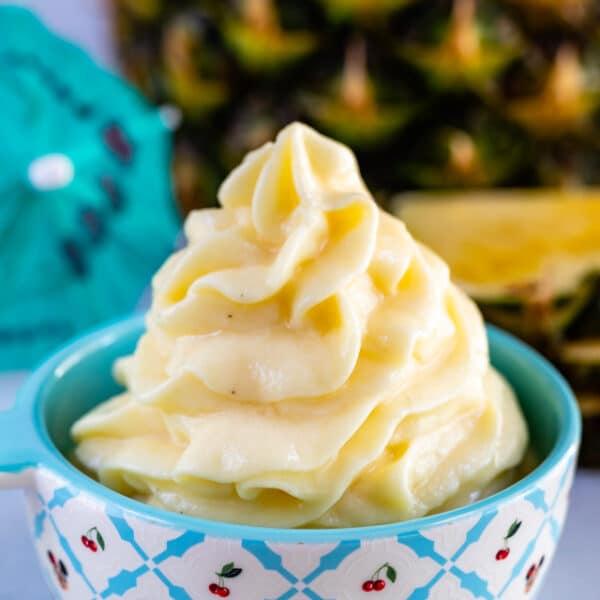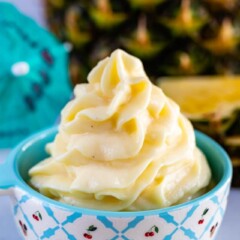 Copycat Dole Whip Recipe
You don't need any special mixes to make a Dole Whip at home! Bring this Disney treat to your house as soft serve ice cream, a float or add booze!
Ingredients
2

cups

frozen pineapple chunks

1

cup

vanilla ice cream

4

ounces

pineapple juice
Instructions
Add all ingredients to a blender and blend until smooth. Serve immediately.

To make the swirl look: place blended mixture in a piping bag with a 1M or star tip; pipe into glass.

To make a Dole Whip Float: add blended mixture to a tall glass, top with 2 ounces pineapple juice and a cherry.

To make a Boozy Dole Whip Float: add 1 ounce rum and an extra 2 ounces pineapple juice to the blender. Serve garnished with a cherry.
Recipe Nutrition
Serving:
1
serving
|
Calories:
498
kcal
|
Carbohydrates:
89
g
|
Protein:
7
g
|
Fat:
15
g
|
Saturated Fat:
9
g
|
Cholesterol:
58
mg
|
Sodium:
111
mg
|
Potassium:
770
mg
|
Fiber:
6
g
|
Sugar:
72
g
|
Vitamin A:
747
IU
|
Vitamin C:
169
mg
|
Calcium:
227
mg
|
Iron:
1
mg
Nutritional information not guaranteed to be accurate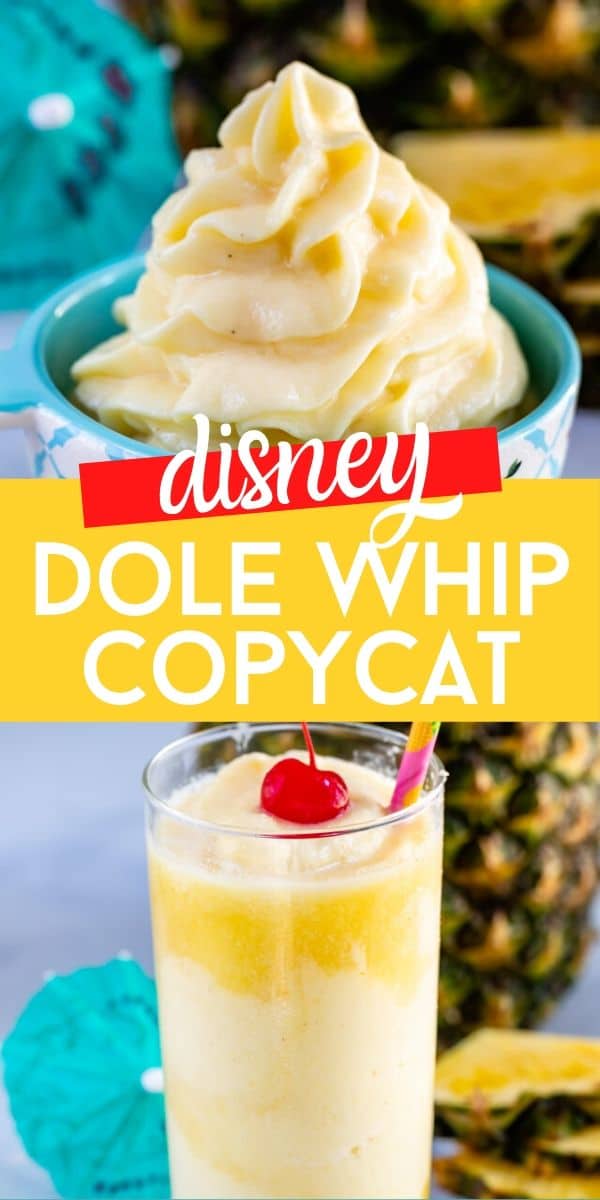 This Dole Whip is a Disney classic, but the copycat version! It's so easy to make and you can even add a little rum if you want. A homemade dole whip has just 3 ingredients and you can make it as soft serve or as a dole whip float!
Last Updated on May 13, 2021