Apple Butter Snickerdoodles
This post may contain affiliate links. For more information, read my disclosure policy.
Thanks to Musselman's, I made these Apple Butter Snickerdoodles; they're a sweet Fall twist on an old favorite cookie!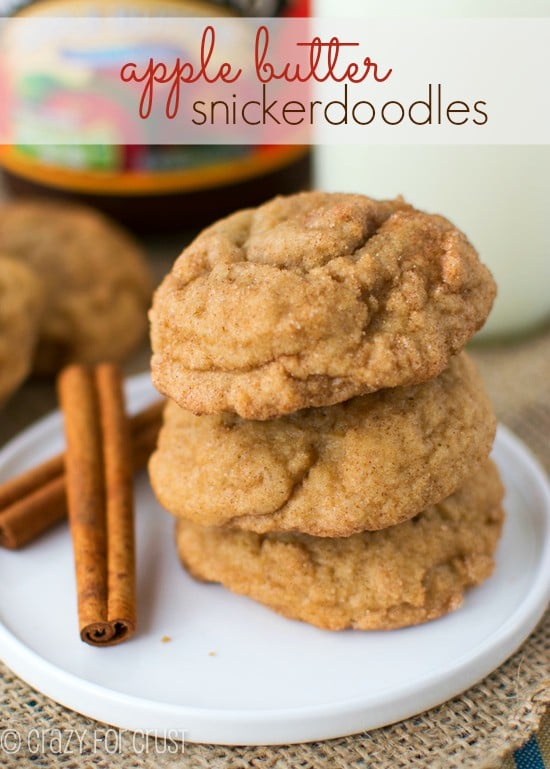 In an effort to continue my workouts during the next few very hectic weeks (*cough* OBC '13 *cough*), I decided to pay Mel's trainer for a few sessions. I figure, if I'm paying extra, I won't have an excuse not to go.
Tuesday was my first session. Instead of a full workout it was more of an informative session, so he could see what I needed to work on. I told him I'm a dessert blogger – what I need to work on is working out hard so I can, you know, do my job and not gain 300 pounds. 😉
At the end of the session he told me it's going to be "fun working with me" with that little sadistic trainer look. You know, the one they get before they make you balance on one leg holding a 12kg kettle ball while doing squats? Or something?
Now I kind of don't want to go back tomorrow.
#scared
I figure, as long as I put a harder spin on my workouts, I can make more cookies. Like these Apple Butter Snickerdoodles, a spin on the traditional cookie!
I first used Musselman's Apple Butter last year, when I made these bars. Apple butter is a highly concentrated form of applesauce; it's cooked slow and long so that the sugar in the apples caramelize and turn the sauce a rich, dark brown. It's great on toast and muffins, or in marinades or dips. The smell is amazing!
My favorite way to use apple butter is to bake with it. OF COURSE.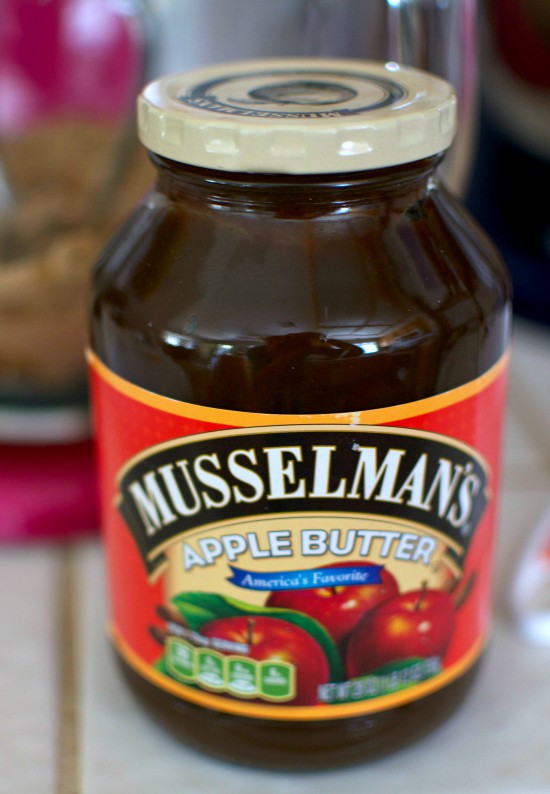 Apple butter works like applesauce in that you can substitute it for oil and butter, if you want. It gives recipes a super rich depth of flavor, and pretty much smells like Fall in a bottle; which is why it's perfect for snickerdoodles.
Snickerdoodles are the quintessential Fall and Winter cookie, are they not? With the rich butter flavor and the warm cinnamon, they're perfect for this time of year. And they marry so well with Apple butter!
A few notes about this recipe:
The dough MUST be chilled. With the butter and the apple butter, if you bake a warm dough you're going to get flat cookies. If you like flat cookies, go for it. But if you want a puffy cookie, please follow the chilling instructions.
The apple butter is more of an underlying flavor – when you take a bite you're hit with the warm cinnamon and then the slight apple flavor totally hits you.
These cookies would be perfect with a glass of hot apple cider, or a caramel latte.
They'd also be good as a second breakfast, but I'm not going to mention that to the trainer. #needtoknow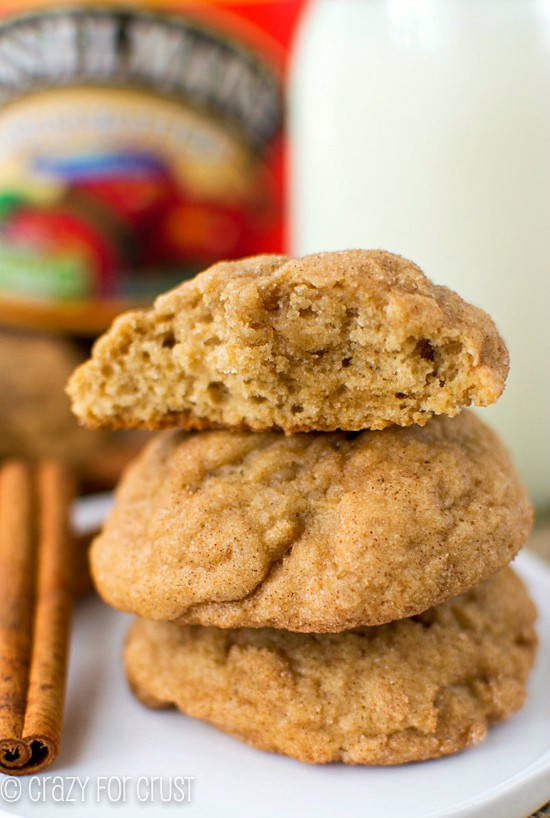 Connect with Musselman's
Website | Facebook | Pinterest
Download the NEW Apple Butter e-recipe book!
Servings: 28 cookies
Apple Butter Snickerdoodles
Apple Butter Snickerdoodles have a slight apple flavor and are the perfect fall snickerdoodle recipe!
Ingredients
3 cups all-purpose flour
2 teaspoons baking powder
1/4 teaspoon salt
3/4 cup butter — softened
1 1/4 cup granulated sugar + 1/3 cup — divided
2 large eggs
1 tablespoon vanilla extract
1/2 cup Apple Butter
1/2 teaspoon cinnamon + 1 teaspoon — divided
Instructions
Whisk flour, baking powder, and salt in a medium bowl. Set aside.

Cream butter and 1 1/4 cups sugar in a mixer until fluffy. Mix in eggs, vanilla, 1/2 teaspoon cinnamon, and apple butter.

Beat just until mixed. Add in flour mixture and mix until just blended together. Chill your dough at least 4 hours.

This dough MUST be cold before baking. Because of all the butter and apple butter, the cookies will spread quite a bit if you skip the chilling!

Preheat oven to 350F. Line cookie sheets with parchment or a silpat baking mat.

Place 1 teaspoon cinnamon and 1/3 cup sugar in a small bowl.

Scoop balls of cookie dough (mine were done using a 2 tablespoon cookie scoop) and roll them in the cinnamon sugar.

Place on your cookie sheet. I recommend only scooping 2 cookie sheets at a time, then re-chill the dough for while those two trays bake.

Bake cookies for 11-12 minutes for slightly underdone, 13-14 minutes for fully done. I like my cookies half raw, but if you don't, cook them for the full 13-14 minutes. Cool slightly before removing from cookie sheets.
Course: Dessert
Cuisine: American
Keyword: cookie
Nutrition Information
Amount per serving (1 cookie) — Calories: 141, Fat: 5g, Saturated Fat: 3g, Cholesterol: 24mg, Sodium: 70mg, Potassium: 53mg, Carbohydrates: 21g, Sugar: 10g, Protein: 1g, Vitamin A: 170%, Calcium: 18%, Iron: 0.7%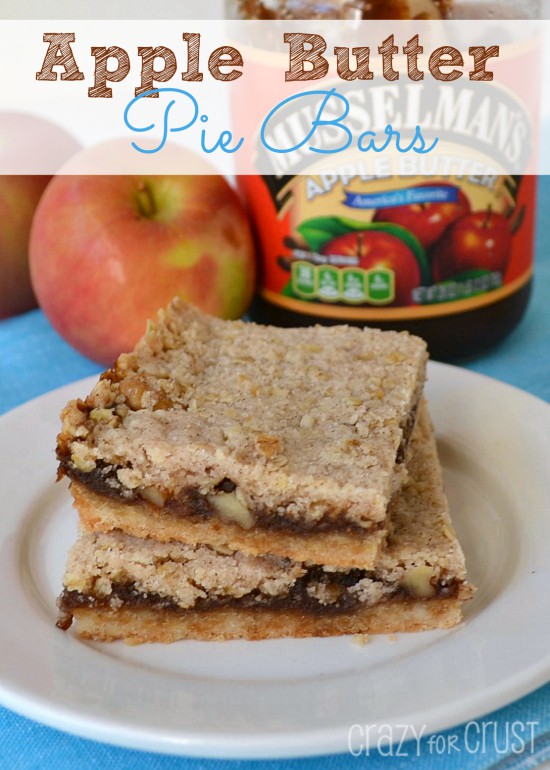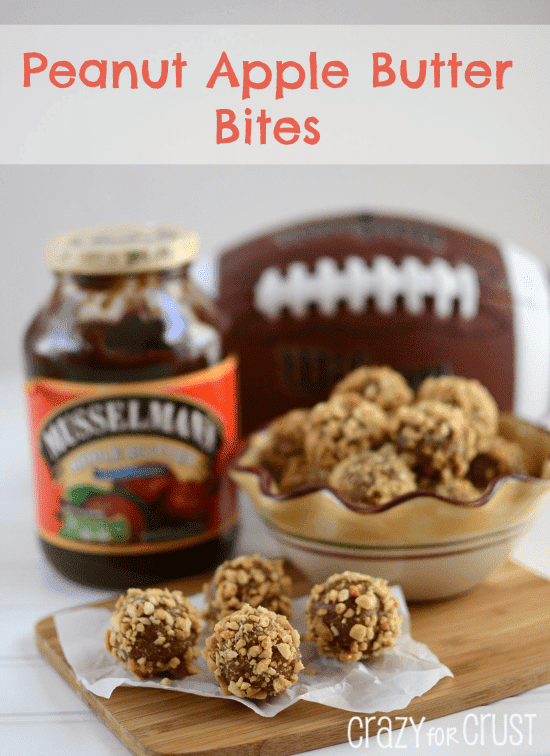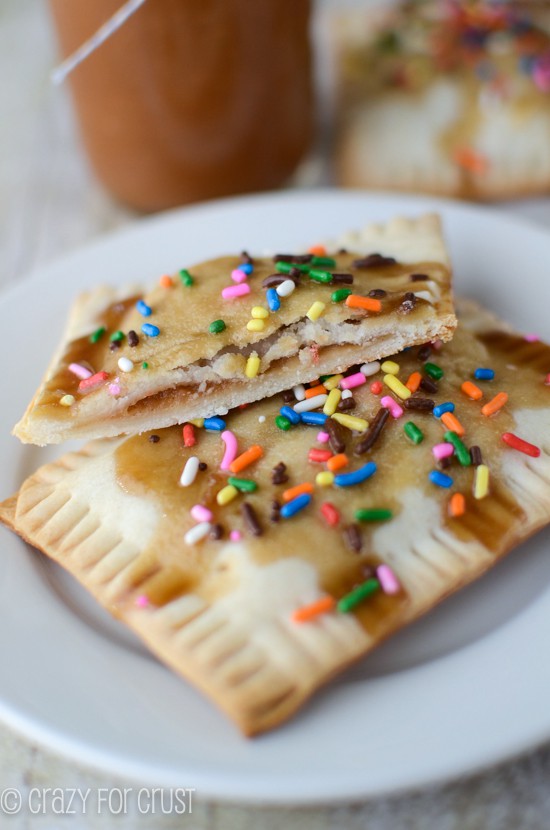 Sweets from friends:
Apple Butter Cake by Inside BruCrew Life
Gooey Apple Pumpkin Rolls by Kitchen Meets Girl
Apple Pie Dip by Something Swanky