This post may contain affiliate links. For more information, read my disclosure policy.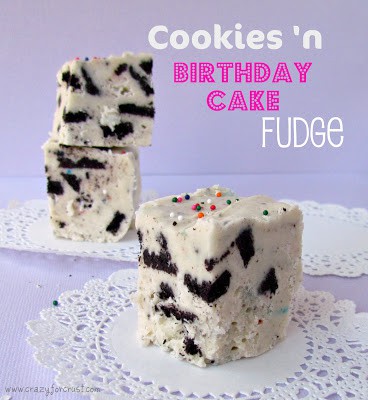 Last week at Walmart I was walking to the checker when I saw Birthday Cake Oreos. It was like the sky opened up and the heavens glowed and angels sang.
I knew I had to make some thing with them. Otherwise I would eat the whole package at once.
So I made fudge. Because making fudge is the obvious way to avoid eating an entire package of cookies.
I've never made cooked fudge before. I've always been all "pshaw…why would I make boiled fudge and have to use my candy thermometer when I could just make it easy, those people who do all that work have way too much time on their hands." (Totally thought without judgement. I'm not that kind of person. No really, I'm not.)
And then I made this fudge. And I apologize. For the way I thought about cooked fudge. I am eating my humble pie now.
It's awesome. It's great. It's sweet and good and all that is right with the world.
And I can eat a ton of it. Because I made it with I Can't Believe It's Not Butter!, so it has less fat and calories and I can add a bag of Birthday Cake Oreos and eat 17 pieces and not feel sick.
Recently the people at I Can't Believe It's Not Butter! contacted me. They wanted to give away some cool stuff to my readers.
Of course I said yes. I love my readers. They deserve cool stuff.
The Acadamy Awards are on Sunday. Are you going to watch? I love award shows, all of them. I can get a little obsessed. It doesn't matter the only movie I saw was the Help.
I Can't Believe It's Not Butter! is throwing a Red Carpet Viewing Party on Facebook on the big day, this Sunday the 26th. There's going to be a roundtable discussion with some of Hollywood's biggest stars and a food and wine expert "known for her delicious recipes."
I have no idea who the star is. I'm hoping for Bethanny. Or Rachael Ray. Or Martha. Who doesn't love Martha??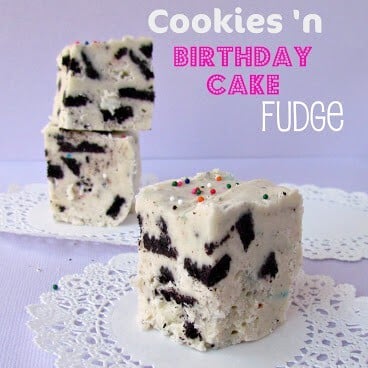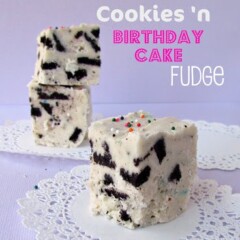 Cookies 'n Birthday Cake Fudge
Cookies 'n Birthday Cake Fudge - an easy homemade cooked fudge recipe full of white chocolate and birthday cake Oreos.
Ingredients
3

cups

sugar

3/4

cup

butter

1

can

5oz evaporated milk (not sweetened condensed milk)

12

ounces

white chocoalte

1

jar

7oz marshmallow cream

1

tsp

vanilla

1

cup

chopped birthday cake Oreo cookies
Instructions
Line a 9x9" pan with foil and spray with cooking spray. (If you like a thinner fudge, use a 9x13" pan.) Coarsely chop your Oreos.

Add sugar, evaporated milk, and butter to a large pot over medium heat. Bring to a rapid boil and cook for 4 minutes, stirring constantly (234 degrees on a candy thermometer).

Add marshmallow creme and white chocolate. Stir until melted. Add vanilla and chopped cookies. Pour into prepared pan. Chill until hardened and cut into squares.
Recipe Nutrition
Serving:
1
serving
|
Calories:
128
kcal
|
Carbohydrates:
19
g
|
Protein:
1
g
|
Fat:
6
g
|
Saturated Fat:
3
g
|
Polyunsaturated Fat:
0.3
g
|
Monounsaturated Fat:
2
g
|
Trans Fat:
0.1
g
|
Cholesterol:
9
mg
|
Sodium:
42
mg
|
Potassium:
29
mg
|
Fiber:
0.1
g
|
Sugar:
18
g
|
Vitamin A:
91
IU
|
Vitamin C:
0.04
mg
|
Calcium:
16
mg
|
Iron:
0.4
mg
Nutritional information not guaranteed to be accurate
(Recipe adapted from Kraft)
Recipe sponsored by I Can't Believe It's Not Butter.
Last Updated on September 14, 2022