This post may contain affiliate links. For more information, read my disclosure policy.
Today is a big day in our house.
No, it's no one's birthday. No one is having an anniversary or getting married or going off to college. No one got a promotion or won the lottery.
Today marks the first day of the professional football season. Tonight the Packers and the Saints will kickoff 17 weeks (plus playoffs!) of football mania and will leave me with the distinct title of "Football Widow."
Well, actually that's not entirely true. Merely kicking back with a plate full of nachos and cheering on our home team (GO NINERS!) is not the way football is celebrated in our house. Our football mania includes a non-football lover's two dirty words: Fantasy Football. I am, more accurately, a Fantasy Football Widow.
The next 17 weeks will be filled with Sunday morning viewings of the Fantasy Football Show and runs to the computer room to check "last-minute stats" and "injury reports." I will hear repeated use of the term "red zone." Tuesdays will be days where my husband is tired, due to his 3:00am team changes (done before the other members of this team are awake). Oops, was I not supposed to mention that? Sunday and Monday nights will be happy and joyful when it looks as though we might land on top of the rankings. Not so much when the reverse happens.
I must say, my husband is a lot better about fantasy football now than in the past. He knows that, if our daughter is home (and where else would she be?) on a Sunday afternoon, it is highly unlikely he will get to enjoy watching the game. Mainly, he sticks to watching the evening games after she is in bed. There was the one year when he was in two fantasy leagues and we had NFL Sunday Ticket. Oh, and an infant. I've tried to block that season out. Thankfully, it's not like that anymore.
I wanted to make these cookies for my husband's fantasy draft a few weeks ago. But I wasn't able to make them in time to ship them to Arizona where he flew to do his draft with his friends. Yes, you read that right. He packed up his spreadsheets and rankings and a trophy for winner and flew off into the sunset to spend some time with friends and draft players into a fake football team.
I have been wanting to try chocolate royal icing for awhile. I was interested to see if it would work and how it would taste. Well, happily, it turned out great and tastes even better! I'm never making brown icing again. And, I've heard that making black icing is much easier if you start from brown. That's something to try another day.
Chocolate footballs with chocolate royal icing? I don't think it can get any better.
Except if my husband were to actually win this year. GO MERVERTS!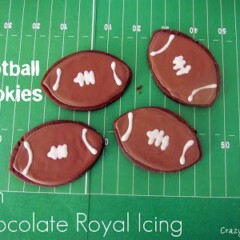 Chocolate Royal Icing (and Football)
Ingredients
2

cups

powdered sugar

1 ½

tablespoons

meringue powder

2

teaspoons

vanilla

2

tablespoons

cocoa powder

3

tablespoons

water

1

teaspoon

corn syrup

(optional)
Instructions
Mix all ingredients EXCEPT corn syrup in the bowl of an electric mixer for about 7-10 minutes on low speed, until peaks begin to form. As it is mixing, add the corn syrup. (I add the corn syrup because my meringue powder does not set shiny and the corn syrup adds shine. If you're meringue powder sets shiny, or if you like a matte finish, you can omit this step.) Thin as needed for outlining or flooding by adding more powdered sugar or water for your need.
Nutritional information not guaranteed to be accurate
The Chocolate Sugar Cookies are from Lilaloa. They are really, really good! Or, you can use these chocolate sugar cookies. Or, since you're frosting them with brown icing, you could use regular ones.
The white royal icing is from SweetSugarBelle.
Last Updated on May 12, 2020