This post may contain affiliate links. For more information, read my disclosure policy.
I learned on Friday night (or, more rather, on Saturday) that I am too old to stay up until midnight.
Also, I may be too old to play the drinking game Kings. You know the one you played in college? I didn't know, because I lived at home during college. My biggest foray into college life was when I would go and visit my boyfriend at UC Davis and stay with him in the frat house for the weekend.
People: have you ever stayed overnight in a frat house? One word: don't.
Frat houses are made for boys. Messy, dirty, disgusting boys who do nasty, dirty, disgusting things to everything. There wasn't even a girls bathroom on the sleeping floor. There was one on the main floor, but I never went in there for fear of never coming out. No, I used the bathroom on the sleeping floor, the joint bathroom that I can still smell. When I'd get up to go during the night I would hold my pajama pants up at the knees so they wouldn't drag on the floor.
But I digress. I never played the drinking game Kings before Friday night. And, us being middle-aged moms, we changed it up a bit. No gross center glass. And "waterfall" was done with water. (Actually, was most of my game was with water – I'm not stupid. Remember, I'm a one drink kind of girl.)
The problem with playing that game with water and staying up until midnight and being middle-aged is that I couldn't sleep for more than an hour at a time without the consequences of drinking 671 sips of water over a 4 hour period.
That and that I really do need 8 hours of sleep to be a nice good mom happy person.
So, because I'm old at heart, I need things to keep me young in life. Which is why I love kid food and kid candy, like homemade candy buttons, and these homemade conversation hearts that don't look like hearts.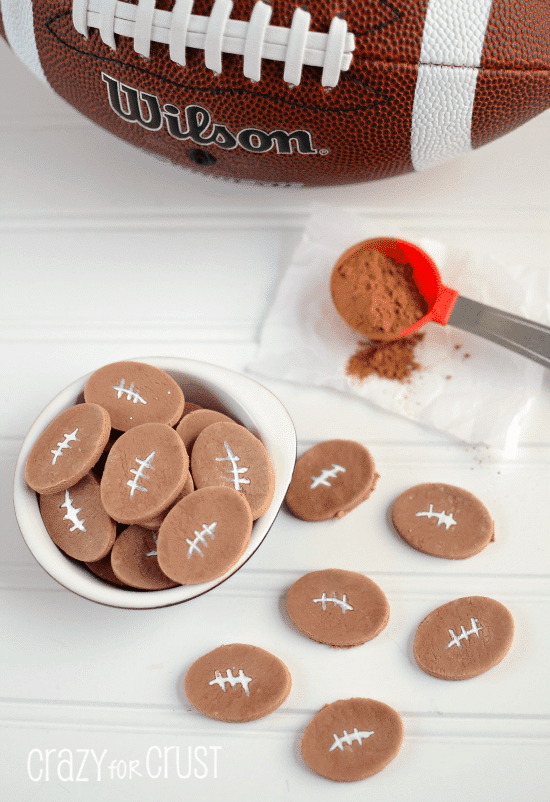 I found the copy cat recipe for Conversation Hearts in Food Network Magazine last month. The second I saw it I thought about making footballs instead of hearts. And, by making them footballs, I could make them chocolate, which would make them infinitely more edible. Because no one in my family likes conversation hearts, and I was determined to make some that I liked. And I succeeded with these!
Really, all conversation hearts are are pure sugar. Corn syrup, powdered sugar, and gelatin mix to become a soft and sticky dough, perfect for rolling and cutting. I added vanilla for flavoring, and subbed out some of the powdered sugar for cocoa to make them brown. These hardened up to a softer texture than the originals, which is fine by me. The ones you buy in the store are too hard for my taste. These hold their shape but dissolve nicely in your mouth and, well, they taste good. They actually taste like something instead of nothing.
I love this recipe because, as I was making them, I realized the possibilities are endless. Shapes, flavors, really there is no boundary. I already have a few more flavors and ideas I want to try. Change up the extract or add some flavor oil, and you have a totally new candy!
Since there is a big game coming up, I figured I needed a cutesy football treat. These are those, totally. They were super simple, mixed up and cut out in just a few minutes. I didn't even need to add food coloring to the dough because they are brown from the cocoa. I made the laces with a toothpick dipped in white food coloring (Wilton sells it at craft stores in a huge bottle). I don't know if they have food writers in white, but if they did that would be even easier. I had the white food coloring, so that's what I used.
These are a perfect snack for the football game next weekend, or the perfect addition to any football themed party. They'll make you feel young again!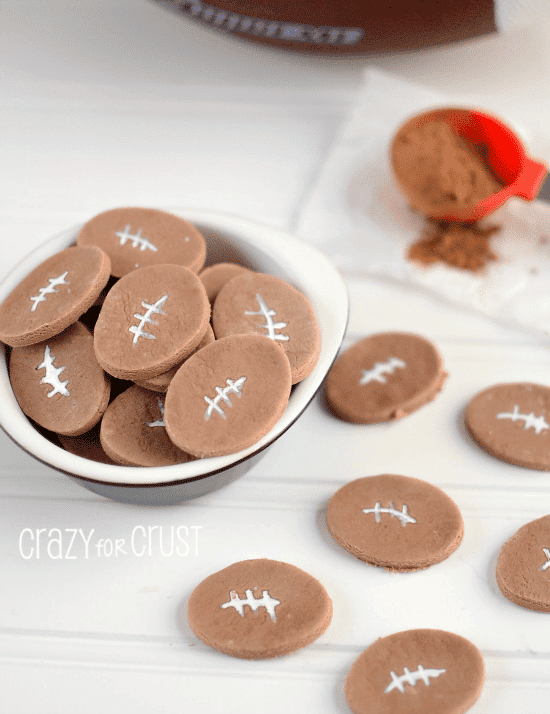 You know, to counterbalance that feeling y'all are going to have next Monday, the day after the Super Bowl. 😉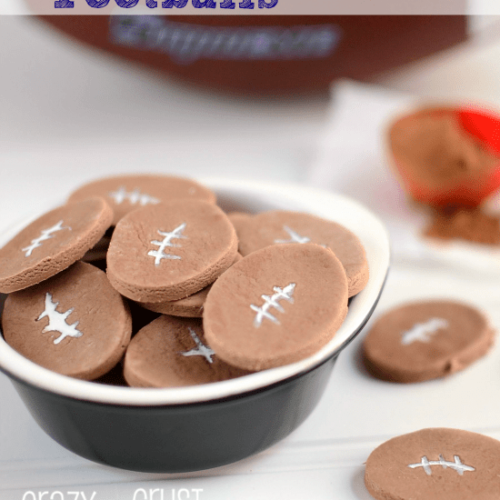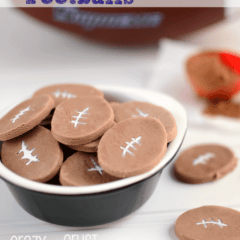 Chocolate Conversation Heart Footballs
little candies shaped like footballs
Ingredients
1 1/8

teaspoon

half a 1/4 ounce packet unflavored gelatin powder

1/4

cup

boiling water

1/2

tablespoon

light corn syrup

1/4

teaspoon

vanilla extract

pinch

salt

1/4

cups

unsweetened cocoa powder

3 3/4

cups

powdered sugar

plus more for rolling if needed

White food coloring
Instructions
Whisk gelatin, corn syrup, vanilla, and boiling water in the bowl of a stand mixer until the gelatin dissolves. Using the paddle attachment, beat in the cocoa and powdered sugar on medium speed, 1 cup at a time, until the dough comes together. It will be soft and sticky.

Transfer dough to a work surface and knead, adding more powdered sugar as necessary until the dough is smooth and pliable and slightly tacky (and able to be rolled out). I only needed about 1/4 cup of extra powdered sugar, but you may need up to 1 cup.

Divide the dough in half. Wrap one half in plastic wrap. Roll out the other half to between 1/8-1/4 inch thick. Use a small football shaped cookie cutter (mine was an oval fondant cutter) to cut out shapes. You can also use a heart cutter, perfect for Valentine's Day!

Place shapes on a wax paper lined cookie sheet. Repeat with second half of dough.

Using a toothpick and a bit of white food coloring, make the laces on top of each football. Do not use too much, the food coloring will not dry unless it is very light.

Let the candies dry at room temperature, uncovered for about 24 hours, or until hard.
Recipe Nutrition
Serving:
1
candy
|
Calories:
34
kcal
Nutritional information not guaranteed to be accurate
Click here for my ultimate Football Party Menu!
Like these Chocolate Conversation Heart Footballs? Check these out:
Nutella Brownie Footballs with Peanut Butter Shortbread Crust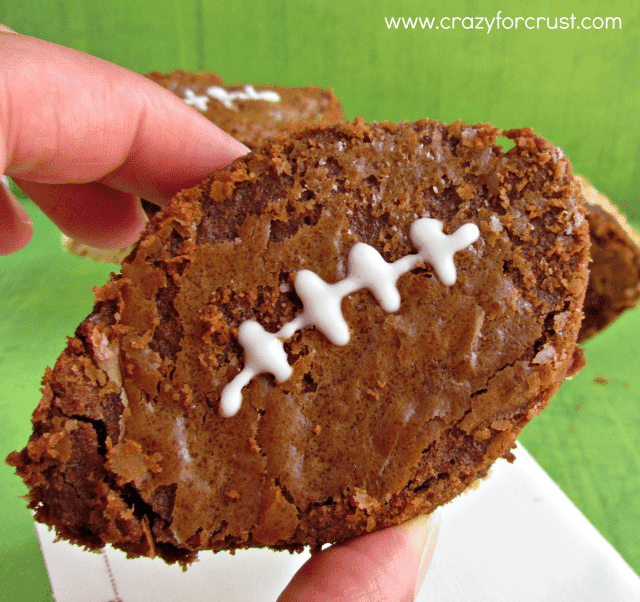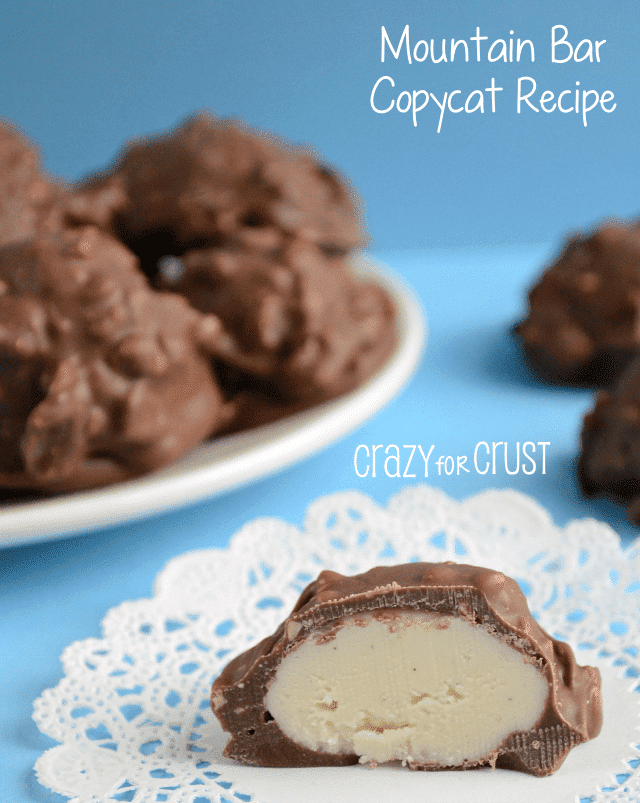 Fun stuff from friends:
Football Field Fudge by Something Swanky
Sweet Guacamole & Chips Cupcakes by Sweet Simple Stuff
Chocolate Oatmeal Cream Pie Footballs by Shugary Sweets
Last Updated on September 10, 2022