This post may contain affiliate links. For more information, read my disclosure policy.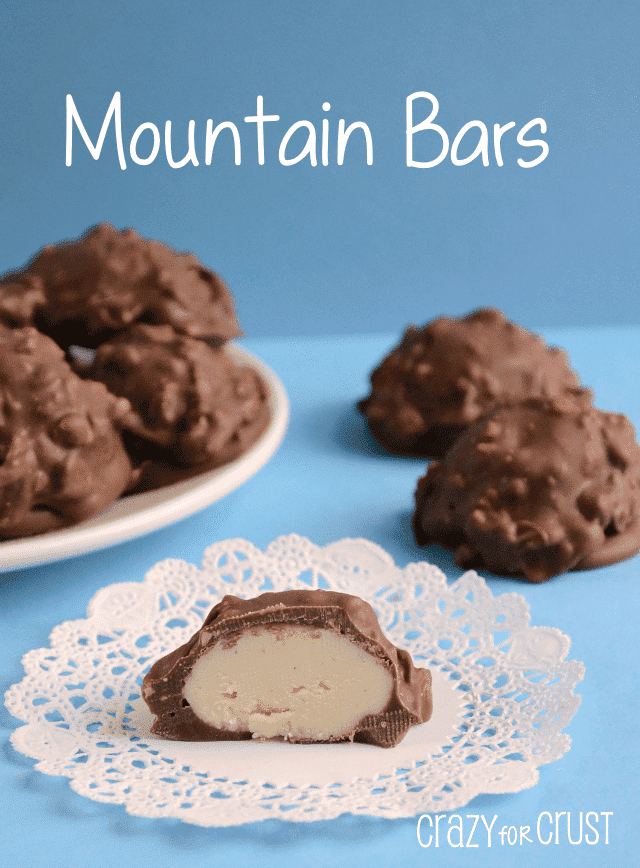 Chances are, unless you live in Washington state, you have no clue what a Mountain Bar is. Let me enlighten you!
Mountain Bars are made by a company you may have heard of, Brown & Haley. They make that little candy bar called Almond Roca. They used to sell Mountain Bars all over the place (at least in California), but I haven't seen them in years. My mom loved them when I was a kid, and I always remember the little blue wrappers in her candy stash.
I had an uncle who lived in Tacoma, just outside Seattle, where Brown & Haley is. They have this little teeny store under a freeway overpass where you can buy their candy in bulk. My uncle would come stay with us for two weeks every summer and he would always have a case of Mountain Bars (that is a lot of candy!) in his luggage along with his "borrowed" hotel towels. I would eat handfuls and handfuls of Mountain Bars, until I was sick from them.
Memories…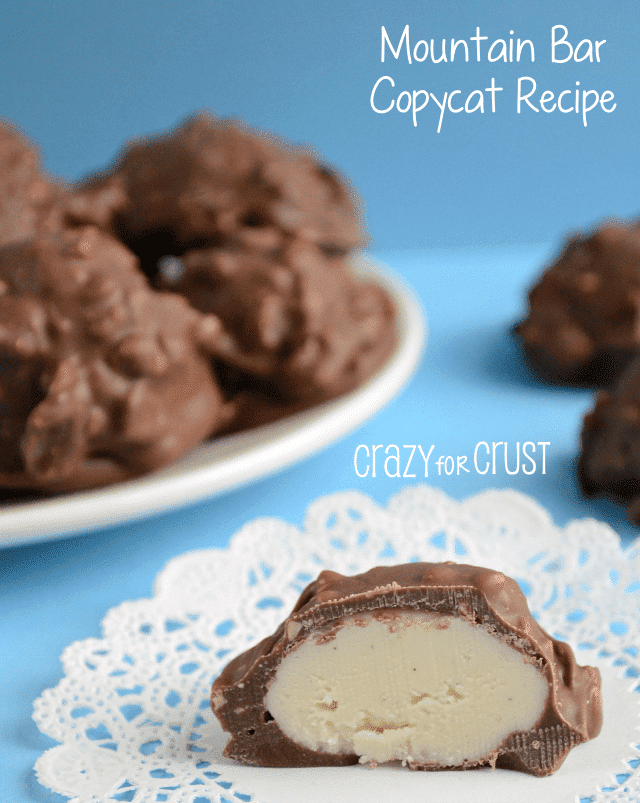 A mountain bar is a candy bar that looks like a mountain. The outside shell was milk chocolate  with finely chopped peanuts and the inside was pure sugary vanilla heaven. Almost like a vanilla nougat, but a little smoother.
I have been wanting to make Mountain Bars for my mom forever. This Christmas I decided to give it a go, and I'm so glad I did. These are really easy to make, even though they have a few steps.
The center is a candy made of butter, powdered sugar, and vanilla. It's really a soft nougat that I could have eaten with a spoon.
And then it's dredged in chocolate mixed with peanuts. Could there be anything better?
Even if you've never heard of a Mountain Bar before, you need these in your life. Or, if you're lucky and live in Tacoma, drive down to that little offramp and get a box for me, mmkay?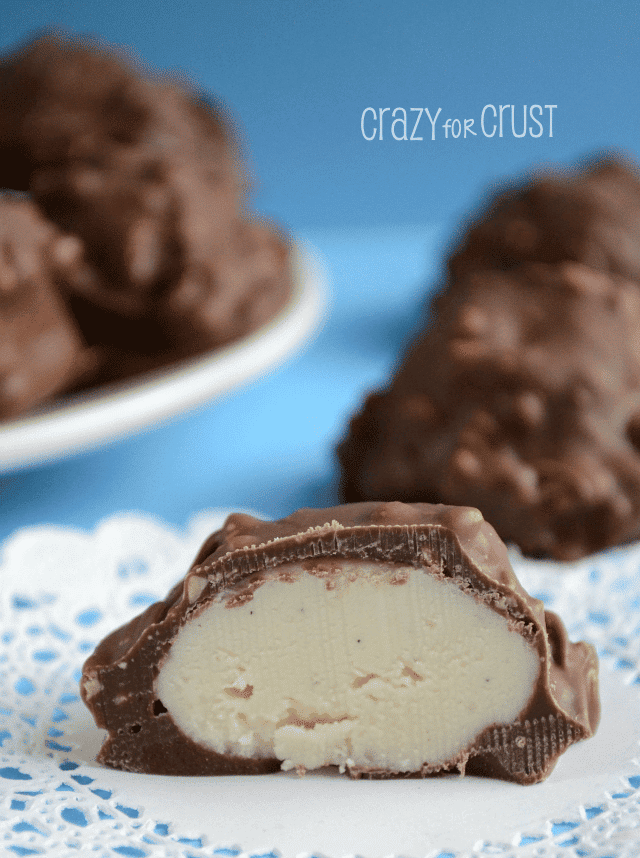 Oh, and they make a peanut butter version of Mountain Bar too. Stand by…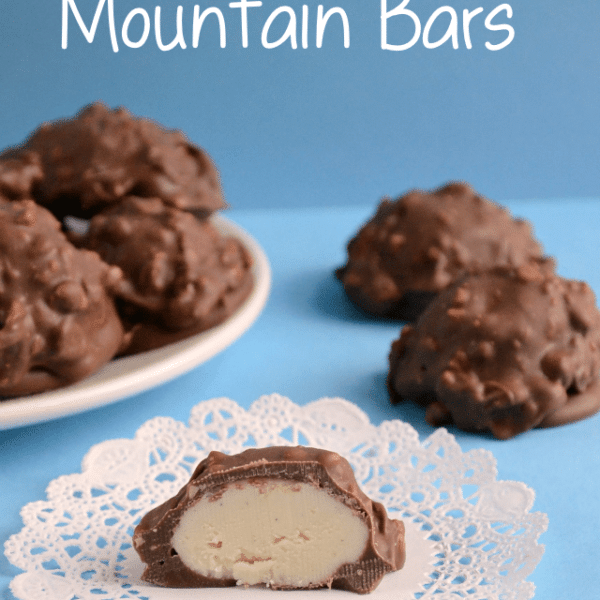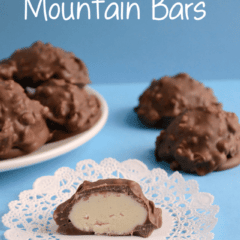 Mountain Bars
Ingredients
1/4

cup

butter

softened

1/2

teaspoon

vanilla paste

or extract

1/8

teaspoon

salt

1/3

cup

sweetened condensed milk

from a 14 ounce can

2 1/2

cups

powdered sugar

1

bag chocolate melts or almond bark

12 ounces

1/2

cup

finely chopped peanuts
Instructions
Beat butter, vanilla, salt, and sweetened condensed milk in a large bowl with an electric or hand mixer. Slowly beat in powdered sugar until mixture comes together. You should be able to form balls of candy that hold together.

Drop tablespoon sized balls (rolled) onto a wax paper lined cookie sheet. Chill until ready to use, at least 30 minutes.

When ready to make candy, line a new cookie sheet with wax paper. Melt your chocolate according to package directions. If it's cold in your kitchen, it might be helpful to line an electric griddle with an old kitchen towel on low heat (about 200 degrees) and place the bowl of melted candy on top. It keeps the candy warm for you.

Place 1 teaspoon of chocolate evenly spaced on the prepared cookie sheet, one for each ball of candy you made. Spread it slightly. Place a rolled ball of candy in the center of each teaspoon of chocolate.

Mix the chopped peanuts into the remaining chocolate. Cover each ball of candy with 1-2 teaspoons of peanutty chocolate. Use your spoon to spread it so that the chocolate top meets the bottom under the ball, to seal. Chill to harden.
Nutritional information not guaranteed to be accurate
Like Candy Recipes? Check out my Candy Pinboard or these sweet copycat treats:
Homemade Twix by Miss Candiquik
Biscoff KitKats by The Domestic Rebel
BoBerry Biscuits Copycat by Something Swanky
Thanks for reading!
Last Updated on August 21, 2018