This post may contain affiliate links. For more information, read my disclosure policy.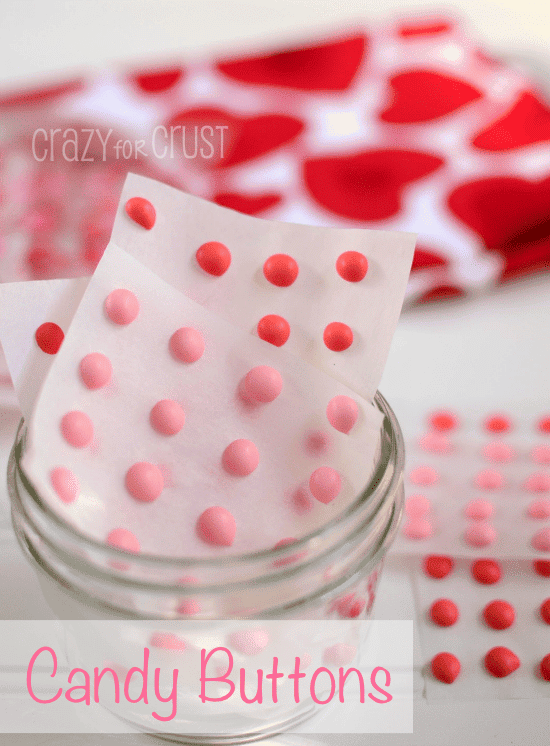 When I was a kid, any trip to an amusement park meant a visit to the candy store. Disneyland was, of course, the best one. It's like stepping back in time when you step through those doors.
Being an only child with lots of only child friends, I usually got to bring someone when we went on day trips. Once I was even allowed to bring my best friend on a trip do Disneyland. That was so much fun…except that we wanted to kill each other by the end. Living in an RV for a week is killer…even with BFFs.
Anyway, one thing I remember most about that trip is eating candy buttons with my friend. Besides Honeycomb, candy buttons were "our" treat. We'd open a pack and split the parchment sheets. I think the best part about them was eating them off the paper with our mouths – no hands needed!
Still today, whenever I see candy buttons in a store, I think of her. I think I need to mail her some of these!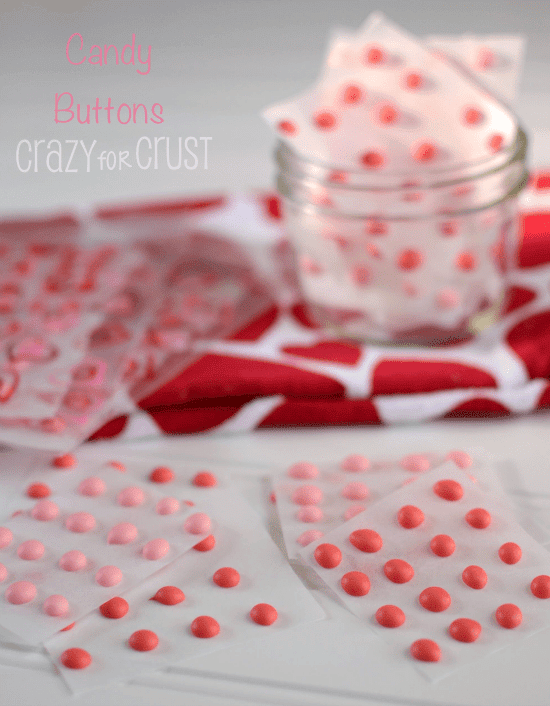 I saw this recipe a few years back in Rachael Ray Magazine. I pulled out the page and filed them away to make someday. When I started thinking of Valentine ideas, candy buttons came to mind. But instead of making them in the iconic blue, yellow, and green colors, I made them in pink and red. Really, you could make these in any color, for any occasion. Christmas, Halloween, 4th of July…the options are endless.
As I was making them, I realized – candy buttons are really no more than royal icing, dropped on parchment and dried. I used an actual egg white as the recipe called for, instead of meringue powder. But, essentially, they are one and the same. Powdered sugar and egg whites! But, I think because it uses and actual egg white and not powder, they taste better than royal icing. I wouldn't just eat royal icing…but I'd eat a boatload of these.
And they are so small…it's like you're not eating anything. Just pure sugar. 😉
Jordan loved these, of course. It reminded me of myself when I was little.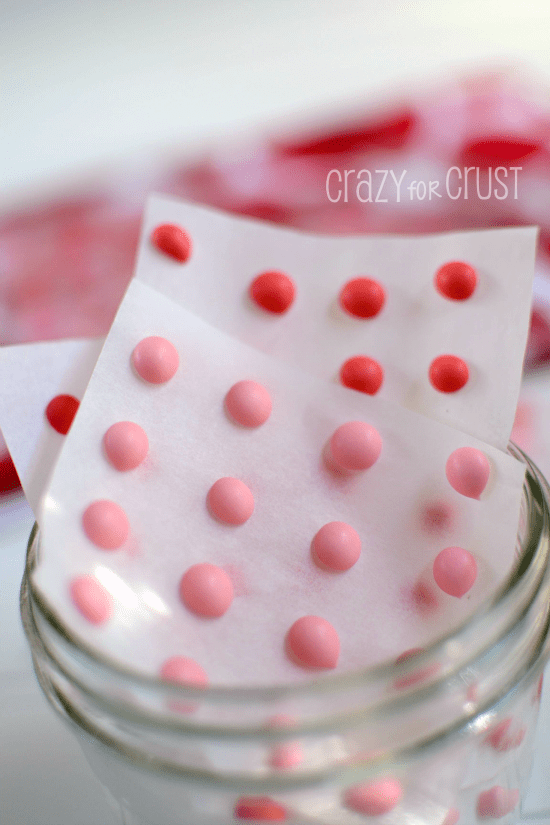 Make them for your kids' school party. Bring the nostalgia to a new generation. 🙂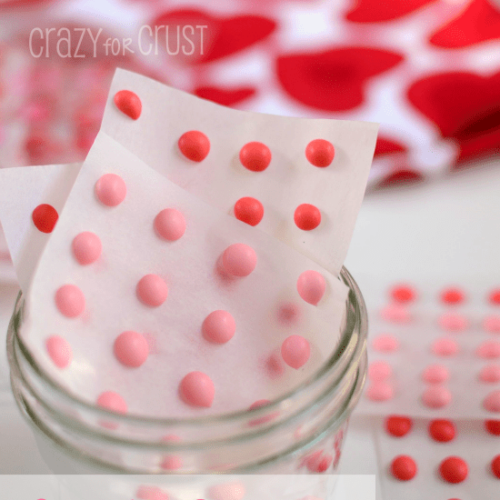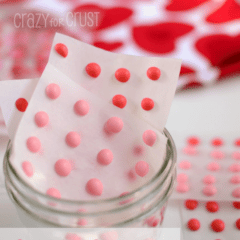 Candy Buttons for Valentine's Day
A delightful childhood candy, remade at home! Make them any color you want, for any holiday!
Ingredients
1 1/2

cups

powdered sugar

1

egg white

Red food coloring

or other color

Parchment paper
Instructions
Cut parchment paper into twelve 2×11" strips. I suggest you use parchment paper sheets for this. If you use a roll, do it ahead of time and lay something heavy on top of them to flatten them out, so they don't roll up on you.

Beat powdered sugar and egg white until thick and smooth, about 4-5 minutes. If you are making different colors, divide the icing into separate small bowls. If you are making pink and red, you can leave it all the same bowl. Make the pink first, then make the red from the pink.

Drop 2 drops of red food coloring into your mixture and stir. Add more if you want a darker pink.

Place half of pink mixture into a ziploc bag and seal. Add more red food coloring to make the light pink darker. (FYI – the food coloring will darken as it settles. You won't get "red" at this point, but it will darken to red as the buttons dry.) Place in another ziploc bag.

Snip the corner off of one bag at a time, and pipe small dots of candy onto the prepared parchment paper. Repeat with the second bag. Let dry several hours or overnight. Cut strips into desired lengths and eat.
Nutritional information not guaranteed to be accurate
Note: this recipe contains a raw egg white. While there is need for caution and you should always make sure that your eggs are fresh, I felt that the risk was low in this recipe. The recipe only uses 1 raw egg white (and the whites are typically lower in bacteria than the yolk) and produces a very large amount of candy buttons. I think that the risk is minimal if you enjoy a serving or two of the candy, however you must make decisions based on your own personal feelings.
Other Nostalgic Bites from Crazy for Crust:
Honeycomb
Scotch Krispie Bark
Sweets from friends:
Homemade Pixie Sticks from Love and Olive Oil
Cinnamon Broken Glass Candy from Mandy's Recipe Box
Molded Maple Sugar Candy from Dreaming of White Chocolate
Fudge Candy Corn by Something Swanky
Last Updated on May 15, 2020